How To Apply for a Visa To Visit Sri Lanka. Everything You Need To Know
Planning a trip to Sri Lanka? How exciting yo!

Read on to find out everything you need to know about applying for a Sri Lanka visa.
I explain who needs to apply and who is exempt, what is an ETA, the cost of obtaining the visa, and the exact steps that you need to follow online to obtain this entry authorisation when applying for a visa to visit Sri Lanka.
Good luck guys!

Reading time: 6 minutes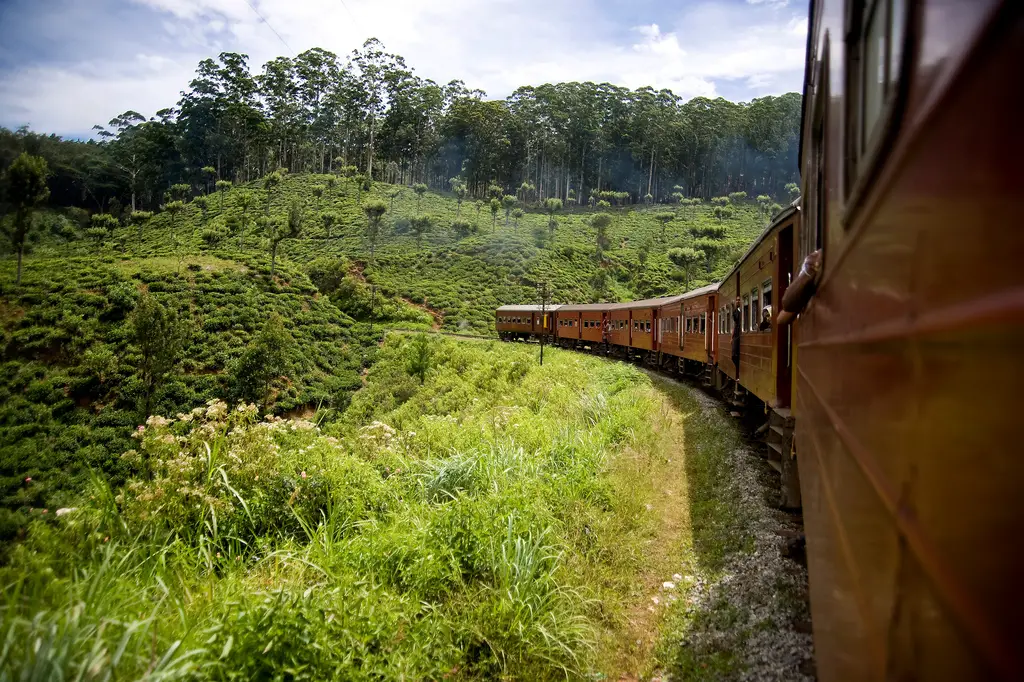 An island nation just South of India in the Indian Ocean, Sri Lanka sure packs a punch. It's many attractions and diverse landscapes are attracting an increasing number of travellers wanting to see a part of the world that was cut off from the rest of the world for years as a result of the civil war.
From the cultural triangle and Buddhist ruins in the North to the Hill town tea plantations and national parks in the centre to the golden sandy beaches, exotic foods, and chilled-vibes of the South, Sri Lanka sure is must-see destination.
>> Related reading:
Which countries can you visit on a Schengen visa in 2023
Sri Lanka welcomes tourists — but with some caution.
To gain entry into the country you need to apply for an ETA (Electronic Travel Authorisation).
Sri Lanka Visa — What is an ETA?
The ETA is an official authorization that you would need, allowing entry for a short visit to Sri Lanka.

Issued electronically, the ETA is meant to provide an efficient, trustworthy and easy service to those travelling here. Once approved, you receive a 30-day visa on arrival at the first port of entry, which would most likely be Colombo.

The ETA is issued through an on-line system.

No passport copies, documents or photographs are required for the application process. Also note that there is no requirement to endorse the ETA on the passport.
Before visiting the country, it's important to understand the visa policy of Sri Lanka.
Do you need a visa to travel to Sri Lanka?
One word: Yes, except…
The following nationals are exempt from ETA
Nationals of the following countries who visit Sri Lanka for a short visit of up to 30 days are exempt from having to obtain an ETA. The reason is reciprocity — nationals of Sri Lanka get a free visa on-arrival for these countries too.
The Republic of Singapore.
The Republic of Maldives.
The Republic of Seychelles
The following categories are exempt from ETA
Crew members of flight or ship.
>> Read next:
Is Sri Lanka on this list of the best cheapest islands to visit around the world? Check here!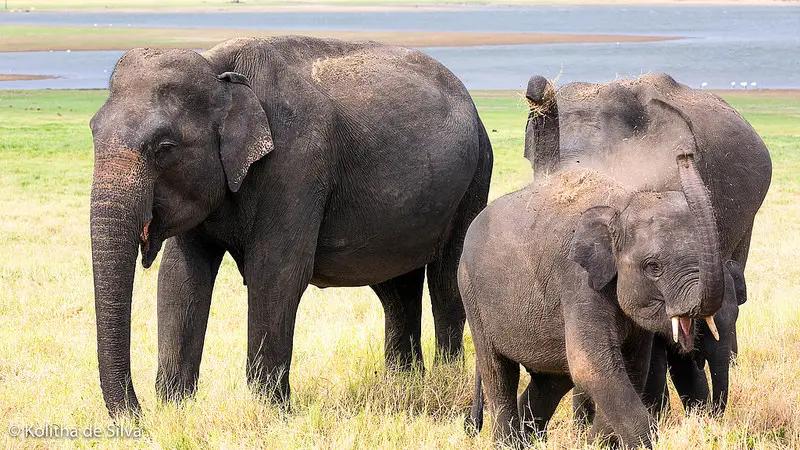 What are the various ways of applying for your ETA?
Easily done by you
Getting this done through a third party
At the Sri Lankan Embassy or overseas missions
At head office of the Department of Immigration and Emigration
On arrival at the port of entry
What are the different types of ETA Visas?
Short Visit Visa
ETA for tourist purposes with a double entry for 30 days
Business Visa
ETA for business purposes with a double entry for 30 days
Transit Visa
ETA for transit in Sri Lanka for up to 2 days
The following fall under the Tourist visit category:
Holiday and Sightseeing
Visiting friends and relatives
Medical treatment including Ayurveda and yoga
Participating in sporting events, competitions and activities relating to cultural performance
How long before travelling to Sri Lanka can you apply for the ETA?
You can apply up to 90 days before your planned arrival.
What is the validity of ETA?
If your ETA is granted, you are eligible to enter Sri Lanka within three months from the date of issue.
After arrival it's valid for 30 days and during that period you have a dual-entry visa. This means you can leave the country and return on the same visa within those 30 days.
The ETA is valid for six months and a new ETA cannot be obtained on the same passport until that ETA expires.
For a Sri Lankan visa extension, you can apply at the visa section of the Department of Immigration and Emigration. It may be extended up to 90 days from the date of arrival.
>> Read next:
Your guide to the best tropical vacations for families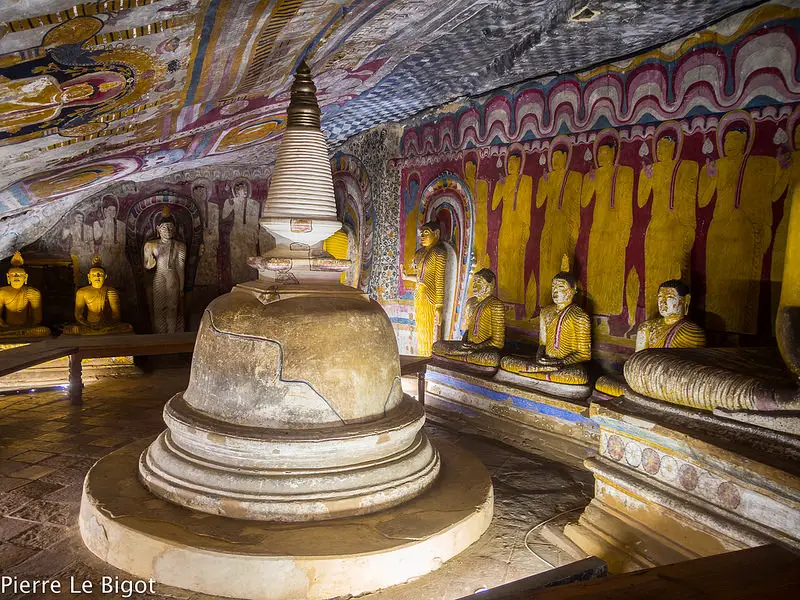 Is there a visa on arrival for Sri Lanka?
Although it's still possible to get a tourist visa on arrival, it's better to get one before you travel.
How long does it take to get a visa for Sri Lanka?
It is a simple process to get your Sri Lanka visa as explained below. After submission of the information and application online, it takes around 1 to 2 hours to obtain approval from the authorities.
How much does it cost to obtain a visa for Sri Lanka?
The following are the fees for obtaining an ETA for the visa:
Tourist visa obtained before arrival double entry for 30 days:
— $20 for SAARC nationalities and
— $35 for all other nationalities.
Visa on-arrival at the port of Sri Lanka is $5 extra.
— $25 for SAARC nationalities and
— $40 for all other nationalities.
Transit visa:
— Single entry for two days is free
Business visa multiple entry for 30 days:
— $30 for SAARC nationalities
— $40 for all other nationalities.
The following category is exempt from ETA Processing Fee:
Children of any nationality need a separate ETA, assuming they have their own passport. But for those under 12 years of age it is free and no fee will be required.
>> Read next:
Essential Flying Tips (+ what NOT to do on a plane)
Steps: How to apply for the Sri Lanka visa online
Step 1. Applications are completed and processed online at: http://www.eta.gov.lk/
This is issued electronically by the Department of Immigration and Emigration Sri Lanka.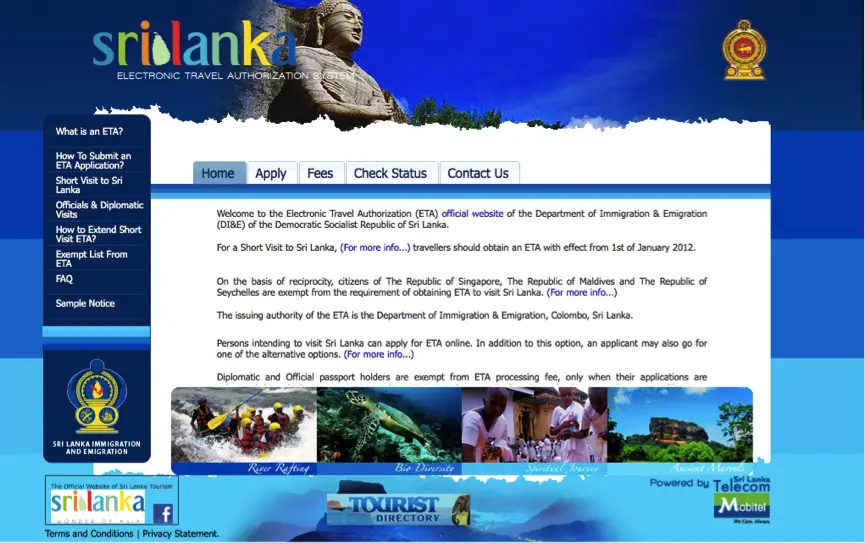 This is the sole authorised site for the issuing of the ETA. Other sites that claim to arrange the ETA for you either charge more or don't fulfil the obligation.
Click "apply"
Complete all the required details
What to fill in for flight details and address in Sri Lanka?
The flight details would be your inbound flight number into Colombo. This is used by Immigration to plan approximate passenger volume. For the address, use the details of your first accommodation after arrival.
Is it better to use individual ETA or a group ETA for a family or group?
You still get individual ETAs for each passenger from a group application. The main advantage of the group option is timesaving with less data entry. The dates, flight and accommodation details are the same for all members in the group. There is also one payment of the total fee.
Before submission be sure to review input details carefully.
In particular, the name, surname and date of birth. This to avoid any trouble during application or on arrival, as immigration authorities can be very challenging with respect to the accuracy of the passport number on your electronic travel authorisation obtained online. The number should match the machine-readable section of your passport exactly. A single digit mistake is taken as a reason to force you to buy a new visa.
Step 2. Make payment for visa processing fee
This is done through an online payment system using your electronic payment cards (credit card/e-commerce enabled debit cards). Only Visa, Master and American Express Cards are accepted. If you are unable to pay by electronic payment cards (credit card/e-commerce enabled debit cards), you have to select one of the alternative options.
Do bear in mind that the ETA processing fee paid by you is not refundable and non transferable.
Step 3. Receive ETA status acknowledgement
If your ETA application is submitted without any complications, you should immediately receive a referral notice; you may contact the Department of Immigration and Emigration for the necessary ETA.
After application and payment confirmation I immediately received a payment acknowledgement from my bank and an email from the Department of Immigration & Emigration Sri Lanka.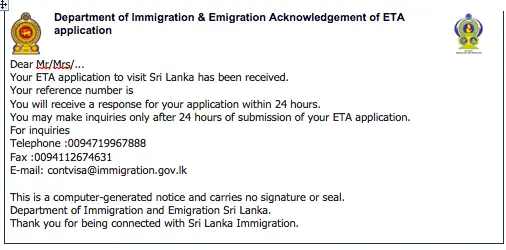 Step 4. Receive ETA approval or referral notice
A few minutes later I received a second follow-up email from the Department of Immigration & Emigration Sri Lanka.
This was the approval.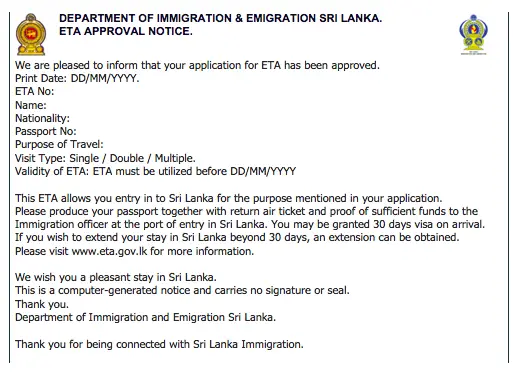 Step 5: Check status
You can check your ETA application status on the official website or contact the ETA call center 24/7 on 0094 71 99 67 888.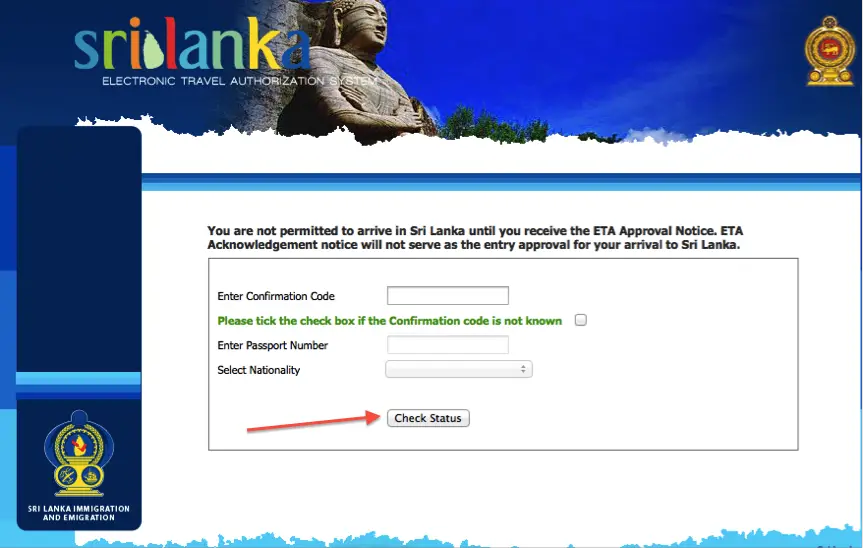 Fill in the ETA reference number in the confirmation code box and hit "check status."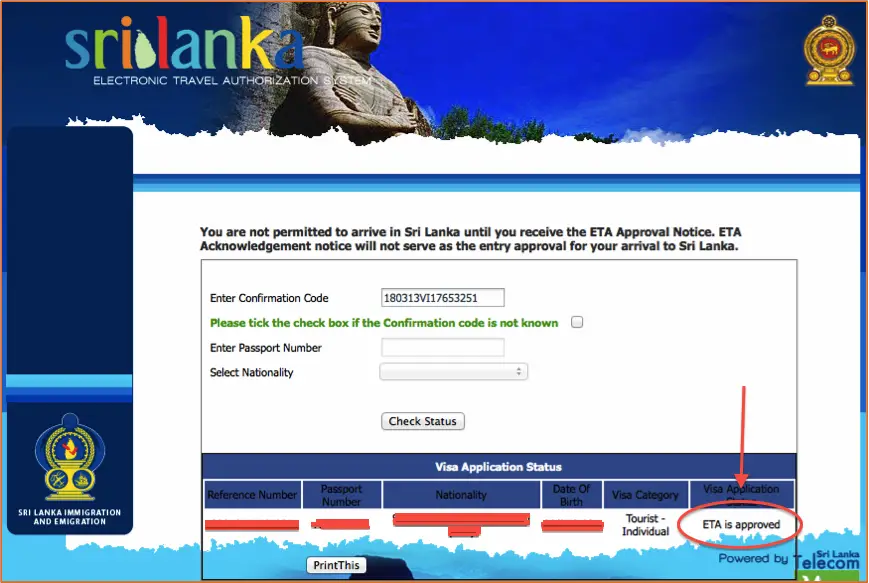 APPROVED!
And you're all set for an adventure in beautiful Sri Lanka.
In the event of the ETA being rejected, the system will send a referral notification to contact the nearest Sri Lanka Overseas Mission for necessary assistance.
In the case of waiting too long before receiving anything, first check your spam filter. Alternatively, check the status of your application as described above. Still nothing? You will have to contact the Immigration Department using the contact details at the end of this article.
>> Related reading:
Skip the small talk. Show me your passport instead
Before boarding flight to Sri Lanka
It is important to have some flight confirmation out of Sri Lanka again.
It is not compulsory that the return flight is within 30 days. You can always arrive on the island with a tourist ETA and mention that you plan to extend for a longer visa before this expires, which is totally within the immigration rules.
Also, the passport should be valid for no less than 6 months from the date of arrival into the island.
What to do on arrival at the port of entry in Sri Lanka
Upon arrival, you will need your original passport and the ETA approval to obtain the necessary clearance from the immigration officer at the port of entry.
Even though immigration confirms your passport number and date of birth in their system proving ETA clearance, it is advisable to bring along a confirmation e-mail or status screenshot of the approval as a safety precaution. This confirmation is also helpful for the odd ill-informed airline check-in agent who is incorrectly under the impression that an ETA is a prerequisite for travelling to Sri Lanka.
It is also advisable to bring along some sort of proof showing evidence of sufficient funds to cover your expenses while in Sri Lanka. This can consist of confirmed accommodation bookings, credit card statements, and bank statements, amongst others.
Ok, so you're all set with the logistics. Let's take a look at …
The best places to visit in Sri Lanka
Here are some incredible places you cannot miss out on seeing:
— The ancient rock fortress of Sigiriya with palace ruins atop a massive 200 meter high rock

— The sacred city of Kandy and its temple of the Sacred Tooth Relic

— The hill station of Nuwara Eliya with its famed tea production and the charming mountain town of Ella.

— The 7,360-foot high Adam's peak mountain with a footprint-shape feature and pilgrimage site

— Yala National Park, Sri Lanka's most famous and second largest national park.

— The gorgeous beaches of Arugam Bay, Mirissa, Unawatuna, and Hiriketiya.
You're having the time of your life and may be wondering…
Can you extend your visa in Sri Lanka?
So you're loving your time on this island and can't get enough.The ETA is initially limited to a 30-day validity from the date of arrival.
To stay more than the 30 allocated days, you need to apply for an extension by spending a half-day in Colombo.
Do not overstay, as fines are a possibility.
How to extend a Short Visit visa
The Short Visit visa may be extended up to 90 days from the date of arrival at the first instance and further 90 days at the second instance. This means that it may be extended for up to six months.
There is also the option of buying a 3-month visa, including the ETA for the first 30 days, from a Sri Lankan embassy/consulate before flying.
Getting the extension from 1 to 3 months is relatively straightforward. You supply the appropriate form, passport photos, some proof of sufficient funds and pay the fees (which vary widely depending on your nationality). Avoid the locals in the waiting room offering help as generally they ask for extra money for this for something you can easily do yourself.
Alternative ways of applying for the Sri Lanka visa
1. Application through the Embassy of Sri Lanka/Overseas Missions:
You have the option to submit your ETA application through a Sri Lanka Overseas Mission.
Steps to be followed:
– Fill in the relevant application form at the Embassy.
– Hand this over to the visa officer along with the relevant fee. Be sure to confirm the type of payment accepted as this varies depending on the embassy.
The Embassy in agreement with Sri Lanka's Department of Immigration and Emigration, will issue an ETA or short stay visa within 03 business days. An acknowledgement with the reference number will be sent to you as well as the Embassy.
2. Third Party Submissions:
A third party such as relatives, travel agents, airlines, or friends can apply for an ETA on your behalf.
Steps to be followed:

– Advise your chosen third party to lodge your ETA application.
– The third party will submit your completed application along with the relevant ETA processing fee. Conform the types of payment accepted.
– On the successful submission of the application, an acknowledgement will be sent as requested in the application.
– Receive your ETA approval notice or referral notice. If your application is approved, the ETA will be issued for 30 days.
3. Submitting an ETA Application at the port of entry in Sri Lanka.
For travellers who wish to visit Sri Lanka without prior approval, a limited facility to obtain the ETA at Bandaranaike International Airport (BIA) is available. Do note that a longer wait and additional fees will apply.
Steps to be followed:
– On arrival at the BIA, report to the ETA issuing counter.
– Fill in the relevant application form
– Pay the relevant ETA processing fee. Electronic payment cards (credit card or e-commerce enabled debit cards and cash in USD are accepted.
– Receive your ETA approval notice or referral notice. If your application is approved, the ETA will be issued for 30 days.
– Once you have received your ETA, proceed to the Immigration Counter and submit your passport.
What are the other types of Sri Lanka visas:
— Transit ETA Sri Lanka
The free transit ETA is valid for stays of a maximum 48 hours, and does allow entry into the country. I would recommend pre-applying, as it saves waiting time in the visa-on-arrival queue and the small risk that an immigration employee tries to cheat money out of tourists by asking for payment when none is due.
You have to provide proof of the duration in transit and also a different onward destination than the airport one arrives from. This transit visa is also a great fit for a 1 or 2-day cruise ship visit.
— Sri Lanka Business visa:
On a visit to Sri Lanka for business purposes, pre-apply for this visa at a Sri Lankan embassy or consulate before flying.
Important Contact Details
Department of Immigration and Emigration
Suhurupaya, Sri Subuthipura Road, Baththaramulla
Hotline: 0094 71 9967888
Telephone: 0094 11 5329307
Email: [email protected]
Website: www.immigration.gov.lk
You now have all the info you need to know when applying for a visa to visit Sri Lanka.

Good luck and I hope you get the visa!
Any questions and I'll be happy to respond.
Don't forget to tag me @araioflight on all your beautiful Sri Lanka photos. I'd love to see them! As always, don't forget to travel responsibly.
Bon voyage,

Rai
---
All information on this blog page is correct at the time of publishing and may change at any time without prior notice. This reflects my personal experience. Please make sure to confirm all details prior to application. We will not be liable for loss or inconvenience arising from the use of this volatile information.