10 of the Best Tropical Islands to Visit Around the World (that won't break the bank)
Raise your hand if you've been dreaming about a tropical island vacation for the longest time. 🙌 I know I have. Is it possible to experience paradise on a budget? Read on to discover a list of the best cheap islands to visit around the world, because I've got you covered, fellow explorer.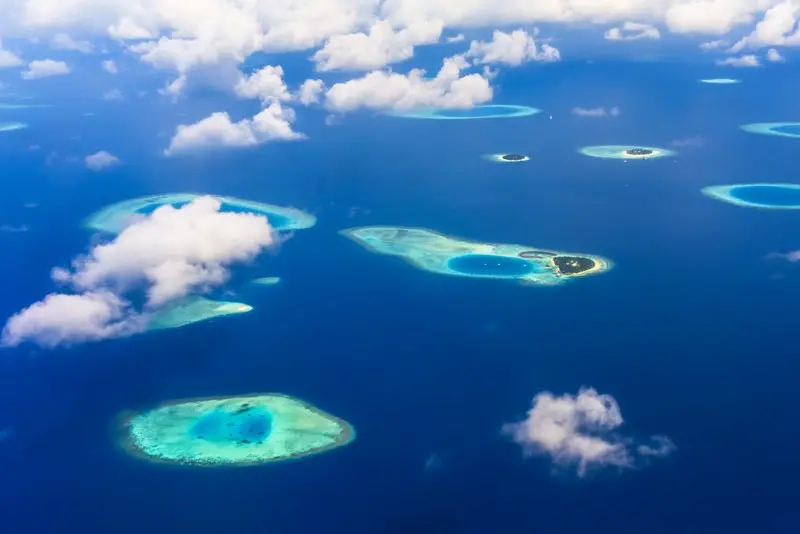 An inviting array of natural wonders, incredible beauty, welcoming scenery, beaches fringed with palm trees and lapped by the aquamarine sea. What more could a travel lover ask for, right?

Just writing this post got me thinking about my time in the Maldives and how I could really use another visit to a paradise island –> any day now. However the notion of a paradise getaway is often associated with luxury and exorbitantly extravagant prices.

But that doesn't mean a money conscious budget traveler cannot afford a tropical island getaway.
I did some digging. This is what I found.
Sure, the cost involved in getting to the island as well as staying on the island can be high. However, even popular and expensive island destinations can be done affordably if you plan, do your homework, and a little effort.

It also helps to know which islands are inexpensive or can be done cheaply and which to avoid altogether.

Read on ↓ to discover all of this… and more.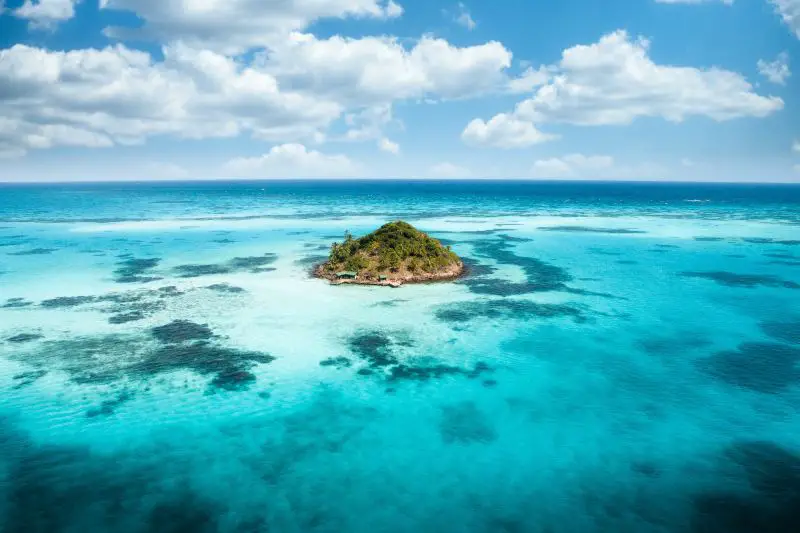 But first…
Island Paradise on a budget?
Some travel hacks + tips to keep the costs down:
Be flexible.
This is especially important when looking at booking flights, as this is going to be the largest expense of the trip, for the most part.


Visit in the off-season.
Avoid holiday periods and choose late winter, spring or early fall for lower prices and fewer crowds.


Stay away from the main tourist cities.
You can save quite a bit on food and accommodation by avoiding the overpriced spots that are frequented by the guileless tourist.


Be selective about hotel accommodation and location
Spend some time and effort researching airbnb, backpacker, and budget hotel options and you're bound to come across something that is most ideal in almost every way.


Skip the rental car.
Unless absolutely necessary, you don't need the worry and expense of having to hire a car. Research to see if it is easy enough to get around on foot or whether there is a reliable and convenient public transportation in place.


Choose farmers markets and local stores.
When stocking up on produce or for good cheap lunch choices shop where the locals do and save a bunch. Local markets also have some of the freshest ingredients sourced locally. Good for you, good for the environment.


Take advantage of free activities.
Each island offers a decent amount of free things to do, not even counting enjoying the beautiful beaches and inviting waters.
Cheap Tropical Vacations: The Best Tropical Islands to visit around the World
Let's take a tropical vacation around the world. First up….
1 | Dominican Republic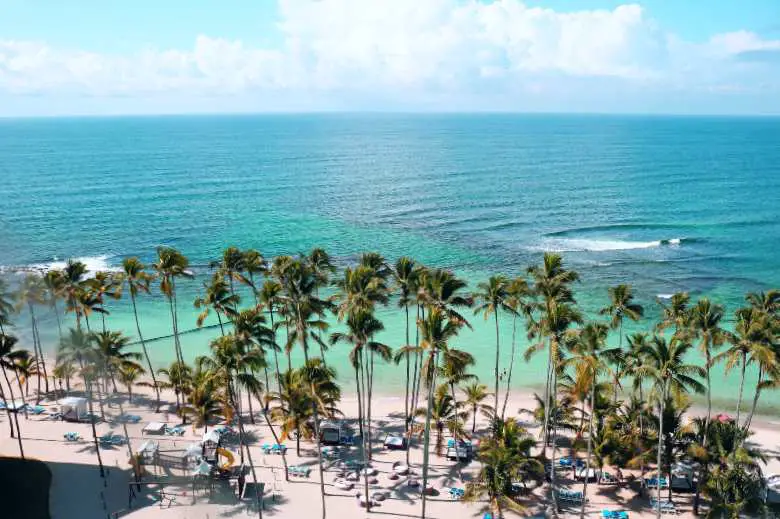 Cheapest Caribbean destination. Best island to visit
Other note-worthy options: Jamaica, Puerto Rico, Grenada, Trinidad and Tobago 
This beautiful island in the Caribbean Ocean, located only a handful of hours from the US, is my top pick for the best affordable Caribbean vacation island in the North American continent region, with its low cost of living.
Not only is the island beautiful with great weather and pristine beaches, but also boasts a multitude of adventurous activities, designer gold courses, and all-inclusive resorts at amazing rates. Wander around the DR island and you will discover waterfalls, rainforest, colonial architecture, good food, and friendly locals.
Whether you choose Punta Cana, Puerto Plata, Las Terrenas, or Samana you're almost guaranteed a wonderful tropical island Caribbean getaway that offers value for money. Accommodation on the island comes at a fraction of the cost of other more expensive islands in the Caribbean.
So what are you waiting for?

Find a cheap flight and a low cost all-inclusive hotel and get set to enjoy all that this cheap island vacation has to offer. With over eight international airports scattered across the island, getting here is fairly straight forward for the most part.
As a side note, especially for all my old mature readers, in addition to being a cheap place to visit, the Dominican Republic is well noted as one of the best places in the world to retire.
Average daily cost in Dominican Republic: At the budget-end you could set aside $60 per day at this cheap beach destination.
An affordable room would set you back US$40 while a meal at a local comedor is just US$5–6. Book in advance to secure a flight for as low as US$100 each way on a budget airline. Many cheaper accommodation options are not listed online, and often the best rates are found on arrival.
The Dominican Republic is currently going through a period of rapid development. To read more about this island, check out this fun and interesting Dominican Republic facts worth knowing.
2 | Fiji Islands, Republic of Fiji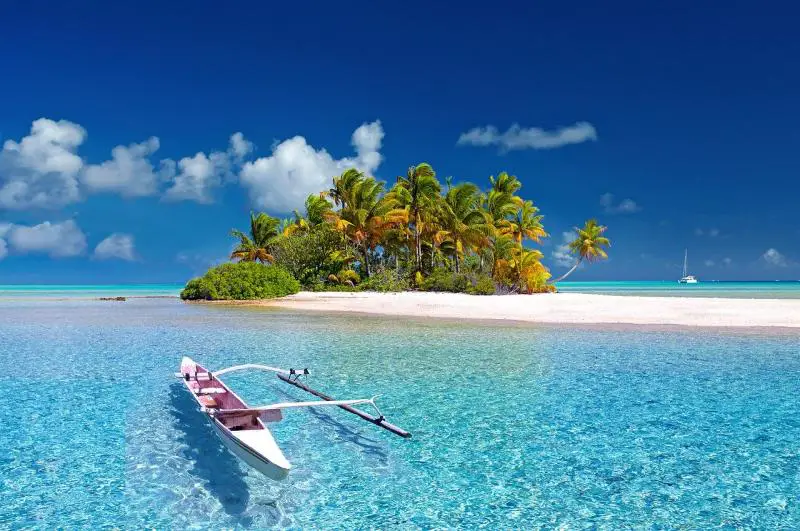 Best cheap tropical vacation in the South Pacific
Runners-up: Samoa and Cook Islands
An archipelago of over 300 islands found in the South Pacific Ocean, Fiji combines Polynesian culture with an unbelievable landscape, unspoiled waters, and tropical island vibes. It feels like the furthest away from everyday life and one of the best islands to visit.
>> Related reading:
50+ fascinating facts about the beautiful island of Bora Bora
It is probably on your bucket-list of dream destinations already, right? However, does it come with a price tag to match based on their remoteness and dream like setting?
The biggest cost involves getting to the region, with flight prices a major chunk of the vacation budget. This is followed by the cost of hopping between the islands. However, spot a cheap flight and reduce the number of islands you choose to spend your time on, and you're golden.
Because, once you're on the island it is possible to find a place to stay that is affordable and provides value for money. Also, the infrastructure is developed enough to not be overly expensive to do the simplest of things. Further, no matter the time of the year, there are always backpackers around, making it easy to find company and share costs.
Fiji comprises two big islands (Viti Levu and Venua Levu) with a road around each and a cheap reliable bus service. It helps to note that there is also a relatively cheap public ferry system to the outlying islands.
The islands provide beautiful sights, a paradise getaway and experiences unlike any other, all at a reasonable price-tag.
3 | Pulau Tioman Island, Malaysia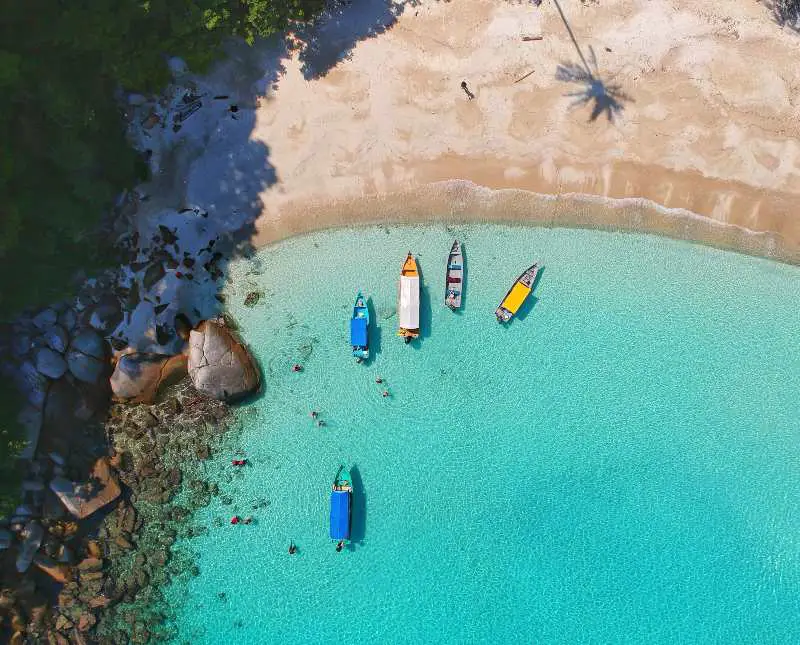 Best cheap island vacation in Asia
Other note-worthy options: Koh Chang, Phú Quc, Pulau Bintan, Boracay
South East Asia, for the most part, is one of the affordable regions in the world and is known for providing value for money, offering some of the cheapest places to travel.
With an abundance of budget destinations, it is not hard to find a beautiful island for a tropical vacation in this region that won't break the bank. This affordability is a major selling point and a big reason why backpackers the world over make their way to SE Asia.
Home to a variety of cultures, friendly locals, delicious exotic foods, cheap beach destinations, and amazing landscapes and islands there's plenty of reasons to visit… and then to stay a little while longer.
My pick for cheapest island vacation in Asia is Tioman Island.
Time Magazine named Pulau Tioman one of the most beautiful islands in the world way back in the 1970s.
This Malaysian island, off the east coast of the peninsula, is home to crystal blue waters, white sand beaches, an interior filled with dense rain forest, and some amazing coral reefs and marine life.
The island is part of a Marine Park. You can't go all the way to Tioman Island and not explore the surrounding waters with some snorkeling and/or scuba diving, which the island is very well-known for.
Other activities include discovering the island's waterfalls, jungle trekking between the villages and to the 1000m high Gunung Kajang mountain.
Easily accessed by ferry from the coastal town of Mersing, Tioman is a duty free zone. Fortunately it has not been invaded by mass tourism on the scale of Langkawi and Penang and cheap accommodation is easily found.
The majority of budget accommodation is to found on the north of the island. There are many affordable chalet operations centred around Salang, Air Batang and to a lesser extent Tekek. Dorm beds start around RM20, while single room huts cost start at RM40.
With all that money you'd be saving by visiting the best budget-friendly islands in Asia, you'll have extra money to spend on diving the beautiful waters, cooking classes, and other adventurous and cultural experiences of which so much of travel is about.
>> Related reading: The 5 best view in Kuala Lumpur Malaysia
Average daily cost on Tioman island: It is possible to spend as little as RM100 per day while on the island, including accommodation, food, and transport. For the high-end, expect to spend around RM400 per day. This amount does not include the costs of diving which would be an additional RM100 a day for equipment rental and RM100 per boat dive depending on operators.
4 | Bocas del Toro Archipelago, Panama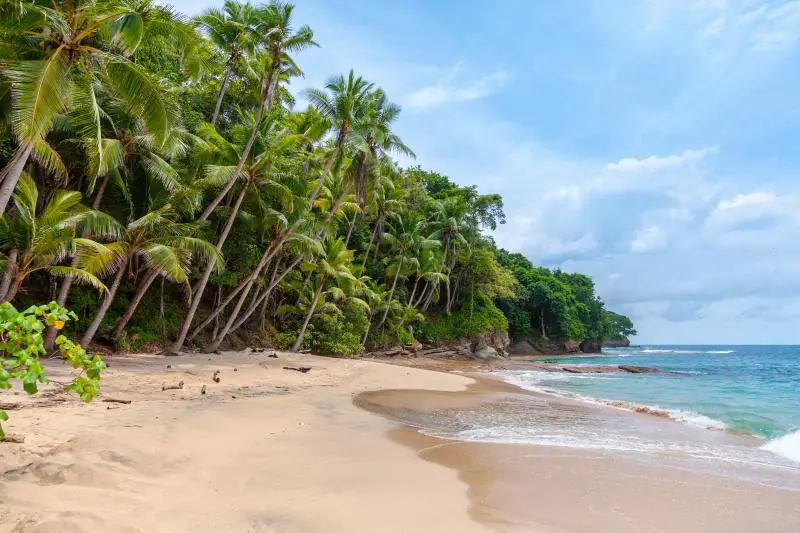 Best cheap islands to visit in Central America
Other note-worthy options: Roatan, Caye Caulker
Panama in Central America is home to an abundance of tropical islands, referred to as Bocas del Toro.
This group of 9 main islands and hundreds of smaller cays and inlets in the Caribbean Sea just northwest of the mainland is a great option when looking for budget-friendly islands to visit in Central America.
Expect to find cotton-soft, pristine alabaster beaches without another soul in sight and only the gentle lapping of the waves and sounds of the jungle creatures to keep you company. An abundance of outdoor activities, panoramic views of Caribbean coast surrounded by rain forest, and the relaxing atmosphere are other draw-cards attracting travelers to this tropical paradise. The numerous trails across the island, through lush rain forest provide a taste of mother nature in its finest form.
On Bocas del Toro you get to commune with nature on the cheap. Bocas del Toro is also where you will find Isla Bastimentos National Marine Park and the Red Frog Island Resort's Nature Preserve, home to animals like endangered sea turtles, monkeys, crocodiles, to name a few.
Bocas Town on Isla Colón is the main city and hub of the region, accessible by airplanes, ferries, private boats, and water taxis. Comprising brightly painted buildings with many on stilts on the water, only adding to its remoteness and charm.
There are dozens of activities to keep you occupied should be be so inclined. Fishing, kayaking, surfing, zip lining, water sports, and whale watching are popular with locals and visitors alike. Bocas del Toro's many fishing boats serve as water taxis, carrying residents and visitors from the mainland to the multitude of small islands in the archipelago.
My recommendation is to spend some or all of your time on the cheaper island, but just as beautiful, Isla Bastimentos. Often considered the more relaxed alternative to Bocas del Toro Town, but at only 10 minutes by water taxi, Isla Bastimentos is becoming an increasingly popular destination for backpackers.
Average daily cost: I would say it is doable on a budget of $35 per day.
Accommodation is relatively affordable. There are many good hostels and budget hotels around and prices start at $15 for a single room or $30 for a private double room.
It is easy to find a casual meal for around $5 to $8. It is just as easy to get around town by bike or taxi, which will only set you back around $1 within the town.
5 | Zanzibar, Tanzania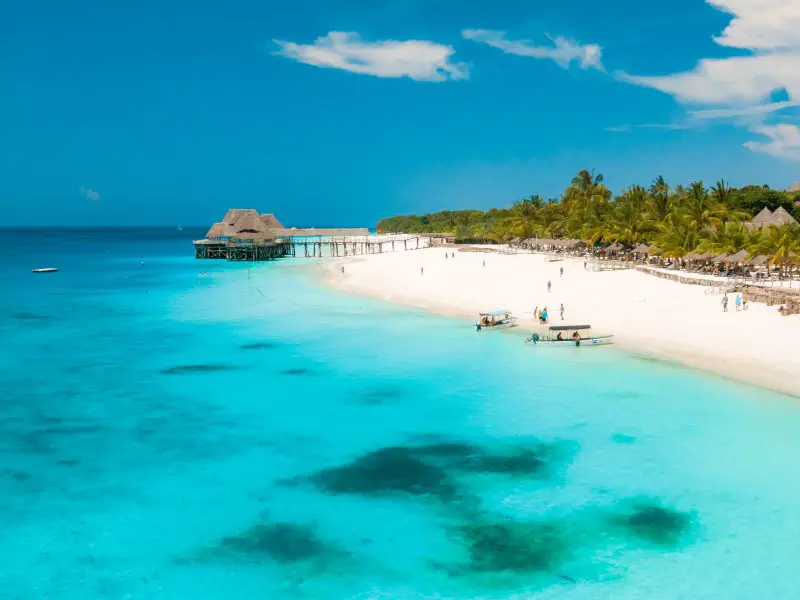 Best Cheapest island to visit in Africa
An archipelago off the coast of Tanzania in East Africa, the island of Zanzibar is guaranteed to provide white sand beaches, inviting warm waters with a rich coral life, good food, friendly locals, and a culture that as varied as interesting. The best part is that it remains an affordable tropical island vacation destination with sunsets that are as exotic as its surroundings.
>> Related: The best sunsets in Africa + where to find 'em.
The historical capital and UNESCO World Heritage Site of Stone Town is full of contrasts much like the rest of the island. It is a blend of Arab, Indian, Portuguese, and African cultures, reflective of its rich past and history going back all the way to the 15th century. Nungwi, found at the north of the island, is great for swimming in the ocean.
A beautiful island no doubt, it is not just a tropical destination, but a place filled with history, culture, and a popular option for the adventure and eco-conscious traveler. Don't miss a visit to Mnemba island, the Spice Farms, Jozani Forest Reserve and the House of Wonders, among others. For the adventure lover, kitesurfing and a plethora of water-sports are on option. It also makes for the perfect chill spot after climbing Kilimanjaro.
A walk through the lively bazaars and market stalls is an enticing invitation to the senses. Referred to locally as the spice islands, you can't miss the sights and more importantly the smell of cinnamon, cloves, nutmeg and other spices that diffuse almost anywhere on the island.
Average daily cost: As a cheap place to visit, a trip to Zanzibar could possibly cost as little as $25 USD per day. With a variety of luxury five-star experiences to laid back affordability, Zanzibar has something for everyone and is sure to make that holiday budget stretch much longer.
6 | Curaçao, Lesser Antilles island
Best inexpensive island to visit in South America
Other note-worthy options: Ilha Grande, Santa Catarina, Aruba

This lesser-known tropical island found off the Venezuelan coast on the South American continent is filled with colonial neighborhoods, beautiful beaches, colorful streets, and coral reefs. A Dutch territory in the Caribbean, Curaçao is a fairly affordable tropical vacation island and budget-friendly as a cheap Caribbean island destination.

It is best to visit during the off-season of May – October to score reduced flights and hotel specials at one of the many value for money resorts. The relatively large Curaçao International Airport accommodates a large number of low-cost competing airlines. The island is located outside of the hurricane belt and is not affected by rains and sever weather conditions unlike the rest of the Caribbean.

The interesting mix of Creole, Dutch, and Spanish influences gives Curaçao a unique feel and makes it one of the best islands to vacation. The World Heritage city of Willemstad comprising awesome architecture, pastel-colored buildings, the floating Queen Emma Bridge, and world-class museums awaits your arrival. While the clear sugary beaches and turquoise waters of Westpunt can be reached in under two hours.

The tropical island's protected coral reefs, optimal diving conditions, and rich marine life attracts aquatic-lovers the world over to Curaçao. Don't miss a visit to some of my favorites that include Baya Beach, Playa Cas Abu Beach, and Seaquarium Beach. Other activities include kitesurfing, sailing, windsurfing.
>> Related reading:
Your complete guide to visiting Aruba Flamingo Beach here.
Average daily cost of Curaçao: Expect to pay around US$ 80 per person per day on a budget. Accommodation can be found starting at $35. While you could certainly spend more on a luxurious trip to Curaçao, it helps to keep things simple.
Book in advance to score a cheap flight. For accommodation take a look at the many guesthouses and bed and breakfasts on offer. There is a wide variety of food options available from posh restaurants to street food vendors, and food trucks, naturally catering to all tastes and budgets. Although the official currency of Curaçao is the Antillean guilder, US dollars are widely accepted.
7 | Cozumel, Mexico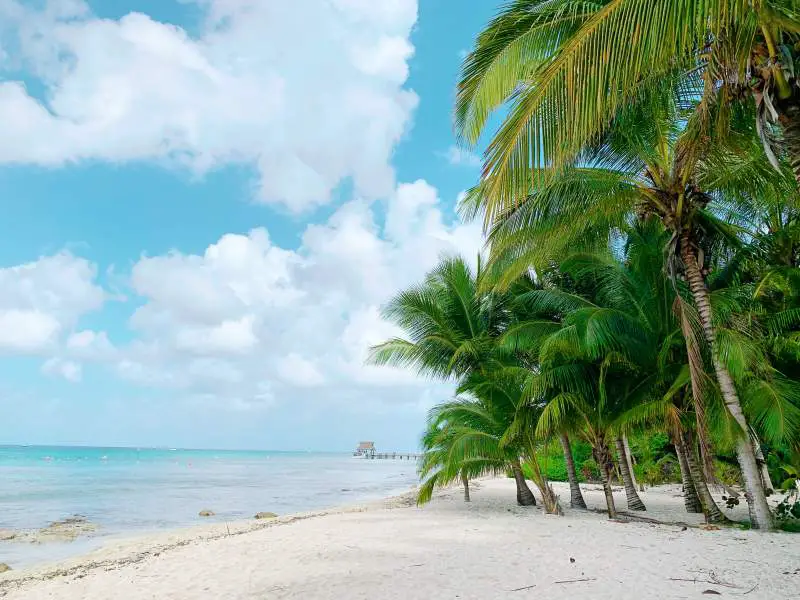 Best cheap tropical vacation island to visit in North America
Mexico's largest Caribbean island off the eastern coast of Mexico's Yucatán Peninsula, Cozumel has grown from a quiet fishing village to a hotspot for travelers around the world. Apart from the natural beauty and relaxed island lifestyle, a big draw-card is that it remains a cheap island to visit. It often tops the lists of budget-friendly islands.
>> Related reading:
100 interesting and fun facts about Mexico
Cozumel falls under the Greater Cancun zone, part of the state of Quintana Roo, and this huge cluster of resort areas is served by one one airport. Find a cheap flight and you're good to go for an amazing tropical island vacation that will not break the bank. This is of course dependent on spending money wisely and avoiding the tourist traps.
To reach Cozumel without paying for an expensive direct flight, it is recommended to fly into Cancun on one of the many budget airlines that arrive here each day. Then continue by bus or van to Playa del Carmen, followed by the ferry from the Mexican mainland to Cozumel.
Famous for its pristine coral reefs and perfect current conditions, makes snorkeling and particularly diving in the clear blue waters a delight. In fact, it is described as a diving paradise and one of the best scuba diving destinations in the western hemisphere with its towering coral formations and lush reef walls. The great thing is that diving in Cozumel is suitable for all levels from beginner to most technically advanced.
Make your way past the main town of San Miguel de Cozumel and avoid the cruise ship day trip crowds, to discover Maya ruins, and a variety of ecotourism activities to keep you entertained. Don't miss a visit to sites such as San Gervasio Archaeological Zone, Chankanaab National Park, or the Atlantis Submarine. For the best beaches on the island go to Playa San Francisca or Playa Palanc.
Average daily cost in Cozumel: It is highly possibly to discover the island on a budget. Expect to pay M$750 or $40 per person per day.
Well-priced private rooms can be found outside the centre of town. Local street food is another good option costing around 30 pesos. Dinner at a decent restaurant is usually around 140 pesos.
It is not necessary to rent a cat as getting around is easy by way of walking, scooter, or taxi. The majority of expenses, outside of getting to the island, will be the activities such as diving and snorkeling.
8 | Maafushi Island, Maldives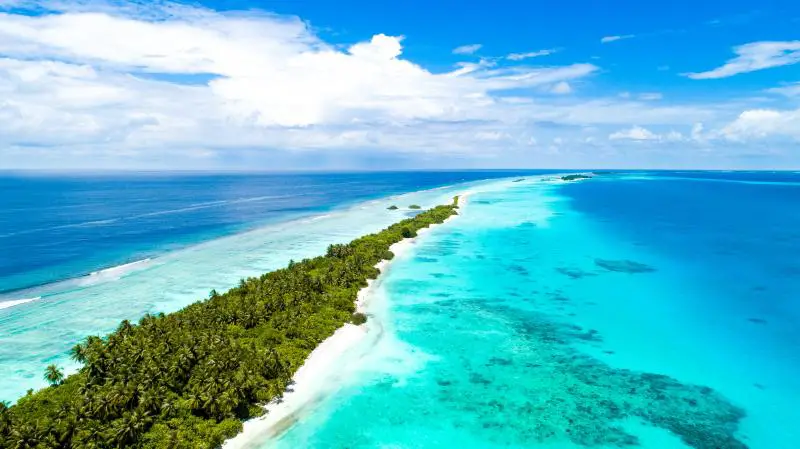 Best Cheapest island to visit in South Asia Indian Ocean
Other note-worthy options: Biyadhoo, Ellaidhoo, Embudu, and Sri Lanka
Is the Maldives even synonymous with cheap tropical vacations? Is it possible to visit the Maldives on a budget, you ask. Why yes. This is provided you visit the local islands instead of the private islands resorts. On these local islands, where most of the charm and authenticity of the region is to be found, is where you will find guesthouses and surf camps.
By staying at a guesthouse and visiting luxury resorts on a day trip, you get to experience the beauty of these paradise islands without breaking the bank.
So which tropical islands in the Maldives provide value for money? A handful of options come to mind, but this is by no means exhaustive. Maafushi, Thulusdhoo, Biyadhoo, Thoddoo, Guraidhoo, Ellaidhoo, among others.
Maafushi, just a short thirty minutes away from the capital Malé by speedboat, is one of the biggest and most popular local islands in the Maldives. It is also an inexpensive tropical island to visit. Prices have gone up since more people have discovered this spot, but still remains reasonable, at least for now.
Located in the South Male Atoll, with over 80 guesthouses, it provides ample choice for accommodation. It is the local inhabited island with the most number of guest houses in the country.
Guest houses provide various excursions around the island and to neighboring islands for vacation activities that include snorkeling, fishing, and water sports excursions. Three dive centres can also be found in Maafushi.
The atmosphere on the island is relaxed and comfortable, but due to its increase in popularity, Maafushi can get crowded in the peak season.
Expect to find a white sandy beach on the north-eastern side of the island where a beautiful view of the surrounding Indian Ocean awaits with crystal clear waters and a shallow lagoon.
Average daily cost in Maafushi: You can get by on $45 per day.
The large number of guesthouses and the competition keeps the prices within a budget level. It helps to look around in advance to secure the most suitable. You could get to Maafushi by the local ferry from Male or the airport costing $2 each way. Alternatively, a speedboat would get you here in half the time for $25.
Maafushi island offers a reasonable number of food options and just by walking around you will come across local cafes offering something to suit every taste and budget. Many guesthouses have in-house restaurants too. Even splurging a little and choosing a spot under the rusting palms with a view of the lagoon won't break the bank or that holiday budget.
9 | Crete, Greece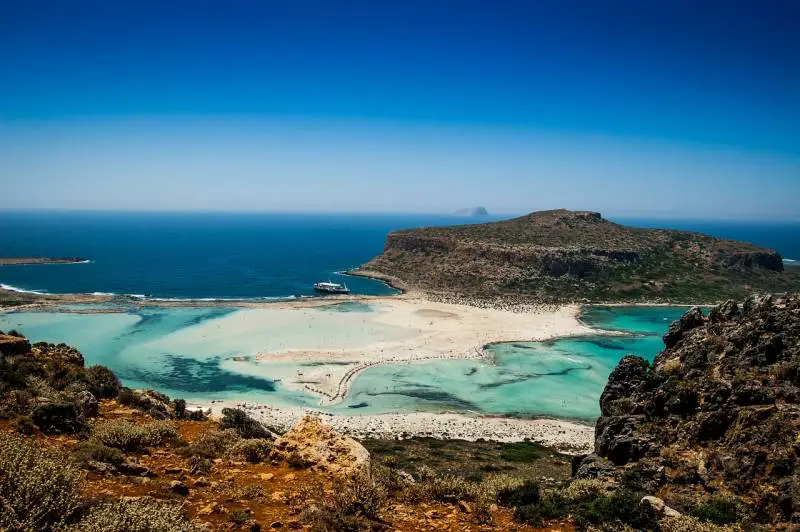 Best affordable island to visit in Europe
Other note-worthy options: Lesvos, Lemnos, Hvar, Sardinia, Corsica.
More than 100 islands can be found scatted among the countries in Europe. From the warm waters of the Mediterranean in the south to the rocky Atlantic islands in the Scandinavian north.
Fortunately, the abundance of budget airlines in this region makes finding cheap islands to visit that much more attractive and possible. There are also affordable ferries that depart from Split, Athens, Barcelona, Genoa, and Livorno, to name a few, allowing for an even wider choice.
Immaculate white-sand beaches, diverse landscapes, and affordable prices make Sardinia, Corsica, Hvar, Lesvos, and many other islands a good choice.
However, my choice for cheap island vacations in Europe would be Crete.
Humans have lived on the island of Crete for at least 130,000 years. If you're wondering why, it has probably got something to do with its beauty, location, and magical Mediterranean charm.
Due to the island's geographical position between Europe, Asia Minor, and Africa, Crete became a centre of influence. Crete was the location of Europe's first advanced civilisation and traces of this can be found throughout the island. In-between all of this, you will find Minoan, Dorian, Roman, Byzantine, Ottoman, and Arab influences reflecting the island's rich past.
Located in the southern part of the Aegean Sea, the island is the largest and most populous of all the Greek islands. Large enough for you to spend your entire vacation just on this one island, exploring its hidden gems and extraordinary treasures.
Wander around and find magnificent mountains-capes, pretty beaches, historic monuments, Cretan melodies, picturesque villages, and tsikoudia spirit.
Average daily cost: Because of the popularity of Crete as a holiday destination, the islands infrastructure caters to all budgets. Expect to pay an average of €70 per day.
There is a wide variety of accommodation options ranging from all-inclusive luxury to smaller family owned apartments and camping facilities. My advice would be to go beyond the big north coast resorts in Crete to places like Zakros, Paleochora, Sitia, and Ierapetra.
The average cost of food in Crete is €20 per day. For those on a tighter budget, forego the expensive cafes and restaurants on the waterfront for the cheaper and more traditional places to be found off the main street and along the back streets. Self catering a good option if you're looking to save. Local produce including fresh bread, olives, vegetables, and fruit is plentiful and at a very good price. The cost of a taxi ride is much more than public transportation.
>> Read next: Another island in Europe definitely worth a visit is Malta.
Here's the 25 best things to do in Malta
10 | Oahu, Hawaii
Cheapest island to visit in Hawaii and North Pacific
Hawaii, world-renowned for its epic volcanoes, emerald green landscapes, white sandy beaches as far as the eye can see, hours of sunshine every single day, and delicious food. However this lush tropical paradise is not considered as a bargain travel destination.
Sure, this part of the world does not offer the most affordable islands to visit, but if you do have your heart set on visiting an island in the North Pacific, which island should you choose?
Well, the least expensive Hawaiian island to visit is Oahu.
Due to an abundance of flights, accommodation, tours, and attractions, this island is the most affordable island in the North Pacific for travellers, provided a little homework is done on your part.
If you are backpacking Oahu on a budget, give the ocean-facing hotel rooms, umbrella drinks, and lomi lomi massages a miss. What you should do is enjoy the blue waters, hiking in the countryside, soaking up the sun and the aloha vibe instead, all of which are free or come at a minimal cost.
The most famous beaches of Hawaii are easily accessible and you cannot miss hiking the iconic Diamond Head which comes at a meager $1, but provides panoramic skyline and ocean views. All of this undoubtedly makes Oahu the best island to visit in Hawaii.
>> Must read — Your Ultimate American Bucket List:
The best places to visit in USA
Here are some helpful tips if you're planning on backpacking Hawaii on a budget:
— To keep the costs down be flexible both in terms of when you can travel and the type of accommodation option. This is especially important when looking at booking flights, as this is going to be the largest expense of a trip to Hawaii. Visit in the off-season (late winter, spring or early fall) and you get to avoid the crowds and experience reduced prices.
— Stay away from the main tourist cities and be selective about hotel accommodation. It helps stretch your money further by spending some time researching airbnb, backpacker, and budget hotel options.
— Do skip the rental car. There is a reliable and convenient public transportation called TheBus and it will get you pretty much anywhere on the island for $2.50 one-way.
— Choose farmers markets and ABC stores for good cheap lunch choices and for stocking up on produce.
— Take advantage of free activities. Each island offers a decent amount of free things to do.
Before you go, let's finish off with which island(s) to avoid..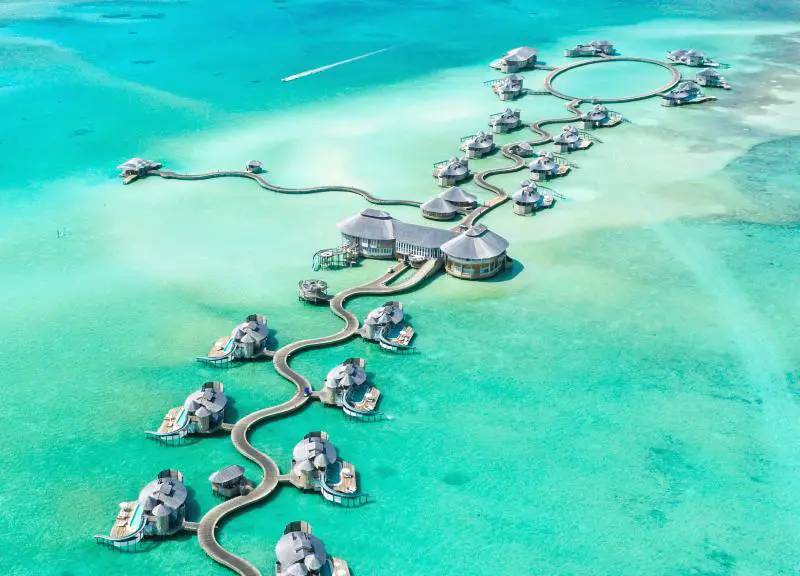 The Most Expensive Island in the World:
Banwa Private Island
Located in the Palawan archipelago, this private island resort will set you back a whopping $100,000 a night. Yes, PER night. On this secluded you will find only a handful of beachfront villas where infinity pools come standard. A private chef will arrange freshly caught fish and vegetable picked from the island and ensure your cravings are never left unwanted.
Don't have 100 grand to spare? Choose Batangas or Zambales instead.
Other expensive islands that are almost guaranteed to break the bank:
Turks and Caicos, Bora Bora, British Virgin Islands, St. Barthelemy, Lofoten Islands, Barbados, Fregate, Sonevajani, Antigua and Barbuda.
---
Damn guys, all this talk about tropical island life has given me the biggest urge for a spontaneous paradise getaway.
As you can see, a tropical island vacation does not necessarily mean an automatic dent in your travel savings. It is highly possible to visit an island at many points around the world that is both beautiful and provides value for money without costing an arm and a leg.
WHAT ABOUT YOU? Which island is your favorite?
>> Read next:
Where will you go?
Pura Vida ❤️

Rai
>> >> For even more travel inspiration + beautiful island shots,
be sure to find me on Instagram here