21 Cheapest Countries in Europe To Visit in 2023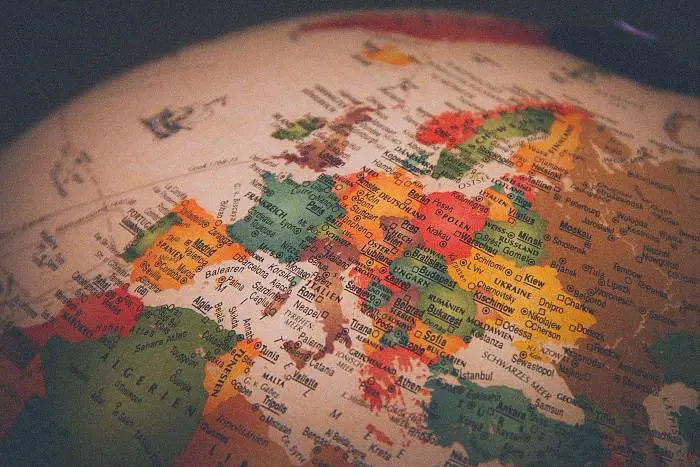 Are you looking for the cheapest European holiday destination for your next vacation? With prices going up in many countries post-pandemic, it can be hard to find an affordable destination. But don't despair! There are still plenty of cheap places to visit in Europe where you can enjoy a great holiday for less.
From sunny beaches and lush forests to vibrant cities and charming villages, here are some of the best and cheapest countries in Europe in 2023. Whether you're looking for culture or adventure, there's something here for everyone at an unbeatable price.

I've traveled to Europe more times than I can count. And still managed to save money along the way. So pack your bags and get ready to explore one (or many) of these amazingly affordable holiday destinations in Europe without breaking the bank too!
>> MUST READ:
Your complete guide to the Schengen area in 2023
>> Read next:
Ok, let's get into it. Here are…
THE CHEAPEST EUROPEAN COUNTRIES TO VISIT IN 2023 🇪🇺
What are the cheapest countries in Europe 2023? Check out our comprehensive list of the best cheap places in Europe to visit when on a budget.
⬇ Cheap Europe country list ⬇
1 | POLAND 🇵🇱
What is the cheapest Schengen country to visit?

Poland may not be the first destination that comes to your mind when planning a European holiday, but don't underestimate the incredible value it offers.

With stunning countryside, superb cuisine, and affordable cities, Poland ticks all the boxes for a budget-friendly European holiday getaway and is well regarded as one of the cheapest Schengen countries in 2023.
The country has much to offer in terms of cultural attractions, from the Auschwitz-Birkenau camps to the Wieliczka Salt Mine and Schindler's Factory. And the best part? Visiting these sites during the shoulder season, especially in spring, will ensure prices are low and crowds are thin.
Poland also boasts plenty of free or low-cost attractions, including historic landmarks, museums, and ancient forests.

Many monuments and attractions have one free day every week! And although trains can be a little pricy when going from city to city, getting around by bus is easy and very affordable thanks to companies like Flixbus and Eurolines.

Whether you're exploring the charming city of Krakow, savoring traditional pierogi, or hiking in the Bieszczady Mountains, Poland is an ideal destination for an unforgettable and inexpensive European adventure without breaking the bank.
2 | ROMANIA 🇷🇴
Looking for an enchanting and low-priced European vacation destination for your next trip?

Look no further than Romania, where stunning scenery, fascinating history, and mouthwatering cuisine all come together to create an unforgettable travel experience.
Whether you're exploring the fairy tale castles and majestic mountains of Transylvania or discovering the vibrant nightlife and rich cultural heritage of Bucharest, you will be enchanted with Romania. For nature lovers, there's the Danube Delta and the Carpathian Mountains.
For those looking to explore Romania's past, there are plenty of medieval castles and churches to visit. And for foodies, Romanian cuisine is sure to tantalize your exotic taste buds.
Bucharest may be home to some of Europe's best shopping, but Romania has many other budget-friendly activities and attractions. From hiking in the Carpathians to exploring ancient ruins, Romania offers lots of unique experiences — all at a fraction of the cost of other cheap European countries to visit!
The combination of a currency that offers great value for money as well as the low cost of living here makes it easy to see why this Balkan jewel is quickly becoming one of the most popular low-cost European holiday destinations in 2023.
3 | MONTENEGRO 🇲🇪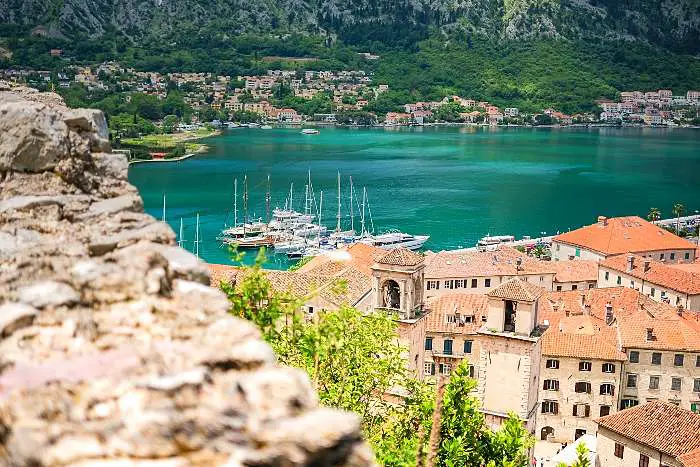 Montenegro may not be at the top of many people's travel bucket list, but it should definitely be considered.

This small Balkan country has a surprisingly diverse landscape, with rugged mountain ranges, glacial lakes, and stunning stretches of coastline overlooking the turquoise Adriatic Sea.
Where is the cheapest place to holiday in Europe?

Despite its stunning beauty, Montenegro is an incredibly affordable destination in Europe in 2023, offering budget-friendly accommodation, dining, and activities compared to many of its Mediterranean neighbors.
From exploring medieval walled towns and picturesque cities like Kotor and Podgorica to hiking in the Durmitor National Park and kitesurfing on the island of Ada Bojana, Montenegro has something to offer for every type of traveler.
Make sure you choose the right time to travel though, since July and August are prime months for tourists from Russia. September and October are much better options for a more tranquil and affordable travel experience in Europe.
With its friendly locals and rich cultural heritage, Montenegro is sure to enchant and leave an unforgettable memory for all who visit as one of the cheapest places to visit in Europe 2023.
4 | CROATIA 🇭🇷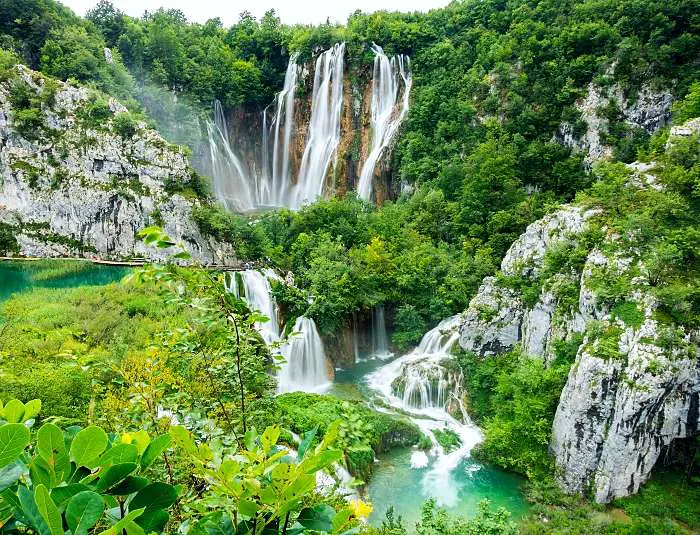 Croatia is an economical destination that offers a combination of history, culture, and natural beauty. Although it costs a little more than its neighboring countries in the Balkans, it is still a great option for cheap European holidays.

With its picturesque medieval towns and enchanting coastal cities, Croatia boasts an array of UNESCO World Heritage sites, including Dubrovnik and Split.
Visitors can explore the country's ancient castles, forts, and palaces, such as the stunning Diocletian's Palace in Split. Outdoor enthusiasts can hike the Plitvice Lakes National Park, swim in crystal clear waters, and enjoy a day trip to the idyllic islands along the coast.
Croatia is often compared with Greece and Italy, but at a much lower cost and with fewer tourists than these other Schengen countries. The beaches here are equally stunning and the turquoise sea, just as crystal clear.
Croatia also offers a vibrant nightlife, exceptional cuisine, and warm hospitality, making it an affordable and alluring destination for a cheap European vacations.

Whether you're looking for an affordable city break or a relaxing beach holiday, Croatia is the perfect destination for cheap holidays in Europe.
Continue reading as I reveal more of the cheapest travel destinations in Europe ↓
5 | BULGARIA 🇧🇬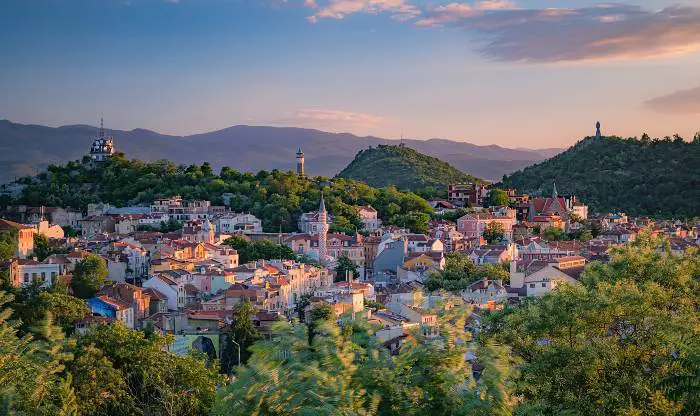 Bulgaria is regularly at the top of the list when it comes to cheap travel in Europe. With affordable accommodations, flights, and entertainment, it's no wonder why it's a go-to destination for budget-conscious travelers.

Its capital Sofia is home to a variety of free attractions and has unbelievably cheap public transportation which is made even more affordable with the Sofia Pass.
But what makes Bulgaria truly special is its breathtaking countryside. From castles to hiking trails, there's plenty to see and do for free or at minimal cost. Plovdiv, for example, has over 200 archaeological sites and is even cheaper to explore than the capital city Sofia.
This Eastern European country is also home to some of the cheapest ski resorts in the world. Take a trip up to the Rila mountains or explore one of the many cultural museums in Plovdiv. And if you're looking for a beach break, make sure to check out the beaches of Sinemorets or Balchik on the Black Sea.

You won't be disappointed! Bulgaria truly has it all for budget travelers seeking an enchanting vacation in one of the cheapest holiday destinations in Europe .
6 | TURKEY 🇹🇷
Turkey's Turquoise Coast is a hidden gem that offers budget-conscious travelers a chance to experience the idyllic Mediterranean lifestyle without breaking the bank and is next on our guide of the cheapest travel destinations in Europe.
Marmaris has been a cheap holiday destination for Europeans looking for a beach getaway for decades. The coastal hotspot is not only home to cobalt water and glitzy marinas, but also boasts a rich history showcased in its castle and archaeology museum.
With endless affordable hotels, lively nightlife, and open-air clubs, Marmaris provides the perfect balance of relaxation and entertainment. There are several popular tours such as luxury yacht cruises, jeep or quad safaris and sunken ships to explore snorkeling or diving.
And if that's not enough, the beaches of Icmeler and Turunc offer stunning views and endless opportunities for sunbathing and water sports. And, it was recently ranked the top European destination for a cheap beach holiday! An excellent choice. And don't miss a visit to Ephesus either when in Turkey.
7 | MOLDOVA 🇲🇩
Moldova is another one of the cheapest European countries to travel to in 2023 that offers a unique experience, particularly for wine lovers. With over 140 wineries spread out across the country, it is easy to find a place to sample the local wines and tour the vineyard at an affordable price.
The country is home to some of the best wines in the world, with a winemaking tradition dating back to 3000 BCE. In addition to winery tours, tourists can discover a range of charms such as beautiful landmarks, Soviet-era monuments, and memorials.
They also have delicious cuisine influenced by Romanian, Russian, and Turkish flavors. Moldovan food portions are large and incredibly affordable, an excellent opportunity for budget travelers to discover new flavors.
For those looking for something different, head to Tiraspol, a city that remains largely unchanged since the Soviet era and home to the award-winning Kvint Cognac distillery.

In Moldova, a gourmet travel experience doesn't have to break the bank.
8 | SERBIA 🇷🇸
Serbia, one of the cheapest destinations in Europe 2023, is a land of wonders, offering tourists an affordable opportunity to explore the rich history and stunning natural beauty of the country.
Belgrade, the capital city, is one of Europe's most inexpensive destinations, where visitors can enjoy vibrant city life, breathtaking mountain views, and gorgeous lakeside beaches – all without breaking the bank.
The nightlife in Belgrade is legendary, and if you're looking for a good time Belgrade won't disappoint.
With a wealth of attractions such as Kalemegdan Fortress, Church of St Sava, and Nikola Tesla Museum, Belgrade is a tourist's paradise.

But for those who seek tranquility, Serbia's monasteries are a must-visit. These grandiose houses of worship have stood for centuries and are a testament to the country's spiritual heritage.
In addition, Serbia's national parks showcase the country's stunning natural beauty, including river canyons, mountains, lakes, and forests.

With so much to see and do at such an affordable price, Serbia is an enchanting destination for a European holiday you won't want to miss.
9 | NORTH MACEDONIA 🇲🇰
What is the cheapest country to travel in Europe?

North Macedonia, widely regarded by many as the cheapest country in Europe to visit, is a hidden treasure trove of natural and cultural beauty. This Balkan country has remained relatively undiscovered among other more sought-after holiday destinations.

With its picturesque capital, Skopje and fascinating cities like Ohrid, this country is the perfect destination for budget-conscious travelers looking for an enchanting and affordable European holiday in 2023.
Visitors to Macedonia can experience the stunning 80% mountainous terrain and explore the Old Bazaar, among other medieval wonders. It is also home to Lake Ohrid, one of the largest, oldest, and deepest lakes in Europe, adorned with beautiful churches and cultural festivals throughout the year.
Ohrid's summer festival is a great chance to see Macedonian culture in action and the town's promenade offers plenty of opportunities for adventurous activities such as bike rides, boat trips, kayaking and stand-up paddle boarding.

Make sure to visit Tsar Samuel's Fortress or the picturesque St Jovan Kaneo church to get the most of your stay in North Macedonia.

All these activities and attractions can be enjoyed with a minimal budget, making it one of the best and cheapest countries to travel in Europe in 2023.
10 | PORTUGAL 🇵🇹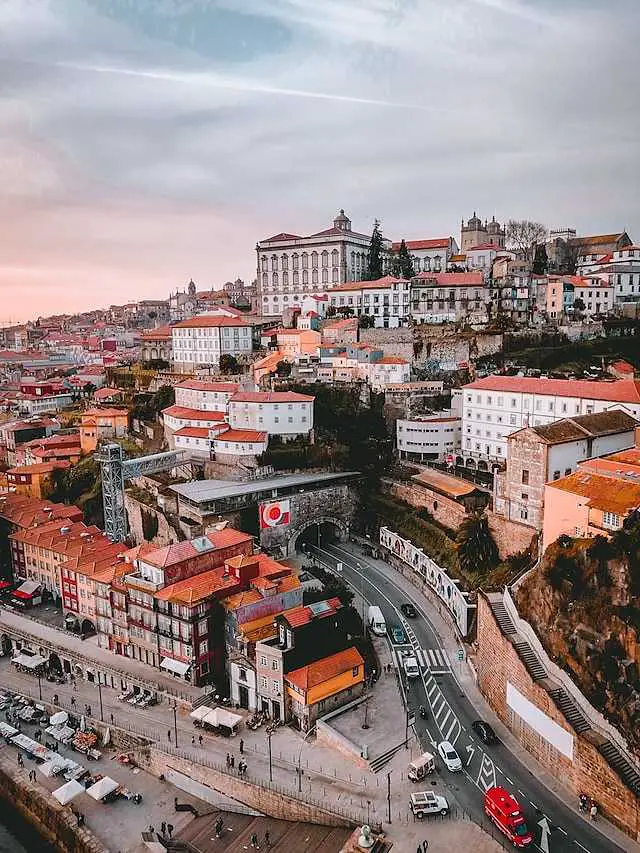 Portugal is a stunning and affordable European destination that offers an enriching travel experience without breaking the bank. With its dramatic coastline, charming rural villages, and bustling cities like Lisbon and Porto, there's something for every type of traveler.
Portugal, the cheapest country in Western Europe, boasts a rich history and cultural heritage, with ancient castles, palaces, museums, and impressive monuments that are steeped in tradition.

Moreover, the cuisine is delicious and affordable, featuring seafood delicacies like grilled sardines and hearty stews like Cozido.

And of course, a trip to Portugal wouldn't be complete without tasting its world-famous port wine. You can also go surfing since the only World Surf Reserve in Europe is located along Portugal's coast.
Although Portugal is no longer as cheap as it used to be, it is still well-priced in comparison to many of the northern European countries. Hotels are relatively affordable, and food is generally well priced, especially away from the more touristic areas.
With so much to see and do, Portugal is truly a must-visit for any budget-conscious traveler looking to experience the best that Europe has to offer in 2023. The country is also a great destination for digital nomads.
11 | OTHER NOTEWORTHY CHEAP EUROPE COUNTRY OPTIONS 🇪🇺
Check out these other cheap countries to travel in Europe:
Estonia
Georgia
Slovakia
Greece
Ireland
Spain
Bosnia and Herzegovina
Albania
Latvia
Hungary
Czech Republic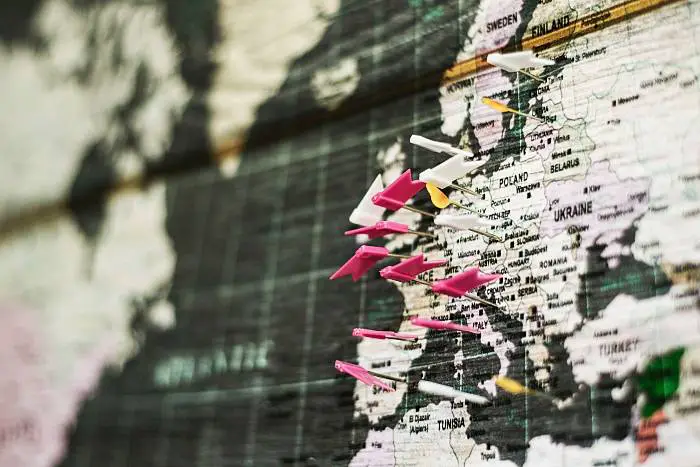 Now that you've discovered the cheapest European countries to visit,
let's take a look at some….
Tips for a Cheap European Holiday
You may be wondering — How can I travel to Europe on a budget?
Here are some helpful tips for cheap European vacations
1. Try visiting these cheapest European destinations during the shoulder season – this means lower prices, and fewer crowds. High season is considered to be June, July, and August. So when traveling on a budget to Europe, it is best to avoid this period.
2. Book a flat, hotel or hostel in advance, which will often be cheaper than booking last-minute deals.
3. Consider taking public transportation or an Uber instead of renting a car or taxi when possible since it can be much more economical and efficient.
4. Look into discounts such as student cards, city cards, senior discounts, museum passes, etc., they may offer lower entry fees or other benefits that can help you save money while traveling around Europe!
5. Be flexible with flight times and airports; look for nearby airports with cheaper flights if possible so that you get the most bang for your buck when flying in Europe!
6. Use budget airlines whenever possible to reach these cheap holiday destinations in Europe. These are great for short-distance trips to save even more money, where full-service carriers might charge higher rates due to their luxury amenities and extra services offered during flights!
7. Look into all-inclusive holiday packages like surf camps, or yoga camps; many companies offer bundle deals that include things like accommodation, meals and guided tours at discounted rates compared to paying individually for each service separately!
Cheapest European Holiday Destinations: The Wrap-Up
The continent is beautiful and diverse, offering something for every type of traveler. Whether you're looking to explore ancient ruins, get lost in natural wonders, or take part in exciting activities like surfing or kayaking, there are plenty of amazing Europe cheap destinations that won't break the bank.
With careful planning and smart budgeting tips, it's possible to have an unforgettable European holiday without spending too much money by planning a trip to one of these cheap countries in Europe.
---
A beachcomber, an avid bookworm, and a teacher. Michelle is a Canadian travel blogger who writes about Ericeira and Portugal. She fell in love with the charming Portuguese village when she was enticed to move there by her Portuguese husband and never looked back. She now lives between Mallorca and Ericeira, with her family and Fluffy the hamster. Follow her adventures on Ericeirafamilyadventures.com.