10 Cheapest Islands in Greece in 2023 for an Affordable Greek Holiday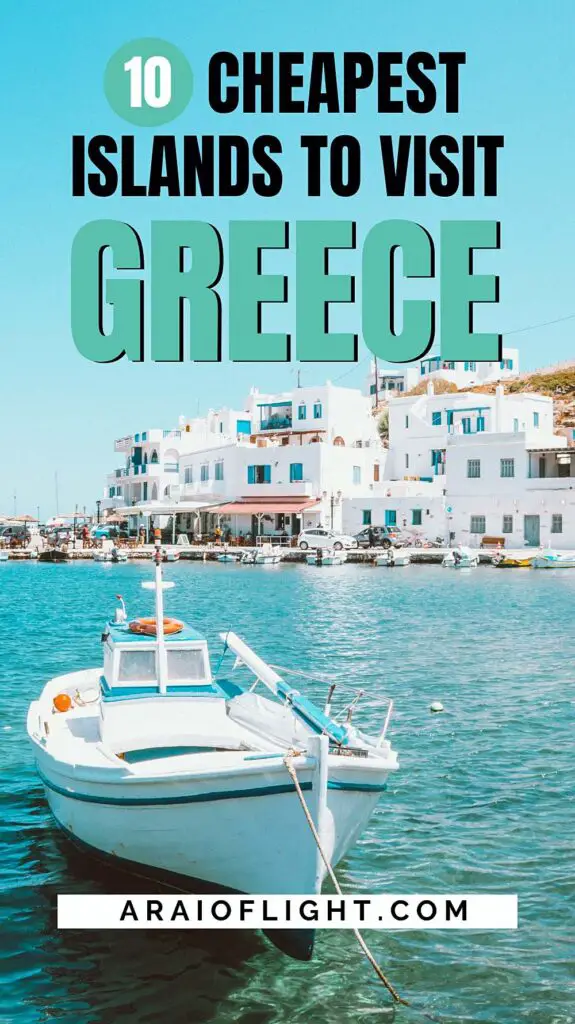 🏝️ Are you dreaming of an affordable Greek island getaway in 2023, but worried about your budget? Join the club!
However, I can assure you that you don't need a huge budget to go island hopping in Greece.

Everybody knows about the touristy (and expensive) islands like Santorini, Mykonos, and Corfu, but there are over 200 islands in Greece, and you can travel to some for less than $50/day!  
These cheap Greek islands are home to the same mesmerising landscapes, rich history, ancient ruins, excellent food, and vibrant culture, but it will cost just a fraction of other more extravagant European holiday island destinations! 
Some of these affordable islands in Greece are great for a quiet romantic holiday, while others are fit for thrilling adventures and lively beaches! 
So, here is the ultimate list of the cheapest islands in Greece in 2023!

Where will you go?
>> Read next:
The Cheapest Greek Islands To Visit in 2023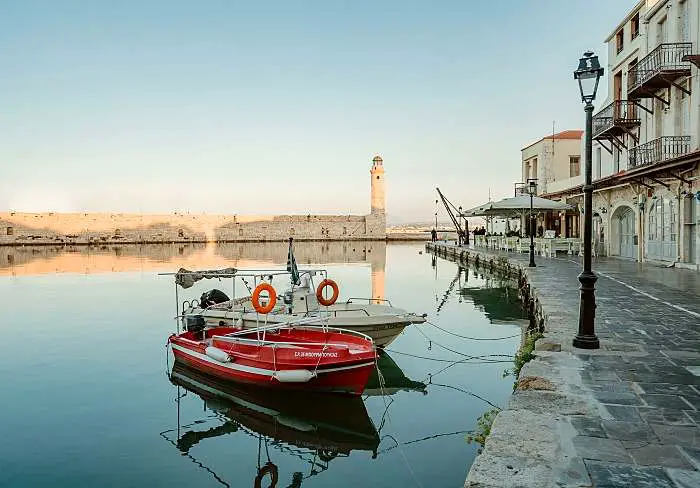 What is the cheapest island in Greece?
1. Agistri
Agistri is a hidden gem in Greece. It's located only an hour from Athens and offers an excellent, budget-friendly escape from the city. It's the smallest island in the Saronic Gulf and full of unspoiled beaches, secluded coves, and lush pine forests across the whole island. 
This island is less touristy than others in the area, and if you're spending the night here, you'll experience it even more peacefully (and more authentically) once the day-trippers depart.  
Where to Stay on a Budget — Dionysos Hotel, Skala
Ferry from Athens — €10 – 20 (1 hour)
Best Way to Get Around on a Budget — Rent a Scooter
2. Lefkada 
The Greek island of Lefkada, lying in the Ionian Sea and connected to the mainland by a causeway, is renowned for its stunning world-famous beaches and crystal-clear turquoise waters.

Lefkada is often overlooked in exchange for more expensive islands, like Corfu and Zakynthos – but it's no less beautiful. I loved exploring this island full of amazing beaches, stunning turquoise waters, charming villages, museums, and monasteries.

Some top attractions that you should not miss in Lefkada are Porto Katsiki Beach, the Waterfalls of Nydri, and the gorgeous Lefkada Sea Lakes!

In addition to being one of the most affordable Greek islands, it's also one of the easiest Ionian Islands to reach. You can get here by car and once here, you will discover that the island offers a range of affordable accommodations, from cheap guesthouses to some of the best camping in Greece.

Visit this cheap European holiday destination to discover this hidden gem before the word gets out, before the crowds infiltrate, and before the prices go up.
Where to Stay on a Budget — Nefeli Guesthouse (Vasiliki)
Ferry from Athens — No ferries from Mainland 
Best Way to Get Around on a Budget — Rent a Car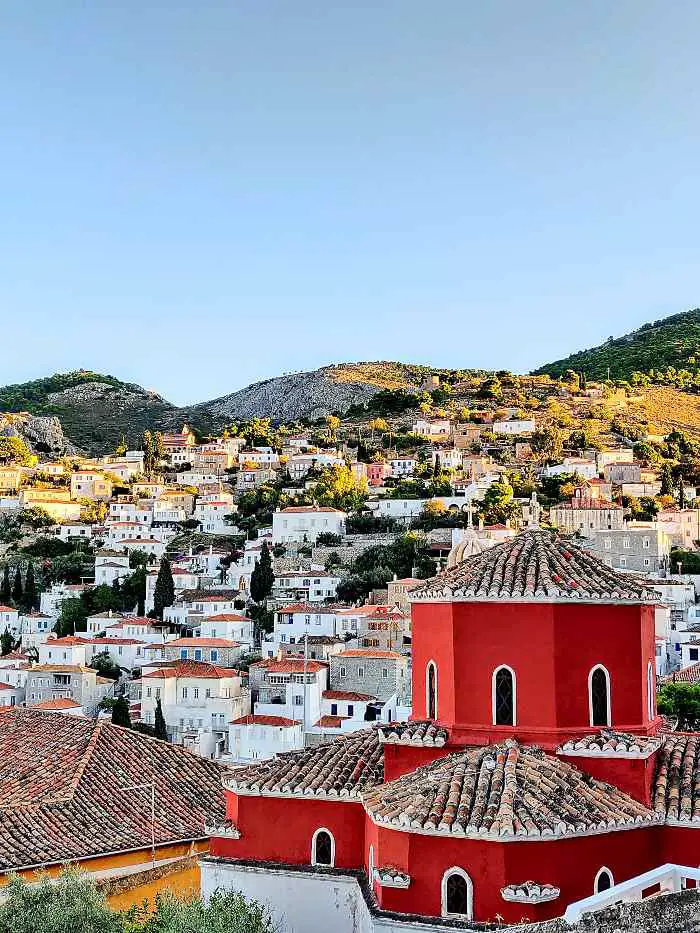 3. Hydra
Hydra is a unique car-free island near Athens. It's knowns for being a quiet but certainly touristy island where visitors can experience charming cobblestone streets, historical sights from the Greek War of Independence, and a surprising number of cars.

Found in the Aegean Sea between the Myrtoan Sea and the Argolic Gulf, Hydra is one of the Saronic Islands of Greece. It's close proximity to the capital, Athens makes this inexpensive island a great option for day trips or weekend breaks.

While accommodations on Hydra can be slightly pricier than on other islands in the Saronic Gulf, it is still significantly cheaper than Santorini or Corfu, and you can still find many affordable guesthouses and things to do, especially during the shoulder season.

In-between all of the sightseeing on Hydra you'll find plenty of time to loosen up, sit back, and take it easy.
Where to Stay on a Budget — Theano Guesthouse (Hydra Town)
Ferry from Athens — €25 – 40 (2 hours)
Best Way to Get Around on a Budget — Walking or by Mule (No wheeled vehicles on Hydra)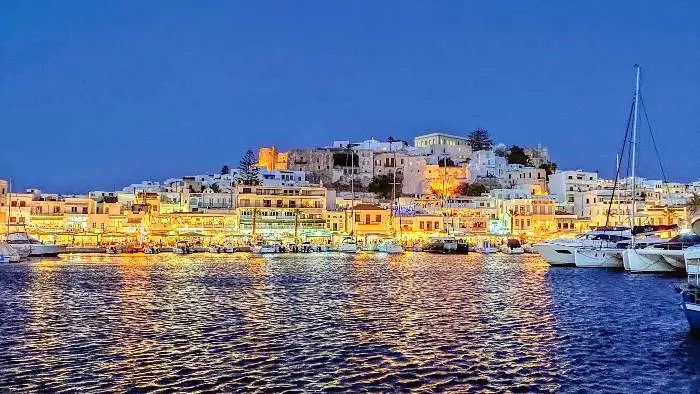 4. Naxos
Naxos, the largest island in the Cyclades, offers one of the best cheap Greek island holidays. I have noticed that the prices have remained very reasonable over the past few years despite the island increasing in popularity.

So you can still enjoy the quaint 'Chora,' neoclassical buildings, the ancient Venetian castle, Apollo Temple, and the many beautiful beaches for less than €100 per day (for a couple) 
The most popular place to stay on the island is in Chora, near the seaport and the airport. However, there are also smaller villages for a more tranquil retreat, such as Plaka and Chalki. It's also very easy to get around by car, scooter, or by hailing a taxi. 
Where to Stay on a Budget — Depis Castle Apartments (Chora)
Ferry from Athens — €50-70 (3.5 to 5 hours)
Best Way to Get Around on a Budget — Rent a Car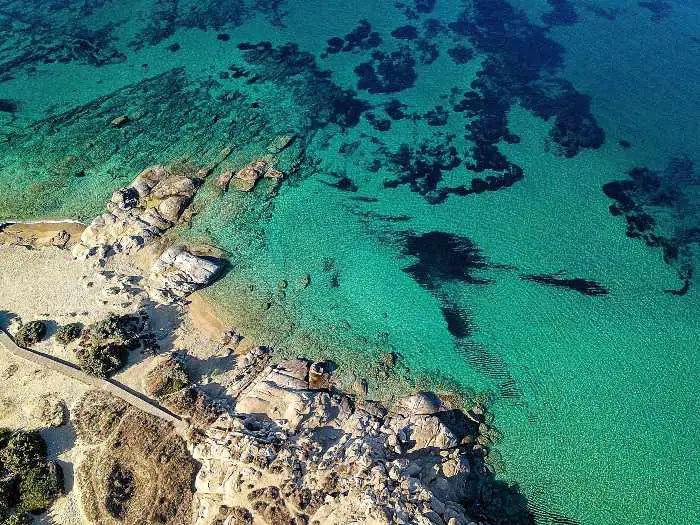 5. Aegina
Whether you're looking for an extended stay or just a short day trip from Athens, Aegina is one of the cheapest islands in Greece, close to the capital city. 
Aegina is an island full of colorful villages, historic architectural marvels, and lovely tavernas.

As you might assume, there are also stunning beaches in Aegina, but something you wouldn't believe is that there are pistachio groves all over the island! Make sure to try some of the pistachio-inspired dishes if you visit this small Saronic island! 
Where to Stay on a Budget — Golden Star (Agia Marina)
Ferry from Athens — €10-20 (1 hour)
Best Way to Get Around on a Budget — Take Public Buses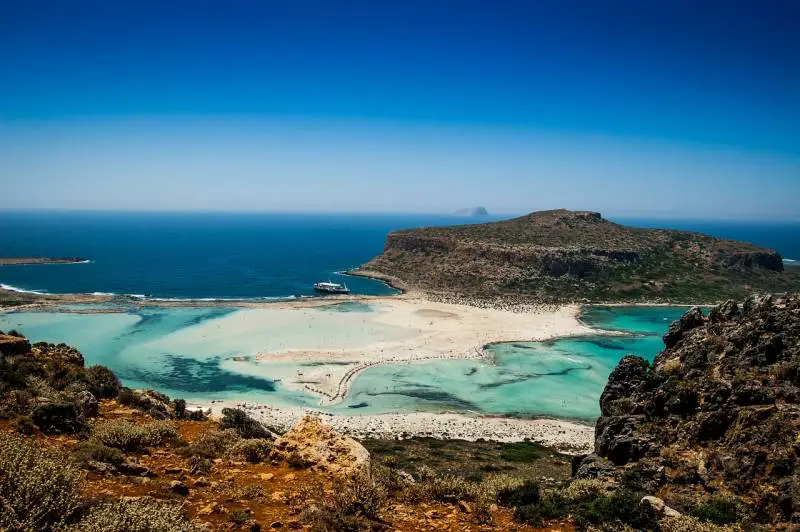 6. Crete
Crete, the largest Greek island, is a great option when looking for cheap islands in Greece to travel to.

During my time here, I noticed that this paradise island offers the perfect blend of culture, sunshine, and ancient treasures.

Here you will find diverse landscapes and buzzing cities that are different to anywhere in the region. Discover everything in Crete from breathtaking beaches and beautiful Venetian architecture to stunning gorges, waterfalls, and remnants of the oldest civilization known to man (Minoans).

Cretan food and culture are also somewhat distinct from the rest of Greece, so it's a great place to visit on a second or third trip to Greece to experience a pleasant shift from the smaller whitewashed Greek islands.

Crete offers a chance to immerse yourself in authentic Greek culture without spending a fortune on your trip. Highlights of a visit include Heraklion Archaeological Museum, Balos Beach, Knossos Palace, the Old Venetian Port of Chania, and the pink beach of Elafonissi.
Where to Stay on a Budget — Al Daliani Minaret Rooms (Old Town Chania)
Ferry from Athens — €50 (8.5 hours)
How to Get Around — Rent a Car
7. Limnos
Known for its volcanic landscapes and picturesque villages, Limnos or Lemnos is a Sporades island with a fascinating mythology around Hephaestus (the God of Fire).

This beautiful Greek island in the northern Aegean Sea, with its gorgeous beaches and ancient archaeological sites, also happens to be one of the cheapest islands to visit in Greece in 2023!

You can enjoy affordable accommodations, traditional tavernas offering mouthwatering Greek dishes, and the opportunity to explore fascinating archaeological sites around the rocky volcanic landscape. 
Lemnos's most remarkable archaeological sites are the Temple of Kavirio, the Ancient Ifestia, and the Kastro van Myrina. Of course. 
Where to Stay on a Budget — Amigdalies Apartment (Myrina)
Ferry from Thessaloniki — €40 – €50 (4-5 hours) 
How to Get Around — Rent a Car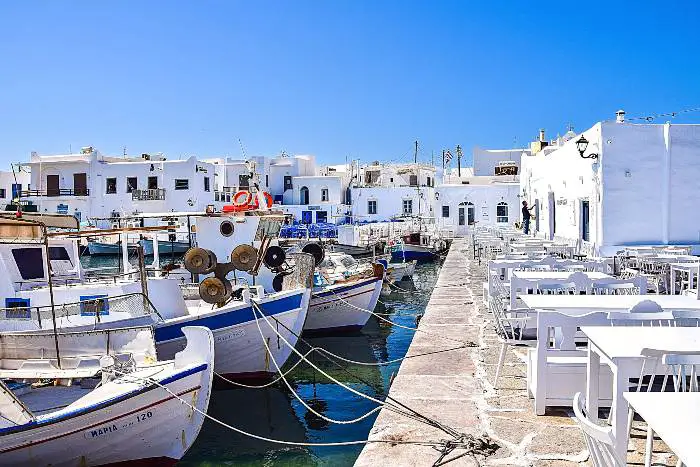 8. Paros
Paros is another one of the least expensive islands in Greece, but one with a similar cosmopolitan vibe to Mykonos or Milos. Yet, it's still not overrun by tourism either. It's easy to find cheap and delicious tavernas and absurdly cheap rental cars in Paros. 
This Cycladic island appeals to travelers who like a mix of touristy and off-the-beaten-path attractions.

The most popular beach on the island is Kolymbithres Beach, near the seaside village of Naoussa, but there are plenty of lesser-known spots to enjoy on the island. 
Where to Stay on a Budget — Aegean Village (Parikia)
Ferry from Athens — €60-70 (3-4 hours)
How to Get Around — Rent a Car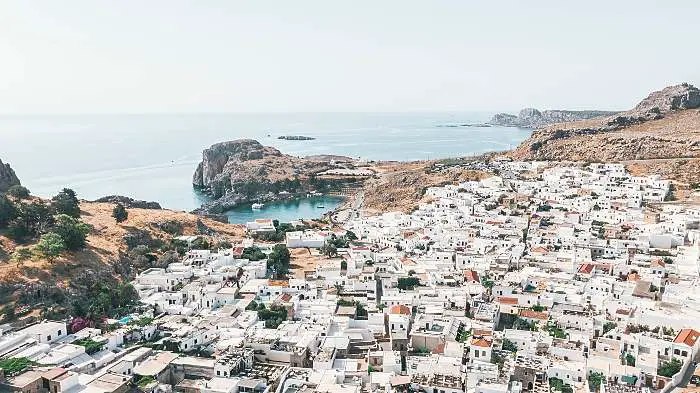 9. Rhodes
Rhodes is the most popular of the Dodecanese islands on the western end of the Aegean Sea, much closer to Turkey than mainland Greece. 
Despite its distance and popularity, Rhodes is still one of the cheapest islands to visit in Greece for beach bums, history buffs, and hiking gurus. The island is also huge, meaning there are tons of undiscovered spots and secluded coves to escape during the high season. 
For the best prices on accommodation in Rhodes, avoid traveling in July or August, but the rest of the year you will find it very easy on the wallet!
Where to Stay on a Budget — STAY Rhodes Hotel (Rhodes Town)
Ferry from Athens — €60 – €90 (15-19 hours) -> Just fly. It's not worth taking the ferry.
How to Get Around — Rent a Car
10. Chios
Chios is a hidden gem in the Aegean Sea and one place you shouldn't miss in Greece. 
It's a large island (5th largest in Greece) and very close to the Turkish city of Izmir.

Visiting the island will give you a budget-friendly, authentic Greek experience. You'll see medieval villages, picturesque beaches, and unique mastic tree cultivation (which only happens on this island).

Chios also provides inexpensive accommodation options and authentic Greek dining experiences at local tavernas, making it an ideal choice for travelers looking for a cheap island in Greece.
Where to Stay on a Budget — Seafront Studios (Chios Town)
Ferry from Athens – €50 (8 hours) — usually an overnight ferry
How to Get Around — Rent a Car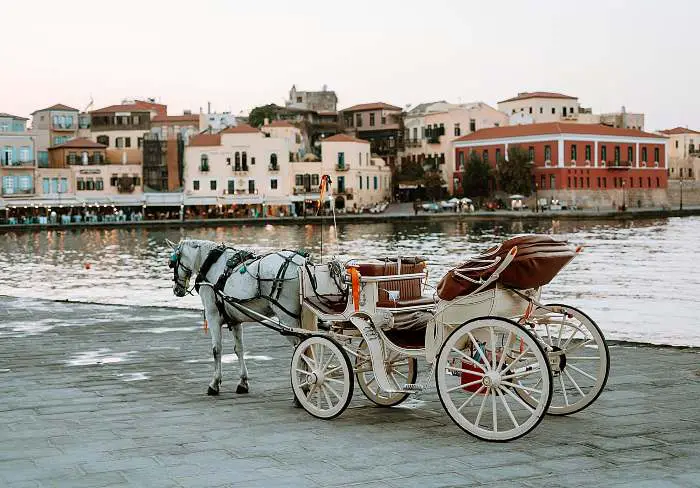 Cheapest Islands in Greece 2023: FAQs
Which Greek island is Cheapest?
There is no single island in Greece that is cheaper than the rest, but there are a bunch of islands with cheap accommodations, dining options, and transportation. The most affordable Greek Islands to visit include Agistri, Lefkada, Aegina, Naxos, Crete, and Chios. These cheap Greek islands receive less visitors than others, and this lower demand makes everything more affordable.
How Do I Visit the Greek Islands on a Budget?
The best way to visit the Greek islands on a budget is to travel during shoulder season (spring/fall), book local guesthouses instead of beach resorts, eat exotic food at local tavernas, and rent your own transportation to get around the island. 
What is the Cheapest Area in Greece?
The cheapest area in Greece is anywhere outside of Athens or bustling tourist islands like Santorini, Mykonos, Corfu, and Zakynthos.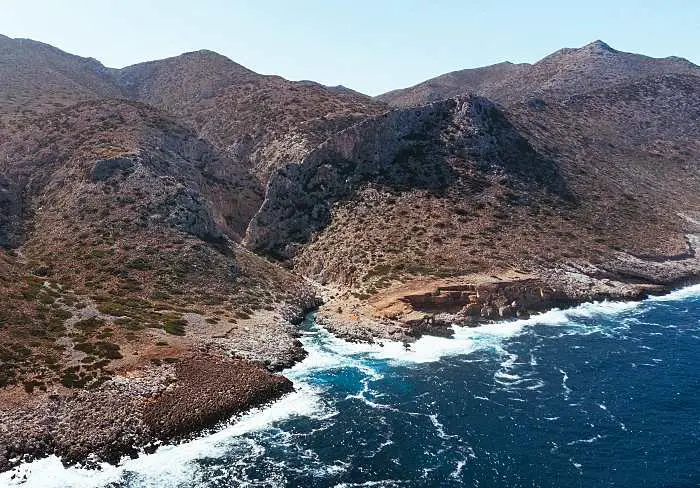 Final Thoughts:
10 Cheapest Greek Islands to Visit
Exploring the cheapest Greek islands doesn't have to drain your wallet. IF you know where to go! 
Of all the cheapest islands in Greece, Naxos is the best overall Greek holiday destination. 
However, if you want an offbeat adventure, head to Crete. And for those travelers looking for something secluded and unknown to the outside world, I recommend booking a cheap Greek getaway to Chios, Lefkada, or Limnos! 
No matter what you choose, make sure to rent a car (it's the cheapest way to get around most Greek islands.

Additionally, ask the locals for their favorite place(s) to eat in town. This is the best way to find cheap, hole-in-the-wall restaurants that are both delicious and easy on the pocket! 
So pack your bags, and enjoy a budget-friendly trip around one (or a handful) of these cheapest islands in Greece!
---
Have an amazing time on these cheap islands of Greece in 2023. A truly once-in-a-lifetime experience!
If you have any other travel questions on where to go, be sure to let me know and I'll be more than happy to help you plan that perfect affordable Greek cheap getaway.
Don't forget to check out this list of the best cheap tropical island vacations as well as these cheap Caribbean islands for even more inspiration!
Kalo taxidi!

Rai