Aruba Flamingo Beach: Worth $125? + How To Visit in 2023
A beach that has flamingos? Real flamingos? You ask. Yes, Aruba Flamingo Beach is a real thing.

It wasn't until a couple years back that this Caribbean beach with flamingos in Aruba become a sensation. Appearing in photos all over, these pink creatures toppled the swimming pigs of the Bahamas, Bora Bora, Mexico, the Dominican Republic, and other tropical vacation islands as the latest travel craze, making it onto the bucket lists of many.
If you have this ideal impression in your mind that flamingos are roaming freely all over the tropical island of Aruba frolicking in the crystal clear waters of its beaches, I hate to be the one to break this to you, but……

A huge no to that.

They are not native to Aruba and there's not a whole lot of information on how they got to the island. Some say they were brought in and kept on the island. Others say they arrived on their own 15 years ago and made their home in the mangroves.

Either way they are not able to leave this tropical vacation island and I do hope they are happy though. One thing I can tell you is that they are well-fed by all the tourists that visit and want to take a selfie with them.
Including future you?

If this is the case, keep reading as I detail everything you need to know about visiting Aruba Flamingo Beach and its feathered residents. It is possible to spend the day in the sun with these pink creatures, but it does require planning.

That's what I'm here for 🙂
Read on to find out where to find the flamingos in Aruba, how to gain access to the beach, the cost of visiting, how to obtain a day pass, other activities on the island, and other frequently asked questions about visiting Flamingo Beach Aruba.
Did you know:
The pink color of the flamingos is due to their diet. The natural pink dye comes from the brine shrimp they consume.
WHERE IS ARUBA
Aruba, known for its white sand and blue waters, is a tiny island found in the Southern Caribbean sea just off the coast of Venezuela. Rugged adventure and Caribbean culture come standard making this a popular tourist destination.

Aruba, together with Bonaire and Curaçao, make up what is known as, the Dutch Caribbean belonging to the Netherlands.

Dutch and Papiamento are the official languages of Aruba, but English and Spanish are widely spoken making it easy to interact with the locals and to get around.
Travellers outside of the US and EU require a Schengen visa to visit Aruba. To see all the countries covered by the Schengen visa click here.
WHERE TO FIND THE FLAMINGOS IN ARUBA
The exotic birds are not found all over Aruba, but only on one beach, aptly named Aruba Flamingo Beach, located on Renaissance Island.

This is a 40-acre private island belonging exclusively to the five-star Renaissance Wind Creek Aruba Resort (formerly known as Renaissance Resort and Casino).

Here the hotel's guests are free to frolic with the beautiful pink-feathered birds. Only a handful of flamingos roam the white sands and turquoise waters of this Caribbean island at any given time and they are not wild.

To see flamingos in the wild, head to the nearby Caribbean island of Bonaire. Hundreds of them can be found living in their natural habitat, roaming the island freely, and are able to fly away at will.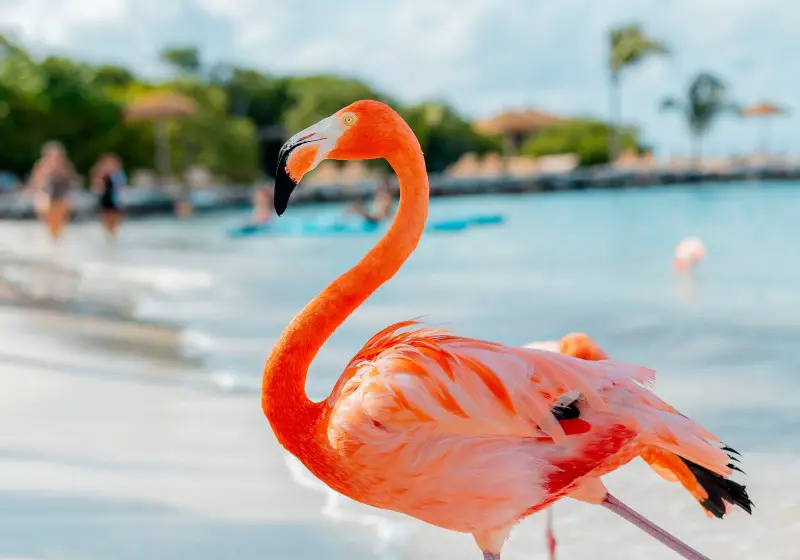 Did you know:
Flamingos have a long lifespan and some have been known to live for 70 years.

ARUBA FLAMINGO BEACH
Renaissance Island is home to Aruba's only private beaches, Flamingo Beach and Iguana Beach.
The tropical island comprises 40 acres to explore with with all the expected trimmings of a beach getaway — beautiful white soft sand beaches, translucent water, palm trees, water sports, and a host of other facilities.
A rock barrier surrounds the island making the water particularly calm within its boundaries. This is great for swimming and snorkeling, especially for children. However, this also prevents an open unobstructed view of the ocean.

Don't be surprised to hear the noise of airplane engines taking off and landing as the Queen Beatrix International Airport (AUA) in Oranjestad is situated pretty close to the island.
The beautiful Flamingo Beach Aruba is relaxed and serene for the most part with beautiful views of the flamingos wading around in the translucent, shallow waters.

It is an adult only beach adjacent to waters that is great for snorkeling. You will find it a bit rocky as you walk into the water, but once past the initial rocks and coral it is smooth sailing, so to speak.

There is not a whole lot of shade along this beach. The short beach comprises lounge chairs lining the shore, a bar at the back, hammocks, and beach-huts along the side.
The much larger Iguana Beach is family friendly with plenty of lounge chairs spread around.

There is a large sand bar on this beach with water that is shallow and calm making it perfect for kids. The restaurant, restrooms, towel and water-sports station are all found on this side of the island.

Here you will also find plenty of iguanas and lizards running around. At midday the hotel staff arrange an iguana feeding that anyone can be a part of.

Towels and beach chairs are provided free for all on the island. The towels can be found at the water-sports booth on Iguana beach. Grab a few initially so that you don't have to go back again and again.
Coral Beach is where you will find the baby flamingos nesting and chilling. This is also the area where weddings and other special events are held.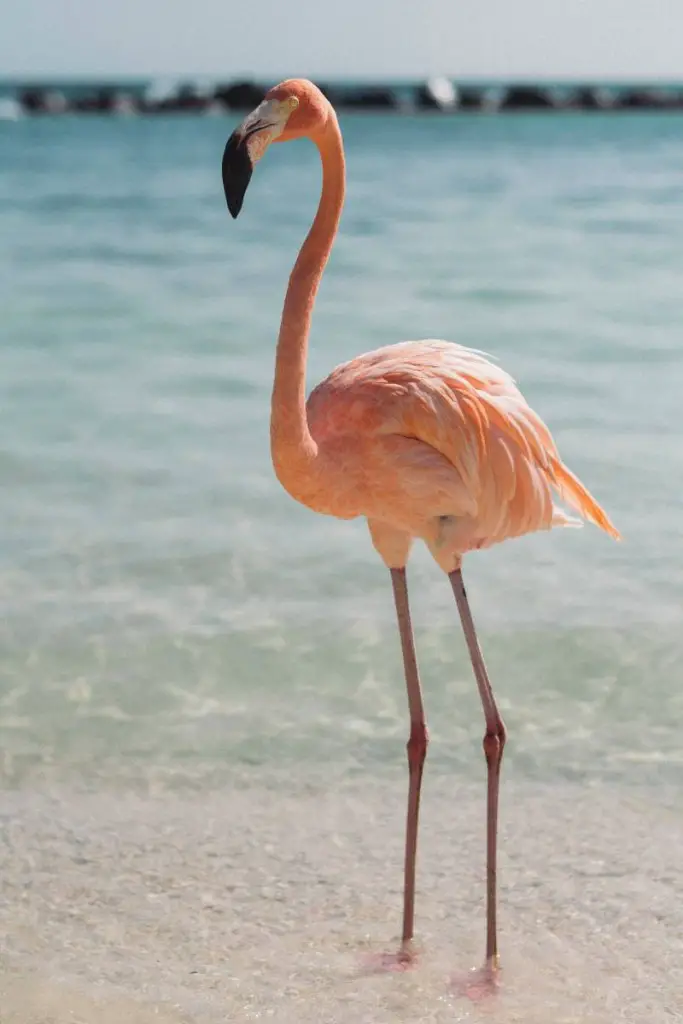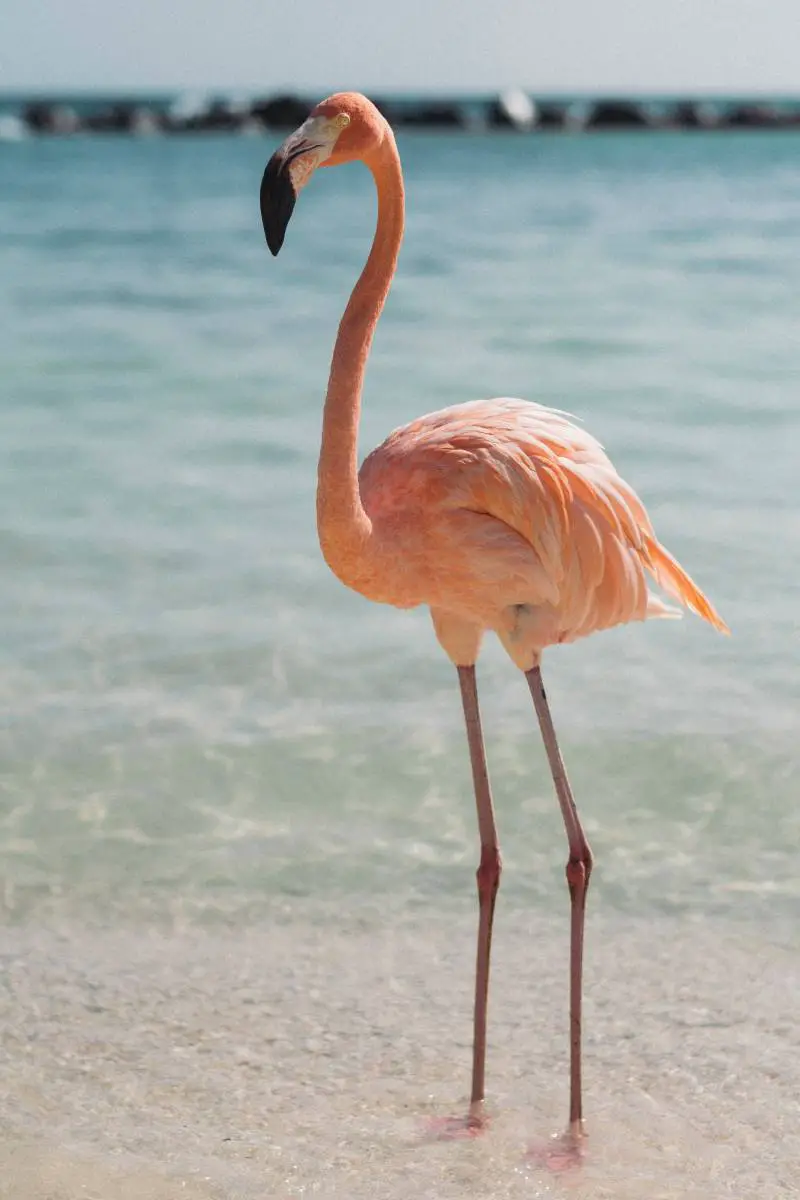 HOW TO GAIN ACCESS TO ARUBA FLAMINGO BEACH
You have three options for gaining access to Renaissance Private Island and getting to see the flamingos:
Option 1: as a hotel guest of the Renaissance Wind Creek Aruba Resort.
Option 2: purchase a day pass
Option 3: book a treatment at the Spa Cove.
Option 1: Stay at the hotel
The Renaissance Wind Creek Aruba Resort situated on the waterfront in Oranjestad comprises two separate properties, BOTH of which give you access to Aruba Flamingo Beach as a hotel guest:
The only way to really guarantee a visit to the Renaissance Island Flamingo Beach and make certain your chances of seeing the flamingos is to book a room at the Renaissance Aruba Resort.

Guests have free unlimited access to the island and private beaches. Yes, you can go visit the flamingos as many times as your heart desires.

As a guest, you also don't have to worry about the day passes selling out like you would have to on the other options.
Option 2: (as a non-hotel guest) you do have the option of purchasing a Renaissance Island day pass.
For costs and how to do so, see the next section below.
Option 3: Book a spa service at Spa Cove.
This is another way of gaining access to the private island. Spa cove is part of the main spa centre of the hotel, but is located on Renaissance Island right by the ocean.

The treatments need to be booked about a week in advance, otherwise they do sell out.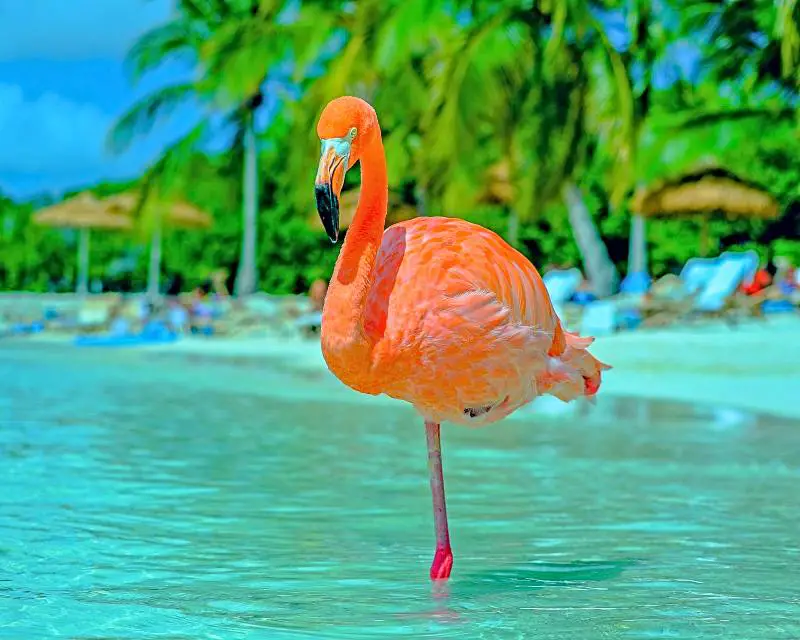 COST TO VISIT FLAMINGO BEACH ON ARUBA
Option 1: A room at the Renaissance Wind Creek Aruba Resort will set you back a couple hundred US$.

For up to date rates, availability, and special offers click here.

You do however gain free access to the Flamingo Beach as part of your stay as many times as you want.
Option 2: Non-hotel guests have the option to purchase a Renaissance Island Aruba day pass.

The cost of a day pass is $125 per person. Expensive much?

This includes the boat trip to and from the island, a meal (lunch or breakfast) and a drink, use of the fitness centre, and a couple other activities on the island. Children under 12 have free access.

The day passes cannot be booked in advance.
But, that's not the only catch.
Only a limited number of day passes are sold per day to outside guests to control numbers and prevent overcrowding. And this is dependent on whether the hotel is at a full occupancy or not. Because if the resort is at 80% full occupancy, no passes are available for the day. And there goes your chance of seeing the flamingos.

Update: It appears that the Renaissance island Aruba day pass has been marked as sold out for all of 2023. You will have to go with option 1.
Option 3: A 75 minute massage, including lunch and a drink, will set you back about $180 – $200.

Having a confirmed treatment also guarantees access to Renaissance private island and your chances of seeing the flamingos.
Each of these options has its own advantages and disadvantages.

Whether there is value in the day pass or another option is dependent on personal preference and budget.

You need to calculate the cost of a stay at the hotel, dependent on the time of the year and the number of guests, and see which gives more value.

If you decide on going the route of purchasing a day pass, this is how you do it: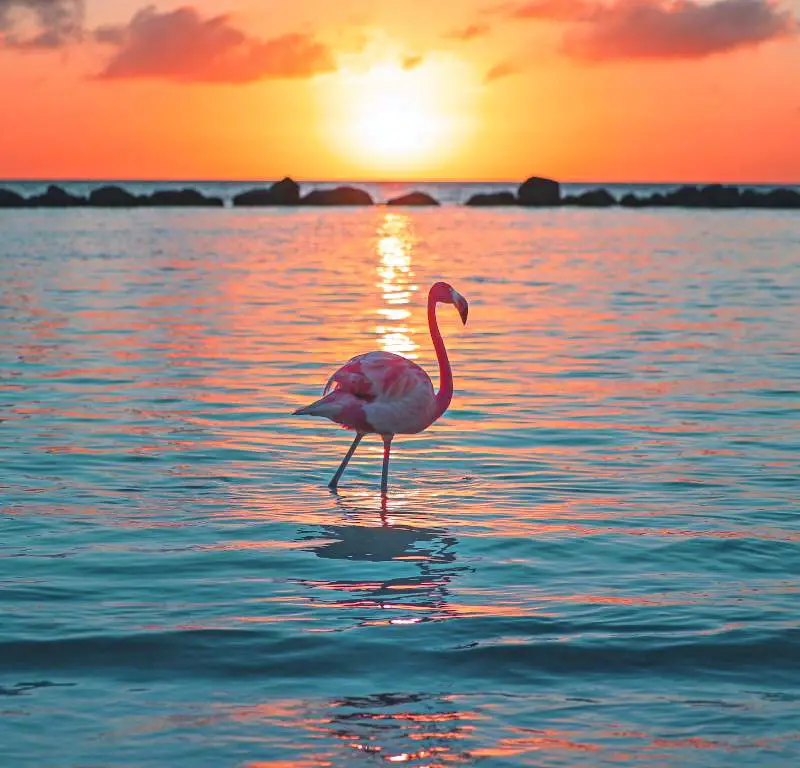 HOW TO PURCHASE A DAY PASS FOR FLAMINGO BEACH ISLAND
Non-hotel guests must purchase a day pass ticket to be granted access to Renaissance Island and Flamingo beach Aruba.

The process for purchasing the day pass has changed.

Previously, you would have had to go very early in the morning to the Renaissance Hotel reception, get in line and hope that sufficient passes were available.
Fortunately, this system has changed and you can now book and purchase a day pass online.

The Renaissance Aruba day pass tickets are released online at 7 am each morning for the following day.

So for example, if you intend on visiting Flamingo Beach on the 1st of September you would have to go and purchase the tickets online on the 31st of August at 7 am.

A limited number of passes become available each morning depending on the hotel occupancy rate. As little as 30. These passes sell out fast – within minutes.

Unfortunately there is no option to purchase more than one day in advance only allowing you to book for the following day.
As you can see, day passes for the Renaissance Island can be difficult to come by.

Plan ahead to avoid disappointment.

Weekdays are the best time to visit due to fewer crowds. I would recommend having a few days open in the unfortunate incident that tickets sell out giving you another day to try again the following day.
If you do however, have your mind made-up on seeing the flamingos, the best option is to stay a night at the Renaissance Aruba.

This guarantees unlimited access to the island and no worry about the availability of day passes or not.
HOW TO GET TO ARUBA FLAMINGO BEACH
The only way to get to the island and flamingo beach is via private boat from the mainland, transporting guests (for free) back and forth every 15 minutes from 7 am.

This boat departs from:
The boats run all day from 7 am to 7 pm, with the last boat leaving Renaissance island at 6:45 pm.

Yes, they do actually scan your room key or day pass to make sure it is active in order to be allowed onto the boat.

Yes, each person needs to have their own individual room key or purchased day pass.

You are able to check if your card is in working order by sliding it in the card reader ahead of time.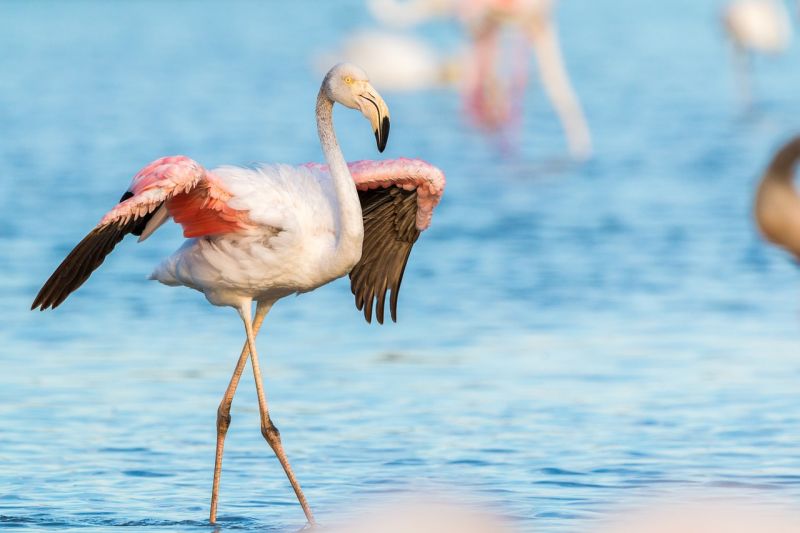 WHERE TO FIND FLAMINGO BEACH ON RENAISSANCE ISLAND
The boat weaves its way along the canal crossing the Oranjestad marina before moving through the waters of the Caribbean. Less than 10 minutes later, find yourself arriving at Renaissance private island designed into a Caribbean getaway.
As you disembark from the boat, you are presented with two options:
Turn right for Flamingo beach
Turn left for Iguana beach
My recommendation is to head to Flamingo Beach initially.

Enjoy this for a while without the crowds and then go and hangout at Iguana Beach for a bit.

Following the path leading to Aruba Flamingo Beach and crossing the bridge, you will find a red dispenser (aka gum machine) filled with flamingo food. This machine accepts 25 cent dollar quarters in return for a handful of pallets. Do make sure to bring a cup with you to store the food for the flamingos and have on hand for quick access.

Continue along and easily find the flamingos. Their pink feathers contrasting with the turquoise waters of the Caribbean is a bold sight to behold.
BEST PRACTICES FOR INTERACTING WITH THE FLAMINGOS AND GETTING THE BEST PHOTOS
They are animals and interacting is unpredictable.

So is getting good photos.

Don't be obnoxious in trying to get the perfect shot.

If they are not open to posing or staying around, don't be disappointed — give it a rest and try again later. Don't be aggressive, don't approach too fast and don't force anything.

Respect their personal space. It's much more enjoyable this way. For you and the flamingos.
If you want to up your chances of getting close to the flamingos, buy them food.

This way you place some pallet food in your hand + wait and if they are interested they will approach your outstretched hand. They don't peck, but lightly (and awkwardly) grab the pellets out of your hand as they turn their necks at an angle.

The earlier you go, the better opportunity it provides as they are eager to feed in the morning and will be more open to approaching you to get some pellet food. Later on in the day, they will have been fed by plenty of previous visitors and may be too full to be attracted to any food offered by you.

Also, being one of the first to arrive on the beach means you get to take photos without competing with loads of other people (everyone trying to get that perfect insta shot) or without random people in your background.

Children are allowed between 9-10 am and this is the time it starts to get busy.

Staying after most of the crowd has left, around 6 pm, also has this benefit.

The light is also more conducive to better looking photos earlier in the morning and later in the afternoon.

All of this will ensure you get the perfect Instagram worthy shot.
And to accompany your photos I have
the perfect beach caption and beach quote for you.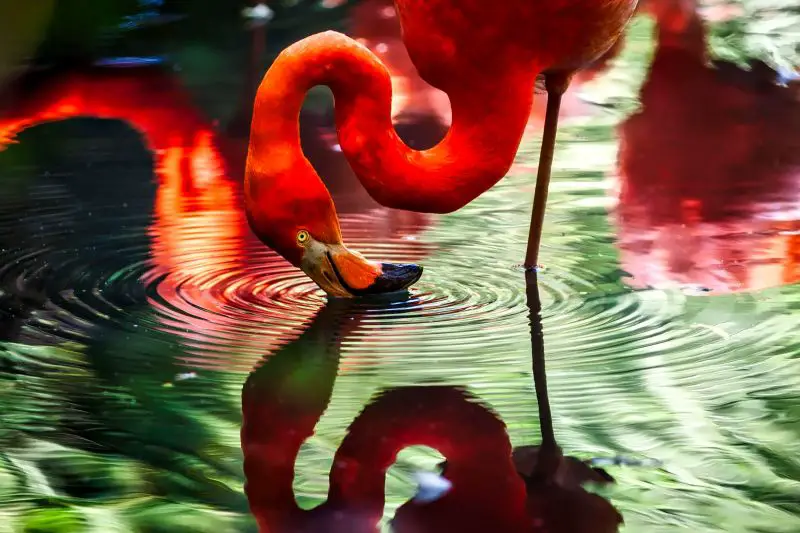 Did you know: There are six species of flamingos belonging to the category of wading birds
that are found scrounging the seashore for food.
OTHER ACTIVITIES ON RENAISSANCE ISLAND ARUBA
Oh, so you're not looking to just chill with the flamingos on the beach all day?

In this case there are a number of additional amenities and activities on the private island that will make for a great vacation for you to be a part of.
Private beach huts
Rent a private beach hut, or cabana as some call it, for the day at a cost of $345.

This comes with a personal butler serving food and drinks throughout. This doesn't come cheap, but here's what is included in the rental: couch seating, beach floats, snorkels, your own private hammock. Water, champagne, fruit and ice cream. Other food and drinks do not come included.

If interested, the private bungalows should be booked in well in advance with the hotel, particularly during peak season.

Relaxing treatments at Spa cove
Indulge in a spa treatment at Spa cove, covering treatments overlooking the vast ocean and to the sound of the surrounding water.

The access point to the spa is to the left of Aruba Flamingo beach just pass the shower area.

Hammock time
Relax on the prized hammocks scattered throughout the island among the lush shrubs and mangroves.

Workout at the fitness centre
For those looking to keep fit, there is a gym and fitness centre just pass Iguana beach.

Play tennis
Get a game in at the tennis court found next to the fitness centre.

Explore the Nature Trail
Walk along the nature paths. Access is adjacent to the Flamingo Aruba beach weaving its way through the mangroves. You will hear an abundance of bird life and spot a couple of lizards and other tiny creatures.

But, if you're not a fan of mosquitoes, beware of this area or bring plenty of repellent along.

10 minutes walk later, and you arrive at a tiny beach area (that is often devoid of other people) overlooking the airport and provides good views of the planes taking off and landing.

Dinner under the stars
Once a week it is possible to have dinner on the island, once most people have left.

This can be booked at either of the Renaissance Ocean suites or Marina Resort properties, open to guests and non-hotel guests alike.

The dinner takes place very Wednesday at 7 pm on Iguana beach and comprises a 4-course meal to the sound of live music and the ocean. If you're counting on seeing the flamingos during this dinner, more than likely not as they go far out in the water after dark.

The cost of the dinner is 65 USD (+ 15% service charge) per person.

Water sports
The Renaissance island also offers a range of water-sports that is run by RedSail Watersports and can be booked from the booth located at Iguana beach.

The list of available activities include:
– Snorkeling
– Paddle boarding
– Kayaking
– Scuba diving
– Day + sunset sailing

If all of this sounds like too much effort, you can rent a float for $6.

Kayaking and paddle boarding provide the opportunity to view the private island and its surrounding beaches and waters from an entirely new perspective.

Diving
Around 50 meters offshore, in the direction of Oranjestad, you will find a diving site that was intentionally created by the deliberate sinking of two aircraft, a Beechcraft 18 and a Convair 400. The visibility of the water is amazing.

Shopping
There is a beach store on the island selling anything you may need or forgotten to bring to the island. They also sell a host of souvenir items, the majority of it pink and in the shape of, no surprises there – a flamingo.
>> Is there a pink sand beach in Aruba?
Check out this post for all the details
FOOD AND DRINK ON FLAMINGO BEACH ARUBA
There are a couple options to choose from when its time to ease the hunger or grab a refreshing drink.

Mangrove Beach Bar at flamingo beach: serving drinks right to your beach chair or they have a handful of chairs and tables set up.

Papayo Bar & Grill found on Iguana beach offers more variety and a larger space set up with tables and chairs for more of a sit-down meal. The restaurant also offers shade to escape when the Caribbean sun becomes all too much. Breakfast here is a good option at $22 with a variety of fresh fruit, croissants, pastries, entrees, bread, pancakes, among others.
RENAISSANCE ISLAND FLAMINGO BEACH HOURS
The island is open to guests everyday from 7 am to 7 pm.

This gives you plenty of time to spend with the flamingos and iguanas, to explore the island, to partake in any of the activities on offer, or simply to chill out on its private beaches.
THE BEST TIME OF YEAR TO VISIT FLAMINGO BEACH ARUBA
The destination is a year round choice with sunny, dry and comfortable weather throughout. If you do have a choice, the best months of year to visit the island of Aruba are April and May.

Aruba is also situated outside of the hurricane belt avoiding the storms that affect the region just north of it. The air is humid and temperatures are high year-round with little variation throughout the year.

The low season coincides with the rainy season from October to December with moments of heavy rain.

Don't forget to pack your sunscreen. The Caribbean breeze can't compete with the Aruba sun.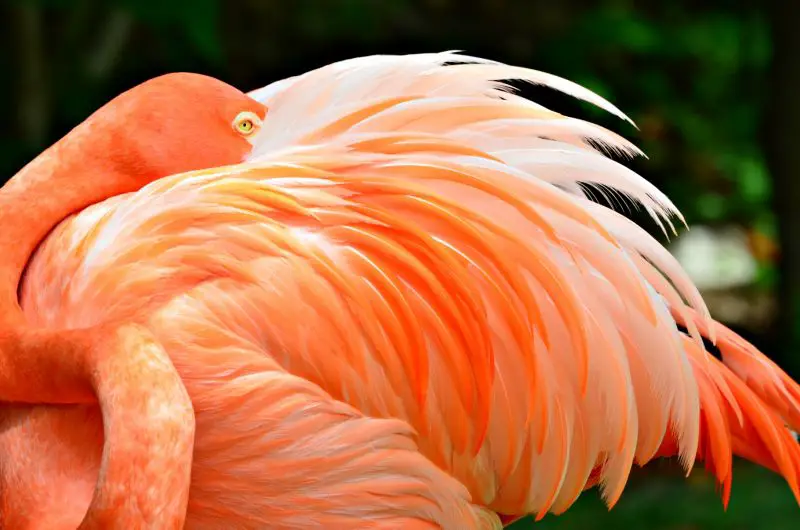 ARE KIDS ALLOWED ON FLAMINGO BEACH/RENAISSANCE ISLAND?
If you're planning the ideal family getaway, do note that while children are allowed onto the Renaissance island, they are NOT allowed entry onto the Flamingo Beach side of the island.

EXCEPT for one hour each day between 9 – 10 in the morning.

The hotel management have decided to implement this to minimize the disturbance to the resident flamingos and also to prioritize this as an adult and couple's beach.

Children under 12 do not require a day-pass and can access the island for free.

The other private beach on the island, Iguana beach, is more family and kids oriented.
>> For even more inspiration, check out this list of the
best tropical vacations for families around the world
COMING INTO ARUBA ON A CRUISE SHIP? IS IT POSSIBLE TO GO TO FLAMINGO BEACH
The majority of day cruise ships usually arrive in the morning at 9 and are scheduled to depart around 4 pm. If you have your heart set on seeing the flamingos, it might be possible.

This is what you do:
Even if you don't intend to spend the night at the Renaissance Wind Creek Aruba Resort, book a room for the night that you're scheduled to be in Aruba port.
This guarantees access to Renaissance island.

You can arrive at the hotel and check in at any time. Once you're all checked in, you will have your access cards. Leave anything you don't want to carry along at the front desk. With your room-key cards in hand, proceed to take the boat to the island. The boats go every 15 minutes, so you won't be waiting for long at all.

Once you're done with the flamingos, take the boat back to the mainland and return to your cruise.
THINGS TO DO IN ARUBA
Apart from your new-found friends at Aruba Flamingo beach, there are plenty of activities worth spending time doing in Aruba.

You can't miss Arikok National Park. This beautiful area, home to a number of animals and birds, is great for hiking and exploring. It also provides a whole new perspective and one of the best views of the rest of the island from Arikok Hilltop.

One particular place you can't miss inside Arikok National Park is the Aruba National Pool (Conchi). This naturally formed body of water is an ideal place to relax in due to its calm waters protected by the rocks surrounding it. You'll see what I mean when you get there as you're tempted by its crystal clear still waters in an otherwise jagged landscape.

Entry fee: $11

Eagle Beach and Palm Beach are two public beaches in Aruba. Free to visit and requiring no day pass.

The colorful capital city, Oranjestad is worth exploring for a couple hours indulging in its cuisine, culture, and history.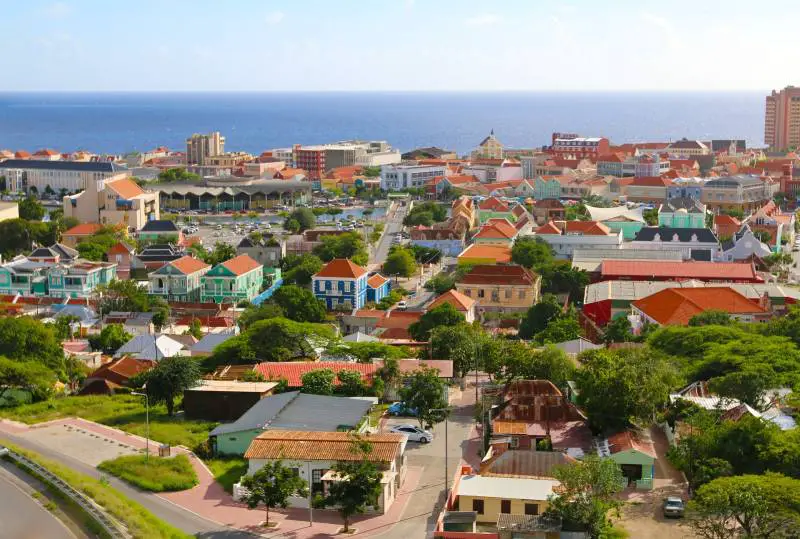 CURRENCY IN ARUBA
The US $ is accepted everywhere. You can also pay for everything in Florin, the local currency.
ARUBA FLAMINGO BEACH – WORTH IT?
You have your heart set on seeing and interacting with the flamingos on the beach.

Is it worth going to this Aruba beach with flamingos you ask?

There are pros and cons of a trip to Flamingo Beach Aruba.
The flamingos are beautiful and the interaction can be too. The island makes an ideal Caribbean getaway with white sand beach, translucent waterfalls, palm trees, and all the trimmings that come with an island getaway.
The flamingos are not everywhere in Aruba, but only found on one private island.

There are not a whole lot of flamingos on the beach, only around 7 at one time and they are not wild nor native to the island. I struggle with anywhere that artificially feeds the wildlife, as it keeps them at the mercy of humans.

This private island requires a day pass to enter (currently unavailable) or as a guest of the Renaissance Hotel. Either option does not come cheap.
The interaction with the flamingos can be beautiful too, yielding great photos in the process, but it can get crowded.

With that said, you now have A-L-L the information needed to make an informed decision about visiting Aruba Flamingo Beach.
WILL YOU GO?

I'd love to hear your thoughts.

To see more photos of Aruba and the flamingos, be sure to stalk my Insta 😉

Happy wandering,

Rai
SAVE this post! PIN it to your Travel board on Pinterest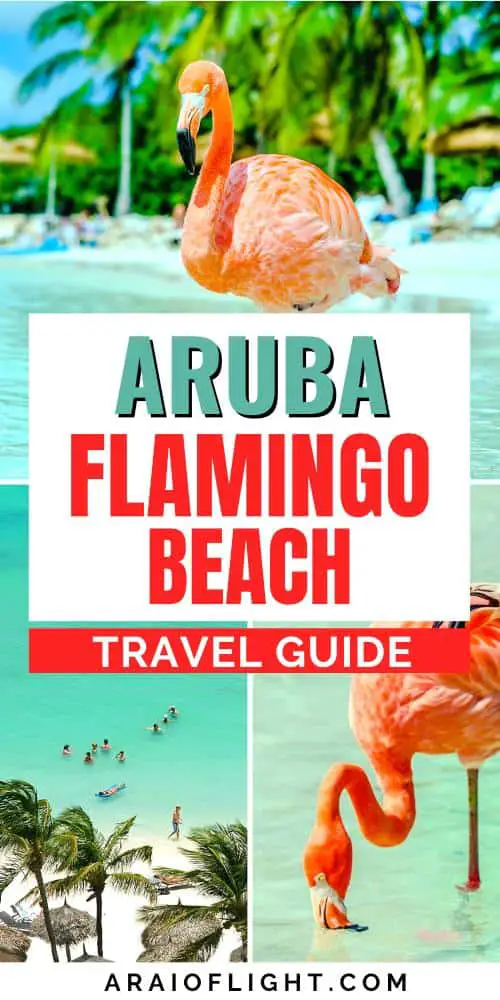 >> Read next: