The 5 Best Views In Kuala Lumpur Malaysia
Read on to find out all about the best KL views — Day or night. Whether you're looking for a hotel with a wonderful view, a fine dining restaurant with a pretty view of the city skyline or just a great view as you wander around Malaysia's capital city — I've got you covered.
Reading time: 4 minutes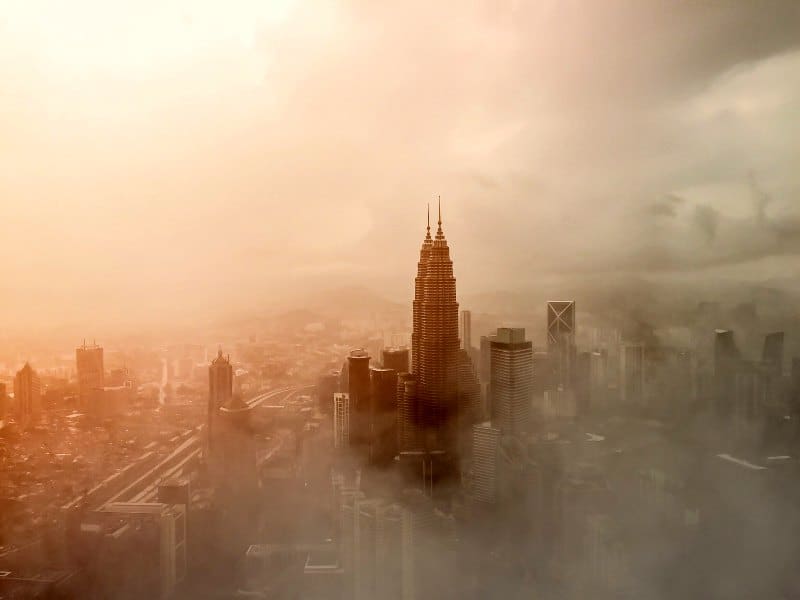 Life in Malaysia comes with an affordable cost of living and a good standard of living.

What comes to mind on the mention of Kuala Lumpur?
Quite possibly the Petronas Twin Towers, right?
And with good reason.
The capital and the largest city of Malaysia was often passed off by travellers in favour of other mega cities in the region, the likes of Bangkok, Singapore, and Hanoi. This all changed in 1997 with the opening of the Twin Towers.
Now an increasing number of travellers are exploring this city thanks to affordability, fabulous food, great shopping, and a multicultural mix of people and cultures.
Depending on who you talk to, you might hear that it's not worth queuing up for tickets to the Petronas Twin Towers. You might also hear that you get better and more encompassing views of KL from some other spots in the city that provide additional viewing angles.
Having recently visited this city, I have to agree with this.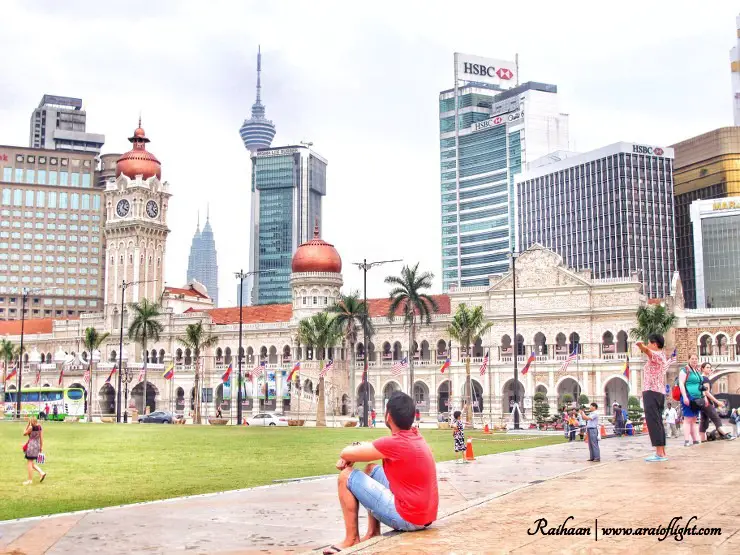 As an alternative, here are my…
Top 5 viewpoints in Kuala Lumpur
All guaranteed to provide spectacular 360-degree views of the city below and to make your jaw drop a little in wonder.
1 | Sky bar @ Traders Hotel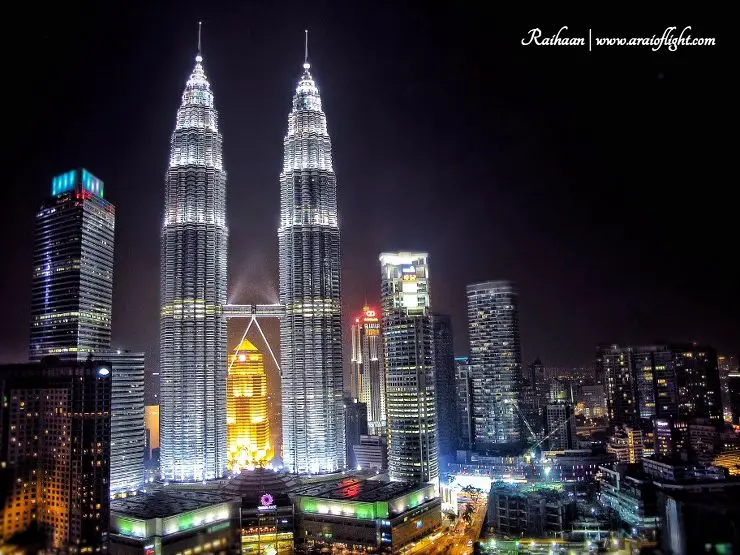 Address: Level 33 Rooftop, Traders Hotel KL, Kuala Lumpur City Centre (KLCC), 50088
Opening hours: Sunday to Thursday 10:00 am – 1:00 am. Friday & Saturday 10:00 am – 3:00 am
Reservations: +603 2332 9888
The award-winning SkyBar, one of the city's most popular rooftop bars and quite possibly my favourite on this list is located high up on the 33rd floor of Traders Hotel.
From this vantage point the city sprawled out in all directions and the adjacent Petronas Twin Towers gleam in all its glory providing breath-taking views.
Add to this a mix of live music from the resident DJ, a variety of cocktails and a lap pool in the center enhancing the ambience and you've just set yourself up for the perfect night out in Kuala Lumpur.
The hotel is found just across from KLCC at the opposite end of the Convention Centre making this easily accessible within walking distance from the major attractions.
No reservations are required if you just intend to have a drink or two near the bar or at the bar tables, BUT if you would like to have one of the limited window seats facing the twin towers then this comes highly recommended.
There is no strictly enforced dress code, but it does get hot up there, so I would suggest going with a smart casual/cool look to balance the anticipated hot night out.
---
2 | Heli Lounge Bar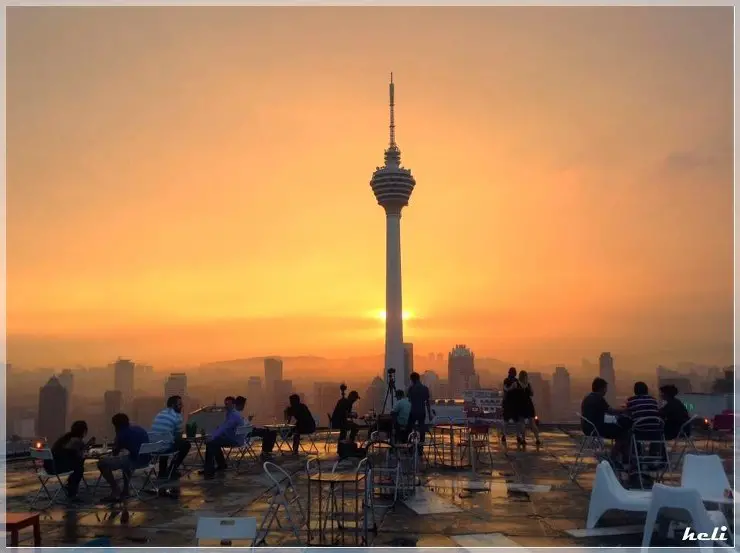 Address: 34th floor, Menara KH, Jalan Sultan Ismail, Kuala Lumpur, Kuala Lumpur 
Opening Hours: Mon-Wed 6pm-12am. Thu 6pm-2am. Fri-Sat 6pm-3am.
There are two parts to the Heli Lounge Bar:
An indoor bar/club area on the 34th floor of Menara KL. Resident DJ and aviation inspired décor come included.
An active helipad on the rooftop of a disused office building.
A helipad by day and a lounge bar by night…
I bet you already like the sound of that!
You take a lift up to level 34. From here it's another two flights of stairs to reach the rooftop helipad. Ladies, this is no place for heels.
Ignore the occasionally bad service and mismatched plastic furniture and head straight for the spectacular 360-degree view of KL city and skyline.
Pro tip: 
A dress code applies (No sandals, shorts, and t-shirts)
You need to buy a drink before gaining access to the helipad.
If you want a table around the perimeter to appreciate the views there is minimum spend of 100 MR per person.
Check the weather forecast: If it rains, it is not possible to access the helipad, only the indoor area below is then available.


Do note that tables are limited so go early if you want to sit. Otherwise you'd be standing around all night, trying to balance your drinks in one hand and camera/cellphone in the other. All seats are usually taken by 7pm.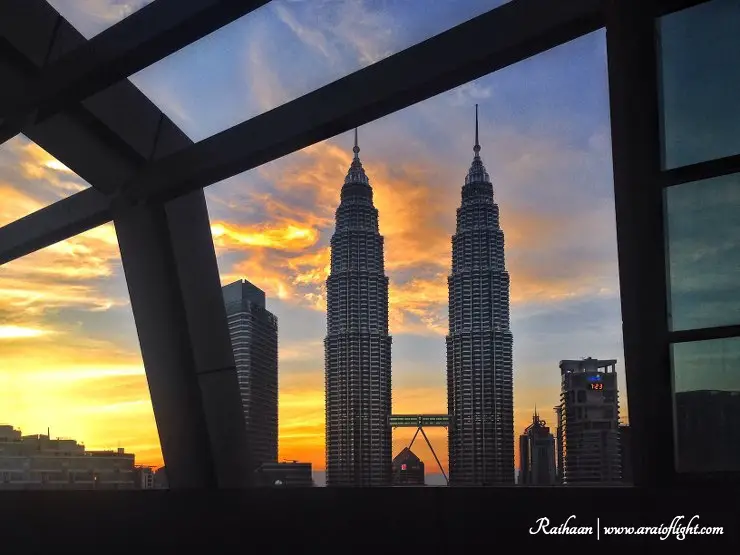 3 | KL Tower (Menara Kuala Lumpur)
Address: Jalan P Ramlee, 50250 KL, Wilayah Persekutuan Kuala Lumpur
Opening hours: 9am – 10pm
A tower that is visible from pretty much anywhere in the city, and as one of the world's tallest, you might be enticed to visit.
Here you are presented with two options:
1. top floor open air viewing deck (RM 105)
(The observation deck below is included in this price)
2. observation deck only (RM 52)
It's probably better to pay the extra so that you are able to stand in the open air with a clear view of the city all round. Your pictures will turn out much better too as there is no reflection of light as in the lower indoor deck which has windows that are dirty and scratched. The souvenir shops at the observation deck are rather tacky too.
The good: you get to see a great distance from the Open Deck with 360 degree views of the surrounding Kuala Lumpur cityscape.
There's also a free shuttle service from the main gate up the hill to the base of the tower, the entrance, and the ticket office.
The bad: the cost of the ticket for this place is fairly high.
There are no signboards explaining what you are looking at. There are also no viewing binoculars, so bring your own.
Pro tip: Another option if you intend to go up the tower –> consider getting an afternoon tea at the revolving restaurant Atmosphere 360. It's higher up and costs just slightly more (tea and cake included) than going to the observation deck.
Be sure to be on the lookout for brochures with 10% off vouchers. These are often found at places like the KL city gallery.
---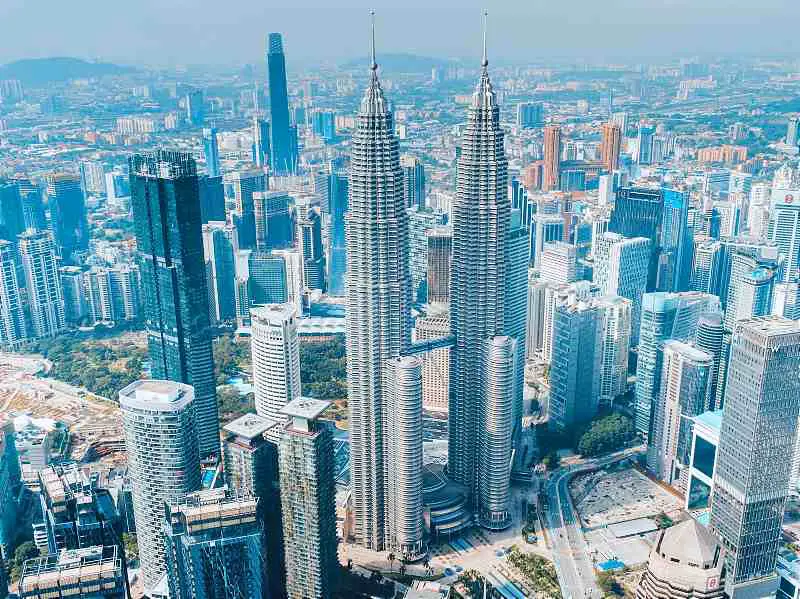 4 | Thirty8
Address: Level 38, Grand Hyatt, 12 Jalan Pinang, KLCC, Kuala Lumpur
Opening Hours: 6am – 11pm
Reservations: +603 2182 1234
Three words: 360-degree city views.
Located advantageously on the 38th floor of the Grand Hyatt, THIRTY8 boasts a restaurant, wine bar, and lounge with breathtaking unobstructed views of the KL skyline.
The Grand Hyatt restaurant offers a widespread menu, ranging from Japanese to Western to classic Chinese cuisine and other exotic treats. The kitchen is in full sight and I love that you can watch your meal being prepared through the open space.
The ambience is calm, serene, and romantic, making it the perfect escape from the hustle of the city below.
---
5 | Marini's on 57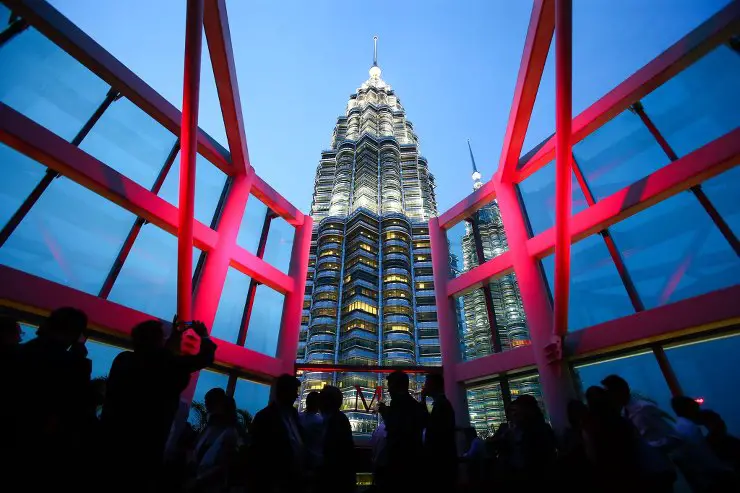 Address: Level 57, Menara 3 Petronas, KL, KLCC                                                                        Photo credit
Opening Hours: 3pm – 1:30am (additional hours Fri and Sat)
Reservations: +60 3 2386 6030
Dress Code: Business, formal or smart casual. (No flip flops, caps, and the like)
KL's highest rooftop bar and restaurant located on the 57th floor of the Menara 3 Petronas is an impeccable spot in the heart of the city.
Subdivided into three parts – an Italian fine dining restaurant, a lounge, and a bar, this establishment will not disappoint with its floor-to-ceiling glass windows and location right next to the Twin Towers, providing wonderful 360° views of the city.
Marini's on 57 has a dedicated private elevator that will take you directly to the rooftop. At the lobby of Petronas Tower 3 you will be given an entry card that will allow access to the main lift going all the way up.
Note: the prices are not on the cheap side, but the views more than make up for it.
---
There you go –> Five of my favourite viewpoints in the city of Kuala Lumpur.
>> Read next: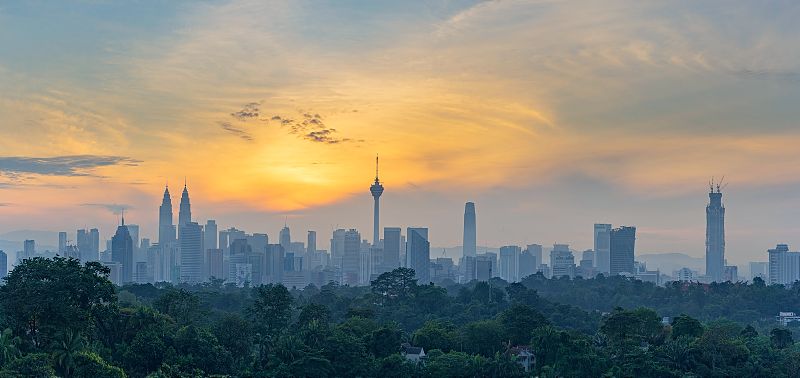 WHAT ABOUT YOU?
Do you also chase down the best views in the city when travelling around the world? What are some of your favourites?
Never lose your urge to wander and the want need to get high.
Your fellow explorer,

Raihaan