Visiting Temples in Ayutthaya: The Best Day Trip Tour from Bangkok
Brimming with temples and palaces, monasteries and monuments of great historical and cultural significance, Ayutthaya is one of the most impressive ruined cities in all of Asia. Are you contemplating a visit? Read on to discover what makes this city so special and why this day trip from Bangkok to Ayutthaya tour comes highly recommended.
You will also find out how to get to Ayutthaya from the major cities in Thailand, how to get around, what to see, temples in Ayutthaya, opening hours, and other frequently asked questions.
Reading time: 8 minutes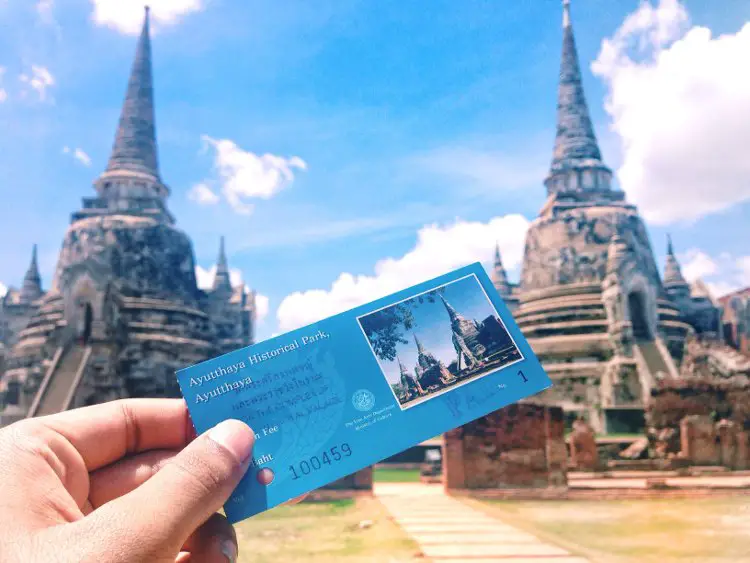 So you've walked the streets of Khao San road in Bangkok more times than you dare to count and you've explored The Grand Palace, Wat Benchamabophit, and the floating market. You've experienced all the nightlife this city's got to offer, gone for enough Thai massages to balance a year of backpacking, and chilled on the best tropical islands and beautiful beaches.
You want need to see something unique.
Something culturally significant.
Something to ease your passion for wanderlust.
Something to comfort your search for spirituality.
Something that would make you feel as if you've stepped back in time.

Real life exploration!
My recommendation:
Ayutthaya Day Trip from Bangkok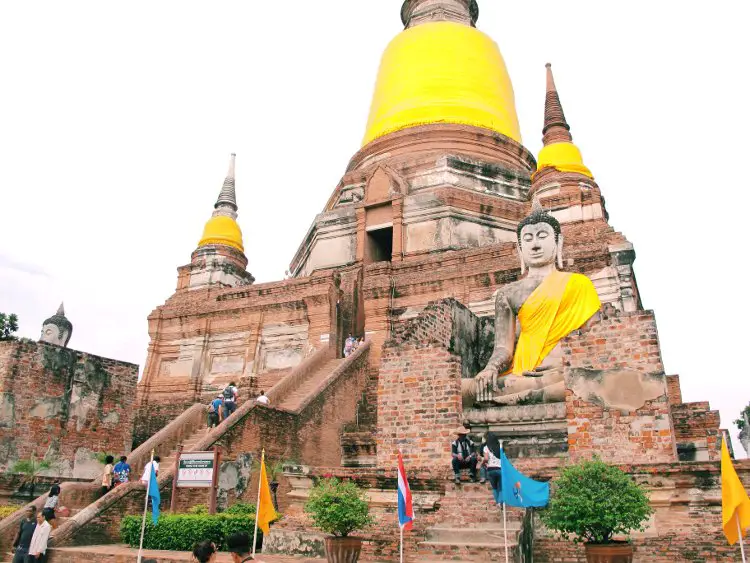 >> Related reading: The best places to visit in Bhaktapur
Way way back, when dragons still roamed the Earth (ok, not that far back) Thailand was known as Siam.

And Ayutthaya (Full name: Phra Nakhon Si Ayutthaya) was its capital.

Want to know more?

Read this bit for a quick history lesson; else skip over to the actual itinerary details.
Ayutthaya – a brief history lesson
Founded around 1350, Ayutthaya was strategically located between the Malay expanse, India and China to become the prosperous international trading capital of Asia and then the world.

Over the next four hundred years, the city thrived into the heart of the Siamese Kingdom, one of the most beautiful and one of the wealthiest of its time.

Merchants declared Ayutthaya as the finest city they had ever seen. A centre of global diplomacy and trade.
By 1700 Ayutthaya had become the largest city in the world with a total of 1 million inhabitants.
All this came to an abrupt and inevitable end when the Burmese invaded and captured Ayutthaya in 1767 and almost completely burnt the city to the ground forcing its inhabitants to abandon the city.

Today, this Unesco World Heritage site, 85 kilometers north of Bangkok, is a mere image of its once grand size and splendour.

Ayutthaya, filled with palaces, Buddhist monasteries, temples and religious monuments – even in their ruined state, is one of the most impressive ruined cities of Asia making Ayutthaya the perfect day trip from Bangkok.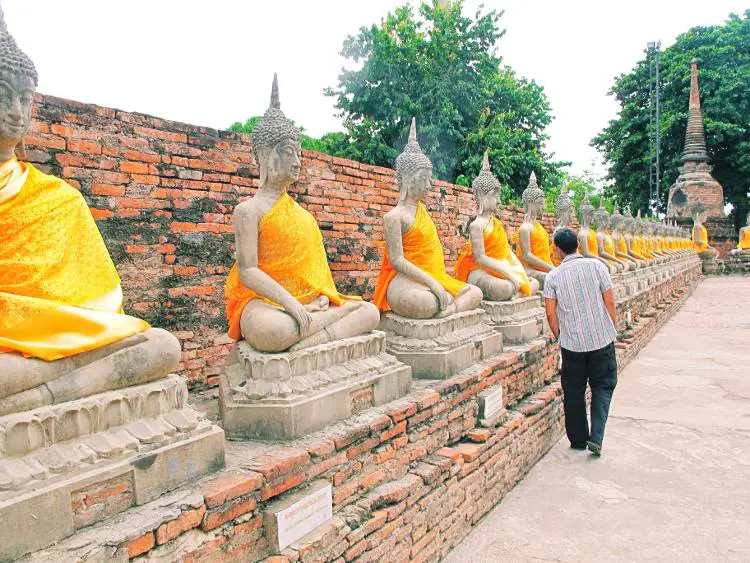 Ayutthaya Tour
You have the option to visit Ayutthaya as part of a tour. This tour is your best option.

These are easily arranged during your time in Bangkok from the hundreds of tourist touts all over. You can't miss 'em.

Alternatively, if you're keen to book in advance for convenience, better planning, quality guiding and possibly better prices, check out these tours that I would definitely recommend:
How to get to Ayutthaya from Bangkok
If you're an adventurous spirit that does his/her thing (I like you, fellow kindred spirit) and decide to visit Ayutthaya independently, take note of the following:
How to get there? You have three options:
1) Bangkok to Ayutthaya train
Trains depart regularly from Bangkok's Hualamphong Train Station.
This is the cheapest, most scenic way of reaching Ayutthaya from Bangkok with the journey taking around 1.5 – 2.5 hours depending on the time of day and the train type.
Fare cost: second-class seats (A/C) costs around 300 baht while third-class is only 20 baht.
The railway station in Ayutthaya is not on the island but across the river a short ferry ride away. Ferryboats run every few minutes and cost 5 baht. Alternatively, tuk-tuks are often found in front of the station, with the cost of a trip into the historical centre is around 60 baht.
2) Bangkok to Ayutthaya by minibus/van
Minibus service operates from the Victory Monument square in Bangkok. To get there, take BTS Skytrain to the Victory Monument station. Across the station, you will find the mini van station.
There is a stand next to the buses where you pay after which you then get a numbered ticket that you take to your driver. The vans depart once full, so you might have to wait just a little (They usually go every twenty minutes though)
Rate is about 80-100 Baht per person. (This varies so be sure to check beforehand)
1.5 hours to get there
3) Bus: Bangkok Ayutthaya
Buses operate every 20 minutes or so from Bangkok's Northern Bus Terminal (Moh Chit*) directly to Ayutthaya, with the last bus leaving at 18:00. First-class air-con buses charge 56 baht.
1.5 hours to get there, but could be 2, as buses stop frequently and the possibility of traffic in and out Bangkok.
How to get to Ayutthaya from Chiang Mai
Your options of getting from Ayutthaya to Chiang Mai and vice versa are train or bus.
a) Train
The sleeper train Chiang Mai – Ayutthaya is your best option.
First and second-class seats do get booked in advance. My recommendation is to book a couple of weeks in advance, more so around the holiday periods.
Book online or book at any railway station in Thailand.
b) Bus
Your option here is a long distance bus that will drop you off on the Asia Highway, not in the city. From here, you will have to take a taxi, tuk-tuk, motorcycle, or songthaew into the town of Ayutthaya.
There is no need to book in advance or online, as there are plenty of buses doing this route. The key is to be flexible with your time. Booking at the station will also save you a couple of Baht.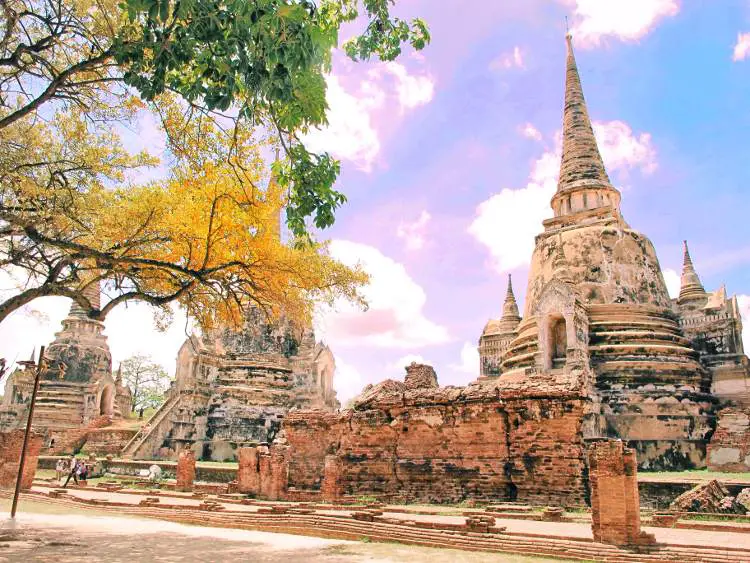 How to get around Ayutthaya
Navigating your way around the island is not too hard. Since Ayutthaya is essentially an island, a ring road, called U Thong Rd, circumvents the island completely. Most ruin temples in Ayutthaya are clustered at the northwest of the island, while accommodation and nightlife are to be found around the northeast.
1) By bicycle
You can rent a bicycle for around 50 baht per day. It's sounds terribly romantic to be biking around all day amongst ancient ruins, but a couple things to bear in mind:
The bicycles are not necessarily well maintained, so be sure that they work properly.
It's extremely hot during the day. Make sure to have a map of the city and take a big bottle of water with you.
There are numerous bike rental facilities all next to each other so be sure to shop around and find the one with the best option for you.
Since you are on your own schedule, it is recommended that you begin your explorations early, before the tour groups arrive from Bangkok.
2) By tuk-tuk
Alternatively, you can get around town by tuk-tuk.
Only official tuk-tuk drivers can pick up passengers from the train station. There is a tourist board displaying the status of all the Tourist Officials.
You can also flag down a tuk-tuk directly from the street and try to hire them with the greater possibility of a lower price.
The price varies depending on the season, the amount of ruins you wish to see and your bargaining skills, but are usually in the region of around 300 baht per hour.
Temples in Ayutthaya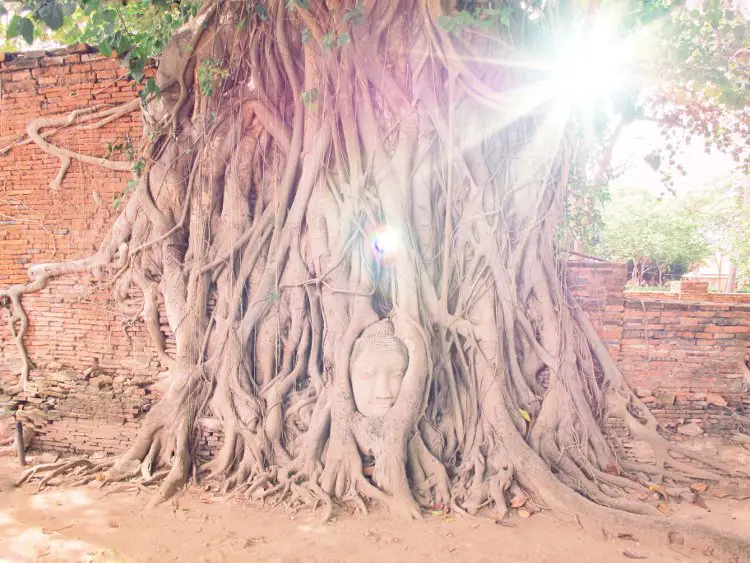 1) Wat Phra Sri Sanphet
The grandest, holiest and most beautiful temple in ancient Ayutthaya, Wat Phra Si Sanphet built in 1448, was the venue of royal ceremonies and also served as a private chapel of the royal family.
Three towering bell-shaped Chedis frame the most historically important temple in old Ayutthaya, where the ashes of former Kings of this Kingdom lie.
"This temple once housed a 16-meter high Buddha covered with over 300 kg of gold, but the Burmese set fire to the statue to melt the gold and destroyed the temple in the process." My guide exclaims, pointing to the ruins scattered throughout. "The city was completely destroyed by the Burmese in 1767."
Opening hours: 8:00 am to 6:00 pm daily
Entrance fee: 50 Baht
2) Wat Phanan Choeng
Located on the south side of the island, this monument is one of the oldest. "Wat Phanan Choeng is different from the other temples in Ayutthaya we will see today," my guide advises. "It is one of the only temples still in use today and you will notice many Thais and Chinese worshiping here."
Inside you are sure to be impressed by an equally impressive 19-meter Buddha structure, Phra Chao Phananchoeng, which is housed in a specially designed large building.
3) Wat Yai Chai Mongkhon
This ancient royal monastery was built way back in the middle of 14th Century and is located a few kilometers southeast of Ayutthaya Island.
While standing at the base, I am told that it was built by King U-thong in 1357 A.D. for the use of the monks who had returned from Ceylon after studying some ancient teachings.
Be sure to climb up the chedi for great panoramic views of the surrounding city as well as the hundreds of yellow dressed Buddha statues in massive rows that surround the complex. At the top you will also get a glimpse into the ancient enclosed space with the opportunity to cover the Buddha statues in gold leaves.
Since most of what you will be interested here is situated outdoors, be sure to arrive during the early morning or late afternoon to avoid the midday sun.
Opening hours: 9 am – 6 pm
Entrance fee: 50 Baht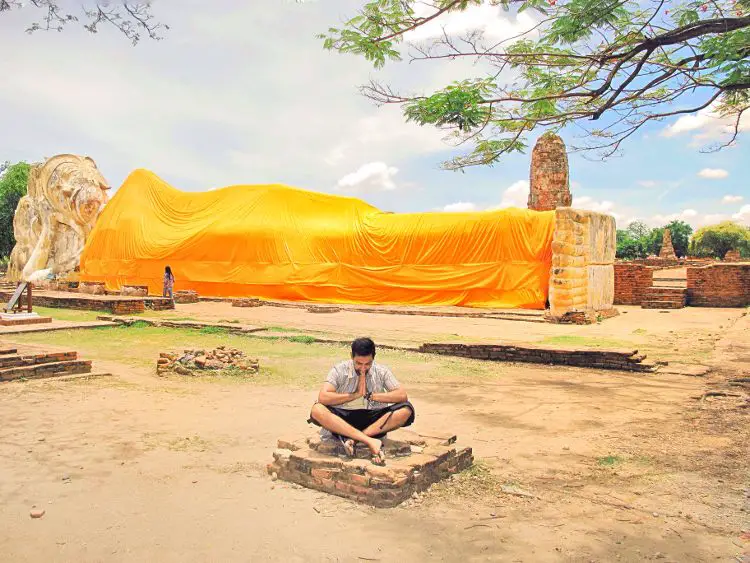 4) Wat Mahathat Ayutthaya
Wat Mahathat (meaning Temple of the Great Relic) was one of the most important temples of the Kingdom of Ayutthaya. This importance is symbolised by its size, being the largest in the region.
This massive compound was used as a Royal monastery and was the residence of the Supreme Patriarch or leader of the Thai Buddhist monks. Believed to have been built during the early Ayutthaya period, way back in the 14th century, this temple is located almost right in the center of the old historical city.
Wat Mahathat also offers the mystical Buddha head that is comfortably intertwined in the roots of a gigantic fig tree.
Note that when taking pictures of the Buddha head that include yourself, make sure you kneel to show respect, as it is considered holy by Thais.
Opening hours: 9 am – 5 pm
Entrance fee: 50 Baht
5) Wat Lokayasutharam
The important feature of Wat Lokayasutharam is a huge reclining Buddha image, called Phra Bhuddhasaiyart, that appears to be sleeping peacefully.
37-meters long and 8-meters high, the head is placed on a lotus, and the legs overlap squarely to show the equalized toes.
Many other reclining Buddha images are to be found in the Ayutthaya complex, but this one is the largest and probably the most impressive.
6) Wat Phu Khao Thong
A couple kilometers north of the town is yet another impressive monument- a huge white chedi set in a large open field.
"Originally built in 1,387 by the second king of Ayutthaya kingdom. When the Burmese took over Ayutthaya in 1569, the Burmese king built a Mon-style chedi on top of the former temple in Ayutthaya to celebrate his victory over the Siamese." I listen attentively, my eyes meeting the triangular centrepiece at its crown.
"The statue of King Naresuan, built a few hundred meters away in front of this Chedi is also of historical significance." My guide continues.
We had arrived here just after lunch at the peak of the summer heat and so I opted out of the climb to the top of this structure, but you might want to consider this as the views are potentially extensive.
Entrance is Free
7) Wat Chaiwatthanaram
A lot of tourist brochures have this Wat as the featured image and for good reason. Built over two decades by the then King of the Kingdom, Wat Chaiwatthanaram is one of the more impressive temples in Ayutthaya and this ancient city.
"This temple was used to perform royal ceremonies, including the cremation of deceased royals along with the occasional religious ceremony. Its literal meaning is the monastery of long reign and prosperous era," my guide announces as we survey the surrounding area and continue our exploration.
The temple's main focal point is the "Phra Prang Prathan," a 35-meter tall Khmer style tower surrounded by numerous intact pagodas.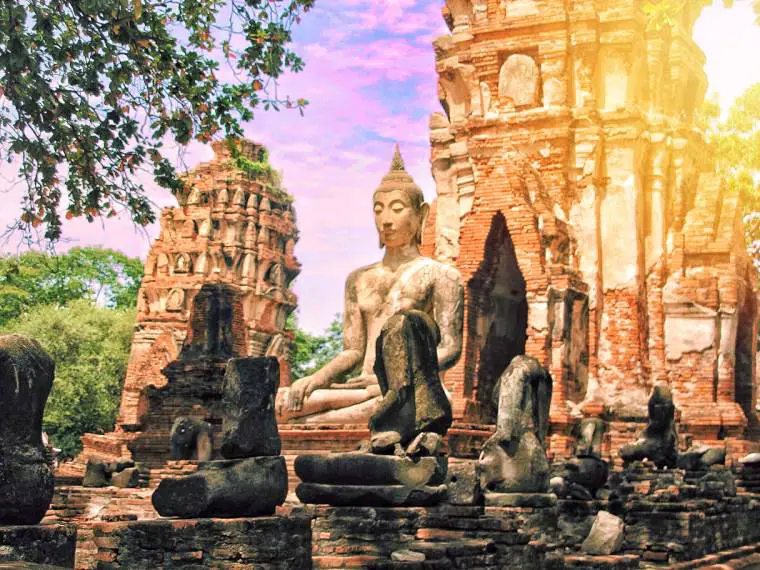 Good to know before you go:
Ayutthaya opening hours
Most of the Ayutthaya temple complex and major temples are open from 08:00 a.m. to 18:00 p.m daily, making this a convenient day trip from Bangkok.
The Best time to visit Ayutthaya
The best time to visit is during late afternoon.
If you have the freedom to, I highly recommend waiting until sunset because the surroundings supplement a perfect backdrop and transform the ambiance of the ruins beautifully.
Ayutthaya entrance fee
It is free of charge to enter the Ayutthaya Historical Park.
Some of the major temples in Ayutthaya each charge a 50 Baht entrance fee while others are free to enter without charge, although a donation is always welcome.
Tip: There is a pass available costing 230 Baht that provides access to 6 of the temples that charge an entrance fee.
Is there a dress code in Ayutthaya
The entire temple complex is a sacred space to Buddhists and should be treated as such. Always maintain respect and never climb on any of the temples in Ayutthaya no matter how good the photo opportunity looks.
Please dress appropriately before entering any active Ayutthaya temples. Long pants or long skirts, no bare shoulders and as always, no shoes inside.
Be respectful towards images of the Buddha and never climb on one.
Ayutthaya Floating market
This cultural and shopping place is not an actual floating market per say. A cost of 200 Thai Baht gets you in to the complex housing stalls that sell a variety of goods including Thai food, snacks, other weird food such as insects, traditional toys, and souvenirs.
There also exists the opportunity to enjoy a short 10-minute boat ride around the market observing the complex and its surroundings. Something that children may particularly enjoy. No purchase happens while on the boat as is customary in an actual floating market. This is followed by a performance depicting the history of the Ayutthaya kingdom and even though it is performed in Thai, no loss happens in translation.
Note: Cash is the best form of payment whereas bank card is not often accepted.
Also, please do NOT ride the elephants here. It's bad practice and a form of animal abuse that needs to quickly disappear.
Where to go after Ayutthaya
If you're still in need for something more to quench your insatiable desire for ancient Buddhist temple ruins, a visit to Lopburi or Sukhothai is sure to seal the deal.
Maybe a break from travelling in Thailand and looking to slow down? I would highly recommend a yoga retreat to become more conscious and connect with your inner-self.
Where to stay in Ayutthaya
These boutique hotels are my 3 favorite options on where to stay in Ayutthaya.

Locate in historical Phra Nakhon Si Ayutthaya, they offer a relaxing space with comfortable, clean, and spacious rooms and a host of other features. Check it out and find the best option that meets your requirements.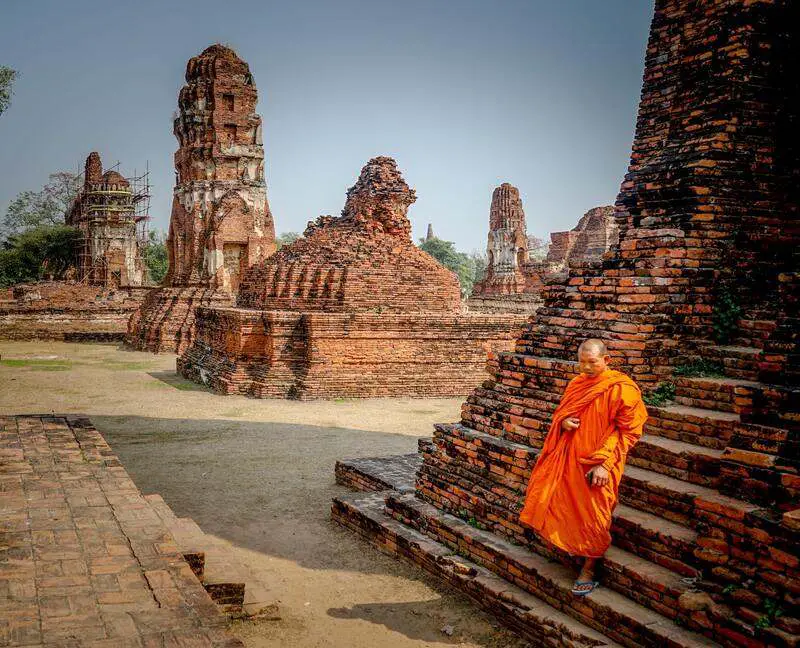 >> Read next: The most common tourist scams in Asia (and how to avoid)
And that's about it for visiting Ayutthaya on a day-trip independently or as part of a tour.

Should you have any additional questions, do not hesitate to contact me. For more travel inspiration and images, be sure to connect on instagram @araioflight

The benefits of travel are infinite. And as always, remember to travel responsibly.
Happy exploring,

Rai