13 Fun and Cheap Florida Vacation Spots in 2024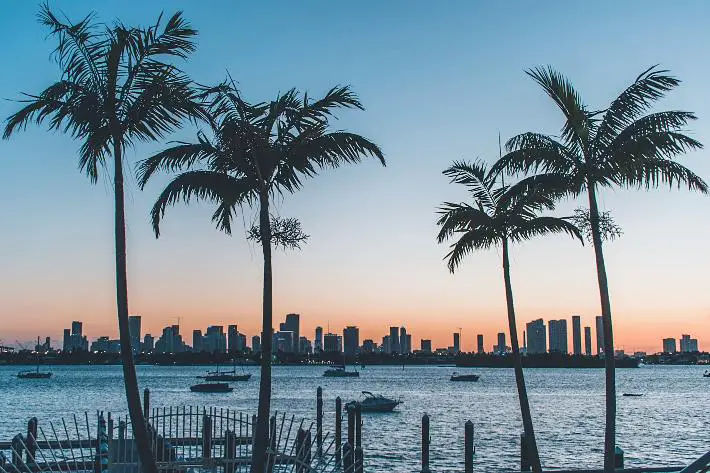 Find the best places for a cheap vacation in Florida ⬇️
It's that time of the year and I know you're looking to escape the daily grind without emptying your wallet? Look no further than the sunshine state! It may be known for its extravagant theme parks and luxurious resorts, but don't let that fool you. Beneath all the glitz and glamour, there is a hidden treasure trove of cheap Florida vacation spots just waiting to be discovered.

From budget-friendly beach towns to quirky roadside attractions, this article will guide you through offbeat and affordable destinations in Florida, proving that a little creativity can go a long way when it comes to planning your next unforgettable getaway.

So grab your flip-flops and sunscreen – we're about to embark on an adventure that won't break the bank!
>> Read next:
The Best Cheap Places to Vacation in Florida
We know that sometimes it feels as if you can't go on vacation if you're not going to the 5-star hotels and the resort towns that seem to be all over social media. We have great news! You can definitely take a wonderful vacation without breaking the bank and have the best time while you are at it.

Something we love about Florida is how it seems like no matter where you go, you will find rich history, stunning beaches, and fun activities to do. We want you to have fun on your next Florida adventure, so here are some budget-friendly places in Florida to holiday that we know you will love.

If you're on a tight budget, but still crave that Floridian magic, fear not! We've got your back with some tips to explore this pocket-friendly paradise.
Where is the cheapest place to visit in Florida?
1 — St. Augustine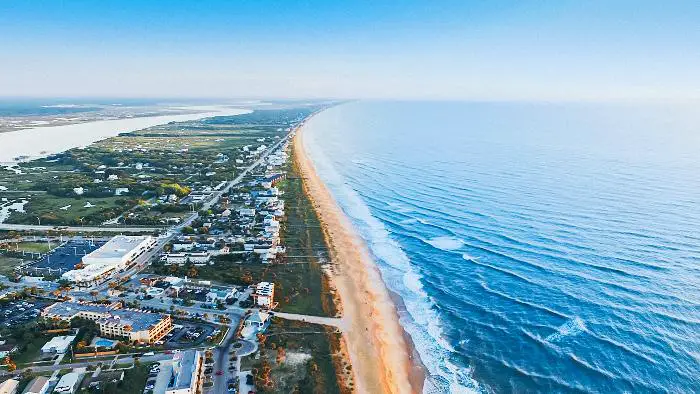 St. Augustine is the place with charming cobblestone streets & history. There truly is something for everyone to enjoy in this beautiful place as one of the best cheap places to visit in Florida.

To start off, the St. Augustine Pirate & Treasure Museum is an absolute hit with the little ones (and the young at heart). You get to dive headfirst into the world of pirates, exploring their treasures and embarking on a treasure hunt.
And then there's the St. Augustine Lighthouse. Sure, the climb might feel like a mini workout, but the views from the top are worth every step. There is also Castillo de San Marcos which is the oldest fort in the U.S. The moment you walk through those massive stone walls, you're transported back in time.
Another favorite is the Lightner Museum. Once a luxurious hotel, this is the place for seeing fancy stuff like artwork and artifacts. But if we are being honest, the architecture alone is worth the visit in our book.
And if you're looking for some beach time, head to North Beach Park. It's got all the sandy goodness you're looking for without the hassle of parking fees. Just make sure to pack up your best beach tote and bring all your things to cross over the bridge that leads you to this wonderful beach. Trust us, visiting the oldest city in the United States is a decision you won't regret!
Keep reading to discover even more cheap places to vacation in Florida…
2 — Gainesville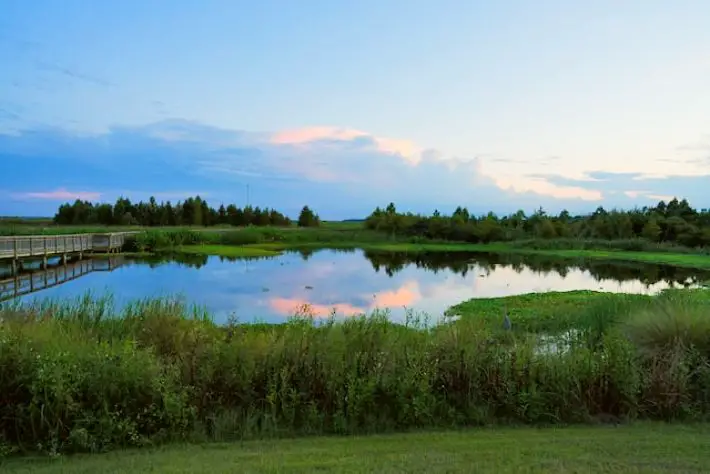 Welcome to Gainesville, the vibrant college town with a youthful vibe, and one of the best cheap places to vacation in Florida. It's the home of the University of Florida, and that means there's never a dull moment here. What's best is that you can visit museums and parks and enjoy outdoor activities at a very low cost.
Gainesville is home to more than just die-hard college football fans; it's also where penny-pinching travelers find solace amidst budget-friendly Florida attractions. From exploring natural springs at Ichetucknee Springs State Park (without draining your bank account) to embracing art and culture at free university events – Gainesville proves why being thrifty has never been so cool
First up, the Gainesville-Hawthorne Trail is the perfect place to take a bike ride. This 16-mile trail treats you to some of the most beautiful scenic vistas. Gainesville also has two fantastic free public museums – the UF Harn Museum of Art and the Florida Museum of Natural History.

And for a very unique activity, you'll want to head over to the UF Bat Houses. These hold the title for the world's largest occupied bat houses, and they do nightly bat releases. Trust us; it's one for the books.
For us, Depot Park is the crown jewel of Downtown Gainsville. The playground and splash pad here are downright amazing – you won't believe they're part of a free public park. Plus, they host a ton of free programs and events throughout the year, so there's always something fun going on.
3 — Tampa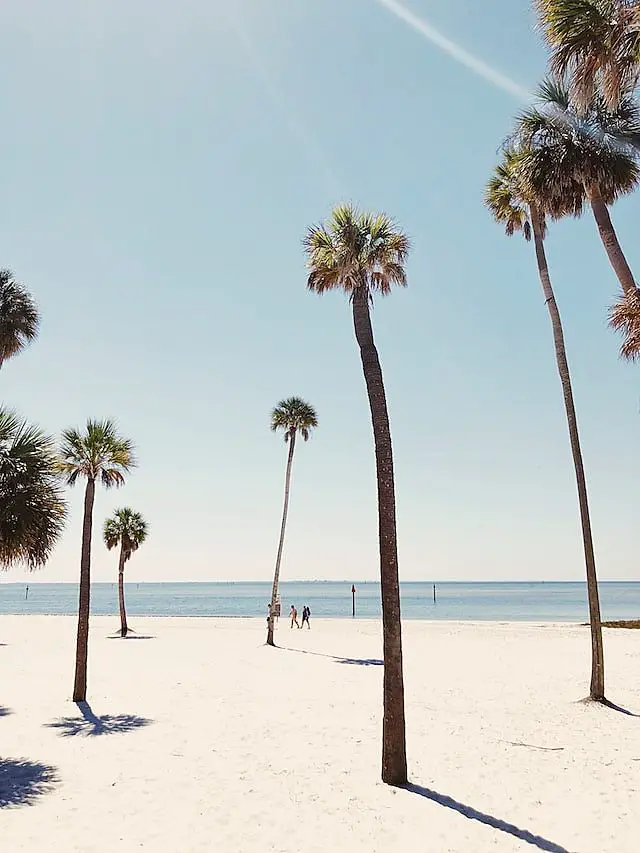 Tampa is a city that knows how to do Florida without emptying your pockets. For us, the Tampa Riverwalk is a gem. It's a waterfront path that takes you through some of the city's best spots, all for free. The views are stunning, and you'll find parks, artwork, and even some cool photo ops along the way.
Busch Gardens is a great amusement park that is not too expensive. And if you have a soft spot for animals like we do, the ZooTampa at Lowry Park is an absolute must.

Another favorite is the Tampa Bay History Center. This place takes you on an immersive journey through time. The exhibits are dynamic, and as you wander through, you'll discover Tampa's rich history. It's truly a great way to get to know this city better.
Don't miss a stop in Tampa for affordable Florida vacations.
4 — Tallahassee

Next up on this compilation of cheap places to go in Florida is Tallahassee — where southern charm meets capitol cool. The vibrant and sassy capital city of Florida, located in the Panhandle region, is a delightful mix of rich history, cultural diversity, and an unmistakable Southern charm.

If you're into museums, parks, and budget-friendly fun, the city of Tallahassee is the place to visit. For us, the Maclay Gardens State Park is just like a slice of heaven. The garden and trails are just beautiful and well-maintained. There is also a beach where people can go swimming and kayaking – it's worth a visit! With its lush green parks, scenic trails, and picturesque lakes perfect for canoeing or kayaking adventures – there are endless opportunities for cheap things to do in the Florida outdoors.
For those who appreciate art, the FSU Museum of Fine Arts is a gem. The campus itself is a beautiful site to behold. The St. Marks National Wildlife Refuge is another affordable place to visit, and it's only a short drive from Tallahassee. This is an excellent place for birdwatching, hiking, and the chance to spot alligators and other creatures.

Tallahassee knows how to tickle your taste buds and satisfy any craving. From mouthwatering soul food joints to trendy farm-to-table eateries, prepare for a culinary delight. Don't forget to try their famous Southern fried chicken served alongside refreshing watermelon margaritas.
5 — Pensacola
Pensacola is a beautiful and versatile destination on the Gulf that offers some of the best cheap vacation spots in Florida on a budget. From the beautiful beaches to the world-class aviation museum and historic downtown, this place offers more bang for your buck than you can imagine.
You simply have to make a stop at the National Naval Aviation Museum – one of the world's largest aviation museums! With an impressive collection of over 150 restored aircraft and more than 4,000 artifacts, this place is not just for military buffs.
For us, Pensacola Beach is a true gem with sugary sands and inviting emerald waters. What's best is that there are plenty of public access points. All you have to do is bring your best backpack beach chair and enjoy the rest of your day at the beach.
If you want to learn about the beautiful Historic Downtown, Emerald Coast Tours offers a free walking tour almost daily. Just make sure you make a reservation beforehand, and tipping is welcome.

Lastly, the Pensacola Bay Area is also home to several different festivals throughout the year. Whether it's art, seafood, jazz, songwriters, crawfish, bushwhackers, or Greek heritage – there is something for everyone!
6 — Fort Myers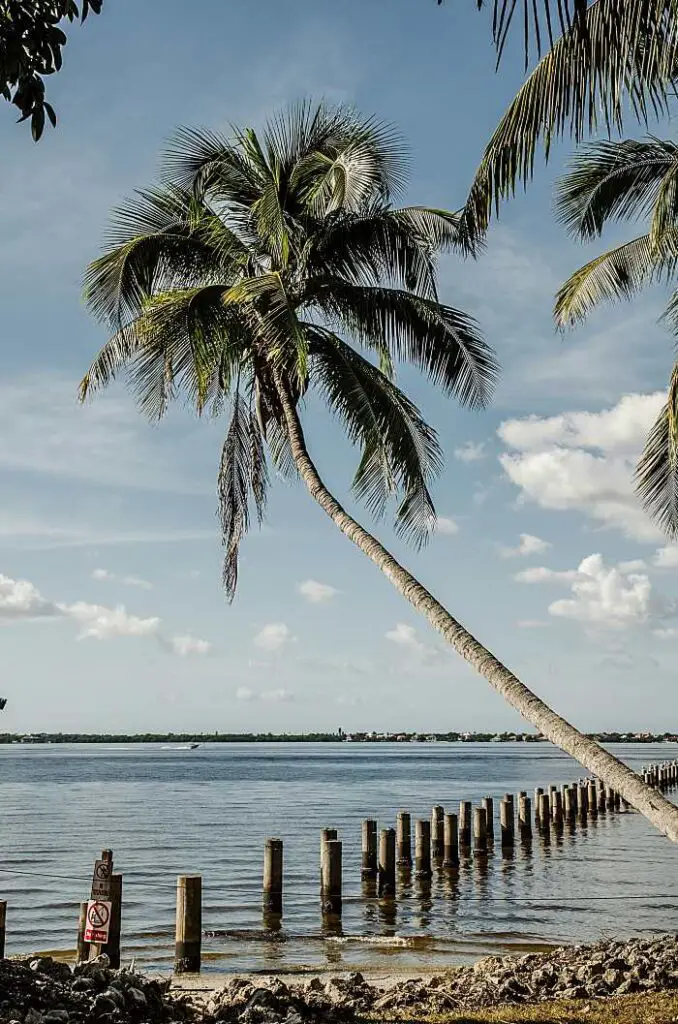 Fort Myers is another great place to visit as one of the best cheap getaways in Florida on a budget. We love the Edison and Ford Winter Estates. These estates include a museum, botanical gardens, and a research lab that showcases these incredible American innovators.
If you're visiting between November and March, you will not want to miss a visit to Manatee Park. It is during these months that manatees seek warmth in the canal waters. The park even offers some free guided walks and some fun educational activities like Manatee Bingo.
The Matanzas Pass Preserve is another beautiful place to enjoy nature. This wildlife sanctuary has some great trails that go through mangroves and oak hammocks and are great to explore.

And for a great end to your day, you need to head over to the Fort Myers Beach Pier. Here, artists, musicians, and sunset admirers come together to celebrate with a fun sunset celebration – usually on the weekends.
7 — Crystal River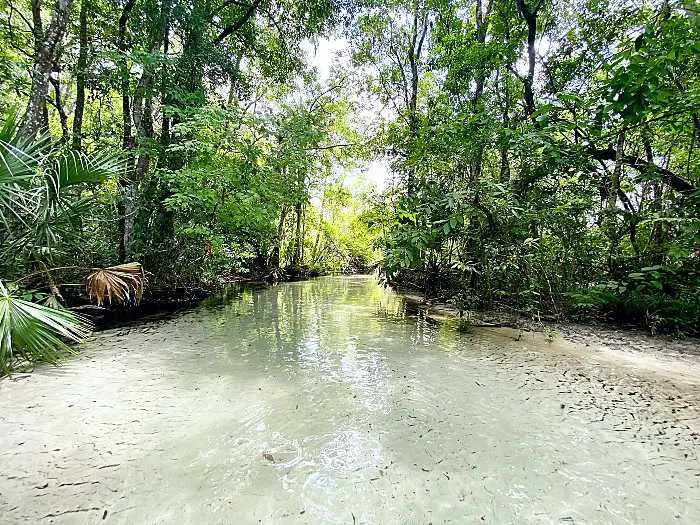 Welcome to Crystal River, Florida – where manatees are more common than traffic jams and flip-flops are considered formal wear. This charming little town is certainly one of the best cheap places to visit in Florida has a lot more to offer than just crystal-clear waters (although those are pretty awesome too).
First things first, Crystal River is the unofficial "Manatee Capital of the World." If you've ever dreamt of swimming with these gentle giants, you're in luck as it's a beautiful destination to visit manatees! Here, manatees outnumber humans like seashells on a beach. It's like having your own personal entourage of underwater celebrities. Don't worry; they won't ask for autographs.
What's even better is that you can get up close to these gentle giants without blowing your budget. Crystal River National Wildlife Refuge and Three Sisters Springs are two great places for these sightings. Kayak rentals and guided tours here are also reasonably priced.
But wait, there's more! Crystal River isn't just about manatees; it also boasts some seriously stunning natural beauty. Imagine lush coastal marshes teeming with wildlife and rivers that sparkle under the Florida sun. Whether you're into kayaking along scenic waterways or birdwatching while sipping on a margarita at sunset (no judgment here), this place has got you covered.
Crystal River Archaeological State Park is also a great place to explore some early human settlements. There is a small informative museum, and the trail leads to the burial mounds, where you get a beautiful view of the river and marsh area.
Now let's talk about fishing because if there's one thing Floridians take seriously, it's catching big fish. And Crystal River is no exception! Grab your rod and reel because this town offers some prime fishing spots that'll make even the most seasoned angler weak in the knees. From redfish to snook and everything in between, prepare for an epic battle with Mother Nature's finest swimmers.
8 — Panama City Beach
Although Panama City Beach is typically known for being a spring break town, this place is amazing during its off-season. Parking here is a breeze, and you'll often find bathrooms and showers along the beaches. Our favorite thing to do is to pack up our toys and set up camp under one of the piers that go along this beach. It's an easy way to get shade without the hassle of setting up a tent.
If you are going as a family, there are also so many fun attractions that you can pay to visit. There is the WonderWorks fun lab, the Coconut Creek Family Fun Park with a labyrinth and miniature golf, and the fun Shipwreck Island Waterpark. There really are so many options for entertainment that the hardest thing to do will be to pick one.
If that is not your style and you want "natural" entertainment, St. Andrews State Park is the place to go. This park offers the best range of water activities, from swimming, surfing, kayaking, canoeing, snorkeling, and scuba diving, it really has it all.

Lastly, if you didn't already know, this is one of the prime spots to go check out dolphins. We recommend you try out a beautiful sunset dolphin cruise, they do not disappoint! To us, this is one of the most underrated Florida Gulf Coast Beaches that you will not want to miss out on.

This region offers an abundance of cheap vacation spots in Florida, if you know where to look, and should not be missed.
9 — Naples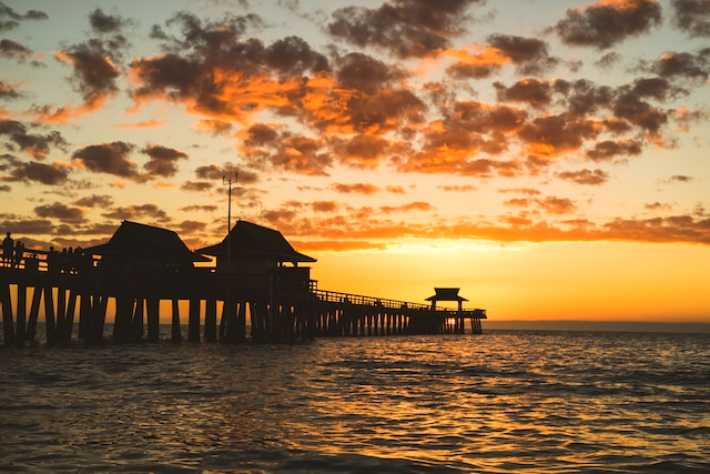 Naples is actually more affordable than most people might think it is. The best time to visit for an affordable vacation is in the spring. The beaches here are beautiful and you'll want to spend all day in them. But make sure you head over to the iconic Naples Pier, where you get stunning views and maybe catch a glimpse of dolphins.
A couple of other beautiful places to visit are The Naples Preserve and the Naples Botanical Garden. These natural parks are perfect for family adventures. Plus, trust us, you won't go hungry with all the family-friendly dining options that won't break the bank.
10 — Homestead
A great choice when searching for cheap Florida destinations is Homestead. If you consider yourself a nature lover like we do, you will end up loving this place. Homestead invites you to explore the Everglades and Biscayne National Park without breaking the bank.
The Everglades Alligator Farm is a must-visit to get to see these awesome creatures. They have a zoo, interactive shows, and feedings, and you get to hold baby alligators. All of this is amazing, but the admission also includes a really cool airboat ride. Just be warned – you will get wet!
Another place we recommend checking out is the Fruit & Spice Park. This place is a 37-acre botanical garden and the only of its kind in the U.S.

The park contains over 500 varieties of fruits, vegetables, spices, herbs, and nuts, and you get to snack on anything you find on the ground. This is such a fun multi-sensory experience, and you can enjoy it any time of the year.
11 — Ocala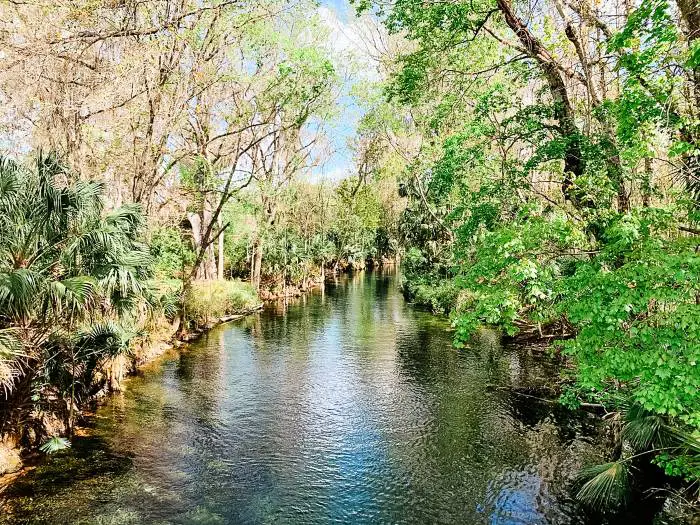 Ocala is where you'll find horse farms, state parks, a whole lot of natural beauty, and a number of cheap Florida vacation spots. Here, Silver Springs State Park, one of Florida's original attractions, is a great place to explore. You can hop on a glass-bottom boat for a ride over one of the biggest springs in the whole U.S.
Another beautiful destination is the Ocala National Forest. This is a fantastic place to visit year-round for some outdoor fun. You can do kayaking, camping, fishing, and try your hand at spotting wildlife.
It wouldn't be a visit to Ocala without checking out the horses. Ocala is home to the World Equestrian Center. This place is not just big; it's the largest equestrian facility in the whole country. They've got a fancy hotel, restaurants, and shows for both horses and dogs.
12 — Sarasota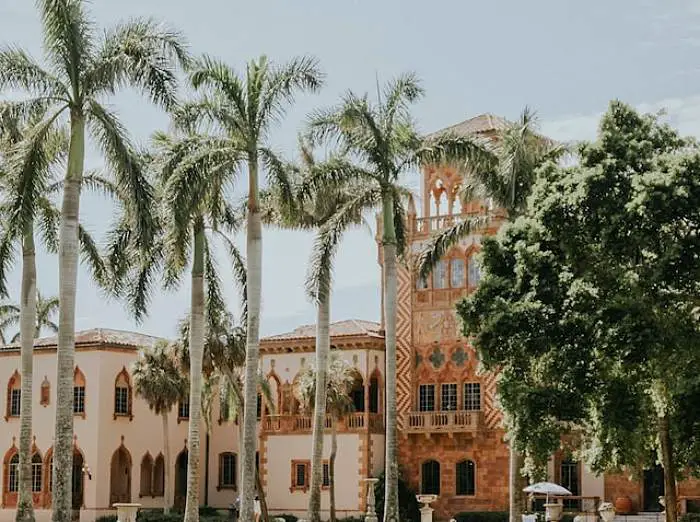 Sarasota isn't just about beautiful beaches. This place, offering cheap Florida getaways, is also a cultural hotspot and botanical wonders haven. Some of the best places you can go to explore nature are the Sarasota Jungle Gardens and the Marie Selby Botanical Gardens.
You also cannot miss a visit to the Ringling. This place is a huge complex that is meant to preserve the legacy of John and Mable Ringling. And we are not joking when we say this place is massive, it includes 3 different museums (1 art & 2 circuses), the historic Ca' d'Zan Mansion, gardens, an art library, and a historic theater.
Last of these cheapest places to visit in Florida is:
13 — Cedar Key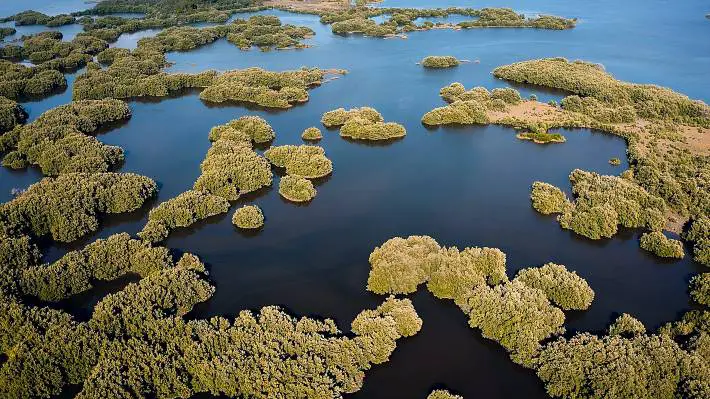 Cedar Key is this quaint, budget-friendly town along Florida's Gulf Coast. Cedar Key's historic streets are beautifully covered with pastel-colored houses.

The Cedar Key Museum State Park is the perfect place to go learn more about its history. You could also go on a short walk along the Cedar Key Railroad Trestle Nature Trail, a 1930s abandoned railroad causeway.
If you're looking for some water exploration excitement, Shell Mound is a great option. This archaeological wonder is a 20-foot-high mound of oyster shells crafted by Indigenous people over two millennia ago. It is often dubbed a "sea kayaker playground."
What makes Cedar Key truly special are its charming community events like the "Old Florida Celebration of the Arts," the October Seafood Festival, and their stargazing parties.
FAQ: Cheap Vacation Spots in Florida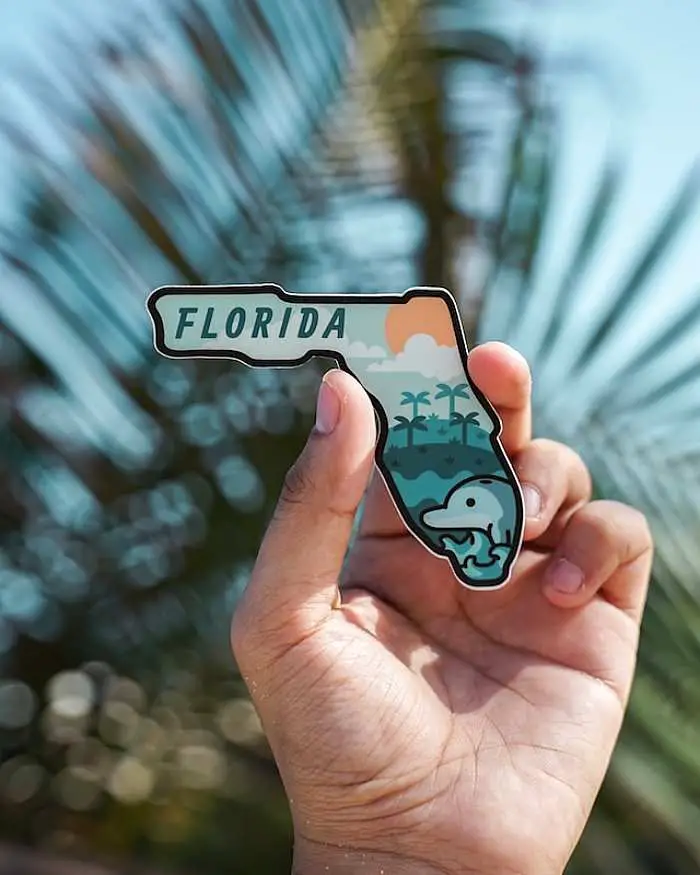 Which part of Florida is the Cheapest to Vacation?
Generally, some of the more budget-friendly areas to vacation in Florida on a budget are in the north or inland, away from the major tourist hubs. However, the cost of a vacation can vary depending on the time of year, accommodations, and activities you plan on doing.
How Much is a Vacation For 2 to Florida?
The cost of a vacation for two in Florida can really vary based on your preferences, the duration of your stay, and your activities. On average, you can expect to spend between $100 to $300 per day on accommodations, food, and activities for two people.

Keep in mind that this is a rough estimate, and costs can be higher or lower depending on the choices you make.
Is Florida a Cheap Vacation?
Florida can be both an affordable and an expensive vacation destination. There are plenty of budget-friendly options for accommodations, dining, and activities. This is especially true if you plan your trip during the off-season and stay in moderately priced hotels/motels.
What is the Best Time to Visit Florida for a Cheap Vacation?
Fall (September to November):
–       September – peak hurricane season.
–       November – excluding the week/end of Thanksgiving.
Just keep in mind that September is right in the midst of hurricane season, so keep an eye on the weather.
Winter (December to February):
–       December – excluding the week of Christmas. 
–       January – excluding New Year.
–       February – excluding the week of President's Day.
The Southern parts of Florida are still ideal for swimming and enjoying the beaches. A lot of species also migrate to Florida in the winter, so it truly is the best time to visit if you're looking to spot some fun creatures.
Spring (April to May):
–       Excluding Spring Break season – usually mid-March through the beginning of April.
Spring is another great time to visit Florida. The weather's warm but not scorching, making it a comfy time to explore without the summer crowds. You'll find lower prices on accommodations and activities, and by late April, the spring breakers have usually dispersed.
Pro tip: Weekdays are often lighter on the wallet than weekends, no matter the season.
Conclusion: Cheap places to visit in Florida
There you have it – a roundup of the cheapest places to visit in Florida! Whether you're looking for beautiful beaches, vibrant cities, or natural wonders, this state has something for everyone on a budget.

From the quirky charm of Tampa to the laid-back vibes of Cedar Key and the hidden gems of Gainesville, you will find endless opportunities for affordable holidays in Florida. So pack your bags (and your swimwear) and get excited for your next vacation in the Sunshine State, without breaking the bank.
So if you've ever thought that an affordable Florida vacation was out of reach without staying in high-end resorts, we've got great news for you. You will find a lot of captivating and cheap destinations in Florida that cater to every taste.

Remember, who said paradise had to come with a hefty price tag? In Florida, even penny-pinchers can live their vacation dreams! Trust us, you'll have an amazing time no matter what your budget is.
Candice from Exploring the Gulf.