The Cheapest Places to Travel in USA (Right Now)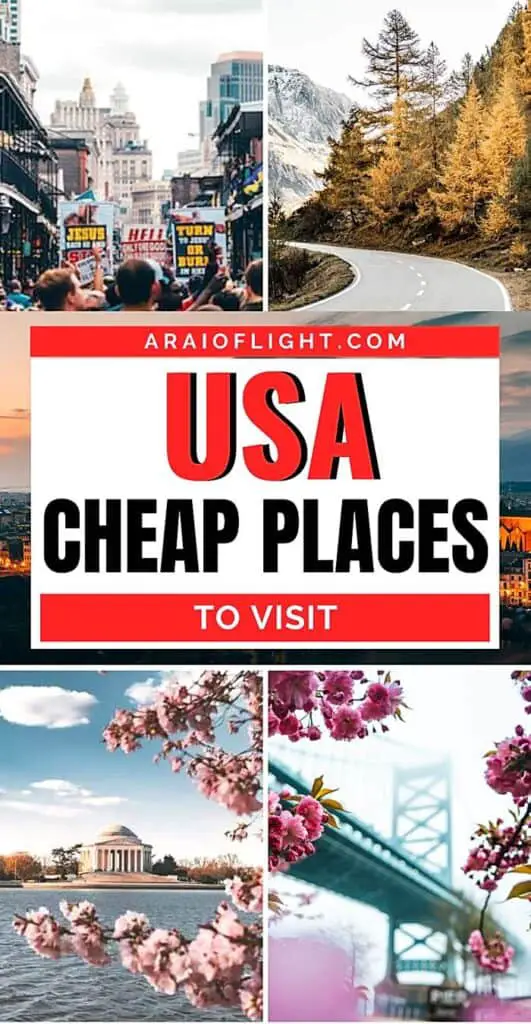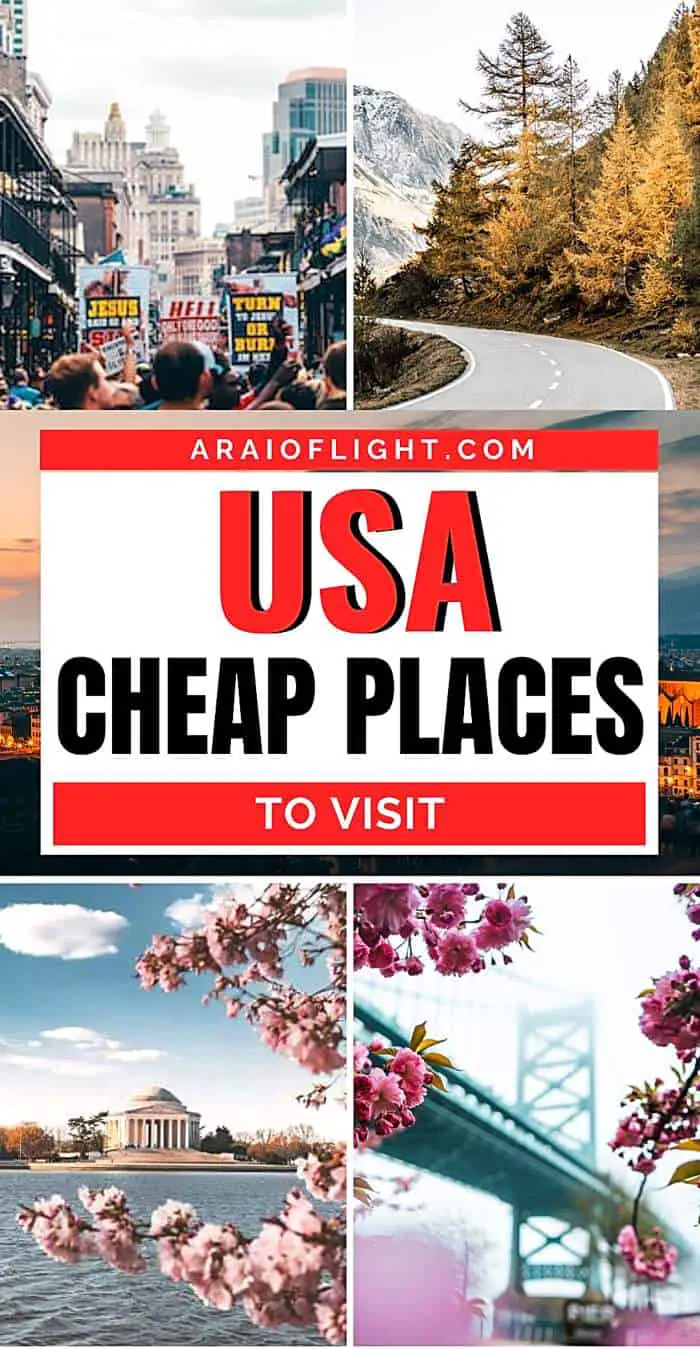 Are you looking for an affordable place to take a vacation in the United States? With so many beautiful and interesting places to visit in USA, it can be difficult to narrow down your choices. Don't worry, I have you covered with this list of cheap places to travel in USA in 2023!
From cities full of culture and art to picturesque towns nestled in the mountains, we'll explore some of the best cheap holiday destinations in the USA. Pack up your bags and let's take a journey together to discover these amazing travel destinations that won't break the bank.
>> Read next:
The Best Cheap Vacations in the US 2023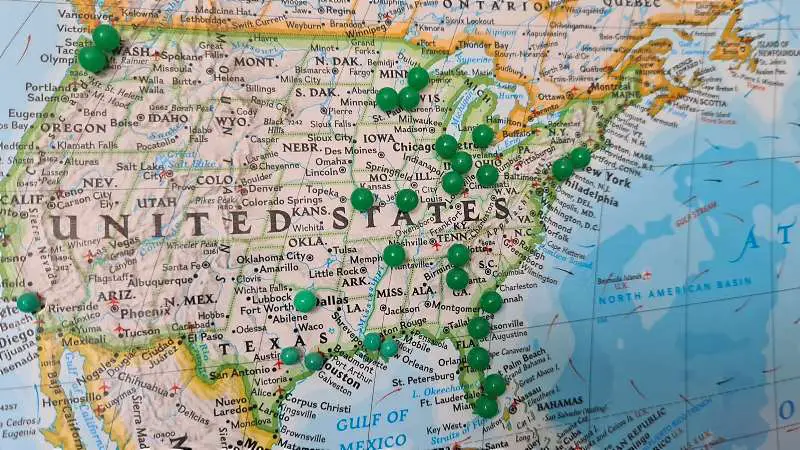 Is USA cheap to visit?
The USA is certainly not at the top of any list of cheap countries to visit in 2023. However, the region does boast an incredibly wide variety when it comes to cheap vacation destinations. Whether you're looking for a vibrant city full of culture and art, majestic national parks with breathtaking views, or beautiful beaches along the coast – you'll find it all in the United States.
From San Diego, California to Portland, Maine, there is a wide range of affordable destinations in the US to choose from.

If history and culture are your things then head over to Independence Hall in Philadelphia or explore the iconic Route 66 from Chicago to Los Angeles.

For nature lovers, check out Duluth in northern Minnesota or Asheville, North Carolina for stunning natural beauty.
No matter what type of adventure you're after, there are plenty of cheap travel destinations in the US that offer great value for money.

So, let's take a look.
Where is the cheapest place to visit in the USA right now in 2023? First up…
Portland, Maine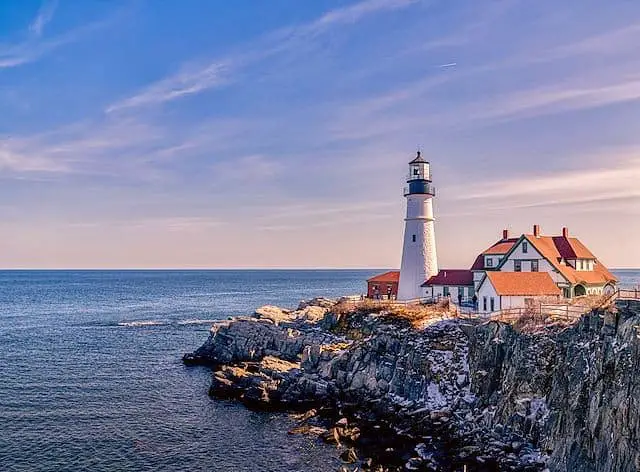 Portland, Maine is a great holiday destination for budget travelers looking to explore the northeast corner of the United States. Not only is the city itself quite affordable with plenty of cheap attractions and activities, but it's also home to some truly unique experiences. 
From tasting local craft beer on a brewery tour to exploring the Portland Museum of Art or taking a ferry ride to Casco Bay Islands – there are fun things to do in Portland.
And let's not forget about the food! Portland offers some of the best seafood in North America, so make sure you enjoy a one-of-a-kind lobster meal at DiMillo's on the Water, Luke's at Portland Pier, or Lobster Shack at Two Lights. 
With so much to see and do – plus affordable flights and accommodations – it's no wonder why Portland is becoming an increasingly popular affordable holiday destination in the USA.
Philadelphia, Pennsylvania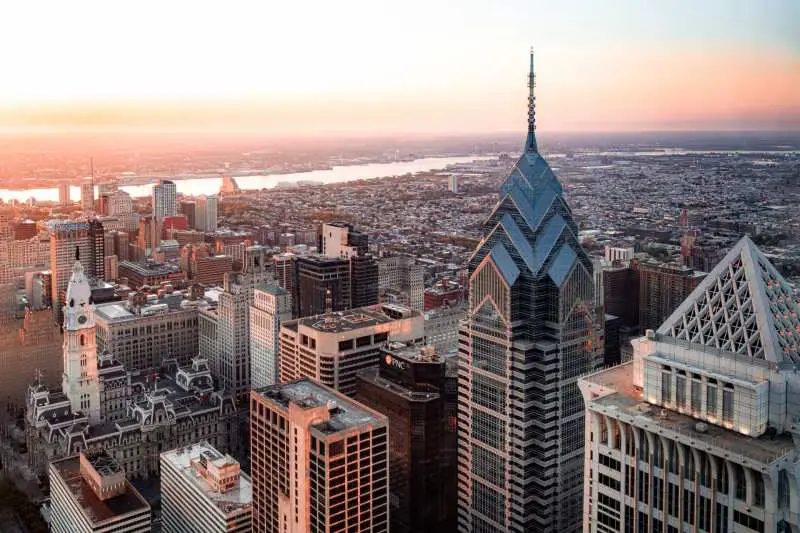 Philadelphia, Pennsylvania is a city that's bursting with history and culture. Plus, there are lots of great attractions to enjoy without breaking the bank. Many of Philly's attractions are free!
From the iconic Liberty Bell to the historic Independence Hall, there's plenty for you to explore in this vibrant city. You can walk between many of these destinations, so there really isn't a need for a car rental.
You can take a stroll around the cobblestone streets and visit some of America's most important landmarks at Independence National Historical Park – all for free!
Get lost in one of the many museums like The Franklin Institute or Philadelphia Museum of Art – both offer discounts and free days. Plus, if you're looking to save even more money during your stay, try out some of the city's renowned street food; dishes like cheesesteaks and soft pretzels are must-try items.
When it comes time to rest your head, there are tons of cheap hotels and Airbnb options available.
Visit during Independence Day celebrations in the US for tons of free activities, reduced price and free museum days, and street festivals. Philadelphia really puts on a show for the 4th of July.
If you're planning a longer holiday and want to get away from the city, there are nearly unlimited day trip destinations from Philadelphia, and many beaches near Philadelphia are less than a 2-hour drive from the Atlantic Ocean.
Washington DC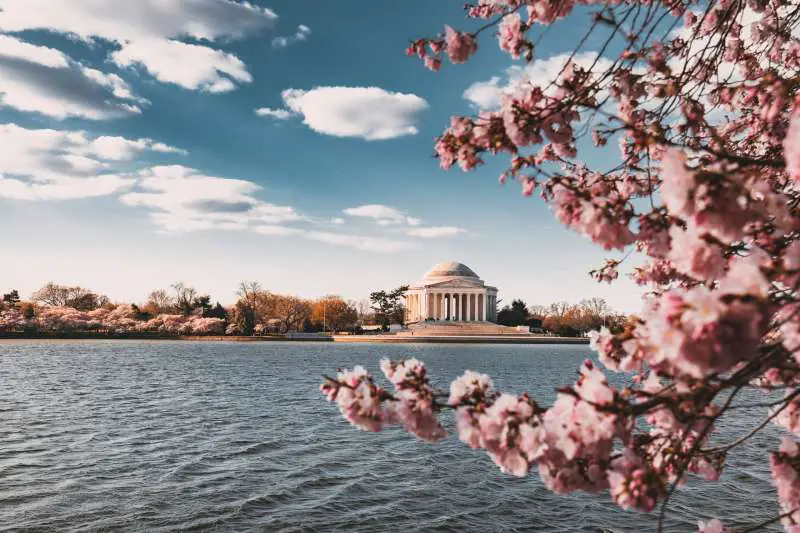 Washington DC offers a unique mix of culture, history, and fun that make it an ideal cheap destination to add to your USA travel bucket list.

Whether you're looking to explore some of the city's iconic monuments or take a stroll through its beautiful parks, there are many ways to get outside and explore DC. Plus, if you're on a budget, there are plenty of affordable activities and accommodation options.
Take some time to explore the sights and sounds of iconic places like the Washington Monument and Jefferson Memorial for free.

Enjoy some of the city's world-class museums along the National Mall. All of the Smithsonian museums are free to enter, and our favorites are the Natural History and Air & Space Museums.
Stay just outside of downtown for more budget-friendly hotels. The public transit system in Washington DC is great for getting to and from the major attractions.
Why not experience everything that makes Washington DC so special? From its vibrant nightlife scene to its incredible historical sites, the nation's capital is sure to give you an unforgettable holiday experience without breaking your bank account.
Asheville, North Carolina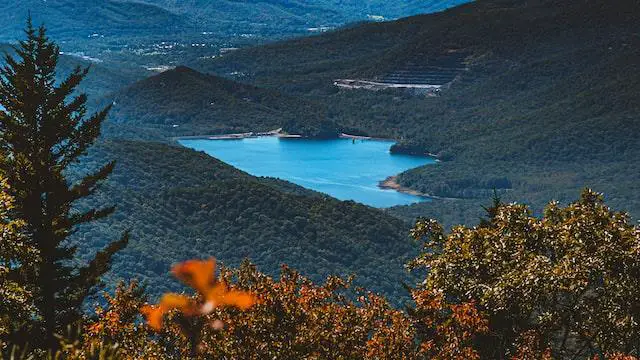 Asheville, North Carolina is a great cheap vacation destination in the US for anyone looking to experience the natural beauty and charm of America's Southeast.

Located in the Blue Ridge Mountains, it's one of the most picturesque cities in the United States, especially during the fall months. Whether you're an outdoor enthusiast or someone who likes to take things at a bit slower pace, Asheville is a great town to visit.
The city boasts a wide range of affordable attractions and activities, from exploring some of its charming historic districts to hiking on one of the many trails surrounding the town.

Spend your days leisurely exploring the city's vibrant art scene, bustling craft breweries, and farm-to-table restaurants; then spend your nights relaxing by a campfire in a cabin on the outskirts of town.
And when you're ready for some rest and relaxation, enjoy breathtaking views overlooking the Blue Ridge Mountains.
No matter what type of holiday you're looking for in North Carolina, Asheville has something to fit, even on a cheaper budget – plus plenty of cheap flights if you're traveling from further out of town.

So why not make this beautiful mountain town your next cheap USA vacation spot?
Chicago, Illinois
Chicago, Illinois is an amazing destination for anyone looking to explore the Midwest and experience all that America has to offer. From art museums to bustling city streets, Chicago is a great destination with more affordable hotels to spend the night, so choosing where to stay should be easy.
For those on a budget, there are plenty of free activities to enjoy in this vibrant city. Visit iconic landmarks such as the Navy Pier and Buckingham Fountain; take a stroll through Millennium Park to see "the Bean"; or wander along the Lakefront Trail.
You can also explore the city's many neighborhoods – each with its own unique culture and charm – or catch a show at one of Chicago's world-renowned theater venues.
When it comes to dining out, there's no shortage of cheap eateries in Chicago.

Whether you're craving some deep-dish pizza or classic hot dogs, you won't have any trouble finding delicious food at affordable prices. Even if you're looking for more adventurous dishes, Chicago has great options. We loved Irazu for its traditional Costa Rican cuisine.
With numerous public transportation options and discounted attraction passes available, you can easily get around without breaking your budget. A visit to Chicago includes world-class museums, jaw-dropping architecture, iconic attractions, lush green spaces, and amazing food and entertainment.
Duluth, Minnesota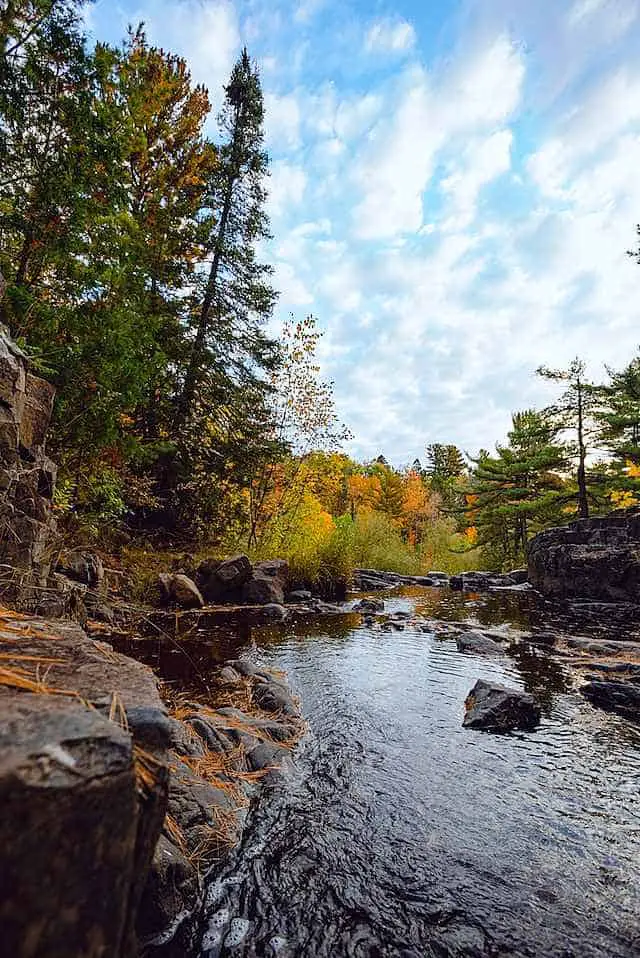 Duluth, Minnesota is the perfect affordable getaway in the Midwest for those looking to explore the beauty of North America, while keeping their budget in check. Often regarded as the cheapest place to travel in USA, this picturesque city boasts breathtaking natural scenery and a wide range of affordable activities.
Take a stroll along the Lakewalk, where you can enjoy views of Lake Superior and snap some great photos. Visit Canal Park to watch ships passing through the Aerial Lift Bridge or take a hike at one of Duluth's many scenic parks.

You can also explore the city's rich maritime history at one of its many museums or observe wildlife on a boat tour around the harbor.
For those seeking an adventure, Duluth is the perfect starting point for a northern Minnesota road trip to one of the beautiful state parks, the Boundary Waters Canoe Area, or Voyageurs National Park – from skiing and snowmobiling in winter to kayaking and fishing in summer.
Northern Minnesota is also well-known for its countless lakes, so you should certainly experience them. Whether you want to "rough it" and camp or rent a houseboat to enjoy the lake, you can do both of these near Duluth.
It's also a fairly easy drive from the Twin Cities, and with numerous cheap flights to this hub airport available from most major cities, it's really easy to reach northern Minnesota for a cheap holiday in the US.
New Orleans, Louisiana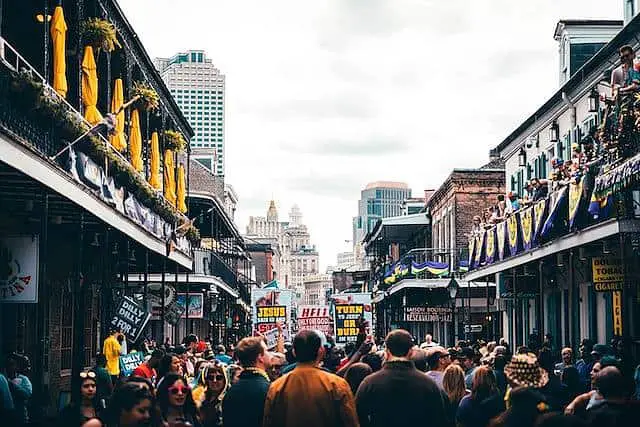 New Orleans is one of the most unique cultural and creative cities in the country. From its iconic jazz music and vibrant art to its delicious Creole cuisine, New Orleans is an extremely exciting city. Plus, despite being a popular tourist destination, New Orleans can totally be done on a budget!
Accommodation-wise, you can find some great Airbnb stays for less than $100/night. You'll also find plenty of cheap eats around the city – from local seafood dishes and po'boys to traditional Cajun cuisine such as gumbo and jambalaya.
There's no shortage of things to do either! Get lost exploring the French Quarter with its cobblestone streets and balconies dripping with Spanish moss.

Take a stroll down the famous Bourbon Street and marvel at all the colorful street performances. Take a swamp tour through Louisiana's natural beauty and try to spot some alligators!
With so much culture, history, and fun activities available at an affordable price, it's no wonder New Orleans is such a popular holiday destination and one of the cheapest cities you can visit in the US right now.
Continue reading to discover more of the cheapest places to travel USA right now in 2023.

Next up we have…
St. Louis, Missouri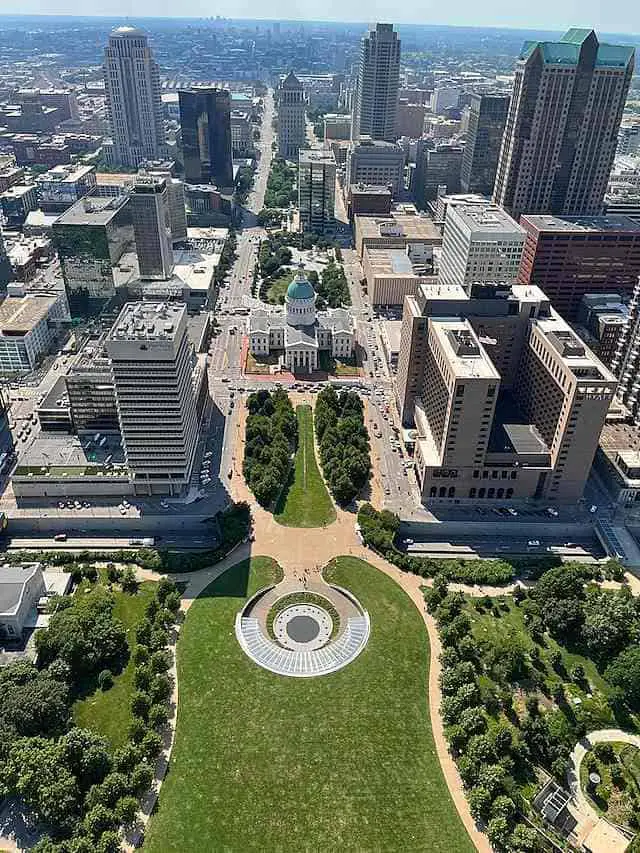 St. Louis, Missouri is an incredibly affordable place to visit in USA, and one that is often overlooked by those looking to explore the US on a budget. As one of the best cheap cities to visit, St. Louis offers a wide range of activities and attractions that won't break the bank.
For starters, check out the incredible Gateway Arch – a 630-foot monument dedicated to America's westward expansion. You can also head over to iconic Route 66 and take in all its vintage charm. St. Louis is the largest city along the route!
This inexpensive midwestern city is also rich in American culture. Visit and take a tour through Anheuser-Busch Brewery for some insight into one of America's most iconic beer brands. 
Don't forget to enjoy some St. Louis BBQ during your trip in the Gateway to the West, to really get a good feel for all that this cheapest place to visit in USA has to offer.
San Antonio, Texas
San Antonio, Texas is one of the most affordable travel destinations in the United States. With its location in the heart of Texas, it's hard to beat San Antonio for cheap US vacations.

It's also home to some of the best Tex-Mex cuisine in the US, so you can enjoy delicious food when you visit.
In addition to its great value, San Antonio has plenty of attractions for visitors. From its iconic Alamo landmark and famous river walk to world-class theme parks, there are adventures of all kinds.
It's also a great destination if you're looking to explore American history – after all, San Antonio was one of the first cities founded by colonists in 1718.
With its rich culture and vibrant atmosphere, San Antonio is the perfect place for an inexpensive Texas holiday.
Denver, Colorado
If you're looking for an affordable vacation spot in the mountains of the USA, you have to check out Denver, Colorado. Whether you're interested in outdoor activities or vibrant city life, Denver has something to offer.
Start off your trip with a visit to the famous Rocky Mountain National Park from Denver– it's a great way to experience the beauty of nature, and you can get a 1-week entrance pass for $25.
You can also explore other popular attractions such as the zoo or take in a weeknight baseball game with a beautiful view of the mountains in the distance for an affordable price.

And when it comes to food, there are plenty of affordable options like Maria Empanada (try different filling flavors – they're all delicious!) and Pete's Kitchen.
When it comes to accommodations, Denver has its share of cheap hotels with complimentary breakfast included.

So if you're looking for a holiday that won't break the bank, this is definitely a place worth considering! With so many things to do and see in Denver, it's impossible not to have fun here as one of the best inexpensive places in USA for vacations.
Phoenix, Arizona
Whether you're looking for a budget-friendly place to travel in the USA or just want to escape the cold winter blues, Phoenix, Arizona is the perfect choice. With its sizzling hot summer and beautiful desert landscape, there's no shortage of things to do in Phoenix.
Start off your trip with a visit to one of the many great national parks the region has to offer – including Saguaro National Park and Grand Canyon National Park, which are both less than 4 hours from Phoenix.
For those looking for something a bit more cultural, Phoenix offers plenty of museums, cultural events, and festivals.
When it comes to food, you'll be spoiled for choice with all the delicious restaurants that line the streets of this cheap US city.
Phoenix promises a fantastic experience filled with natural beauty and fascinating American history.
San Diego, California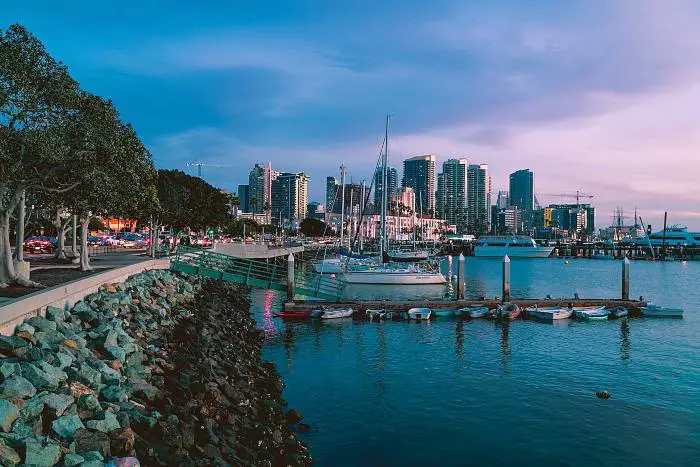 Last up on this list of cheapest places to travel right now in USA is America's Finest City.

San Diego, California is a great destination for those looking to explore the best of a California beach town. With its perfect climate and beautiful beaches, there's no shortage of outdoor activities that can be enjoyed here.
Living in California comes with great weather, a high quality of life, and an abundance of recreational activities. This includes San Diego.

From surfing in the Pacific Ocean to a side visit to beautiful national parks, this cheap place to travel in USA offers plenty of adventure. If you plan a surf lesson, be sure to check the wave heights. When we went, the waves were ranging between 8 and 12 feet, and they totally kicked our butts.
If you're looking for something more cultural, there are plenty of museums and attractions in San Diego as well. Check out Balboa Park for some lively festivals and exhibitions or take a walk around the historic Old Town for a glimpse into the Mexican cultural influences on San Diego.
We were lucky enough to visit during Dia de los Muertos celebrations and Old Town was filled with vibrant tributes to those who have passed on. This was a great spot to experience the celebrations without leaving the US.
But even if you're on a tight budget, San Diego still has lots to offer. With its stunning scenery and vibrant culture, this cool place to go in California is sure to give you an unforgettable experience.
---
There are plenty of exciting and cheap vacations in the United States to explore. From the stunning natural beauty of national parks to the vibrant culture of cities, there's something for every type of traveler to enjoy.

Budget travel in USA is totally possible. Don't let a tight budget hold you back from experiencing all that the diverse country has to offer.

We hope you enjoy these cheap holiday destinations USA 2023.