35 Essential Dominican Republic Travel Tips in 2023 [+ Top Destinations]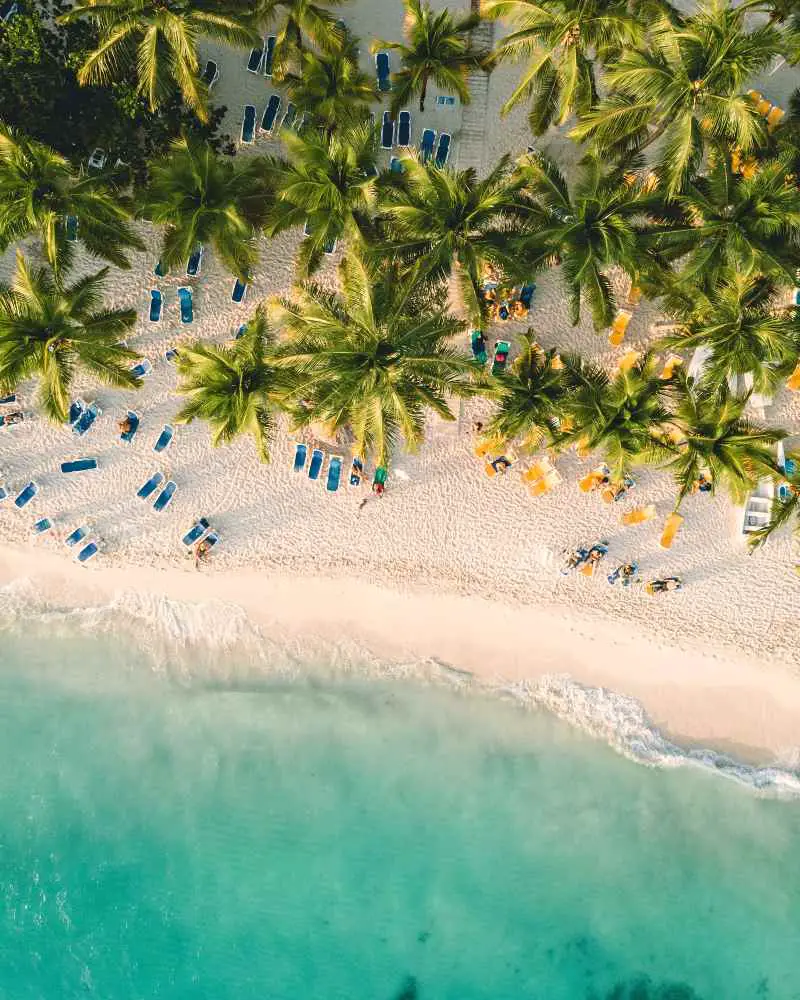 If you're traveling to the Dominican Republic for the first time, I hope you are beside yourself with excitement. As you should be! I spent two amazing months discovering this Caribbean island early in 2023, lucky for you, so I can share all the Dominican Republic travel tips you could possibly need before you arrive for your very own vacation on the island!

Planning a trip to Dominican Republic? This travel guide will also give you a whole lot of advice on what you should do and what to avoid during your visit to the Dominican Republic.
The island of Espanola that the Dominican Republic shares with neighboring Haiti is not very big, so you can easily travel between destinations if you want to encounter the different activities and ambiances of this paradisiacal Caribbean destination. 
Despite its size, there's just so much to experience while you travel to Dominican Republic.

You can aim to visit during whale watching season outside Samana, head for Punta Cana in the dry season between November and June, or go for a city and cultural experience in Santo Domingo, La Vega, or Santiago.

However, hold your horses, because there are a handful of things to know before traveling to Dominican Republic. Continue reading to get enlightened on this as you discover some essential and very helpful travel tips for the Dominican Republic.
>> Read next: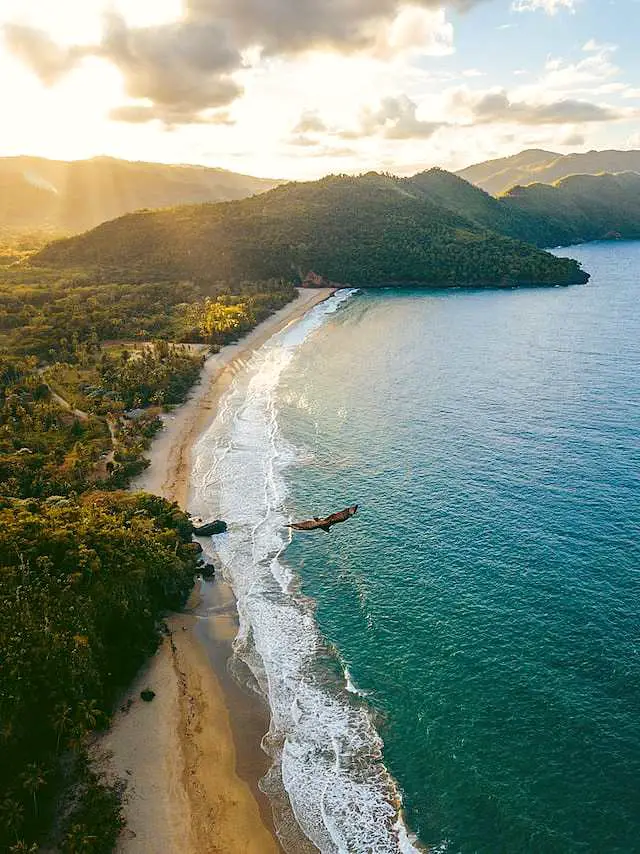 Dominican Republic Travel Tips for Your First Visit in 2023
So what is it really like traveling in the Dominican Republic? Here is a collection of smart, handy, formal, fun, and a few weird travel tips that are nice to know before you start your Dominican Republic tropical adventure. 
These insider travel tips for Dominican Republic are ideal for your first visit to the region, but even if you're a regular traveler, you're bound to get something out of it too.
Traveling around the Dominican Republic
Let's get into some useful things to know about Dominican Republic. You can verify this with google maps if you want, but you need to know in advance that it is a super small island! 48,442 km² (18,704 square miles) to be exact.
This means that you can easily plan to travel between different destinations in Dominican Republic within a few hours. This is great if you want to experience more than just one side of the island, which I would highly recommend.
The north of the Dominican Republic is famous for its ravishing coastline to the Atlantic Ocean and breathtaking natural scenery. The east is characterized by soft sandy beaches, resorts, and a chill Caribbean vibe, while the south with the Caribbean Sea also has a wild side, combined with stunning paradisiacal beaches and nature reserves!
Don't forget your passport

Dominican immigration authorities will deny entry to anyone arriving without a valid travel document.

It is always recommended to have a screenshot of your passport on your phone or a printed copy in your wallet, while the original remains safe in a safe space in your hotel or vacation rental.

If you're renting a car in Dominican Republic, you'll need a valid driver's license.

Bring along your international diving certificate if you plan on diving in the beautiful waters of the Caribbean.
Top destinations in the Dominican Republic to visit
Before we dig into even more practical tips for travel to Dominican Republic, here is a quick introduction to 6 of the most popular destinations to visit. Each of these places come with unique quirks and qualities so you find something perfect for your special Dominican Republic holiday!
1. Vibrant Historic Capital Santo Domingo
The Dominican Republic capital, Santo Domingo is mostly famous for its historic old city referred to as the zona colonial. Founded way back in 1496, the city has a long and rich history, as one of the first settlements that were established in the New World, and is even protected on the UNESCO World Heritage Site list today! 
Santo Domingo is situated on the southeastern shores of the DR, just on the edge of the year-round inviting Caribbean Sea. Still, the city is not a beach paradise destination. Go to Santo Domingo for a few days for vibrant and charming city life, cultural experiences, music, dance, and to stroll along the amazing zona colonial.
Eat at Plaza Espana, go to the Monasterio de San Francisco on a Sunday for the live music show, and take a historical tour of the city in a super fun way on little scooters. Visit the Dominican Republic Basilica Cathedral of Santa Maria, the Panteon Nacional, or one of the many museums in Santo Domingo. 
Make sure you make time to go to 3 Eyes National Park (Los Tres Ojos), an incredible open cave system with crystal clear freshwater fountains below ground, which is stunning and has historic importance for the indigenous people of the Dominican Republic. 
Santo Domingo also has a teleferico, a cable car, as well as Chinatown (go on Sunday morning to try some fun and exotic food), great shopping in one of the large malls, a charming Malecon boardwalk, and an infinite number of fine dining opportunities. You will not run out of adventures in Santo Domingo for quite some time!
2. Tropical Paradise Punta Cana
Two hours to the east of Santo Domingo lies Punta Cana and Cap Cana, a mellow area sprinkled with lush luxury all-inclusive resorts, soft white beaches, and blue seas inviting you to infinite water activities in addition to everything you can do on dry land. 
Punta Cana is where you go for the coveted relaxing beach holiday, where you don't need to focus on anything else except getting yourself to your sun-bed for the day on one of the stunning sandy beaches. 
If that is a bit too static for you, there are also lots of activities and tours to do in Punta Cana, from catamaran trips, scuba diving or snorkeling tours, or visiting the Manati theme park.
Punta Cana is also renowned for being a golfing paradise in the Caribbean, boasting an impressive collection of courses – more than anywhere else in the Dominican Republic.
Visit the Basilica Catedral Nuestra Señora de la Altagracia if you have the time, which is an amazing recreation of a historic sixteenth-century Mediterranean village. This place is described by travelers of Dominican Republic as an architectural wonder, with an amazing amphitheater and an archaeological museum to explore. 
In the evening you have a variety of dining options from simple beach restaurants to high-end dining like the Bruja restaurant. If you are a night owl you can enjoy yourself at Coco Pongo nightlife hub before you turn in.
For a supreme luxury vacation, choose to stay in Cap Cana, just twenty minutes south of Punta Cana. This unique area with secure gated communities hides incredibly luxurious all-inclusive resorts and private residential areas where the rich and famous of the world come when they need a Caribbean getaway. 
3. Atlantic Wildlife Paradise Samana
Along the northeast shores, less than three hours from Santo Domingo is Samana, situated on a peninsula bordering the vast Atlantic ocean. The most spectacular thing about Samana is that every year between December and March, thousands of humpback whales come here to stay for three months!
The humpbacks arrive from colder waters in the middle of December every year to mate, give birth, and nurse their young. They stay in these warm waters until the end of March. If you can travel to Dominican Republic during this period, don't miss a whale-watching tour – it is a magnificent experience. 
Another adventure waiting for you up here is the impressive El Limon waterfall, which you can visit by taking a guided horseback ride and then a hike. Or you need to go by boat – there are no other ways to get there!
4. Puerto Plata "The Silver Port"
Puerto Plata is the largest of three towns along the northern coast to the Atlantic, the other two are Sosua and Cabarete. Puerto Plata is a beautiful tranquil city with a charming city center, shopping streets, and cultural architectural gems to experience. 
The Dominican Republic's northern coast is called the Amber Coast or Amber Riviera due to its abundance of golden amber that lies beneath the surface. It is also home to a stunning 75-mile stretch of beach with glimmering, golden sands. Mountains encase this gorgeous coastline, an impressive sight that you should not miss.
Visit the museum of rum, and take the teleferico cable car to the top of Mount Isabel de Torres. Here you find stunning pathways and parks, the large statue of Christ as well as stunning views of the city and the sea, at least when this elevated point is not encapsulated in floating mist. 
5. Colonial Santiago de los Caballeros
On the middle of the island between Santo Domingo and Puerto Plata is Santiago, famous for its unique ambiance, unlike any other town in the Dominican Republic. 
In Santiago de los Caballeros you will be taken aback by the European-like atmosphere in this Caribbean city. Its history is visible in the conventional architecture, as well as gingerbread-style homes along the winding streets. 
This sophistication continues to live on within the modern entertainment districts, in Santiago you find top-of-the-line retail stores, and vibrant cultural events throughout town providing amazing experiences.
Go see the monument of Santiago de los Caballeros in Duarte Park, and climb to the top for incredible photos. Visit one of the many museums or historic sites in the city, the St. James the Apostle Cathedral, the cigar factory, or get out of the city and explore the hiking tracks. 
Not only are there plenty of activities to take part in during the daytime, Santiago de los Caballeros also offers some of the most electrifying nightlife experiences in the Dominican Republic. With a variety of pubs and nightclubs that keep you dancing all night and calmer places where you can sit back with live music playing, you can explore this city into the wee hours of the morning!
6. Carnival Capital La Vega
Home to the nation's oldest, most vivid, and grandest carnival celebration that happens each Sunday of February (other destinations also have carnivals), inland city La Vega is also the capital of a mountainous province with the same name. 
Centuries ago, El Carnaval de la Vega began as a sacred ritual to commemorate the period preceding Lent. This national holiday marks the triumph of good over evil through carnival festivities, honoring both faith and freedom!
Today, the carnival is more than a religious fiesta and has shifted toward celebrating Dominican independence day which takes place on February 27th every year.
You can take the journey to Santo Cerro from La Vega, and visit the national park where Christopher Columbus's original settlement from 1494 was built, an area that is now historical ruins. In La Vega, you also find Jarabacoa and Constanza, two popular mountain destinations that tourists love to explore.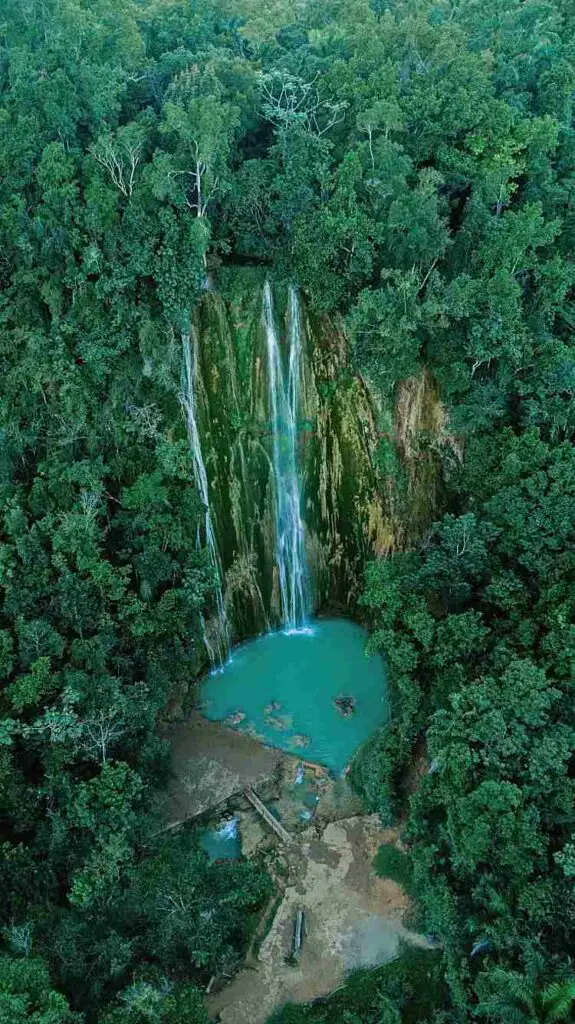 Is Dominican Republic safe for travel in 2023?
Traveling Dominican Republic is generally safe for travelers, and the country's resorts are among the most sought-after holiday spots in the world. Over six million tourists travel here each year, on an island with its own tourist police, where most trips go hassle-free.

Take a look at this list of the safest countries in Latin America.
Is it safe to travel to the Dominican Republic right now?
The Dominican Republic has a Level 2 warning from the U.S. Department of State.

Petty theft like pickpocketing is still quite common in the Dominican Republic, so be aware of what you bring with you and where you carry your personal things when walking around.

Avoid wearing costly jewelry and steer clear of carrying large sums of money or high-value items such as smartphones or cameras when walking around outside. 
Other safety tips for traveling to the Dominican Republic tips:
Make sure to keep electronic gadgets out of sight and leave valuables in a hotel safe when you can. Also, never leave your bags or other personal belongings on chairs or tables in restaurants and bars.
A not uncommon modus operandi in the Dominican Republic is drive-by robbery, often done by one or two people passing by on motorcycles, scooters, or even bicycles. They grasp whatever is within arm's reach like handbags, cell phones, necklaces, etc.

To avoid this from happening to you and those you travel with, be sure to carry your bags on the side that is not facing the street, avoid carrying things in your hands while walking around, be attentive to your surroundings, and don't wear valuables that are visible.
Be aware of your surroundings, particularly after dark and when withdrawing money from ATMs.
Never leave any drinks unattended, especially as a solo traveler. This Dominican Republic safety tip is not only applicable here, but back home and around the world.
When making use of a taxi, remember that taxi drivers are required to always display their official permit in a visible location. Never get into any unmarked, unofficial taxis.
If you're a US citizen, consider registering your trip with the US Department of State through their STEP program. This will mean you get a notification in the event of something going astray in the country you're visiting with advise on the best steps to take in this regard.
Do not drink the tap water
Also, avoid tap water. Rather drink the bottled water you buy or bring your own bottle with a filter and drink water from anywhere.
Other important things to know about Dominican Republic…
Dominican Republic travel requirements
When you want to travel to the Dominican Republic, there are a variety of visas you can apply for, whether you travel as a tourist, worker, for business, or as a student. However, most visitors don't need to apply for a visa in advance.
If you are a legal citizen or have a valid visa from one of the following countries, you are free to enter the Dominican Republic with no paperwork needed.

If you are a visa holder or resident of the United States, Canada, the UK, or the Schengen zone, among some other nations, you do not need a visa for the DR. You can visit this page to find out if you need a visa before you travel to the DR. 
Before your arrival, you do need to fill out an electronic entry and exit form and you can do that easily on this page. 
Also be aware that if you stay more than 30 days in the DR, technically, you have overstayed the tourist visa period which is 30 days. In this case, you will need to pay a tax before you leave as a formality, and you will do this in the passport control at the airport on departure. 
If you have stayed between 31 and 120 days, you will pay around $50, and between 120 days and up to a year, you will need to pay around $100. You can pay with a credit card, and the process is easy and smooth.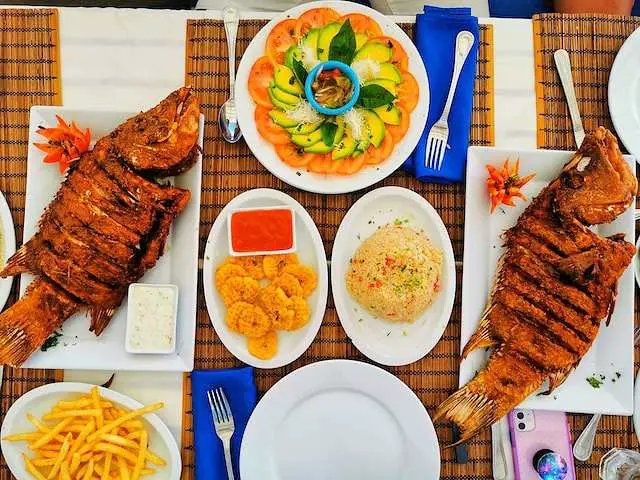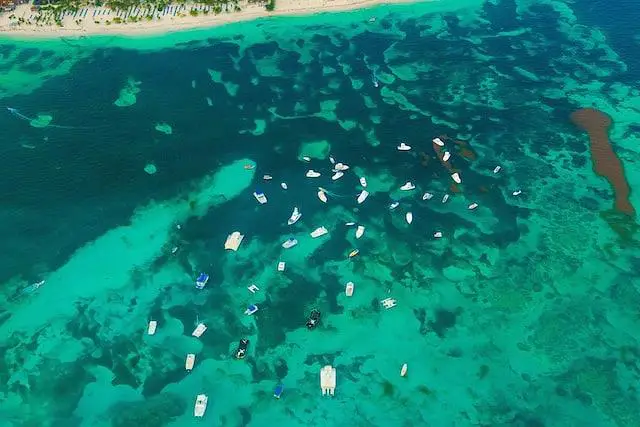 Dominican Republic travel restrictions
There are no specific travel restrictions for travel to the Dominican Republic in 2023.

You will be happy to hear that it is no longer necessary to provide PRC tests, vaccination cards, or any other health-related documents. 
Communication and transport in Dominican Republic
The cheapest, simplest, and also very comfortable way to travel in the Dominican Republic is by one of the long-haul bus companies that traverse the island.
You can also rent a car and venture off on your own, or take one of the various options like a traditional taxi, private pre-booked transport options, or even Uber!
Bus transport is common and cheap in the Dominican Republic, and there are both local busses in the cities, as well as long-haul bus options between destinations. You can find information about routes and departures online, but you have to buy the ticket in person at the station. 
For bus travel between popular destinations in the Dominican Republic, you can check fares and prices with these bus companies:  
Expreso Bavaro
Caribe Tours
Metro Tours
There are a variety of registered taxi companies on the island, and it is super easy to get a taxi or details for booking from your hotel and resort with the help of the staff. 
Since 2015 there has also been Uber in the four most popular tourist destinations in the DR — Santo Domingo, Puerto Plata, Santiago, and Punta Cana. Uber in the DR is very affordable and provides safety with registered drivers, public reviews, and online pre-payment which make it a great option for travelers. 
Private transportation is the last but incredibly convenient option, which you can book online, and request pick-up and drop-off at any destination you desire, even long-haul. It is also the priciest option, but if you are a small group the ups might surpass the downs for this option.
Why you never should ask a Dominican for directions
One weird thing I learned the hard way during my travels in the Dominican Republic, is that Dominicans are unable to give correct directions!
I have no idea why, but this was a recurring phenomenon if I asked someone for directions to somewhere I wanted to go. Everything tended to be incorrect, from distance and direction to the number of streets or time to walk or get there. 
So my best advice is to use google maps, or download an offline app like MapsMe, and find your own way.
And, you can certainly trust taxis and Uber drivers, as they also use GPS to get you where you want to go!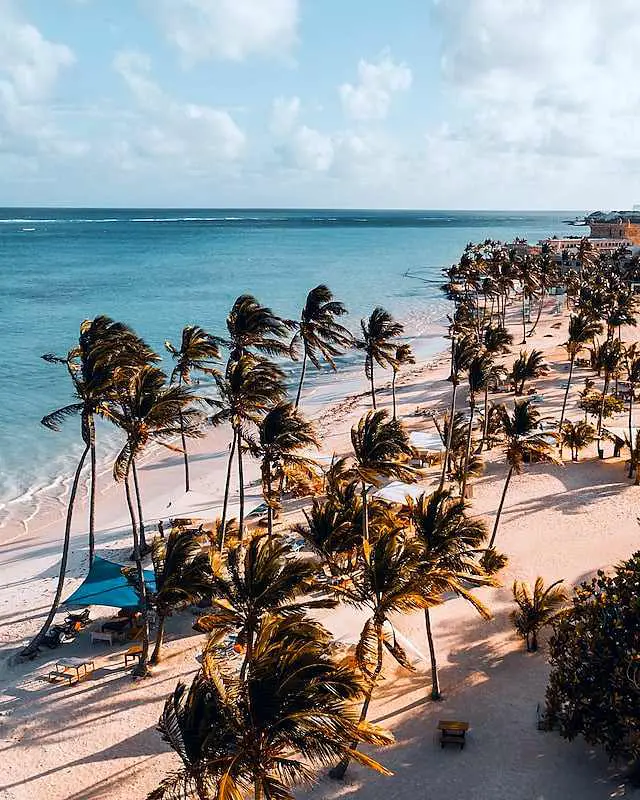 Best time to visit the Dominican Republic
The best time to visit the Dominican Republic is the high season, which coincides with the dry season that runs from November through April. During this period, it is less humid and as a bonus, fewer mosquitoes.
This period is also when the prices are the highest. The temperatures over Christmas, in the winter period, can even be a bit chilly in the evenings.
The best season for low prices is between June and November, with fewer tourists, but you have to prepare for rain showers and the occasional tropical storm.
Dominican Republic Climate
The Dominican Republic has a tropical climate with two main seasons, the wet and the dry season.

The dry season runs from November through June and the wet season from June through November. Within the wet season, you also have the hurricane season.

The months with the highest risk for hurricanes are September and October. 
As the DR is a tropical island with year-round warm and quite humid weather, temperatures during the winter season average a nice 20‐25 ˚ C. These are the months of December to February, which is also the beginning of the dry season.
In the summer months of June to August, temperatures rise to 25‐27˚C (73 ˚F) and up to daily highs around 31 ˚C (87 ˚F) and coming September through November temperatures decrease slightly. Summers can be excruciatingly hot and humid, while December and January can have chilly evenings. 
Both spring and autumn have warm and comfortable temperatures, but as autumn is also hurricane season, you should expect frequent rain showers and the occasional tropical storm, even outside the highest-risk period.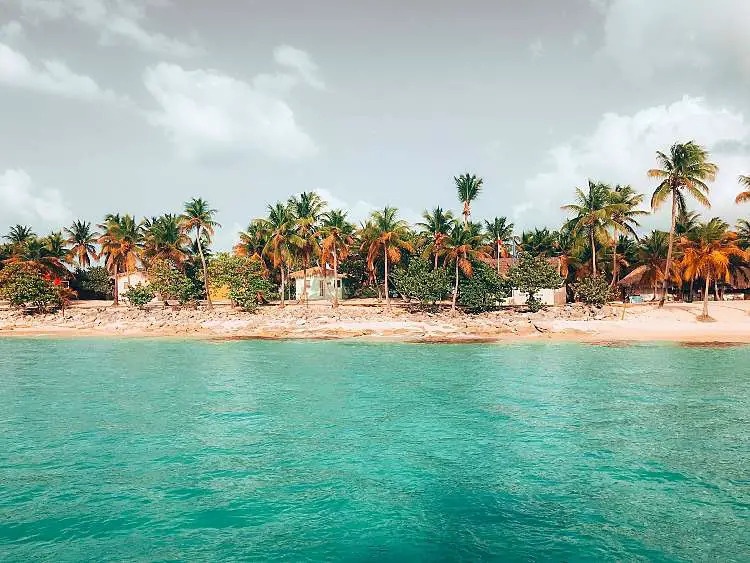 Norms for Tipping in Dominican Republic
When eating out in the Dominican Republic, it is customary to offer a 10% gratuity for good service. Some restaurants may already have added this to your bill, so you should always double-check before leaving any additional money!
If the check says "propina incluido" (propina is the Spanish word for tips) or simply "servicio", you can be sure you already have tipped the staff, and you can be on your way. 
It is also customary to leave a tip for hotel cleaning staff, the luggage porters, the crew on any tours you might embark on, and anyone helping you with something that does not formally charge for it. 
Currency in Dominican Republic
What is the best currency to take to the Dominican Republic?
The formal currency in the Dominican Republic is the Dominican Peso, but you can also pay with US dollars everywhere.
ATMs are easily available if you need to get some cash, and most restaurants, shops, and hotels accept credit cards in 2023 so paying for things will rarely be a problem.

It is nice to keep some cash with you for tipping, and for small purchases like refreshments, sandwiches, and the little shops with memorabilia if you plan to bring some home for the memories.
Internet and phone cards
Internet is easily available in the Dominican Republic, and pretty much any restaurant, hotel, resort, Airbnb apartment, and public space has wifi that you can connect to. 
Important traveling to Dominican Republic tips: If you are staying for a while and plan to travel around a bit, it can be smart to get a local sim card for the duration of your stay.
According to locals, the Claro provider scores high on speed and coverage, so for my travels around the island in 2023, I bought a tourist sim card at Claro. 
That worked perfectly, but you need to know that it only lasts for up to 15 days, so if you stay longer than that you need to top up your credits when the 15 days expire. You can do this with an app, or in any Claro store for around 400 Dominican Pesos (7.5 dollars).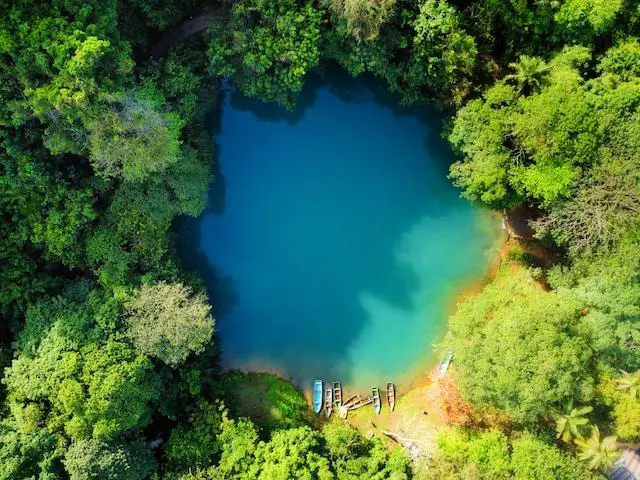 What is the language of the Dominican Republic?
In the Dominican Republic, they speak Spanish, and apart from the tourist hubs and big cities not a lot of people speak English. 
If you don't speak Spanish, google translate or any other translation app you might have is helpful as long as you are online. However, if you think you might be offline for periods, it can be smart to download an offline translation app to keep you communicative if your Spanish is mainly absent. 

Knowing how to say hello, good morning, thank you, and cheers goes a long way.
Dominican Republic Power Outlet
The grid on the DR is mainly 120V, but in larger hotels and resorts, you can also find 220V outlets. 
The Dominican Republic uses the same kind of adapter plug as other neighboring islands and North American countries including Canada and the United States, so if you are from Europe you will be smart to bring an adapter. 
Dominican Republic Tourist Police
In the Dominican Republic, tourists are kept safe thanks to POLITUR – a specialized police force deployed throughout tourist zones. You'll come across them on foot, in cars and 4wheelers, or even atop horses. Plus for water lovers, these daring officers can even be spotted jet skiing around.
Do you need to contact POLITUR?
For an emergency, you can call 911 as normal, and request a transfer to POLITUR to the operator. 
General POLITUR Office In Capital Santo Domingo: 
Street Gustavo Mejia Ricart no 121 on Esq Teodoro Chasseriau
Phone: (809 ) 222-2026 or 809-222-2123
email: POLITUR: [email protected]
Politur in Puerto Plata and Cofresi: 809-754-3013
POLITUR in Playa Dorada Puerto Plata:  809-320-3011
POLITUR in Cabarete (north): 809-754-3036
POLITUR in Sosua (north):  809-754-3274
POLITUR in Cabrera/Rio San Juan: 809-754-3091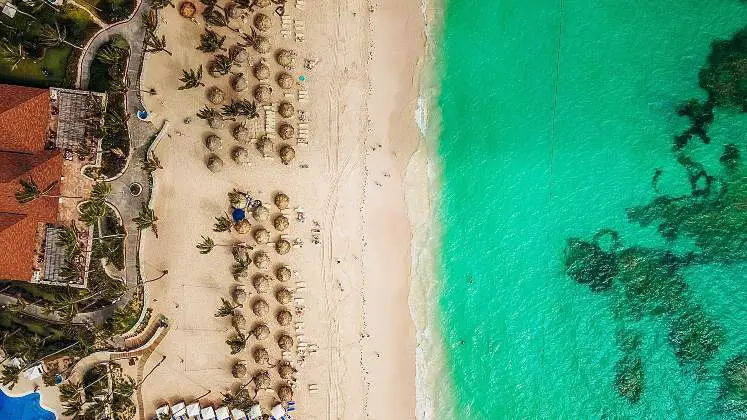 Safety and Female Travel In Dominican Republic
Is Dominican Republic safe for a single woman?
Safety-wise, solo traveling women in the Dominican Republic should pay attention to the general safety advice for travelers, and then there are a few extra pieces of advice that goes for women in particular. 
The first thing I always do is ask locals for advice on do's and don'ts in the area where I am staying, which is also my advice to you! 
Never leave your drink alone, and if you did anyway for whatever reason, just buy a new one. Don't risk anything. 
Solo female travelers should avoid walking alone at night. Do some research of the area beforehand so that you know where you're going before you head out.
Be aware that catcalling and attention on the streets are rather common, slightly depending on where you are. It is less frequent in the Capital Santo Domingo and the large tourist hubs like Punta Cana and Cap Cana where tourists are a normal sight. 
This is not dangerous per se, but you might find it annoying if you are not used to this kind of unwanted attention while walking around "minding your own business." 
As long as I am out and about in the daytime in places where I generally feel safe, my go-to measure is actually to have music in my ears while walking around. Men still will talk to you, but you don't even need to ignore them (or feel annoyed), as you don't hear it at all!
For moving around and taking transport during nighttime, always take registered taxis, and don't hail one on the street. Your hotel can book for you, or you can also book an Uber that is generally considered safe also in the Dominican Republic. Don't accept favors and rides from nice strangers. 
Although it is not very common, there have been registered incidents of assault, sexual aggression, and even rape against travelers in the DR, including at beach resorts. In some instances, hotel employees have been implicated, which is a detail to make note of for solo female travelers. 
As always, better safe than sorry!
Wrap-Up Dominican Republic Travel Tips
I am very confident that if you like to travel in the Caribbean, you will find more than one destination and more than a few activities that you will love in the Dominican Republic for your next adventure! 
If you make the journey, I hope you have found a lot of valuable travel tips to Dominican Republic for your travel planning, such as when to visit, where to go, and what to do and what not to do. 
Whether you are an urban explorer, a nemophilist, or a travel lover, you can find amazing adventures for your perfect getaway in the DR, so all I can say is happy journey!
Are you planning on traveling in Dominican Republic soon? Feel free to let me know if you have any other travel questions or require any info at all. I'll be more than happy to help out.

Don't forget to save this Dominican Republic travel guide to easily find it, for ease of reference before and during your trip. And definitely don't miss this list of Dominican Republic facts to get you excited for your trip.
Have a great visit to Dominican Republic!
Hege Jacobsen is a former army officer, veteran, social scientist, and the founder of the travel blog The World By Hege, focusing on Cuba and Caribbean Travel. Hege loves both city life and grand nature experiences, wining and dining, and a mix of luxury and sleeping under the stars while traveling the world.