15 Best CHEAP Caribbean Vacations in 2023 [The Most Affordable Islands To Visit]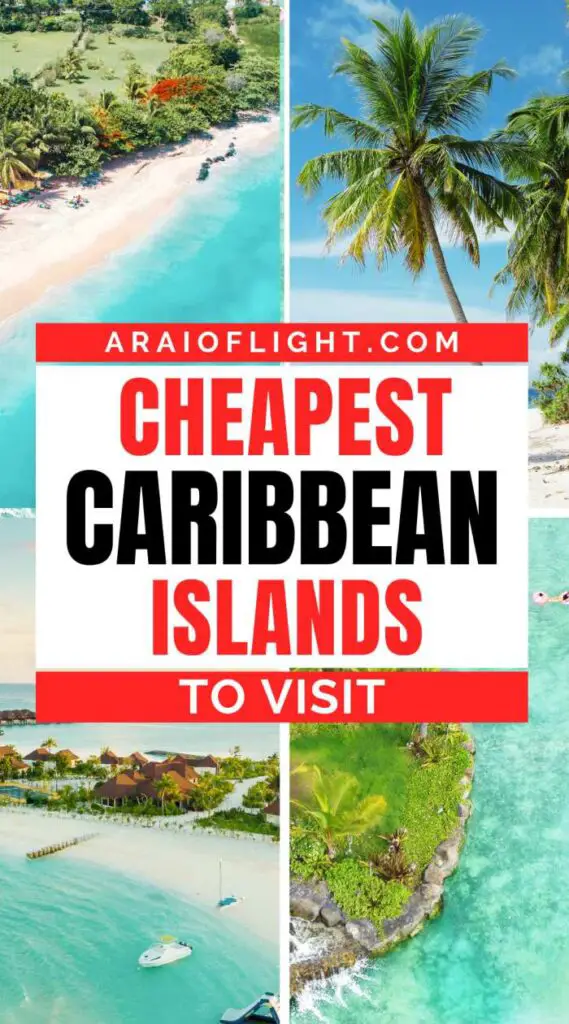 Serious question guys: what's better than an incredibly beautiful island destination?

A great vacation spot that also offers value for money and that's easy on the pocket. If you're looking for an exotic getaway that won't break the bank, look no further than the gorgeous Caribbean! With crystal-clear aqua waters, white sand beaches, incredible experiences, warm tropical climate, and stunning sunsets, the cheapest Caribbean islands to visit are a paradise for travelers.

Get ready for some serious inspiration with this list of the cheapest Caribbean vacations ⇟⇟
And it doesn't have to cost a fortune. With so many cheap Caribbean destinations available, it's easier than ever to plan your dream vacation without having to worry about blowing your budget.
Give your bank account a well-earned rest.

Continue reading as we explore the most affordable Caribbean islands to visit, perfect for those looking to experience tropical bliss on a budget.

Whether it be a relaxing beach holiday or an adventure getaway, for couples, families, or solo travelers. From Aruba and Barbados to Jamaica and Puerto Rico – each of these islands offer something unique with a high level of affordability and at prices that won't leave you counting pennies.
No more wondering if cheap trips to the Caribbean islands are a possibility for you. Get ready to start planning your next adventure in paradise.

You in?
Did you know:
There are 13 sovereign countries in the Caribbean, consisting of over 7,000 islands and territories to explore.
>> Read next:
Useful Tips for Booking Cheap Caribbean Vacations
What is the cheapest month to go to the Caribbean?
The Caribbean low season extends from May to early-December. During this time your chances of scoring a great deal for a tropical vacation are increased. Not to mention, hotel prices reduce considerably, especially when compared with the high season.

For the best value for money, plan a visit between the months of May to November, with the cheapest months to visit the Caribbean being May and June.
Are Caribbean islands expensive?
Many people are under the impression that this part of the world is very costly and exorbitant. While this may be true in that some of the islands in the Caribbean are expensive, it is possible to visit this region without spending a whole lot by making smart choices including picking the best value Caribbean island.
In addition to choosing the correct vacation destination, here are a handful of important hacks for travelling the Caribbean on a budget:
Avoid the peak winter dry period between December and April.
This is the most expensive time of the year to travel to the Caribbean. In steering clear of this high tourist season, you might experience a few rain showers in doing so, but you will definitely save some money on accommodation and other expenses.


The official Atlantic hurricane season runs from June – November in the Caribbean.
Booking during this time, while it has its risks, can save you money on flights and accommodations.


September and October are shoulder season in the Caribbean, but Curaçao, Aruba, and Trinidad and Tobago are both outside of the hurricane zone, so you can safely visit these islands while still taking advantage of lower costs.


All-inclusive resorts are popular in the Caribbean, and staying in one can help keep your budget under control since you won't need to factor in food and drink costs.


Airfare can be the most costly part of an inexpensive Caribbean vacation.
Traveling during shoulder season, mid-week, or from major airports such as Miami or JFK can help you save money. The cheapest Caribbean island to fly to includes The Bahamas, Jamaica, and Dominican Republic.


Plan far enough in advance to score great deals on airfare and accommodation.


Opt for budget-friendly activities, while avoiding extravagant encounters.


Book tours locally.
Booking tours through your resort, or through local tour guides will save you money versus booking through bigger companies.


Taking a cruise is a great way to enjoy numerous Caribbean Islands in one vacation, and can help you stick to a budget without unexpected expenses.


In order to save money on food, try eating at local establishments off the main tourist strips. You'll find tasty and affordable options at street markets and at the local fish fry.


Remember to pack everything that you will need.
Having everything with you means less is spent on items that may cost more than back home.


You likely will not need a rental car.
Stay in major cities and you will have access to transportation options, or have the availability to walk to where you need to go.


Avoid the more expensive islands in the Caribbean.
These include Anguilla, Saint Barthelemy, Antigua and Barbuda, Cayman Islands, Saint Lucia, US Virgin Islands, British Virgin Islands, the Caicos Islands, and Saint Kitts and Nevis.
---
I've rounded up the cheapest holidays to Caribbean destinations for you after looking at travel costs, accommodation rates, and package deals.

Pack your bags and let's dive right in!
15 Best Cheapest Caribbean Vacations:
Most Affordable Caribbean Islands
Who said paradise doesn't come cheap?

Let's take a cheap vacation in the Caribbean. First up….
1 | Dominican Republic 🌴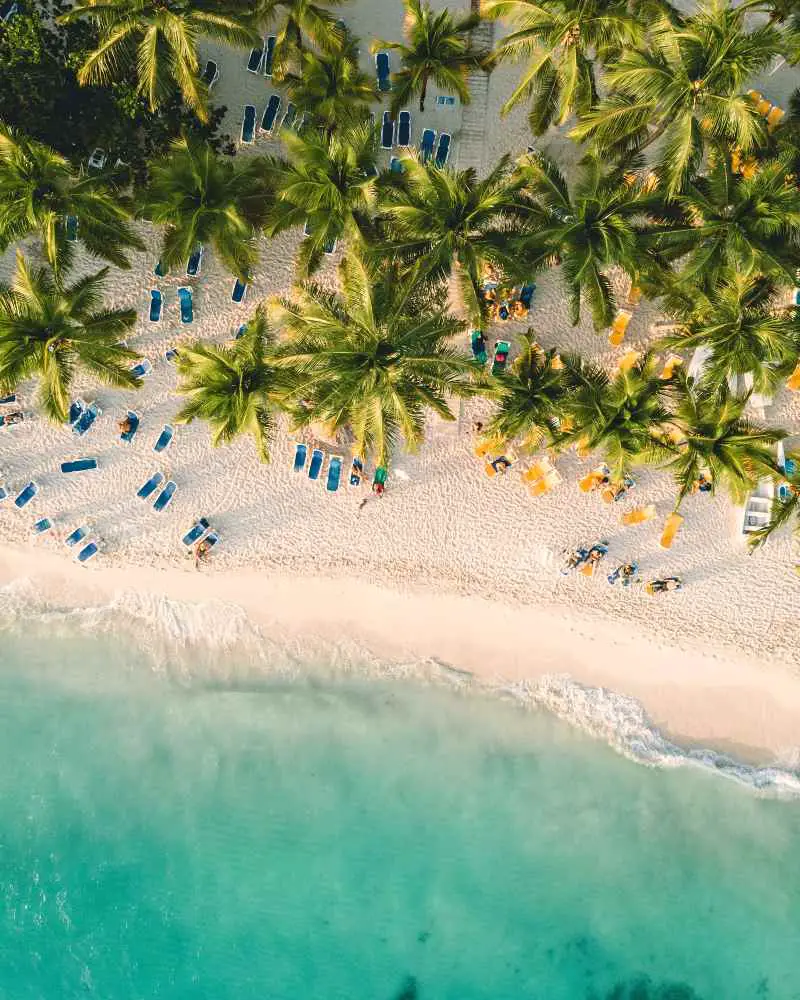 What is the cheapest Caribbean country to visit?
The Dominican Republic is a Caribbean paradise known for its stunning beaches, lush mountainous interior, vibrant culture, long history, and excellent value for money. It often tops the lists of the cheapest Caribbean island to visit due to its abundance of affordable all-inclusive deals. If you're savvy with your money and plan well, it is possible to get by on $40 per day here.
With its wide range of accommodation options, the Dominican Republic has something to suit every budget range. From luxury resorts and beachside villas to modest guesthouses, small boutique hotels, and low-priced hostels, you can find an option that meets your needs without breaking the bank. The competition from the large inventory of rooms available helps to keep the prices down.

Another reason for its relatively lower prices is due to the island's close proximity to the North American continent. There are no less than eight international airports across the island, so your chances of snagging a good flight deal are octupled.
The cheapest Caribbean island to visit has a lot to offer and exploring the locality is also relatively inexpensive. Whether you're traveling through the Caribbean's highest mountain range, visiting colonial towns, or taking a relaxing stroll along its stunning beaches, there are plenty of memorable activities to experience. All of the beaches are free and are open to the public.
Once you're done hiking, snorkeling, and swimming in clear lagoons, be sure to check out historic Santo Domingo and Los Tres Ojos National Park.
The currency used on the island is the Dominican Peso, although US dollars are widely accepted. You may need some local currency for everyday shopping, but bear in mind that the Dominican Peso cannot be imported or exported, so expect some commission and currency conversion fees.

Punta Cana offers an affordable tropical getaway and is the best place to stay in Dominican Republic for low-cost accommodation and close proximity to attractions. In fact, Punta Cana often has the cheapest all-inclusive resort packages in the entire Caribbean. You can also opt for a budget stay in Puerto Plata or Samana.
>> Must read:
Practical tips before traveling to Dominican Republic
Keep reading to discover more of the cheapest places in the Caribbean…
2 | Curaçao ⛱️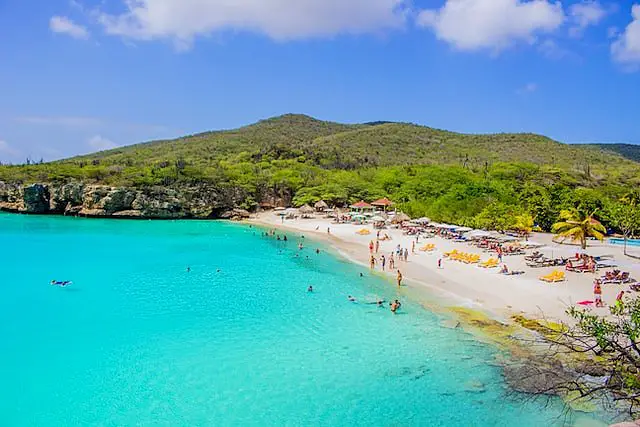 Curaçao is a vibrant island located just off the coast of Venezuela. With its vibrant pastel-colored Dutch colonial architecture, concealed beaches, and stunning dive sites, it's no wonder that this Caribbean paradise has become so popular with travelers.

Curaçao, a part of the Leeward Antilles, is also known for being one of the cheapest islands in the Caribbean region.

With affordable accommodation options ranging from hostels and bargain airbnbs to budget hotels and vacation rentals in Willemstad city center, you can find the perfect place to stay without breaking the bank. Staying in the capital city will give you many options for cheap accommodations. You will also enjoy walking through Willemstad town while appreciating the beautiful architecture. Take advantage of the free walking tour and enjoy its edgy street art.
Finding things to do in Curaçao won't fetch a pretty penny either. You can spend time exploring the rugged beauty of Boka Shete National Park for just $10, swim in crystal clear waters with sea turtles, or even attempt some cliff jumping if you are feeling brave!
You will be spoilt for choice in Curaçao with over 40 beaches, many of which are tucked in secluded coves along the Caribbean Sea. Snorkeling is a cheap but fun activity, while the island also offers some of the best scuba diving and preserved coral reefs in the world.

The floating Queen Emma Bridge is a must see, along with the canals, the old fort, and palace of Willemstad. The local dining options of Plasa Bieu, Brisa do Mar, La Boheme and the native food trucks found here are a great way to enjoy delicious Dutch-Caribbean dishes at a good price.

To save money, avoid taxis, and make use of the cheap and comfortable buses that will get you almost anywhere on the island for $1-2 a ride.
Is Curaçao cheap or expensive?
For a budget-friendly Caribbean travel choice, you can't go wrong with Curaçao. You will be happy to know that the island is geographically located outside the Hurricane Belt and doesn't experience a particularity heavy rainy season.

To take advantage of affordable prices and low hotel rates, it is best to avoid the peak season between the months of December and mid-April. Rather visit during the off-peak season, between the months of May and November.

Hato International Airport (CUR) receives frequent flights from major U.S. cities and around the world. Spend a bit of time to score a cheap flight and you'll be falling in love with this Caribbean utopia in no time!
>> Must read:
The safest South American countries when planning a visit
3 | Cozumel Mexico 🍹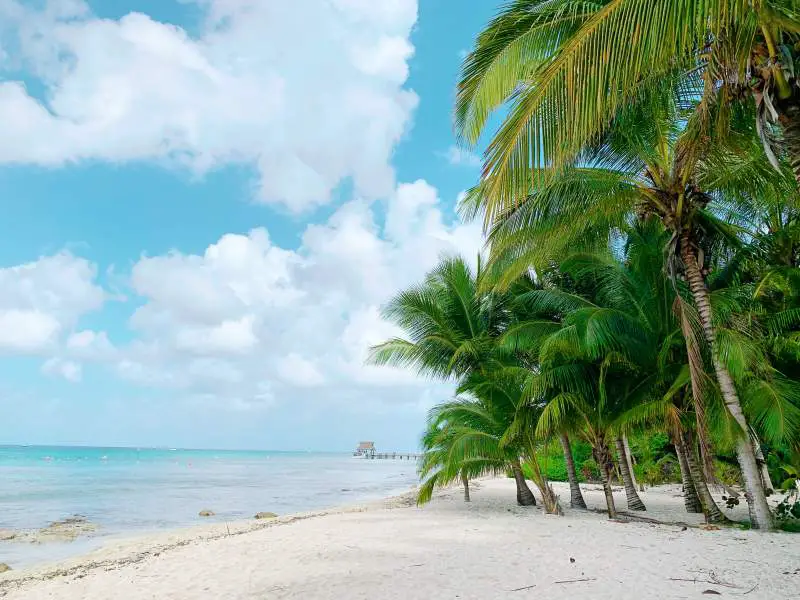 Cozumel, a remote island of Mexico located in the Caribbean Sea, is a paradise known for its stunning beaches, turquoise water, vibrant culture, cuisine, and excellent value for money. It is a popular stop for cruise ships in the region, but can also be an awesome option for indulging in cheap Caribbean vacations.
From luxury resorts to modest guesthouses, Cozumel with its inviting ambiance, has something to suit all travel styles including those of the budget traveler.

Cozumel, found off the shoreline of Mexico's Yucatan Peninsula, also offers plenty of activities for visitors on a travel budget. From snorkeling in its crystal clear waters to visiting the ancient Mayan ruins, there are lots of ways to explore this best value Caribbean island without exceeding your budget.
What's so special about Cozumel?
You will find an abundance of unique activities in the Cozumel region of Mexico. Don't miss the ever-popular scuba diving around the Mesoamerican Reef at Arrecifes de Cozumel National Park as well as the underwater sculptures of Museo Subacuático de Arte. The Mayan ruins of San Gervasio are sure to delight too.
One of the best ways to spend a day in Cozumel is by purchasing a pass to one of the all-inclusive beach resorts, where you can enjoy white sand beaches, food, drinks, and fun for one low cost.

You will find over 100 hotels and an even larger number of restaurants in Cozumel, with this large competition keeping prices down.

To take advantage of the best rates, plan a visit to Cozumel during the months of August and November. However, it is worth noting that these months fall within the Caribbean hurricane season. Only a handful of cities offer direct flights to Cozumel (CZM). To save money, opt for a cheaper flight to Cancun (CUN) and then arrive by ferry to Cozumel Island from Playa del Carmen.
>> Related reading:
100 interesting and fun Mexico facts
4 | Jamaica 🍍
Jamaica is an island full of cultural experiences coupled with a whole lot of adventure. It's no surprise that this vibrant destination has become so popular with travelers. Whether you're looking to explore the rolling hills of Blue Mountains National Park or relax on one of Jamaica's stunning beaches, this cheap island in the Caribbean has something for everyone.
Is Jamaica good for tourists?
Jamaica offers some of the best cheap Caribbean vacations spots, with its beautiful beaches, delectable cuisine, imposing scenery, and laidback atmosphere.

And what makes Jamaica even more appealing is its affordability. The combination of affordable flights from the USA and abundance of all-inclusive resorts makes it an enticing choice for visitors as one of the cheapest places to travel in the Caribbean.

There are numerous types of lodging options to choose from, depending on your needs and budget. From discounted prices to more luxurious getaways, you're sure to find the perfect place for your next cheap Caribbean vacation. There is certainly no shortage of all-expenses prepaid resorts and house stays, particularly in the beach town of Negril. The other main tourist areas include Montego Bay and Ocho Rios.
Eco-adventurers will also find plenty to do across the island. From hiking and horseback riding to snorkeling, zip-lining, river rafting, and rum tasting – Jamaica is full of experiences that won't break the bank! In between visits to the beach, do take time to visit Bob Marley's Museum and the Rastafari Indigenous Village.
Taxis can cost a packet and a half, so be sure to take advantage of Jamaica's excellent public transportation and bus system, allowing you to explore this cheap Caribbean island on a budget.

Visitors from the U.S. will be glad to know that the U.S. Dollar is widely accepted, which means even more savings on conversion fees and ATM withdrawals.

To enjoy the lowest prices, plan a visit between the months of June and November, which coincides with the hurricane season. Additionally, avoid the touristy bars and restaurants around the main tourist areas. Rather eat at local restaurants, negotiate on prices, and opt for a relatively cheap place to stay on the island.
>> Read next:
The best African islands to explore
5 | Caye Caulker 🐠
The paradise of Caye Caulker, found in the Caribbean Sea just off the coast of Belize, is next up on this list of the cheapest Caribbean islands to visit. This small limestone coral island welcomes backpackers looking to indulge in some chill vibes and beautiful scenery.
What is Caye Caulker known for?
Caye Caulker is renowned for its trademark phrase, "go slow," and this laid-back Caribbean atmosphere includes beautiful turquoise waters and an impressive marine life.

The colossal Belize Barrier Reef is punctuated with hundreds of low-lying islands or cayes. The second largest of the Belizean cayes, Caye Caulker offers a rugged, but relaxed beach escape, while its larger sister island of Ambergris Caye provides a more cosmopolitan beach-resort atmosphere.
The island has been split in two by major hurricanes over the years. The only way to travel between the two parts is by water as there is no road link. There are no cars on Caye Caulker either, with walking being the main form of transportation. You can effortlessly walk the entire island in one hour. Renting a bicycle is another easy and affordable way to get around.

Head to the split for the best swimming spot on the island in the comfortably warm and crystal clear Caribbean waters. Other low-priced spots include Caye Caulker Marine Reserve, Forest Reserve, Seahorse Reserve, and Swallow Caye Wildlife Sanctuary. Spotting manatees and turtles are a highlight of any snorkeling escapade.
Plan a visit to this least expensive Caribbean island between January and April to experience sunny days and clear blue skies of the dry season. Along with affordability, you should know that cash is still king in Belize, and this is even more apparent in Caye Caulker. Many places do not have the option to pay by card, so always carry some cash along with you.
You will be happy to know that Caye Caulker can easily be reached from Belize City in under 45 minutes. This water taxi ride will only set you back $16.75. You can readily find comfort without breaking the bank with a number of hostels and budget-friendly guesthouses and hotels.
As an affordable Caribbean destination, Caye Caulker should not be missed. You won't have to worry about breaking the bank while experiencing this Caribbean paradise. Please do me a favor, and do not leave without trying the local grilled lobster.
6 | Barbados 🌺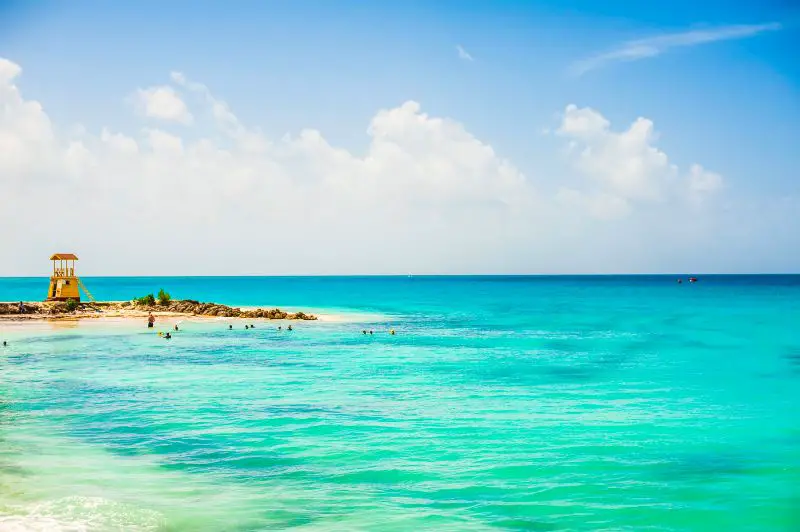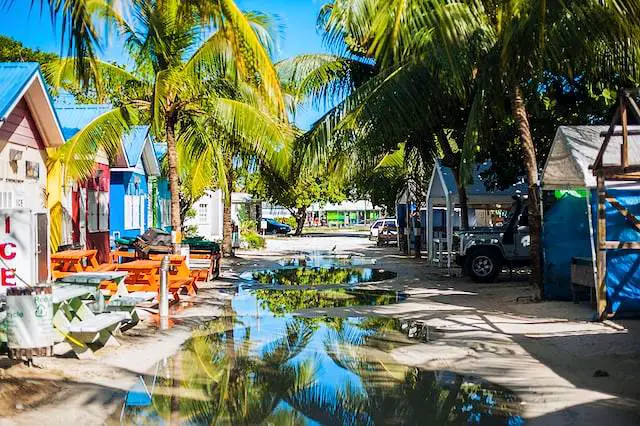 Barbados is an idyllic Caribbean island that is an alluring amalgamation of stunning sandy beaches, lush tropical rainforests, lively festivals, unique architecture, and vibrant culture. And with so many amazing sights to see, it's no wonder that this island, known as the Jewel of the Caribbean, is a popular destination for travelers.
Is Barbados a cheap place to visit?
Barbados is not necessarily known as a budget friendly travel destination in the Caribbean, in part due to its luxury resorts and elevated import costs. However, if you avoid the extravagant all-inclusive resorts and high-priced excursion packages Barbados can be one of the cheapest Caribbean islands to visit.

Thanks to its wide range of accommodation options, you can find a place to stay that suits your budget without sacrificing on quality or comfort. To save money on accommodation, opt to stay in one of the many guest houses. No matter where you base yourself, you will always find fried fish and local rum at a reasonable price.
Traveling around Barbados is also relatively inexpensive, making it even easier to explore the island's many attractions. The public transport system is one of the best in the Caribbean with modern, electric buses, minivans, and private buses that tend to be on time.

Whether you're visiting historic sites such as St. Nicholas Abbey or taking in the stunning view from Harrison's Cave, you're sure to find something that appeals to your budget. Don't miss a visit to the island's botanical gardens, the turquoise waters of Carlisle Bay, and the UNESCO World Heritage site of Bridgetown, its capital.
This coral island is home to more than 80 beaches, some of which are recognised as the most beautiful in the world. You will be happy to know that these 70 miles (110 km) of beaches, of both white and pink sand, are free to visit and open to the public.

And with activities such as swimming with sea turtles, scuba diving, and horseback riding all available for relatively low prices, it's easy to see why Barbados has become so popular with travelers looking for a cheap Caribbean destination.
If you avoid the peak winter months and visit during the months of May and November, you will find reduced rates of over 25%. Stay in Bridgetown for affordable accommodations and the convenience of being close to many of the island's attractions. Plus, it's a great spot to enjoy some traditional Bajan cuisine!
>> Speaking of food, can your stomach handle these
exotic foods from around the world?
7 | Puerto Rico 🌞
Next up on this list of cheapest places in the Caribbean is the archipelago of Puerto Rico. With its stunning beaches, lush tropical forests, mountains, waterfalls, colonial buildings, chic resorts, and vibrant culture, it comes as no surprise that this affordable Caribbean island paradise has become a top-notch vacation destination!
Luckily, Puerto Rico also offers some excellent budget-friendly accommodation options too. Whether you're looking for a peaceful beachside cabana or a luxury resort, you can easily find the perfect accommodation that won't break the bank, while still providing luxurious comfort.
Is Puerto Rico a cheap vacation in the Caribbean?
Exploring Puerto Rico is also relatively inexpensive, with many attractions and activities available at low prices. The best way to save on your holiday fund is by self-catering and using the bus to get around.

From snorkeling in the crystal clear waters of La Parguera and exploring the ancient ruins of El Yunque National Forest to sampling the island's delicious local cuisine and discovering its vibrant nightlife, Puerto Rico makes a great destination for budget-conscious travelers. You can even take a boat ride for a fascinating look at the bioluminescent bays.
Don't miss the opportunity to explore the bustling capital, San Juan, which also happens to be the best place to stay for a budget vacation. Hotels are affordable, you won't need a car rental, and will be close to all of the best things to do in Old San Juan. Wet your appetite with some empanadillas and mofongo before heading to La Placita for some awesome nightlife.
The best time to visit is between April and June. Puerto Rico is a U.S. territory, which means that citizens of the United States do not need a passport to travel to this cheap island in the Caribbean and without the hassle of international travel. The currency used is the U.S. dollar and a number of low cost airlines offer nonstop flights to the island's capital.
>> Read next:
Your ultimate USA travel bucket list
Which Caribbean island is not expensive?
8 | Trinidad and Tobago 🏝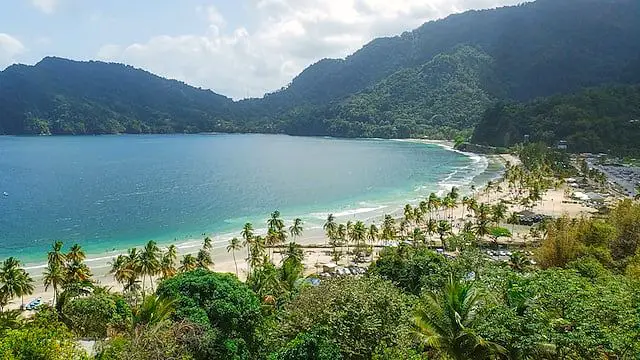 Trinidad and Tobago is a Caribbean paradise made up of two islands: Trinidad and Tobago. From its stunning sandy beaches and lush rainforests to its vibrant cultural scene, laidback vibe, and amazing wildlife — this cheap destination in the Caribbean has something for everyone.
Is Trinidad a cheap country?
The dual-island republic of Trinidad and Tobago is also one of the most affordable Caribbean island destinations. You can find plenty of budget-friendly accommodation options such as hostels, guesthouses, and apartments without sacrificing quality or comfort. Plan well and it is possible to get by on $60 a day.
Traveling around the islands is also relatively economical, making it easy to explore all of the attractions and activities that Trinidad and Tobago has to offer.

A fast ferry connects the two islands and a visit to both is recommended to enjoy the contrast between the picturesque and serene Tobago and the lively Trinidad.
Whether you're visiting tropical rainforests, watching the sun rise, or taking a boat tour of the magnificent Buccoo Reef, you can do it all without breaking the bank. The variety of affordable accommodation, food, and transport choices makes this one of the cheapest Caribbean islands to visit.
Port of Spain in Trinidad, is the best place to stay. Many cities in North America have direct flights to the city airport. Be safe and exercise caution before booking a trip to Trinidad and Tobago, and check the Department of State recommendations, as currently, this region is dealing with a high crime rate.

Trinidad and Tobago lie outside of the hurricane belt. The best time to plan a visit is in late spring and early fall. Since you're on a budget, avoid a visit during Carnival season. This annual 2-day event occurs on the Monday and Tuesday before Ash Wednesday.
>> Read next:
Be amused with these funny travel quotes
9 | Grenada 🥥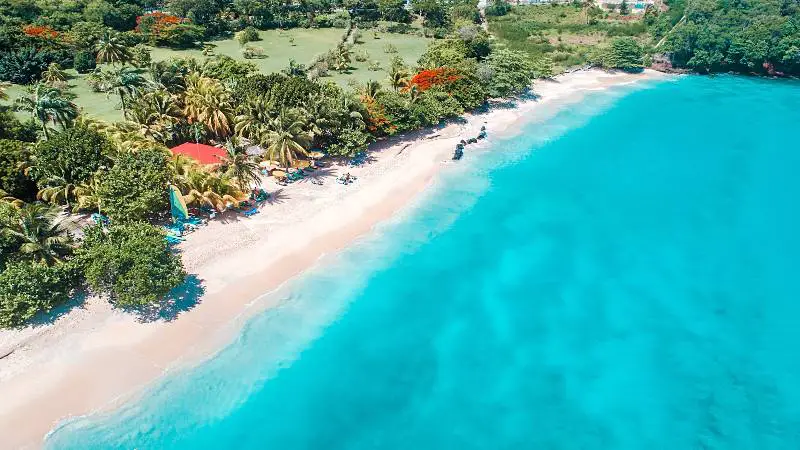 Grenada is a popular destination for budget-conscious travelers looking for an exotic budget-friendly Caribbean getaway. Known as the spice island, it is home to some of the most breathtaking natural landscapes in the region that include a stunning coastline and lush rainforest.
Nature lovers will find plenty to explore in Grenada, from its pristine beaches to its mountainous interior. What's even better is that this cheap Caribbean island destination is often overlooked for other options in the region. So those who do visit, get to experience all of its charms without the crowds.
Grenada is also home to several cultural attractions, such as rich historical sites, lively street markets, and vibrant festivals. Tourists can explore the island's colonial past at its forts, or visit St. George's, the capital city and a UNESCO World Heritage Site. For those looking to experience local traditions and celebrations, Grenada offers traditional cuisine, music festivals, and carnivals throughout the year.
Is Grenada expensive for vacation?
Grenada is ideal for travelers who want to experience the Caribbean in a laid-back atmosphere. The island has plenty of accommodation options, ranging from luxury resorts to budget hotels, lodges, and cottages.

And with its warm climate and perfect beaches, Grenada is an ideal destination for beach lovers or anyone looking for a relaxing island getaway. Levera Beach and Grand Anse Beach are two of the best choices for a day in the sun without spending a whole lot.
The port city of St Georges is the best place to base yourself during your cheap Caribbean vacation in Grenada.

Visit during late fall or early winter, with December being the best month for those on a budget, to find good deals on flights and accommodation.
10 | Cuba 🏖️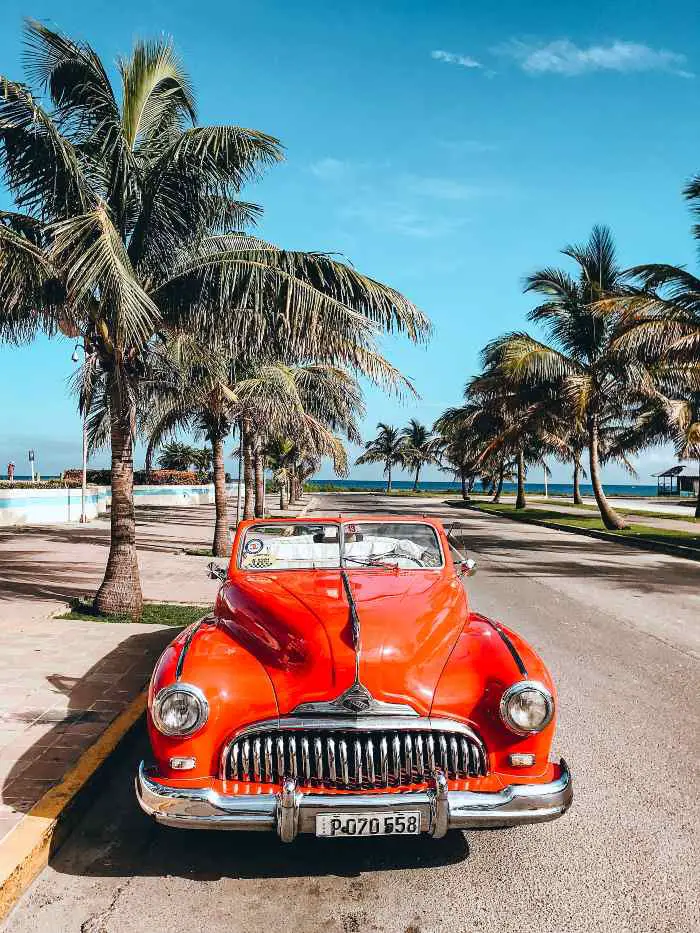 No list of Caribbean cheap destinations is complete without including Cuba. A Caribbean paradise that must be seen for its stunning beaches, colorful colonial era buildings, world-class rum, revolutionary history, vibrant culture, and excellent value for money.

This musical Caribbean nation, a living museum of old cars, is a place frozen in time. In addition, its friendly locals and natural beauty attracts visitors from around the world, who also get to enjoy its wildlife-watching, colorful culture, eclectic architecture, and vibrant lifestyle.
Can you do Cuba on a budget?
Cuba offers an array of accommodation options, from lavish resorts to economical guesthouses and hostels – so whatever your budget may be, you're sure to find something that meets your needs. If you're on a tight budget, you can get by on as little as $25 a day.
Moreover, you can enjoy a variety of activities without splurging on expensive bills. From learning about Cuban culture and history in its cities to exploring the stunning beaches of Varadero, there's something for everyone in this cheap destination in the Caribbean. Highlights of a trip to Cuba include Plaza de la Catedral, Morro Castle, Valle de Viñales, and Old Havana.
Keep in mind that there are strict rules for US Citizens wanting to visit Cuba, but for residents of all other countries, Cuba is a great choice for an affordable Caribbean vacation.
>> Going to Europe instead? Here are the best:
Spanish islands | Greek islands | Italian islands
11 | The Bahamas 🌻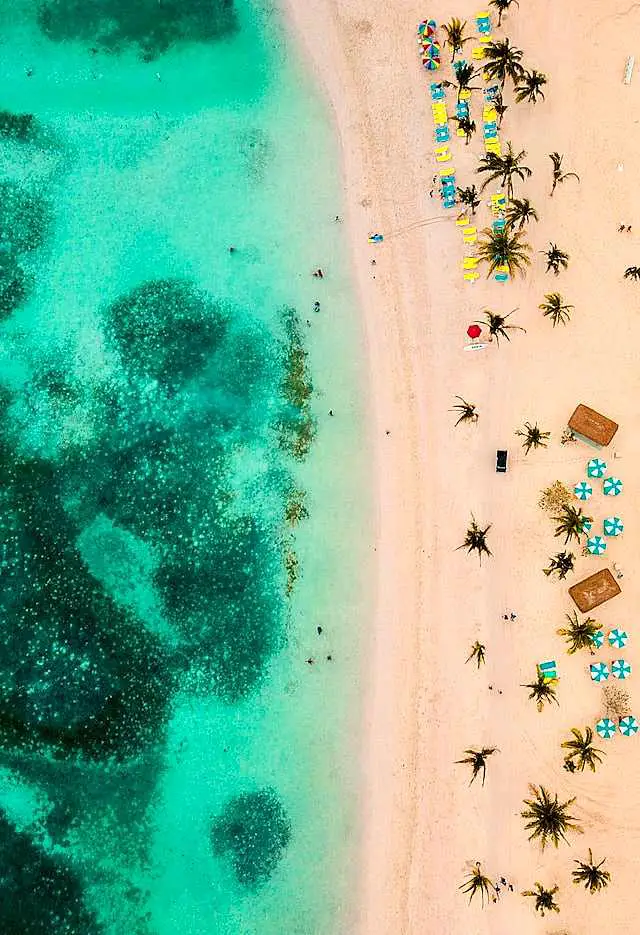 The Bahamas is a Caribbean wonderland made up of hundreds of islands and cays, each with its own unique charm. More than 7 million tourists visit these well known Caribbean tropical islands each year, and with good reason.

From its stunning beaches and warm climate to its vibrant culture and ease of accessibility, this popular vacation destination has something for everyone. On top of that, you have great weather all year, fun water sports activities, tantalizing cuisine, elite golf courses, and the convenience of not needing to change currency for those living in the U.S.
What is the easiest Caribbean island to get to from USA?
The Bahamas are the easiest Caribbean Island to reach from the USA. Fortunately, it is also one of the most affordable Caribbean islands. You will find daily flights to the two international airports, Nassau on the island of New Providence and Freeport on Grand Bahama Island, that are frequent and competitive. Keep an eye out for affordable fares all year round and it is worth checking the prices of flights to both airports to see which offers better value for money.
The Bahamas offers plenty of activities that won't break the bank. Whether you're exploring its stunning coral reefs or taking a boat tour of Nassau's historic harbor, you can experience all that this Caribbean paradise has to offer without spending a fortune.
The two main islands offer different experiences. Grand Bahama is relaxed, laid-back, calmer, and quieter, while Nassau is lively and activity-filled, with bars, nightlife, and entertainment.
Your best bet for an affordable Bahamian vacation is to stay in Nassau on New Providence Island. It's a quick, easy, and safe flight from Florida, reachable in an hour from Miami, and makes for an affordable weekend getaway. You can also find low-priced water shuttles or tours, leaving from New Providence, to take you to some of the other Bahamian Islands for the day.
Secure more value for money by opting for guesthouses and budget hotels over touristy resorts. Also choose to eat at local restaurants to avoid the high prices of resort-area dining.
Another great option in the Bahamas from the US is Bimini, which is reachable by a water taxi from Fort Lauderdale.

No matter what your budget is, you can find a handful of cheap Caribbean vacations in the Bahamas. With its stunning beaches and vibrant culture, this destination makes a great choice for budget-conscious travelers. 
>> What number does Bahamas belong on this list:
The world's most beautiful flags
12 | Isla San Andrés 🏖️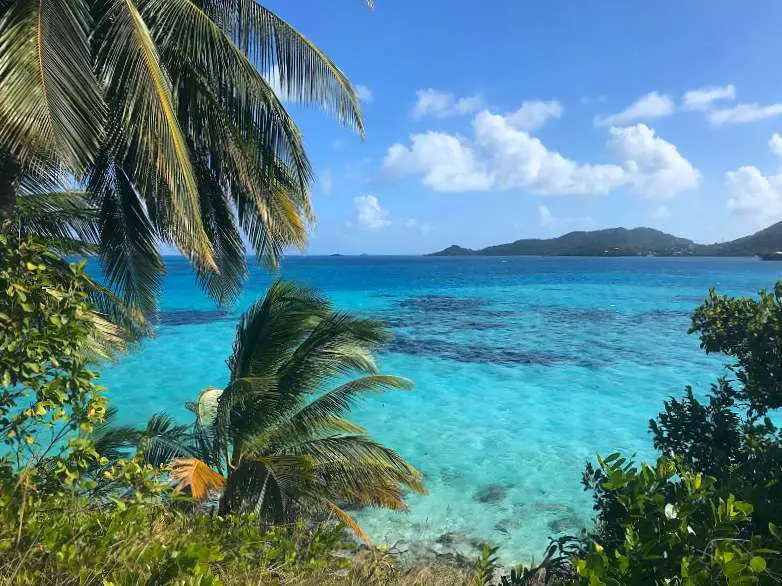 Let's talk about San Andrés, a small Western Caribbean island off the coast of Nicaragua. Part of an archipelago that includes Santa Catalina and Providencia, Isla San Andrés belongs to Colombia, one of the best-value countries to visit in South America.

The island is a tax-free zone, so prices in general are often cheaper or the same than on the Colombian mainland. However, there is a tourist entry tax, called the Tourist Card, that costs around $30.
Is it worth going to San Andres?
Measuring just 7.5 miles long, San Andrés offers tons of activities for such a small island! The waters surrounding the island are crystal clear, with well preserved coral reefs, abundant marine life, and scuba diving that compare with the best in the world. You will find over 40 beaches across the island, the best among them being Spratt Bight.

You can enjoy most of the attractions on the island without tours or spending extra money. A day trip to Johnny Cay Natural Regional Park and natural aquarium is a highlight of any trip. Be sure to include San Luis Beach, Rocky Cay, Hoyo Soplador, La Piscinita, and San Andres Hill onto your holiday itinerary.
Food and drinks, although a little pricier than the mainland, are still inexpensive. The rondón, stuffed crabs, cola de cerdo, and cocadas will have you asking for seconds.
A swift 1 hour and 30 minute flight from Cartagena and you will be enjoying white-sand beaches, coconut palms, and beautiful waters in no time. Book well in advance to score return flights from the Colombian mainland under $100 USD.
San Andrés provides the opportunity to experience one of the most affordable islands in the Caribbean. It is possible to visit this budget Caribbean island as a long weekend break from mainland Colombia, however I would recommend that you spend at least a week in this little paradise.
13 | Aruba 🍉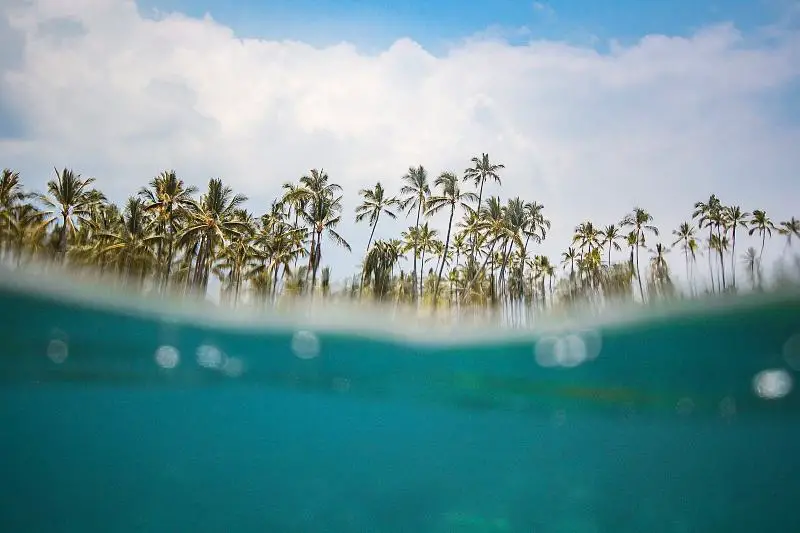 Experience the Caribbean getaway of your dreams by visiting Aruba. With its captivating beaches, lively culture, friendly locals, amazing geological formations, and great diving in jade and turquoise ocean waters, it's the perfect destination for any vacationer.

A big drawcard to Aruba is that it has the lowest crime rate in the Caribbean, making it a particularly attractive option for families.
Is Aruba expensive to visit?
It may not be the absolute cheapest island to visit in the Caribbean, however I want you to be aware that it is possible to visit this popular island in the Caribbean on a budget!

As long as you travel in the off-season, stay away from the expensive resorts, tourist traps, lavish dinners, and exorbitant cocktails, you can have a vacation here without draining your wallet.

Free activities to enjoy or that don't cost much include lounging on the perfect beaches, exploring the rough and rugged Arikok National Park, Ayo Rock Formations, the Natural Bridge, the California Lighthouse, and hiking Mt. Hooiberg.

All of the beaches in Aruba are open to the public, with the best among them being Eagle Beach, Palm Beach, and Mangel Halto.
The cheapest time to go to Aruba is during the months of September and October when tourists are fewer and temperatures are lower. Definitely avoid the peak tourism season of December to April. Five or six days is usually the right amount of time to spend here to get a good feel for the island, while also having time to simply relax.
You'll want to stay near Fredericksburg to be near the main attractions on the island and consider a stay at a budget hotel. No matter what your budget is, you can find a handful of affordable Caribbean vacations in Aruba. With its stunning beaches and vibrant culture, this destination can be a good choice for budget-conscious travelers in the Caribbean.
>> Must read:
Your guide to visiting Flamingo Beach Aruba
14 | Saint Martin 🌊
What is special about Saint Martin island?
St Martin is unique, as this island in the Caribbean is actually home to two separate countries. Half of the island is Dutch, while the other half is French. Reasons to visit this dual-nation island include its pristine beaches, duty-free shopping, lively nightlife, tropical weather, and its unique amalgamation of cultures.
The least expensive month to fly to the cheapest Caribbean destinations is during September, so keep an eye out for good airfare deals that may come about during this time.

If you are looking to save money, you should plan to stay on the Dutch side, but since the island is so small, venturing over to the beaches on the French side is easy to do, so you really get the best of both worlds.
You can head to Maho Beach for free, and watch the airplanes fly low overhead as they land at the airport that is right across the street from the beach! There is also a great bar right here if you need a bite to eat or a tropical drink. While in Sint Maarten, don't miss the world's steepest zip line, Loterie Farm, Front Street & Boardwalk, Mullet Bay, and a sunset sail.
The 37 beaches on St. Martin are some of the best in the Caribbean, and you can find plenty of cheap accommodation near Maho Beach, Orient Bay, and Anse Marcel.
15 | Other noteworthy mentions: 🐚
Other great options for the best cheapest Caribbean vacations:
Dominica.
Bay Islands, Honduras.
Ambergris Caye, Belize.
Corn Islands, Nicaragua.
Roatan, Honduras.
Bocas Del Toro, Panama.
Isla Mujeres, Mexico.
Isla San Andrés, Colombia.
Martinique.
Haiti.
Placencia, Belize.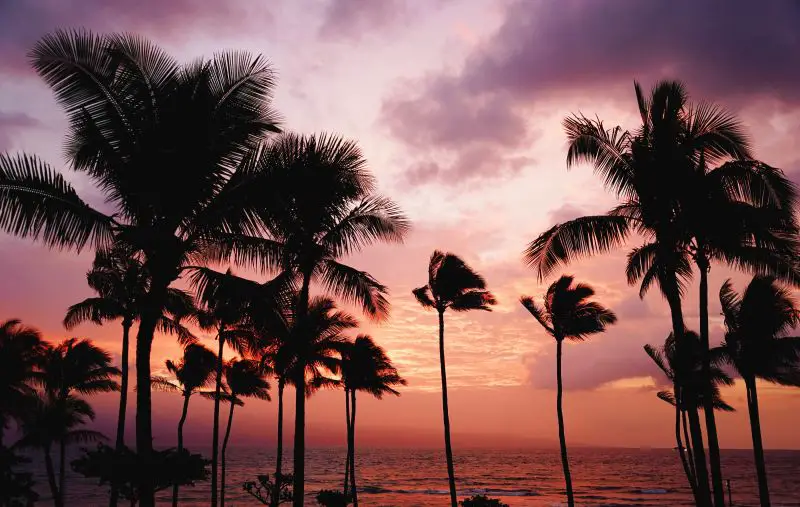 Final thoughts on these Cheap Caribbean Islands
The Caribbean is full of stunning beaches, vibrant culture, and plenty of activities to enjoy without breaking the bank. Whether you're looking for a luxury all-inclusive resort or an affordable place to stay near some great attractions, there are several islands that are perfect for you.
These islands each offer something unique for anyone who wants to experience a tropical paradise in the Caribbean on a budget during their vacation.
With careful planning and research into flights, accommodation options, and tours in the region – as well as implementing many of the budget tips mentioned above – cheap travel to Caribbean is possible. Keep all of this in mind and you should have no problem finding the cheapest Caribbean vacations that forms the perfect background to your dream holiday! Cheers!
Where will YOU go?
If you have any travel questions or need help with planning your cheap holidays to the Caribbean, don't hesitate to let me know. Also, be sure to check out this list of cheap tropical vacations for even more inspiration around the world.
Have a good time,

Rai