The Best Islands To Visit in Italy
Planning the perfect island escape?

Read on for a whole lot of inspiration on the best islands in Italy to visit. Soak up the sun and discover the perfect one for you on this list of beautiful Italian islands.
Italy is certainly one of the best holiday destinations in the world, and with good reason! Undeniably rich in culture, unique scenery, renowned cuisine, historical treasures, arts, and entertainment, it is no surprise that its cities and towns are constantly flooded with tourists.

However, a good number of travelers tend to skip over the gorgeous islands of Italy that are just as worthy of a visit. So, you should definitely stop by at a handful of these islands during your next visit to Italy to experience spectacular scenery, delicious food, wine, and more stretches of sun and sand that you could possibly hope for.

Continue reading to discover a list of the best Italian islands to visit! 
>> Read next:
BEST ITALIAN ISLANDS TO VISIT → WHICH IS THE PERFECT ONE FOR YOU
This beautiful country located in the Mediterranean region is surrounded by the Ionian, Tyrrhenian, Adriatic, and Ligurian Seas. It comes as no surprise then to hear that Italy encompasses over 400 islands.

From sun-drenched beaches and natural wonders to romantic resorts and exciting adventures, the best islands in Italy offer the ideal holiday escape during your Italy trip.
So, which is the best island to visit in Italy?
First up…
Sicily ✔
We simply cannot not begin with the biggest and most popular island in Italy — the lovely and gorgeous Sicily! Famous for its great variety of entertainment, dramatic scenery, impeccable flavors and cuisine, and charming, rich cities from Catania to Taormina. 

Sicily is the perfect choice for travelers looking for just about any kind of sightseeing.

Naturally, the island is often buzzing after dark as it is frequented by tourists looking to have fun. However, the historical side of the island is just as, if not more, impressive. The appealing baroque towns and numerous archeological sites will make your Sicilian holiday into an all-fulfilling affair. 

Do not hesitate to book a visit right now.

While Sicily is most active during the holiday season in the summertime, it stays lovely and grand throughout the entire year. 
>> Read next:
The absolute best islands to visit in Spain
Keep reading to discover more of the best islands of Italy below…
The Aeolian Islands ✔
Located not that far away from Sicily, just off the northeastern coast, lie the absolutely unique and iconic Aeolian Islands, Italy's pride and joy. Protected by UNESCO, the islands are one of the most well-preserved and perfectly-maintained sites in Italy. 

The seven islands, Vulcano, Lipari, Salina, Panarea, Stromboli, Filicudi, and Alicudi, one more beautiful than the other, are accentuated by volcanic peaks and stunning wilderness, making them wildly attractive. 

You can visit them all, but bear in mind that Lipari is the liveliest one, Vulcano and Stromboli are the ones with active volcanoes, and Panarea is probably the most interesting island.
>> For all those amazing island and beach pics for insta, you're going to need these:
at the beach quotes and beach captions
Sardinia ✔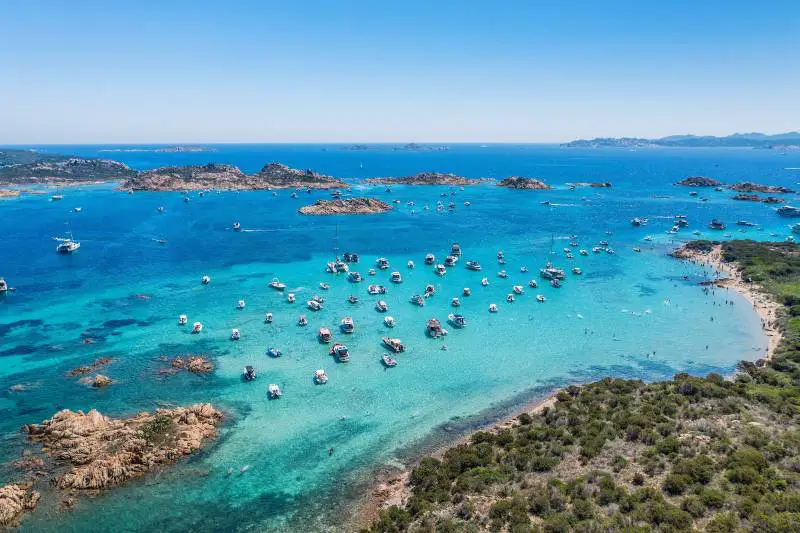 Second in size to Sicily, Sardinia is almost as popular. Stretching across the middle of the Mediterranean, this pretty Italian island is welcoming with its white sandy beaches and warm turquoise waters. The island landscapes are picturesque and, at the same time, distinctly Italian, with no shortage of sights to enjoy.

Sardinia offers a host of activities, from simple exploration to hiking, water sports, fishing, and so on. The locals tend to say that Sardinia is quite secretive in itself. They explain that there is no way to know of everything the island keeps hidden, like unseen places, unknown sites, and discreet, unexplored corners.

Set this as a challenge for yourself to see how much of these hidden gems you can find for yourself.

Also, do make sure to visit Cagliari and the Costa Sud, a historical site perfect for exploring, and Costa Smeralda for some of the most beautiful beaches in the world.
>> Related reading:
Your guide to island hopping in Greece
Capri ✔
The Campanian Archipelago is, without a doubt, mostly known for Capri – its top tourist attraction and powerhouse. This glitzy Italian island in southern Italy is world famous for its dramatic coastline, world-class shopping, glamorous villas, romantic vibes, and as the playground for the rich and famous. 

However, there are four other, a bit calmer, more laid-back islands in this Italian archipelago. Let's see which ones you can visit…

We suggest that you consider going to Ischia and Procida. Both islands are just charming and comparable to the beauty of Capri, but does not have the same popularity, thus are significantly less crowded and better priced. 

Ischia is by far the greenest of the Italian volcanic islands, so you might find serenity in its natural landscapes. At the same time, there are plenty of splendid boutiques and restaurants for you to enjoy. 

Speaking of, Procida is the tiniest of the Campania Archipelago, but probably the prettiest one. This picturesque island in Italy also offers some fun ways to spend your holiday if you get restless and do not want to just bask in the sun all day long.
>> Plan your next perfect vacation with this:
Aruba Flamingo Beach travel guide
Elba ✔
Elba, Capraia, Giglio, Giannutri, Pianosa, Gorgona, and Montecristo are the seven islands that make up the Tuscan Archipelago.

This comes as a surprise to a lot of travelers, as they most usually imagine Tuscany as a region of countrysides and quaint towns. And, while this part is true, Tuscany also has islands, some of which are totally worth checking out.

Let's take, for example, the Italian island of Elba. It gained recognition because of Napoleon, who lived here in exile back in 1814. Aside from its historical aspect, Elba has plenty of stunning sights. You also have the opportunity to visit the largest protected marine park in Europe and enjoy some underwater explorations.

You can also make day trips to Giannutri and Giglio, the latter being famous among book lovers. From Giglio, you are able to observe the island of Montecristo, popularized by A. Duma in the Count of Monte Cristo. Overall, the two islands are the best in the area for natural exploration. Giannutri is less-populated, and normally visited to snorkel and swim.

Italy's third-largest offers a wonderful mix of cultural and recreational options and should not be missed during your travels in Italy
>> Plan your next perfect vacation with this:
Aruba Flamingo Beach travel guide
>> Other islands of Italy worth exploring:
Lipari
Lampedusa
Burano
Ischia
La Maddalena
Caprera
Panarea
Levanzo
Borromean Islands
Filicudi
Pantelleria
---
Have fun exploring these Italian islands! Even if your main destination is not one of these, make sure to take a day or a two-day trip from wherever you are in Italy to make your vacation that much more enjoyable.
Whichever island in Italy you choose, I hope you have a great time. If you have any travel questions about any of these island vacations or how to visit, be sure to let me know and I'll be happy to help out. 

Don't forget to check out these amazing cheap islands to visit.
Arrivederci!

Rai