Portland to San Francisco Road Trip → 23 BEST Stops Along Your Route
Embarking on a Portland to San Francisco road trip is an adventure that offers endless options before you hit the Golden Gate Bridge. From the best coastal views the U.S. has to offer, to snow capped dormant volcanoes and alpine lakes; this road trip will be one to remember.
Continue reading as I take you through 23 of the best stops on a Portland to San Francisco road trip, whether you choose to head down the coastal or mountain route.
How many hours is the road trip from Portland to San Francisco?
If you drive the most direct route in between cities nonstop it will take you about 10 hours via I-5 South.

How far is Portland from San Francisco? The distance from Portland to San Francisco route spans over 635 miles (1022 kilometres).

However, if you're looking to make this drive into a road trip from Portland to San Francisco, you have two main scenic options — the coastal route and the mountain route. 

Continue reading to discover all of the details to help plan your journey as well as some of the best Highway 101 attractions.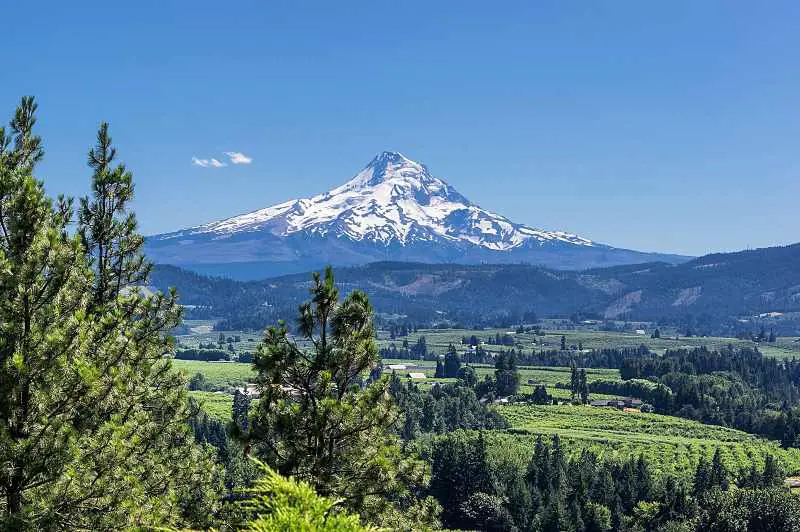 What is the most scenic route from Portland to San Francisco?
Coastal Route
Major sights: the entirety of the Oregon Coast as well as Redwood National Park, Fort Bragg, Point Reyes, Napa Valley.
Major highways: Pacific Coast Highway 101 South.
Driving time: 15-18 hours depending on your amount of stops.
Mountain Route
Major sights: plentiful waterfalls, Mount Hood, Bend, Crater Lake, Mount Shasta, and even a detour to Mount Lassen. 
Major highways: I-97 South to I-5 South.
Driving time: ~12-13 hours depending on your amount of stops.
Both are unique and beautiful in their own way.

The season, your interests, and available opportunities could influence your decision. With 2-3 weeks you could hit all the stops, but obviously requires a lot of planning and not everyone has this luxury of time.
No matter your interests, I have a comprehensive list of all of the best stops to add to your California to Oregon road trip itinerary below!
>> MUST READ:
The Ultimate Travel USA Bucket list: 100 places to visit in USA
>> Read next:
Ok, let's get into it. Here are…
23 of the Best Stops on Your Portland to San Francisco Road Trip
The list is structured below for the best coastal route stops #1-14; and the best mountain route stops are #15-23.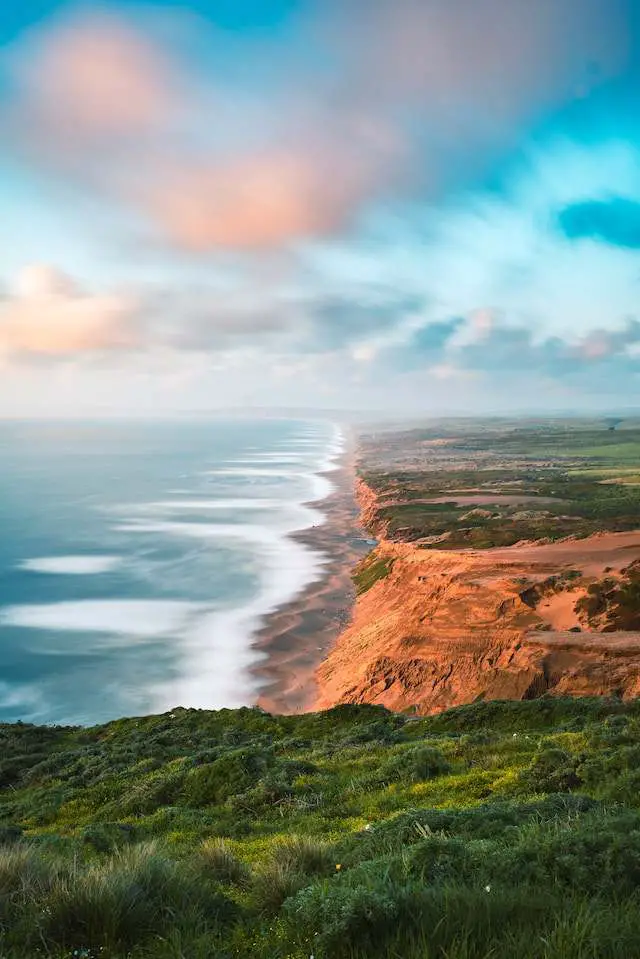 What is good stop between Portland and San Francisco? First up…
1 | Ecola State Park
Ecola State Park will be the first stop on your drive from Portland to San Francisco via the coastal route. Stop by Ecola Point for the best view at this park.

Here you will find an abundance of short walking trails, longer trails, picnic areas, ample parking, wide open fields, and the most amazing views of the Pacific coast all around.
2 | Cannon Beach
Cannon Beach is a popular coastal town in Oregon that features the well known Haystack Rock. 
If you're here at low tide be sure to check out the tide pools to see small sea creatures. During the months of May-August you also have a chance to see cute tufted puffin birds. Cannon Beach makes for a great sunset spot if your time allows.
3 | Oswald West State Park
Oswald West is just 15 minutes South of Cannon Beach along the coast. The top stops here are at Short Sand Beach and the Devil's Cauldron.
If you're up for some adventure, take the Elk Flats trail to the 'Forbidden cliffs of Manzanita'. This is an unmarked trail where you will have to route find and bushwack a bit, but it will take you to the most dramatic view of the coast.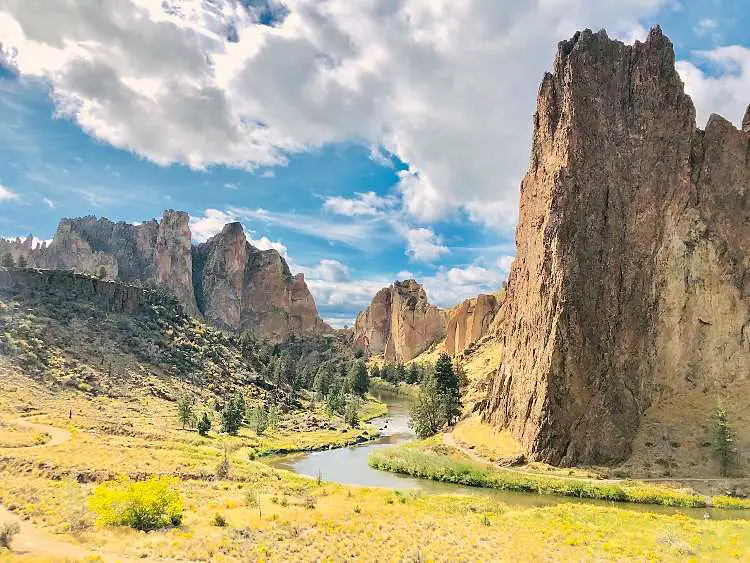 4 | Cape Perpetua
Cape Perpetua is a popular spot due to the highly photographed Thor's Well and Devil's Churn. You can reach both of these on a 1.6 mile trail. 
Thor's Well is a 'sinkhole' like formation in the ocean. When the waves crash into the sinkhole the water gets swallowed into it making a very dramatic and unique scene. 
Devil's Churn is a small inlet on the coast that has been carved by waves continuously crashing into it. When the waves crash during high tide the spray can go up several hundred feet in the air!
5 | Cape Kiwanda
Cape Kiwanda is a lovely stop on your coastal route drive Portland to San Francisco. Here you'll find views of a sea stack rock resembling that of Cannon Beach, as well as a 300 ft tall sand dune you can climb to get views of McPhillips Beach.

At the crest of the sand dune you can walk around and find incredible views of the scenic coastal sandstone rocks and arches. Take care as you walk around here though – the sandstone cliffs crumble easily and become very dangerous.

Back at the main beach of Cape Kiwanda there are tide pools accessible at low tide. When I was there I saw many starfish!
6 | Oregon Sand Dunes National Recreation Area
Located near Reedsport, OR are the Oregon Sand Dunes. You can hike the dunes, or rent an ATV to cruise along them!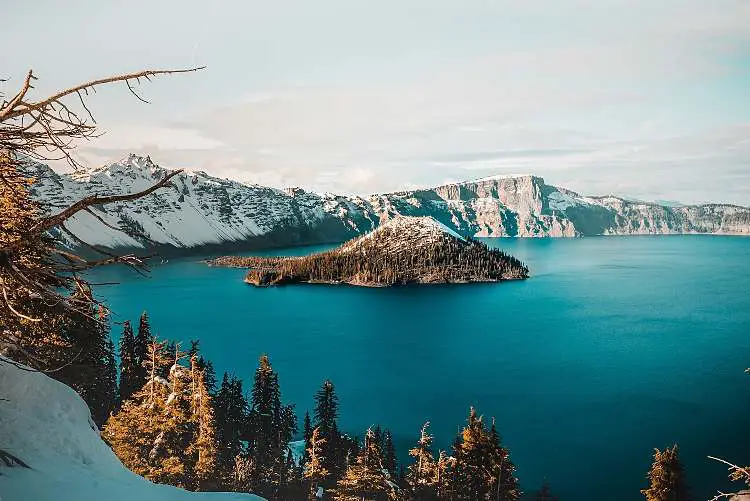 7 | Face Rock Scenic Area
This area in Bandon, OR is full of stunning sea stacks along the coast in different sizes and shapes. There are a few distinct ones, such as the Wizard Hat, Face Rock, and Table Rock. 
8 | Samuel H. Boardman Scenic Corridor
My personal favorite spot on the whole Oregon Coast is Samuel H. Boardman and should not be missed along the road trip Portland to San Francisco. The coast here is so dramatic and green with many great viewing points in the corridor.
Some of the best stops are: Natural Bridges, Whaleshead Beach, Secret Beach, House Rock viewpoint, Arch Rock, Cape Ferrelo viewpoint, and China Beach.
9 | Redwood National & State Parks
Coast redwoods extend from southern Oregon to central California and Redwood National Park will be your first stop when over the border into Northern California. Between all of the parks, this area covers over 100,000 acres with pristine Redwoods — the tallest trees on Earth. These trees can grow to over 360 feet tall!
Watch the sunset from Crescent Beach Overlook in Redwood National Park. Head to Jedediah Smith Redwoods to hike the Stout Grove trail. 
Then head to Prairie Creek Redwoods State Park to do the Prairie Creek and Foothill Loop. This trail will take you through a fallen Redwood that has fallen over the trail. So you actually get to walk through a Redwood! No San Francisco to Portland drive is complete without making a stop here.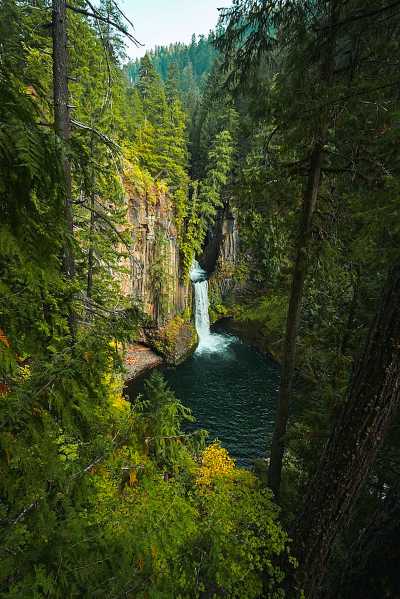 10 | Shelter Cove
Shelter Cove requires a 2 hour round trip detour during your road trip Portland to San Francisco, but it's worth it if you've got the time!

To get to the coastal town of Shelter Cove you have to drive down a long, windy road. From Highway 101 when you reach the town of Redway, take Briceland Road west down to the coast.

You'll be greeted with a rugged coastline and a black sand beach! With coastal mountains as a backdrop – if you needed more of a reason to see this hidden gem in Humboldt County, California. 
11 | Fort Bragg
In Fort Bragg you'll find another unique beach – but this one is filled with beach glass. However the harsh reality behind this is that these beautiful rounded pieces of beach glass are made of… trash! 
Yes this beach glass is from bottles and headlights being crushed and smoothed over the years. Interesting right?
A little bit farther south of Fort Bragg is Mendocino. While passing through, stop at Mendocino Headlands State Park. There are wonderful bluffs and arches in the water to marvel at and photograph.
12 | Bodega Bay
One of my personal favorites of the whole California coastline is Bodega Bay. A little hidden gem just a few hours North of San Francisco, this place has many picturesque stops that will take your breath away.

And chances are, you'll be one of the only people there!

In Bodega Bay you'll find Sonoma Coast State Park. The top places to see in the park are Goat Rock Beach, Blind Beach, Arched Rock, and nearby Rock Point Beach. This area is also great for birdwatching as well as for seeing seals and sea lions.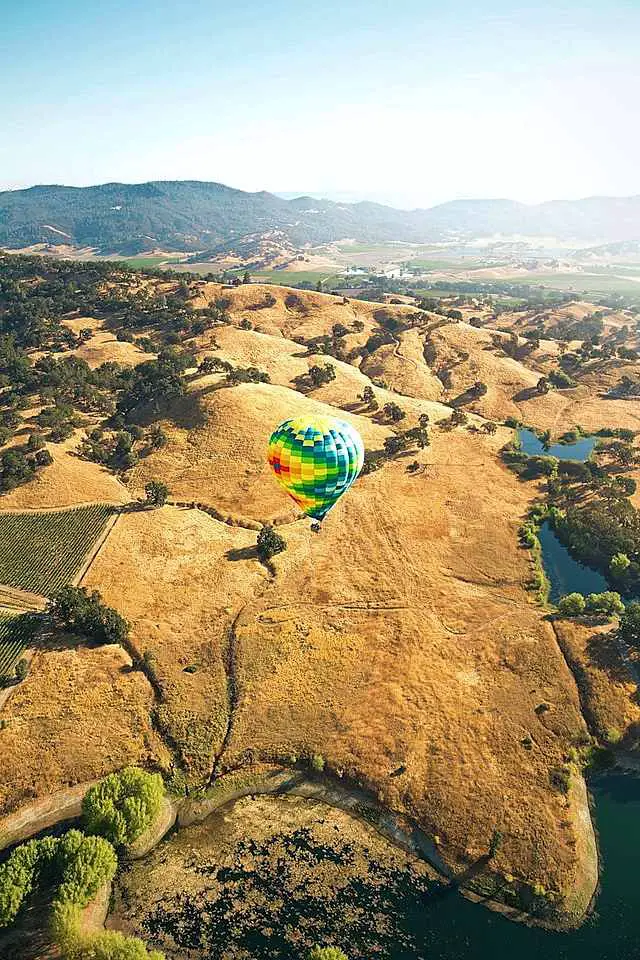 13 | Napa Valley Wine Country
If you're a wine lover, then a stop at Napa Valley on your way from Portland to San Francisco drive is a must! One of the best wine regions in the U.S., Napa Valley is comprised of a few towns: Napa, Calistoga, Helena, and Yountville. Another popular town full of wineries and vineyards close by is Sonoma.
Visit Castello di Amoroso, a traditional Tuscan castle, or Buena Vista Winery, the oldest winery in California. 
Napa Valley can get pricey, so if you're on a budget just stop by a winery or two high on your list. Another idea is to go out to lunch or dinner in the area and order a glass of wine that's from a local winery. 
14 | Point Reyes National Seashore
Point Reyes is located an hour and a half North of San Francisco. This is the last stop on the list via the coastal route and makes for a perfect romantic getaway.
If you enjoy coastal hiking, Point Reyes will be a great stop for you. One of my favorite trails is to Alamere Falls, one of two waterfalls in California that spill directly into the ocean. This trail is 14 miles roundtrip so it will take the majority of your day, but it's worth it and not particularly difficult despite the length.
Tomales Point is another great day hike. This trail is 9 miles roundtrip and you'll have lovely coastal and cliff views with a chance of seeing elk. 
Two great photo spots that don't require hiking are the Cypress Tree Tunnel and the South Beach Overlook near the Point Reyes Lighthouse. 
15 | Columbia River Gorge
A stop at the Columbia River Gorge will begin your mountain route from Portland to SF. Stop at the infamous Multnomah Falls while here, but make sure to arrive early as it can get insanely crowded and parking can be difficult.
Discover a few other waterfalls while there, such as Latourell Falls, Wahkeena Falls, Horsetail Falls, Dry Creek Falls, Bridal Veil Falls, and Wahclella Falls.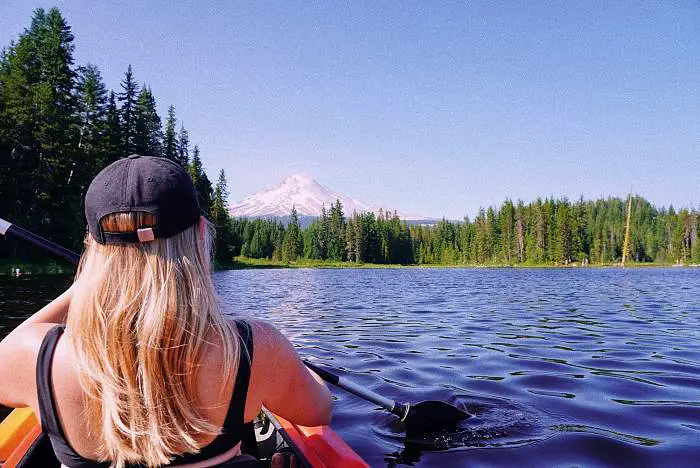 16 | Mount Hood
Before heading directly to Mount Hood from the Columbia River Gorge, keep driving East on I-84 to go to Hood River Lavender Farm. During the months of July and August the Lavender grown here is at peak bloom and gives you the best view of Mount Hood with the beautiful purple lavender in the foreground.
Continue down towards Mount Hood via Highway 35 South to get up close and personal with this snow capped dormant volcano. During the winter months, skiers and snowboarders will love to stop at Mount Hood Skibowl.
During the warmer months, no trip to this area is complete without a stop at Trillium Lake. Rent a kayak for an hour or two or relax at the lake's small beach area. Sunrises and sunsets here are fantastic too.
17 | Ramona Falls
Ramona Falls is a waterfall trail close to Mount Hood. Ramona Falls is a beautiful tiered waterfall, worth a stop if you have the time on your San Francisco to Portland road trip. The hike is 7 miles roundtrip with a 1,050 feet elevation gain. 
Getting to the waterfall does involve a river crossing that gets higher as the day goes on due to snow melt. For this reason ensure you go as early as possible and check recent trail reviews to see what others are saying about the crossing. 
18 | Proxy Falls
Proxy Falls is located about an hour West of Bend, OR and is another great stop on a road trip to Portland from San Francisco. This incredible waterfall is accessible via a 1.6 mile roundtrip hike. Keep in mind it is only accessible from June to October due to the highway being closed for snow in the cooler months.

For the short hike, this waterfall has an incredible payoff. It was definitely one of my favorites in all of the PNW. It is really tall and wide and when you get close you can really feel the force of the water. The mossy green on the rocks of the tiered waterfall make for an incredible backdrop.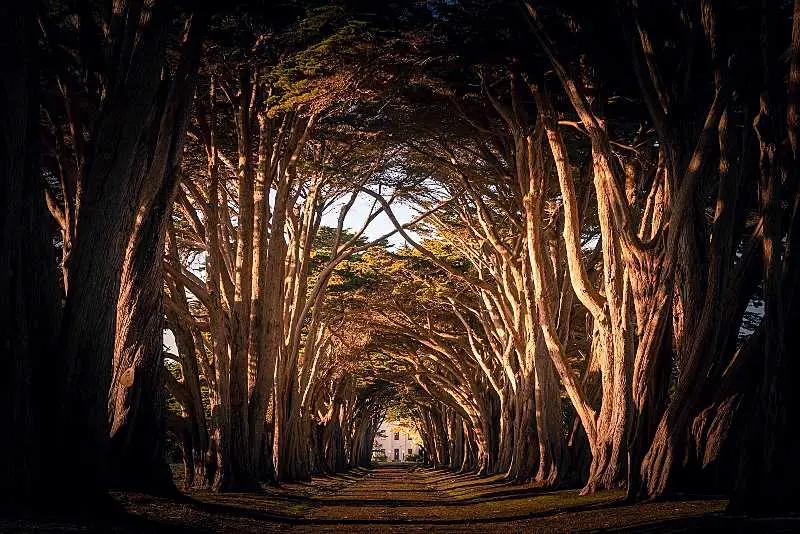 19 | Bend
Bend is one of Oregon's best adventure capitals! If you've got a day or two to spare on your Oregon to California road trip, you'll find plenty of things to do here.

During the summer, one of the best hikes is to No Name Lake and Bend Glacier. The hike will take up most of a day, being that it is almost 14 miles roundtrip with a steady 2,650 ft of elevation gain. But the turquoise alpine lake at the end is worth it with the colorful mountain background!
Of course while in Bend, you have to make a pit stop at Smith Rock State Park. Smith Rock offers views of cliffs, spires, and a small canyon with a river cutting through it. A picture perfect view can be found right near the parking lot so it can be a great quick stop on your road trip. There are also hiking and climbing opportunities here.
You could also go kayaking at Cascade Lakes or at Hosmer Lake. Or go white water rafting on the Deschutes River. 
Next up on this road trip to Oregon from California is:
20 | Toketee Falls
Toketee Falls is a beautiful waterfall located in Southern Oregon. This waterfall cascades over basalt columns into a big blue pool of water. The hike to it is quick, being less than a mile roundtrip. 
On the same road as Toketee Falls is Umpqua Hot Springs. These are baby blue primitive hot springs with forest and river views. Get here early as this place can get very crowded. And keep in mind that this place is clothing optional.
21 | Crater Lake National Park
Crater Lake National Park is a must stop when driving from Portland to San Francisco. If you happen to visit in the winter, only part of the park will be open. But a snowy Crater Lake looks really magical too!

If you visit during the summer, you can do the whole scenic Rim Drive with lots of hiking options and be sure to take the Cleetwood Cove trail down to the lake.

From Cleetwood Cove, you can go swimming or take a boat tour around the lake or to Wizard Island. There's also a really cool cliff jumping spot at Cleetwood Cove.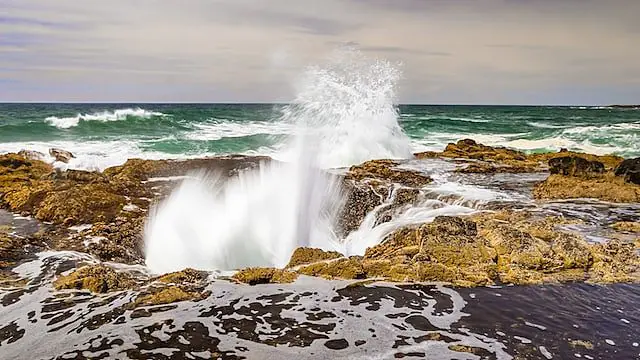 22 | Mount Shasta
Mount Shasta is in Northern California and is a snow capped dormant stratovolcano. The epic volcano towers high at over 14,000 feet above the surrounding landscape. 
The best things to do around Shasta are head to some of the many waterfalls in the area. The best ones are: McCloud Falls, Faery Falls, Burney Falls, and Mossbrae Falls. 
During the summer months hike to Heart Lake from Castle Lake for picture perfect views of Shasta reflecting on the lake. You'll enjoy skiing and snowshoeing at Mt Shasta Ski Park in the winter.
Shasta is known for being a very spiritual place. Many come here for the mountain's incredible energy, as Native Americans believe that it is the center of our universe. Check it out for yourself and see what you think!
23 | Mount Lassen National Park
A 2 hour drive South from Mount Shasta is Mount Lassen. There are many different outdoor activities here to choose from, especially if you visit during the warmer months.
Rent kayaks or paddle boards for the day at Manzanita Lake to enjoy beautiful views of Lassen. The Cinder Cone trail offers views of a cinder volcano and colorful dunes, or climb Lassen itself! The Lassen Peak trail is 5 miles roundtrip with 2,000 feet elevation gain. 
There is also a hike that takes you to 2 alpine lakes via the Ridge Lakes trail, only 2 miles roundtrip.
After your stop at Mount Lassen, you'll have less than 4 hours to go to get to San Francisco. You can also take a detour to visit Napa Valley on your route as well before getting to the city.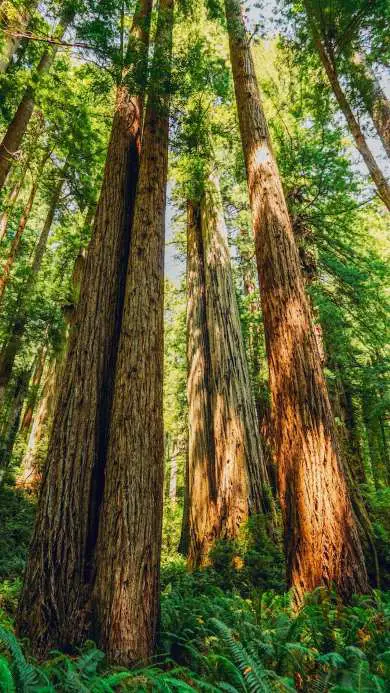 Tips for planning your Portland to San Francisco road trip itinerary
Check road conditions while planning your trip, and especially a few days before leaving.

Wildfires, rockfall, snowfall, and more can impact road closures depending on the season. Wildfires especially can force major road shutdowns with long detours in the summer season. During the winter, mountain pass roads are frequently closed, leaving some trails inaccessible. Check if your Highway 101 attractions and stops are winter friendly if this is when you plan on going.


Keep a first aid kit & road kit with you for safety reasons.

No matter which route you take, you could be in more desolate areas at times, so having emergency equipment available will prove helpful.


Plan in advance during the peak summer season.

Popular places both along the coast and inland will have less available options the closer you book, especially during the peak summer season. Plus you'll end up paying a premium price the longer you wait.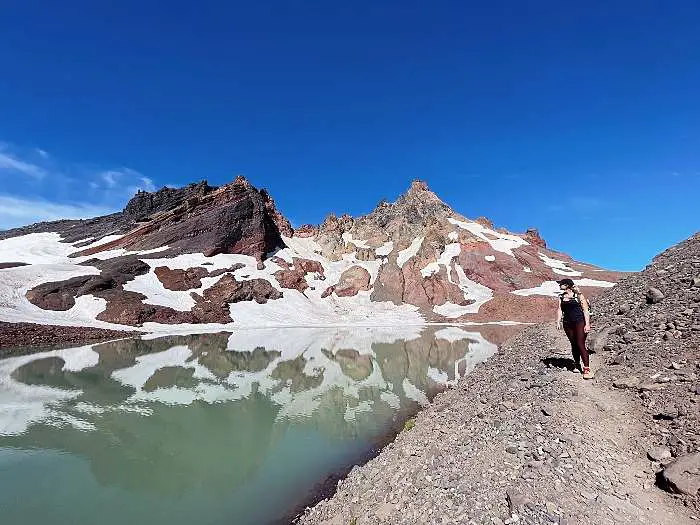 Wrap up: Portland to San Francisco road trip
A road trip from Portland to San Francisco is an unforgettable adventure that offers stunning landscapes, diverse cultures, and unique experiences no matter which route you take. 
From the waterfalls of Oregon to the beaches of California, this journey from Oregon to San Francisco road trip provides a glimpse into the natural beauty and cultural richness of the west coast. 
Whether you're seeking outdoor thrills or urban exploration, there's something for everyone on this route. 
So pack your bags, hit the open road, and discover what makes this part of America so special and one of the best places to visit in USA.

If you have any questions about this drive from San Francisco to Portland, be sure to let us know and we'll be happy to help out.

You won't regret it!

Kate
Kate did travel nursing for two years all over the West Coast taking many road trips in between assignments. She's lived in California, Colorado, Arizona, & Washington. Now she's based out of Philadelphia, but still travels every chance she gets. When she's not traveling or working as a nurse she writes for her travel blog, Kate Roams the World