Here's What Dubai Looks Like From the Sky in a Seaplane (With Seawings Dubai)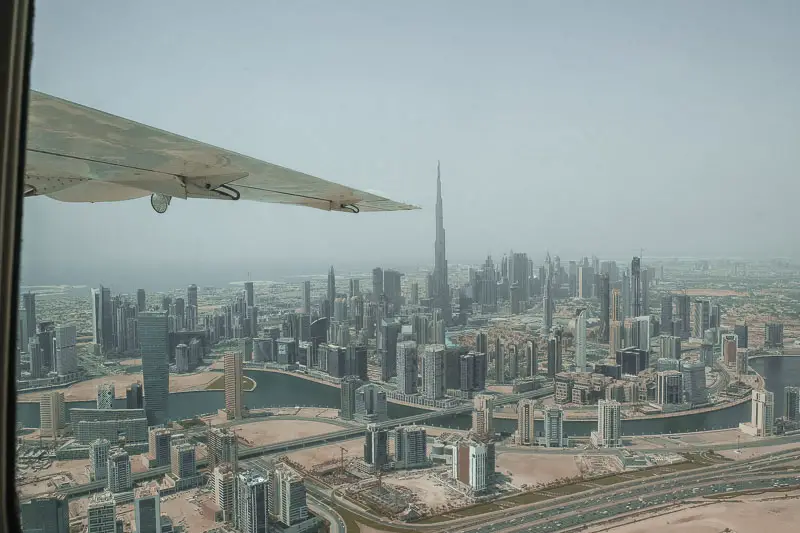 There is no shortage of things to do and see in Dubai. This sprawling metropolis, once a desert town, is the perfect transit city with the accessibility and number of connections available. I've stopped over in Dubai more times than in any other city during my travels around the world and am always looking for unique experiences. One of the lesser-known, yet exhilarating ways to experience the city and to get an entirely new perspective is a flight on board a seaplane with Seawings Dubai.
Seawings Dubai offers passengers an inspiring and illuminating perspective on Dubai's futuristic skyline across the UAE landscape.
Interested in knowing more, travel lover?

Here you will find everything you need to know before flying on a seaplane, what to expect during your flight, the types of tours available, the cost, and why a flight with Seawings was the best thing I've done in Dubai.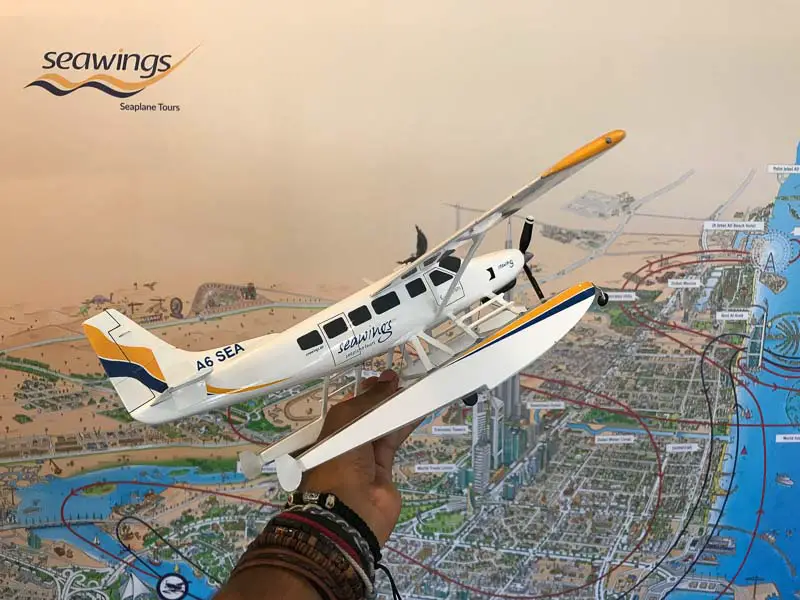 Dubai aerial view — See the city from new heights
A unique water takeoff and landing.
A feat for the eyes with unsurpassed aerial views of the UAE coastline, the glistening desert backdrop and all the iconic landmarks the likes of Burj Khalifa, World Islands, Burj Al Arab, and Dubai Marina aboard a Cessna seaplane.
A day to remember.
Be sure to check out these short quotes about travel to ignite your wanderlust
Certainly not the only way to see Dubai. But the best way to see Dubai!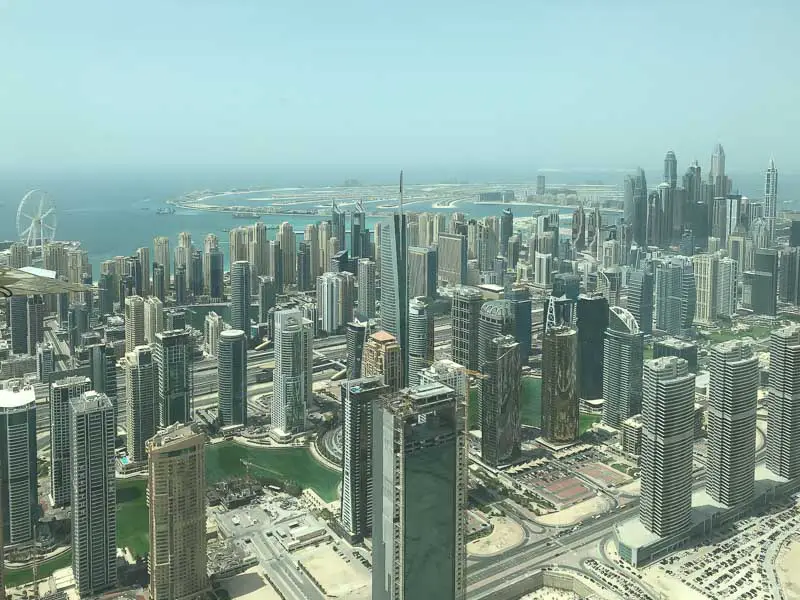 Who is Seawings Dubai
The only seaplane operator in the UAE, Seawings Dubai has been providing aerial sightseeing tours onboard a seaplane of Dubai and charters to Abu Dhabi, Ras Al Khaimah, Fujairah and over 25 destinations within the UAE since 2007.
The Seawings fleet consists of three Cessna 208 Caravan seaplanes with two locations available for take off and landing – Dubai Creek Golf and Yacht Club and Jebel Ali Resort & Spa.
Wikipedia tell me that a seaplane is a powered fixed-wing aircraft with floats or skis instead of wheels capable of taking off and landing on water.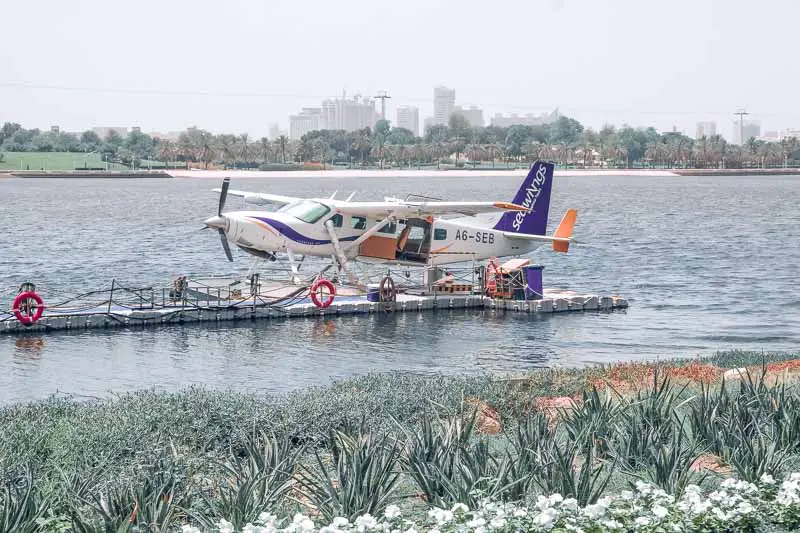 Seawings Dubai Contact
Address: Seawings Seaplane Main Base, Dubai Creek
Opposite Deira City Centre, Dubai – United Arab Emirates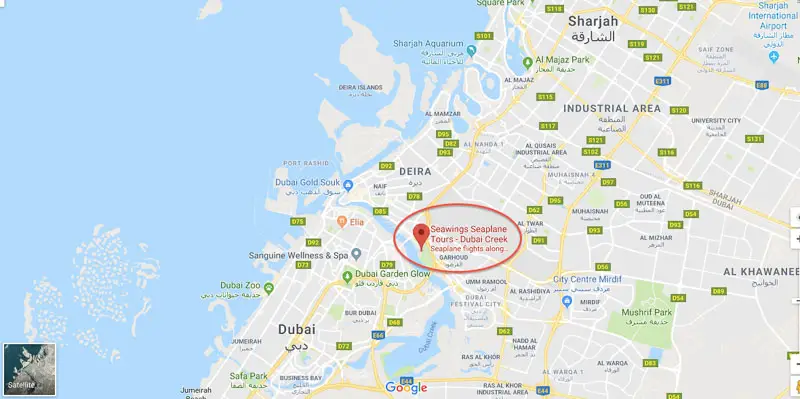 The location for my departure was the Dubai Creek Golf and Yacht Club. The location is a good point to experience old Dubai and a 30-minute taxi ride got me to the Seawings office. Actually it was meant to be this way, but my taxi driver got lost, took a wring turn and just as we were about to exit he tells me, his card machine was out of order. So we had to drive around looking for an ATM machine as I was out of cash.
This entire journey took way longer than expected with one too many vulgar exclamations and I ended up arriving 30 minutes later than I had meant to, disappointingly thinking I had missed the flight and my chance for a bird's eye view of the city and its coastline.
Fortunately upon arrival, the staff were wonderfully professional, friendly, accommodating and conveyed that I would be able to join the flight.
OH YEEEEEAAAAAAAAAAAH 😀
The pre-flight handling consisted of a briefing as to the flight plan, a handful of travel questions, and what to expect during the journey. We submitted our passports for verification and were given drinks and towels to freshen up.
After a brief safety video we received boarding passes to carry when we entered the aircraft and were accompanied by the ground handlers on a 5 minute ride via a gold cart to the docking area where the Cessna Caravan seaplane lay in wait.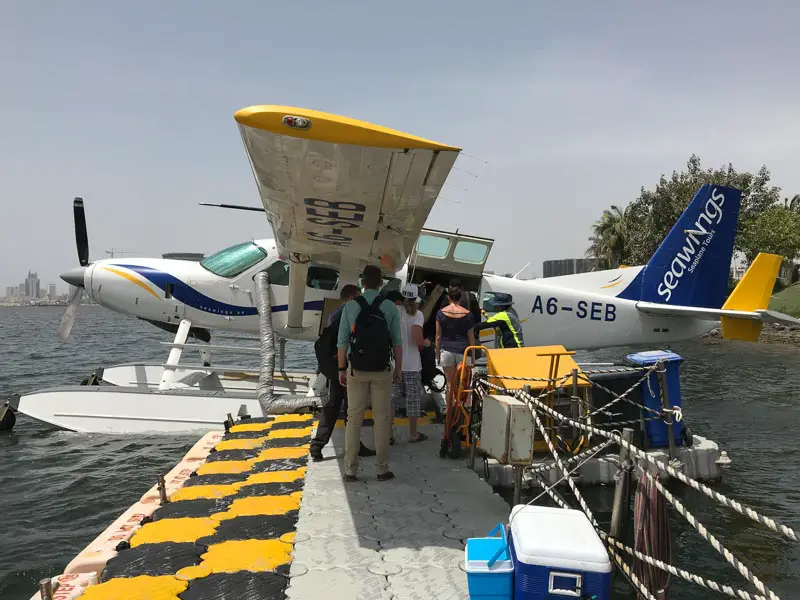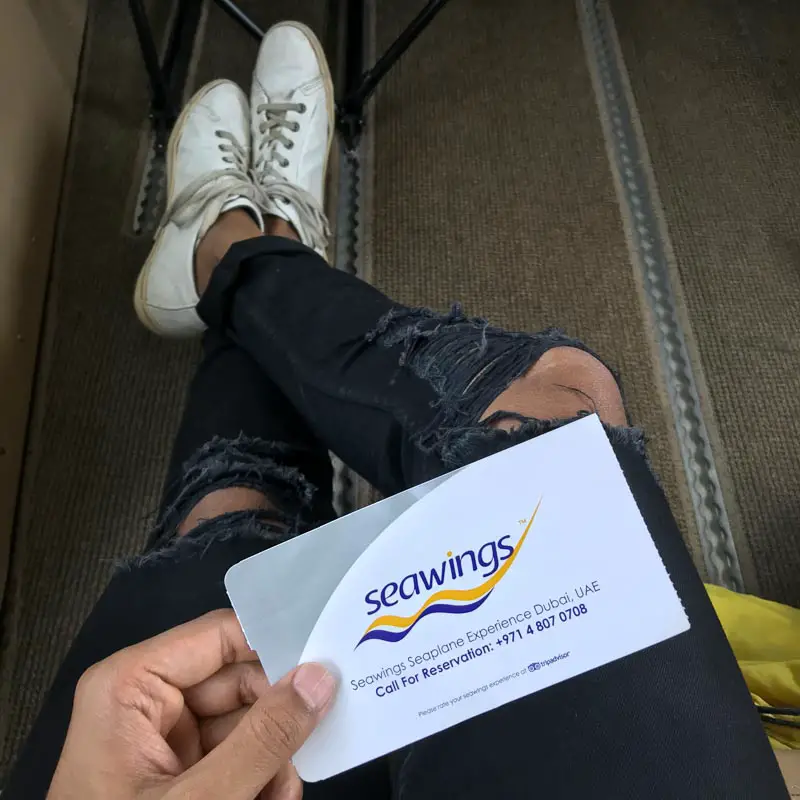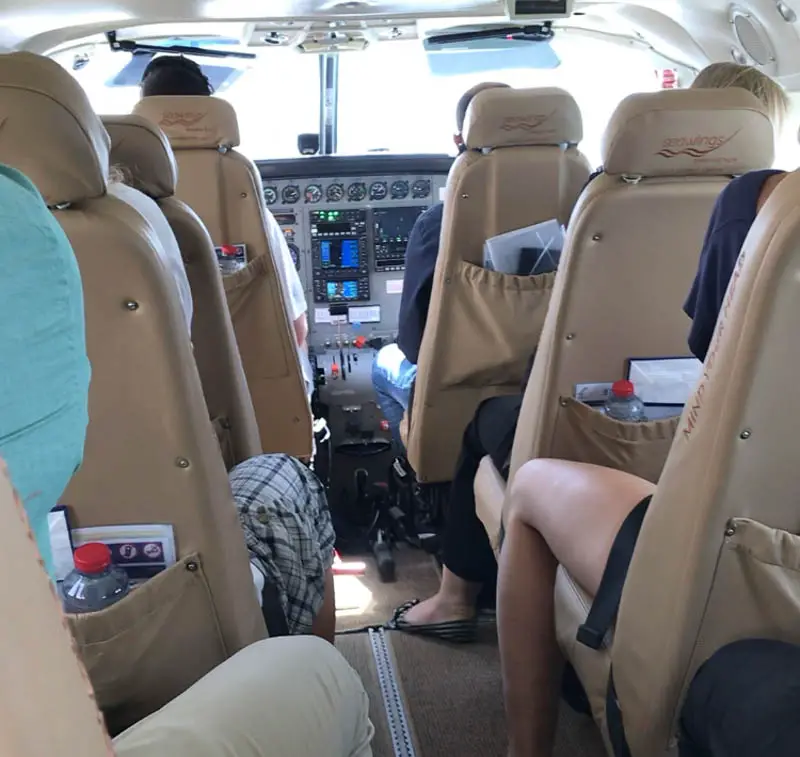 The aircraft is climate controlled and equipped with luxury leather seating, large glass windows and complimentary bottled water for each seat.
Wondering how many people on the flight? The Cessna 208 Caravan Seaplane has a nine-passenger capacity ensuring spacious seating and ample legroom. I scored the premium seat at the back of the plane and this comes highly recommended as I got to move out of my seat onto my knees and various other positions resembling that of an overly excited kid.

(I think we had to remain in our seat at all times, but I just couldn't help myself — apologies Seawings :))
Gently take off from the pristine waters of Dubai and effortlessly ascend into the skies.
Taking off & landing in the water was a different yet smooth and effortless experience, or at least the pilot made it seem so.
The pilot was controlled and professional throughout the entire journey. I don't know if any commentary was given during the flight. I was so enthralled by the experience and in sensory overload that I could have completely missed this.
Naturally the unmatched and best views of Dubai from this vantage point was the highlight!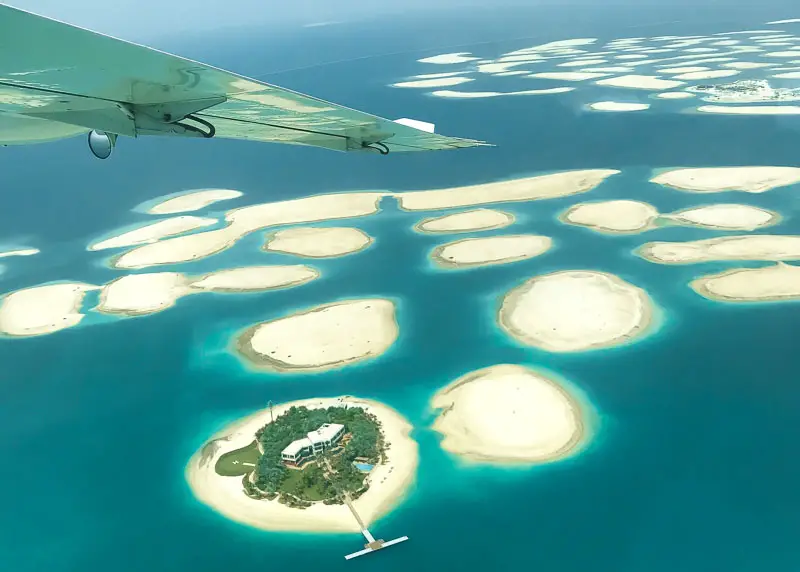 What do you see on a Seaplane tour of Dubai
With the plane gradually soaring thousand feet above I marvelled at the sights enjoying uninterrupted views of the city eventually reaching a cruising height of 1500 ft. above the ground.
From this vantage point all of Dubai's sights and wonders come alive providing unique views across this futuristic cityscape bordered by the Arabian coastline, the azure Arabian waters, the city landscape and the glistening desert backdrop.
We soar above the Dubai creek, Dubai Frame, and Port Rashid seeing boats docking and traditional Abras crossing the waters.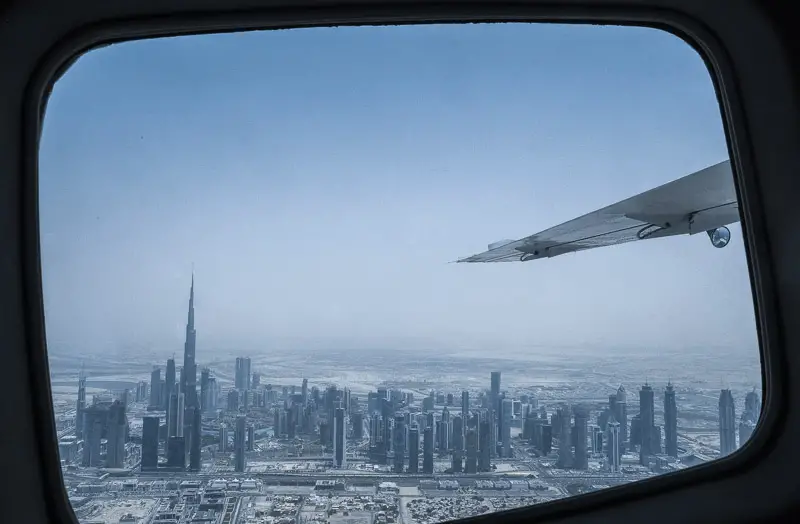 I am thrilled at the line of skyscrapers along Sheikh Zayed Road and Downtown at first in the distance and then up close. The Burj Khalifa is so close I can almost reach out and touch the tip.
The Seawings Dubai flight is not the least bit noisy, facilitating a calming backdrop during the trip.
The flight takes us over shimmering beaches and lush green golf courses passing Ain Dubai with the pilot making a 180°turn bringing us over the sail-shaped Burj Al-Arab Hotel and Palm Jumeirah and its beautiful vistas.
I am in awe flying just above the World Islands, the impressive 300 islands archipelago, built to resemble a world map in the Arabian Sea noticing only one inhabited island. The rest — a blank space.
We return along the coast toward Jumeirah admiring the city from another vantage point passing over the fleet of luxury yachts at Dubai Marina and then Dubai Canal before gliding back down to where we had originally began only moments before.
A skilful landing back on the water marked the end of the flight that is sure to remain long in my memory.
Dubai City Tour
Types of tours to choose from with Seawings Dubai:
The Seawings Dubai experience consists of snapshot tours, signature tours or destination experiences.
Seawings Snapshot tour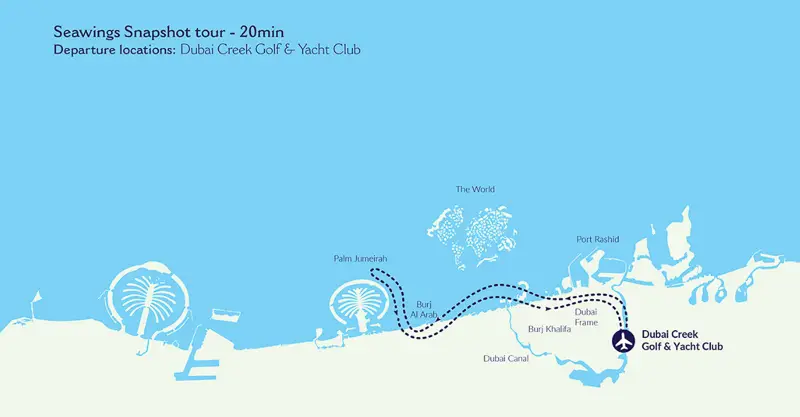 This is the most popular Seawings Tour, most likely because of the cost and is a way for those who'd like to experience Dubai from the air, but are pressed for cash or time. It provides the highlights of the flight in a snapshot, a little taste if you will.
This flight lasts 20 minutes as you takeoff over Dubai Creek, focusing on the city's most famous attractions and iconic landmarks — passing by the Burj Khalifa, Burj Al-Arab and Palm Jumeirah.
Seawings Signature Experience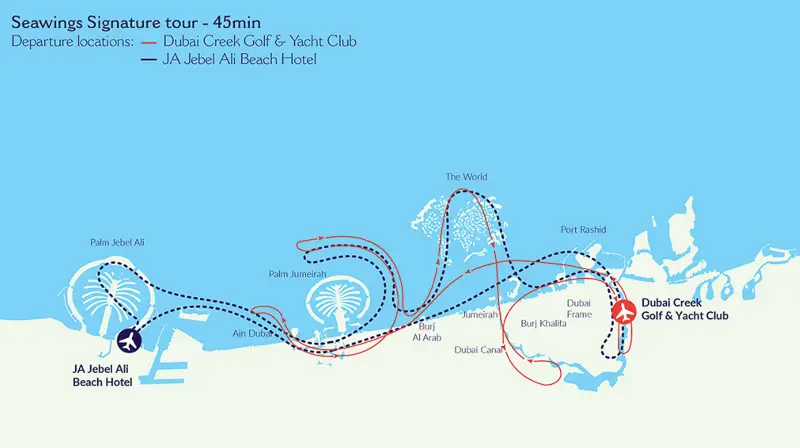 This tour is the flight I got to experience.
How long is the trip?
The 45 minute Seawings Signature Tour is designed to provide sweeping views and breathtaking sights of all of Dubai's iconic attractions and major landmarks ­­­— the Burj Khalifa, Burj Al Arab, Palm Jumeirah, Ain Dubai and the World Islands.
I got to appreciate firsthand why the Signature tour is the best Seawings sightseeing tour soaring above and alongside Dubai's skyscrapers, beaches and architectural spectacles throughout.
Seawings Destination Experiences
While the other Seawings Tours consist solely of a scenic flight, the 45 minutes Seawings Destination Experience adds a specially curated experience to your flight and allows for travel outside of Dubai to explore 25 destinations around UAE. Often you can add an experience, dining option or leisure activity when you reach the end destination, the likes of hopping on the fastest roller coaster in the world at Ferrari World or the world's longest zipline at Jebel Jais.
Your options for a Seawings Destination Experiences include:
·      Seaplane tour to Ras al Khaimah & zip line
·      Seawings signature & heritage tour
·      Seawings seaplane tour of Abu Dhabi & Ferrari world
·      Seawings Abu Dhabi seaplane tour and private discovery tour
·      Seawings Dubai to Abu Dhabi
·      Seawings Abu Dhabi Classic Tour
This aerial tour provides the ultimate view over Abu Dhabi and the surrounding Arabian coastline. You also get unmatched views of the Emirates palace, Yas Island, and the contiguous mangrove forests. This tour also gifts you an all-day pass to Ferrari World and return transfers to Dubai in a comfortable car.
Seawings Dubai ­— Things to know before you go:
The opening hours are from 9 AM to 6 PM daily.


The aircraft is covered and climate controlled so the weather outside does not make a difference to the experience. But, it is advisable to check the weather report for visibility rates before booking your ticket. A hazy day or one with a sand storm can unsettle the view.


In winter, during the months from November to February, fog can be an occurrence in the

morning

hours. I would recommend an afternoon slot during these months.


The flight will only proceed if weather conditions are suitable with the decision to fly made by the main pilot. In case of any cancellation due to bad weather, you will be notified and are able to get a full refund or reschedule your flight to another day.


An orientation and safety briefing is given just before getting on-board. This will help prepare for what do expect during your flights.


Take off is from either the Dubai Creek Golf and Yacht Club or the Jebel Ali Golf Resort.


A complimentary bottle of water can be found in the seat pocket on every flight.


The flights are operated on a shared basis, with the number of passengers varying from 2 – 9, depending on the day. A private charter is also available.


If you're apprehensive about the safety of the flight, the Dubai Seawings seaplane tour is treated like any other flight, with rules and regulations adhering to the protocols of the Dubai Civil Aviation Authority.


At check-in you are required to show some sort of identification such as passport for verification.


Tickets are free for children under 2 and a discounted rate is applicable for those aged 2 to 12.
Speaking of kids, I'm almost certain the young ones will enjoy this flight as much as I did and a seaplane flight is certainly one of the best things to do in

Dubai with kids

.


You are asked to be at the departure office/location 45 minutes prior to departure time of the flight. Timings are strictly adhered to as all flights in general, so be sure to arrive in time.


The Seawing seaplanes fly at a height of over 1500 feet above ground.


Buying tickets online is a safer bet in order to secure guaranteed tickets.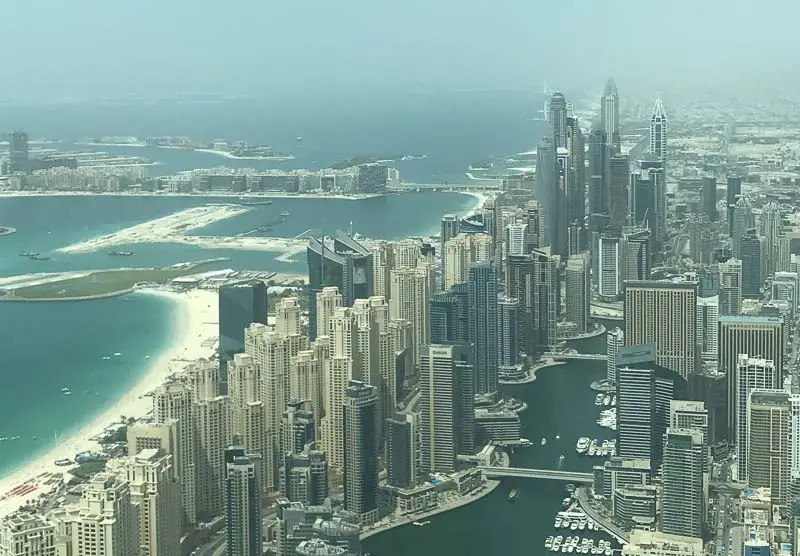 Cost of a Seawings Dubai seaplane tour
The price depends on your journey of choice.
Here are all the options and their respective price per person (inclusive of VAT):
Adult: AED 940 (USD 255)
Child: AED 798 (USD 216)
Adult: AED 1,780 (USD 484)
Child: AED 1,512 (USD 411)
Seawings Abu Dhabi Classic Tour
Adult: AED 998 (USD 272)
Child: AED 848 (USD 231)
Ras Al Khaimah To Dubai Seaplane Tour
Adult: AED 1,295 (USD 352)
Child: AED 1,100 (USD 299)
Seaplane Tour Of Abu Dhabi & Ferrari World
Adult: AED 1,795 (USD 488)
Child: AED 1,525 (USD 415)
Abu Dhabi Seaplane Tour And Private Discovery Tour
Adult: AED 1,795 (USD 487)
Child: AED 1,525 (USD 415)
Abu Dhabi To Dubai Seaplane & Heritage Tour
Adult: AED 2,495 (USD 698)
Child: AED 2,115 (USD 594)
Seawings Signature & Heritage Tour
Adult: AED 2,495 (USD 678)
Child: AED 2,121 (USD 565)
Seaplane Tour To Abu Dhabi & Ferrari World
Adult: AED 1780 (USD 484)
Child: AED 1512 (USD 411)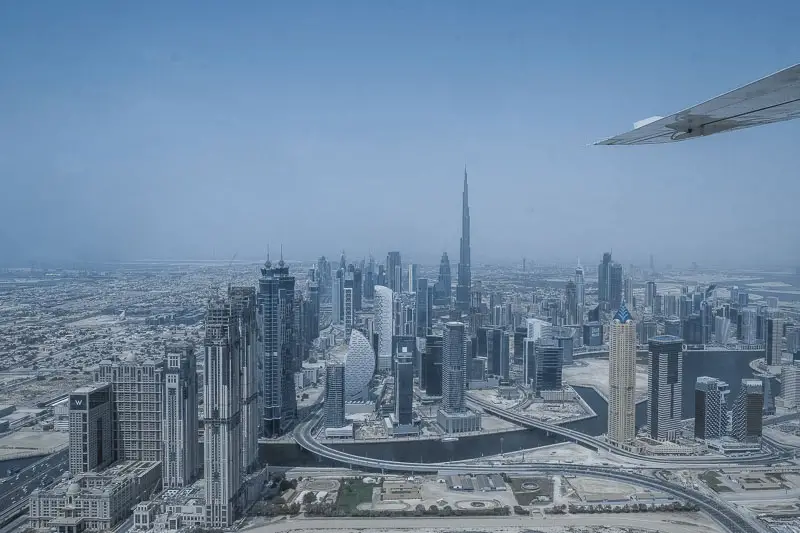 Seaplane Seawings Dubai offers
A seaplane Tour is a once-in-a-lifetime experience.
Thank you to Seawings Dubai for the adventure and an entirely new perspective of the city. Everything from the pre-flight handling to flying onboard a seaplane to the unique perspective of Dubai's iconic sights left me with the biggest smile on my face and made this, hands down, the best thing I've done in Dubai.
If you want to experience this for yourself too, check out the options, special offers, price and availability here