How to Plan the Perfect [Stopover] Day in Dubai: Itinerary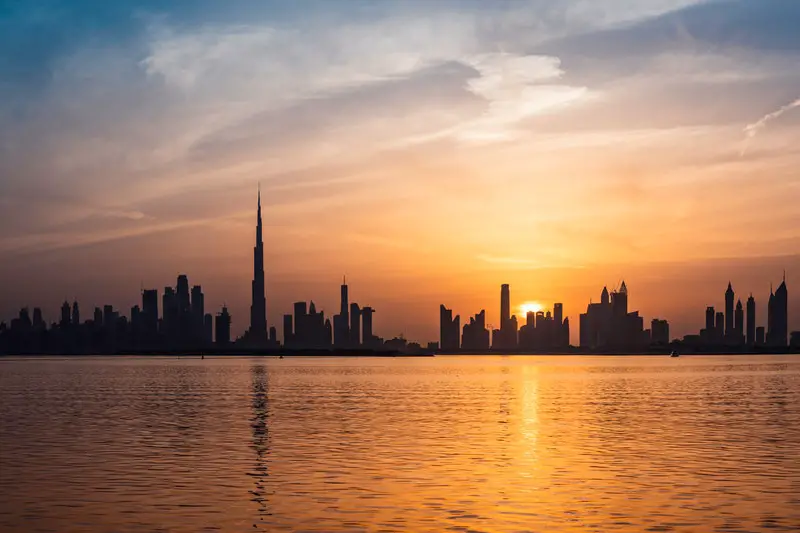 The city welcomes over 16 million tourists each year. Rightfully so. There are loads of interesting sights, amazing experiences on offer, places to visit, and things to do in Dubai. However, if all you have is just one day in Dubai (or a couple days), it would be hard enough to see all of the points of interest in Dubai during this short amount of time.

That said, you can still get an awesome introductory glance of Dubai in a day, provided you have a well-crafted Dubai itinerary in place.

So continue reading this travel guide which aims to enlighten you on the attractions and activities you don't want to miss on your 1 day Dubai stopover trip.

As well as must-sees when in Dubai, it also guides you on how to reach here, how to get around, and some dining and shopping suggestions.
ONE DAY IN DUBAI ITINERARY:
HOW TO MAKE THE MOST OF YOUR STOPOVER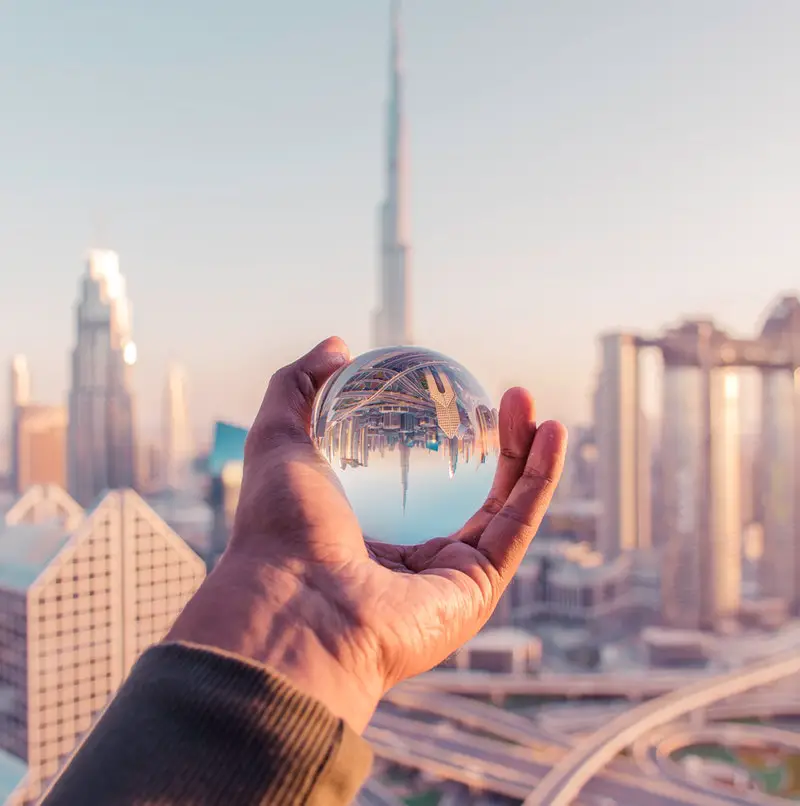 So you've landed at Dubai International Airport (DXB), now what?
Well, first up:
GETTING FROM DXB AIRPORT TO THE CITY CENTRE 
Dubai International Airport is the region's main airport, catering to international passengers around the world.
Located at a distance of under six kilometers from the city center, the airport provides easy access to your hotel or favorite attractions.
To get to the city from the airport, you can choose the super-efficient public transport system (including bus, metro or taxi) operated by the Dubai's Road and Transport Authority (RTA) or pre-book a private transfer with or without a driver. The latter is particularly useful if you're traveling with kids and/or have a lot of luggage.
Tips for using public transport in Dubai
As cash is not accepted in the metro and on buses, purchase a NOL card (Red) for your onward journey. You can get this card from strategically placed vending machines at the airport or across many public places. 




It is important to note that the red card is valid for single use only. However, if you're planning on using public transport to get around the city, you can opt for a

full day

Red Ticket pass, which allows you unlimited rides at a nominal rate.



The Dubai Metro is probably the most convenient of all the public transport options. It's automatic, driver-less and super swift too. Subject to your location in Dubai, you can board a metro that runs on the red or green line from the airport's Terminal 1 or Terminal 3.




The metro service is not available at

night

.



If you're taking the bus, look for the bus number which leads you to your hotel or location in Dubai. They are available every seven minutes during the day time and every 20 minutes at night. The prices vary depending on your location.





While taxis are most ideal for the first time visitor to Dubai and for people traveling in large groups or with lots of baggage, it can get expensive.





All of the Dubai's public transport including the metro, bus, and cars are air-conditioned and maintained to the best order with comfortable seating, thus ensuring a safe and comfortable ride. 
Tips for using private transfers in Dubai
Book your private transfers well in advance of your arrival date. Make sure that you get it done through a reputable travel service provider.





If you're planning on driving during your time in Dubai, don't forget to carry your international driving license.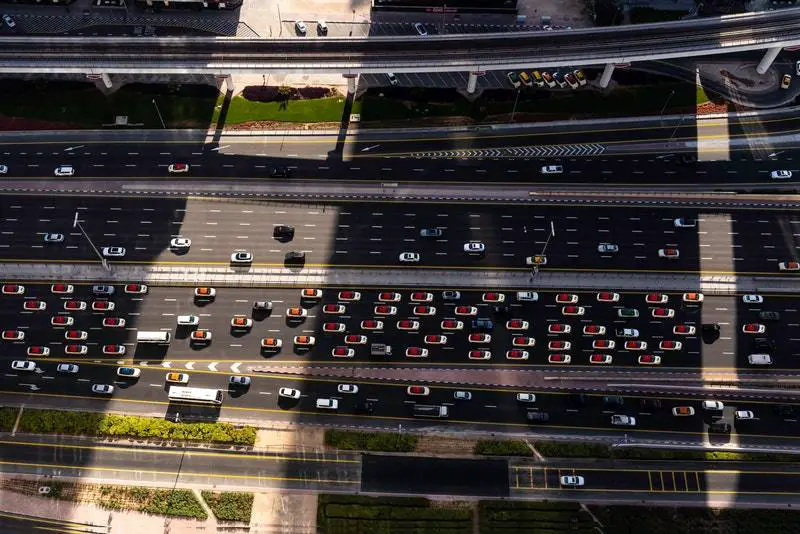 Feeling hungry?
THE BEST PLACES TO EAT IN DUBAI
Dubai is a melting pot of culture, so what's more exciting about the city's culinary scene is that it not only allows you to savor traditional Arabian foods, but also specialties from all over the world.

Cuisine choices include Asian, American, Chinese, Egyptian, Mexican, Italian, Indian, Nepalese, and more. From award-winning Michelin-starred restaurants to incredibly affordable cafes and street food, you'll definitely be spoiled for choice.
>> Maybe some camel meat and other weird foods around the world?
Breakfast / Brunch
You'll have a lot to cover in a day, which means you'll need lots of energy to kick off and sustain your big day. 
However, where to dine is largely depend on your budget and Dubai travel itinerary and plan. For instance, if you're planning to start your sightseeing adventure with a desert safari or a hot air balloon ride at sunrise, this mostly includes a lavish breakfast.
Alternatively, if you're somewhere in the city centre, consider one of these surefire spots, the likes of McGettigans (Downtown), Common Grounds (Mall of the Emirates), Sarabeth's (City Walk) etc.
Want to add a lavish twist to your breakfast experience?
Head over to Burj Al Arab's Al Muntaha Restaurant for an extravagant breakfast brunch. The bonus is that it allows you to simultaneously strike off one of the must-see attractions on your travel program. 
Lunch
We would recommend that you grab a bite from a café or restaurant that is closest to your sightseeing spot. 
Downtown Dubai


Choose to dine within Dubai Mall's extensive food court or opt for options like Claw BBQ, Doors Freestyle Grill (Steak & Seafood), Ewaan (Indian), Social House (Sushi), amongst others.




Palm Jumeirah


Kaleidoscope (Atlantis The Palm), Biryani Street (Golden Mile Galleria), and Guylian Belgian Chocolate Cafe.




Dubai Creek


Arabian Tea House (Al Fahidi), Sherlock Holmes English Pub (Arabian Courtyard Hotel), and Boardwalk (a waterfront restaurant with Mediterranean cuisine).  
Dinner
Our suggestion is to make it as dreamy as possible. How you ask? Well, here are a couple of ideas to get you started.
Take an unforgettable dinner cruise on-board a traditional wooden dhow.
Pre-book a table to dine with a view at one of the city's posh restaurants or hotspots, such as Pierchic Dubai (with fantastic views over Palm Jumeirah and Burj Al Arab), Armani Dubai (located inside Burj Al Arab), TOMO (at Raffles Hotel), and Al Dawaar Revolving Restaurant (Hyatt Regency Dubai).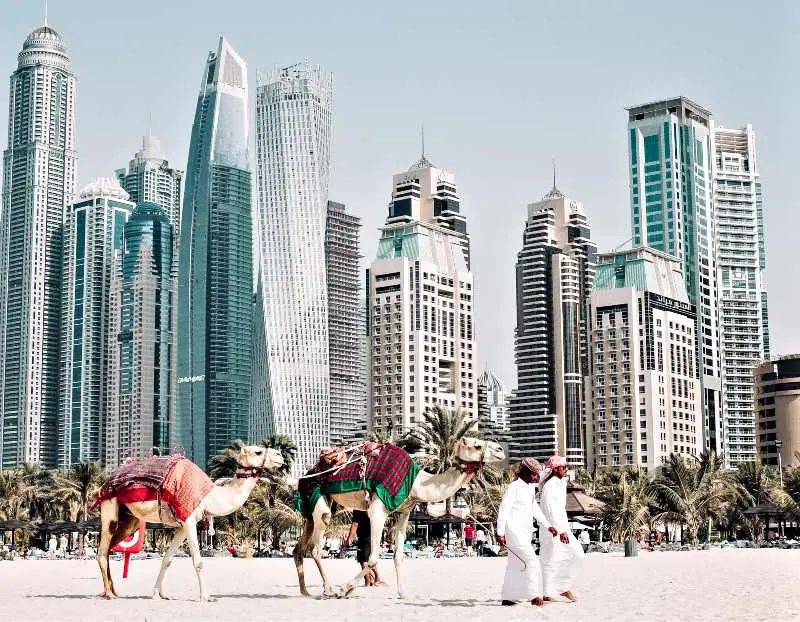 Let's get to things to do in Dubai…
PLACES TO VISIT IN DUBAI ITINERARY
As this section includes the best attractions and experiences in some of the Dubai's top neighborhoods, this helps you to tailor an itinerary as per your specific interest, available time etc.
Downtown Dubai
This is the heart of modern Dubai with attractions such as: 
Burj Khalifa


If you're a first timer, you can't really skip the architectural marvel that is the Burj Khalifa, which is also the world's tallest building. While a selfie against this mammoth structure is a must for any Dubai trip, you can also pay a visit to its

stunning observation decks

on the 124th and 148th levels. A swift elevator ride, a multimedia presentation on Dubai's past, and of course, the most striking city skyline views are all part of this experience.




The Dubai Mall
The world's biggest shopping mall is beyond a shopping haven with over 1200 outlets. It's also one of the region's ultimate leisure destinations with attractions including Dubai Aquarium and Underwater Zoo, KidZania, VR Park, and Dubai Ice Rink. And one free yet massively spellbinding attractions that you should not miss here is the Dubai Fountain Show which shoots out water at astounding heights in tune to awe-inspiring music and

light

.
Old Dubai
Get ready to step back in time as you enter the Old Dubai which is a complete contrast to the city's modern districts. 
Bastakiya Quarter


The city's oldest residential quarter holds a string of well-preserved old wind-tower-topped structures which once served as the dwellings of merchants who came here from the Iran's Bastak region. Most of them are now converted into museums, art galleries, cafes etc. One of the must-experiences among them is Dubai Museum housed within the region's oldest fort, Al Fahidi Fort.




Gold Souk


Of all the traditional bazaars in Dubai, Gold Souk in Deira's Al Ras region is a must-experience even if you don't have any plan for shopping. After all, its entire labyrinths and streets are dedicated to shops and stalls selling gold jewellery.




Abra Ride


A ride aboard the motorized abras or water taxis is the cheapest way to experience Dubai Creek, the historic salt creek which divides the city into Bur Dubai and Deira. 
The Palm Jumeirah
No preface is required for this man-made island in the shape of a palm-tree with a crescent on the top. If you wish to see this Dubai hotspot in its entire grandeur, take a helicopter ride or sign up for a Sky Dive adventure.
Apart from this, it also includes this popular attractions: 
Atlantis Aquaventure


Located within the palatial-style Atlantis, The Palm Hotel, it's a favorite of kids and grown-ups alike, with attractions such as Aquaventure Waterpark, Lost Chamber Aquarium, Dolphin Bay, and Sea Lion Point.
Jumeirah District
This represents the charming coastline which extends parallel to the glitzy Sheik Zayed Road. The region is iconic for its sights including:
Burj Al Arab Hotel
This majestic sail-shaped structure which sits on a man-made island is considered the world's only seven-star hotel. Not to mention, it drips unrivalled luxury and extravagance at every turn.


Jumeirah Beach
A white sand beach, considered one of the best in Dubai.


Madinat Jumeirah


Modelled to resemble an ancient Arabian citadel, Madinat Jumeirah comprises four super luxurious hotels along with several dining choices and a souk, knows as Madinat Souk.




Wild Wadi Water Park
A popular way to cool down at this

outdoor water

theme park.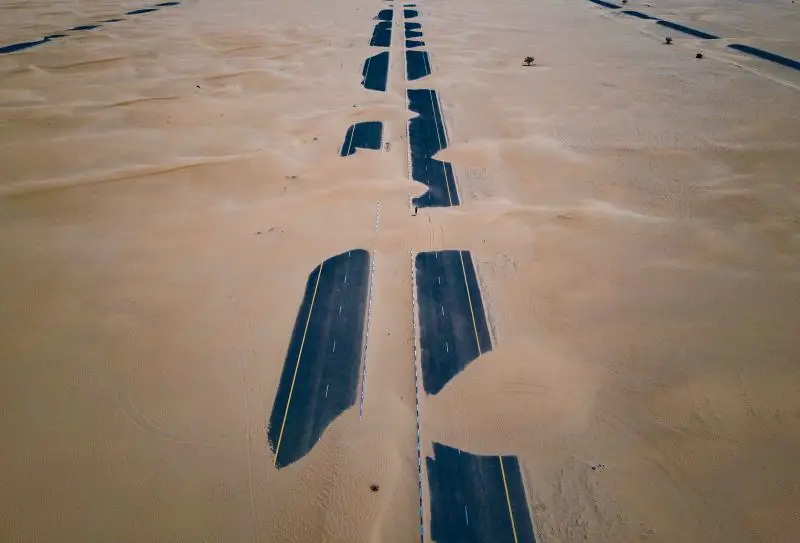 Don't miss….
OTHER THINGS TO DO IN DUBAI ITINERARY
Spending a couple extra 2-3 days in Dubai? Check these out:
Desert Safari
A Dubai trip is not complete without admiring its untouched desert charm. If you're traveling to Dubai for the first time, make sure that you somehow squeeze in desert safari to your Dubai travel program. While you can choose from morning, evening or overnight safari, it's ideal to go for a morning desert safari Dubai experience as it lasts for only two to three hours. 
Dhow Cruise
Whether you want to break away from the city crowd or just want to culminate your Dubai sightseeing in the most exciting way, an evening dhow cruise along the super glitzy Dubai Marina or the atmospheric Dubai Creek makes a great alternative. Wonderful views, sumptuous food, and live entertainment like the Tanura show are all highlights of this dinner cruise.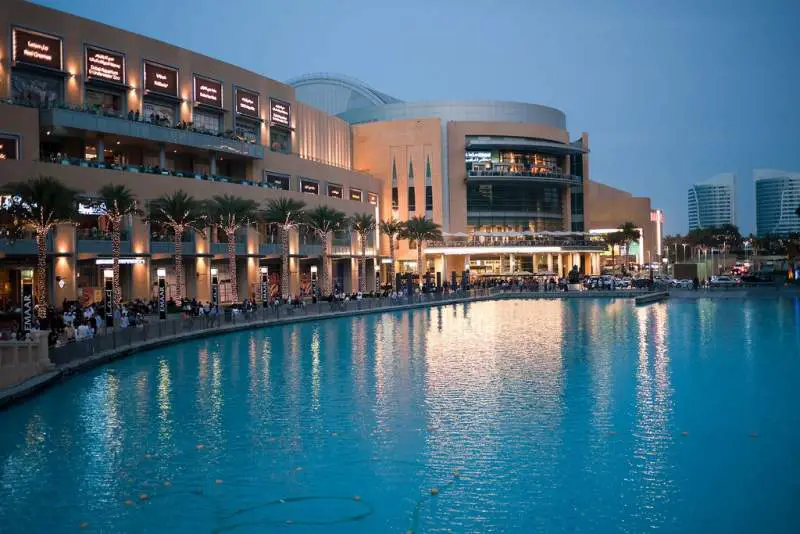 No visit to Dubai is complete without some shopping, am-i-right?
BEST PLACES FOR SOME QUICK SHOPPING IN DUBAI
Dubai, being the shopping capital of the Middle East, means it's where you can easily put together your much coveted shopping program. So no matter if you're looking for unique souvenirs, limited edition apparels, or top of the range gadgets, the city's close to 70 shopping malls plus several traditional Arabian bazaars promise wonderful options meant for every preference and budget. 
For some serious luxury shopping in Dubai, our top picks are The Dubai Mall, Mall of the Emirates, Ibn Battuta Mall, and Le BHV Marais (City Walk).
Now, if you're looking for shopping options in the mid-range or extremely affordable spectrum, the shopping centers and souks (including Perfume Souk, Textile Souk, and Spice Souk) across Bur Dubai, Deira and Karama won't disappoint you.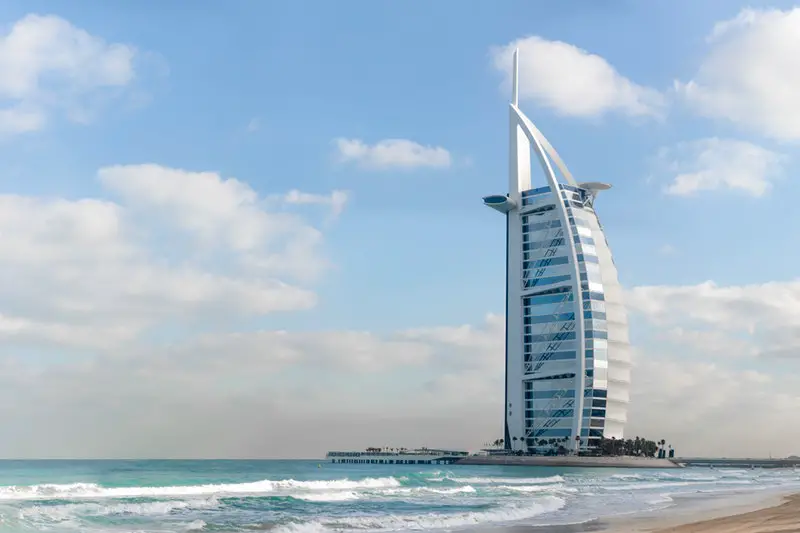 CONCLUSION 
While one day in Dubai is not adequate to completely experience this city, you'll certainly be able to hit all of its hot spots with our exclusive travel guide.
So don't waste time; go ahead and create your ideal one day in Dubai itinerary!