11 Helpful Tips for Surviving a Flight Delay or Cancellation (+ How To Avoid!)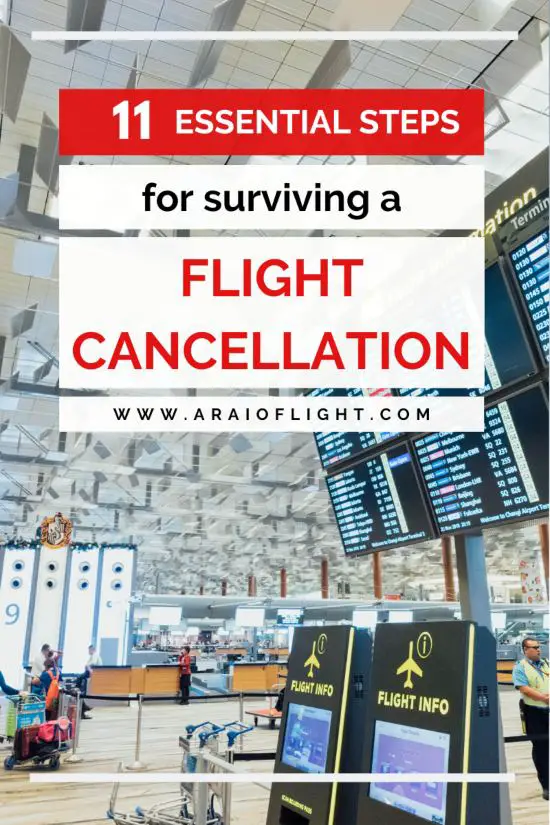 Travel long enough and you're bound to come across a flight that has been delayed or cancelled. It's just a part of the travel experience, along with the unpredictability of it all. And while there's not a whole lot that is in your control when trying to avoid something like this happening to you, there are a few things you can do in the unfortunate incident to make your experience (and life) a little easier and less stressful.

You don't have to wait until you're stranded at the gate to have a plan of action. Remember… a minor setback does not have to mean a major travel disaster. 
Taking a few extra precautions to avoid delays, knowing your air travel rights as a passenger, and arming yourself with insider travel tips can all assist you when the situation calls for it. 
Read on for my easy-to-follow step guide to maximize comfort, compensation, and ultimately get your plans back on track.

Save it for later, and you'll always be prepared.
But before your next flight, read and remember these:
>> FLYING TIPS:
13 things NOT to do on a plane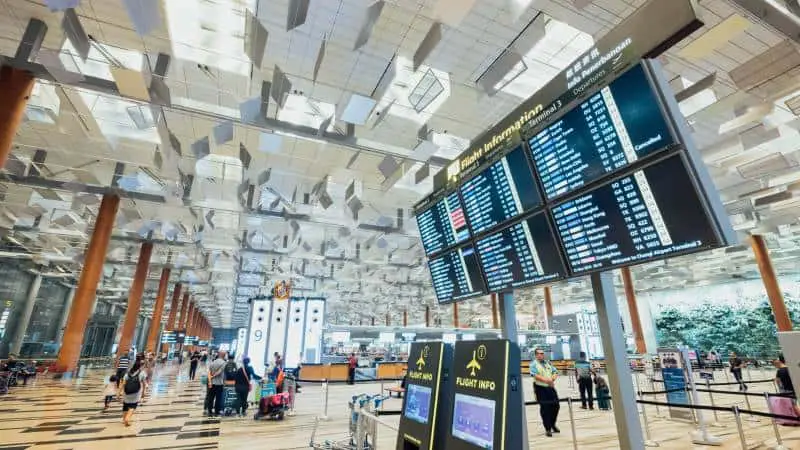 First up, let's look at the…
Reasons why flights are delayed or canceled
Getting flights in the air and back down involves a complex network of operations across various locations, both on-ground and mid-flight. Several things could potentially go wrong be it connection issues, air traffic, problems with the plane, or at the airport.

There is an array of reasons why an airline would ground a flight that was set to take off. Here are the main ones:
1. Bad Weather
This one is probably the most obvious reason and certainly one of the most common reasons for flight cancellations. Extreme weather conditions, thunderstorms, hurricanes, snow storms, and the like keep airplanes grounded until the conditions improve.

This is done for safety reasons as it is essential to have a safe flight. Airlines are typically not penalised for delays or cancellations due to inclement weather or natural disasters, so if you're hoping for compensation, this is where travel insurance will have to step in.

In the case of extreme weather conditions, airlines usually make some sort of announcement, so it's always best to keep a close eye on your flight status.

Even though it may be perfect conditions at your point of origin, the weather at your destination will also play a big role in determining whether your flight will proceed as planned.
2. Security
Airlines take security seriously, seen by the heightened security measures, and any security risk increases the likelihood of a delayed or cancelled flight.

What is classified as a security risk varies from the mundane to the more critical. From slow security lines, to bomb scares, threats, and attacks.

It may be inconvenient, but if there is a genuine concern around the security of the flight and the safety of its passengers, the plane will be grounded as airlines don't take any risks.
3. Mechanical Issues
Airplanes are complex and sensitive and every part of the plane needs to be in good condition to make the journey incident free, while facing extreme conditions along the way.

Anything broken or even remotely out of sync in the aircraft will call for either a delay while being fixed or in extreme cases, a cancellation.

Ideally, the delay will not be too long while a replacement part is brought in and the plane is fixed, but often this may be cause to cancel the flight entirely. Although annoying, remember it is better to fly on a plane that is without fault, albeit somewhat delayed.
4. Computer Glitches
Computer glitches are one of the most common reasons for a delay. Flight schedules and patterns depend on a large number of algorithms and computations. Even a slight glitch in the systems can throw the entire system off-balance, affecting flights as a result, until this is fixed.
5. Lack of Passengers
It is common knowledge that flying a plane is expensive. In addition to the fuel, staff and maintenance costs, there are several other fees that airlines have to make for the use of airports. In the case of barely any passengers, flights get cancelled as it is just not economically viable to continue. Those who were on the flight get moved over to alternative flights, usually with some form of compensation.
6. Lack of Crew or Pilot
This is not common, but in the case of a staff strike or ill planning, there is the possibility of a flight getting cancelled.

Similarly, if the pilot crew are not in good flying condition to ensure the safety of the passengers and crew onboard, and if a reserve pilot is not available, the flight won't continue as scheduled. 
Ok guys, now that you have an overview of the reasons for a flight being delayed or cancelled, let's get into what to do when something like this happens…
to you.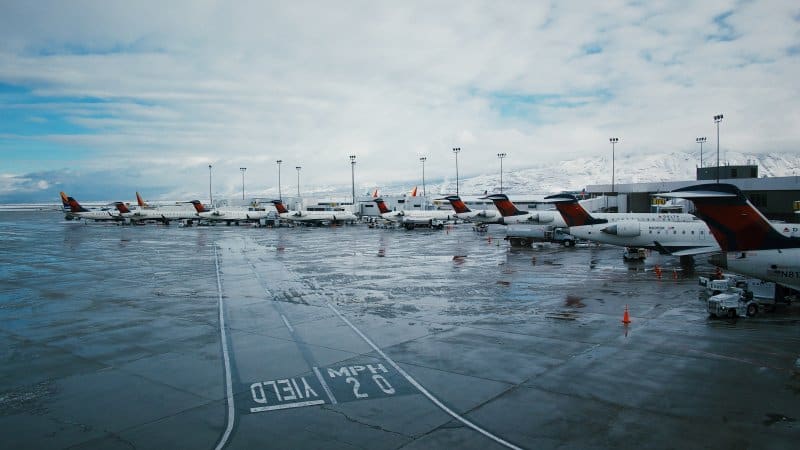 What To Do if Your Flight is Canceled or Delayed
The Federal Aviation Administration (FAA) considers a flight to be delayed when it is 15 minutes later than its scheduled time. A cancellation is when the airline does not operate the flight at all for whatever reason.

When this happens to you, I know you're going to have a number of unanswered questions. 
What to do if your flight is cancelled? Does the airline compensate you of some sort? How do you know if you're entitled to compensation? What happens if you miss your connecting flight? And what exactly is an extraordinary circumstance?
Continue to find out exactly what you should do if you're stranded because of a flight delay or cancellation and all the answers to your most common travel questions.
First up…
1. KNOW YOUR RIGHTS AS A PASSENGER
There was a time when airlines were legally required to transfer passengers on another airline if it could get them to their destination sooner. 

This no longer applies, but the majority of airlines have what is called a Contract of Carriage. This legal document details what you, as the passenger, are entitled to in the event of a flight delay or cancellation. There is no universal rule book and each airline has their own set of policies. You may be entitled to discounts, refunds, food vouchers, and hotel stays, so read up on those terms and conditions at the time of booking. Admittedly, these documents are often not easy to understand, given the legal jargon.
In general: while airlines are not obligated to compensate passengers for delays and cancellations based on federal regulations, they will often provide you with a seat on the next available flight on that airline or provide a refund. You may also be able to get rebooked to your final destination with another airline. This, as many carriers aim to help inconvenienced passengers as part of their customer service or loyalty programs. 
Wait there's more…
2. ESPECIALLY IF YOU'RE FLYING IN EUROPE
You have much more rights when flying in Europe or flying aboard a European airline.

Regulation EC 261/2004, details the rules of long delays and cancellations as follows:
Delays of less than 3 hours:
If your flight is delayed for less than 3 hours, no compensation is entitled from the airline but may be provided with a food and drink voucher.
Delays of more than 3 hours:
If your flight is delayed and you arrive more than three hours later than your original arrival, you may be entitled to compensation. Additionally, a hotel stay of one or more nights if the situation calls for it.
Delays of more than 5 hours:
If your flight reaches its destination more than 5 hours later than scheduled, or if you were denied boarding because of overbooking, you can opt for a refund on your ticket, or if you have already started your journey, you may be entitled to a return flight at no extra cost.
If your flight is cancelled the airline must also offer the following compensation options under the EU law.
Refund the cost of the tickets for the part of the journey you were unable to complete.

Rebook your journey so that you can reach your destination as soon as possible.
You are entitled to the appropriate assistance in this situation, which could include meals, refreshments, hotel accommodation and free phone calls depending on the wait and the distance of the flight.

Return home and book a new trip at a later date.
You have the right to request that the new journey is on the same terms as the original journey.
The amount of compensation you're entitled to ranges between €250 – €600 and this is dependent on:
The duration of the delay
the distance of the flight
when you were informed of the delay
the departure and arrival times of the rescheduled flight
It's only for EU-regulated flights
If your flight is within the EU and is operated either by an EU or a non-EU airline
If your flight arrives in the EU from outside the EU and is operated by an EU airline
If your flight departs from the EU to a non-EU country operated by an EU or a non-EU airline
EU includes the 27 EU countries, as well as Switzerland, Norway, Iceland, the UK, Iceland, Norway, Réunion Island, Guadeloupe, French Guiana, Martinique, Mayotte, Saint-Martin, the Azores, Madeira, and the Canary Islands. It does not include the Faroe Islands, the Isle of Man, and the Channel Islands.

So for example, a delayed flight from Sicily to the USA qualifies, regardless of the airline.

However, on a New York to Paris flight, you are entitled to compensation flying Finnair or Air France, but not on Emirates.

For more details, check out the EU Airline Compensation Rights page.
>> Related reading:
Complete list of Schengen countries 2023
The U.S. Department of Transportation (DOT) does provide compensation in some instances that include:
Delayed and Canceled Flights
Overbooking
Baggage loss, delays and damage
Airlines that operate out of the Middle East like Emirates, Etihad Airways, and Qatar Airways, to name the main ones, are not required to compensate passengers like the airlines regulated by the DOT and EU.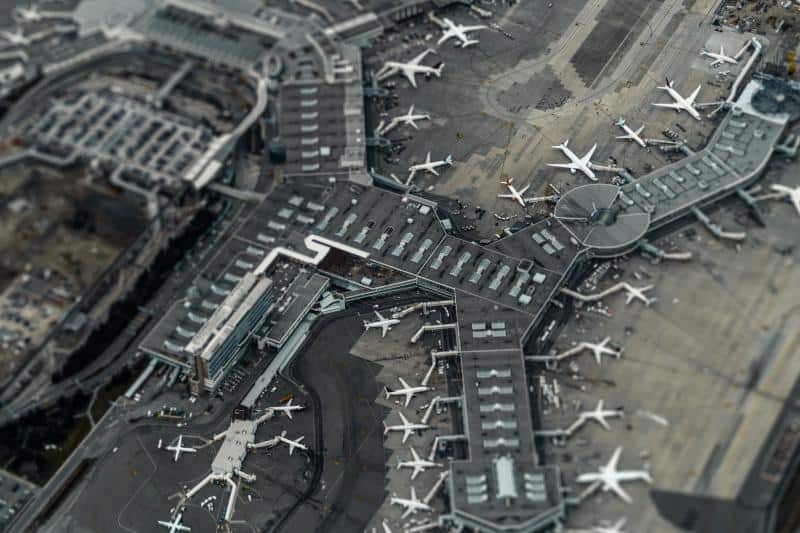 3. FIND OUT THE REASON FOR THE FLIGHT DELAY OR CANCELLATION
It is important to note that your right to compensation may not apply if the cancellation is attributable to issues that are out of the airline's control.

That is to say, if the delay is as a result of extraordinary circumstances that include extreme weather conditions, strikes, unforeseen security measures, air traffic control problems or similar. 

That is why the reason for the cancellation or flight delay matters. 

Also note that you may also not get any compensation if you got notified of a cancelled flight two weeks before departure date and offered a similar flight instead.

…. And wait before making any complaints. If your flight has been delayed for less than three hours, complaining will not be given any sympathy and is often just a waste of time.
It helps a lot if you…
4. STAY PROACTIVE
As soon as you hear of the issue with your flight, contact the airline. Try to get as much information as they will let out. And while you're at it, ask them to rebook you onto another flight.

This is one of the most important things you can do. The quicker you make contact, the more likely you are to get a fairly good seat on a flight that works with your schedule. Also, there should not be any fee charged on rebooking.

The airport agents and gate staff are usually swamped, so it might be a better option to call the airline's customer service. This option could be quicker and easier than waiting and dealing with a long line of agitated customers in-front of you.

Another option is utilising the airline website or using its affiliated app.

Use social media, by reaching out to the airline on twitter or facebook, to get the airline's attention when you are in need of assistance.
Also, don't forget to…
5. REMAIN CALM AND COURTEOUS
It is a given that flight delays and cancellations come with added stress and frustration. On top of that the uncertainty and waiting around wondering what is to happen next.

It can be a messy affair, but remain calm and patient to avoid any additional suffering. Smile, greet, and be nice to those working for the airline — it is not the fault of the gate staff, the flight attendant or pretty much anyone else working for the airline. This has the added benefit of increasing your chances of getting rebooked onto another flight and getting to your destination as soon as possible.

If you can get into an airport lounge, that would be ideal. Use it as a space to assess the situation, gather your thoughts, charge your phone, get something to eat, and then make some decisions.
6. CHECK YOUR CONNECTING FLIGHT STATUS
As explained above, in most cases, the airline will put you on the next available flight to your destination. However, you may not hear anything until the very last moment and suffer undue anxiety in the meantime.

It is worth remembering to call or check customer service for an update on the status of your booking.

Also, while at the airport, keep an eye on the messaging boards for updates on flight information. It is part of the airlines obligation to keep passengers fully informed.

In some cases, an airline may tell passengers that the flight delay will last three hours, only to suddenly announce over the P.A. system that they'll be boarding soon. A delayed flight can quickly become "undelayed" so be prepared if that happens and don't wander off too far.
7. ADJUST THE REST OF YOUR ITINERARY
If you have a hotel or tour booked at your destination, send some emails and let them know about your delayed/cancelled flight status. Similarly if you rented a car let the agency know. If you have a meeting or fixed plans to be somewhere, let the other party know. 
8. MAXIMISE YOUR COMPENSATION
If you can provide evidence of financial loss and prove that the airline could have prevented it by taking 'reasonable measures,' then you may be able to claim further compensation.

Don't be afraid to ask for the compensation you feel is fair. Some airlines rely on passengers to ask for what they want as opposed to presenting them with every available option.

In the event of a mechanical delay, oftentimes meal, transportation, and lodging is covered. Ask about meal and hotel vouchers when that delay is severe. If the airline is authorised to give them to passengers and the reason for the delay is within their control, they will.

Also, don't sign anything or accept any offers until you're satisfied and considered all options, because in doing so you may be waiving your right to any further compensation down the line. 
Download the right tools

To be prepared, as you never know when a delay will happen, I would recommend using a flight tracking app like FlightAware. It allows you to track the real-time flight status of both commercial aircraft and general aviation around the world. Using this app, you get to view a live map flight track for free. 

Another valuable tool is AirHelp, allowing you to check if you may be eligible to receive a flight cancellation compensation. In the case of a delay or cancellation you can add the details of your trip, including the flight number, on AirHelp's website and if you're eligible, the company will file a claim on your behalf.
9. HOLD ON TO YOUR DOCUMENTS
When you arrive at your final destination:
— make a note of the actual arrival time at your final destination

— keep copies of all your related travel documents including your boarding pass.
It makes dealing with airlines so much easier when you have all your facts and documents in order.  

It is also important to hold on to any receipts to costs as a direct result of the cancelled flight or delay. As mentioned above, you may be able to recover expenses in this regard.
>> Related reading:
A checklist to help you prepare for international travel
Speaking of documents…
10. REQUEST AN INSURANCE LETTER FROM THE AIRLINE
If you have travel insurance, the policy is likely to take effect after a set number of hours, which would be detailed in the policy terms. You will need the airline to confirm any flight cancellations or delays in writing.

Ask the airline for a travel insurance letter as you will be required to provide the reason for the flight delay and the details of the new flight.

This letter will be used by the insurance company to check if the reasons for the delay/cancellation are covered under your particular policy when considering a claim.

And if you don't have travel insurance, maybe now is a good time to contemplate whether investing in travel insurance is a good move.
Speaking of insurance…
11. CHECK IF YOUR CREDIT CARD OFFERS TRIP DELAY PROTECTION
Don't overlook the built-in travel benefits provided by your credit card. Many come with travel protection benefits in the event of a delay and a trip delay reimbursement for delays over a certain amount of time.

The catch: You must have used your credit card to book your seat.

So get familiar with your credit card benefits and see if you may be eligible. Also, make sure to keep your boarding pass and travel documents on hand as proof of your claim for a disrupted flight.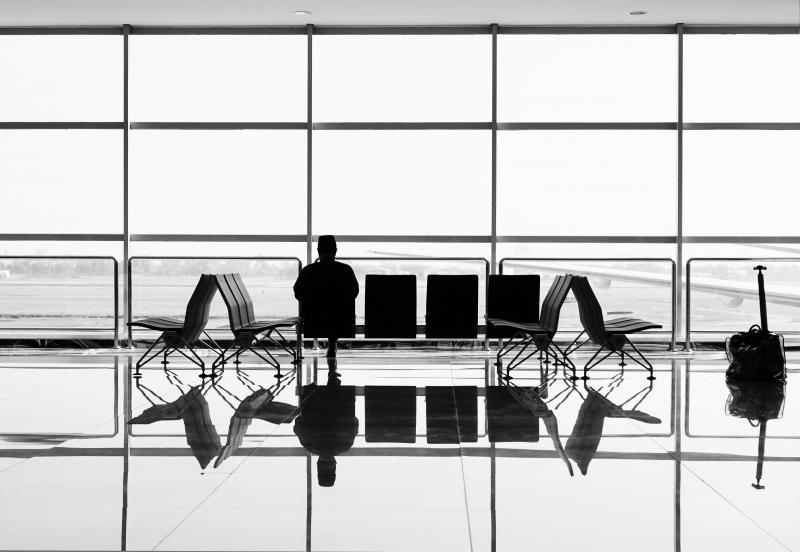 How to avoid flights delays or cancellations
As much as you try, these things happen and there's not a whole lot in your control. However, there are a few things you can do to minimise the chances of this happening to you. 
1. Pick flights earlier in the day
I know, no one likes waking up early to get to the airport before sunrise. However, being on the first flight of the day has its perks.

The earlier in the day you book your flight, the better chance there is of taking off on time. Also, early morning flights are not affected by delays that ripple through the system as the day progresses. Finally, early flights have lower demand and so are cheaper. Win-win all around.

If you book an early morning flight and it does get cancelled or delayed, you have a better chance of squeezing onto another flight later on in the day. 

Take advantage of choosing an early morning flight to avoid being caught in the "ripple" effect of airline delays.
Travel tip:
The best time of the day to fly was found to be between 6 a.m. and 11:59 a.m.
2. Book a Direct Flight
Nonstop flights are often more expensive than connecting flights, but they save a whole lot of time and hassle. Not to mention much reduced chances of a flight delay.
3. Be careful booking cheap flight fares
I love a discounted flight as much as the next person, but do be aware that choosing a discounted fare from a budget airline often comes with zero flexibility and restrictions on cancelling or changing a booking.

With less flexibility than full fares, some flight bookings can be non-refundable and attract surcharges and cancellation fees.
4. Pack your essentials in your carry-on
Once your checked baggage has been sent in you won't see it nor have access to it, so do be sure to pack all essentials in your hand luggage. This includes any essential medication for easy access in the case of long delays, lost luggage or baggage delay.

Other items worth including in your carry-on include toiletries, electronic chargers, a change of clothes, and a warm jacket.
5. Plan ahead
Keep an eye on the weather forecast if you're preparing to fly and are concerned about any delays. Knowing in advance can help you prepare alternative plans
---
As much as an inconvenience and annoyance, flight delays and cancellations are a part of the travel experience. 

Here's to hoping you don't get to go through this experience in pursuit of your love for travel. However, if you do, now you know exactly what to do and what not to do.
Happy flying,

Rai