10 Most Beautiful Spanish Islands To Visit [2023]
Planning an island escape?

Read on for a whole lot of inspiration on the best islands in Spain to visit. Soak up the sun and discover the perfect one for you on this list of beautiful Spanish islands.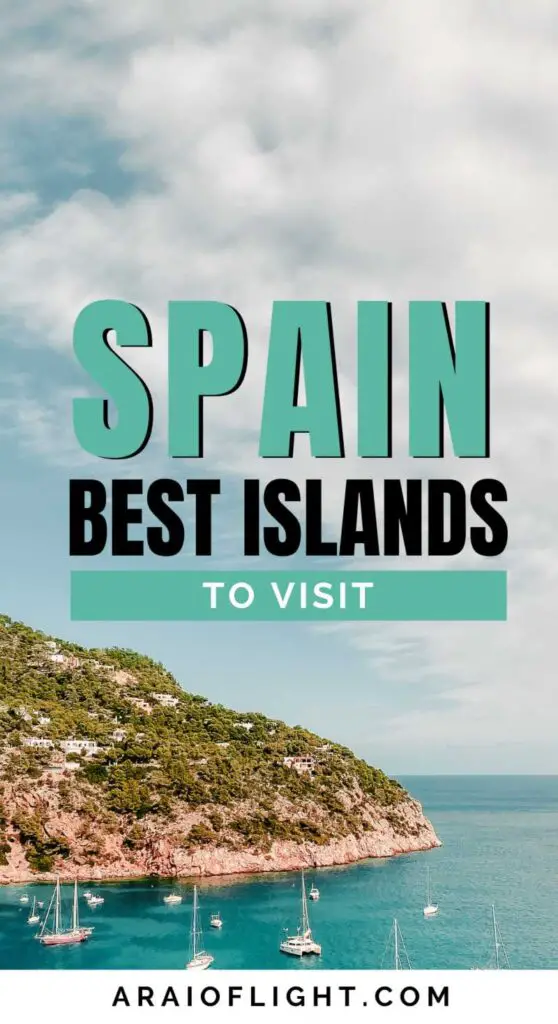 Spain is home to some of the most beautiful islands, not just in Europe, but in the world. Each island in Spain has unique features and enduring charms, with unspoiled beaches and crystal-clear waters. From the windswept volcanoes of Tenerife and the quiet charm of Islas Cíes, to the paradise island fantasies of Mallorca and the famous party scene of Ibiza, there is something for every traveller on the islands of Spain. Continue reading to discover the ultimate vacation island destination for sea, sunshine, and sand!
You may be wondering…
Does Spain have any islands? How many islands does Spain have?
Spain is home to more than 60 islands. These sun-kissed archipelagos of islands and islets are a combination of unique coastlines, world-famous enclaves, hidden havens, and undiscovered reserves.
The islands belonging to Spain are essentially found across two regions — The Balearic Islands and The Canary Islands.
Spanish islands of the Mediterranean Sea
The Balearic Islands are an archipelago of 151 islands and islets off eastern mainland Spain in the Mediterranean. They encompass a total area of more than 5,000 km2
There are four main islands off the coast of Spain and these include Mallorca (also called Majorca), Ibiza, Menorca, and Formentera.
These four islands near Spain along with the small island of Cabrera are the only Balearic Islands that are inhabited. 
Spanish islands in the Atlantic
The Canary Islands (Spanish Islas Canarias) are an archipelago in the Atlantic Ocean located off the west coast of Africa.
Take your pick of seven main Canary Islands, each varying in size and with their own unique character. These are Tenerife, Gran Canaria, La Palma, Lanzarote, Fuerteventura, El Hierro, and La Gomera.
>> Read next:
TOP 10 SPANISH ISLANDS TO VISIT → WHICH IS THE PERFECT ONE FOR YOU
From natural wonders and sun-drenched beaches to fun adventures and romantic resorts, the best Spain islands offer the ideal island holiday.
Which is the best island to visit in Spain?
1 | Majorca (Mallorca) ✔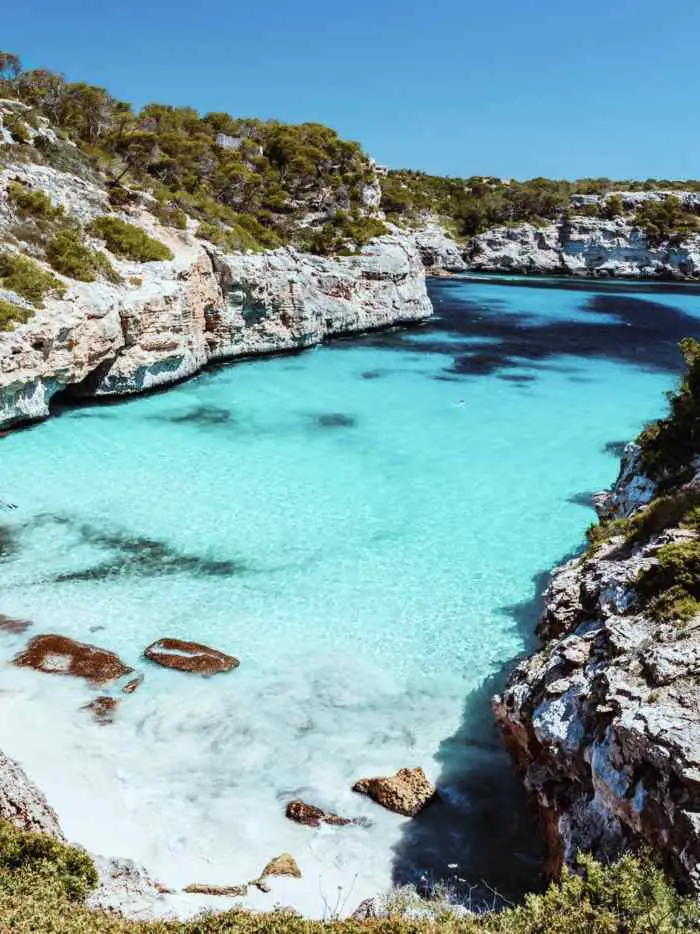 For a true Mediterranean lifestyle and a mild climate year-round, Majorca is your place. It is one of the most popular islands by Spain. And with good reason. It offers an attractive beach getaway in the Mediterranean Sea, while still being in close proximity to the rest of Europe. 
Often referred to as the crown jewel of Spain's Balearic Islands, Majorca also offers a wide range of activities, a buzzing nightlife, interesting Moorish remains, hidden coves, limestone mountains, and a whole lot of sunshine. 
Don't miss the hidden gem that is Fornalutx, a charming village found deep in the Sierra de Tramuntana. Other places worth visiting in Majorca include the Roman city of Pollentia, Cap de Formentor, Santa María de Mallorca Basílica, Cala Llombards, and the hilltop town of Deià.
The best beaches in Mallorca, among the 262 stretches of glittering shores, are S'Aramador, Es Trenc, Playa d'Alcudia, Es Caragol, and Calò d'es Moro. 
It's not all about those turquoise waters, however, in Majorca. With more than 400 kilometres of hiking routes and almost 200 kilometres of cycling routes, the island offers plenty in the way of outdoor lovers. 
The capital, Palma, makes for a great city break due to its museums, monuments, gourmet restaurants, rooftop bars, seafront promenade, vibrant city centre, and of course its historic old town. It is a good base from which to explore the rest of the island. Before you do that though, be sure to stop by at the Gothic-style Bellver Castle, the premier tourist attraction here. 
The island is well connected to the mainland of Spain and the rest of Europe by air and sea, making it a convenient and easy holiday destination to visit. The best time to visit Mallorca, the biggest island off the coast of Spain, is between March to May before the arrival of the summer tourists.
Majorca remains one of the best islands in Spain for holidays, with something on offer for everyone, and should not be missed. 
>> Be sure to check out these:
cheapest Greek islands and the best Croatian islands to visit
Keep reading to discover more of the best islands of Spain below…
2 | Gran Canaria ✔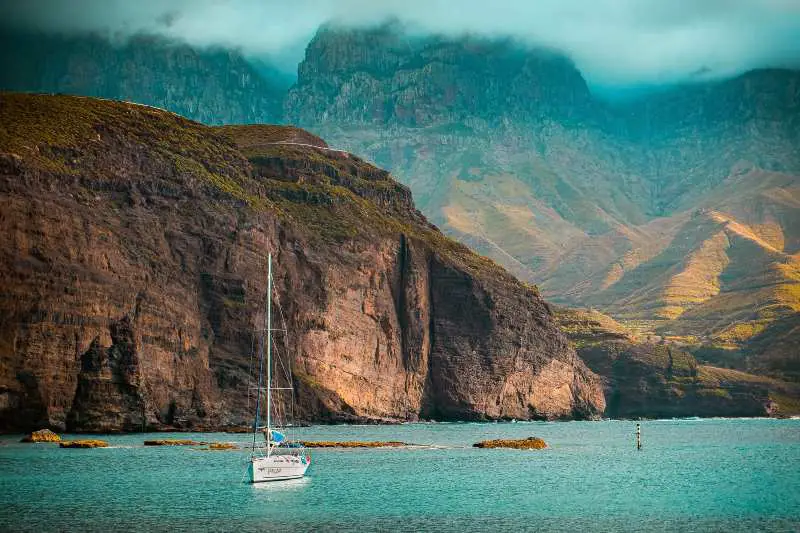 Picture an island in Spain where beautiful beaches are contrasted with impressive sand dunes and mountainous peaks. This is Gran Canaria of the Canary Islands, a World Biosphere Reserve, located in the Atlantic Ocean of Macaronesia.
This compelling island of Spain is a year round holiday destination, featuring golden sand beaches, diverse landscapes, pine forests, cave dwellings, ravines, and a picturesque coastline. 
In addition to the natural beauty, you will discover a Spanish island that has a lively and cosmopolitan cultural scene and welcoming locals. The capital, Las Palmas, is where you will find the best places to shop and eat in the Canary Islands. 
There's plenty in the way of things to keep you occupied while visiting. Highlights of a visit include Cocodrilo Park, Roque Nublo, Poema Del Mar, Palmitos Park, and Maspalomas Dunes. Explore the interior while visiting the villages of Tejeda, Firgas, Agaete, and Vegueta.
Families to the island will be happy to know that there are a number of safe beaches for swimming, resorts catering for children, water parks, and fun excursions. Gran Canaria is probably the Canary Island that is best for families.
Gran Canaria is the best Canary Island for hiking. Be enchanted by its lake side walks, cave villages, rugged mountain scenery, and unique flora. It is also a great destination for lovers of water-sports with activities that include windsurfing, water-skiing, sailing, and yachting. 
Playa de Maspalomas one of the island's most popular beaches, attracting visitors to its sand dunes and lighthouse. There are more than 80 stretched of sand across the island. Other great beaches found in Gran Canaria are Playa del Inglés, Las Canteras, Playa de Mogan, Puerto Rico, and Amadores Beach.
>> For all those amazing island and beach pics for insta, you're going to need these:
funny beach captions and beach life quotes
3 | Ibiza ✔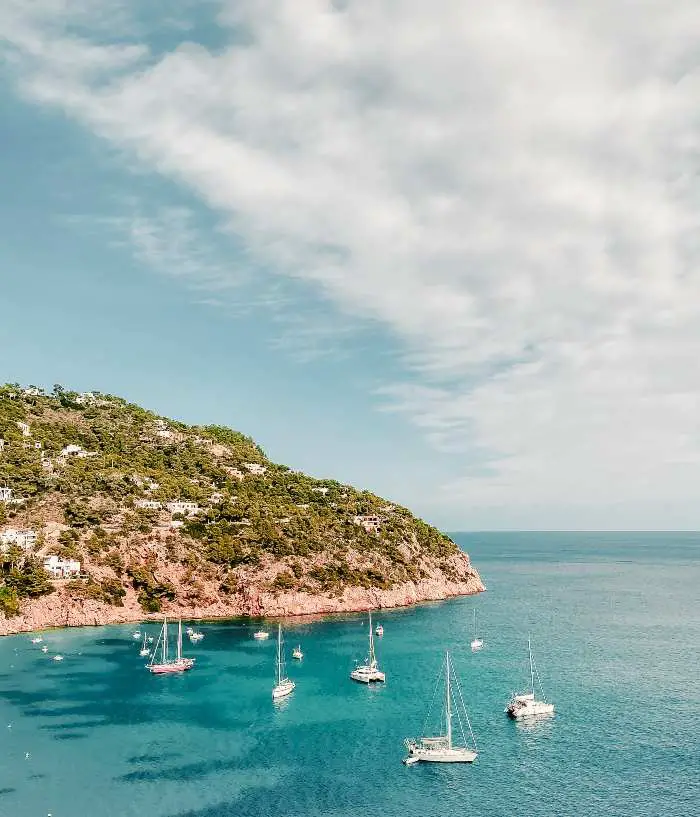 Ibiza needs no introduction and is undoubtedly one of the more popular of the Spanish islands.
Famous for its vibrant party scene and beautiful beaches, the island of Ibiza attracts hoards of tourists during the summer months and has been the go-to destination for party animals and beachgoers in Europe. Travelers from around the world visit Ibiza to experience its renowned open-air clubs, beach strips, and electronic dance music club scene. It remains one of the best islands in Spain for nightlife.
Ibiza Town and San Antonio are a handful of the most sought-after places for a fun night out. Parties don't start until after late into the evening, with bars and clubs remaining open well into the early morning. 
This Balearic Island off the eastern coast of the Iberian Peninsula is much more than a party island. Be sure to take some time to experience the bohemian vibes, natural scenery, tranquil villages, yoga retreats, and secluded beaches. Some of the quieter areas are Puerto San Miguel, Santa Eulalia, Cala Llonga, and Portinax. 
During the day, check out the carnival-style markets that sell produce, exotic foods, fresh seafood, and handicrafts.
Ibiza is home to more than 100 miles of coastline with over 50 beaches. For a relaxing day at the beach, head to Benirrás Beach. It's a stunning sheltered cove lying on the northwest coast, not far from San Miguel. Just as the day begins to turn into night, witness the setting sun to the beat of drums at one of the most famous sunset spots in Ibiza. 
The cliffs in Cala d'Hort and Cala Carbo provide the perfect vantage point from which to witness the mythical Es Vedra. The Cova de Can Marca is a beautiful cave worth seeing while visiting this popular island in Spain. 
I would also recommend taking a boat for a day trip to the nearby island of Formentera. 
Make the most of your beach holiday by staying in an extravagant villa in Ibiza. Some of these luxury Spanish villas are set in the quieter parts of the island, away from the tourist crowd, but will still give you easy access to the island's fantastic stretches of golden sand beaches.
>> Another island in Europe worth a visit is Malta.
Here are the best places to visit in Malta
4 | Tenerife ✔
Tenerife is the largest of the Canary Islands and one of the most popular beach destinations in Spain. This striking volcanic island is known for its year-round sunshine, thrilling nightlife, awesome beaches, fun activities, and traditional guachinches.
It is also best Canary Island for couples with its romantic restaurants, secluded spots, and natural beauty. 
The Spanish island off West Africa offers an array of different colored sand beaches that range from yellow to black, with popular tourist resorts being Costa de Adeje, Alcalá, Los Cristianos, and Playa de las Américas. With over 400 kilometres of coastline, you're bound to find the perfect one for you.
In addition to its beaches, tourists visit for the numerous scenic hikes. With a reputed 900 km of hiking trails, it's easy to get off the beaten path here. 
The best way to explore Tenerife's volcanic slopes, verdant forests, and coastal towns is on foot. Hike up Pico Viejo, Tenerife's second-highest volcano, to understand the island's volcanic history. Here, you'll come across the black lava that scarred the landscape during a volcanic eruption in 1798. 
If the skies are clear, you can view the smaller Spanish islands of La Palma and La Gomera from here.
Aside from hiking, there are tons of outdoor activities to enjoy in Tenerife.

These include sailing, paragliding, whale watching, kayaking, and stargazing. Don't miss a visit to Teide National Park, Siam Park, Masca Gorge, and the Pyramids of Güímar. If you're feeling adventurous, you could even choose to see Tenerife by motorcycle.
If you're visiting for pure relaxation, book a holiday letting in Tenerife with a sea view and spend your days frolicking at one of Tenerife's beautiful black sand beaches.
>> Must read before your next flight:
How to be safe on a plane —> 13 tips for flying
5 | Islas Cíes ✔
The Cíes Islands (Illas Cíes) are ideal for those looking to go well off the beaten path in search of some peace and back-to-nature tranquillity. This archipelago of Spanish Islands, located off the coast of Pontevedra in the northwesterly region of Galicia, is a natural paradise. 
The Cíes archipelago comprises of just three islands – Monteagudo, Montefaro, and San Martiño. This unique destination is a highlight of the Parque Nacional de las Islas Atlánticas de Galicia and one of the most beautiful places in Spain. 
The three-island nature reserve and its marine-terrestrial park have national park status in the country. An authorization code is required to enter this quiet holiday destination in Spain and visitor numbers to the islands are limited. They remain uninhabited with no hotels, apartments, stores, or cars found throughout.
What you will find, however, are some of Spain's finest beaches with wooded islands that are surrounded by pristine white-sand beaches and cliffs. There are a total of nine beaches and secluded coves, with the most famous being Praia es Rodas. This 700-meter curved beach links the two main islands, Monte Agudo and O Faro. Other beaches to discover are Bolos and Muxieiro.
Another recommended activity is hiking. There are four hiking routes at Cíes going to each of the different lighthouses – featuring sand dunes, cliffs, woodlands, seabirds – and leading to some amazing viewpoints with the highest elevation of 197 m (646 ft).
Other adventurous things to do include snorkeling, stargazing, and kayaking. There is also a small museum on Faro Spain island.
The only way to get to Islas Cíes is by sea, with the closest town, Vigo, being an hour away. Several shipping companies have direct ferries with daily tours that depart from the port of Vigo, Baiona, and Cangas. San Martiño is only accessible by private boat. 
Most visits are just for the day. If you love spending time outdoors, I would highly recommend camping on the dunes. There is one campground on Montefaro with a limited number of spots available.
>> Must next:
Your guide to visiting Flamingo Beach Aruba
6 | Menorca ✔
Menorca is one of the lesser developed islands of the Mediterranean and a great destination for those seeking a Spanish island holiday away from the crowds. 
This beautiful island has more beaches than any of the other Balearic Islands. There's a real good chance that you find a secluded beach all to yourself. 
If you're here for a relaxing beach break, head to Cala Macarella. Tucked away on the southwestern shores of Menorca, Cala Macarella is a stunning beach with crystal clear waters and surrounded by striking white cliffs. 
If you want to enjoy some activities on the water the likes of kayaking, head to Cala Tirant. This vast bay is popular with water sports fanatics as well as with nature lovers.  
Along with its unspoilt scenery, the island has prehistoric monuments dating all the way back to 1300 BC.
For land-based activities, explore Ciutadella de Menorca on foot. It's the former historic capital of Menorca, featuring a treasure trove of medieval squares and Mediterranean architecture. Enjoy a scenic walk along its tranquil harbour and fortified walls before heading towards the Es Born district, where you'll find ancient churches, museums, and fortresses. 
Following a day of exploration, make your way to one of the finest restaurants in the city for a feast of local Spanish cuisine. This usually consists of freshly caught seafood cooked in the traditional Menorcan style and is a perfect way to end your day.
>> If you're heading to Andalusia, here are the
best beaches in Cádiz
7 | La Palma Island Spain ✔
La Palma, one of the Canary Islands in Spain for holidays, is renowned for its rugged landscapes, mighty volcanoes, pretty beaches, rich forests, and unmistakeable skies. 
Which Canary Island is the most beautiful?
Often referred to as La Isla Bonita (the pretty island) or "Isla Verde" (the green island), this volcanic ocean island is arguably the prettiest Canary Island, with its breathtaking scenery, lush forests, and steep cliffs. Its rugged terrain is covered in pine forest, punctuated with waterfalls and dotted with volcanoes such as Cumbre Vieja and Teneguía.
La Palma, the fifth largest of the Canary Island archipelago, experiences great weather and a favourable climate year-round. Declared a World Biosphere Reserve, it is a popular choice for those interested in responsible tourism, rural tourism, and walking holidays in Spain.
Top attractions on La Palma Spain island include Santuario de la Virgen de las Nieves, Parque Nacional de la Caldera de Taburiente, Volcán San Antonio, Playa de los Cancajos, and Cumbre Vieja. The island's capital and port town of Santa Cruz de la Palma makes a great base from which to explore the rest of the island after spending some time wandering along its narrow cobbled streets.
Found in the province of Santa Cruz de Tenerife, La Palma is great destination for snorkelling and paragliding. It boasts some of the clearest skies  in the northern hemisphere and stargazing is a very popular activity in La Palma. The island also attracts wine lovers with Malvasia grape offering tasty local wines.
If you're wondering whether La Palma is safe to visit, rest assured that it is. The recent volcanic eruption of September 2021 has ended and life has returned to normality.
>> Spain controlled extensive territories in the Caribbean Sea until the late 19th century. Check out these cheapest Caribbean islands to visit.
8 | Lanzarote ✔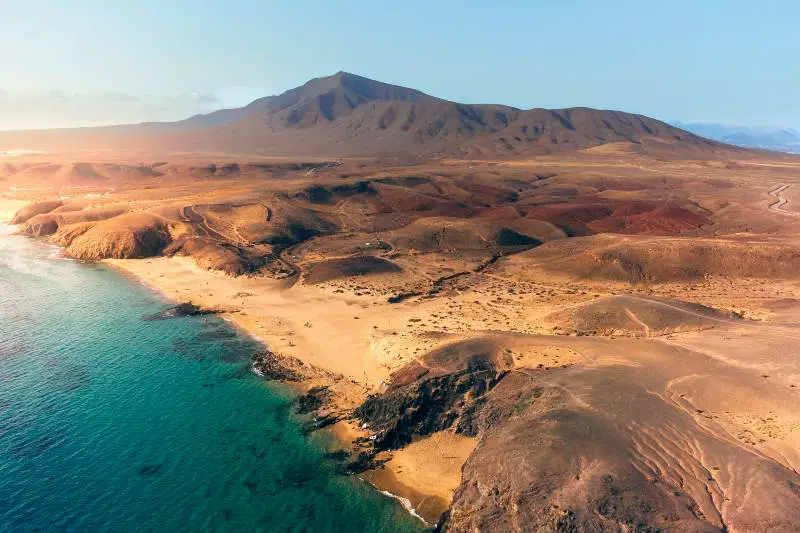 A large part of Lanzarote features a stark volcanic landscape resulting from a volcanic eruption on the island during the 1700s. 
Although it's one of the smallest Canary Islands, there are still plenty of things for visitors to enjoy on this beautiful Spanish island destination. Highlights include Timanfaya National Park, Playa del Papagayo, Mirador del Rio, Haría, and Jameos del Agua caves.
Lanzarote tends to be the hottest and most arid of all the Spain islands. This is mainly due to this low lying island being the closest to the Sahara desert. 
You will find three main resorts on Lanzarote, and since the island is relatively small, you can easily visit all three in a day. 
Puerto del Carmen is the largest and the most popular resort on the island, featuring whitewashed villas and dive centers. It's a wonderful place to enjoy the nightlife as it's home to excellent bars, clubs, and restaurants. It also has beautiful beaches, with many offering fun water-sport activities. 
Speaking of which, Lanzarote is great for water sports, attracting windsurfers, kiteboarders, surfers, and kayakers due to its windy, yet favourable conditions. 
Meanwhile, Costa Teguise is more suitable for families with kids since it has child-friendly amenities. Aside from the many hotels with pools and playgrounds for children, there's also a waterpark. This is also where you will find Playa de las Cucharas, one of the most beautiful beaches on the island. 
If you want to enjoy some peace and quiet on your holiday to Lanzarote, head to Playa Banca. Compared to the other two resorts, it's quieter but has many beautiful beaches and attractions nearby. There's also a large marina from where many boat trips would commence, especially those heading to the nearby island of Fuerteventura.
>> Learn more about the world in this:
Quiz geography questions and answers
9 | El Hierro ✔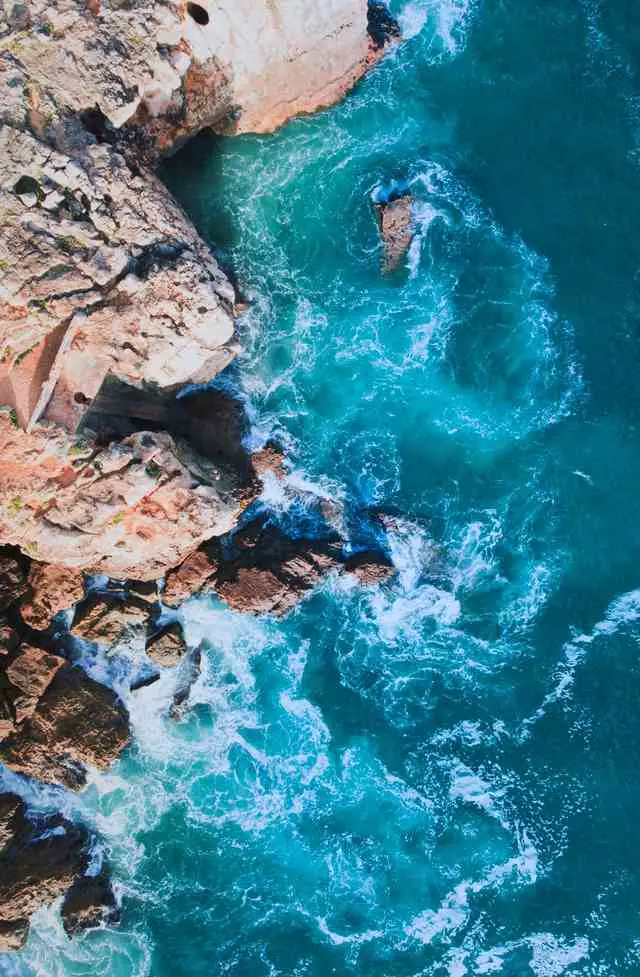 The smallest, least-visited, least touristy, and best-preserved of the Canary Islands, El Hierro is a hidden paradise in the middle of the Atlantic Ocean. 
Nicknamed Isla del Meridiano or the Meridian Island, this island in Spain is distinctive with is undiscovered pristine natural spaces, unspoilt volcanic landscape, unique bays, deep gorges, natural forests, and striking scarps.
Of the main Canary Islands belonging to Spain, El Hierro is located the furthest west and packs a lot into its 100 square miles. It offers the ideal getaway for anyone that's looking for a laidback Spanish holiday island in a little fishing village.
El Hierro is a diving utopia with over 40 dive sites. It's wild empty beaches fringe waters that are considered as one of the best places for scuba diving in the world.
In addition to diving, some of the more interesting places to see on this island include Valverde – the administrative and religious capital, the Holy Tree of El Garoé, Pozo de Las Calcosas, Playa de Tacoron, Playa del Verodal, and the Jameos del Agua lava caves.
No visit to El Hierro is complete without stopping by at one of the natural pools on this island, with the most popular being Charco Azul.
>> Read next:
Short quotes about traveling to inspire your fellow wanderers
10 | Formentera ✔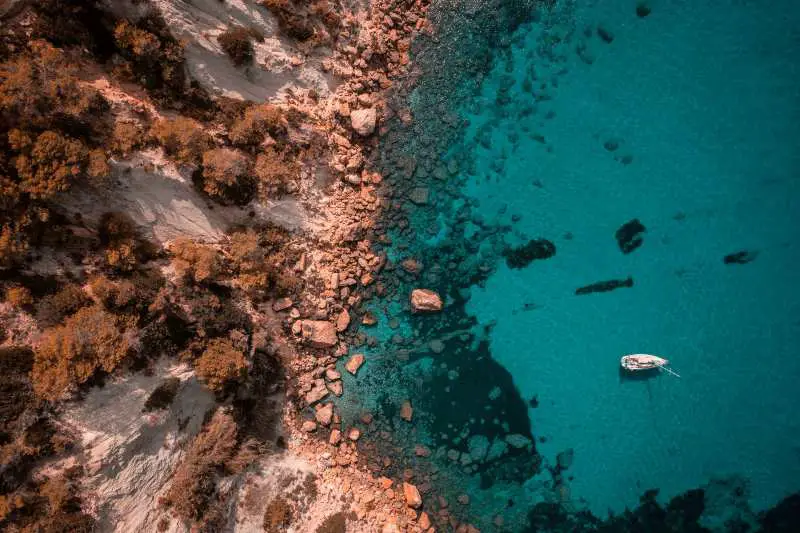 Formentera, a charming island of Spain lying on the southern coast of Ibiza, attracts holiday makers who love the outdoors, nature, and sporting activities. This is followed by happy hour on the shore sea and a chilled night out.
Since the terrain of the island is flat, the best way to explore Formentera is to walk, cycle, or take a horse ride through its lush countryside and into its sandy and rugged terrain. Find a network of 32 green routes of rustic paths and tracks.
Formentera lies halfway between Europe and Africa. Thousands of migratory birds arrive here during spring and autumn, attracted by the island's lagoons, wetlands, and diverse eco-systems. For a beguiling birdwatching experience, head to Parque Natural de Ses Salines, a beautiful park that is home to hundreds of avian species, including flamingos, puffins, and woodpeckers. 
If you prefer to spend your time being entertained on the beach, you'll have plenty of options for water activities. Formentera is home to almost 70 kilometres of coastline, so it's no wonder that water-sports are a regular feature here. Find everything from kayaking to snorkelling and diving. 
Like most of the best Spanish islands, Formentera has no shortage of beautiful beaches. Some of the best ones are Es Pujols Beach, Llevant Beach, and the unusual pink beach Ses Illetes.
With its fun bohemian character and pristine beaches, Formentera will have you coming back for longer than just a day visit.
Or maybe even longer. You may enjoy it so much that you decide to move here permanently. One way of making this happen is through citizenship by investment programs with the assistance of the Global Residence Index.
>> Other holiday islands of Spain worth exploring:
Fuerteventura
La Graciosa
La Gomera
Cabrera
Ons Island
Alegranza
Isla Canela
Saltes Island
Benidorm Island
Alborán Island
Isla de Las Palomas
Lobos Island
S'Espalmador
Es Vedrà
---
Whichever island in Spain you choose, I hope you have a great time! If you have any travel questions about any of these island vacations or how to visit, be sure to let me know and I'll be happy to help out. 

Don't forget to check out these:
— best places to visit in Spain for first timers; and
— holiday destinations in Spain with kids
Adiós!

Rai