10 Best Destinations and Cities in Southern Spain | Best of Andalucia
Planning a trip to Spain? There's just so much to see!
Read on to discover the best places to visit in Southern Spain.
If your perfect getaway includes sun, tapas, and stunning architecture, Southern Spain checks all the boxes for you. The country's coastline is divided into several regions known as costas, each with their own claims to fame. 
Many of Spain's top holiday destinations are located along its southern coast, overlooking the Mediterranean. Large cities in Southern Spain include Murcia, Gibraltar, and Malaga. There are also plenty of smaller destinations in between urban hubs, bringing you the best of both worlds.
Continue reading to discover the top destinations in Southern Spain — a list of the most beautiful towns and cities in the south of Spain to visit.
>> Read next:
Southern Spain Holiday Destinations: Why Visit?
Southern Spain's coast offers a unique blend of history, contemporary culture, and of course – the beach. The region's architecture isn't all cathedrals and churches, either. Many of the region's top attractions are beautiful examples of Moorish influence. 
Andalucia's three great monuments are magnificent sights to explore as a testament to the greatness, gandeur, and rich history of this region in Spain. These include the Mezquita of Cordoba, the Alcazar of Seville, and the Alhambra of Granada.
Southern Spain's large cities are conveniently located along the waterfront, making it easy to take day trips to smaller towns.

National parks, rocky beaches, and even mountain destinations promise to keep outdoor lovers busy while touring Spain's Mediterranean coast. 
Southern Spain Destinations: Best Time to Visit
While Spain is a year-round destination, the best time to visit the coast is in spring or autumn.

Beachgoers and revelers descend on Southern Spain's holiday destinations in the summer, so May or September are a great time to avoid the largest crowds. Plenty of people do visit outside of the summer months, so you can expect all activities, hotels, and restaurants to be open as usual.
In spring and autumn, coastal weather is usually cool and comfortable, with temperatures rarely reaching the highs of summer or dipping too low.

Spain's summers are hot and humid, but visiting in spring or fall allows you to skip most of the humidity. 
If you choose not to visit in the summer, keep in mind that sea temperatures will likely not be ideal for swimming.

However, there are still plenty of ways to enjoy Southern Spain's beaches, from catamaran tours to sunset walks. Additionally, spring and autumn offer perfect weather for hiking. 
Southern Spain Destinations:
The Best Cities and Places to Visit
The south of Spain is filled with holiday destinations, and it can be hard to narrow the list down to just a few. Consider the following recommendations of the best places to visit in Southern Spain when planning your trip – and don't forget to throw in a few day trips!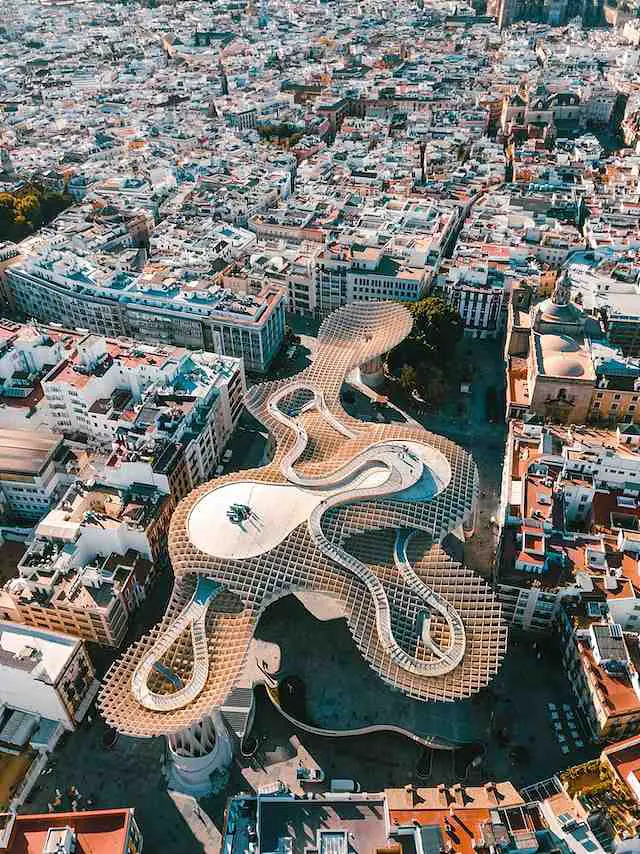 1 | Seville
Seville, the heart of Andalusia, is without a doubt one of the most captivating and intriguing cities in all of Southern Spain. With its long history, rich culture, delicious tapas, flamenco dancing, and awe-inspiring architecture, Seville reigns supreme among its southern counterparts.

It is easy to see why why this enchanting destination, that is the the quintessential gem of Southern Spain, has become a must-visit for travelers seeking an authentic taste of Spanish heritage.
Seville has a long and opulent history. As the capital city of Andalusia since Roman times, the city has witnessed the rise and fall of numerous civilizations. From the grandeur of Moorish rule to the exploration era that brought riches from across the seas, Seville's past is woven into every brick and cobblestone. Each period has left an indelible mark on the character of the city in Southern Spain and you will notice this at every turn.
The crown jewel and a highlight of any visit to Seville is the spectacular Alcázar Palace. Combining Islamic and Christian architectural styles, this UNESCO World Heritage Site is the oldest royal palace in use in Europe.

This landmark Moorish royal palace with fountains, gardens, intricate arches & 16th-century tiles was built by the Castilians on the site of an Abbadid alcázar, or residential fortress. Walking through its lush gardens or gazing upon its ornate halls will instantly transport you to a bygone era where kings and queens once roamed.
The iconic Cathedral of Seville is another testament to the city's greatness. Standing tall as the largest Gothic cathedral in the world, it houses Christopher Columbus' tomb while serving as a beacon for religious pilgrims from around the globe. Climbing La Giralda Tower is an experience not to be missed as it offers panoramic views that stretch far beyond the borders of this southern Spanish city.
Beyond these monumental landmarks lies a city bursting with cultural traditions. Flamenco music and dance echo through narrow streets that are adorned with colorful tiles. These tiles or azulejos are a classic sight that is unique to Southern Spain.

Local tapas bars exude excitement, warmth, and hospitality while stimulating your taste buds with delectable bites like espinacas con Garbanzos, jamón ibérico, pringá and, salmorejo.
The city's continued involvement to the arts is evident in its numerous museums, such as the Museo de Bellas Artes or Fine Arts, which houses an impressive collection of Spanish masterpieces. For those seeking a modern twist, the Metropol Parasol, colloquially known as Las Setas (The Mushrooms), offers a contemporary architectural marvel that also provides panoramic views of Seville. Other museums worth visiting include the Flamenco Dance Museum and the Andalusian Museum of Contemporary Art.
While in Seville, don't miss a visit to Plaza de España, Las Setas, the Triana Neighborhood, a tour of the Torre del Oro, as well as a cruise down the river.
2 | Malaga
As one of Southern Spain's largest cities, Malaga is also one of its most frequently visited hubs. 
The Southern Spanish city is the face of the Costa del Sol region, and offers a range of things to do, no matter the season.
Alcazaba
Dating back to the 11th century, the Alcazaba is Malaga's most iconic landmark. Built during the Moorish era, the fortress is made up of multiple buildings, including palaces. Excellently preserved, the complex invites visitors to delve into Malaga's storied past as a cultural crossroads. 
The Alcazaba is an easy walk from Malaga's city center- public transportation is another convenient option. Once you get there, take a tour or explore on your own. Don't miss the photo opportunities at the fortress' famous lookout points- the views are some of the best in the city. 
Gibralfaro Castle
Located a short walk from Malaga's historic old town, Gibralfaro Castle joins the Alcazaba as one of the city's top historic sights. The castle ruins date back to the 10th century and were built in a Moorish style. 
The area is elevated, meaning guests can take in views of the city, Mediterranean shoreline, and even the famous La Malagueta bull-fighting arena. The fortress itself is walkable and offers a great way to spend a morning or afternoon. 
Picasso Museum
Malaga's Picasso Museum is another unique destination in the heart of Old Town- and a perfect rainy day back-up plan. Open daily, the museum honors the painter's work and legacy- Picasso was born in Malaga. Along with featured exhibitions, the museum has a tranquil garden, cafe and bookshop. 
Segway City Tour
If you're looking for a fresh way to explore the city and want to up the pace, consider booking a Segway tour with a local tour company. Zooming through town on a Segway is an exhilarating way to take in the sights- at each stop, your local tour guide will introduce you to all you need to know about the given site.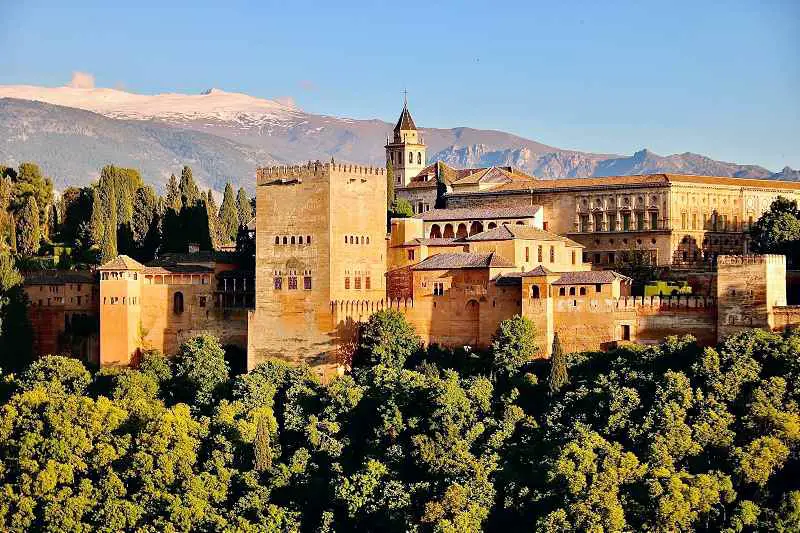 3 | Granada
While not located on the coast, Granada is still one of Southern Spain's top destinations. The city is home to the iconic Alhambra and enjoys an idyllic setting between the Sierra Nevada mountains and the sea. 
Alhambra
Dating back to the medieval era, Granada's Alhambra includes a fortress and opulent residences. The complex is a pristine example of Islamic architecture, drawing visitors to Granada year-round. 
When visiting the Alhambra, guests can enjoy the surrounding gardens as well as the historic buildings. Lush, green, and walkable, Alhambra's gardens offer a glimpse into royal life. The fortress also has a number of towers, all of which offer views of the city.  
Generalife
A visit to the Alhambra isn't complete without a stop at Generalife, the gardens located just next door. Built in the 14th century to accommodate Nasrid royals, the gardens include a summer palace, vibrant plant life, and plenty of hideaways.
Visitors can buy tickets that combine Generalife and the Alhambra- it's best to set aside a whole day to experience all the intricacies of both. 
Albaicin
Albaicin is well worth a stroll, Albaicin is Granada's historic district. Set on a hilltop, the neighborhood leads visitors through narrow streets, occasionally offering amazing views of the city. 
Notable sights in the neighborhood include the ornate Arab Baths and the Church of San Nicolas. The latter is one of the best places in the city to admire sunset vistas. 
Walking Tour
Seeing Granada on foot is the best way to experience the ins and outs of the city. Tour agencies in town offer various walking tours to choose from, including themed and historic ones. Local guides are your best sources for little- known facts and stories about Granada's attractions.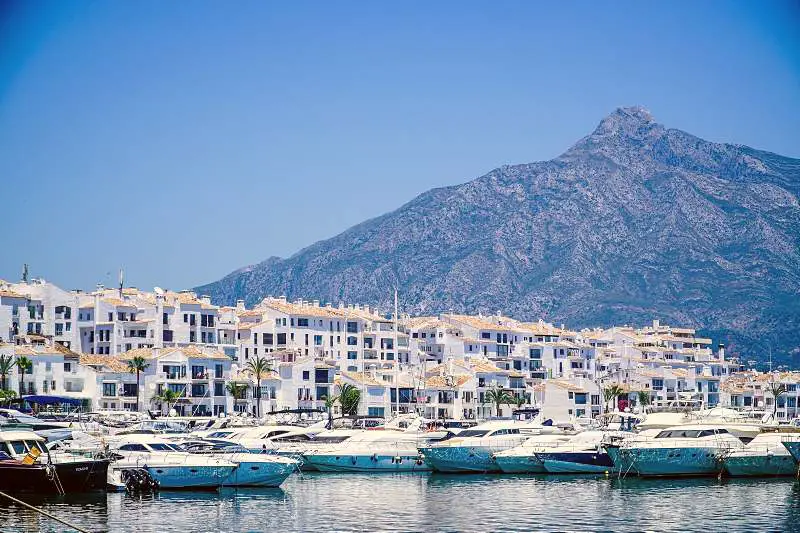 4 | Marbella
A small city in Southern Spain on the Costa del Sol, Marbella is one of Spain's top resort destinations.

Just south of Malaga, the city makes a great weekend or day trip. Or, plan things the other way around and make Marbella your basecamp for exploring the region.
Capobino Beach 
Known across Spain for its sweeping dunes and sapphire shoreline, Marbella's Capobino Beach is a must.

The beach is part of the Dunas de Artola nature preserve and is not directly in the center of the city. It is located about a 20 minute drive east of the city center, and an hour away by public transportation. 
Parque de la Alameda
Centrally located, the Parque de la Alamedo is a beautiful place to relax when you've had enough of Marabella's beaches.

Created in the 1700's the park is filled with lush plant life, fountains, and walking areas. Grab lunch nearby and enjoy it in this tranquil space before heading back to the sand. 
5 | Córdoba
No trip to the country is complete without discovering the unparalleled charms of Córdoba, one of the best cities in Southern Spain to visit.

Also located within the Iberian Peninsula in the heart of Andalusia, the former capital of El Andalus has an interesting blend of ancient Roman, Spanish, and Moorish culture and stands as a testament to the rich cultural traditions of Southern Spain.

While the rest of the continent was enduring its dark ages and bloodiest period, Córdoba became Europe's most sophisticated and prosperous centre as a leader in the fields of medicine, astronomy, and philosophy.

With its awe-inspiring architectural wonders, cosmopolitan culture, diverse population, and artistic heritage, this interesting city has rightfully earned its place among the best destinations to visit in the Southern Spain region.
Córdoba's most iconic feature is the magnificent Mezquita-Catedral. Constructed in A.D 785, it was once one of the largest mosques in the world, before being converted into a Renaissance-style Catholic Cathedral in 1236.

This UNESCO World Heritage site showcases astounding architecture with its iconic horseshoe arches, intricate mosaics, and towering minaret. Once inside, you'll be captivated by the grandeur of a Christian cathedral seamlessly integrated within an ancient mosque that combines Islamic and Christian influences and sets an example of peaceful coexistence.
Next up is another famous tourist attraction and architectural jewel, the Alcázar de los Reyes Cristianos, meaning Palace of Christian Monarchs. Built on the banks of Guadalquivir River and steeped in history dating back to Roman times, this fortress-palace offers beautifully manicured gardens interspersed with tranquil ponds and fountains. Take a moment to enjoy the panoramic views from its towers.
Once you're done exploring these famous attractions of Southern Spain, head to Cordoba's labyrinthine streets within its historic quarter known as Judería. This picturesque neighborhood is home to charming whitewashed houses adorned with colorful flower-filled balconies. As you meander through narrow alleys lined with artisan shops and quaint patios filled with fragrant orange trees, you'll feel transported back in time to when Jews, Muslims, and Christians lived harmoniously together.
It is worth noting that Cordoba is best experienced during May, when locals open their beautifully adorned patios to visitors during the annual Patios Festival. Adorned with vibrant flowers and traditional ceramics, these stunning outdoor spaces provide an intimate glimpse into Cordoba's rich cultural heritage.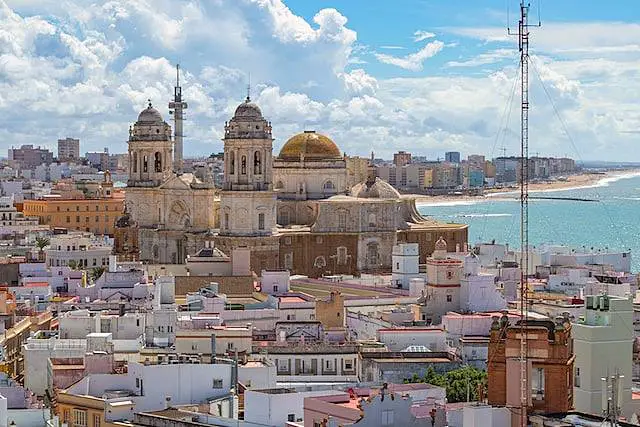 6 | Сádiz
Located in southwest Spain, the Andalusian city of Cádiz offers another perspective on the country's southern coast.

The city overlooks the Atlantic as opposed to the Mediterranean, and has plenty of beautiful beaches to keep you busy. 
Other than soaking in the sun and surf, activities include visiting the Cádiz Cathedral, the city museum, and Santa Catalina Castle. Cádiz is a great destination to pair with Gibraltar, as the two are only a few hours apart. 
7 | Ronda
Ronda's timeless beauty and unparalleled natural setting alone makes it worth a visit. Perched atop towering cliffs that overlook El Tajo Gorge, this enchanting town boasts panoramic views that will leave you speechless.

With its dramatic cliffside setting, ancient architecture, and vibrant culture, it stands as a true testament to the rich history and awe-inspiring beauty that characterizes Southern Spain.

The iconic Puente Nuevo bridge spans across the gorge and offers an unforgettable sight. Be prepared to be awestruck by its architectural grandeur and marvel at how it seamlessly blends into the surrounding landscape.
The city's history dates back over 2,000 years, when it was established by early Celtic settlers. Throughout centuries of Moorish rule and Christian conquests, Ronda has accumulated a wealth of historical landmarks and cultural heritage sites waiting to be explored. in fact, Ronda is known to be one of the oldest towns in Spain, going all the way back to the Neolithic period.

Don't miss out on visiting the impressive Mondragón Palace or exploring the ruins of Acinipo Roman Theatre. Other must see tourist attractions in Ronda include Puente Nuevo, Museo del Bandolero, Jardines De Cuenca, and La Casa del Rey Moro.
The city in Southern Spain holds particular significance as being the birthplace of modern bullfighting known as "corrida," and is of particular interested to those visitors intrigued by Spanish culture and traditions. The Plaza de Toros de Ronda is one of Spain's oldest bullrings with a history dating back to 1785. You can immerse yourself in this unique aspect of Spanish culture through guided tours or even witness a live bullfight during the annual Feria Goyesca.
The town's vibrant cultural scene is another enticing reason to visit Ronda. Its narrow streets are brimming with charming tapas bars, traditional restaurants, and boutique shops offering an authentic taste of Andalusian life.

You simply cannot leave without trying some local delicacies such as rabo de toro, gazpacho, chorizo al infierno, salmorejo, migas, carrillada, and berza rondeña.
Al of this makes Ronda, undeniably one of the best holiday destinations in Southern Spain to visit.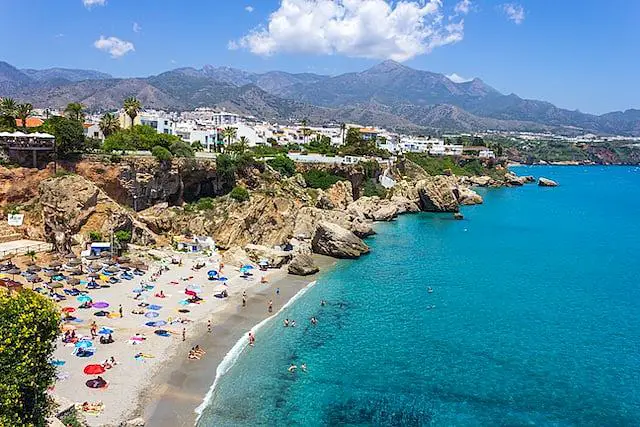 8 | Nerja
Found along the stunning Costa del Sol, an hour's drive east of Malaga, Nerja is another small community that invites visitors to take a breather from city life while discovering its exquisite charms. This picturesque beach town, that is a true hidden gem in Southern Spain, is home to resorts, restaurants, historic sites, and the Balcon de Europa Promenade.
This charming coastal town captivates visitors with its unparalleled beauty, idyllic beaches, rich history, lovely old town, dramatic landscapes, and warm Mediterranean climate. All of this makes it an easy choice as one of the top destinations in Southern Spain.
The first thing you will notice about Nerja is it's breathtaking natural vistas, where panoramic views of rugged mountains meet the crystal-clear waters of the Mediterranean Sea.

The iconic Balcón de Europa offers a magnificent viewpoint overlooking the coastline and serves as a perfect spot for appreciating mesmerizing sunsets or simply soaking up the ambiance.
Nerja is also home to over 16 kilometers of diverse coastline, adorned with picturesque coves and pristine sandy beaches. The azure waters invite you to enjoy refreshing swims, thrilling water activities, or you can simply catch a tan along the shore. From tranquil stretches like Burriana Beach to secluded gems such as Playa de Maro, you will certainly be spoilt for choice with the variety of options on offer.
Once you're tired of the beach, step back in time as you wander through Nerja's narrow streets lined with whitewashed houses adorned with colorful flowers spilling from balconies overhead. The heart of the town lies within its vibrant old quarter. It is here where you will find lively tapas bars, quaint boutiques offering local crafts, and delightful squares buzzing with life throughout the day and night.
The world-renowned Caves of Nerja, a subterranean wonderland dating back millions of years, are an absolute must-visit attraction in Southern Spain. Be amazed at the stalagmites and stalactites that create an otherworldly atmosphere, while the ancient paintings found within these caves offer a glimpse into our prehistoric past.

The nearby Cliffs of Maro-Cerro Gordo are a gorgeous natural attraction east of town. The cliffs are home to a handful of hidden beaches, making your experience even more rewarding.
Nerja's rich cultural heritage can be seen in its historic sites, including the 17th-century Church of El Salvador and the intriguing Archaeological Museum. Throughout the year, vibrant festivals and events showcase traditional music, dance, and gastronomy, allowing you to immerse yourself in local traditions and exciting customs as you explore the very best of Southern Spain.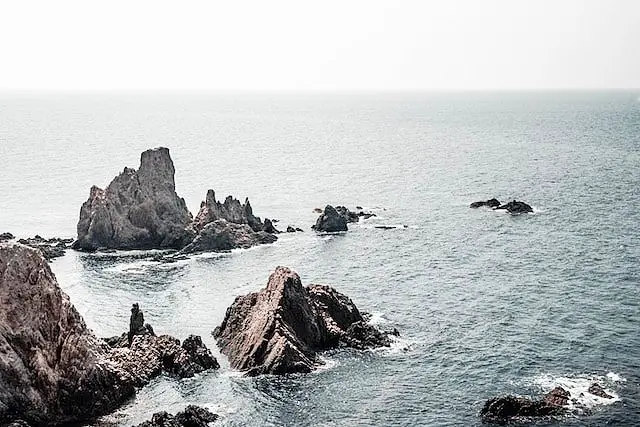 9 | Almeria
Located about halfway between the Southern Spanish cities of Murcia and Malaga, Almeria is a smaller destination perched on the Mediterranean coast.

The city is also a 2-hour bus ride from Granada, making it easy to include both in your itinerary.
The best things to do in Almeria include the palm-lined Almeria cathedral and the local archaeological museum. 
Almeria is also within minutes of Cabo de Gata Nijar National Park, one of Spain's natural treasures. The park offers rugged cliffs, turquoise coves, and a 19th century lighthouse.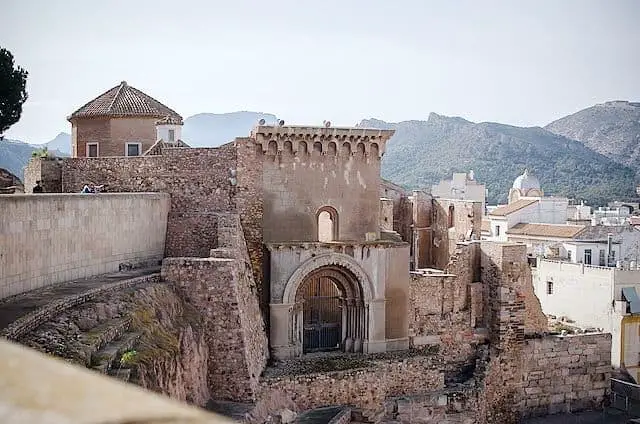 10 | Cartagena
Located south of Murcia, the small Southern Spanish city of Cartagena is well worth a visit if you're in the region. This ancient city features a 16th century old town, and coastal islands that can be reached by ferry. 
Plazas, cobblestones, and brightly colored buildings make Cartagena a walkable, slow-paced beach destination. Don't miss Cartagena's ancient Roman theater and archaeological museum. 
---
This list of the best places to visit in Southern Spain is by no means exhaustive. However, it does give you the best options when deciding where to go in Spain.

The benefits of travelling is immeasurable and should be made a priority. Always remember to travel responsibly.

Don't forget to check out this list of the best destinations in Spain for your first visit.
Any questions, let me know. Have a great time in the south of Spain.
Adiós!
Rai
AUTHOR BIO
Lucia is a travel blogger living in Southern Spain, sharing her discoveries of beautiful locations, hidden gems and stunning historic sights on her travel blog Viva La Vita.