Ranked: The Safest Countries in South America 2023 (+ Where To Avoid!)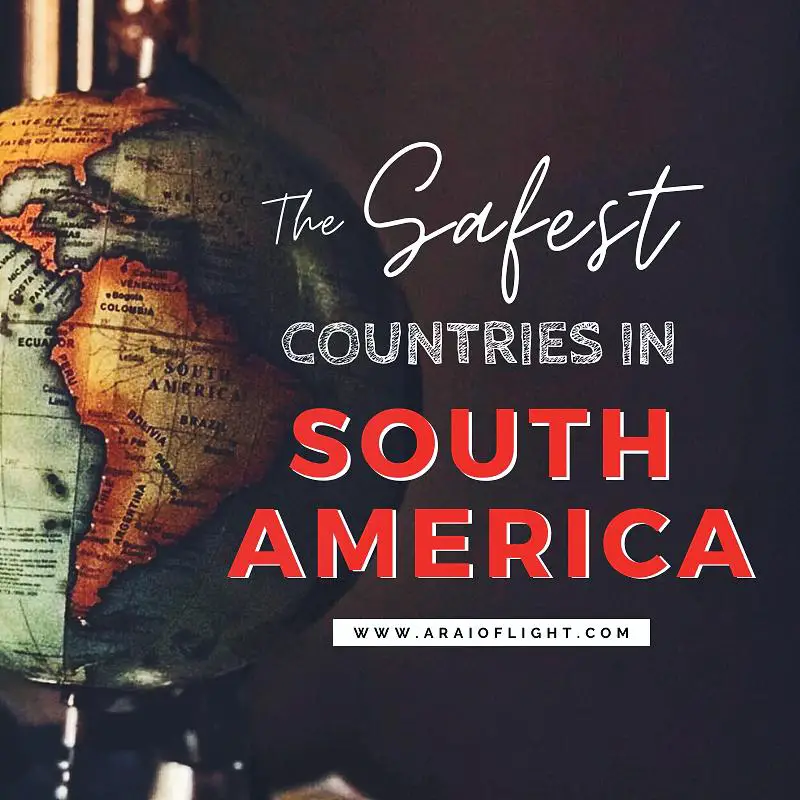 The beautiful continent of South America, known for its incredible natural scenery, welcoming people, vibrant cities, historical towns, and ancient mythical stories, makes for a fascinating travel destination. Whether you're an adventure traveler, an insatiable foodie, an intrepid hiker, a beach fanatic, a cultural enthusiast, a nature lover, or city explorer, there is something for everyone in South America. That said, unfortunately, the continent does have a bad reputation when it comes to safety. So it's reasonable that you're doing some research on the safest countries in South America in preparation for an upcoming trip. Today, you get to find out exactly that. I have not only included the safest South American country in 2023, but a handful of additional options. You will also discover some essential safety tips as a traveler in South America.
All of this ↓↓ Let's get into it….
Encompassing an area of 6,886,229 square miles, the fourth-largest continent on our planet is divided into 12 independent countries and a handful of non-sovereign entities.
The countries of South America are Argentina, Bolivia, Brazil, Chile, Colombia, Ecuador, Guyana, Paraguay, Peru, Suriname, Uruguay, and Venezuela. The two non-sovereign entities are the Falkland Islands of the U.K. and French Guiana of France.
What is the safest country in South America? Continue reading to find out….
South America — home of Amazonia, Machu Picchu, Galápagos Islands, Patagonia, Easter Island, Christ the Redeemer, and so much more -— attracts more than 37 million annual tourists looking to experience its wonders.

Despite its colorful culture and natural wonders, South America is also known for its violent crimes, rebel groups, and drug lords. Parts of the continent have been deemed unsafe for potential travel. Much like any other travel plan, travelers must take precautions before planning a trip to these countries to ensure the right choices are made. 
Although some areas of South America are nests for narcos and drugs, there are many places you can safely visit, explore, and thoroughly enjoy. Even places widely avoided as a travel destination many years ago are turning the tide in recent years. With basic safety practices and an avoidance of certain areas and activities, a good time is almost guaranteed.

Here are the safest South American countries in 2023 worth exploring for their heavenly, natural wonders and exciting adventures.
>> Read next: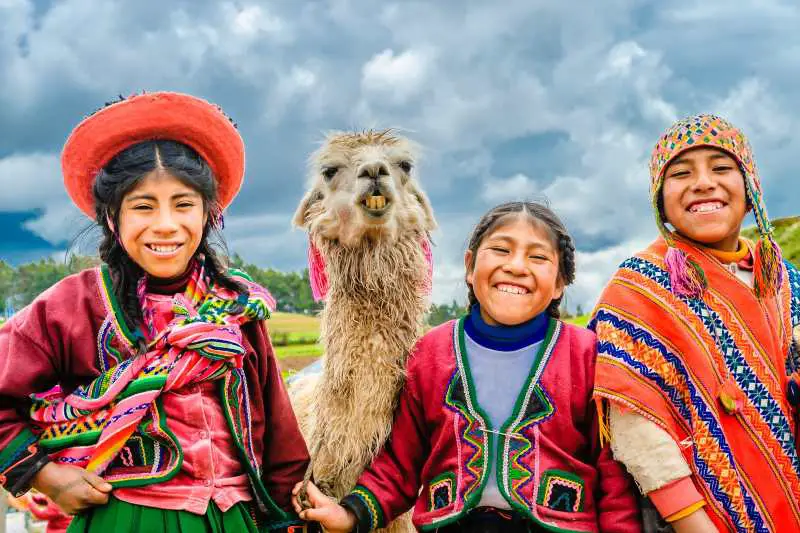 Before we get into the countries, here are some important…
Safety Tips for Travelers to South America
Be aware of your surroundings so as not to be placed in a position of vulnerability. 


Wherever you go, be sure to leave your valuables at home or locked away in a safe place and travel with caution and care.


Don't put yourself in a position of being an easy target by acting or looking like one. As they say in Colombia, "no dar papaya" which translates as don't give papaya and this saying means don't be stupid.


Pickpockets and petty thieves often target busy areas such as public transpiration or local markets. Be extra cautious in these areas. Also note that they often work in pairs with one to distract you while the other does the deed.


It helps to be able to speak Spanish or Portuguese or even

a few words in the local language

so as to easily communicate during times of need and in the case of an emergency.


Educate yourself on the current affairs of the country or region in which you are visiting so as to know of an unrest and to avoid demonstrations and instability.


Dress and act appropriately by wearing clothing that is similar to what the locals wear so as not to stand out as a foreigner. Also conceal any valuables such as cellphones, cameras, watches, and other expensive items.


It may also be a practical idea to register with your embassy or consulate before travelling internationally.


Female travelers: women may experience harassment and cat calling due to the macho culture ingrained within South American men. While this is harmless for the most part, care and caution should be taken especially when alone.
Don't stop traveling. Why?
Discover the major benefits of traveling here
The Safest South American Countries in 2023 for the Adventure Traveler
Ok, now let's really get into it…. 

What is the safest South American country?
1 | URUGUAY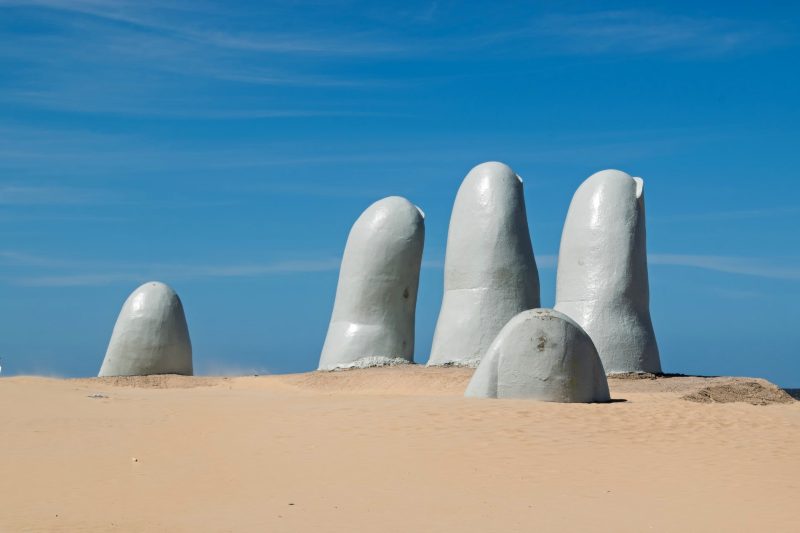 Uruguay tops this list as the safest South American country in 2023 and 2022 with an overall score of 1.795 on the most recent Global Peace Index. This number also places the South American nation as the 46th safest country in the world and safest Latin American country after Costa Rica. 
Uruguay scores well on both external and internal conflicts fought, displaced people, good neighbouring country relations, low terrorist activity, and low political instability. The country does not fare as well on the civil police force, homicides, and perceived criminality in society.
Described as safe, politically stable, progressive, and culturally rich, Uruguay should be on every adventurers travel-list. 
Reasons to visit Uruguay include its unspoiled coastline that include numerous resorts, waterfront promenades, rolling sand dunes, and boating areas. Its mild climate, friendly locals, good infrastructure, and amazing scenery.
Its capital, Montevideo, is dynamic with a quality of life that is considered the highest in Latin America.
Highlights of a visit to the safest country in South America include:
 the historic Colonia del Sacramento


Punta del Este's "hand sculpture" and Mansa

Beach




Montevideo and its Plaza Independencia, Ciudad Vieja, La Rambla, and Mercado del Puerto.


the beaches of Punta del Diablo and Santa Teresa National Parl


trek through Parque Salto del Penitente that surrounds a 60 m (196 ft) waterfall
Want to be a digital nomad?
Here are the 10 best jobs for digital nomads in 2023
2 | CHILE
Chile is second on this list, having held the position as the safest country in South America in previous years. With a score of 1.84 on the Global Peace Index it is considered one of the safest countries in South America in 2023 and the entire world. 
This elongated country scores well on its low crime rate, UN peacekeeping funding, minimal deaths from conflict, and good neighbouring country relations. Areas of improvement include violent demonstrations and a high perceived criminality rate in society. 
This South America nation consistently claims the top spot as the best country for doing business in Latin America. As one of South America's most prosperous nation, its strong financial situation is matched with political stability and low level of corruption and poverty. It offers a high standard of living.
Chile is well-known for its landscape features that are attractive to the adventure traveler. It is a wonderland for outdoor enthusiasts and nature lovers with its diversity that unfolds over a 2,700-mile stretch, comprising deserts, beaches, volcanoes, glaciers, lakes, forests, and vineyards.

All of this makes it the most naturally diverse country in the world. In addition to its adventure tourism, other reasons to visit Chile are its ancestral culture, open people, good food, and wine routes.
The nation located along the western seaboard of South America is a hotspot for earthquakes so bear this in mind when planning a visit to explore the challenging wonders of Chile.
The top tourist destinations in Chile and highlights of a visit include:
Santiago. This sprawling city in Chile is known for its authentic cuisine and various museums showcasing its culture and traditions.


Valparaiso is one of the towns situated near the ocean and famous for its marvellous firework display during New Year's Eve.


Torres del Paine National Park is a one-of-a-kind remote journey as if you have reached the end of the world. You can explore this Patagonian wonder on foot, by boat, or by horseback.


The Atacama Desert is for those who want to experience being in total wilderness. It is the driest place on earth, and its surreal view is striking and

beautiful

.


Easter Island is a real catch for those who are awed by stunning archeological structures and monolithic stone statues. On this

island

, you can explore the history and traditions of Rapa Nui, the island's aboriginal people.


Marble Caves offers unique scenery with a cave system that can be explored by boat across the biggest lake in Chile.

Speaking of Costa Rica, be sure to check out:
What it's like living in Costa Rica -> pros and cons
3 | ARGENTINA
Argentina takes the third spot on this list of South America safest countries 2023. It scored an average of 1.911 on the 2022 Global Peace Index, placing the nation 69th overall in the world.
Argentina scores well in the categories of deaths from conflict, political terror, and displaced people. It doesn't fare as well in the areas of the civil police force and perceived criminality in society. Travelers do need to note that most crimes here are in the form of petty theft, pickpocketing, and bag snatching.
As the most visited country in South America to travel to, Argentina is renowned for its beautiful geography and incredible natural wonders from the largest waterfalls to the highest peaks.

Its vibrant nightlife, interesting mix of history and Latin American culture, impressive wine and cuisine, and friendly locals attracts travelers from around the world. 
Adventurers and solo travelers enjoy the safe environment provided by this South American nation. However, don't skip on bringing some insect repellant to avoid any possibility of getting dengue fever. 
The following are Argentina's wonders that travelers should not miss:
Buenos Aires is the popular capital city known for its Latin passion, Bohemian neighborhoods, and superb steakhouses.


Perito Moreno Glacier is an essential visit for those who love nature, flaunting Patagonia's marvelous natural ice formations. This has long been considered as one of the most amazing natural landmarks on the planet.


Iguazu Falls feature the most breathtaking waterfalls and is considered a UNESCO World Heritage Site. 


Cordoba, with its classic 16th-century architecture, is Argentina's second main city. The population in this city comprises mainly of students making it an appealing destination for nightlife and culture.


Patagonia's Ushuaia is claimed as the city at the end of the world. It is the world's most southerly city. While here, explore the Beagle Channel which is known for its spectacular marine wildlife.

Speaking of adventure, here are the best
songs about travel and adventure to inspire you to do just that
4 | PARAGUAY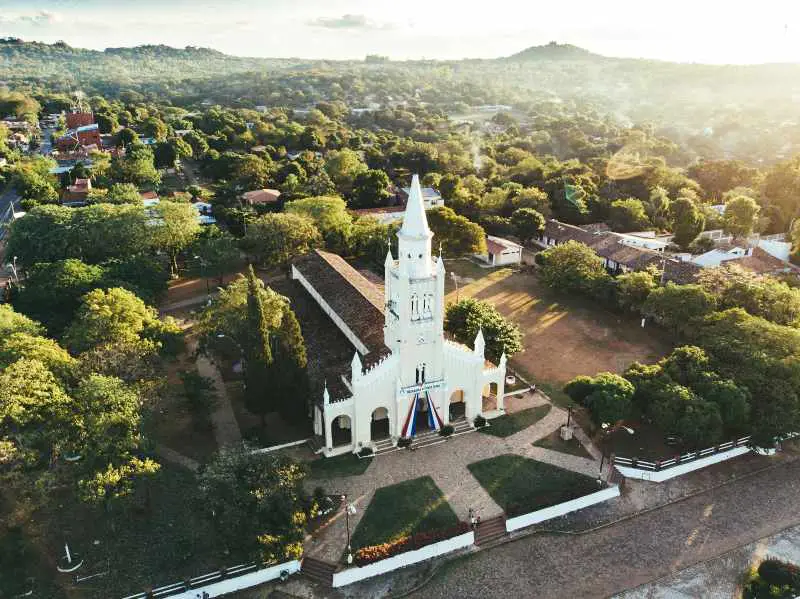 No list of safe countries in South America is complete without including Paraguay. The South American nation, known for its relaxed pace and natural landscapes, has an overall score of 1.976 on the 2022 Global Peace Index. It scores well on domestic and International conflict, but not so well on UN peacekeeping funding.
The country of Paraguay is generally safe, although there are a number of dangers the likes of petty crime, smuggling, violent crime, and corrupt police officers. Rates of street crime are low even more so outside of the capital. As a tourist, basic precautionary measures need to be applied to remain away from harm. 
Reasons to visit this nation, often referred to as the heart of South America include its amazing national parks, natural beauty, affordable shopping, tasty street food, and interesting architecture. 
Some of the best places to visit in Paraguay:
Asuncion with its grand López Palace, the national Pantheon of Heroes, and the Museo del Barro.


Cerro Cora National Park, the largest protected area in Paraguay featuring the eco-archaeological reserve of Gasorý and Cerro Muralla.


La Santisima Trinidad De Parana for some of the best-preserved and accessible examples of Jesuit missions.


The

friendship

bridge and Triple Frontier of Ciudad del Este.
>> Must read:
The best island vacations for families
5 | ECUADOR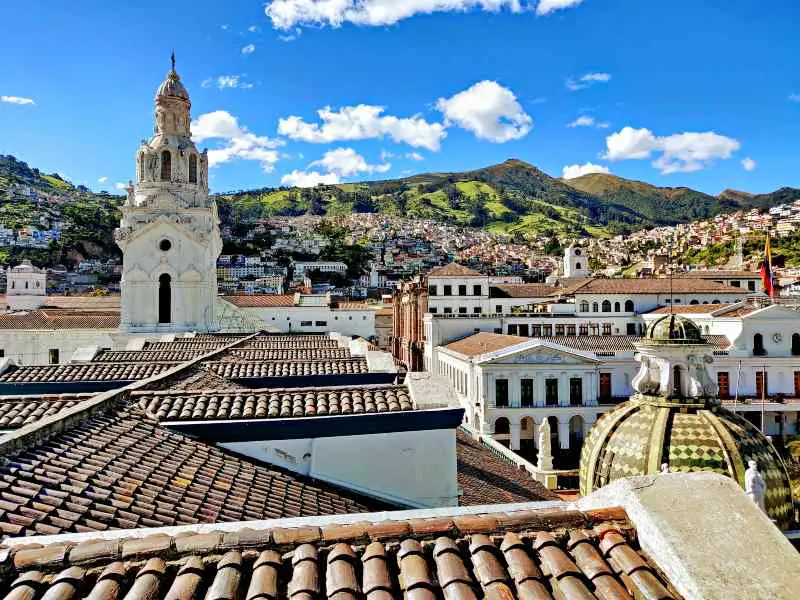 Coming in at number 5 of South American safest countries of 2023 is Ecuador. Its overall score is 1.988 on the Global Peace Index. The country scored well in categories such as military expenditure, weapons imports and exports, and conflicts fought. Areas of concern remain its jailed population and violent demonstrations.
Its low cost of living and mild weather conditions attracts a large number of expats. For the traveller, Ecuador is relatively safe to visit.

The country may have a history of violent crime, but things have improved recently. Tourist hotspots and public transportation are places where most pickpocketing and thefts occur. As usual, common sense and proper care is advised.

This South American nation is full of incredible landscapes, history, culture, and cuisine. Its bustling capital offers a good mix of old and new while the rest of the country delights with its combination of unique customs and traditions of indigenous practices with European colonial influence.

The country is world famous for its ecotourism and adventure travel opportunities. Adventurers will be enticed with the variety of activities on offer from paragliding, skydiving, and mountain biking to kayaking, trekking, and white water rafting.  
Ecuador holds a number of worthy tourist attractions:
The well preserved old town of Quito, a UNESCO World Heritage site.


The pristine Galápagos National Park that encompasses over 3,000 square miles of unique territory.


Yasuni Park is one of the most biodiverse regions on the planet.


The Andean city of Cuenca with its blue-domed Catedral Nueva and the 16th-century Catedral Vieja.


The protected Pululahua Geobotanical Reserve, considered one of the largest volcanic craters in the world, for its unique geological and biological finds.
6 | PERU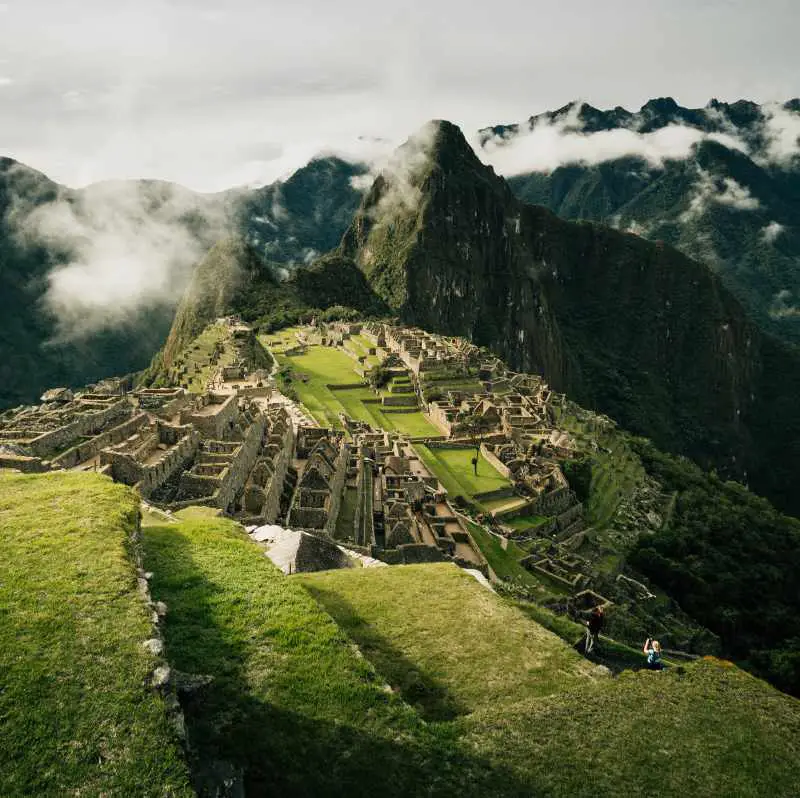 Peru is certainly one of South America's safest countries 2023, ranking 86th in the world in the 2023 Global Peace Index with an overall score of 2.091.
Located in western South America, the country scored well on military expenditure, politics terror, political instability, and domestic and international conflict. Areas that brought its ranking down include its UN peacekeeping funding and violent demonstrations levels. 
It is worth noting that street crime, muggings, and thefts are a problem in Lima, Arequipa, Cusco, and other major cities, so it is important to be vigilant in public places.

Visitors to Peru are seen as wealthy and this can attract a target on one's back. In addition, due to its location high above sea level, travelers not used to such extreme conditions can be prone to altitude sickness.
Peru is famous for its breathtaking natural scenery, ancient ruins, and outlandish cuisines. The landscapes of Peru are as varied as its food and its people.

Find Amazonian swamps and sunny beaches to charming colonial cities and high altitude attractions. Experience some of the most impressive ruins in the Sacred Valley and Machu Picchu when hiking the Inca Trail.
The reasons why travelers visit this beautiful destination:
Machu Picchu, set high in the Andes Mountains, is the most famous Peruvian destination and a must visit. The stunning archeological ruins and majestic scenery make it easy to see why it is one of the Seven Wonders of the World.


As one of the main gateways into the Amazon jungle, Iquitos is an incredible place to visit in Peru, and can be reached by boat or

plane

.


Arequipa, the White City of Peru, is unarguably the most charming because of its striking architecture. It is also a great stop-off point on the way to Colca Canyon.


Gocta and Yumbilla Falls, located in the northern part of Peru, is one of the world's highest waterfalls. Surrounded by jungle landscapes, the region includes a wide variety of plants and animals species.


Huaraz is characterized by its snow-capped

mountains

and turquoise waters. It is appealing to hikers and climbers who are eyeing their first 5,000+ mountain ascent.

>> Moving internationally?
Your essential checklist for moving abroad
7 | BRAZIL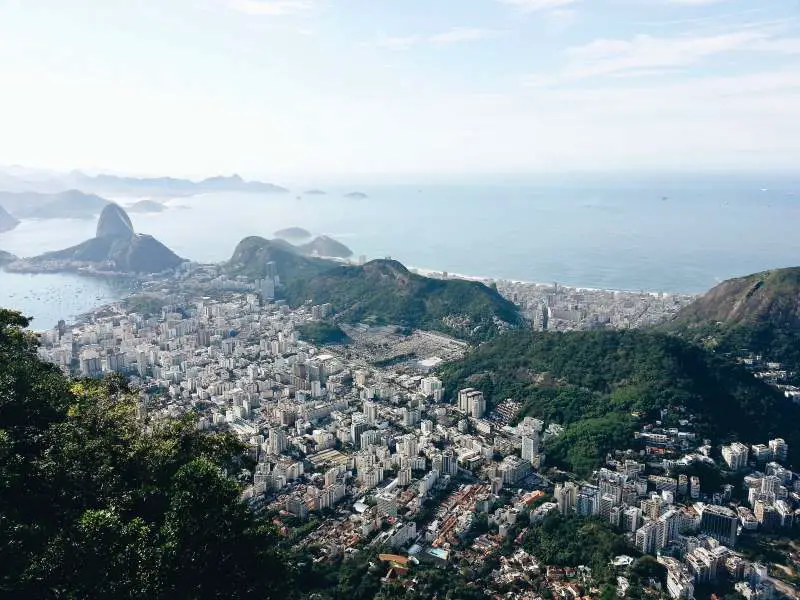 Brazil is also included on the list of safe countries in South America 2023 with an overall score of 2.465 on the Global Peace Index.
This South American nation scores well on external conflicts, displaced people, and political instability. However, it does suffer from a number of issues and does not fare as well on violent crime, political terror, and perceived level of criminality in society. 
Brasil is well-known for its rich culture, natural wonders, amazing beach lifestyle, and locals who love to party. There's no forgetting that it is also the home of samba and soccer. 
Some of the most visited places in Brazil:
Rio de Janeiro is most visited for its eye-catching beaches and mountains. It is also notorious for its Carnival festival and home to Christ the Redeemer statue.


Chapada Diamantina National Park, located in the eastern part of Brazil, was created to preserve the diverse ecosystem in the area. With the wide range of mountains, valleys,

waterfalls

, plants, and animals, this is definitely a nature-

lovers

haven.


Bonito is another popular tourist spot with

sustainable eco-tourism practices

, known for its jagged caves, tropical species, and turquoise water that are ideal for snorkeling.


São Paulo is a city in Brazil that you should not miss as this sprawling metropolis is a paradise for those who love to eat. This city is packed with numerous food markets as well as large football stadiums and majestic green spaces. This city is well known as a quick escape for city-dwellers and travelers who crave a vibrant nightlife. 
---
Listed above are the safest countries in South America considered to be generally secure for adventure-seekers. Petty crimes such as thefts are common in major cities, but with vigilance and common sense (like with any kind of travel in general) tourists can be safe in this part of the world. 
In addition, other countries generally considered dangerous in South America such as Venezuela and Colombia are not unsafe to visit in general. Wonders located in far-flung areas such as the world's tallest uninterrupted waterfall, the Angels Falls are away from distress, seemingly contained within its own beautiful cosmos.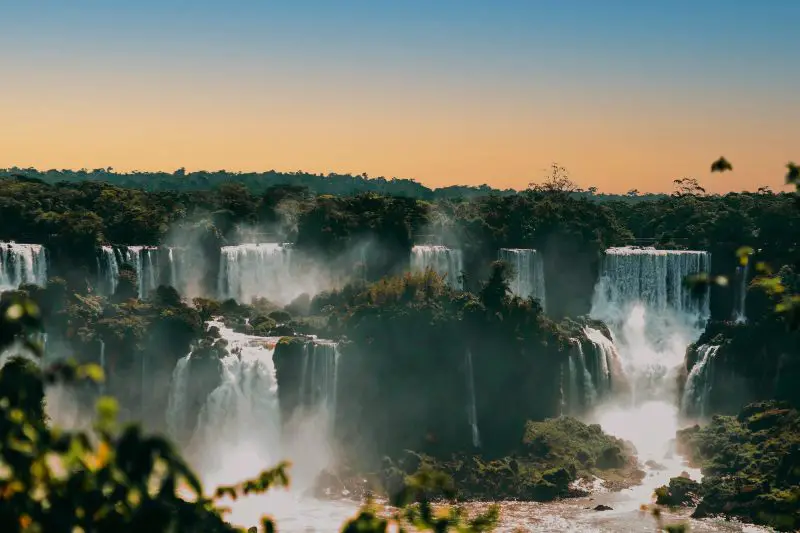 You may be wondering…
Is South America Dangerous?
While some parts of South America are considered as dangerous, much of the continent is perfectly safe to visit. 
Speaking of danger, before finishing, lets take a look at places in South America where travelers are advised to avoid:
 Most of Venezuela including Caracas due to political instability.


Parts of Colombia – Buenaventura, Arauca, Norte de Santander, Nariño, Chocó, and Cauca due to crime, kidnapping, and terrorism threats.


Parts of Brasil that include Serra, Mossoro, and Natal
How many countries have you been to?
Here's why it doesn't matter and why you should stop counting
Keep in mind that a thorough planning of your trip is key to enjoy the sceneries and wonders of South America while remaining safe.
What countries would YOU love to visit on the beautiful continent?
Planning a move or a trip to South America and have any other questions? Be sure to let me know and I'll be happy to help out a fellow explorer.
Rai