10 Popular Digital Nomad Jobs in 2024 to Travel the World (+ Work From Anywhere!)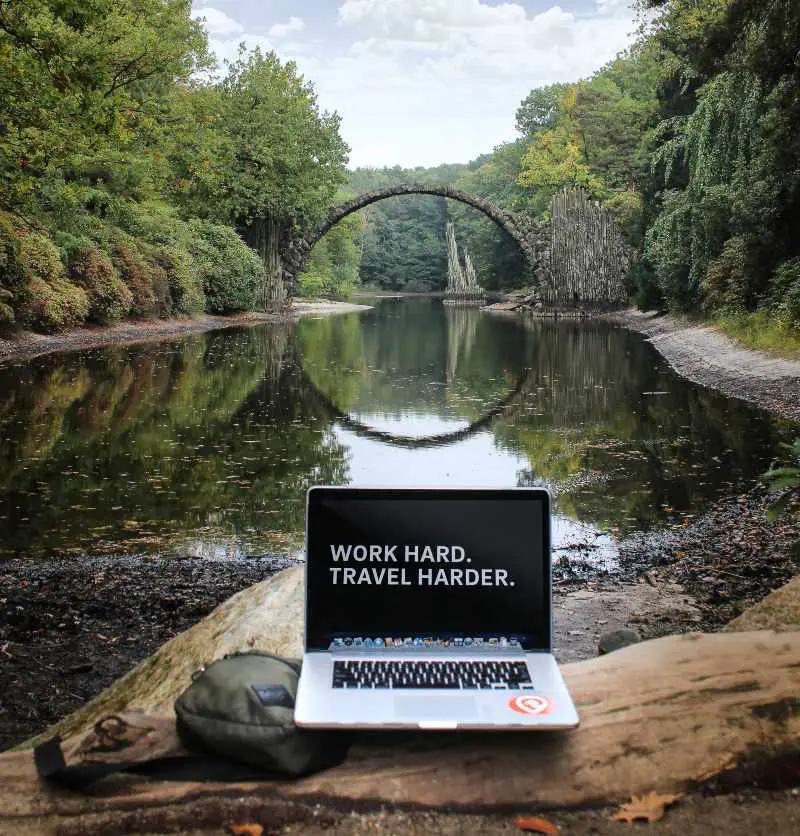 Achieving financial freedom while simultaneously achieving freedom in how you work, where you work from, what you do, and when you do it is a dream for many. Now more than ever more and more people are abandoning the traditional 9-5 corporate job for a more location independent lifestyle. The idea is based off of a more balanced way of living. A life in which you do not have to sacrifice your dreams, your freedom, and your desire to experience other parts of the world just so that you are able to put food on the table. This is where the modern-day digital nomad movement comes into play. You too may be wondering how to achieve this lifestyle. If so, continue reading to discover the best digital nomad jobs in 2024 to help you get started on this journey, both literally and figuratively.
So who or what exactly is a digital nomad?
In its basic form, a digital nomad is someone who lives and works in a location of their choice. They work remotely using communications and information technology while simultaneously traveling the world.
With the ability to work from anywhere, as long as there is an internet connection, digital nomads travel for a large part of the year. They often change locations frequently to suit a desire or need, choosing from one of these best cities for digital nomads or other lesser known destinations.

Digital nomads live out of suitcases or backpacks, living a minimalistic lifestyle.

They tend to be younger remote workers, location independent entrepreneurs, backpackers, semi-retired persons, or snowbirds in industries of the knowledge economy that include IT, media, design, marketing, and consulting.

Since the economic crisis and lockdown of 2020 more and more corporations and individuals are embracing the remote work lifestyle. Which means working from home, coffee shops, beaches, or coworking spaces is becoming fairly mainstream. 
But what about working in a new country? 
Well, being fully nomadic means being able to live and work from almost anywhere in the world. As a location independent entrepreneur you get to experience the benefits of traveling as you immerse yourself in different cultures, different languages, unique experiences, and exotic flavors. 
The rise in the digital nomadic lifestyle has been made possible thanks to innovations in smartphones, cheap internet access, VoIP, and content management software, just to name a few.

This rise is also due to an increase in remote work and job opportunities as well as the growth in short-term home and office spaces available to rent via online platforms.

The idea of a change in lifestyle may be overwhelming, frightening even, but with the right information, the right tools, and the right mindset, you can make it work…
Continue reading as we explore more about being a digital nomad and the top ten most popular jobs for a digital nomad in 2024.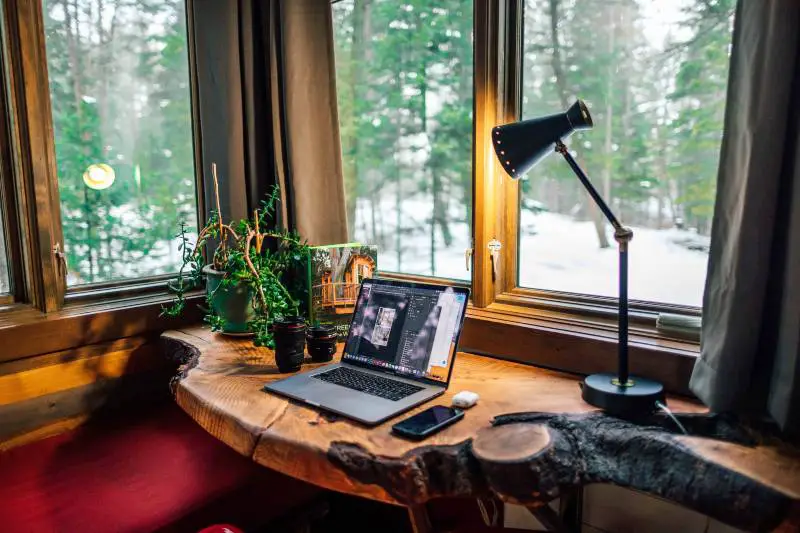 Why Choose to Become a Digital Nomad?
Becoming a digital nomad is a great option for elevating or turning your life around in a positive way. 
The number one reason for choosing to be a digital nomad is the sense of freedom that this lifestyle allows one to have. There is an innate feeling of joy that comes from living a balanced, yet exciting life, where you can earn an income while simultaneously traveling and exploring the world. 
This form of freedom is unparalleled and the majority who choose this way of life ultimately choose so because of their desire for freedom.

Their desire to have more control over their time and how they choose to spend it.

Another major advantage that comes with being a digital nomad is the opportunity to improve the quality of life. This opportunity comes in many forms, such as the ability to live in places with an overall lower cost of living. This alone leads to a better day to day life. An added benefit is the ability to save a part of your earnings.

Statistics by Nomadlist show that popular digital nomad cities in Mexico, Thailand, Georgia, Vietnam, Indonesia, and Colombia have the highest number of remote workers, thanks to their affordable living standards.

Additionally, remote work has been associated with higher productivity. This leads to better results, and naturally a higher proportion of satisfied clients and employers.

Crowning it all is the travel opportunity that is offered to the digital nomad. Imagining being able to go wherever you want for as long as you want, exploring new horizons and being introduced to new cultures while also achieving your financial goals. There is complete independence and a lack of attachment.

People who love to travel certainly love what a digital nomad lifestyle has to offer.
Is that you too?
Read on to discover how to attain this lifestyle and the best digital nomad jobs for travelers that will help to get you there.
However, this doesn't mean that digital nomads do not face any problems. Let's look at…
What Disadvantages Come with Being a Digital Nomad?
For me personally, the nomadic lifestyle is ideal. However, while being a digital nomad can be a life-changing, eye-opening, and an exciting way of life, it's not all fun and games. Just like anything in life, there are positives and negative.

Here are the major issues that plague this laptop lifestyle.
Well for one, depending on the job, there is the possibility of not having a guaranteed income.

A lot of remote workers work as freelancers or contractors and as a result can go months without having any projects.

Being a freelancer means that the responsibility of self-motivation and hard work is completely on you. Yes, make no mistake, being a digital nomad is hard work. Being responsible for your own future means that you are accountable for the ups and the downs. Burn out is more common than may you think.

Digital nomads are also required to have a plethora of skills, equal to or even more than people who work a normal corporate job. In most cases, digital nomads are required to continue learning each day to be up to date in their work for successful pursuits.

Then there is the concern of being lonely and homesick while living as a digital nomad in foreign places around the world. Missing your loved ones, friends, and family while abroad is only natural.

However, being constantly on the move, the inability to connect as well with others from different backgrounds, the language barrier, and the lack of social ties can lead to a lonely life for those who crave connection.

Another major problem with being a digital nomad is the issue of communication and collaboration.

While working remotely, you rarely get that chance to stop by your colleague's workstation to ask for assistance or to get feedback around potential ideas. Remote workers are forced to plan their calls and messages in advance, often having to take into account any time differences.

While these remain some of the top disadvantages of being a digital nomad, there are other issues that include bureaucracy, distractions, and decreased motivation.

This can lead to reduced efficacy and productivity while working remotely. As a result, digital nomads are constantly on the lookout for productivity hacks to keep them at the top of their game.
Can Digital Nomads Work from the Beach?
The mere mention of the term freedom while working conjures up images of laptops in enjoyable spaces, such as the beach.
While some may dream of taking their laptop to the beach, in reality it's not the most practical of actions, with a number of cons associated with working at the beach.

However, this doesn't mean that it's completely unachievable.

Some of the problems with working at the beach include a lack of fast and reliable internet connection, power connectivity issues, and, perhaps the greatest of all, the potential for sand to get everywhere!

Being distracted by the activities around you can be an issue. From people playing at the beach to people partying to vacation songs or showing off those summer bodies, you might not have the ability to resist these distractions.

However, if you choose the location wisely, you could come close to achieving that perfect lifestyle. Like these most affordable beach towns in Mexico.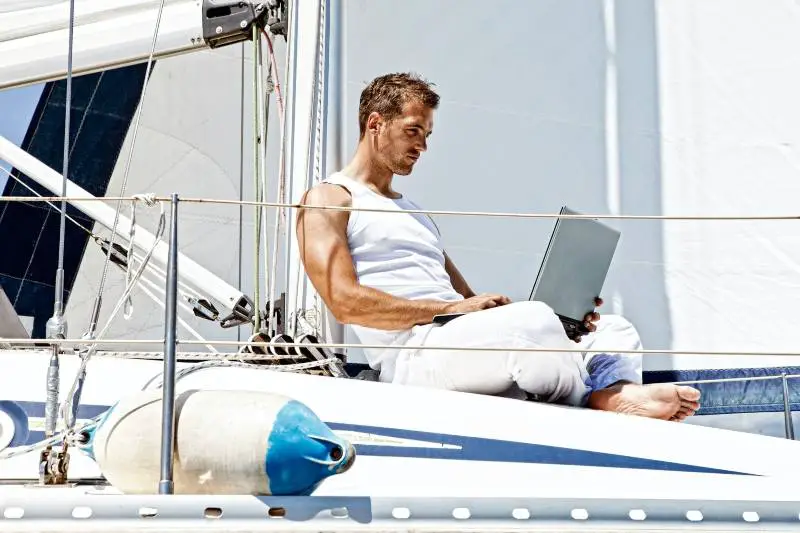 Ok, with that out of the way, lets get into the….
Top 10 Popular Digital Nomad Jobs in 2024
While being a digital nomad may come with its set of issues, it doesn't mean that one cannot thrive in the art of remote working.
The following are the ten best digital nomad jobs for traveling that you should consider in pursuit of that freedom lifestyle.
What is the best job for a digital nomad?
First up… 
1 | Blogger/Influencer
One of the most sought after and rewarding jobs in the digital space globally is being a well-established blogger or successful influencer.

This is where I fit in on this list of digital nomad jobs. If you're new here, welcome. Being a travel blogger and social media travel influencer are my main avenues of vocation. You can also read more about my story here.

The role of a blogger is to write posts that would resonate with their audience. These posts should be informative, entertaining, helpful, and inspiring. Other responsibilities include generating and pitching ideas, marketing content to readers, creating content for the blog and social media, as well as conducting research. The list is endless really.
A successful influencer needs to be authentic, trustworthy, and passionate about what they do to attract the right kind of audience. Skills required to be a blogger influencer include creativity, communication, content generation, networking, time management, SEO, photo/video editing capabilities.
There are a number of income streams for bloggers and online creators. They earn money through ads, sponsored content, affiliate marketing, and through sales of their own products, courses, and merchandise. Since the work is completely online, many bloggers use this flexibility to become digital nomads and travel around the world, living in different places for weeks or months at a time.

However, it's not all fun and games and while the task offers a great fortune, this might also be one of the hardest jobs to handle as a digital nomad. As a blogger or influencer, your entire life is to be spent online. You will always be on your toes trying to find new information to feed to your audience and to remain relevant. The market is also terribly competitive, while technical issues can be frustrating.

A person who earns through Youtube, for example, is constantly required to invent new ideas, record, edit, and share them on the platform — all of which can be time-consuming. A blogger will, at all times, need to be proactive and creative to come up with unique and captivating articles, posts, and ideas to promote on their platforms.

While the task might be time-consuming and make the time spent traveling less enjoyable, the reward is quite handsome. According to Glassdoor reports, the average annual salary for a blogger in the United States of America is about $33,000. More money can be made from the job as a travel blogger given that you keep an upward trend in audience numbers and that the ads on your pages perform well.
2 | Social Media Manager
Offering a great alternative to being a blogger as a digital nomad is choosing to become a social media manager.

This position involves managing a client's online presence by developing a strategy for growth, the creation of content, and analysing of the data. In addition, facilitating customer service and the managing of digital campaigns are an important part of the position.

Notably, social media managers facilitate social media tasks, including communicating with potential clients and customers while taking a closer look at social media pages, websites, as well as accounts. From time to time, this might involve posting on their pages, writing news content, and sharing stories on social media platforms and websites.

In some cases, being a social media manager will involve being engaged in team events and keeping a positive spirit within the team.
To succeed as a SMM, you must a creative flair when it comes to both the producing of content as well as in the understanding of what makes content go viral. Efficiency and top-notch organization are also essential skills to develop.
This job will work great if you already have quite some experience in social media growth or marketing. Social media managers balance traveling, having fun, and taking care of the extensive lists of tasks during their shifts.

To commence your digital nomad job in 2024 as a social media manager, there is a good chance that you will need to prove your social media skill set with successful social media marketing campaigns to prove to your recruiters that you know what you are doing. An internship may be the best option for a beginner to gain experience in this regard.

Payscale has cited the average annual pay for social media managers to be about $51,000. For those planning on being social media managers, it is important to find the perfect place to live and travel so as to balance work availability and standard of living.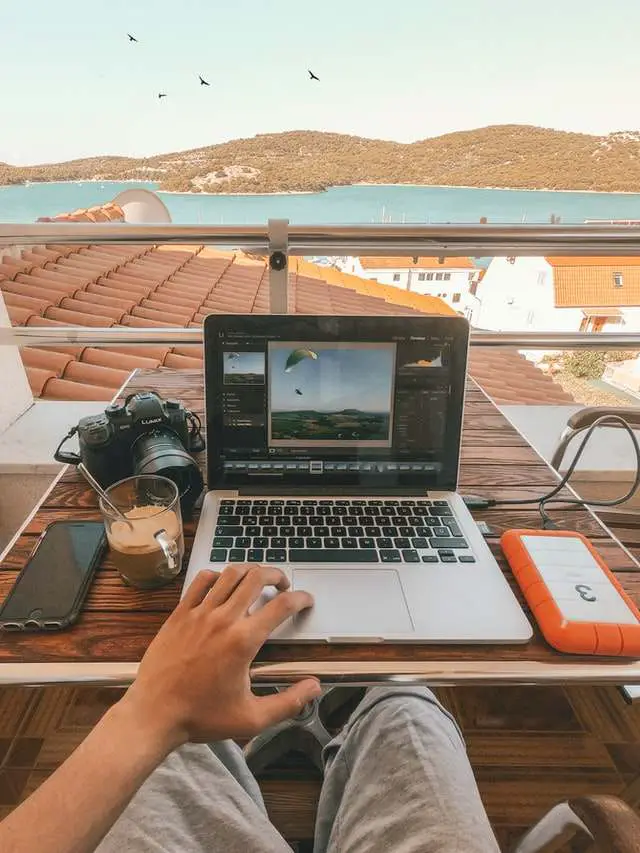 3 | Copywriter
Do you have strong writing skills? Then this up and coming digital nomad job 2024 may be for you. Particularly if you can handle being creative at every moment by coming up with different topics and ideas and a way to express them naturally.

A copywriter is tasked with taking the client's brief and then coming up with a text proposal that will get the attention of the target audience. These ideas can include creating slogans, blog posts, scripts, and strap-lines. These duties include keyword research,  product research, creating written content, and proofreading  for accuracy and quality.

A strong writing skill is essential to being a good copywriter in addition to being creative and possessing good communication, interpersonal, research, and SEO skills.
Copywriting is one of the most popular jobs in the world of freelancing. The great thing about being a copywriter is the possibility to work on projects, not only remotely, but also whenever you want. In most cases, copywriting involves deadlines, unlike shifts in most jobs, hence offering even more freedom at work.
However, churning out copy day in and day out can get tedious and exhausting. There is also the trap of a lack of inspiration and burnout which may catch up with any copywriter. This leads to the inability or struggle with writing new marketing content.

The average annual salary for a copywriter is $51,000 dollars which is quite a great deal for a digital nomad. It is possible for an experienced copywriter to make over 6 figures in a year. 
4 | Web Developer
Next up on this list of best digital nomad jobs in 2024 is that of a web developer. To many employers, programming is a sought after skill, and even the pandemic itself wasn't enough to stop the demand in web development job offers.

Web developers create and maintain websites and are responsible for the technical aspects of the site. The position of a web developer can be seen as one of the toughest jobs for digital nomads. The first reason is that you might need to learn a few programming and coding languages — a choice that carries loads of sacrifices, frustrations, and money. This reason alone accounts for most of the web development career dropouts.

However, with great toil comes great reward, both from the financial as well as the freedom point of view.

Freedom comes unmeasured as web developers are able to work  from pretty much anywhere, from airport lounges to hotels, without much struggle with time zones and communication. This allows for sufficient opportunity to travel the world.
Essential skills required to be successful in web development include computer literacy, an attention to detail, strong numeracy, a continuous learning attitude, problem-solving and time management capabilities. A web developer should have a good understanding of HTML, JavaScript, CSS, and CSS frameworks. They should also have a practical knowledge of website interfaces, web standards, and cross-browser compatibility. All of this will allow the prospective developer to build a strong personal portfolio to highlight their expertise.
According to ZipRecruiter, the average annual pay for web developers is about $75,000. While this is one of the most handsome pays for digital nomads, there is even more to earn as a web developer as you gain experience. A big determinant of the salary is which web language(s) one is proficient in. A survey by Fiverr showed that engineers in web development earns the most, with at least nineteen percent of them earning more than a $100,000 annually.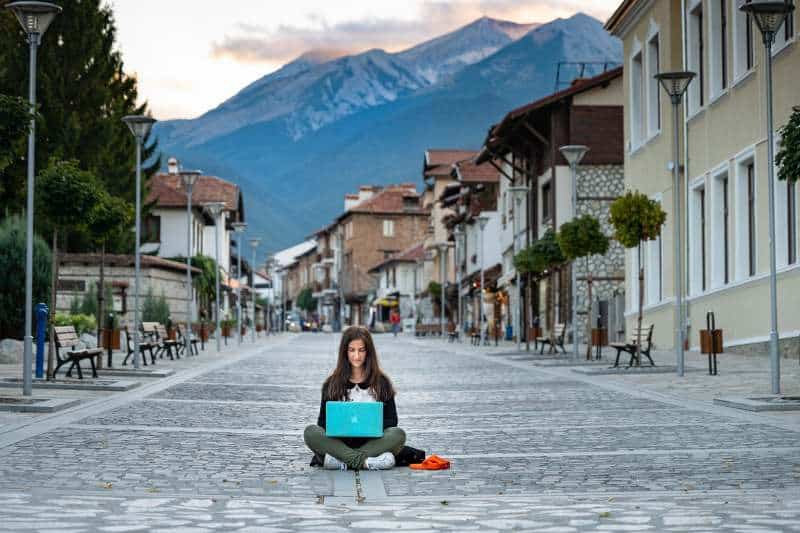 5 | Translator
If you speak two or more languages fluently, working as a translator might be your ideal choice for a digital nomad job.

This job involves interpreting written or spoken information into another language while ensuring the meaning and context are maintained at all times. The goal is to facilitate effective communication between individuals or groups that do not speak the same language. A good translator is able to work with a variety of clients ensuring all the differing needs are met.
In addition to being fluent in at least two foreign languages, the skills required to be a translator include the ability to work to deadlines, an attention to detail, the ability to grasp new concepts quickly, and a clear writing style. Offering their language skills for payment, translators are in most scenarios free to work whenever they wish, providing an opportunity to travel the world. Interpreters are often required to travel to new venues and attend workshops, conferences, and seminars.
While it may sound frantic, translating documents or information is not a difficult task for someone fluent in the languages of the subject involved. When it comes to paying matters, this is solely based on your client's quotation for the job, but it not unusual to hear an average salary of $40,000 per year. 
6 | Customer Support Agent
If you're looking for one of the easiest options to starting remote work as a digital nomad in 2024, try to find a job as a customer support agent.

While this might not be a dream job for many, the job offers a perfect way to earn a decent income while still traveling the world. A large number of opportunities exist in this field, ranging from being a typical agent to a customer support manager.
The role of a customer service representative is to offer support to customers who have questions, complaints, concerns, or are looking at purchasing a product or service you represent. The major customer service skills to develop for this role include persuasive speaking skills, adaptability, clear communication skills, self-control, empathy, and patience. These are the traits necessary to communicate with others while solving problems and ensuring customer satisfaction.
However, with this job comes a concern of having to work in different time zones from your colleagues or clients. This can have an affect on the relationship between both the employer and the employee.

According to ZipRecruiter, the average annual salary for a customer support representative is $27,000. That may not sound like a lot when in the U.S., but it goes a long way when living in South America or Southeast Asia.
7 | Online English Teacher
For native English speakers, teaching English to foreign students may be your ticket to financial freedom as a digital nomad.
This is the kind of job for digital nomads who enjoy working with kids. The expertise required for this kind of remote work encompass excellent spoken and written communication skills. You'll also need to have good listening capabilities and excellent planning and organisation skills.
With the right mindset, a friendly and flexible approach, enough patience, and self discipline, there is much to reap from this job and a good way to gain teaching experience.

Responsibilities of an online English teacher include developing educational content, preparing lessons, assigning activities, and providing feedback on the progress of the students.

Like the customer support job, being an online English teacher tends to be somewhat inconvenient since you'll need to work from your apartment, denying you the freedom to work at coworking or other public spaces.

You will also need a stable internet connection, a webcam, and some ergonomics for seamless activity. If you are not a native English speaker, you need to be proficient in English, holding a credited certificate to prove you can be a reliable online English teacher.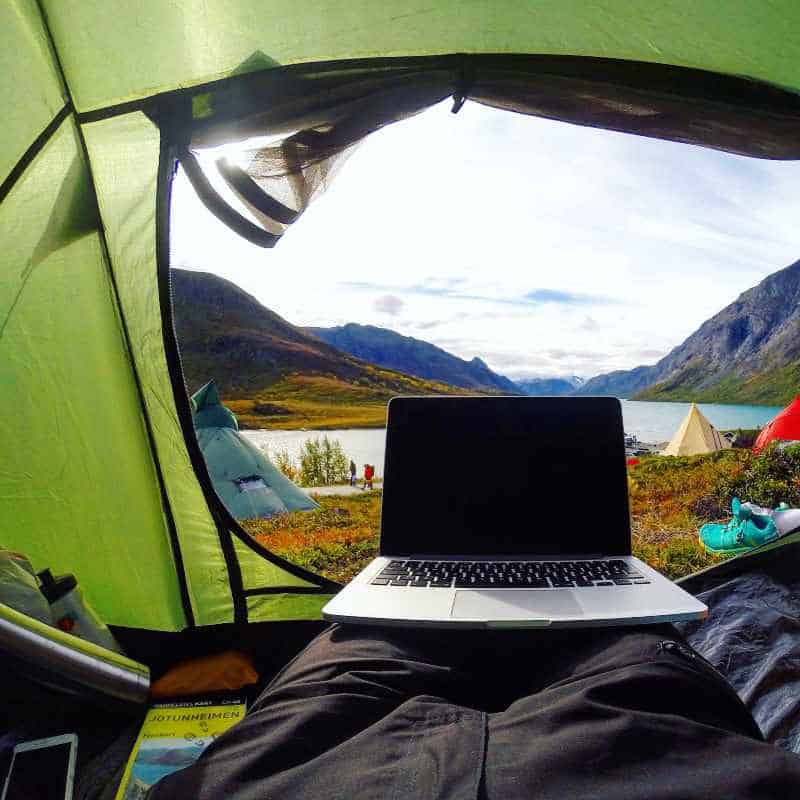 8 | SEO Specialist
Another popular job for digital nomads and a great way to earn some good money while exploring the world is to become a Search Engine Optimization (SEO) specialist. 
This is a particularly good choice if you're passionate about digital marketing and the online world. Like most of the popular digital nomad jobs, becoming an SEO specialist requires one to invest time to learn the secrets of SEO. It is also advisable to keep up with the latest Google updates and ranking news too.
A SEO specialist analyzes, tests, and makes all the changes necessary so that it is fully optimized for search engines. Notably, most companies hire freelancers to work on SEO projects for business evaluation and increase its visibility, all of which lead to attracting more customers for the company. 

There is also great financial reward potential in this space. According to salary.com, the average salary for an SEO specialist is about fifty-seven thousand dollars.
9 | Dropship Specialist
The buzz word in the online commerce space. But, what exactly is it? Well, drop shipping is a form of retail business composed of selling someone else's product without actually fulfilling the order. So, the drop shipper accepts customer orders and informs the third-party supplier of the sale. The supplier then delivers the ordered product to the customer. The drop shipper never has to keep the products sold in stock.
It is no surprise that many in the digital nomad world get to work for dropshipping organizations. With online shopping opportunities becoming even more common, one can take the opportunity to sell products online. Making enough revenue from this endeavour would allow one to continue exploring the world.
Starting a drop shipping business essentially involves, in its simplest sense, market research, figuring out the logistics, finding the right supplier, and building an ecommerce website.

With SEO specialists employed in dropshipping, your website can rank higher in search engine result pages. This allows for great marketing to promote your brands while customer services agents provide customer services to potential customers.

If you're wondering how profitable dropshipping is, that's a tough one to answer because of the multitude of variables involved including the niche and average cost of your goods. The average dropshipping profit margin is between 15% – 20%. 
10 | Affiliate Marketer
Affiliate marketing is not uniquely a digital nomadic job but the internet has made it a whole lot easier to make a substantial income through this form of advertising work.

An affiliate marketer works completely independently. They're not contractors or employees. They make money in the form of a commission when they refer customers to a product or service.
For the company that makes the product or offers the service, it's a way of attracting new customers without needing a marketing department.

For the affiliate marketer, it's a way of making significant amounts of money simply by pointing prospective customers in the right direction. It's a win-win situation for everyone involved.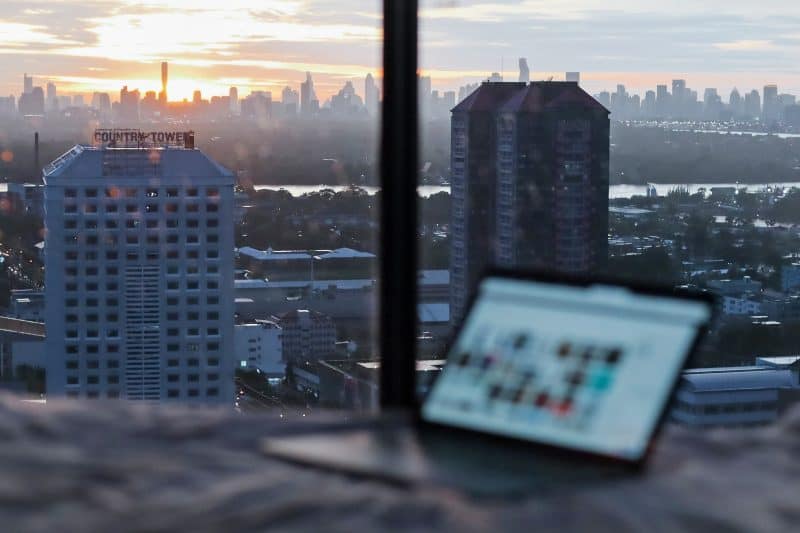 In addition to the jobs above, here are other options that make for possible digital nomad jobs:
Graphic designer
Transcriber
Video editor
Virtual assistant
Forex trader
Photographer
Programmer
Content writer
Remote Recruiter
So…
How does one manage to stay productive as a Digital Nomad?
There is no doubt that remaining productive while constantly changing location and visiting new countries is tough. With a myriad of distractions present in the line of duty, there is a need to seek productivity hacks that will boost your focus and motivation levels. Achieving this will instantly lead to better results while you work remotely.
There are a number of productivity tips for digital nomads.

First, choosing to work from a coworking space or café is a great way to focus on your job. In many cases, this will allow you meet new people that perform similar tasks or with a similar mindset. With such interactions and a little inspiration, it is easier to stay focused on the goal.

It is also recommended to consider working out regularly as a pathway to maintaining great physical and mental health. Any form of physical exercise, from strength training to yoga and everything in-between, will also refresh you as you start each new day.

Additionally, you may choose to wake up real early to remain more focused and productive with minimal distraction. An added benefit of this is the opportunity to witness the rising of the sun.

It is also necessary to choose the best vpn for travel to protect your privacy while in another country.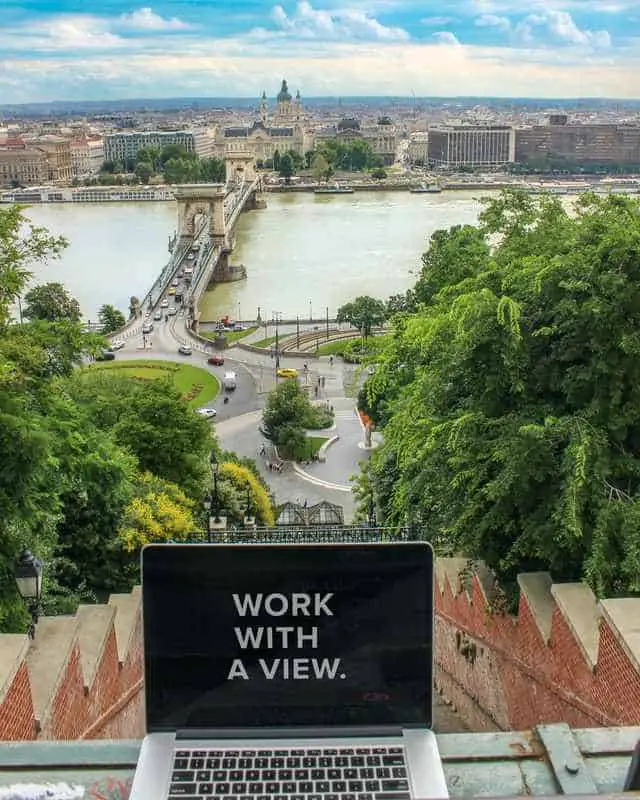 Final Thoughts 
Living the digital nomadic lifestyle is highly sought after for the freedom and flexibility that it can provide. As more and more jobs can be done remotely, this form of lifestyle is only likely to continue growing.
While we all desire financial freedom, many of us still think of freedom from our work schedules. To achieve this laptop lifestyle, one can pursue any of these digital nomad jobs.

However, to become successful as a digital nomad requires hard work, proper planning, networking skills, and a whole lot of courage. Notably, you might need to opt for the career that you are passionate about or possess great skill in. With experience in any of these jobs for digital nomads, expect to have your pay improve, offering you financial muscle, even when you're on the move from one end of the world to the other.
>> Don't forget to check out this list of the
best digital nomad cities in the world
If you have any further questions, be sure to let me know and I'll be happy to assist. Always remember to be a responsible traveler.

Good luck and all the best in your pursuit of the nomadic lifestyle!

Rai