11 Best Island Vacations for Families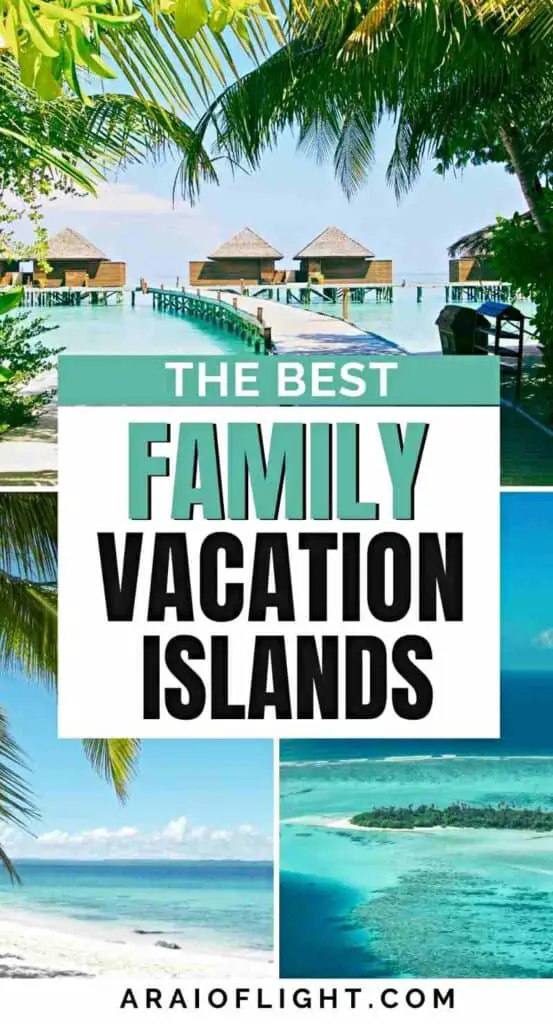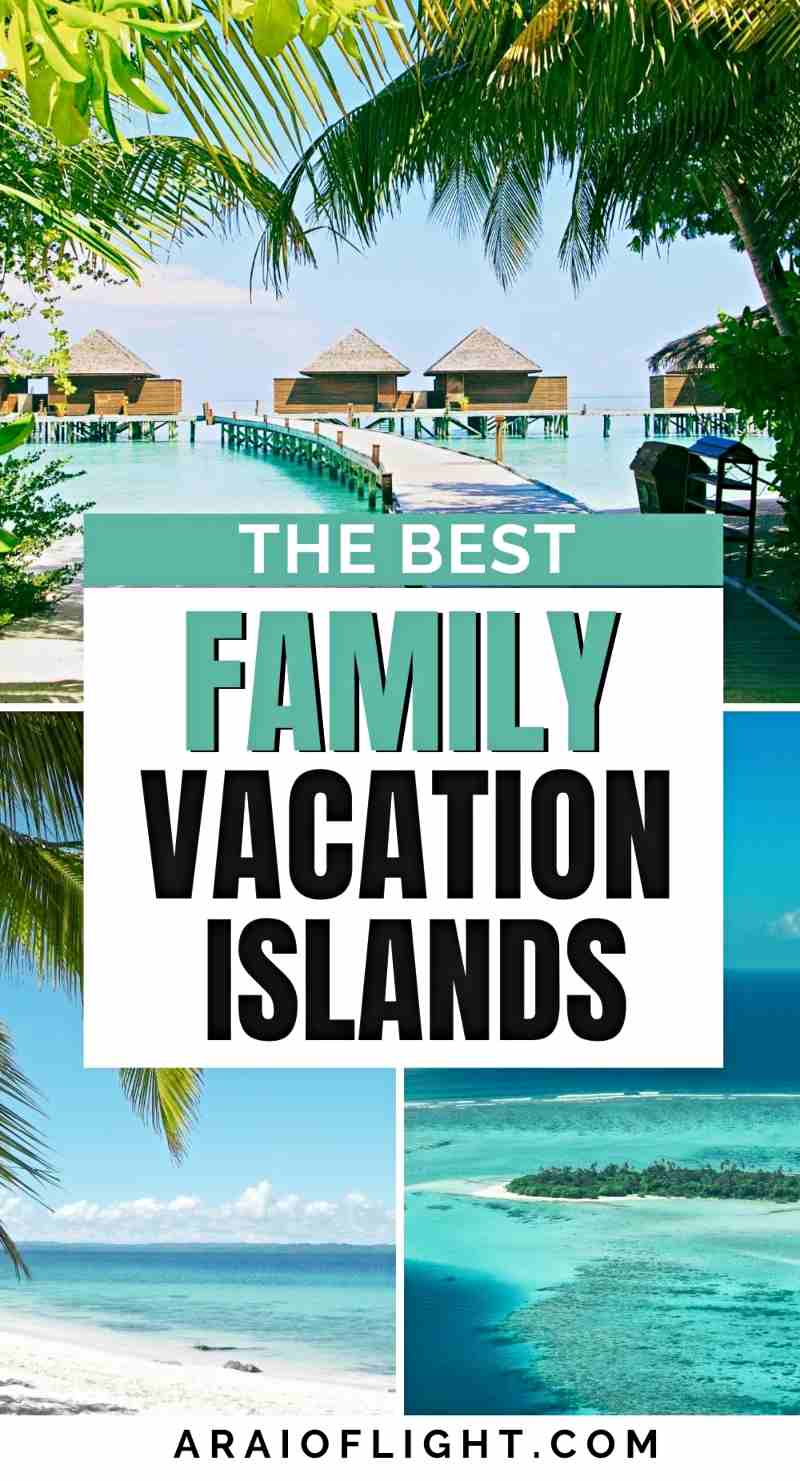 Nothing beats a vacation in a beautiful destination surrounded by the people you love. Families that travel together stay together, right? Whether you're looking for complete relaxation, thrilling adventures, or maybe something in between, here are the best island vacations for families.

Whether you imagine yourself sipping drinks from a coconut in the Caribbean, zip-lining through the Hawaiian jungle, or exploring the incredible diversity of wildlife found in the Galapagos Islands, I've got something for you. Read on to find some of the best experiences you can enjoy in these tropical destinations for family travel.
>> Read next:
TOP 11 FAMILY ISLAND VACATIONS → WHICH IS THE PERFECT ONE FOR YOU
From heavenly settings and soft sand beaches to fun activities and family resorts, the best islands offer the perfect holiday.
Which is the best island to visit with family?
1 | BARBADOS ✔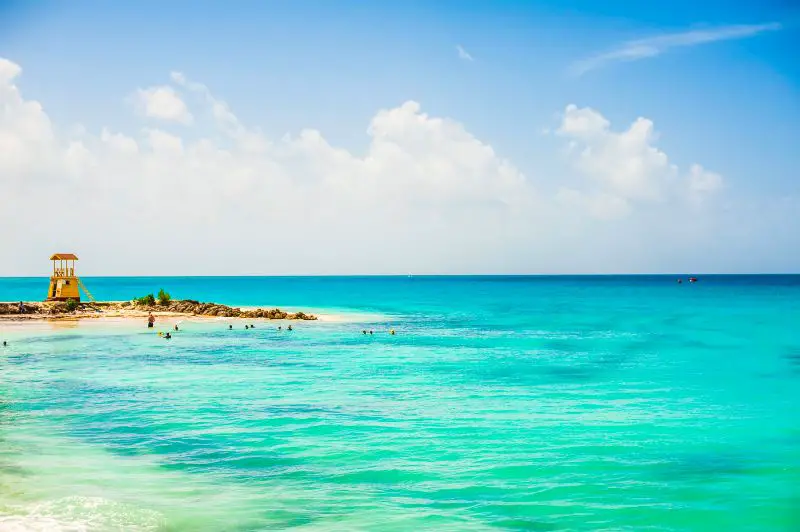 Is Barbados a good place for family vacation?
With its beautiful natural scenery, interesting Barbadian culture, abundance of family resorts, and plenty of things to do with kids, this small island country in the south-eastern Caribbean Sea is first up on this list of best family vacation islands.
Barbados is one of the most popular islands in the Caribbean and families from around the world are attracted to its safe environment, clean drinking water, stable economy, and welcoming happy people.
The name hints of an exotic destination that is hard to get to, but this family friendly island is a direct flight from many cities in the US as well as a handful of other countries.
With its distinctly British vibe, reflecting centuries of British influence, it is easy to interact with the local "Bajans" as well as to get around the island.
Barbados offers the best island vacations for families visiting the Caribbean with activities for those of all ages. 
While most other Caribbean islands are volcanic in nature, Barbados stands out due to its coral and limestone landmass. It is sought-after for its island life, Bajan sunrises, and idyllic tropical beaches that are perfect for swimming and chilling out. Best beaches include the pink sand Crane beach, Bottom Bay, Mullins Beach, and Carlisle Bay.
For a day of total fun, stop by at Rascals of Barbados waterpark, the Caribbean's largest aqua-park, followed by a visit to Oistins fish fry.
Families will love exploring Harrison's Cave Eco-Adventure Park, Barbados Wildlife Reserve, Kensington Oval, Animal Flower Cave, and Bathsheba Park. Don't miss a visit to historic Bridgetown to explore its colonial monuments and waterfront views.
Take some time away from the kids with a visit to a rum distillery. As the birthplace of rum, this is bound to be a fun and authentic experience. Rum not your thing? How about some afternoon tea instead?
Where to stay? The sea off the west coast is the calmest and safest for swimming as its tranquil waves lap golden sands. Holetown area comes highly recommended, with its boardwalk and beautiful soft sand beaches.
Other great alternative options for tropical family vacations in the Caribbean are:
The Bahamas
Aruba
Puerto Rico
Cayman Islands
Jamaica
>> Must read:
Your guide to visiting Flamingo Beach in Aruba
Keep reading to discover more of the best island vacations for families below…
2 | MAURITIUS ✔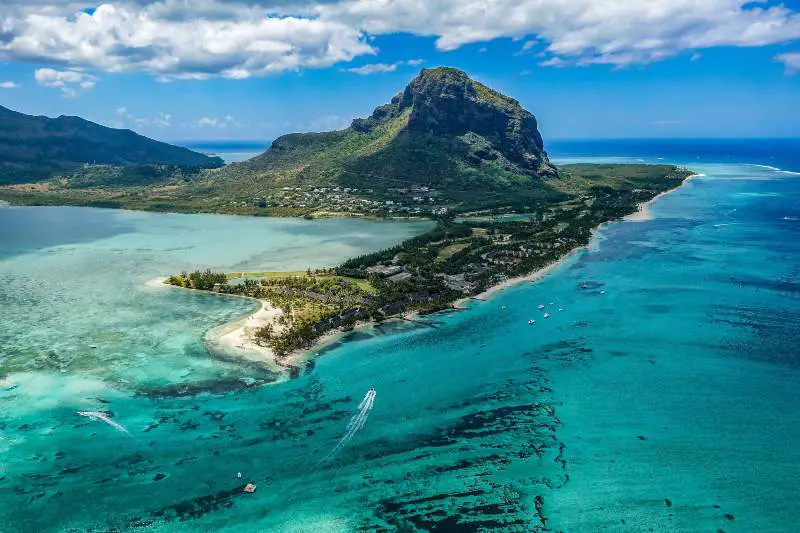 Mauritius, the pearl of the Indian Ocean, is not just a great honeymoon destination, but also presents one of the best tropical vacations for families. 
This volcanic island set against the backdrop of rugged mountain scenery, pristine beaches, lagoons, and coral reefs is a year round destination. Its excellent weather, cultural diversity, varied entertainment, and luxe hotels are a magnet for families looking for an island escape.
Mauritius, part of the Mascarene Islands, is also renowned for its unmatched hospitality and its well-run resort hotels, many of which cater well to families with kids. 
Accommodation options range from super luxury villas and boutique hotels to value-for-money guesthouses and family-friendly resorts. The latter usually arrange a host of fun activities for children to keep them entertained throughout the stay.
Many resorts also offer a free stay and free food for children, when sharing with adults, so keep an eye out for that when booking. 
This ideal tourist vacation spot boasts more than 150 km of silk-soft beaches around its shoreline, offering a fantastic family island holiday, especially for those who love the outdoors. The wide range of activities include snorkelling, scuba diving, swimming, dolphin spotting, and glass-bottom boat trips.
Don't miss a visit to the Dalblair shipwreck at Point d'Ensy, snorkelling in Blue Bay marine park, and exploring the ocean in Blue Safari Submarines. Spend an afternoon at the 250-hectare African-themed Casela World of Adventures and a night indulging in the tasty street food scene.
Top attractions in Mauritius include Black River Gorges Naional Park, Le Morne Brabant, La Vanille Nature Park, Flic En Flac Beach, IIe aux Cerfs, Albion Lighthouse, and the SSR Botanical Garden.
You'll be happy to know that Mauritius is easy to get around by car. It is also very safe, topping the list as the safest country in Africa.
Is Mauritius a good island to go on vacation with family?
This remote archipelago in the Indian Ocean is my choice for the best island for a family vacation in Africa and should not be missed. Other noteworthy options for a tropical family holiday in Africa include the Seychelles, Cape Verde, Zanzibar, and São Tomé and Príncipe.
3 | KOH SAMUI, THAILAND ✔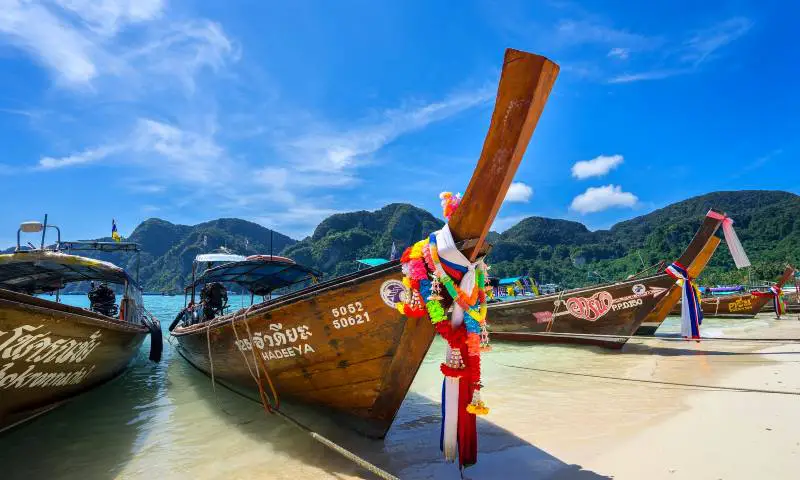 Thailand's second largest island, Koh Samui has something to offer a variety of tastes and budgets and my pick for the best family island vacation in Asia. Other noteworthy options include Singapore, Langkawi, Phu Quoc, Phuket, and Bali.
Once a fishing community, this tropical island in the Gulf of Thailand offers beautiful natural landscapes, amazing palm-fringed beaches, unhampered views, and plenty of fun activities for kids. These include everything from natural features to manmade attractions. Don't miss the Na Muang Waterfalls and the 12 metre tall golden Big Buddha statue.
The most popular things to do with families during a tropical family vacation in Koh Samui are a visit to Samui Elephant Sanctuary, Pink Elephant Samui Water Park, Secret Buddha Garden, Butterfly Garden, the night markets, and Aquapark Samui. 
For beaches with the cleanest sea water you can't go wrong with Maenam Beach, Lamai beach, and Choeng Mon Beach, some of which are the best in all of Thailand.
Found off the east coast of the Kra Isthmus, Koh Samui is a great base from which to explore the neighbouring islands of Koh Tao, Koh Phangan as well as a boat tour around the Ang Thong National Marine Park.
Is Koh Samui safe for families?
You will be pleased to know that this Thai island is definitely safe for travelers and where most visits go completely trouble-free. With a large proportion of the population being able to speak conversational English and the variety of transport options, it is also possible to get around the island pretty easily.
This popular resort island for kids has a number of fantastic hotels and resorts. For families, I recommend staying at Lamai Beach. A handful of my favourites are Anantara Bophut Koh Samui, Bandara Resort, Amari Koh Samui, and Centara Reserve Samui.
The best time to visit Koh Samui is during the dry season that lasts from December to February for plenty of sunshine and good weather. 
>> The ancient royal city of Ayutthaya is a must visit.
Check out this travel guide for how to plan a day trip
4 | FIJI ✔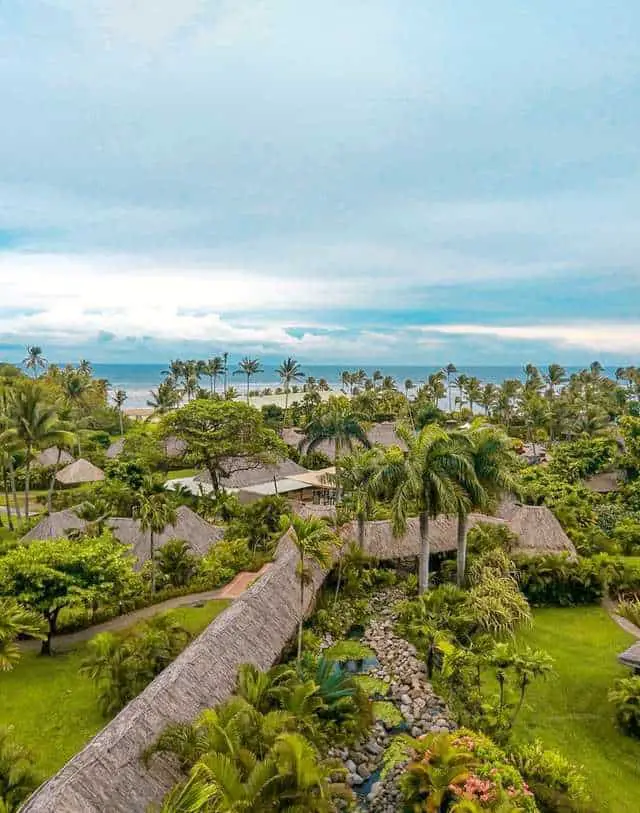 The Fijian archipelago, spread across more than one million square miles in the South Pacific, is made up of exactly 333 islands and 500 islets formed by volcanic activity over millions of years. These sun-kissed islands are famous for their isolated palm-lined beaches, lush tropical landscapes, turquoise waters, luxurious private resorts and spas.
From coral reefs with clear lagoons to epic volcanic peaks, rainforest, and waterfalls, many of these islands are unique. With such variety, the question remains…
Is Fiji a good place to take kids?
With pristine natural beauty, year-round tropical warmth, good food, friendly locals, and an abundance of family-focused resorts, Fiji makes for a great choice when looking for the best islands for family vacation. This kid-friendly set of islands is safe, easy to navigate with good infrastructure in one of the most developed economies of the Pacific islands.
The quintessential South Pacific paradise beckons visitors to do nothing more than relax. For those families looking for more than that though, there's plenty of attractions and things to do. Popular activities with kids include the Kula Wild Adventure Park, Colo-i-Suva Forest Park, and Sabeto Hot Springs and Mud Pool.
Many of the main Fijian islands have smaller islets off of their coastline and kayaking is a fun way to get to them. Known as the soft coral capital of the world, the waters off these islands also offer some of the best snorkelling and diving.
Other landmarks in Fiji include Bouma National Heritage Park, the Garden of the Sleeping Giant, Sri Siva Subramani Temple.
There's also no shortage of fantastic family resorts, offering kids' clubs and facilities. My favorites include Jean-Michel Cousteau Resort Fiji, Sofitel Fiji Resort and Spa, and Shangri-La Yanuca Island.
For an exotic South Pacific getaway with children, Fiji is your best bet. Other noteworthy options include the Cook Islands, Tahiti, Bora Bora, and Vanuatu.
>> For all those amazing island and beach pics for insta, you're going to need these:
beach captions and love beach quotes
5 | TURKS AND CAICOS ✔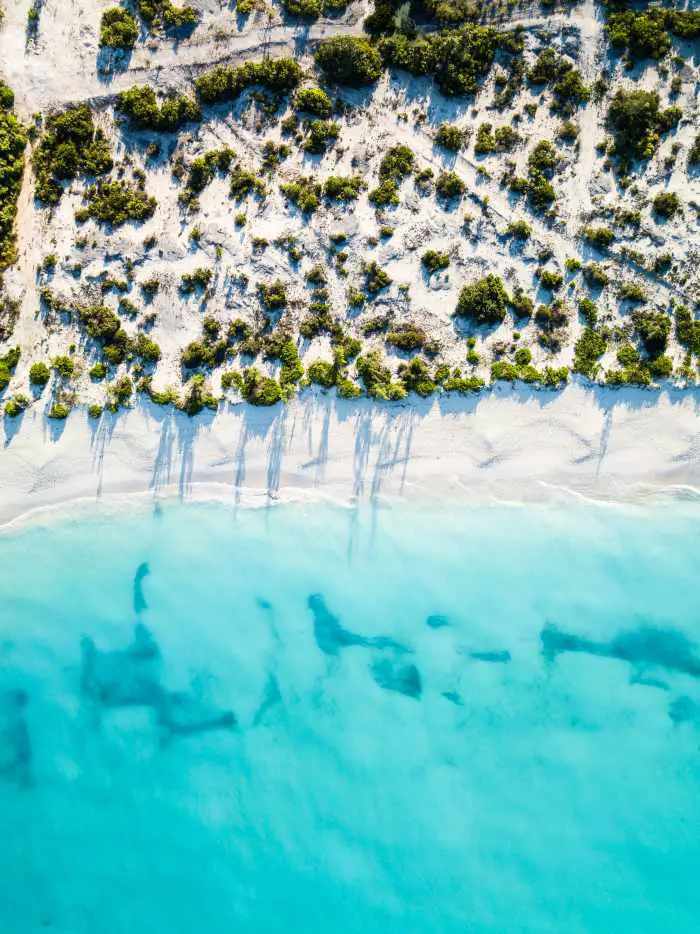 The Turks and Caicos has a reputation as an exclusive and secluded tropical getaway, however this archipelago of secluded beaches, cays, and coral reefs also offers one of the best island vacations for families in the Caribbean.
This British Overseas Territory consisting of the larger Caicos Islands and smaller Turks Islands are most famous for its pristine white sand beaches, often voted among the best in the world. Bright turquoise ocean waters, soft sand, and a rich marine life come standard.
Is Turks and Caicos a good place for kids?
Nestled in the Atlantic Ocean, the 40 coral islands are ideal for families looking to get completely into nature. The calm and sheltered natural environment provides the ideal location for families with children. In addition to the amazing beaches, you will find both wetland and coastal environments. 
You will also notice that the islands have enough tourist infrastructure for a comfortable and relaxing stay, without the crowds to ruin a perfect tropical family holiday.
Turks and Caicos is one of the safest countries in the Caribbean and its location just southeast of the Bahamas makes it the perfect tropical island family getaway from the US. The official language is English and the US Dollar is the currency in use.
The islands have some of the Caribbean's best snorkeling and diving. Other popular highlights with families include Grace Bay Beach, Grand Turk Lighthouse, Flamingo Pond Overlook, Turks And Caicos National Museum, Taylor Bay Beach, and Provo Ponies.
There are a number of family resorts with kid-friendly amenities and oceanfront views. Many of these resorts offer a free stay and eat for kids under 12. The all-inclusive Alexandra Resort, the Somerset on Grace Bay, and the Sands at Grace Bay all come highly recommended.
>> Speaking of pink sand, check out this list of:
15 stunning pink beaches around the world
6 | THE MALDIVES ISLANDS ✔
Is Maldives good for a family vacation?
Adored for its paradise-like amorous setting, no list of tropical vacations for families is complete without including the Maldives Islands. Known for its powder-soft sandy beaches, vibrant blue warm waters, shallow lagoons, and year-round sunshine, the islands are a natural fit for a holiday with kids.
A luxury honeymoon destination that's been on many couples' bucket lists, Maldives is now becoming a popular hotspot for families looking for a relaxing holiday in the tropics. In fact, there are now plenty of family-friendly resorts all over the islands that include child-friendly amenities with a number of fun activities to keep their interest.
Recommended family resorts in the Maldives are Constance Halaveli, Anantara Dhigu resort, and Niyama Private Islands. 
Many resorts in the Maldives offer fun activities for families. These include kids activity clubs and an outdoor cinema with beachside dining, so don't miss the chance to experience this during your family holiday. 
Since the beach is the main attraction in the Maldives, one of the best ways to spend your family holiday is a day (or many) swimming at the beach. There are numerous beaches in the Maldives that have calm and shallow water, that are safe enough for kids to swim. 
Families can also go island hopping to visit isolated islands, dine at an underwater restaurant, and partake in fun water activities, such as snorkelling and kayaking. 
Rest assured that the Maldives is considered to be a safe vacation destination for children and offers some of the best islands for families with children.
>> Test your families world knowledge with these:
100+ Geography Trivia Questions
7 | BALI, INDONESIA ✔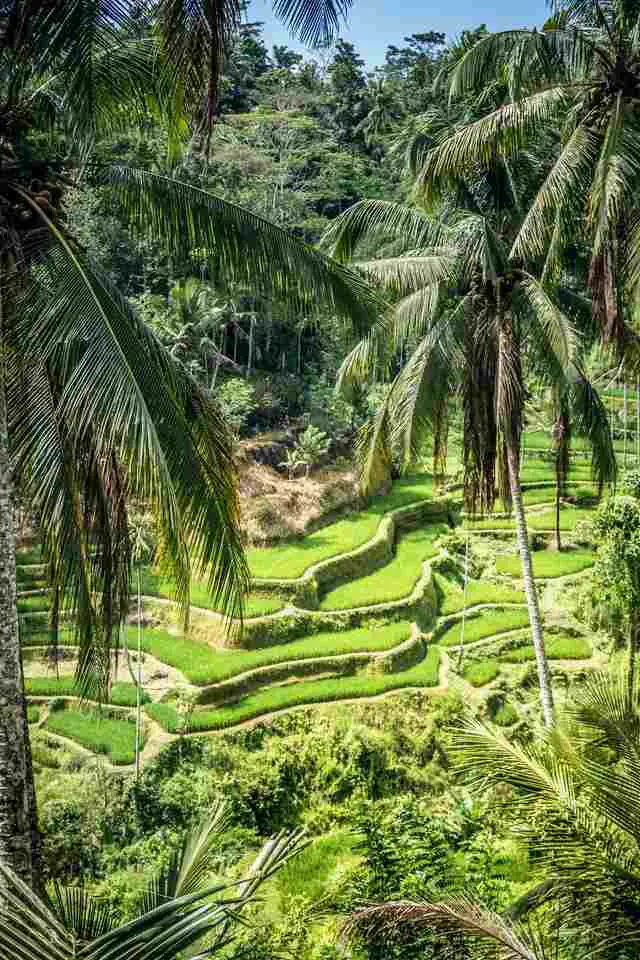 Is Bali a good place for family vacation?
Bali is a great destination for tropical family vacations. It has beautiful beaches, delicious cuisine, gorgeous sunsets, welcoming locals, and an interesting culture to keep the entire family thoroughly entertained. 
Best of all, Bali has no shortage of family-oriented resorts with child-catered amenities such as Padma Resort Ubud, AYANA Resort and Spa, and Mandapa Ritz-Carlton Reserve.
When it comes to kid-specific activities on this island vacations for families, visiting a water park should be first on your list. The Waterbom Bali water park, found in Kuta, hosts fun rides for kids of all ages. 
After a day spent at the park, indulge in exotic meals at the Pirates Bay Bali, a quirky restaurant housed in a big pirate boat. 
For kids who love the wild, take them to the Bali Safari Marine Park. It hosts a wide range of wildlife entertainment, such as cultural shows and a fun zone. 
Another exciting activity for families who adore wildlife is to explore the Sacred Monkey Forest in Ubud. Here, you get the opportunity to get up close and personal with a troop of playful monkeys. 
If your kids love to play in the water, you will have plenty of options in Bali. Places like Nusa Dua offer fun water activities for kids, ranging from surfing to jet skiing and paddle boarding.
>> Read next:
Your guide to visiting Pura Gunung Kawi temple in Bali
8 | KAUAI, HAWAII  ✔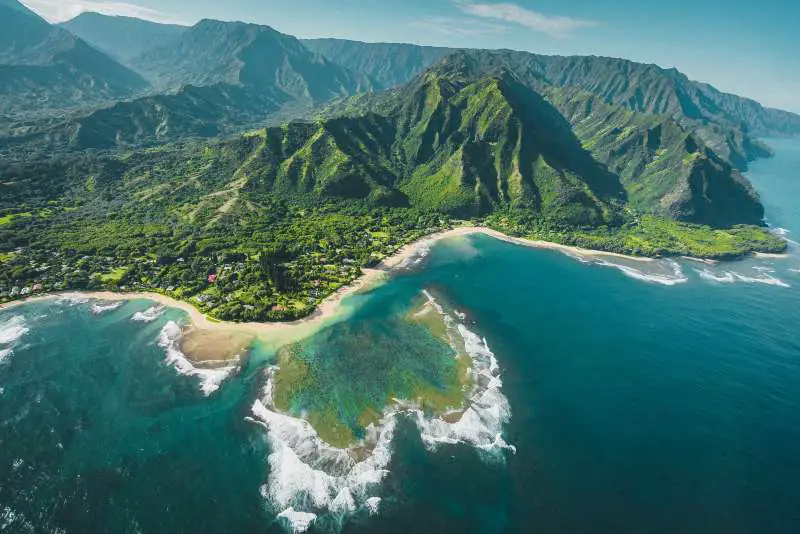 Are the Hawaiian islands a good place for family vacation?
Family is an important part of Hawaiian culture, and Hawaiians welcome little ones into their community with wide open arms. Because of this, it's no surprise to hear that Hawaii is often considered a top destination for family holidays.
The vast archipelago consists of a number of different islands. Depending on the activities you wish to do, it can be hard to decide which of these is best island to visit with family in Hawaii. 
However, if you are on limited time, make it the Hawaiian island of Kauai. Also known as the "Garden Isle," Kauai is one of the quieter and laidback of all the Hawaiian Islands. Tropical rainforests cover much of its surface that feature mountains, jungle, and waterfalls.
Set in the Central Pacific, it offers the best tropical family vacations for those that prefer a less crowded enclave to explore. It experiences mild temperatures year round and is a safe destination for children.
Kauai also offers a range of luxury hotels and resorts that cater to families. For a truly relaxing stay, consider booking one of the first luxury vacation villas on the north shore of Kauai. 
Na Pali Coast Wilderness Park, Waimea Canyon State Park, Kilauea Lighthouse, and Hanalei Bay are highlights of a visit. Don't miss the train ride through Kilohana Plantation and the Wailua River Cruise to Fern Grotto.
If your kids love water-based activities, Kauai has plenty on offer. Find pleasant waters and abundant coral reefs in Poipu Beach State Park, Kee Beach, and Haena Beach State Park. You can also hike at the Kuilau Ridge Trail or Iliau Nature Loop Trail as a fun family activity.
Another island for family vacation that is closer to mainland USA is Anna Maria Island on Florida's Gulf Coast. You could even consider "America's Caribbean Paradise," that are the U.S. Virgin Islands.
>> Speaking of the United States, check out these:
100 best places to visit in USA
9 | MALTA ✔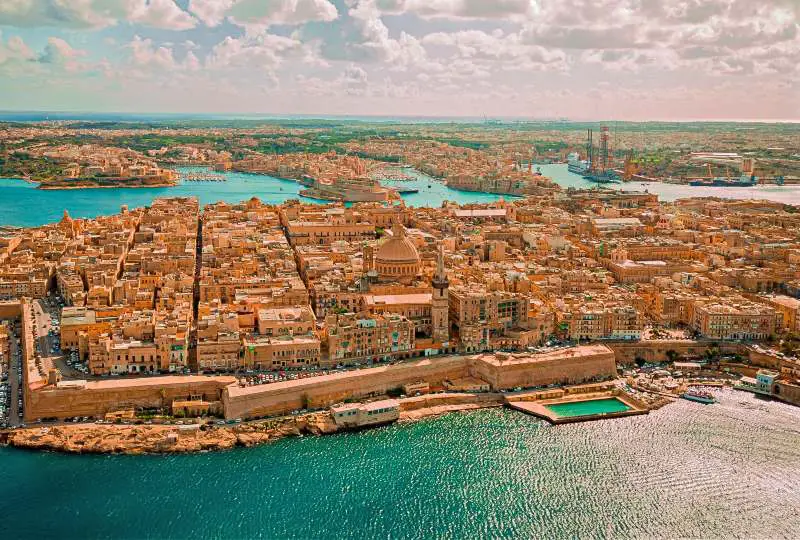 Malta, an archipelago in the central Mediterranean, offers an amazing setting for a family holiday. It remains one of my personal favourite destinations in Europe with its unique landscapes, great climate, megalithic temples, maze-like catacombs, numerous fortresses, gorgeous beaches, vibrant nightlife, rich culture and history. Despite its size, there's also a whole lot of things to do in Malta, sights to see, and attractions to visit. 
What is Malta like for a family holiday?
The Maltese Islands of Malta, Gozo, and Camino are an excellent destination for families. A big emphasis is placed on the family-unit and on children in Malta. This way of life is inherently a part of Maltese culture, making it a great island destination with kids.
For the most part, Malta is very safe to visit and it is among the safest Schengen countries. A visit to this part of the world, between Sicily and the North African coast, provides the opportunity to enjoy the Mediterranean lifestyle together with your children. The abundance of family-fun attractions, museums, theme parks, and movie sets means there's no getting bored throughout your family island vacation. 
Take advantage of the good weather by planning a perfect escape for some winter sun, while the rest of Europe experiences plummeting temperatures. 
While here, discover the 4,000-year old ancient history and culture. A boat trip is one of the best ways to experience the region and a highlight of any visit to Malta. 
Don't miss a trip to Popeye Village, Blue Lagoon, BOV Adventure Park, Splash And Fun Water Park, Malta National Aquarium, and the Malta Aviation Museum.
Revel in the simple pleasure by staying at a resort that caters well to families like the Corinthia Hotel St George's Bay and the Maritim Antonine Hotel & Spa.
The best islands for families in Europe also include Tenerife, the Italian island of Sardinia, and the Greek islands of Naxos and Corfu.
>> Read next:
The best places to visit in Spain with family
10 | COZUMEL, MEXICO ✔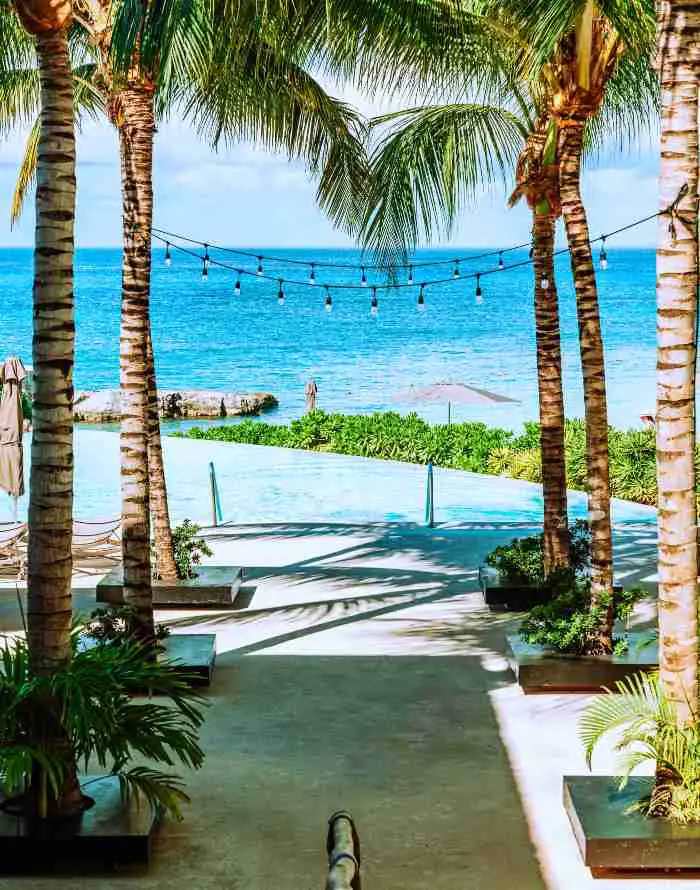 Is Mexico a good place for a family holiday?
Mexico is certainly one of the best countries in the world to travel with children. The people are welcoming, the culture is very family-oriented, the food is delicious, and the sites are both interesting and entertaining. You will also encounter many attractions that are planned with families in mind.
The country is fascinating and exotic, yet a relatively safe option for family holidays. It's one of those tropical destinations where you can enjoy full-on adventures or indulge in relaxing Caribbean beach life. 
From Puerto Vallarta on the Pacific to Playa del Carmen and Cancun in the east, you will find many destinations in Mexico that cater to all kinds of families. 
For the best family island vacations in the region head to Cozumel, Isla Mujeres, or Islas Marietas. These lush paradise islands have pretty much everything needed for a perfect tropical family getaway. Beautiful beaches, warm waters, and affordable resorts. The diving in Cozumel are also some of the best in the world.
While most families would come here to lounge at the beach and stay at some exclusive family resorts, there are many things to discover in this vast country. You can uncover Mayan and Aztec ruins, explore colonial cities, and venture into the mountains and deserts of the northwest.
Head to Oaxaca, a charming, UNESCO listed city about 450 km southeast of Mexico City. Here, you will have much fun while exploring the vibrant markets that sell handicrafts and tasting local cuisine with pre-Hispanic influences. 
From Oaxaca, head east to the Yucatan Peninsula to explore the extraordinary Mayan ruins, including the famous UNESCO World Heritage Site of Chichen Itza.
Don't miss the chance to visit the Tolantongo canyon, about three hours from Mexico City. It's such a fascinating place, famous for its manmade hot pools, known as the Chapoteaderos. 
>> Get into the right mood with these:
best songs about Mexico
11 | THE GALÁPAGOS ISLANDS ✔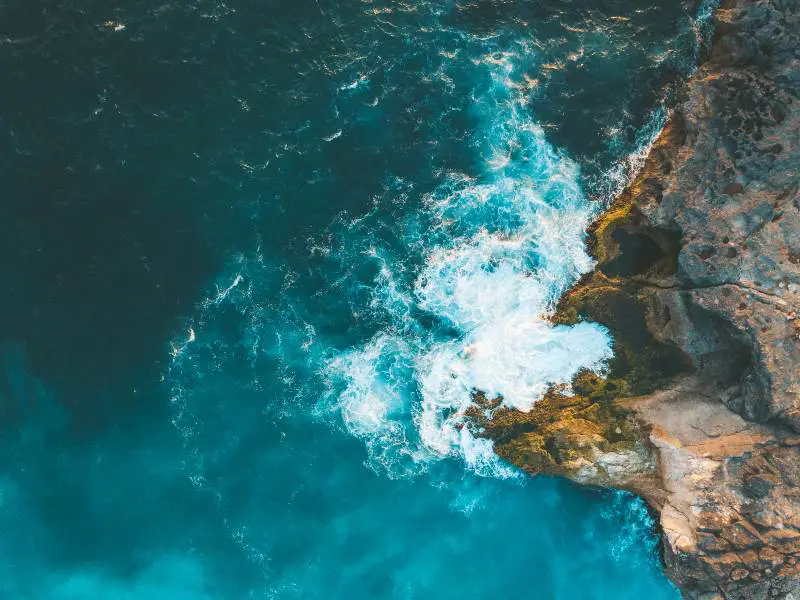 Are the Galápagos Islands a good place for family vacation?
Going to the Galápagos for your family holiday is an adventure you will never forget. The archipelago, which lies in the eastern Pacific Ocean about 600 miles from Ecuador, is a natural playground for travelers of all ages. 
In addition to the incredible array of animal species just waiting to be discovered, the islands are home to a natural landscape that is unlike any other place in the world. It is also an extremely safe travel destination. 
When planning a trip with the family to this protected environment, the first step is to book a Galápagos Island tour. You have the choice between a live-aboard cruise or a land-based tour. The cruise will take you to the island's remote regions and with it, the opportunity to explore the diversity of the wildlife found here. Land-based tours, on the other hand, include activities tailored to your specific needs, including visiting several beautiful beaches and fun activities for the entire family. 
There are plenty of other exciting pursuits to enjoy in the Galápagos. Depending on the age and abilities of your kids, you can try snorkelling, kayaking, biking, horse riding, paddle boarding, and so much more. Finish this off well by watching the setting sun as it it meets the ocean.
Set some time aside to discover the local villages, a compelling activity in the Galápagos Islands for families. Visit Santa Cruz Island's bustling fish market in Puerto Ayora, to witness some exotic wildlife that includes pelicans and sea lions. 
Whether you seek tranquil spaces or an active adventure, the Galápagos Islands comes highly recommended as one of the best family island vacations.
>> Must read:
Cherish the memories with these:
quotes about travelling with family
---
Whichever island you choose, I hope you have a great time while on a family holiday in a tropical destination! If you have any questions about traveling to any of these island destinations or how to visit, let me know and I'll be more than happy to help you out. 

Don't forget to check out the best of these cheap tropical island vacations.
Adiós!

Rai