How To Get From Catania to Taormina
Read on to discover why a visit to the beautiful town of Taormina comes highly recommended on a visit to Sicily and all the specific details on how to get from Catania to Taormina by bus, train, car, and even charter!
Reading time: 5 minutes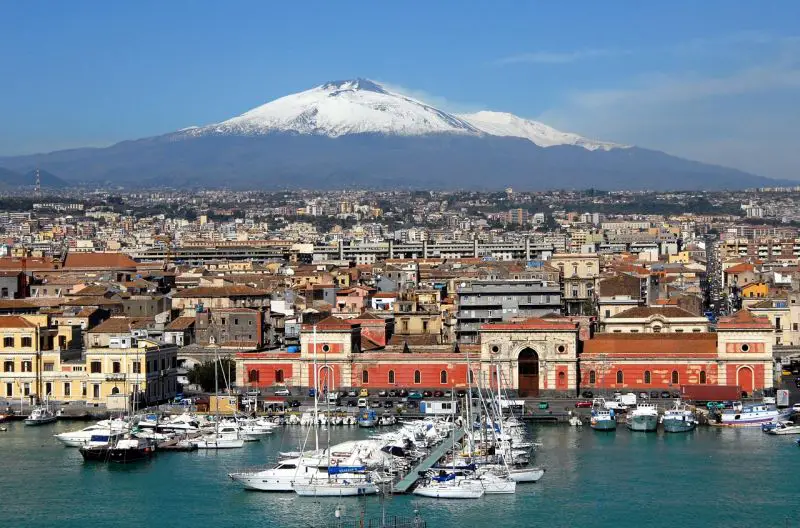 The island of Sicily, just like the rest of Italy, is bursting with an abundance of reasons to visit.
Its sunny climate, cuisine, scenery, history, architecture, and rich culture have been attracting travellers for centuries.
Highlights of a visit to one of the best islands in Italy includes a visit to Mount Etna and the ancient archaeological sites, the likes of the Necropolis of Pantalica, the Valley of the Temples.
However, no visit to Sicily is complete without a stop in, what is often referred to as the Pearl of the Mediterranean, Taormina.
>> Related reading:
What is Taormina famous for?
Travellers the world over make a stop in Taormina for a number of reasons.
To witness its magnificently ancient Greek-Roman teatro, to wander along its pristine streets, to immerse themselves in typical Mediterranean atmosphere, and to admire its beautiful coastline and dramatic views of Mount Etna that are second to none.
Where is Taormina located?
One of the most picture perfect towns in Sicily if not Italy, Taormina is located on the east coast of the island of Sicily in the Province of Messina.
It is perched dramatically on the side of a mountain, high above the Ionian sea. The central area of the town is a pedestrian only traffic free zone.

Catania on Sicily
Located on the eastern coast of Sicily at the foot of Mount Etna on the Ionian Sea, Catania is one of the biggest cities in Italy. The city is major industrial and commercial hub renowned for its baroque architecture, exotic cuisine, and history.
Day trip from Catania to Taormina
I visited Taormina as a day trip from Catania after travelling to Malta and this comes highly recommended. If you choose to stay a night or two in Taormina- even better, since there are so many things to do.
It is easy to arrange a day trip using any of the available transport options below.
The closest airport to Taormina
Catania Fontanarossa "Vincenzo Bellini" International airport is the nearest and most convenient airport located around 60km from Taormina. It is a major airport in the South of Italy and the sixth largest airport in Italy for passenger traffic.
| | |
| --- | --- |
| Also known as | Catania International Airport, Vincenzo Bellini Airport |
| Native name | Aeroporto di Catania Fontanarossa |
| Address | Via Fontanarossa, 95121 Catania CT |
Distance between Catania and Taormina
Catania airport is 66 km (41 mi) from Taormina
It would take around 45 minutes to drive between.
Catania city centre is just under 43 km away from Taormina.
Driving route: 54,4 km (33.11 mi)  and 59 minutes.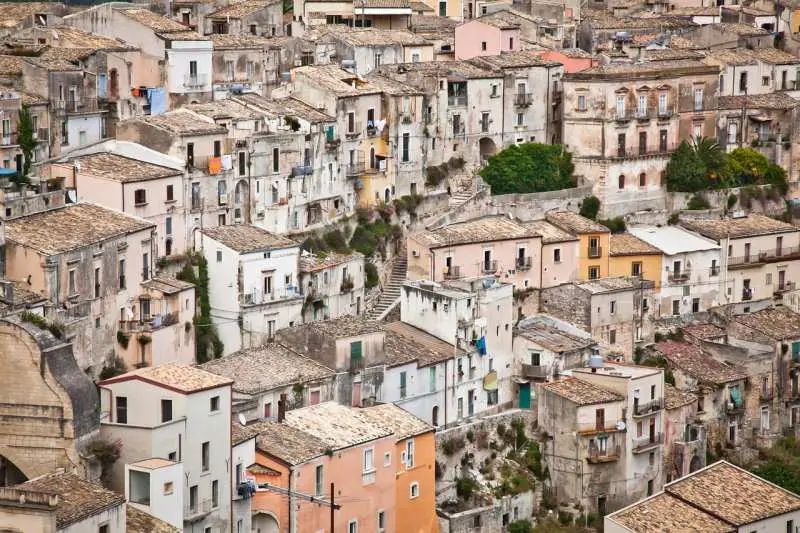 >> Related reading:
Where to find the best gelato in Rome
How to get from Catania to Taormina
There are basically three ways to get from Catania to Taormina. Each having their own pros and cons, depending on whether your priority is saving time, saving money, ease and efficiency.
| | |
| --- | --- |
| Recommended | Bus |
| Cheapest | Train |
| Easiest | car (prearranged transfer) |
| Fastest | car (prearranged transfer) |
Let's look at each available option in detail:
Bus
I notice Sicilians generally choose to travel by bus wherever possible. This is because travel by bus tends to be the faster, cheaper, more convenient, reliable option that reaches areas on the island not served by other forms of public transport.
There is an option to get from Catania airport and Catania city to Taormina by bus.
The direct bus service provided by Etna Transporti 'Interbus' is convenient, reliable, air-conditioned, and good value.
Apart from this, it is best to arrive in Taormina by bus because the bus station is located right in town, 100 meters before the main pedestrian street of Corso Umberto. It is a 5-minute uphill walk into the centre of town from here.
The bus stops at Terminal Bus in Taormina on 65 Via Pirandello Luigi
Tickets can be purchased on the bus.
They can also be purchased prior to boarding from the biglietteria at the station or just outside the airport.
Throughout Sicily, public transport is limited on Sundays. However, tourist routes like the Interbus service between Taormina and Aeroporto Catania run frequently, even on Sundays.
You can find timetables at the Interbus website. Click on the information symbol to view all the schedules, stops, duration, and other information.
Phone +39 0935 22 460
Catania bus station –> Taormina:
Duration
1h10m
Cost
single €5.10
round trip: €8.50
Earliest bus
07:00
Last bus
21:00
Possible to pre-book online
No
The Catania to Taormina bus departs from Catania's main bus station on Via Liberta. It is close to the train station, about 200 meters from the F.S. Stazione Centrale metro stop, and should not be confused with bus stands in front of the train station.
Catania Vincenzo Bellini airport –> Taormina:
Duration
1h25m (runs at forty minute intervals)
Cost
€8.20 at the ticket office and on board
€7.50 online
Earliest bus
06:45
Last bus
20:45
Possible to pre-book online
Yes
The bus stop at Catania International is just outside the arrivals exit terminal. Just outside the terminal area is where you will also find the ticket booth and a timetable board with a seating area.
Several buses arrive on the platform at different times, servicing different areas and towns around the island.
Check the destination on the front of the bus to find the one travelling to Taormina.
Train
The train station in Catania is located at Piazza Giovanni XXII, in the east of the city around 1 km from the port.
Train Operator: Trenitalia +39 06 68475475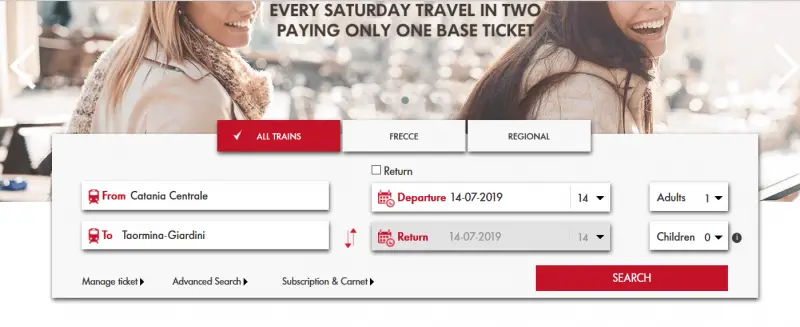 Origin Station: Catania Centrale
Destination station: Taormina-Giardini
Route overview
The average journey time by train between Catania Centrale and Taormina-Giardini is around 49 minutes, covering a distance of 41 km. The journey time may be longer on weekends and during holiday periods.
Trains per day: 30
Fare cost: €4.30 (some €8.50)
Earliest direct train: 04:50
Last train: 20:51
As with all stations in Italy, the departure times and platform numbers are listed on screens in the departure hall.
There is no train station in the town of Taormina itself.
The train station is found 2km downhill from Taormina city centre in the town of Villagonia along the coast, shared with Giardini.
Taormina-Giardini Naxos Train Station to Taormina city centre:
Get off at Taormina-Giardini station.

Take the public Interbus to the bus terminal on Via Luigi Pirandello. The journey takes about 15 minutes and costs € 1.80 per person (one way), with 2-3 buses per hour. Tickets can be bought from the driver on the bus.

Walk another 5 – 10 minutes on a steep climb uphill to reach Taormina centre.
As an alternative to walking, taxis are also available at the Taormina Giardini train station. The cost for this ride is about €15.
Catania Vincenzo Bellini airport
Note that there is no train station at the airport in Catania. You would first have to take the AMT Alibus from the airport to Catania's train station. Then take the train from Catania Centrale to the Taormina-Giardini station.
The AMT Alibus to Catania runs every 20 minutes from 5:00 to 24:00
Car
Certainly, the easiest way to get from Catania to Taormina, and other destinations in Sicily, is by car.
You have three options to travel by car:
Own car hire
Prearranged transfer service
Taxi
Car Hire
If you rent a car at the airport on arrival in Catania, Taormina is reachable by a one-hour drive by direct highway A18.

Direction: Messina
Exit: Taormina
Parking is difficult in Taormina, with limited public spaces and are more expensive than other parts of Sicily. Note that white lines are for locals or hotel guests with permits.

You will find 4 public parking spaces where it is possible to park the car, for a fee.

These include Parcheggio Lumbi, Porta Catania Parking, Porta Pasquale Parking – found in the historic center – and Mazzarò Parking, situated in the area of Mazzarò Isola Bella.
Transfer Service (prearranged)
If you're looking for convenience, comfort, privacy, and style I would recommend booking a transfer.
Prearrange the transfer for better value than a taxi.
The cost for a transfer from Catania Airport to Taormina is generally €75 for less than three people. The driver will be waiting to receive you at the prearranged time to take you to the address provided during the booking process.
A transfer made by the hotel has additional costs included, so book directly yourself.
I would recommend making a booking with local companies that have the correct licences and insurance as opposed to going with a booking site that subcontracts without you knowing who is providing your service.
There are a number of competitive, reputable, and reliable options to choose from:
New Travel Services
Sicily Life
Sicily Limousine Service
Mirabile Roberto Taxi Service
Taxi
There a number of taxis waiting to take you to Taormina in under an hour. This is the fastest and easiest way to travel, but also the most expensive.
How much is the taxi fare to and from Catania?
Average price: €95 including luggage and airport surcharge.
A taxi journey from the airport to the Catania city centre would take around 15 minutes and should be not more than €25.
Boat Charter
I know – not the most practical option. But, this 3-day sailing charter from Catania to Taormina is for those living their best life 😉
Also, can I join you?
Price starts from €1,650 with Sicily Sailing Experience
---
If you have any other travel questions, need any further details on what to see in Taormina, or how to get here from Catania, leave a comment and I'll be happy to elaborate.
Divertiti a Taormina,

Rai