Where to find the [BEST] Gelato in Rome, Italy (dare I say, the world)
If you're anything like me, chances are you are keen on knowing exactly where to find the most authentically made and finest tasting gelato and ice cream as you wander through the Eternal City. Read on as I give you my top 10 absolute best places to find the best gelato in Rome.
Which essentially means the best gelato in the world, right?
You also wonder if your love for travel in Europe and to all the countries around the world is a just a clever ruse to indulge in copious amounts of gelato — all day — Everyday! ; )
Most of my favourite moments and memories of my travels around Italy usually involve a gelato in one hand. And a smile on my face.
Ah, LA DOLCE VITA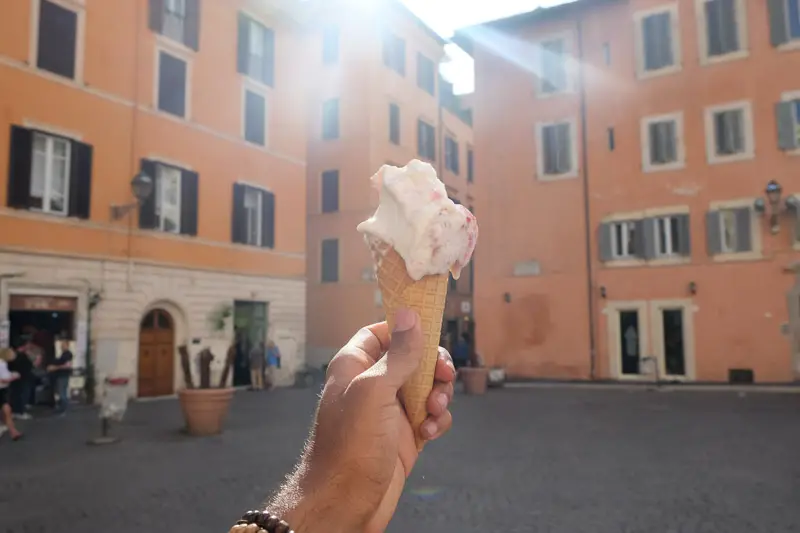 >> Related reading:
The day my camera fell down a mountain in Italy
Due to ethical, health, and personal reasons I have removed dairy from 90% of my diet, unless it's certified raw. I am still working my way in this regard when it comes to authentic Italian-styled artisanal gelato.

I have learned the hard way that resistance, at least mine, is futile.
Gelato in Italy is required by law to have a minimum of 3.5% butterfat and is made with a base of milk and sugar.

It is generally lower in fat than other styles of ice cream, containing less air and more natural flavours giving it a rich, creamy, smooth texture that puts your taste buds on cloud 9.
>> Read next:
How to say hello, thank you, and I love you in Italian.
Not all gelato is created equally
Look for the sign "Gelato Artigianale" which means homemade.
One piece of advice is to avoid any gelateria that has big vats of brightly coloured fluffy stuff on display. This is mass produced and not at all authentic or superior in taste.
The real deal is produced in small batches by artisans and will be more natural in colour, not pumped full of air, less fluffy and made with all natural ingredients
>> Related reading:
How to identify authentic Italian gelato vs. the fake stuff
1| Appearance of the ice cream
Colour

Don't be impressed with bright colours.

Authentic gelato does not look like it has been infused with food colouring or synthetic stuff. The brighter the colour, the more artificial the ingredient list and naturally the more artificial the gelato.

Some examples are flavours like pistachio, which should be a very pale green or greyish in colour, not vibrant neon. Or banana gelato that should be brownish and not neon yellow. No neon is a good rule of thumb overall.
Storage

Authentically made homemade gelato doesn't have any stabilisers, emulsifiers or fillers. It is stored in deep metal cans with lids preserving the quality. This also means that you usually can't see the gelato itself unless opened by a member of staff.

Those puffy heaps of whipped ice cream piled high in technicolor heaps are a no-no and are usually a giveaway as to quality and genuineness of the gelato or the lack thereof.
2| Texture of the gelato
A big part of the joy in Italian gelato is the amazing feel enticing your taste buds.

One of the most noticeable and remarkable features of true Italian artisan gelato is the low overrun, especially when compared to that of industrial ice cream. What this means is that the air content in Italian gelato is low, appearing less puffy and resulting in a rich, thick, creamy texture. Because of this texture, a device that looks more like a spatula than an ice cream scoop is used to get it on the cone or in the cup.
3| Price per serving of gelato
As you walk around you will get a feel for the average price of gelato in the city. Some as mentioned below are worth paying the extra price for. But, in general any place that charges more than a couple of Euro is a red flag.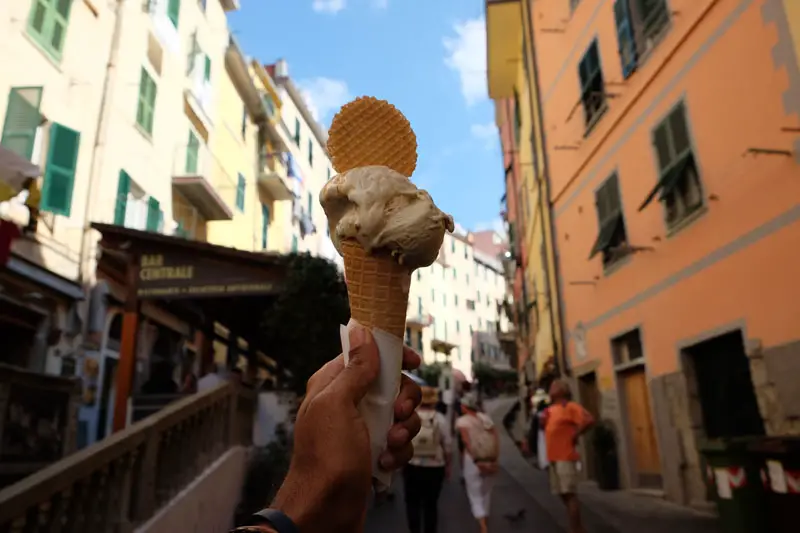 Vegan Gelato options in Rome
For all the vegans out there, you'll be delighted to hear that good vegan dairy-free gelato options are found almost everywhere.

At many of the gelato places, all of the fruit flavours are dairy free and/or have soy-based options. Check out the options below that specifically mention vegan friendly for my favourite options and those that come highly recommended.
10 PLACES FOR THE
BEST GELATO IN ROME ITALY
Clearly-I-take-my-gelato-seriously!

Now that's Amore.

Here is my roundup of the best places to get your ice cream fix on and to point you in the right direction for finding the best gelato in Rome, the Italian capital.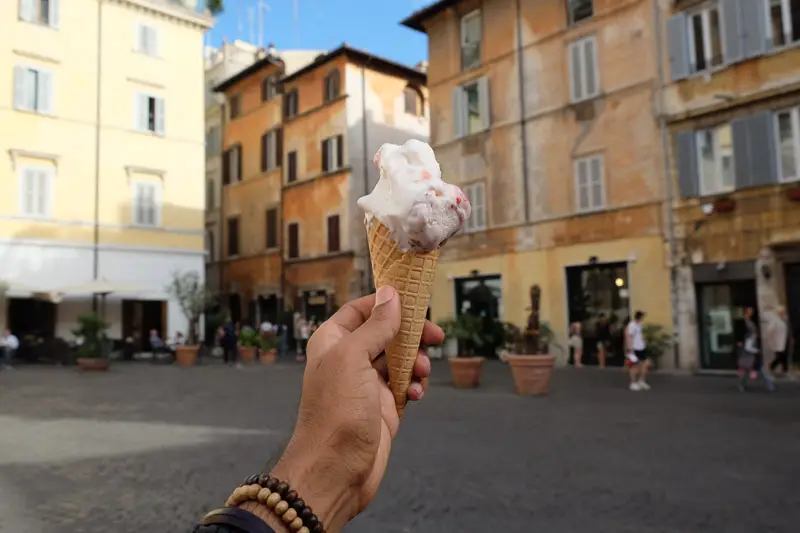 1 | Gelateria del Teatro
With a location on the delightful Via dei Coronari in the Campo de' Fiori neighbourhood, one of the prettiest areas of the city, del Teatro is certainly one of my absolute favourites on this list of Rome's best gelato.

This gelateria has a large selection of gelato flavours from the classics to the innovative, and I wish I had spent enough time in Rome to try all of 'em. From the looks of it, I would probably need another 3 days in Rome.
Options the likes of rosemary honey lemon to white peach lavender and ricotta almond fig are my top recommendations and are sure to delight.
Using only the freshest ingredients, you can view the gelato being made through a large adjacent window.

Note that the portions are smaller than the usual found around the city and more expensive, but totally worth it if you ask me.

Via dei Coronari, 65/66, 00186 Roma, Italy
https://www.gelateriadelteatro.it/
2 | Come il Latte
This little gelateria, a little off the beaten tourist path some walking distance from Termini station, is completely worth the time and effort it takes to find this place.
I'd go as far as saying I'd walk miles for their pistachio and dark chocolate ice cream flavours.
The chocolate fountains will have the inside of your cone dipped in either white milk or dark chocolate topped with optional whipped cream and a wafer cookie dipped in even more chocolate.

Come il Latte is a tiny takeout, with a small seating area outside, that serves rich gelato. With well-priced gluten free cones, generous portion sizes, and a good selection of classic and sorbet options, they will have you coming back for more.

Via Silvio Spaventa, 24/26, 00187 Roma, Italy
http://www.comeillatte.it/?lang=en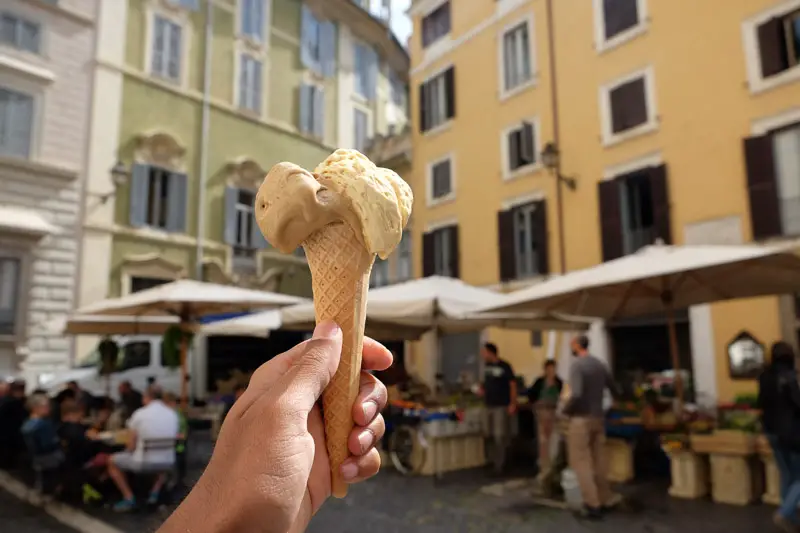 3 | Gelateria Valentino
This family owned gelateria near the Trevi fountain is another great option on this list of where to find gelato in Roma. The owner prides himself on homemade gelato made with authentic ingredients, never adding any chemicals.

Expect rich, creamy, smooth flavours served with a mini cone on top. The flavour signs are in Italian, with a fruit placed next to it, for you to understand the flavour choices. You will also receive good service with the employees happy to explain the different flavour combinations to you.

For all you vegans out there, you'll be delighted to hear that Gelateria Valentino is vegan friendly.
It's hard to pick my favourite, but the chocolate fondente is a winner and on a really hot summer's day go for a refreshing melon or peach.
Via del Lavatore, 96, 00187 Roma, Italy
http://www.gelateriavalentino.it/
4 | Frigidarium
Centrally located near the famous piazza Navona, Frigidarium is a popular option with tourists so expect a line. However, know that it is worth the wait. The gelato options are well priced, smooth, creamy and full of flavour, dipped and drizzled in milk or dark chocolate.
My recommendation would be to try their signature gelato, Frigidarium– a combination of caramel, chocolate, vanilla and cookies. Other great options are the mango, or ricotta with lime and almond cookie crumbs.
Via del Governo Vecchio, 112, 00186 Roma, Italy
http://www.frigidarium-gelateria.com/
5 | Fatamorgana Rome
Fatamorgana has many branches across Rome making it easier to get your gelato fix wherever you are in the city. It prides itself on the natural, fresh, homemade flavours that are also well priced.
What I like about this gelateria are the bold, inventive choices available. The likes of chocolate and tobacco or wasabi, pear and gorgonzola and grapefruit and horseradish. My favourite is the basil, walnuts and honey. The traditional options are also available.
Fatamorgana is celiac and gluten and vegan friendly with allergens (for dairy, eggs, nuts and gluten) well indicated. A small place that you might pass by without a second look if you are not on the lookout for this and there is seldom a long line.

Fatamorgana Corso
Via Laurina, 10, 00187 Roma, Italy

Fatamorgana Monti
Piazza degli Zingari, 5, 00184 Roma, Italy

Fatamorgana Trastevere
Via Roma Libera, 11, 00153 Roma, Italy
http://www.gelateriafatamorgana.com/
6 | Giolitti Rome
For the longest time, Giolitti's caramelized fig gelato flavour remained my ultimate favourite, which is no mean feat by any means. So good I had dreams about it.
The oldest gelato shop in Rome located close to the Pantheon, Giolitti is seemingly busy all the time, but not without reason. Their gelato flavours are bold, tasty, and goes down well, particularly on a scorching summer day in Rome.
The service leaves little to be desired, but that doesn't bother me because I'm going there for the gelato and not the smiles. You pay for the size you want by the cashier at the entrance, then bring the receipt to the guys behind the counter to choose your desired flavours topped with optional whipped cream. You also pay extra to sit at tables so plenty of people take the gelato to go and sit on the street paving outside.

The gelato flavours are vast including plenty of dairy free (senza latte) options to choose from.

Via degli Uffici del Vicario, 40, 00186 Roma, Italy
http://www.giolitti.it/
7 | Il Gelato di San Crispino
Some might argue that Il Gelato di San Crispino is resting on its glory days of Eat, Pray, Love but I would say there are certainly plus points for stopping at this gelateria hidden near the Trevi fountain.
For starters, their signature Crispino/honey flavour is divine. As is their meringue flavour — the likes of meringue nocciola and meringue caramel.
The variety of flavours available are not overwhelming like some of the other ice-cream shops around. Other highly recommended flavours are the pistachio hazelnut, grapefruit, lemon and melon sorbet.

The gelato is only served in tubs not cones with portions smaller and more expensive than the standard average of the city. And you certainly don't go here for the friendly service, but the gelato is exact on flavour with no sweet unnatural additions.

Via della Panetteria, 42, 00187 Roma, Italy
http://www.ilgelatodisancrispino.com/
8 | Fior Di Luna
A great option if you're in the neighbourhood of Trastevere, would be my recommendation of Fior Di Luna. Lying close to Piazza di Santa Maria, the owner is a passionate artisan working on his craft for over 25 years, developing intricate flavours with local ingredients that are natural, organic and real.
The thick and creamy homemade high quality gelato are served with cones that are made with wheat flour, sugar and olive oil and are individually rolled, instead of being moulded and topped with whipped double cream.
Expect a limited number of flavours made daily that are covered in metal vats, a handful of tables and good service.

Via della Lungaretta 96, Trastevere, Roma, Italy
http://www.fiordiluna.com/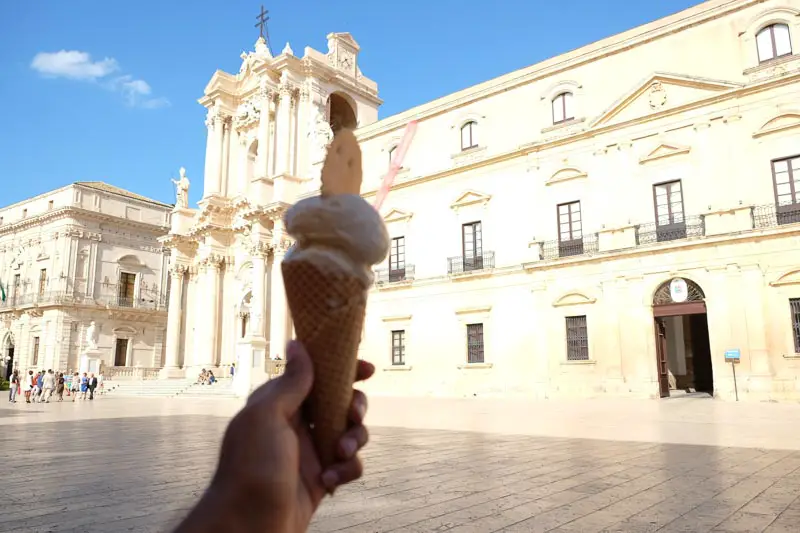 9 | Gelateria La Romana
Operating since 1947 with multiple locations throughout Italy and Europe, La Romana is incredibly popular with Italians, who will happily queue up for their liquid chocolate filled ice-cream cones topped with flavoured homemade whipped cream.

The creamy, thick and smooth ice cream is of a lovely texture with high quality at a good price. The friendly, patient staff provide a separate English menu on request and are happy to provide recommendations and help choose the gelato stored under silver covers.

Vegan options available.
The Sicilian "Pesto de Pistachio" gelato comes highly recommended.
Via Venti Settembre, 60, 00187 Roma, Italy
https://www.gelateriaromana.com/
10 | Il Gelato di Claudio Torce
A popular option amongst the residents of Rome, as I witnessed locals buying the ice cream in pints, so Il Gelato di Claudio Torce must be doing something.
Despite being slightly difficult to find, with the sign outside saying "Il Gelato di All'Aventino," with authentic, rich flavours, they'll have you coming back for more. I would recommend the carrot or celery flavour.
Bonus is that it is vegan friendly

Viale dell'Aeronautica, 105, 00144 Roma, Italy
Viale Aventino 59, Roma, Italy
http://www.claudiotorce.it/
---
Over already? :/ Aaaah take me back.

I hope you've enjoyed discovering where to find the absolute best gelato in Rome as much as I enjoyed the hard work and research that went into making this list 😉

What foodie options around the world would you like me research next? Let me know!

Before you go, check out these best restaurants in Rome. For even more travel photography and foodie inspiration, be sure to follow me on the gram.
Deliziosissima! *gives sharp kiss on the fingertips

Rai x