The Day My Camera Fell Down a Mountain- Part I
Travel is unplanned adventure at its finest and seldom goes according to plan, at least with me anyway. Nay especially with me.
This encounter relives the (mis)adventure of how I lost my camera in Cinque Terre, Italy and along with it all of my travel photos. This is made up of two parts. Find Part II here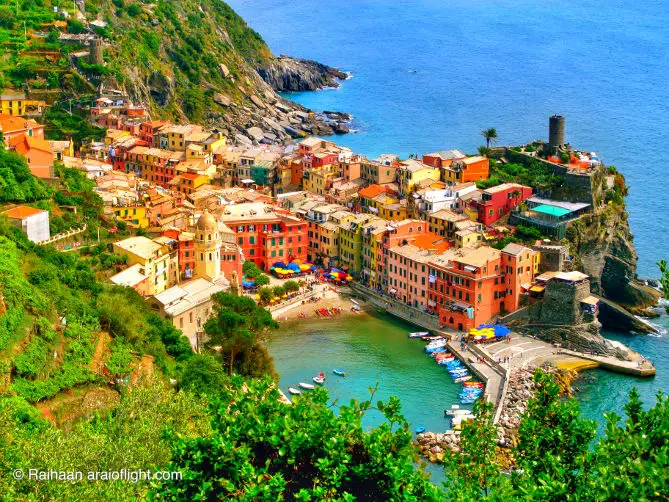 Two weeks into my solo travel adventure around the world, I find myself along the Italian Riviera.
Descending into the enchanting town of Vernazza, in the late afternoon is as perfect as Italy gets. The village is approached from above and its two ancient towers are in prominent view. With the cruise ships and its passengers gone, the scene is flawless, rolling every amorous cliché into one. History is alive in the villages, filled with ancient churches and castles between narrow, crooked streets and squares, lined with colourful old houses stacked haphazardly on top of each other.
It's so iconically Italian, that it's surreal.
Infused with an old world charm, even nowadays the Cinque Terre are hard to reach. The rocky, rugged coastal cliffs keep this area in scenic isolation, and this contributes in preserving the surroundings in their characteristic Mediterranean appearance.
It took the better part of my morning and two train changes through the Tuscan countryside, but I am finally in the Cinque Terre. I had longed to visit this part of the Italian Riviera for years. Ever since it appeared in my reality, seeing images of the "Five Lands" and it's crazily-constructed picturesque fishing villages perched dramatically atop the breathtaking Ligurian coastline.
"I'd love to paint that!" I exclaimed on first sight, my eyes delighted by the splendor that unveiled before me. "Actually, I'd love to go there someday!" This was during the days before travel was a major part of my life, even though the love for travel was already firmly planted within. When the world felt like such a huge place and everything so far off, leaving me wondering if I'd actually get to see it all or if it would simply remain that; a dream.
Riomaggiore, the first of the five villages, is my base while here. Sounds permeate my room throughout my entire stay. During the day you can hear the laughter of children followed by the barking of dogs in between the constant chiming of bell towers. At night the frogs are in frenetic chatter as small boats go night fishing. Most of the action in Riomaggiore is on the main street, Via Colombo, where there is an assortment of cafes. I continue the goal of gelato every day while in Italy, this time treating myself to pistachio and caramelised fig.
Back at the apartment, I change and get sorted. I am excitedly ready to see this beautiful area. The Cinque Terre boasts some of the best coastline hiking trails in the world. It's going to be one of the highlights of my adventure around the world.
Note: since Cinque Terre is an area prone to landslides, it's always better to check if the hiking paths are open or closed, before leaving.
"The walk between Monterosso and Vernazza is completely repaired. And so is the path between Vernazza and Corniglia" The information assistant repeats. "But the path that usually connects all five villages stopped at the following village over, high in the hills. Be safe." I thank her and drift off.
Because of the difficulty of access, the park is a pedestrian paradise linked by a network of footpaths, "the Sentiero Azzurro," that traverse seaside peninsulas, vineyards, and olive groves offering the best opportunity to truly enjoy the beautiful landscape.
The road passes lemon trees, vines, lilies and vegetation of all kinds, and in June the air is full of the perfume of flowers.
I walk in the shade of chestnut and olive trees, and pass walled gardens and vineyards studded with huge lemons, grapes and oranges that are temptingly, within arm's reach.
It's almost impossible to get lost. The path is clearly marked and if one's curiosity leads you away from the beaten path, like it did with me on many occasions, it's easy enough to make sure to keep the ocean in the same direction throughout.
The views of the water are refreshingly wonderful.
Once at Varnazza, I spend some time walking around the village. There is a hive of activity all around. Women on the third floor hang their washing while having a full out conversation across buildings. Pizza cooks over a wood fire in a restaurant. Fishermen gather their equipment before heading out to sea. Cafes in full swing serve the catch of the day. A couple kiss on a street corner.
This village has superb scenery with plenty of caves and coastline and underwater rocks to explore. I walk through a secluded tunnel and onto platforms and boats, scamper up winding medieval staircases and scale onto slick stunning rocks in secluded inlets and on friendly beaches.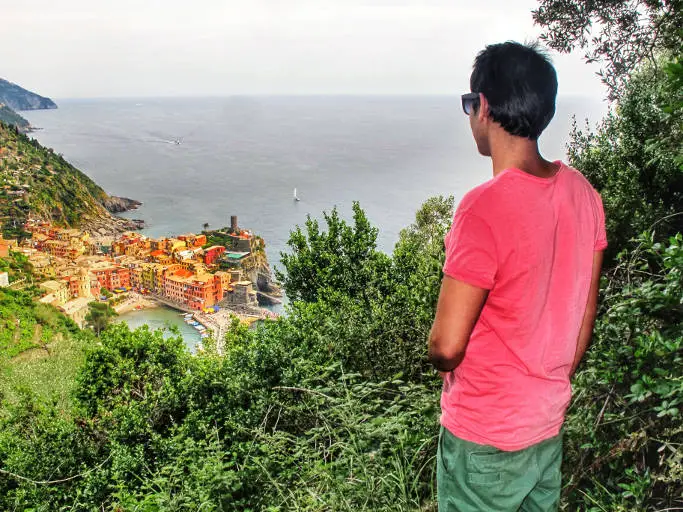 All that exploration has left me famished and I savour a pesto, olive and feta focaccia. An appreciated specialty of this region.
Even though it's almost 5h30 pm, I decide to continue along on the hiking trail from Varnazza to Corniglia. It is almost, but not completely empty as expected, since the trails are "closed" at this time and everything after is "done at own risk." This has never stopped me before.
I don't mind being alone on the trail for the most part. Solitude has always given me time to think and reflect and to observe every surrounding detail in its entirety.
Walking around, the views of the ocean and accompanying Ligurian coastline are dramatically beautiful. Mediterranean herbs and trees grow spontaneously from the top of the cliffs down to the water level. The sun slowly edges its way closer to its scheduled meeting with the ocean. The cool breeze from the water below is a welcome relief.
"How will you take pictures of yourself on your solo journey?" I was often asked before leaving home.
"Ah, you know. Ask the locals, fellow travellers, set the timer." I reply not really sure of the answer. "And I don't need that many photos that include me anyway."
This was met with excessive laughter by those that know me well. "YOU. Not many pictures of yourself! Impossible"
I join in the laughter.
Thinking about it here on the trail brings laughter once again, albeit alone this time. I get to a bridge and decide to take a self-timed picture set to the background of the gorgeous Cinque Terre mountainside. I securely place the camera on the ledge, at waist-length. Jogging away shakes the bridge. Surprisingly. It looked unyielding. I simultaneously slow down, turn around and in that instant I see the camera falling.
Noooooooooo! I scream out loud, lunging forward in a hopeless attempt.
I look at the valley below and spot the camera at the top. It's not close enough for me to stretch and get it. Neither did it fall all the way down; never to be seen again.
In the instant following this, a part of me realizes what has just happened. But, I'm still on a high from an incredible journey thus far and so I am neither devastated nor saddened by the occurrence. I am strangely calm and worry-free. The Universe will sort this out I think and believe.
With time the consequences of this incident irrevocably sink in. "How can I be so stupid?!" Not only have I lost all my photos. Not only would I have to buy a new camera, as soon as possible. But I just gave myself unnecessary complications, worries and difficulty. Taking away the freedom that I so desperately crave and one of the key reasons as to why I travel and love travel so much.
In a desperate erratic motion, I attempt to climb down.
An impulsive bust of energy. I might be able to cautiously manoeuvre myself down over the bridge and along the vines that hug the cliff-side mountain and with any luck reach the camera.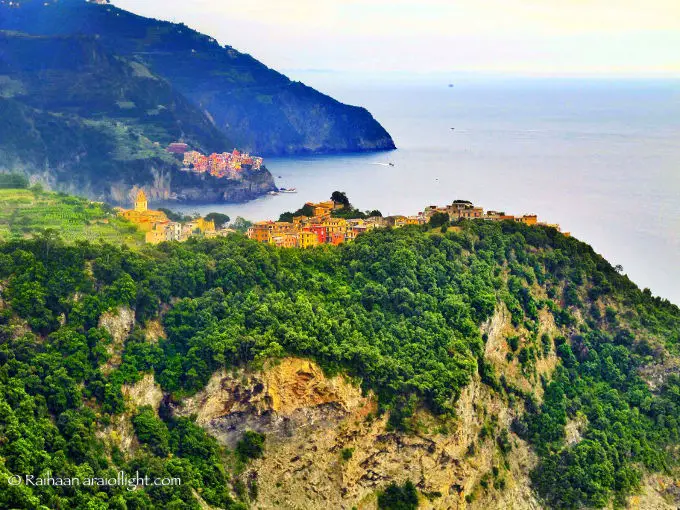 Unfortunately the vegetation is too thick. My clothes get caught in the thorny bushes, piercing my legs. It's too far away. This is not going to work. I don't go down any further, especially being alone, for apprehension of not being able to get back up again.
Disappointingly, there's not a soul in sight.
Not being able to do anymore here, I decide to head to the end of the trail, and see if someone might still be working at the information booths set up at the start/end of each hiking trail. The few people I encounter along the way are headed in the same direction and are unable to help. I get to the end and lamentably see the booths completely vacant.
Thinking the information centre in the village itself might be of assistance, I rush through the town and down the multitude of steps. Once there, I explain my dilemma in-between trying to catch my breath. Even though the woman at the office is cooperative, she seems quite amused and on speaking to the police over the phone at my request, all I hear is laughter in between some bits of Italian. Apparently a camera barely hanging on the edge of a cliff in the Cinque Terre is hilarious. "Sorry it's not an emergency, the police are unable to help!" she responds as she places the receiver down, her eyes moving on to the rest of the queue behind me.
I walk away and find the shade of a lonesome tree to think. Now what? Do I go back and try to retrieve the camera once more, even though it's kind of late and my initial attempt was a huge disappointment or do I see if I might be able to speak to the police/fire department in Riomaggiore myself? After some consideration, I decide on the former. This is more for the sake of actually doing something, as I can't see how I'll be successful. I look to the sky, the Universe beyond, for comfort and head off. Glad to not see a cloud in sight, as any sign of approaching rain would just add to the anxiety.
Once there, all attempts to retrieve the fallen camera are in vain and I begrudgingly head back. I am left with no choice but to leave and hope that it does not rain. Sad and despondent, my mind in overdrive trying to come up with solutions. I am still hopeful knowing that there is a reason for all of this and glad to be staying the night so that I get more time tomorrow.
I finally get back to Riomaggiore, exhausted from all the work. The last rays of the sun graze through the sky and darkness is imminent. All I want to do now is lay my head down on the bed and forget about this day, for a brief second.
I walk to where the apartment should be, BUT it's not there!
What.the?! I swear it should be here or somewhere nearby. I think, looking around for a point of familiarity. Suddenly everything looks alike. Every apartment building is similar to the next.
How can this be happening? I run up to random doors and then cautiously take a look inside. Surprisingly, nobody locks their doors in this part of the world. So here I am, a stranger, walking into a strange man's house. Then again and again. Still no luck.
I find myself in the center of a tiny courtyard losing all sense of orientation.
Panic sets in. I can't do this. I can't do this.
I.can't.do.this  
Images of me sleeping on the street flash through my mind. Realizing that this is potentially the worst that could happen and nothing I can't handle puts things into perspective. This has a peculiarly calming effect on me.
I return to the office where I had initially checked in and try to retrace my steps through the long route that we had taken earlier on arrival. Sadly I have no success in finding the apartment. This n-e-v-e-r happens to me. My photographic memory allows me to find any place without much need for a map. Has this over confidence caused me to become complacent in taking special attention of my surroundings or is my awareness simply lacking from the ordeal with the fallen camera?
Sixty minutes and about one too many failed attempts later, I arrive at what looks to be a slightly more familiar looking residence than the rest. I guardedly walk a few steps in. This looks promising. I look up at the adjacent stairs and notice the same ornamentation from this morning. "Yes! This is it. I found it!" I scream out loud.
A flood of relief washes through my entire body.
I walk around the village at night, not really in the mood to see or do much. The beauty of Cinque Terre is accentuated at this hour. More than usual, I notice people with cameras, photographing everything in sight; some professionally others casually. I wonder if they really appreciate what they've got.
You never know how valuable something is until you've lost it
Back at the apartment I finally get to lay my head down. My body gets some respite but my mind still in overdrive trying to work out a plan.
How does one go from being authentically happy, literally on top of the world to helplessly overwhelmed in just a matter of hours? Only a week into my solo adventure around the world and I'm already having troubles.
No one told me travelling alone would be this hard.  
Having lost my camera and all my photos, I can't help but wonder about all the lost memories. All that (wasted?) time spent trying to capture the perfect picture.
Is there a lesson to be learnt here?
Is there something the Universe is trying to tell me?
I desperately need to get some shut-eye.
To be the first to be notified when the follow-up, part II is posted, be sure to add your name in the box below or just check in here at the site every day.

Update: Part II has been posted. Check it out here.
Should you also wish to travel to this beautiful region, be sure to check out my Cinque Terre Italy Quick Travel Guide here.
Have you ever lost your camera or photos whilst travelling? I'd love love to hear.
If you've enjoyed this encounter, please don't forget to share using any of the options below. Thanks!
Your fellow (mis)adventurer,
✈ Rai