Read on to find out why Pura Gunung Kawi is my favourite temple in Bali and everything you need to know about visiting. You will find information on where in Tampaksiring to find Gunung Kawi temple, the entrance fee, dress code, opening hours, and the highly intriguing legend to this site.
Reading time: 8 minutes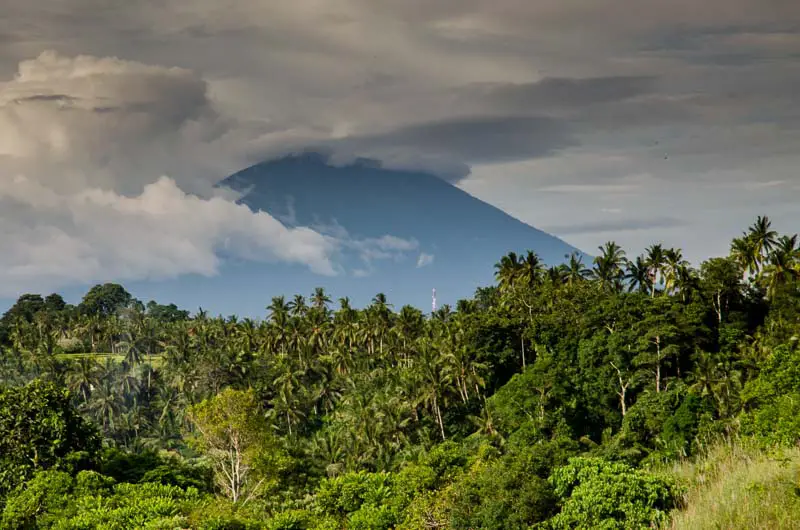 During my adventures in Bali last Summer, my count at the number of temples stopped at 1000.
Ok, so I didn't actually count. But my estimate would be that there are over 2000 dispersed across this beautiful island.
I could of course use Google, but where's the fun and mystery in that 😉
If you only have time for one temple in Bali, my vote would be for this one, fellow explorer:
Pura Gunung Kawi Temple Bali
Why?
Read on to find out…
Located deep in a ravine, Gunung Kawi Temple also known as Bali's "Valley of the Kings" is one of the oldest and most remarkable archaeological temple complexes on the island.
This unique collection of ancient shrines carved into the cliffs and bleached by time, offer a glimpse into another era.
These beautiful temples are some of the most fascinating in Bali.
The main site overlooks the Pakerisan River, which itself has religious significance. It is believed these holy waters sanctify Gunung Kawi, and the allure of the place conjures up a peaceful atmosphere.
To get to the revered complex you need to follow the stone paved path and descend 300-odd steps, leading you past spectacular rice terrace views on either side down into the lush green valley.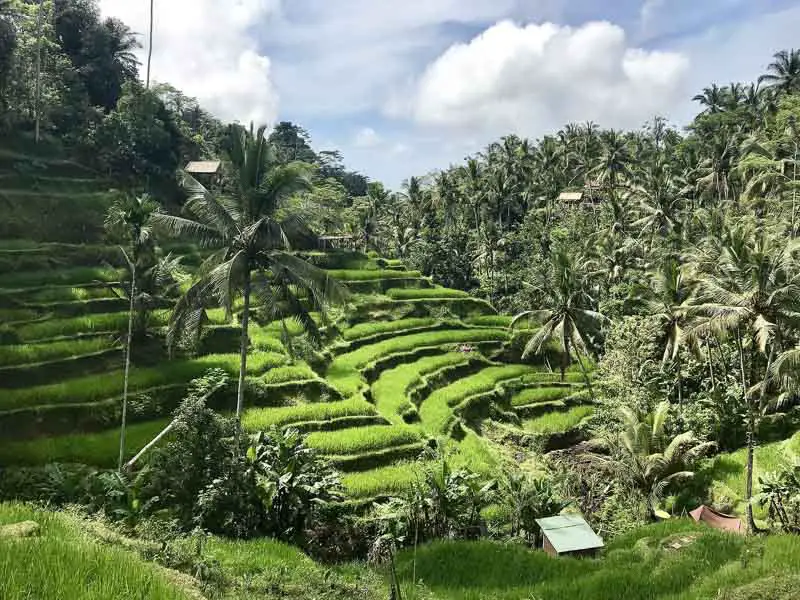 The views as you walk through ageless tiered rice fields are as fine as any on Bali
Where the stairs end, proceed through a stone cloister with columns each holding a vase filled with water along with a sign asking you to sprinkle holy water onto yourself before entering any further.
Or if you're anything like me, you find a hidden entrance on the side and only see the holy water for sprinkling on exiting. Oops! 😉
Pass through the stone gate to the hermitage, a temple carved into a rock wall, believed to have been an area for travellers, royalty and priests to relax and meditate.
The Pakerisan River divides the holy complex into two separate sections and once at the bottom, a lush valley and one of Bali's oldest and largest ancient monuments surround you.
Inside, pass the twisting trees and vines, the view opens to the main site with ten rock-cut shrines hewn into the steep walls of the valley. These candi stand in awe-inspiring seven metre-high secluded alcoves cut into the sheer cliff face.
Five candi, which constitute the main group in this complex, are to be found on the eastern side of the river. Four candi are situated across the bridge on the western side. The final candi, often referred to as the 'tenth tomb,' is hidden across the valley to the South.
The legend to this amazing place is intriguing
While the exact origin of the candi is unknown, there is evidence to suggest that Gunung Kawi was constructed by king Anak Wungsu in honour of his father, Udayana the great Balinese ruler.
Inscriptions over each Candi approximate the date of construction to be in the 11th century.
Each candi is believed to be a memorial to a member of the 11th century Balinese royalty, but little is known for certain.
The temple is decorated during its Piodalan temple anniversary each year following the third full moon on the Balinese calendar.
I arrived in Bali during the chief annual festival of Guningan and Kuningwan which meant the island was festively decorated with large celebrations throughout.
Gunung Kawi was no different and this allowed for an even more exotic setting. It felt incredibly awe-inspiring to have witnessed this amongst the many other things to do in Bali.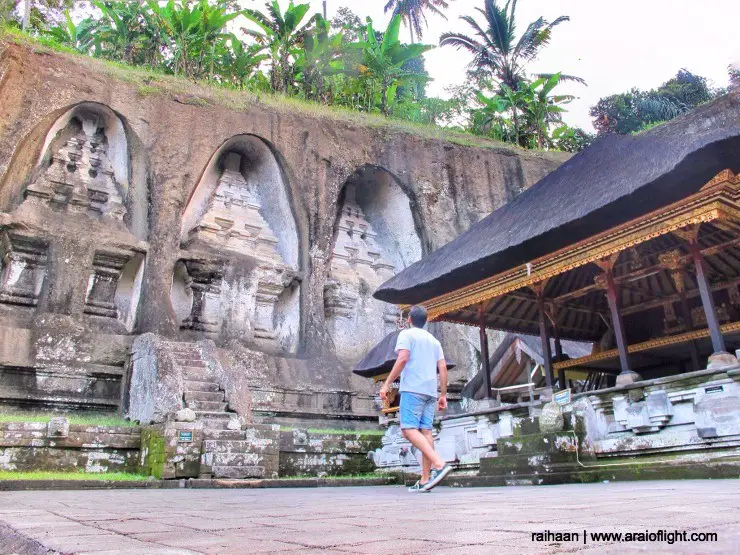 Pura Gunung Kawi Temple Bali — Good to Know
Strictly speaking, Gunung Kawi is not a temple per se, nor is it an actual tomb. The royals revered here were likely cremated as per Balinese custom, but it is nevertheless considered a holy place.
A great way to see the complex and learn about its cultural and historical significance is to hire a local guide.
At the entrance lies Café Kawi, selling cold drinks for IDR 10 000 and up, which you might consider for a break.
Souvenir stands line the sides of the steps that lead down to the site, selling some wonderfully creative articles. Prices at these stalls are lower compared to Ubud and elsewhere on the island.
Location
The Gunung Kawi complex is located at Jl. Pejen in Bali's Tampaksiring region, approximately 20km northeast of Ubud and 40 kilometers from Denpasar.
Check out the exact location through Google maps using this link: Google Maps (Coordinates: 8°25'22.41″S, 115°18'44.57″E)
This can be done as a day trip from Ubud or from anywhere on the island really. You can get there by taxi, local bemo (mini-bus), rental car or do as I did and hire a scooter for the day.
If you negotiate for a taxi from Ubud, it should cost no more than IDR150 000 return, with the driver waiting for you while you explore the area.
Note: Gunung Kawi is only a couple kilometers away from another interesting temple, Tirta Empul, a holy water temple. If you are physically fit enough and are able to manage, you could decide to visit both during the same trip.
Opening Hours for visitors
07:00 am – 05:00 pm daily.
Entrance Fee
IDR15 000 per person
Dress code
As with visiting any other temple visit in Bali, proper attire comprising a sarong cloth with a sash around the waist is required.
This is included in the entrance fee, which you will be able to obtain at a booth before the stairs leading down into the valley.
Final thoughts
Even though the walk to reach Pura Gunung Kawi temple can be physically demanding, don't let this intimidate you or put you off in any way.
What I suggest is to arrive here real early or late in the afternoon. In this way, you miss the crowds and the heat of the intense Indonesian sun.
Walking up and down those steps surrounded by the spectacular beauty of the rice terraces, alongside towering palm trees and in the shadow of centuries old, culturally significant temples; I was left completely in awe.
And I have no doubt that you will be left feeling inspired too.
If you enjoyed this piece, please take a moment to share across your social network using the options below. Thank you!
Here's to being real life explorers,
Raihaan
Liked This? Take 1 SEC to PIN it! Thank you