Hidden Gems: 10 Best Secret Views in Paris!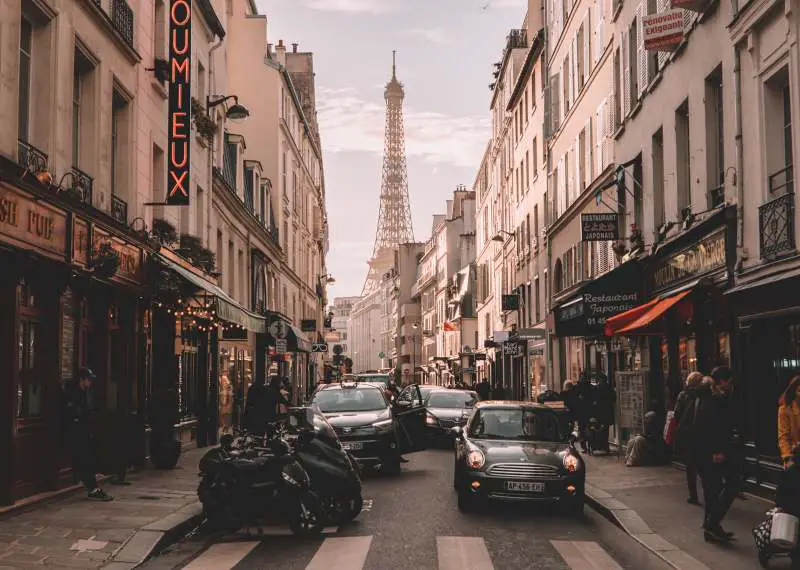 If you're looking to uncover a whole new side to the French Capital, here are my suggestions of the best views in Paris that are mostly unknown to the general tourist. But, you're no average tourist. You're looking to delve deeper and discover the hidden gems of Paris.
Outside of home, I've spent more time in Paris than any other city. Like me, you're all about them good vibes and good views.
It's time to discover and enjoy the City of Light from an entirely new perspective.
What the guidebooks don't tell you!
Reading time: 5 minutes
>> Read Next:
If you're planning a stay in the city, check out this dreamy must-read list of the
best hotels in Paris with Eiffel Tower views!
Or these captivating, fun, and weird Paris facts
you probably haven't heard before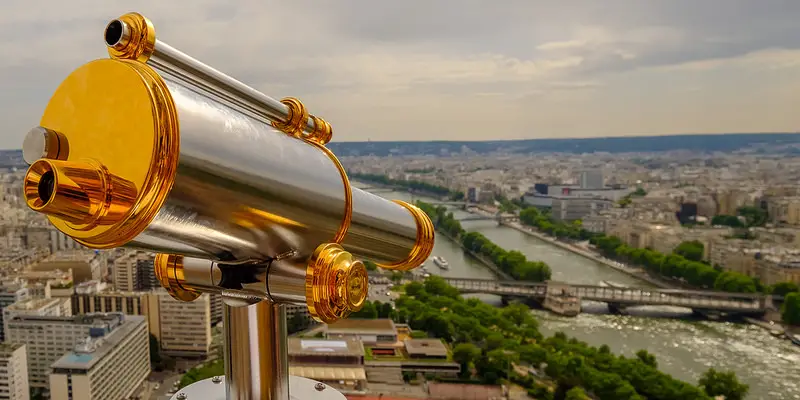 When you think about great views in Paris, what comes to mind?
The Eiffel tower, Sacré-Coeur, Notre Dame, or the Arc de Triomphe.
Sure the views from here are incredible.
But, that's the Paris you know.
And so does e-e-e-eeeeveryone else.
What you may not know is that the most visited city in the world is full of hidden gems and corners to uncover, charming streets to wander along and astounding spots concealed alongside chic restaurants or behind clandestine gates.
Let me introduce you to a whole new side to the French capital with my top ten surreptitious views of the city.
So that you too can dig a little deeper and get fragmentally off the beaten path.
So that you too can feel like you at least beginning to get a feel for the real city.
Not the one in the manuals.
So whether you're visiting Paris for the first time or are a seasoned traveller looking to discover the best of France, you're bound to discover something new in Paris. Continue reading for some help in this regard ⬇
And for all of those dreamy pics you're going to need the perfect
Paris Quotes and Captions here.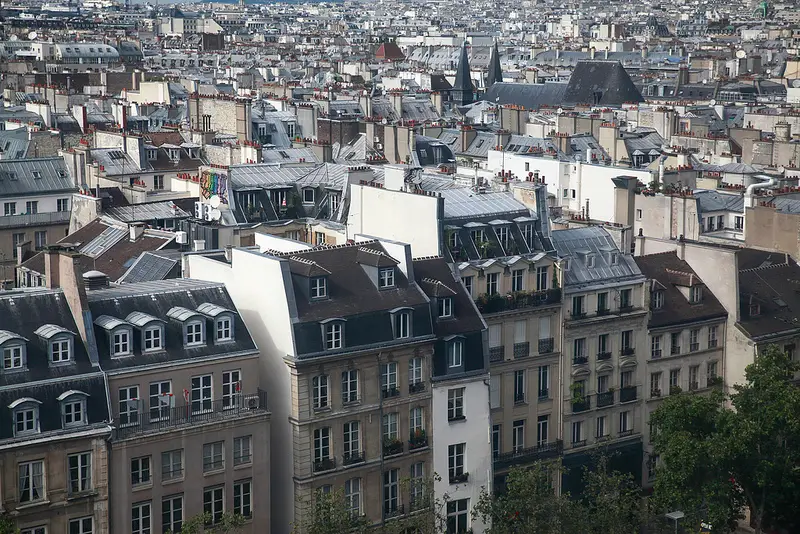 10 Best Views in Paris Hidden Gems
For the perfect rendezvous with friends or for a romantic escape, pack a picnic of baguettes, pastis, and my personal favourite tarte infiniment vanille and wander to one of these ten recommended viewpoints in Paris.
You can NOT miss number 7 ↓
You can thank me later with a portion of said French delights 😉
>> Read next:
Strange foods from around the world (including escargot in France!)
Let's get into it, guys. First up is…
1 | Du Parc de Belleville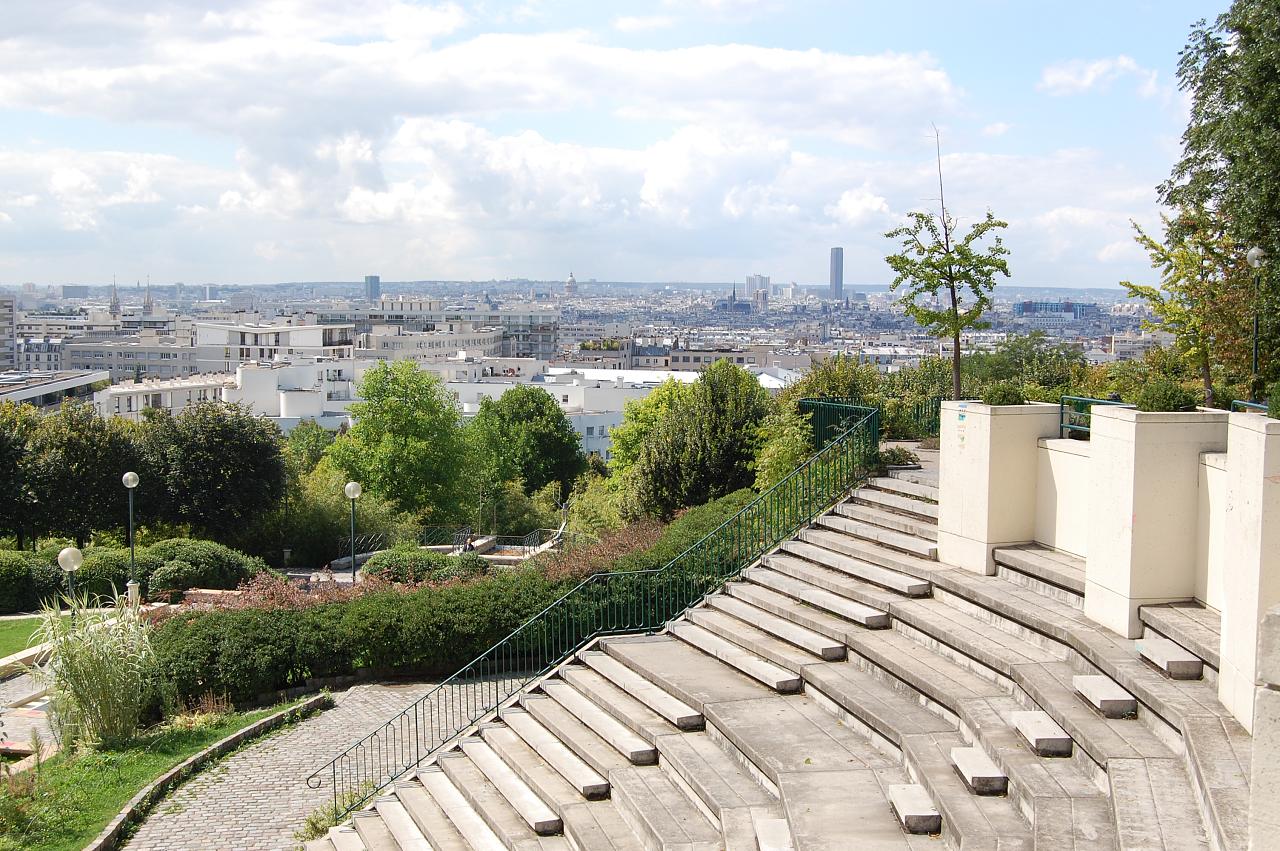 Completely off the beaten path, somewhere in the 20th arrondissement, is the hilltop district of Belleville and at its centre is Parc de Belleville. Perched at 108 meters above the city, it the highest park the city and a hidden gem in Paris.
The view of the city is simply wonderful from the many vantage points! At the summit of the park, an almost thirty-metre tall terrace provides a panoramic view of Paris.
There are not many places in the city where you are able to see all the main tourist attractions in a linear fashion and point them out as you look right to left.
So head up the walkway to the top of one of Belleville's many hills as the sun comes up. You wont be disappointed.
This neighbourhood is also home to a promising population of artists, so be sure to check out the interesting street art and murals in the area.
47 Rue des Couronnes, 75020
Metro station: Pyrénées or Couronnes
---
2 | La Terrasse at the Hotel Raphael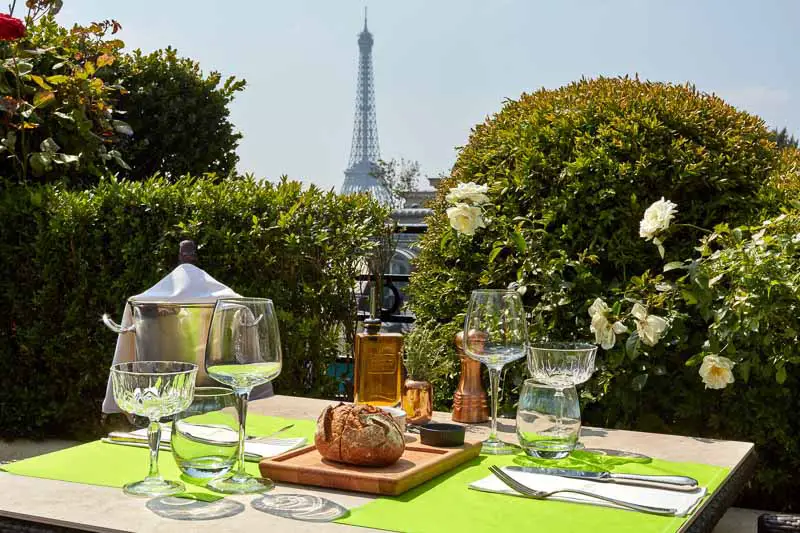 Located on the seventh floor of the Hotel Raphael, La Terrasse, a 7-minute walk from Charles de Gaulle Étoile RER station, offers wonderful panoramic views.
Find yourself being caught off-guard with the glow of the Eiffel tower on one side while the Arc de Triomphe and Sacré-Cœur effortlessly grab your attention on the other.
The wonderful Paris views and popularity of this location mean that getting a table requires a little bit of patience. La Terrasse is open from 4pm to 11pm. Note that drinks are pricey, but the views are worth it.
17 Avenue Kléber, 75116
Metro: Charles de Gaulle Étoile RER station
---
What about this view at…
3 | Printemps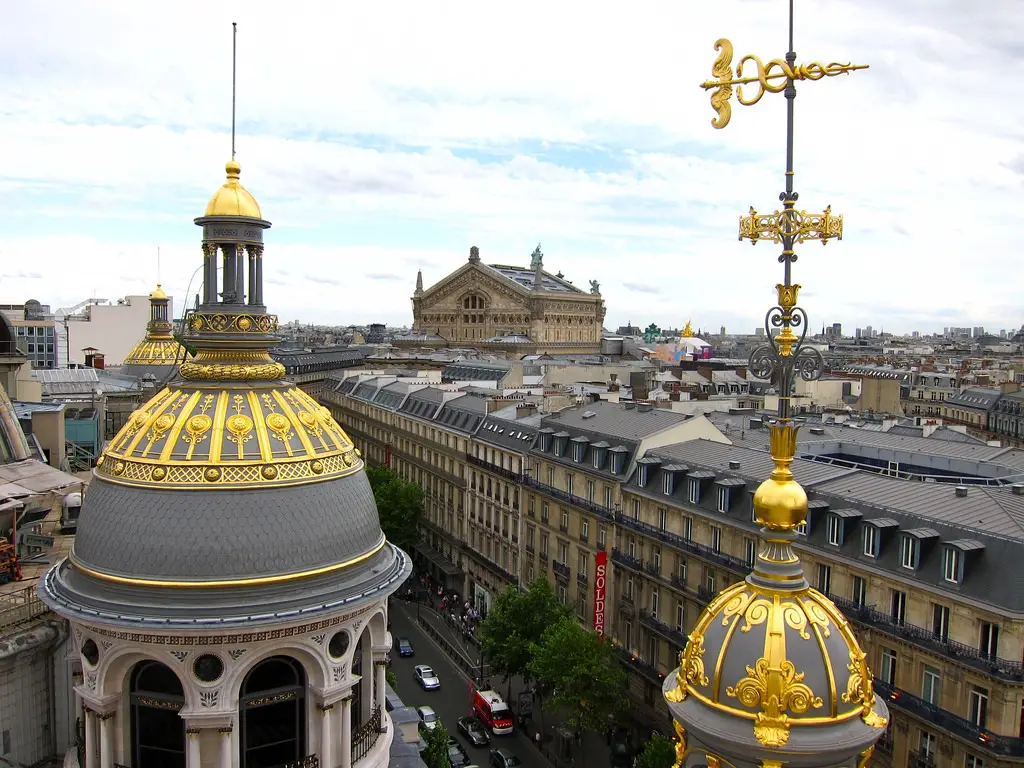 Several of the major department stores, including Galeries Lafayette, have rooftop cafes offering birds-eye viewpoints across Paris. They offer a great way to get a feel for this beautiful city, especially if you only have a day in Paris.
My favourite one though, is the vista from the rooftop terrace of Printemps. A large department store in the 9th arrondissement.
From the rooftop, you are provided with an extensive panorama down the Rue Royale to La Madeleine church, punctuated with the Eiffel tower and the Sacré-Cœur all round.
Definitely try to go at sunset to enjoy a golden view of Paris. I did and was not disappointed. I also happened to arrive just after a major storm and was treated to a superlative rainbow framing the city.
Hours: 9 AM – 7 PM
102 Rue de Provence, 75009
Metro: Havre – Caumartin
---
You simply can not miss:
4 | Parc des Buttes-Chaumont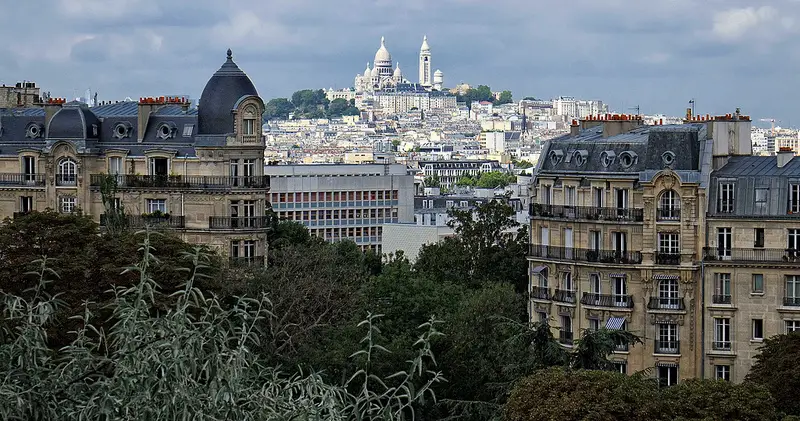 Imagine a huge park with kilometers of roads and paths surrounded by bridges, a waterfall, crags, implausible cedars and rolling lawns. A wonderful hidden gem in Paris.
A public park located in the northeast of the city in the 19th arrondissement, the Parc des Buttes-Chaumont is simply the perfect getaway in the city and the ideal spot to stop for the best views in Paris.
Following the advise of a local, I made my way to this public park and was felt like a kid in a chocolate factory, exploring.
You can't miss the climb up to the Temple de la Sibylle, the park's most famous feature. Inspired by the Temple of Vesta in Tivoli, this monument is perched atop a cliff high above the waters of an artificial lake and provides superb views over Paris.
Hours: 7 AM – 8 PM
1 Rue Botzaris, 75019
Metro: M° Buttes Chaumont
---
5 | La Défense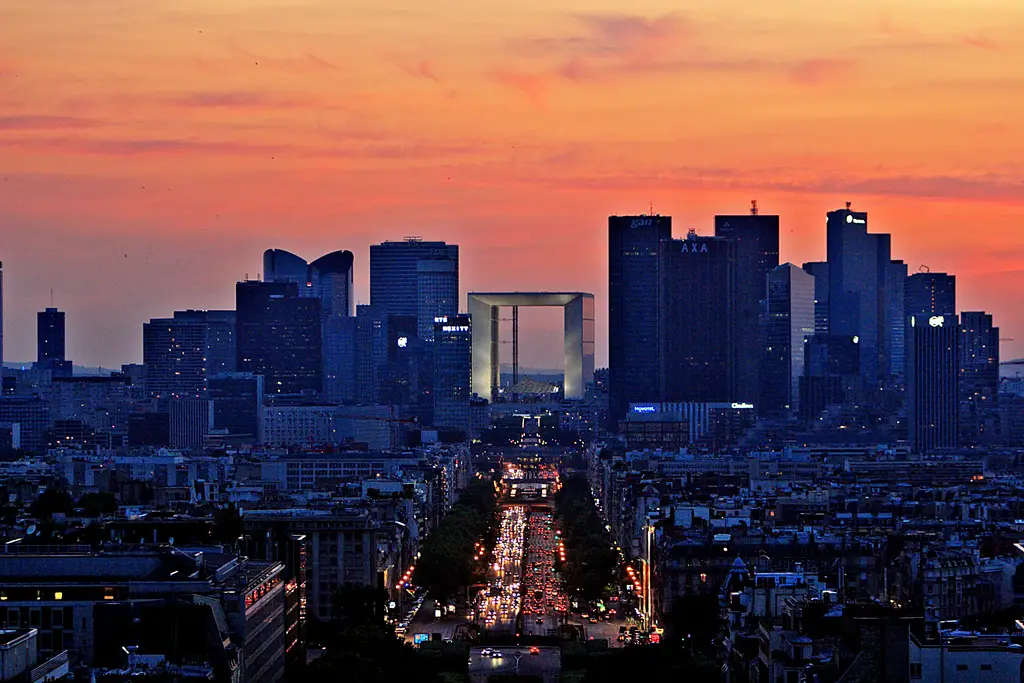 The contemporary high-rise and office district of Paris, you will find La Défense beyond central Paris at the start of the western outskirts of the city.
La Défense is also the location of the Grande Arche, one of Paris' most modern and striking landmarks, situated at the western end of the grand axis formed by the Champs-Elysées, the Place de la Concorde and the Arc de Triomphe.
During my numerous visits to Paris, I always wondered what lay beyond the Grande Arche. Until my visit here. From this platform you get sprawling views back into central Paris as well the satisfaction of seeing what lies beyond this area.
Metro: Gare de la Défense
---
6 | Four Seasons Hotel George V Paris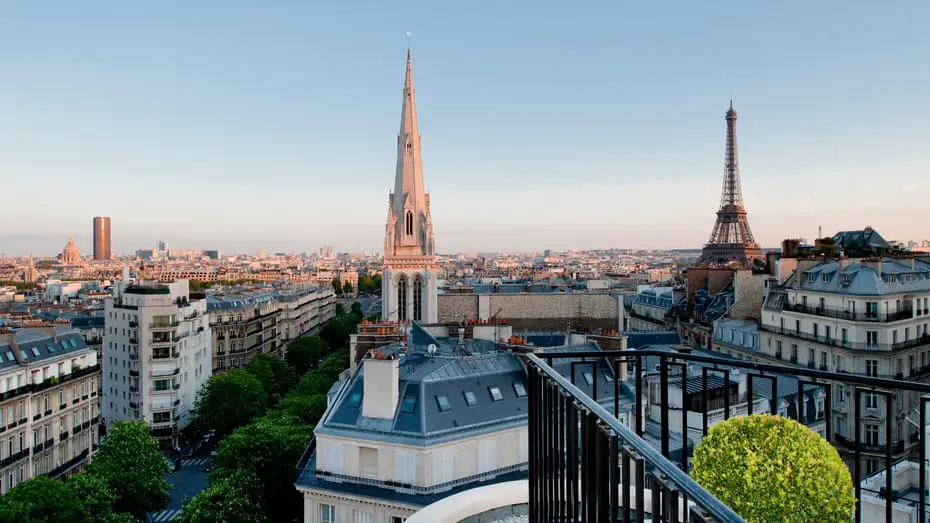 Situated in the heart of Paris, a couple hundred meters away from Av. des Champs-Élysées, the rooftop terrace of the Four Seasons George V hotel, is sure to delight with a dramatic view of the Paris skyline.
This one is a little off-limits (contact me and I will explain how to get to the top).
31 Avenue George V, 75008 Paris
Metro: George V
---
How good is this view of Paris?
7 | Tour Montparnasse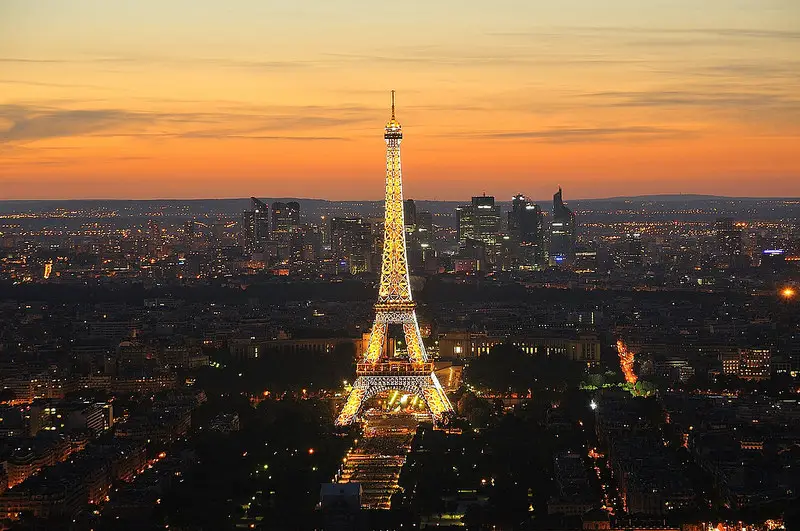 My apartment during my second time in Paris was located in the shadow of the Montparnasse Tower, the tallest building in France. One morning during clear skies, I walked in and bought a ticket to the rooftop viewing platform of this office skyscraper.
In under a minute, the elevator brings you to the observation deck on 56th floor, where the view is great, but climb up the four flights of stairs to get 360 views which on a good day will allow you expansive views beyond that of central Paris.
The platform is vast and thick Plexiglas walls enclose the area for safety. But don't worry; your instagram doesn't have to suffer as a result. There are gaps in-between to allow the capture of the perfect Paris view.
Hours: 9:30 AM – 11:30 PM
33 Avenue du Maine, 75015
Metro: Gare Montparnasse
---
Next on the list we get to…
8 | Centre Georges Pompidou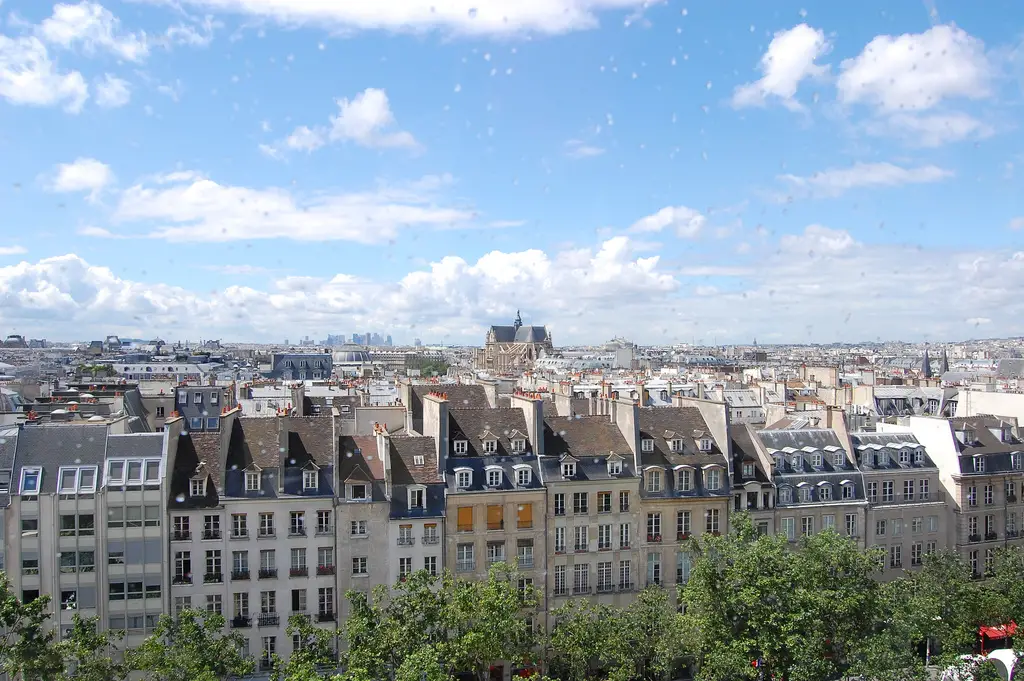 This museum of modern art located in the 4th arrondissement provides unique views of the rooftops and makes for a perfect stop during a weekend in Paris for the best views.
Look to the right for sweeping views of Montmatre and the left for the Eiffel tower.
While here, be sure to check out the vast public library and the numerous exhibitions on offer.
Hours: 11 am – 10 pm (closed Tuesday)
Place Georges-Pompidou, 75004 Paris, France
Nearby metro stations: Rambuteau, Les Halles
---
9 | Musee des Arabes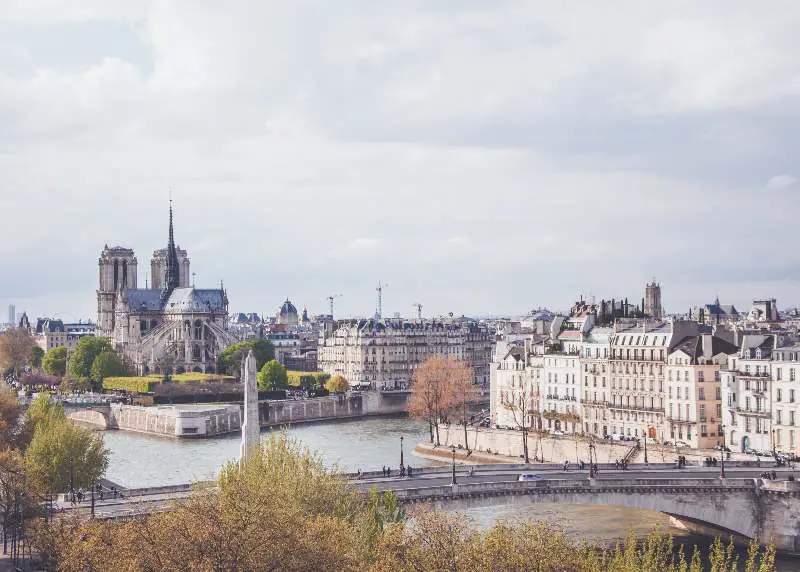 This hidden gem is a great place to enjoy the sunset. Take the elevator to the 9th floor for a free view of Paris.
Hours: 11 am – 10 pm (closed Monday)
1 Rue des Fossés Saint-Bernard, 75005
Metro: Jussieu
---
And one more…
10 | Ballon Generali de Paris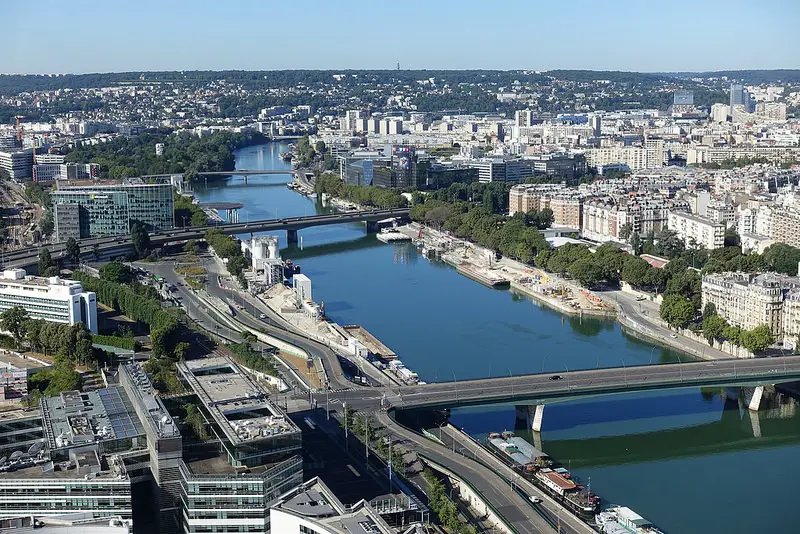 Imagine being taken up in the air in a tethered helium balloon, with a 360 degree view that parallels that of the Eiffel tower, but without the crowds.
This unusual attraction lifts over 50,000 visitors each year with the spectacle lasting about ten minutes.
In optimal weather conditions, the Ballon Generali can reach the altitude of around 300 m (980 ft), making it one of the highest points in the city.
For 12 € you can also enjoy the surrounding park.
Be sure to check the weather, as it does not fly if too windy.
Hours: 9 AM – 8 PM
Parc André Citroën, 75015
Metro: Gare du Pont du Garigliano
---
That's about it for now, guys. Have I got you Paris-daydreaming yet?
WHAT IS YOUR FAVOURITE VIEW IN PARIS?
Before you go, don't forget to check out which
hotels in Paris have amazing views of the Eiffel Tower (with photos!)
For further inspiration and beautiful photos of Paris, head over to my Instagram @araioflight
J'espère que tu prendras du bon temps,
Rai
Save for later. PIN it!