100 Incredible Bora Bora Facts → Is Bora Bora a Country? Discover This Island in French Polynesia
Fact: Bora Bora is a land of volcanic mountains, dazzling blue lagoons, abundant coral reefs, and a rich culture. Said to be among the most beautiful places in the world this enchanting island is the epitome of natural beauty, iconic views, luxury resorts, crystal clear warm waters, a tranquil environment and spectacular beaches. The very definition of a tropical island getaway.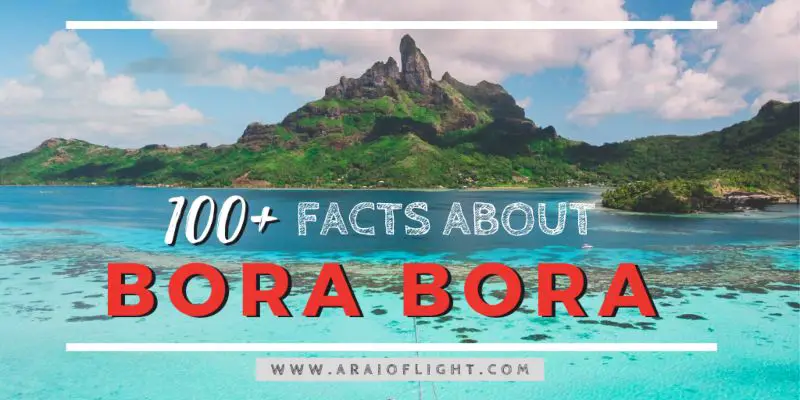 With such a dreamlike setting, this magical island in the South Pacific is often referred to as the pearl of the Pacific and heaven on earth.
So much so that… 
Bora Bora is said to be one of the most beautiful islands in the world
… if not the most beautiful. 
A jagged volcanic interior surrounded by white sand beaches gives way to a vibrant lagoon and ribbons of deep blue waters where an abundance of tropical fish immerse themselves in the coral formations. It borders on unbelievable.
Continue reading to discover more mind-blowing facts about Bora Bora.
>> Must Read:
The 10 most beautiful tropical islands in the world!
What is Bora Bora known for?
Bora Bora is world-famous for its iconic volcanic views, incredible turquoise lagoon, pristine white sandy beaches, and luxurious overwater resorts on islets that provide beautiful views of the beautiful surroundings.

This island paradise is on the bucket list of many who wish to visit during their lifetime.

The island exudes luxury and is a popular getaway for celebrities and the super rich. It also evokes romance and is popular honeymoon destination in the world. 
Is Bora Bora a country? If you're keen on exploring this exotic island and learning more about it, then the following Bora Bora facts are just for you. Read on to learn about the mysteries of the land, its people, the history, landscape, food, and a whole lot more…
Let's dive deeper into the soul of this enchanting land.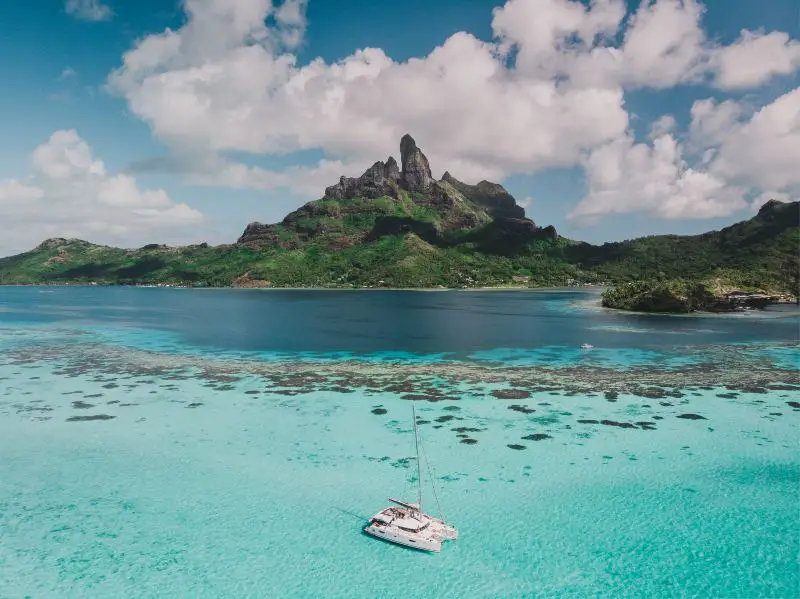 >> Read next in this series: 
First up:
Quick Bora Bora facts
Official Name: Bora Bora
Local name: Pora Pora, meaning first born
Location: South Pacific Ocean
Country: French Polynesia
Capital city: Vaitape is the administrative centre
Continent: Oceania
Coordinates: 16° 30′ S, 151° 44′ W
Land Area: 30,55 km2 (11,80 sq mi)
Time Zone: Tahiti Time (GMT-10) The islands are two hours behind Pacific Standard Time.
Highest Point: Mount Otemanu 2,385 ft (727 m)
Lowest Point: Pacific Ocean (0 m)
Population: 11,010 (2021)
Economy: $17,000 GDP per capita
Currency: Comptoirs Francais du Pacifique franc (CFP)
Major Industries: tourism, deep-sea commercial fishing
Ethnicity: Polynesian 78%, Chinese 12%, local French 6%, metropolitan French 4%
Life expectancy: 77.72 years
Language: French (official), Tahitian (Polynesian dialect)
Largest City: Vaitape
National Day: July 14
System of Government: Monarchy
Religion: Protestant, Catholic, others
Country code: 689
You may be wondering:
Is Bora Bora a country?
No. French Polynesia comprises 118 islands and atolls, divided into five groups or archipelagoes. These are The Society Islands, Marquesas Islands, Tuamotu Islands, Austral Islands, and the Gambier Islands.

Bora Bora is just one of these islands located on the group referred to as the Society Islands.

Other islands that you may have heard of in the French Polynesian archipelago include Tahiti (the largest and most well-known), Moorea, Huahine, Raiatea, and Taha'a.
Geographic facts of Bora Bora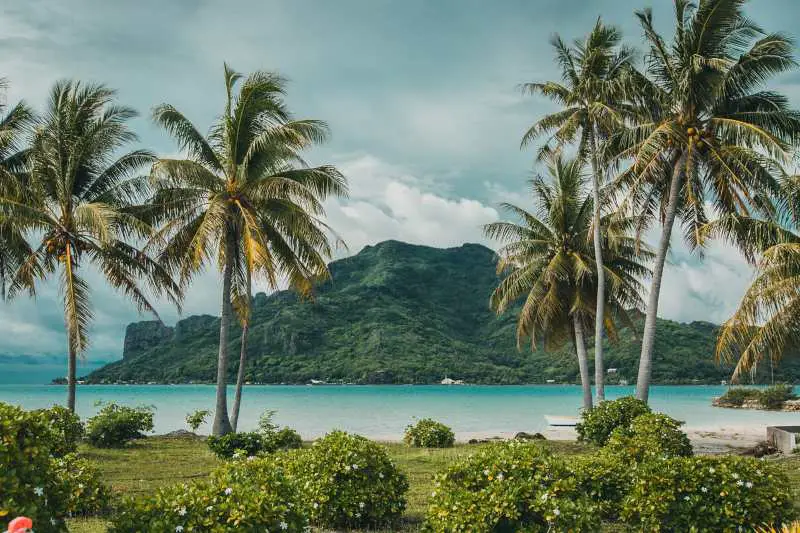 It's one of the most secluded islands on Earth
Where is Bora Bora located?
One of the most common travel questions everyone asks is, "Where is Bora Bora?"
This small tropical island is located in the middle of the South Pacific Ocean. If you look at a world map, you will find it about halfway between South America and Australia.
Bora Bora forms part of the Society Islands archipelago of French Polynesia, about 230 kilometres (160 mi) northwest of Tahiti or about an hour's flight from the capital, Papeete. The islands lie south of the equator, in the same time zone as Hawaii.
To get to French Polynesia would entail an 8 hour flight from LAX on Air Tahiti Nui or Air France or from HNL on Hawaiian Airlines to Papeete's Faa'a Airport (PPT).
The capital and administrative centre is Vaitape
Bora Bora is a tiny island comprising of 3 villages: Anau, Faanui, and Vaitape, with the latter being the main centre.
Found on the western side of the island opposite the main channel of the lagoon, Vaitape has a population or around 5,000 people. Here you will find essential businesses such as supermarkets, banks, a post office, a church, popular restaurants and cafes, a pharmacy, a gas station, a medical centre, and a variety of shops. This functional town also has a couple hotels and a harbour for ferries and ships to dock.
Sunday early morning is when this village comes to life with a market of stalls selling everything from food to clothes and jewellery. 
Another interesting Bora Bora fact:
It's original name is Pora Pora
In ancient times the island was referred to as "pora pora mai te pora," which means "created by the gods" in Tahitian. This was more often than not abbreviated to Pora Pora meaning first born, referring to the son of the King Hiro of Raiatea, who first ruled this land.
There is no letter "B" or no equivalent to the "B" sound in the Tahitian language so when the early western settlers came to the island they misheard the words and started calling the island "Bora Bora" which eventually led to the rest of the world referring to it as Bora Bora.
Bora Bora is a tiny island, covering a territory of only 15 square miles
… or only 38 square kilometers.
It measures about 6 miles (10 km) long and 2.5 miles (4 km) wide.
Weather: Bora Bora has a tropical climate with only 2 seasons
The climate is divided into the wet season and the dry season. 
The dry season (winter months), occurs between May through October. The wet season (summer months) is from November to April with days that are hot and humid, with a lot of cloud cover. Rain storms are frequent and plentiful. 
Landscape of Bora Bora Facts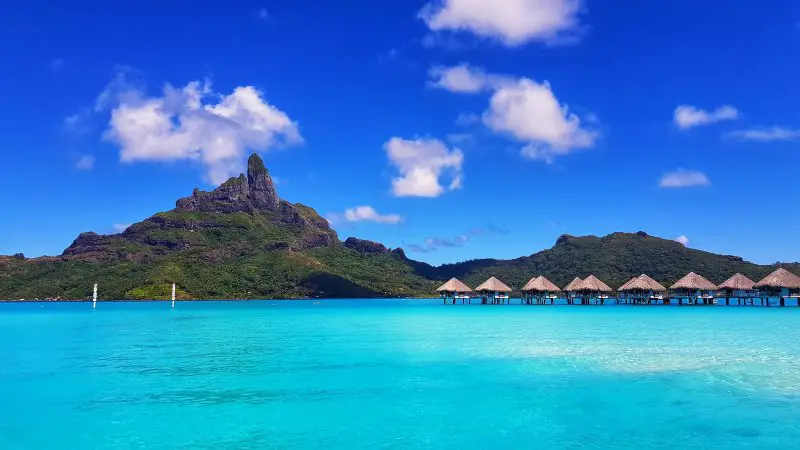 Did you know that…
The island is volcanic in origin, surrounded by a blue lagoon and barrier reef
Bora Bora volcano: The island is actually the remains of the caldera of an extinct volcano which erupted over 3 to 4 million years ago.

As the crust cooled, the volcano began to sink and now consists of a ring of small islands along what use to be the rim of the volcano.

The coral continued to grow, with the island and the lagoon within the ring of coral reef.

In time, the island will disappear with only an atoll (a lagoon surrounded by coral reefs) remaining.
Much of the island's unique and sensational geographical formation comprises a jagged coast surrounded by white sand beaches, a vibrant lagoon, and rugged black volcanic rock that blends into a green hillsides.
The Bora Bora lagoon, being shallow and sheltered from the sea, features sparkling, translucent waters with some of the most amazingly beautiful colored water to be found anywhere in the world. There is only one pass from the ocean through the reef into the lagoon on the west side of the island, referred to as the Teavanui Pass.
In the center of the main island you will find the remnants of this extinct volcano rising to two twin peaks, Mount Pahia and Mount Otemanu. This central area is mountainous, making it tough to access.
The highest point of Bora Bora is 2,385 feet or 727 m
This attribute belongs to the tall and majestic Mount Otemanu which can be viewed from all over the island due to its distinct peaks that tower over the island.

Mount Pahia, in the south of the island, is almost as imposing rising to a height of 220 feet or 660 metres. 
This unique landscape is best observed from the plane on arrival and departure, so make sure to grab a good seat!
Bora Bora is the most photographed isle in the South Pacific
The main island of Bora Bora is surrounded by a ring of coral islets called motus.

Luxury resorts are located on these motus with incredible views across the blue lagoon. These surrounding islets include Motu Tapu, Motu Tane, Motu Mute, Motu Ahuna, Tevairoa, Motu Tufari, Motu Tehotu, Motu Pitiaau, Motu Marfo, Sofitel Motu, Motu Toopua, Toopuaiti, and the atoll of Tupai.
The small island of Motu Tapu, located one hundred metres off the coast of the main island of Bora Bora, is the most photographed island in the South Pacific. With its beautiful setting, it was once the retreat of the Polynesian Queen Pomare IV.
Another interesting fact about Bora Bora
Bora Bora has the most beautiful beach in the world
Matira Beach, with its soft white powdery sand, swaying palm trees, top sunset views, and crystal-clear, calm waters, often makes the list of best 10 beaches in the world.

Many who visit describe it as unbelievable, a little too perfect even. It is the largest public access beach located on the southern tips of the island and is extremely popular with visitors and locals alike. 
The picturesque landscape naturally lends itself to some amazing island photos without much effort. Using one of the VistaCreate features, allows you to add an even more unique style to your pictures, enabling them to really stand out from the crowd.
You will be surprised to hear that the main Bora Bora island, surrounded entirely by water, has only one public beach.

There are other beaches, including a pink beach, but these are private and only accessible to guests of those hotels located on the motus. 
>> And for all those amazing beach shots, you're going to need the
perfect beach quote and beach caption
The coral reef surrounding Bora Bora is considered one of the best in the world
Numerous areas with naturally beautiful coral and coral gardens are found throughout the surrounding waters.

Snorkelling is a popular activity on the island and a great way to see this thriving underwater world. In addition, many hotels have their own coral reef rehabilitation program that guests can partake in.
The lagoonarium, a man made attraction, is where you will find animals the likes of sting rays, manta rays, and other types of rays being bred.

This is an important conservation project and these animals are released into the ocean once they are able to.
Bora Bora is one of the best places to scuba dive with sharks
Tapu, the empty space in the reef located on the western side of the island, is one the tops locations to scuba dive. Sightings of manta rays, lemon sharks, blacktip reef sharks, grey reef sharks, and Napoleon wrasse are not uncommon.
>> Learn more about the world with these:
Geography trivia questions (and answers)
History Facts about Bora Bora Island
Bora Bora has been inhabited for ages
The island was created by volcanic eruptions some 4 million years ago.

Legend has it that Bora Bora was the first island pulled from the waters by the god Ta'aroa following the creation of Raiatea. 

It remained desolate, hidden, and uninhabited for a l-o-n-g time, that is, until it was discovered by Polynesian explorers who first crossed the Teavanui pass. It is likely that these people were from the nearby island of Tonga.
No archaeological study is able to determine just how long humans have lived on Bora Bora, but it is believed that the first Polynesians most probably arrived around 850 AD.

Several religious sites and ancient temples, called marae still exist, scattered throughout the islands as evidence of this time. Unfortunately, many of these temples were destroyed by the English missionaries.
The Polynesians inhabited these islands for several hundred years before being discovered by the western world. Dutch admiral Jacob Roggeveen encountered the island in 1722.

Captain Cook sighted the island in 1770 while on a mission as a British explorer and landed that same year.
Yes… it is not a well known Bora Bora fact that:
Bora Bora was once a self-ruled kingdom
Protected by its island warriors, Bora Bora resisted European colonisation and was an independent kingdom with its own royalty until the year 1888.

During that year, Bora Bora's last queen Teriimaevarua III was forced to abdicate by the French, under the leadership of Admiral Abel Aubert Dupetit Thouars, who annexed various Polynesian island groups including Bora Bora as a colony.
To this day…
Bora Bora belongs to France
Another historical fact is that in 1958 this entire archipelago became known as French Polynesia. 

Bora Bora is in which country?

French Polynesia, which includes Bora Bora, is officially a semi-autonomous territory of France. The country has been working towards independence from France, but this is a long and gradual process that is expected to take years to complete.
Did you know that…
Bora Bora was a once a WW2 American supply base
Referred to as Operation Bobcat, the United States chose Bora Bora as their military supply base in the South Pacific during World War II from 1942 to 1946.

Around 6,000 U.S. military personnel, nine ships, and over 20 000 tons of equipment were brought here including the construction of seven massive cannons and a number of forts along the perimeter of the island. An aviation runway of over 6,000 ft (2,000m) was also built and remained French Polynesia's only international airport until the opening of Faa'a International Airport on Papeete in Tahiti in 1962.
No combat took place on the island following the retreat of the Japanese and this base was officially closed in June 1946. A few reminders of this period in history remain and can be visited by history buffs.
Facts about Tourism in Bora Bora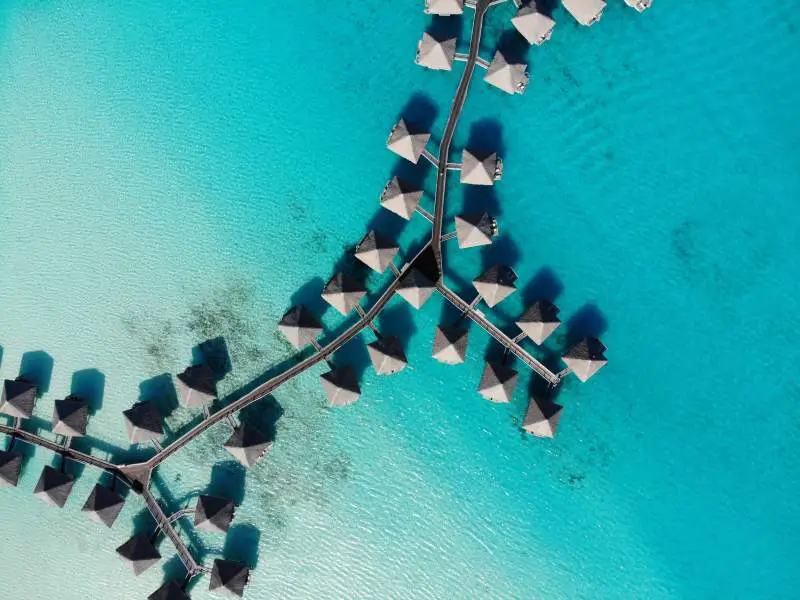 MUST SEE ATTRACTIONS IN BORA BORA

– Matira Beach
– Bora Bora Lagoonarium
– Mount Otemanu
– Bora Bora Turtle Centre
– Leopard Rays Trench
– Amazing underwater world
– Marotetini royal Marae
– Teavanui pass
Tourism is the main economic activity on the island
Bora Bora is without a doubt French Polynesia's most popular island.

It is considered the perfect escape for those looking for a tropical island getaway as well as for those looking for a romantic escape. It is recommended to spend at least two weeks in French Polynesia to discover its highlights.
There's a reason why the island is famous the world over and many facts about Bora Bora that continue to attract visitors.

Its incredible beauty and exclusivity is inviting, its turquoise waters are incomparable, its coral reefs and lagoons are abundant with life, and the ancient volcanic setting is simply breathtaking.
The majority of visitors to Bora Bora are American, Japanese or European
The entire French Polynesia gets just over 200,000 visitors a year. For comparison, the Maldives gets over a million visitors a year and Hawaii gets more tourists in 10 days than what the region gets in a year. 
High season is May – October
The island with its warm tropical climate is a year-round destination, but the best time to visit would be during the dry season. The temperature is slightly lower with much less rain. The average temperature is around 79F (26 C), while the water temperature hovers in the mid 80's (30C) on average throughout the year.
High tourist peak season is from May – October, particularly in August.

During this time prices also peak and there are many more people around. The dry season is also the best time to go scuba diving due to the high water visibility during this time. Many tourists prefer to visit in the off season as it is less crowded and for better prices and more value.
April and November are considered the shoulder months.
Do visitors need a visa for Bora Bora?
This is dependent on your nationality, but in general travelers can enter Bora Bora for 90 days every six months without a visa. Passports must be valid for at least three months and proof of onward travel may be required.
"Romantic Island," Bora Bora is one of the best honeymoon destinations in the world
There are so many reasons why Bora Bora is often referred to as "the Romantic Island." Think beautiful scenery, solitude, private beaches, secluded coves, world class hotels, intimate overwater bungalows, and a peaceful atmosphere that draws couples in love. 
The island is a favorite honeymoon spot and also hugely popular for proposals and beach weddings.
If that's not enough, just 19 km away from Bora Bora, on the island of Motu Iti, you will find a coral reef formation shaped like a heart.
Bora Bora packs in a wealth of activities for a small place
You could choose to lay around on the beach all day, mesmerised by the surrounding views. Nothing wrong with that. 
However, for those looking for more — you'll be happy to hear that the island offers an array of things to do and see. 
You can snorkel in the pristine lagoon, and if you can't get enough you can swim with dolphins and turtles. There is also the option to feed sharks and rays, scuba dive, fish and parasail.
For those looking to get an adrenaline rush, choose kiteboarding, kayaking, paddle boarding, jet skiing, aqua biking or sailing.
While snorkelling, scuba diving, and other water activities are the most popular activities, don't miss out on discovering the rest of the island. Highlights include a visit to the Marae Temples, interacting with the locals at the many shops and galleries in the markets, chasing waterfalls, and finding the ideal spot to enjoy the famous Bora Bora sunset. 
On land there's biking, quad biking, and hiking along various trails across the island. You could even choose to see the island from above via a helicopter ride. 
For hiking, the best option is the hike to reach the iconic summit of Mt. Pahia. At 661m, you are provided with a 360-degree uninterrupted panorama of the region.
As you can see, the vast majority of these activities are the outdoor kind. There are no cinemas, no libraries or museums to visit. If you're keen to get some reading done, bring some of your own.
The overwater bungalow was first created in French Polynesia
The concept of the overwater bungalow that is synonymous with luxury and tropical island vacation around the world was first created in the '60s on the island of Moorea in French Polynesia.
A failed vanilla plantation was turned into a resort, building bungalows that stand over the water using stilts. This idea and design has been copied throughout the world.

Today, overwater bungalows that offer direct access to the lagoon with amazing views are a standard feature of most Bora Bora resorts. Many of these bungalows even come with a glass-bottomed floor.
>> Related reading:
100 top vacation songs for those summer beach days
Facts about the people of Bora Bora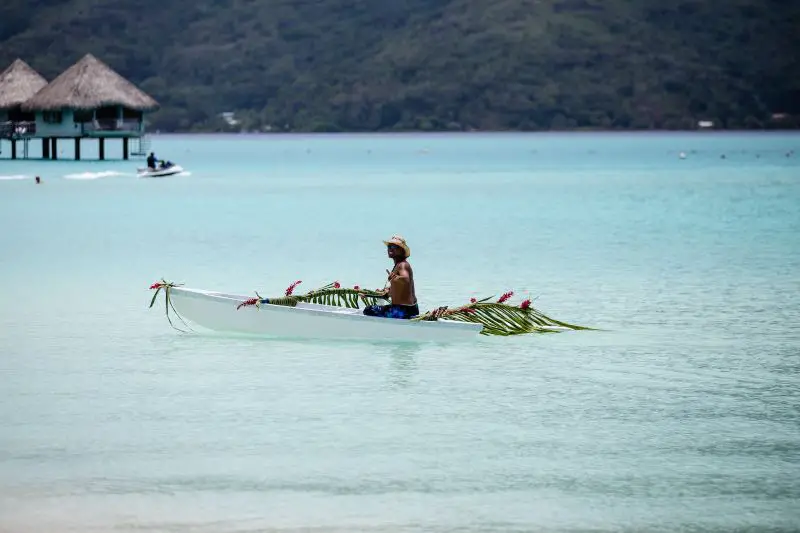 Less than 10,000 people call Bora Bora home
Bora Bora population: The island group has a permanent population of 9770. Most of the residents live in the flat coastal strip that circles the main island with about half of the of the population living in Vaitape.
You maybe surprised to hear that…
Half of the population is under 20 years old
The indigenous people of French Polynesia are Eastern Polynesians Maohi, as opposed to the Western Polynesians of Tonga and Samoa.
Around 80% of the population of French Polynesia are Polynesian. 8% are of French descent and 12% are Chinese. 
Tahitians place a lot of importance on family life
Family and personal connections are very important. This is a priority and it is not uncommon for several generations to live under the same roof.
There are no public cemeteries in Bora Bora
Loved ones are buried in their own backyard. For this reason, it is very tough for locals to sell their property as it would mean also selling your ancestors. 
The locals on Bora Bora are relatively poor
Unfortunately, the local community doesn't benefit greatly from all of those tourism dollars which end up mainly with foreign-owned resorts and businesses. A concentrated effort has been made to address this.
>> Read this:
What is Responsible Tourism + How to travel more sustainably
However poor doesn't mean unhappy, because…
Bora Bora has a very relaxed atmosphere with the people just as chilled
The local people are relaxed and laidback for the most part. Their life philosophy called "`aita pea pea," which means "not to worry" serves them well. Going with the flow, smiling, and enjoying life at a relaxed pace is the way of life on the island. The nightlife here is fairly relaxed too.
Bora Bora Culture Facts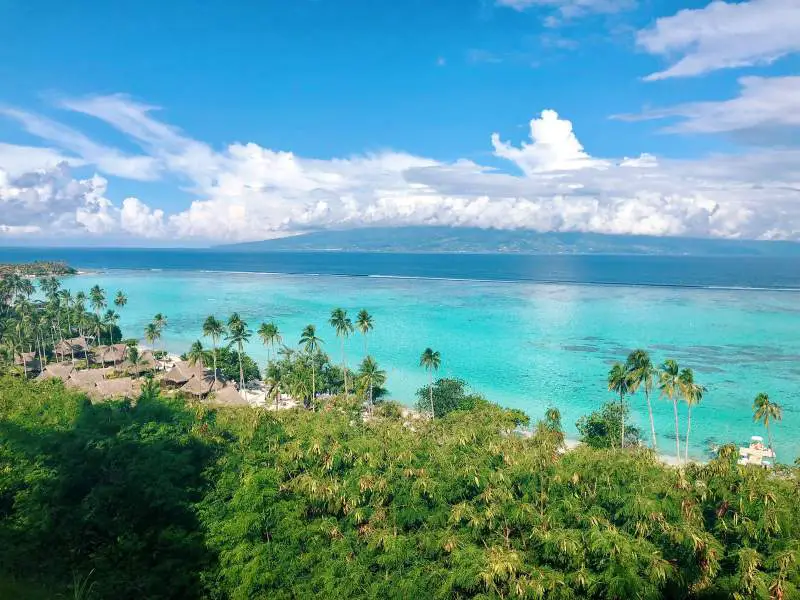 Different islands have different cultural identities over and above the underlying Polynesian culture and tradition.
The people of Bora Bora are friendly, welcoming, proud of their culture, and love to share this with the visitors to this island. This culture and way of life should be respected.
Sadly, the English Missionaries tried to wipe out any signs and relevance to Polynesian culture, banning any form of religion and traditional dance and destroying temples and houses of significance. However, many of the traditions and customs have prevailed and can be seen today.
The traditional music instruments are the pahu, the vivo, and the toere drums with a style of music on the island that is a mix of classic South Pacific style and country western. The classic dance of Bora Bora is the tamure that forms part of the island festivities.
The official languages of Bora Bora are French and Tahitian
Tahitians have a tendency to mix French and Tahitian words in their conversation. In addition to this, each island has its language. English is also widely spoken, particularly in areas frequented by tourists. 
Tahitian is a relatively easy language to learn, with only 16 letters and 1,000 words. Learn a few travel words before you go to score some major brownie points and a welcome introduction with the people.
>> Here are a couple of the most common Tahitian words spoken on Bora Bora with pronunciation in brackets:
Hello – Ia Ora na (yo-rah-nah)
Thank you – Mauruuru (mah-ruh-ru)
Yes – E (ay)
No – Aita (eye-tah)

Goodbye

– Nana (nah-nah)

Morning

– Poipoi (poy-poy)
Friend – Hoa (ho-ah)
Family – Fetiʻi
Big – Nui (new-ee)
Small – Iti (ee-tee)
Food – Ma'a (mah-ah)
Welcome – Maeva (maa-e-vah)
Water – Pape (pah-pe)
Let's eat – Tama'a (tamah-ah)
>> Related reading:
Learn how to say hello in different languages around the world here
The flag of Bora Bora
… is different to the two official flags of France and French Polynesia. It has five horizontal stripes of alternating red and white color.

Does this flag make it on this list of the most beautiful flags in the world?
The main religion of Bora Bora is Christianity
Christianity was brought to the island by the Protestant missionaries in the 19th century.

This belief has heavily influenced the region and continues to play a role in the island's culture and its people to this day. There is a church in each of the three villages, where the majority of the people are either Protestants or Catholics.
The annual Heiva festival is Bora Bora's premier event
Two major festivals take place each year on the island and if you time it well you will be treated to a wonderful spectacle. Do book in advance as these are popular times to visit Bora Bora. 
The hugely popular Heiva festival taking place in July is the main festival of the year. This colourful event is held on Vaitape, on a huge stage near the quay, featuring top music and dance performances and beauty pageants.  
The other event, Hawaiki Nui Canoe Race, takes place in July.
Economy facts Bora Bora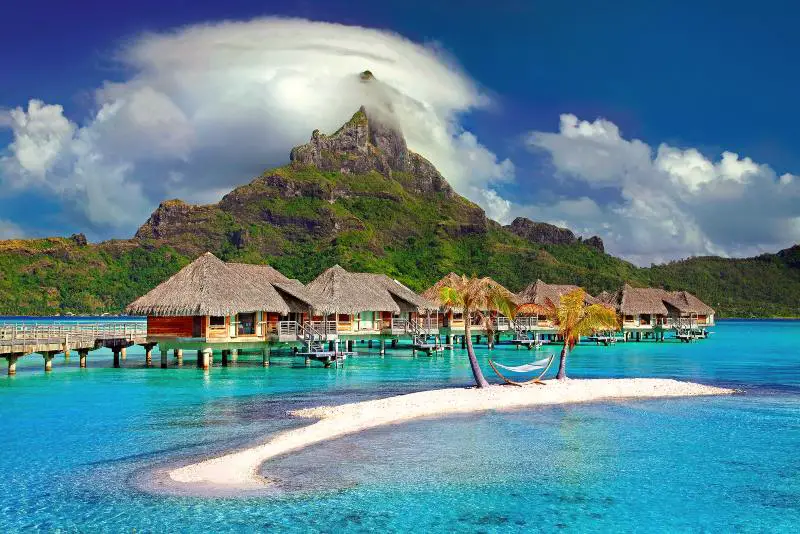 Let's now take a look at some commercial Bora Bora facts:
GDP (French Polynesia): 17,000 per capita
The island of Bora Bora has an economy that is focussed almost entirely around travel. Tourism is the primary economic activity and the island and its people rely heavily on the tourism industry to fuel its economy. 
The island has over a dozen luxury hotels, with a large majority of the people working in resorts and restaurants. 
The main produce of Bora Bora is coconuts
The products of the island are mostly limited to what can be obtained from the land and the surrounding sea.

The main produce are coconuts, copra, vanilla, and mother-of-pearl with deep-sea commercial fishing a secondary activity.
Coconut plantations are an important industry on Bora Bora. Coconuts are found almost all over and are involved in almost every activity on the island. So much so that you will even hear of legends associated with the coconuts palms on the island.
Speaking of money…
The well known fact that Bora Bora is expensive is true
I know you're secretly hoping that Bora Bora isn't an ultra-expensive destination, but I'm sorry to be the one to break it to you: it is considered to be one of the most expensive places to visit in the world. 
How much does a trip to Bora Bora cost?
First, there's the cost involved in getting to this island that is one of the furthest destinations in the world in the middle of the nowhere, which would set you back around $2,000 per person.

Next up is the cost of accommodation. Budget accommodation is hard to come by and the luxury resorts command top dollar for their overwater bungalows, which could set you back around $1000/night.
>> Fun Fact about Bora Bora Island:

Bora Bora one villa is the most expensive accommodation on the island, starting at over $55,000 per week. This includes a private beach, 5 bedroom suites, an infinity pool, a tropical garden, a private chef, beautiful views, and other luxury services.

Would you pay this much?
The official currency of Bora Bora is the French Pacific Franc
Even though France uses the Euro, the Franc (abbreviated as CFP) is the preferred currency here.
It is tied directly to the euro, at the rate of 119 CFP to one euro. One USD is equivalent to approximately 113 CFP.
Using a credit card for almost everything is not a problem and US dollars are widely accepted. There is also an ATM at the airport and on the main island should you need to withdraw cash.
Bora Bora is a famous holiday spot for celebrities and billionaires
A well known fact of Bora Bora is that this exclusive island with all its beautiful and luxury is a sure first choice and favourite vacation destination for celebrities and the super rich.

Many are drawn not only by its natural beauty, but by its exclusivity, its luxury resorts, private bungalows, and isolated beaches that offer the ultimate escape and luxury.
Transportation in Bora Bora Facts
Public transportation is virtually non-existent
An interesting fact about Bora Bora is that the island is tiny at only 32 km in circumference with only one main road that circles the island along the shore line.

There is no public transportation, except for a bus called Le Truck which conducts two-hour tours around the island.
The best way to get around is by walking and by bike. Taxis are available. Hiring a car is possible, but expensive, as you're charged by the hour. 
The main form of transport between the islands is by boat and Bora Bora is well connected to the other islands in the Society Islands Group by several regularly scheduled ferries. Here you will find a harbor capable of handling cruise ships and docking facilities for private yachts.
Getting to Bora Bora is quite the mission and there are no direct flights
Bora Bora doesn't have an international airport. All visitors must fly through the only international Faa'a International Airport at Papeete on the island of Tahiti. 
From Tahiti it is a 45-minute plane ride to Bora Bora Motu Mute airport. Air Tahiti provides regular scheduled flights (around 5 or 6 per day) between Papeete and Bora Bora as well as to several other islands in the French Polynesian archipelago. For safety reasons airplanes can only land in daylight.
This is the perfect time to get that window seat for exquisite views of the archipelago of islands from the plane for a moment that you will not soon forget. Make sure you have a seat on the left side of the plane when flying from Papeete to the outer islands and on the right side when returning to prepare for the moment when the distinct Mount Otemanu makes a grand appearance.
Once landed in Bora Bora, all travellers will either take a free public ferry to the mainland or be picked up by the private boat shuttle of their hotel which is usually a 20-minute boat ride.
Hungry? Let's get into some:
Food in Bora Bora: Facts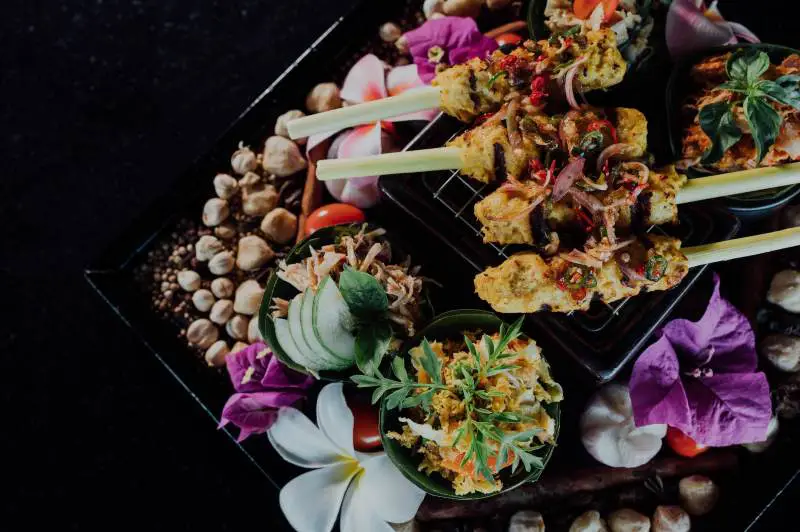 Naturally being an island, fish and seafood plays a prominent role in the cuisine of Bora Bora and the Tahitian diet. Local dishes makes use of a natural style of cooking, homegrown flavours and fresh products with coconut and vanilla making a regular appearance. 
The food of Bora Bora is unique with influences of various cultures over the years
Bora Bora has a unique culinary palette stemming from the influence of various cultures over the years.

The food of Bora Bora is a mixture of traditional South Pacific cooking with French and Japanese influence that have enhanced the taste and texture. This unique style can be found in all different types of restaurants ranging from the 5-star resorts to the roadside stalls.
The national food dish of Bora Bora is poisson cru
This traditional local food consists of a medley of raw fish and vegetables, marinated in a mixture of fresh lime juice and coconut milk, served in a coconut. The raw fish is usually tuna or mahi-mahi.
The fish, whether tuna, mahi-mahi, bonito, or other varieties caught in the lagoon are prepared in a variety of ways.

Other noteworthy dishes include Chinese ma'a tinito which is a mixture of kidney beans, pork, macaroni, and Chinese cabbage. Many dishes also include chicken, pork, fafa, sweet potatoes, breadfruit, and rice. Local vegetables and fruit the likes of papaya, mango, pineapple, bananas are common. 
The banana or papaya puree, locally referred to as po'e, is the most popular dessert served on the island. The purees are most often baked and then covered with sugar and coconut milk to produce a delicious treat.
The locally grown produce are a must try
In addition to these, don't forget to try the locally grown coconuts, pineapple, vanilla and bananas.
While the specialties may be Polynesian, you will find an array of restaurants serving everything from pizza and noodles to American, French, and Chinese styled food. The international hotels host big buffet evenings featuring a variety of local dishes and international favourites accompanied by traditional island dance performances.
Most of the food is cooked in traditional pit ovens
The ovens, called ahimaa, are formed by digging a hole in the ground. Stones that are heated by fire are placed into the hole. The food which is wrapped in banana leaves are then placed onto the hot stones and covered by dirt. This allows the food to bake for several hours and is particularly common during the traditional tamaaraa feast.
Family occasions and celebrations call for a huge celebration where a meal consisting of suckling pig, fish, breadfruit, yams and fe'i bananas are wrapped in banana leaves and cooked in these ahimaa for the feast.
While the food may have changed over the years, the tradition of eating Tahitian food with your hands is something that still remains in Bora Bora.
Some resorts will let you fish for your supper, with all the equipment provided, and cook it for you that same day. 
Tap water is safe to drink on Bora Bora
The tap water is drinkable in Tahiti, Moorea, and Bora Bora, including all the international resorts. Anywhere else and you should double check with the locals or your hosts. 
>> Must read:
35 most exotic foods around the world
Fun facts about Bora Bora
I know you've learnt a lot so far.

Here are a couple more fun Bora Bora facts that are both interesting and entertaining. I'm almost certain you will enjoy and remember them for a long time after reading this post.
There are NO poisonous snakes or insects in French Polynesia
As if Bora Bora wasn't perfect enough, you'll be glad to hear that the island is void of any harmful insects and poisonous snakes.

If that's not paradise, I don't know what is.
Another thing that you'll be glad to hear is that because French Polynesia is located on the eastern edge of the South Pacific hurricane belt, it rarely experiences cyclones or hurricanes. 
You know what they say…
You are more likely to be injured from a falling coconut than a shark in Bora Bora
Yes, you do need to watch out as there are a countless number of coconuts trees all around and a falling coconut is a valid concern.
Speaking of sharks…
There are more sharks than people in French Polynesia
The waters are teeming with wildlife, including an abundance of sharks.
The sharks in Bora Bora are not dangerous and attacks on humans are rare. Following the 2012 total protection law of sharks, banning shark fishing and the commercialisation of shark products, the numbers have flourished. 
The most common types of sharks found here are the blacktip reef sharks and Lemon sharks. 
In addition to sharks…
Bora Bora is home to over 500 different species of marine wildlife
The waters surrounding the island hosts the perfect conditions for a variety of creatures to flourish.

The rich underwater world in the reefs and lagoon has an unimaginable plethora of marine life.

Everything from tropical fish and turtles to stingrays and sharks. Be on the lookout for dolphins, Napoleon wrasses, barracudas, clown fish, and humpback whales just to name a few. Bora Bora is also one of a handful of places in the world where you can witness Manta rays.
There are no mammals that are native to Bora Bora due to its volcanic past. You will however, find a handful of non-native species across the island due to human involvement.
There are a large number of exotic bird species found on the island. The government has put protection laws in place to ensure their healthy survival. The Tahiti Monarch, Kuhl's lorikeet, and the Polynesian ground dove are regularly seen. 
Flowers signify one's relationship status in Bora Bora
A fun fact to know about Bora Bora is that it is common for women to place a flower behind their ears.

However, if the flower is behind the right ear this signals that the woman is single. If it is placed behind the left ear, this signifies being in a relationship.
While on the topic of flowers…
The national flower of French Polynesia and Bora Bora is the Tahitian gardenia
The Gardenia taitensis also known as the Tahitian gardenia, or by its original Tahitian name of tiare mā'ohi is the national flower of the region, including Bora Bora.
Bora Bora is known for producing black pearls, which are both extremely rare and beautiful
… and also very expensive. A jewellery piece made of black pearls can go up to $45,000 in price.
Formed within the giant black-lipped Pinctada Margaritifera oyster which lives in the lagoons of the Tuamotu islands, the Tahitian black pearls are indigenous to this region. This rare pearl varies in exotic colour from silver green to blue and brown and is a sought after item by celebrities and visitors alike. 
These distinctive dark coloured pearls also make for a unique gift or souvenir to bring home from Bora Bora. They can be found at markets and also at the jewellery stores and shops inside the hotels and resorts.

You can even visit a pearl farm on the island of Tahaa or on one of the other vacation islands in the Tuamotu to witness this industry in action.
Tahitian letterboxes are actually for bread deliveries
Don't go placing mail in the letterboxes you see outside each home on the island. These boxes are actually for bread. The island does not not have any form of residential mail delivery, and all locals have to go to the post office to collect their mail.
And one last fact about Bora Bora for all the tattoo lovers, myself included:
Tattooing is a sacred art in Bora Bora and the word "tattoo" comes from Tahitian
Tattoos have been and still is an important part of society. Considered a sacred art and a sign of beauty, tattoos were used to show ones rank, stature, tribe, and position in Polynesian culture. Legend has it that the art of tattoos is believed to originated from the two sons of the God of creation, Ta'aroa.
The word tattoo originates from the Tahitian word tatau, believed to date back as far as 1500 BC.
---
And now you know!

I hope you enjoy your time in this exotic island as much as learning about the history, culture, religion, people, food, geography, and language through these facts on Bora Bora.
Mauruuru,
Rai
>> Read next in this series: