100+ Perfect SUNRISE CAPTIONS for That Sunrise State of Mind
No matter where in the world or under what circumstances we find ourselves in, the sunrise will always be a positive reminder about new beginnings, a fresh start, and perspective in life. No matter what went down yesterday, the sun rising in the east is the start of something beautiful. It is up to us what we do with the new day ahead. Read on to unearth a list of the best sunrise captions for you.
In this fast paced world, we tend to get to bed later than we should. Meaning we wake up past the break of dawn and completely miss the rising of the sun. 

I myself am totally guilty of this and it's a character flaw that I am working on. Often, the only time I get to witness and enjoy the sunrise is when I choose to not spend the night sleeping in a hotel, but rater opting to wander the city I am visiting all night long. Or when choosing to sleep in a car or on the beach instead. Other times I love to see the sunrise is when spending some time camping and hiking in the mountains over a number of days. 
You know the saying, "early to bed, early to rise… " Well, here are over 100 more captions for sunrise to inspire, excite, and motivate.
Save this post, and use it as reference the next time you need the perfect sunrise caption for instagram. Let these phrases, sayings, and captions of the gradual blending of the pinks and reds across the horizon motivate you, bring perspective in your life, and illuminate your mind.
If you're actually looking for longer sayings about sunrise, here is a compilation of
my favorite sunrise quotes!
Here's to catching more magical sunrises in 2023.
Are you with me?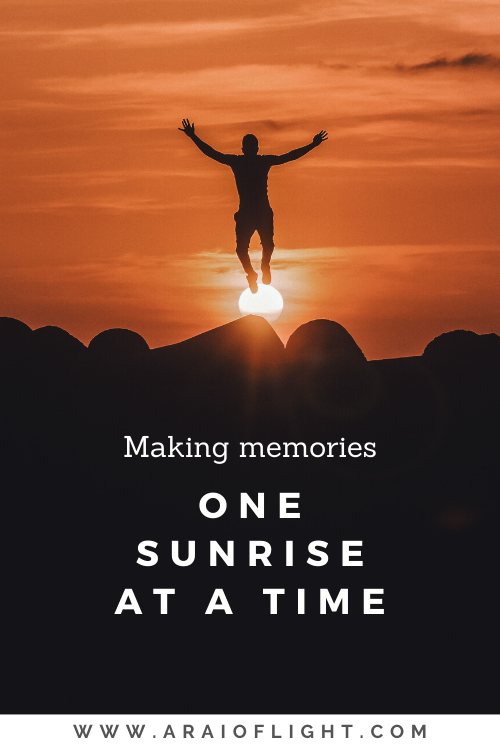 >> Read next:
The ultimate list of the best captions for sunset
>> Looking for more inspiration? Check out:
What is a sunrise?
Here is how it is defined scientifically…
The sunrise is that moment at dawn during which the upper rim of the sun's disc first breaks the plane of the horizon. It can also be used to describe the entire series of stages in time of the sun passing the horizon and its resulting effects.
Best sunrise hashtags for social media
You know that no insta sunrise caption is complete without an appropriate use of some hashtags.

Here is a list of my favourite and most popular hashtags for sunrise:
#sunrises #sunriselovers #sunriseavenue #sunriseoftheday #sunriseporn #nature #photography #sky #landscape #photooftheday #sun #travel #naturephotography #clouds #beautiful #morning #sunrisephotography #landscapephotography #picoftheday 
#sunrise #sunriseoftheday #view #skyporn #cloudporn #travelphotography #sunshine #goodmorning #beauty #light #skylovers #explore #sunrisesunset #sunrisesky #sunrisebeach #sunriseview #sunrisehike #sunriser #sunriseandsunsetworld
You may ask: Is watching the sunrise worth it?
Without a shadow of doubt (excuse the pun), YES. 

It is always worth the time and effort to spend time in nature and to witness its beautiful sunrise spectacle provided each morning.. free of charge!

Watching the rising sun can motivate you, inspire you, add positivity, and provide some much needed perspective in your life.

Sunrises are also a metaphor of happiness, new beginnings, and fresh starts. So take some time out of your busy life and schedule a date with the rising sun. It will be totally worth it!
This post on captions about sunrise is extensive and to make things easier, I've split the list into related sections. Click on the link to go to the part that most interests you right now, or keep scrolling for even more sunrise inspiration.
THE BEST CAPTIONS ABOUT SUNRISE
Every day a million miracles begin at sunrise!
Chase the sunrise
When someone asks me what my favorite color is, I should just say, 'sunrise.'
Only from the heart can you touch the sky.
May there be just enough clouds in your life to create a glorious sunrise.
The sun is alone but it still shines
The only kind of sunrises that I don't like are the ones that I missed
Meet me where the sky touches the sea
Wake up for the sunrise, stay out for the moon
She was a sunset type of girl, and he was a sunrise kind of guy. They lived on opposite ends of the day but together made up a whole sky.
Everything gets hotter when the sun comes up
Don't forget, beautiful sunrises need cloudy skies
When I admire the wonders of a sunrise or the beauty of the moon, my soul expands in the worship of the creator
To love and be loved is to feel the sun from both sides.
May every sunrise hold more promise,
And may every sunset hold more peace.
Sun, sea, the sand, and me! 
Where sunrise happens, dawn soon arrives.
Sunrises are like God's paintings in the sky.
Sunrise is my escape into the reality I want to continuously live.
Keep looking up, that's the secret to life
To watch a sunrise is to connect with the Divine.     
Nature is painting for us, day after day, pictures of infinite beauty.
Life is all about enjoying every sunset and looking forward for the next sunrise.
Let's go somewhere where the sun kisses the beach.
There are a sunrise and sunset every single day and they are absolutely free, Don't miss so many of them.
That is magic when you see the sunrise on your darkest days.
Of all the paths you take in life, make sure a fewer of them lead to magical sunrises.
May every sunrise bring you to hope, may every sunset bring you peace.
— short sunset quote
Just living is not enough… one must have sunshine, freedom, and a little flower.
The sun does not shine for a few trees and flowers, but for the wide world's joy.
Allow failure to teach you a supreme lesson: Each sunset is the beginning of a very, very bright and powerful sunrise
Life does not come with instructions on how to live, but it does come with trees, sunrises, smiles and laughter, so enjoy your day
Every moment of life is unique – a kiss, a sunrise, a dance, a joke. None will ever recur in quite the same way. Each happens only once in the history of the universe
Know what you want to do, hold the thought firmly, and do every day what should be done, and every sunrise will see you that much nearer the goal.
The darkness that follows a sunset is never so dark that it can change the inevitability of a sunrise
The sun rises, the sun falls, the wind blows and the birds sing no matter where you are. These are experiences that unite us all… something we can all enjoy together.
Sunrise is the most spiritual moment where human race meets the extraordinary spirit of the universe!
I like people who get excited about the change of seasons, the sound of the ocean, watching a sunrise, the smell of rain, and starry nights 
All my life, I have been in love with the sky. Even when everything was falling apart around me, the sky was always there for me.
We need to be reminded sometimes that a sunrise lasts but a few minutes. But its beauty can burn in our hearts eternally.
Sometimes you just have to create your own sunshine.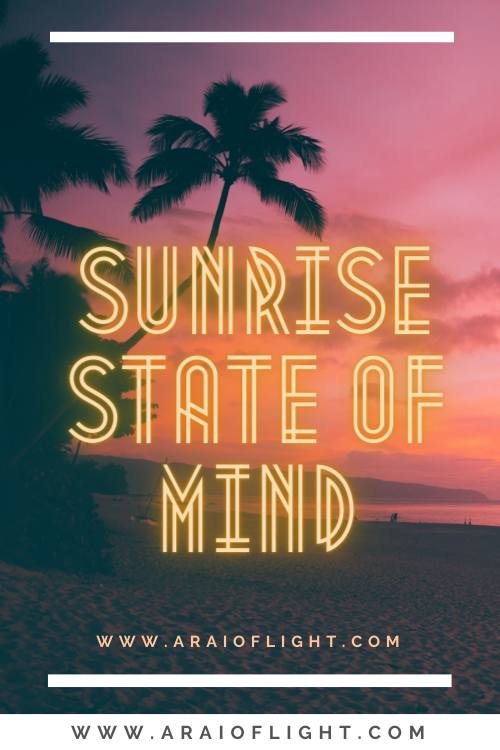 BEAUTFUL SUNRISE CAPTIONS
Mother nature doesn't need a filter
The darkest part of the day is the minute before sunrise, so when you feel you're in the darkest part of your life, remember that your sunrise is just a minute away.
Sunrise reminds us, that while there are clouds in life. The beauty is in the way, the light shines through them. If you were born with the weakness to fall, you were born with the strength to rise 
Choosing a single colour as your favorite colour is too limited, too generic. Why not 'sunrise?'
Sunrise is the start of something beautiful: the day. Sunset is the start of something beautiful: the night 
– Juansen Dizon
The most beautiful sunrises are the ones we share.
The sunrise, of course, doesn't care if we watch it or not. It will keep on being beautiful, even if no one bothers to look at it.
And in this moment, the world stood still.
A sunrise or sunset can be ablaze with brilliance and arouse all the passion, all the yearning, in the soul of the beholder 


– Mary Balogh
No sun outlasts its sunset, but will rise again and bring the dawn. 
– Maya Angelou
Dusk is just an illusion because the sun is either above the horizon or below it. And that means that day and night are linked in a way that few things are. There cannot be one without the other, yet they cannot exist at the same time.
— Nicholas Sparks
The sky takes on shades of orange during sunrise and sunset, the colour that gives you hope that the sun will set only to rise again
Even the most beautiful nights eventually have their sunrise.
Nature is painting for us, day after day, pictures of infinite beauty if only we have the eyes to see them 
— John Ruskin
There's never one sunrise the same or one sunset the same 

— Carlos Santana
The sunrise paints the sky with pinks
— Vera Nazarian
Even when the sky is filled with clouds, there is always sun shining above them.
From sunrise to sunset to sunrise, there is a lifetime of beauty, charm and elegance


— Sandeep Tripathi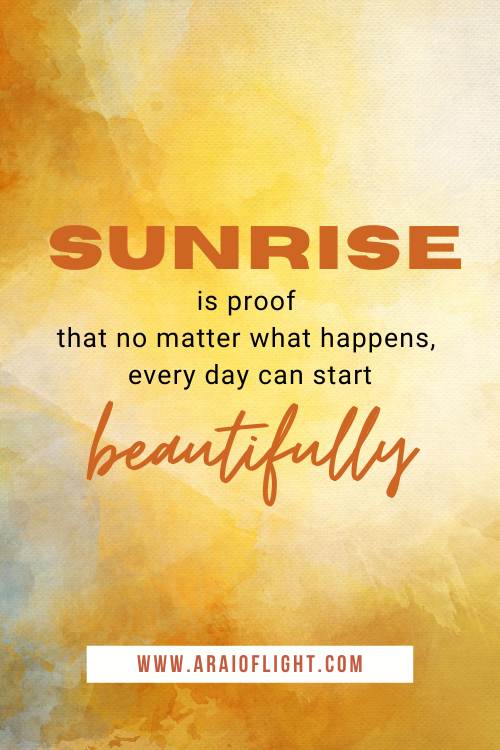 SHORT SUNRISE CAPTIONS FOR INSTAGRAM
Sunrise state of mind — favorite sunrise caption
With every sunrise, a new hope is born.
I'm walking on sunshine
A promise of a new tomorrow
I never met a sunrise I did not like.
Okay Mother Nature, you win
Born to chase sunrises
Here comes the summer day
Dance when the sun comes up
We all see the same sunrise
Rise and shine! 
Cherish every sunrise
Sun seeker!
This is my happy place
I long for endless horizons
Paradise found
Forever chasing the sun
I never get tired of sunrises.
Be as beautiful as the sun, but don't be so predictable.
Sunrise is one thing in life that won't wait.
Let the morning sky shade be your favourite colour
Sunrises are dreams made physical
Here comes the sun!
Pink haze, perfect days
Sun of the ocean
The rising sun kindled the sky.
The sky is aglow with the rising sun.
Witnessing the beauty and awe of the morning.
No two bright mornings are ever the same.
The only kinds of sunrises that I don't like are the ones that I missed.
You can never watch too many sunrises.
Follow the light.
The sky splashed with vibrant colors.
Oh, these radiant colours of the morning.
I long for endless morning colours.
Fifty shades of pink.
Our planet is an amazing place. Especially at dawn.
Adore gold skies.
Paint the sky. Make it yours.
Never go too long without watching a sunrise.
This is the only time of the day when the sky becomes a true mirror of life.
Another day another dollar.
Keep looking up
New morning, new way.
Magic hour
This is my kind of light show
And this day's chapter is about to begin.
Shoutout to Mother Nature
City lights got nothin' on country mornings.
When the skies turn pink it is time for a drink.
When the sun comes up, I have morals again.
It was lit fam.
Sunrise game on point
The sun shines not on us, but in us.
It's the simple things in life.
And the whole wide world is whistling.
Let's watch the sunrise.
Wait till the sunrise to shine like a star.
Breathe in the sunrise.
Priceless sunrise with the best.
Everything is fine where there is sunshine.
The sun loves to be eclipsed. It can't be tamed.
Always capture a sunrise on vacation.
Waiting for the sun to come up.
Not all the stars belong to the sky.
Sunrises are cliche for a reason.
Born to chase pinks, yellows, and blues.
Sun kissing the ocean
Fifty shades of sunrise
After every sunset comes a new sunrise
Dreams are made of sun
Another day another dollar
For a minute there, I lost myself
SSS – Sunrise, Sunburn, Sunset
Sunrise always brings a fresh start
My sun sets to rise again
— Robert Browning
>> Related reading:
How to say good morning in different languages around the world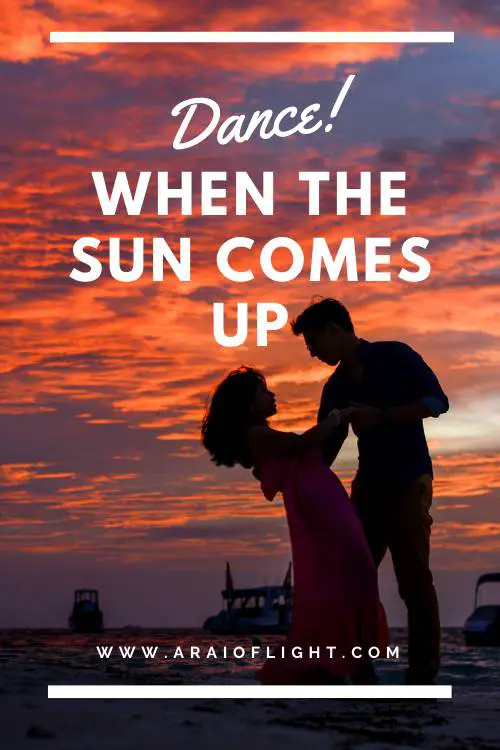 LOVE SUNRISE CAPTIONS
Love like a sunrise
I live for sunrises with you
Live by the sun. Love by the moon
The sky has changed from orange to a hundred shades of pink to a dark navy blue, and here I am still loving you
Someday, you will find the one, who will watch every sunrise with you until the sunset of your life.
I don't have all the money in the world, but I'll gladly spend time watching the sunrise with you. Just say the word. 
As angry as the sky looks, it's still full of the colors of love 

— Anthony T. Hincks
I love spending every sunrise right next to you
I am the sunrise of sunsets, and I make love like noon at midnight
— Jarod Kintz
The only kinds of sunrises that I don't like are the ones that I missed.
"I love watching the sunrise and sunset and the sky, the birds."
— Manisha Koirala 
Your smile is like a sunrise. One look at you and my walls go down.
When you watch a sunrise, you're not in the moment; the moment is in you.
The horizon changes but the sun does not.
— Joyce Rachelle
A view of the ocean, mountains, and the sunrise. But yet, he was still looking at me.
In ten minutes things could look so different, like the colour of a sunrise and the world after meeting you.
I want to see a whole world of different color-soaked skies with you.
Kiss me the same way the red sun kisses the sky.
If you want to be reminded of the love of the Lord, just watch the sunrise. 
"I love the sunrise, as I am definitely a morning person! It's a great time to get up and have a coffee in the garden by myself before everybody wakes up."
— Bianca Balti
>> Related reading:
How to say I Love You in different languages around the world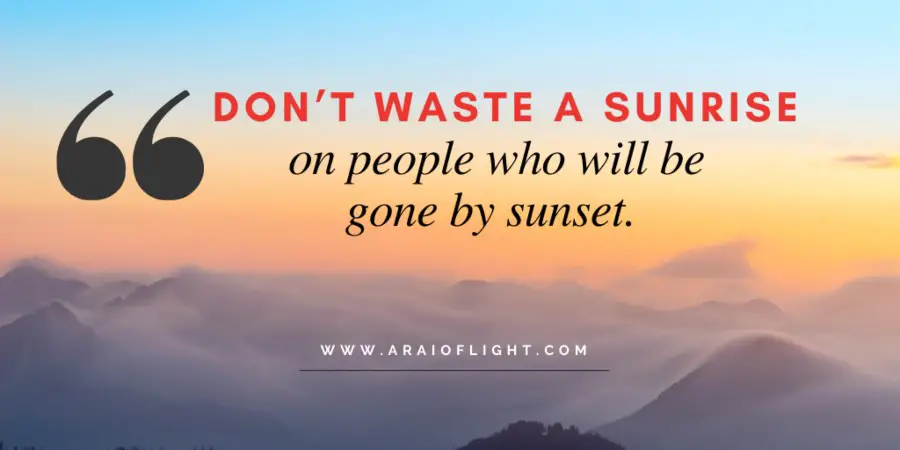 FUNNY SUNRISE PUNS
I stayed up all night to see where the sun went. Then it dawned on me.
The brightest day of the week is Sun-day.
Error 404: No bad sunrise found.
When the skies turn pink it's time for a drink
Watch sunrise, not Netflix
Sometimes it's not worth pushing that snooze button
Sunrise is the symbol of offline.
A sunrise is life's way of saying, good job, you survived the night. Here's something pretty!
Reading while sunbathing makes you well-red.
After every sunset comes a new sunrise… followed by a breakfast.
Beauty is in the eye of the beer holder.
You don't need a beautiful sunrise to be inspired, just photoshop.
That crazy little sun of a beach
The biggest cliche in photography is sunrise and sunset!
The sun's come up, water we waiting for?
At the end of the world the sunrise is like a child smashing a pack of crayons into God's face.
The only kind of sunrises I don't like are the ones I missed.
When the sun kisses the ocean it's time to drink.
Just a masterpiece trying to master peace.
Don't let the sun rise on your summer without an escape
Enjoy every sunrise like it's your last sunrise. The sun won't be here forever, you know.
While trying to see the sunrise, my eyes got dusky.
I love you to the sunrise and back.
"Everyone should experience a sunrise at least once a day." 

— Phil Dunphy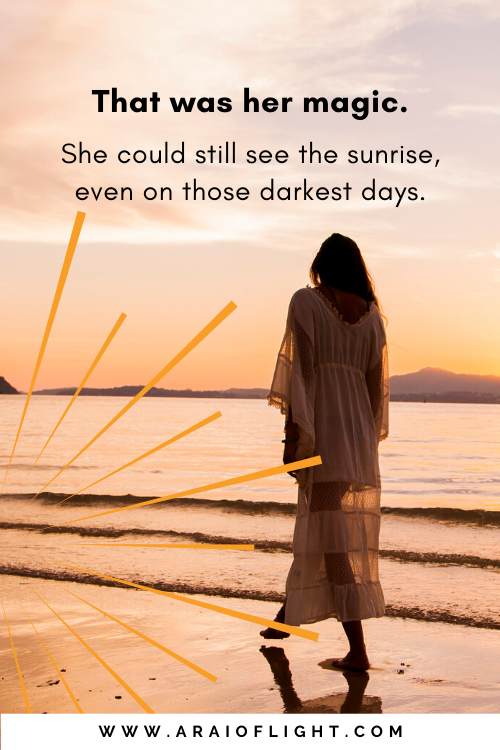 SUNRISE CAPTIONS FOR HER
That was her magic. She could still see the sunrise, even on those darkest days.
Forever that girl that gets really excited when the sky is in pretty colours 
Her heart was made of liquid sunrise.
All my life, I have been in love with the sky. Even when everything was falling apart around me, the sky was always there for me


— Yoko Ono
The sunrise doesn't need makeup.
I find my happiness where the sun shines.
Girls just wanna have sun
She is his sunrise. He is her storm.
She was not perfect. She was just stuck in that pretty little zone between moonlight and sunrise.
Loneliness adds beauty to life. It puts a special burn on sunrise and makes night air smell better.
I think you are the one who I truly love, whom I want to watch every rising sun together with.
How do I move on from you when I am still stuck in the yesterday, on that rising sun, love?
I like that every day that we spent have markers such as sunrise and the setting of our sun.

The sun, with all those planets revolving around it and dependent on it, can still ripen a bunch of grapes as if it had nothing else in the universe to do


— Galileo Galilei
Peace is seeing a sun rising from the horizon and knowing who to thank.
Her shy eyes hide the calmness of a sunrise.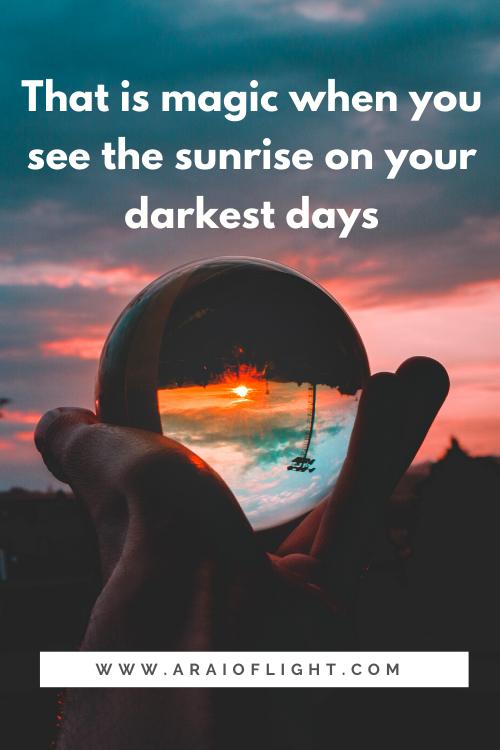 SUN RISING CAPTIONS ABOUT LIFE
If you can look at the sunrise and smile, then you still have hope
Turn your face to the sun and the shadows fall behind you. 
It was sunrise that taught me that beauty sometimes only lasts a couple of moments. 
Appreciate small moments of happiness, for they are so important. 
Because when you stop and look around, this life is pretty amazing.
— Dr. Seuss
Opportunities are like sunrises. If you wait too long, you miss them.

— William Arthur Ward
I never met a sunrise I didn't like. 
If you wish to see the sunrise, you must get up before the sun.


— Roland R Kemler 
On my deathbed, my only regret will be missing out on all the sunrises the sun has to offer. 
Truth is like the sun. You can shut it out for a time, but it ain't goin' away.
— Elvis Presley
Everything starts with a sunrise, but it's what we do before it sets that matters.
Have you watched the sunrise lately? No? Oh, well, you're missing out. 
Those loved by the sunrise are born with sunrise hair. 
Those wanting entrance into Heaven forget the sun rises every single day. 
If the planet Earth were flat, we wouldn't have such beautiful sunrises.
Sunrise is one thing in life that won't wait.
Your choice between sunrise or sunset depends on your attitude.


— Ibn Jeem
Get outside. Watch the sunrise. How does it make you feel? Big or tiny? Because there is something good about feeling both!
Each sunrise brings a new day with new hopes for a new beginning.
For one minute stand still, look up at the sky, observe the rising sun and contemplate how amazing life is.
Because I can count on my fingers the number of sunrises I have left, and I don't want to miss any of them. 
When the sun is rising, leave whatever you are doing and watch it.
In the sunrise of dissolution, everything is illuminated by the aura of nostalgia, even the guillotine.
There's always a sunrise and always a sunset and it's up to you to choose to be there for it. — Cheryl Strayed
You just gotta use the sunrise as a reset button and start over in the morning with every chance you get to open your eyes.
— Victoria Monet
Every sunset is also a sunrise; it all depends on where you stand


– Karl Schmidt
Life. This morning the sun made me adore it. It had, behind the dripping pine trees, the oriental brightness, orange and crimson, of a living being, a rose and an apple, in the physical and ideal fusion of a true and daily paradise
— Juan Ramón Jiménez
Sometimes the sunrise is so beautiful, I think it might be the very last one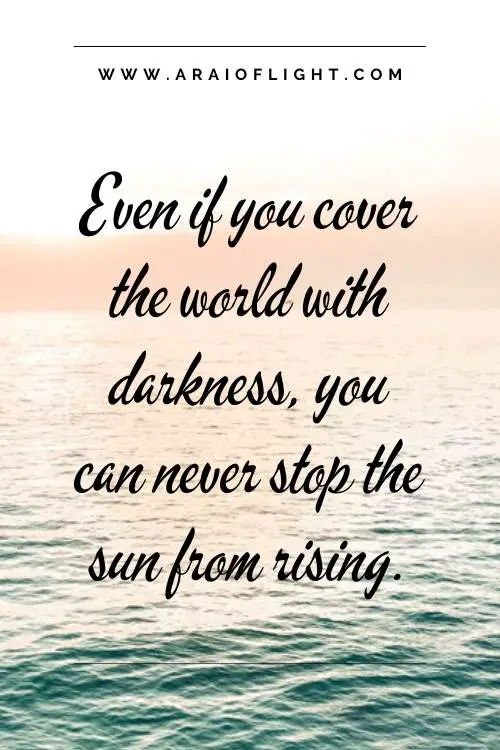 SUNRISE WITH FRIENDS CAPTIONS
Don't waste sunsets with people who will be gone by sunrise.
Food, friends, sunrises. 
BRB: Doing something magical with my best friends.
The sun is such a lonely star. Whenever he comes out to see his friends, they all disappear.


— Joseph Levitt
Where there's a sunrise, there are some of the best friends.
I believe in the magic of watching sunrises with your best friends.
Sharing a sunrise with my loved ones… priceless
You are the sun to my shine 
A sunset will color your dreams. And a sunrise will color your smile. It's all God asks.
— Anthony T. Hincks
Watching them was like watching the sunset and the sunrise, equally beautiful in different ways.
— Shannon Thompson
The most beautiful sunset is when you have it with your beloved one and the most beautiful sunrise is quite the same.

— Galina Nelson
Every sunrise is different, because every day sun is different, clouds are different, space is different, reflections are different, mountains are different, fogs are different, and above all, we are different!
— Mehmet Murat Ildan
>> Related reading:
How to say friend in different languages around the world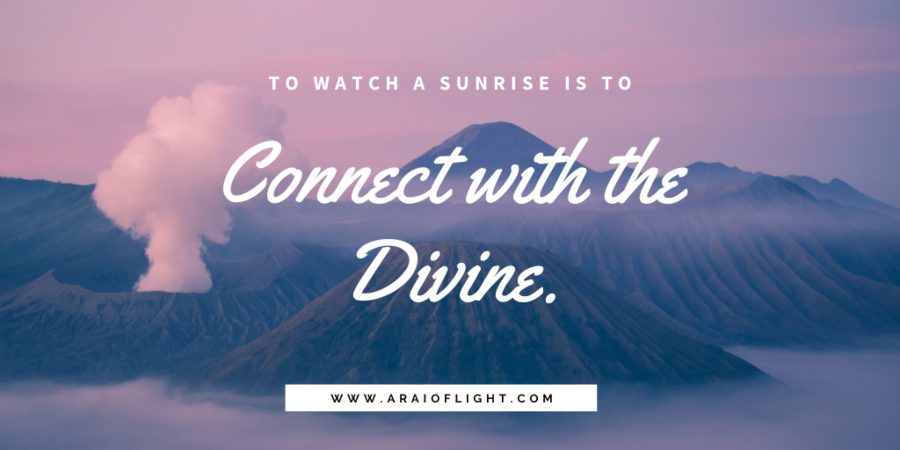 INSPIRATIONAL CAPTIONS ON SUNRISE
Nothing can dim the light which shines from within.

— Maya Angelou
Every sunrise is an opportunity to restart your life
Sunrise is proof that no matter what happens, every day can start beautifully
Sunrises are so beautiful that they almost seem as if we were looking through the gates of Heaven.     
The sun ignites the clouds below it as if they, and the water, itself, were on fire.
— Anthony T. Hincks
Bursts of gold on lavender melting into saffron. It's the time of day when the sky looks like it has been spray-painted by a graffiti artist


— Mia Kirshner
The sky takes on shades of orange during sunrise and sunset, the colour that gives you hope that the sun will set only to rise again
— Ram Charan
Every sunrise is a gift 
Why sunset is more colorful than sunrise? It's an irony of life saying, 'sometimes, good things happen in goodbyes
I like that time is marked by each sunrise and sunset whether or not you actually see it
– Catherine Opie
When you rise in the morning, give thanks for your life, the light and for your strength.
"There was never a night or a problem that could defeat sunrise or hope."
— Bernard Williams
I love that this morning's sunrise does not define itself by last night's sunset


– Steve Maraboli
Sad soul, take comfort, nor forget. That sunrise never failed us yet.
CAPTION FOR SUNRISE BEACH PICS
Happiness is … the sun rising over a beach.
Sun, sea, the sand, and me!
The ocean and the sunrise. The most relaxing way to start your morning.
Meet me where the sky touches the sea.
My favorite painting is a sunrise over a beach 
The pink sand – combined with the red, pink, and yellow hues in the sky – makes for quite the masterpiece every morning.
Picture perfect start of the day.
Lay back and watch the sun rising over the shore.
Dawn over the beach.
There's nothing quite like watching the sun paint the sky shades of pink and purple near the ocean.
It will blow you away when you observe the sun coming up for the day near the ocean.
It's absolutely mesmerizing to watch the ocean waves blended with pretty shades of pink, purple, and blue.
Massive waves and stunning vivid mornings.
Sunrise and palm trees.
To go out with the rising sun on an empty beach is to truly embrace your solitude.
I like people who get excited about the change of seasons, the sound of the ocean, the sun, drowning in the horizon, the smell of rain, and starry nights.
— Brooke Hampton
>> Related reading:
The best beach captions for insta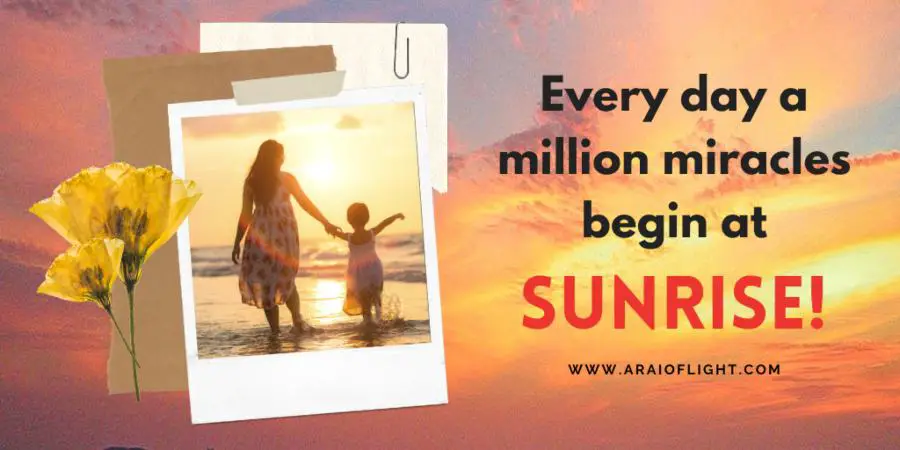 CUTE SUNRISES CAPTIONS
My favorite color is sunrise.
Today, we fallin' in love with cotton candy sunrises
Good morning, Sunshine! 
There's no darkness in a beautiful sunrise 
A sunrise should never go unnoticed
To the days we dream about all winter long
Sunrise, like childhood, are viewed with wonder not just because they are beautiful, but because they are fleeting. 
Dark clouds become heaven's flowers when kissed by light. 
O, sunlight! The most precious gold to be found on Earth. 
You know, when one is that sad, one can get to love the sunrise. 
Don't waste a sunrise on people who will be gone by sunset.
Sunrises are loved because they vanish.
A sunrise paints the sky as if there were no tomorrow. 
Whether you like it or not, the sun rises when the time comes; whether you like it or not, the sun sets when the time comes! 
It's the chill of a beautiful sunrise that promises a lovely day ahead.
It was harder to drown at sunrise than in darkness 
To leave out beautiful sunrises is the secret of good taste. 
Bring me the sunrise in a cup. 
A sunrise reminds us of new beginnings and the hope of a better tomorrow.
Stay strong, after every sunset comes a sunrise.
Here's to new days, to new beginnings.
Watching a sunrise with hopes for a better tomorrow.
Chasing sunrise, since forever.
There is so much more to sunrise than just beauty.
We all see the same sunrise.
Never forget that with each day as the sun rises, Hope Soars!
And here's another one! Never getting enough.
I stood there, gaping at the sky, in complete awe!
Binge-watching sunrises.
Enjoy every sunset. Look forward to every sunrise. 
The Lord has turned all our sunsets into sunrise 
Another sunrise another new beginning. Sometimes, new beginnings are what we need.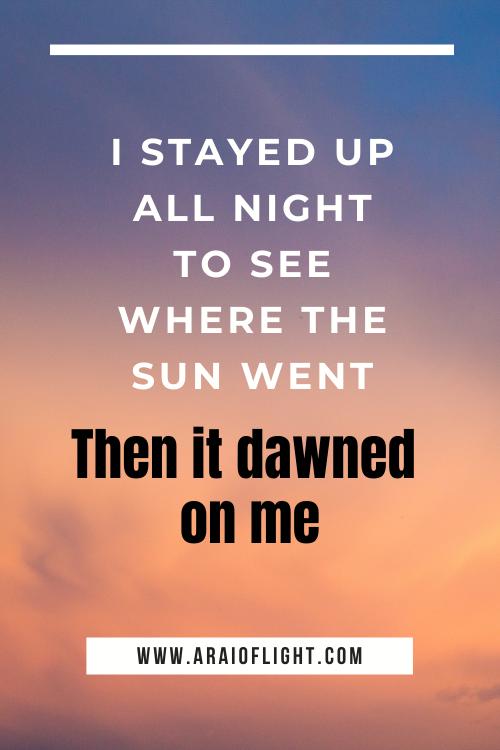 CLEVER CAPTIONS FOR SUNRISE
Somewhere between earth and heaven
I stayed up all night to see where the sun went. Then it dawned on me.
How much do you pay for a sunrise? Nothing? The sun's just handing them out every single day? What a steal.
Sunrise is the opening music of the day.
I was upset, so I watched the sunrise. Now I'm more upset because it's gone.
With all our fancy cameras, we still can't fully capture the wonders of sunrise.
Social media can wait. The sunrise won't.
The sunrise is an allegory for life; short, fleeting, and often forgotten.
The sunrise makes mankind collectively hold its breath.
Wake late, win late.
I welcome paradise when the sunrise shows its face.
The sun is good on its diet. Just one sunrise a day. No more, no less. 
How many people are shuffling through clouds, forgetting the sunrise above their heads? It's rather depressing. 
No crayon or colored pencil on Earth could recreate the sunrise. 
If you close your eyes, you can feel the sunrise on your skin. 
What did redheads do to win the favor of the sun? 
Girls just wanna have sun
What a splendid pleasure is to say good morning to the morning sun!
If you are in a beautiful place where you can enjoy sunrise and sunset, then you are living like a lord.


— Nathan Phillips
It seemed funny to me that the sunrise she saw from her patio and the one I saw from the back steps was the same one. Maybe the two different worlds we lived in weren't so different. We saw the same sunrise. 
People are just as wonderful as sunrises if you let them be. When I look at a sunrise, I don't find myself saying, soften the orange a bit on the right hand corner. I don't try to control a sunrise. I watch with awe as it unfolds.
Endure the pain in the sunrise, so when it's sunset, there's lot of profit to be gained 
— Seyi Ayoola
Believe in yourself and you can change a sunset into a new dawn


— Anthony Hincks
Turn your face to the sun and all of the shadows fall behind you.
With sunrise you rise
POSITIVE CAPTIONS FOR SUN RISE
Rest but never quit. Even the sun has a sinking spell each evening. But it always rises the next morning. At sunrise, every soul is born again.
Smile my boy, it's sunrise.

 — Robin Williams
Another day is breaking, bright sunshine upon waking. I rise to greet the morning light, more memories in the making. 
There's always a story. It's all stories, really. The sun coming up every day is a story. Everything's got a story in it. Change the story, change the world.
Every day is the new beginning, every day is the new opportunity to grow yourself. Starts your day with new energy, and positivity.
Sunrise is a reminder that we can start new beginning all over again.
Even if you cover the world with darkness, you can never stop the sun from rising.
It is during our darkest moments that we must focus to see the light.
Even a stormy morning can produce a beautiful sunrise.
Sunrise – a time when all truths are still clean and enviable."
— Carew Papritz
Perfectly or imperfectly the sun rises, we still need it to keep ourselves shining 
A sunrise is God's way of saying, 'Let's start again.'

— Todd Stocker
At sunrise everything is luminous but not clear
– Norman Maclean
Today, the sun will rise on all your doubts.
— Marty Rubin
Each morning we are born again. What we do today is what matters most. Another sunrise, another new beginning.
Every sunrise is different. Hence, today will not be the same as yesterday. Each new day brings a fresh start. You have a choice to make your every sunrise count 
No matter where the sun hides, but when it shines. It shines always bright 
Mornings are better when we can appreciate the sunrise.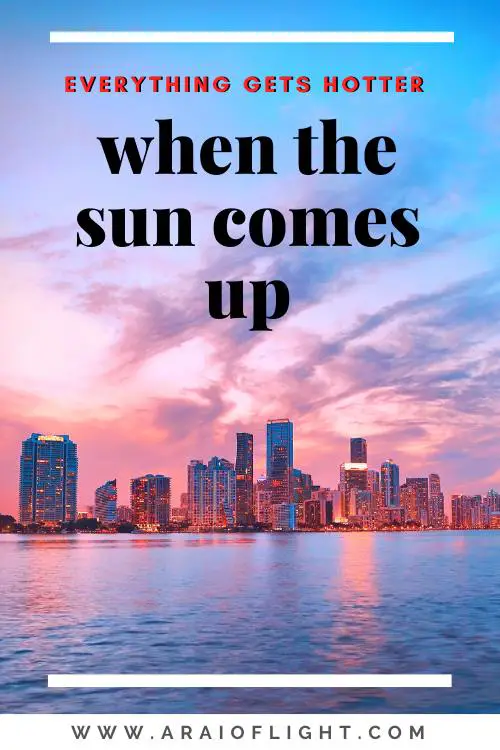 SONG LYRICS WITH SUNRISE
Coldplay — Daylight
To my surprise, and my delight
I saw sunrise, I saw sunlight
I am nothing in the dark
And the clouds burst to show daylight
Oh and the sun will shine
Yeah on this heart of mine
Oh and I realize
Who cannot live without
Oh come apart without it
Norah Jones — Sunrise
Sunrise, sunrise
Looks like mornin' in your eyes
But the clock's held 9:15 for hours
Sunrise, sunrise
Couldn't tempt us if it tried
'Cause the afternoon's already come and gone
Kygo — Sunrise
I follow the moon
From the dark to the break of dawn
We let it loose
Smoking weed and writing songs
Meet me at the sunrise, at the sunrise
I can get you so high, so high
Burning up the daylight, in the daylight
Meet me at the sunrise, sunrise
Luke Brian — Sunrise
And everybody knew that that was our summer
Sunrise, sunburn, sunset, repeat
Moonlight, all night, crashin' into me
Nothin' will ever be easy as you and me
Tangled up with nowhere to be
Just sunrise, sunburn, sunset, repeat
Simply Red — Sunrise
As I look into your eyes I see the sunrise
The light behind your face helps me realize (sunrise)
Will we sleep and sometimes love until the moon shines
Maybe the next time I'll be yours and maybe you'll be mine
Kenny Elrod — Sunrise
Watch the sunrise
Feel the rain shine through
It's a good life
To be sharing with you
Have a good cry
Welcome back brand new
Time goes on but it won't move without you
Pon De Reply — Rihanna
Shake it 'til the moon becomes the sun (Sun)
Everybody in the club, give me a run (Run)
If you ready to move say it (Yeah)
One time for your mind say it (Yeah, yeah)
Well, I'm ready for ya
Waiting for My Sun to Shine — The Maine
Oh I see our clouds when I look around
Rain falls from my mouth as it hits the ground
Lead me to the light
'Cause I'm still waiting
I'm waiting for my sun to shine
Augustana — Boston
I think that I'm just tired
I think I need a new town
To leave this all behind
I think I need a sunrise
I'm tired of the sunset
I hear it's nice in the summer
Aerosmith — Dream on
Every time that I look in the mirror
All these lines on my face getting clearer
The past is gone
It went by like dusk to dawn
Isn't that the way
Everybody's got their dues in life to pay?
>> Related reading:
Top 50 travel songs to add to your adventure playlist
---
And that's about it. What is your favourite sunrise caption or short sunrise saying?

I hope you found what you were looking for? Don't forget to check out this incredible list of quotes about sunrise for even more inspo.

>> Read next:
Keep on shining,

Rai