100+ SUNRISE QUOTES to Shine ❤️ Light on a New Day in 2023
A beautiful sunrise: A symbol of hope, renewal, rebirth, and Mother Nature at her finest. A source of continuous fascination. What follows is a list of my favourite inspirational rising sun quotes about sunrise. I hope they inspire you and fill you with as much positivity and hope as they do for me.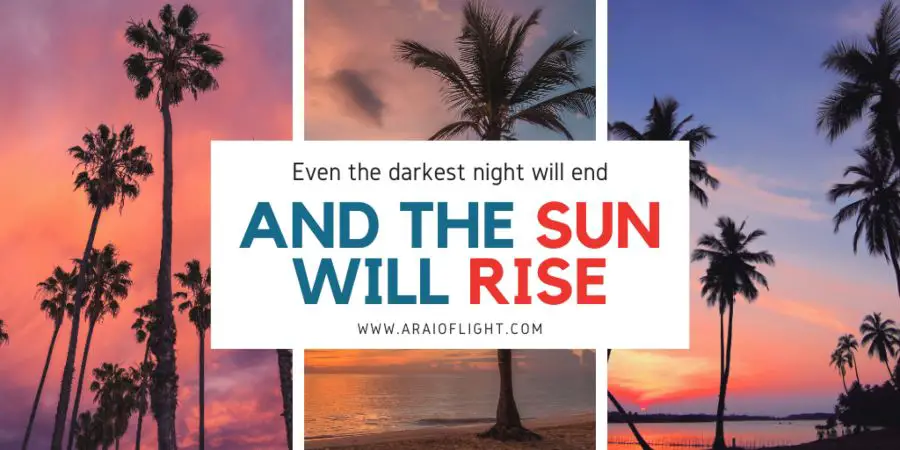 Because every sunrise is a gift.

Because a sun rise reminds us of new beginnings, the hope for a better day, and the opportunity to learn and grow.

Because a sunrise is proof that no matter what happens in life, every day can start beautifully. It totally depends on what you choose to focus on.
Let these sunrise quotes shine the light on a new day for you.
Life is all about enjoying every sunrise moment. My wish for you as I write this — may there be just enough clouds in your life to create a glorious sunrise.
If what you're looking for are shorter captions that would be perfect for social media, be sure to check out this compilation of my favorite captions about sunrise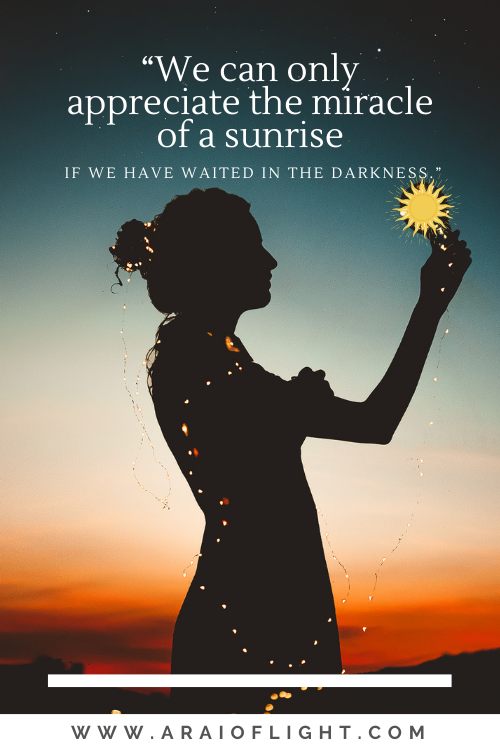 Why are sunrises so beautiful?
Often described as striking, bold, glorious, or spectacular, the scientific reason for the beauty of the rising sun is as follows:

At dusk, when the sun is low on the horizon, its light has to travel through a higher concentration of the atmosphere. 

As a result, the colours with shorter wavelengths such as blue, indigo, and violet are scattered out by the atmosphere. The colours with long wavelengths such as red, orange, and yellow remain, transforming the sky with vivid colors.

Even though it may appear as the clouds changing color during sunrise, it is actually the reflecting of the unscathed and longer-wavelength rays of light as the sun rises that creates this effect.

Makes sense?
>> Read next:
The ultimate list of the best setting sun quotes
>> Looking for more inspiration? Check out:
–> Ok, let's get into this list of sun rising quotes shall we:
THE BEST RISING SUN QUOTES ON SUNRISE
A quote about sunrise has a way of expressing, often in an expressive way, the joy of witnessing the magical rising of the sun.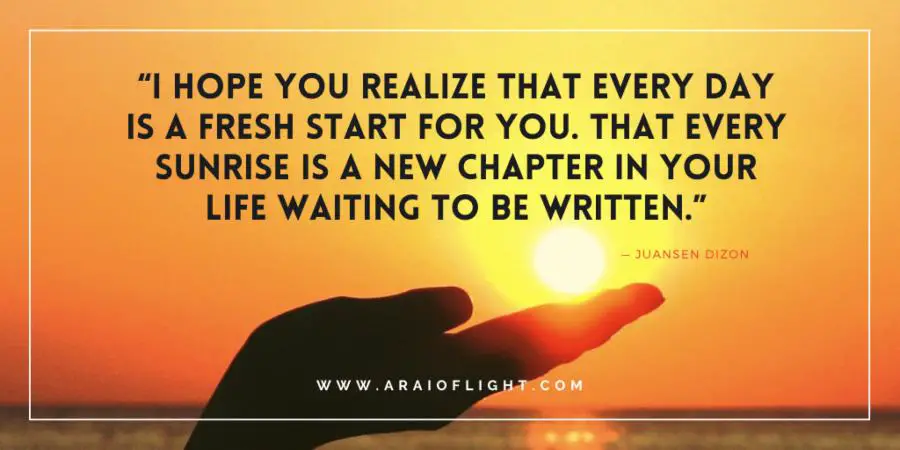 "We need to be reminded sometimes that a sunrise lasts but a few minutes. But its beauty can burn in our hearts eternally."   
— R. A. Salvatore 
"The secret to a good morning is to watch the sunrise with an open heart."
— Anthony T. Hincks 
"We can only appreciate the miracle of a sunrise if we have waited in the darkness."
— Sapna Reddy
Every day a million miracles begin at sunrise!

– Eric Dickey 
"Nature unfolds her treasure at the first ray of sunrise." 
— Kishore Bansal
"It was sunsets that taught me that beauty sometimes only lasts for a couple of moments, and it was sunrises that showed me that all it takes is patience to experience it all over again." 
— A.J. Lawless
"The darkness is at its deepest just before the sunrise."
 — Voltaire
"The breeze at dawn has secrets to tell you. Don't go back to sleep."
— Rumi 
We wanderers, ever seeking the lonelier way, begin no day where we have ended another day; and no sunrise finds us where sunset left us.
— Khalil Gibran
"May every sunrise hold more promise and every sunset hold more peace." 

– Umair Siddiqui
That is magic when you see the sunrise on your darkest days.
"The grand show is eternal. It is always sunrise somewhere; the dew is never dried all at once; a shower is forever falling; vapor is ever rising. Eternal sunrise, eternal dawn and gloaming, on sea and continents and

islands

, each in its turn, as the round."  
— John Muir 
"Just like the days, no two sunrises are ever the same." 
— Jonathan Lamas
Even if you cover the whole world with darkness, you can never stop the sun from rising
— Debasish Mridha
There is no day that goes without the moon and no day that goes without the sun rising.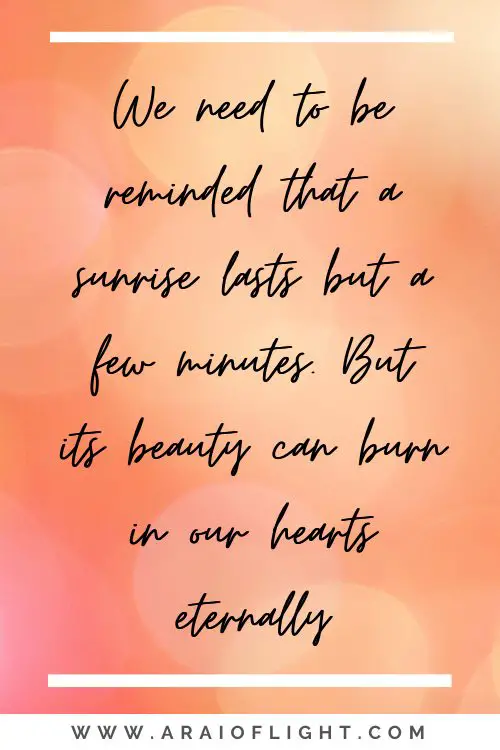 "Every morning is a revolution against the darkness!" 
— Mehmet Murat Ildan 
"While chasing the moon that was about to set, she missed the sunrise." 
— Akshay Vasu
"If you are in a beautiful place where you can enjoy sunrise and sunset, then you are living like a lord."
 — Nathan Phillips 
"Each time I see a beautiful sunrise, I have to pinch myself because I can't believe that I'm awake and not dreaming."
— Anthony T. Hincks
"Climb up on some hill at sunrise. Everybody needs perspective once in a while, and you'll find it there."

— Robb Sagendorph
When I think about that sunrise that I woke up to that morning, I just feel like I got as close to nowhere as I could get, and found out that it was more of a place than anywhere I've been in a long time.
— Hank Green
"Sunrise looks spectacular in nature; sunrise looks spectacular in the photos; sunrise looks spectacular in our dreams; sunrise looks spectacular in the paintings, because it really is spectacular!"
— Mehmet Murat ildan
"At sunrise, the blue sky paints herself with gold colors and joyfully dances to the

music

of a morning breeze."
— Debasish Mridha
"Now that your eyes are open, make the sun jealous with your burning passion to start the day. Make the sun jealous or stay in bed."
— Malak El Halabi
>> Read next:
100+ ways to say good morning in every language around the world
LOVE SUNRISES QUOTES
–> What's not to love about a sunrise. A visual metaphor for redemption, new beginnings, fresh starts, and epitome of potential. Check out these love sunrise quotes…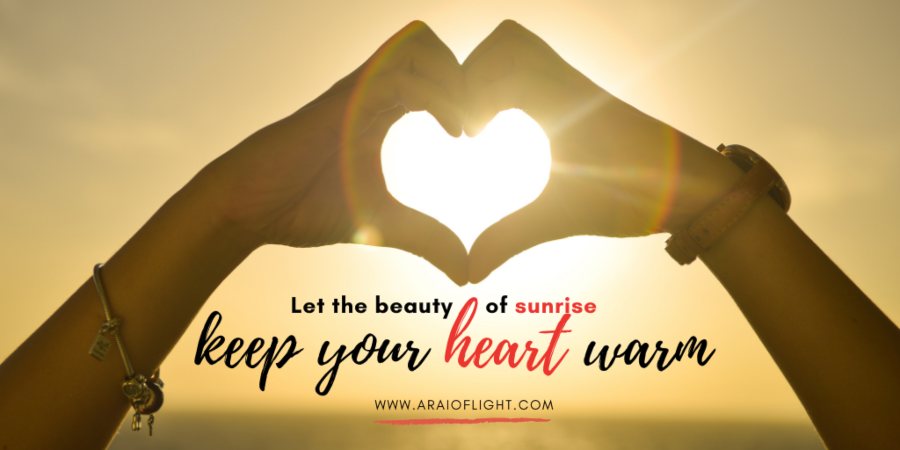 "Not everyone was privileged to see another sunrise like you did, so before you start complaining; remember that the breath of life, is not for sale." 
— Gift Gugu Mona
"I hope you realize that every day is a fresh start for you. That every sunrise is a new chapter in your life waiting to be written."

— Juansen Dizon
"Every sunrise gives you a new beginning and a new ending. Let this morning be a new beginning to a better relationship and a new ending to the bad memories. It's an opportunity to enjoy life, breathe freely, think and love. Be grateful for this beautiful day."
— Norton Juster
"One grateful thought is a ray of sunshine. A hundred such thoughts paint a sunrise. A thousand will rival the glaring sky at noonday – for gratitude is light against the darkness." 
 — Richelle E. Goodrich 
"O, Sunlight! The most precious gold to be found on Earth." 
— Roman Payne
Believe in yourself and you can change a sunset into a new dawn.


— Anthony Hincks
"When the sun rises, it rises for everyone."
— Cuban proverb
"When you arise in the morning, think of what a precious privilege it is to be alive – to breathe, to think, to enjoy, to love." 
— Marcus Aurelius
I wake up before the sun rises because I like to watch it rise. By observing nature, I can feel a life force. I look outside my window to the sky and tell myself that this is going to be the best day of my life.  Then I'll often pick up my journal and write something that comes to my mind that's in my heart."
— Tao Porchon-Lynch 
"Every sunrise is an invitation for us to arise and brighten someone's day."

— Jhiess Krieg
"There's a sunrise and a sunset every single day, and they're absolutely free. Don't miss so many of them."
— Jo Walton
"Even the darkest night will end and the sun will rise." 
— Victor Hugo
"The sunrise, of course, doesn't care if we watch it or not. It will keep on being

beautiful

, even if no one bothers to look at it." 
— Gena Amole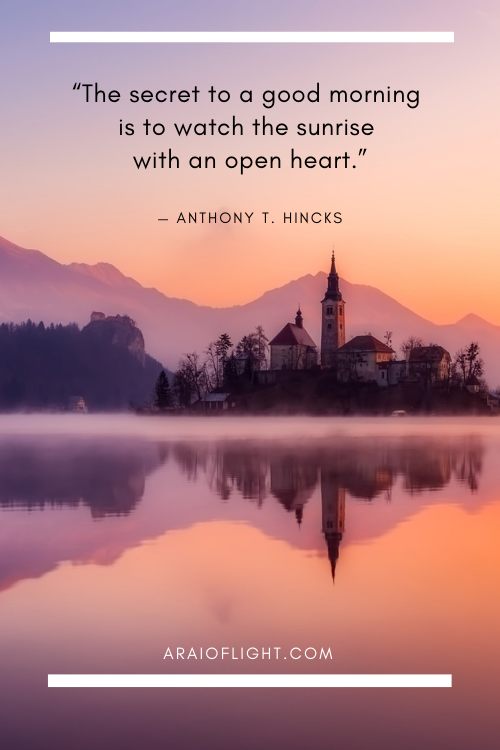 "

I love

sunrises. They always signify something new and something beautiful. The darkness fading away." 
— Michelle N. Onuorah
"It's a new day. Yesterday's failure is redeemed at the sunrise" 
— Todd Stocker
"Every sunrise is a poem written on the earth with words of

light

, warmth, and love." 
— Debasish Mridha
That time of day when the sun hasn't come up yet, but you can already feel it coming. It's an elusive warmth, like a subtle promise whispered in your ear and you can go on with your day knowing you've been given another chance to get it right."
— Cassia Leo
"I wanted everybody to see a sunrise and be knocked out by the miracle of it, the world being created every morning."
— Mordicai Gerstein
Every now and then I sit and watch the sun rise to remind myself how it's done — peacefully, steadily, warmly, and in beautiful color."
— Richelle E. Goodrich
"You know how a sunrise can be confused for a sunset? Well, sometimes just when you think your life is over, that's when the best things are truly about to begin."
— Karen Salmansohn
"There is always a big commotion on the beauty of sunsets, but what about the beginning of the day? The arrival of daylight. Happiness in the form of invisible warmth beaming upon us. Sunrise."
— A.M.L.
"Every sunrise is a blessing, it's an opportunity to learn something new and to create something that can benefit others. It also gives a chance to make amends. Use it wisely before sunset." 
— Euginia Herlihy
Storms probably exist only because after them we can have a sunrise.
— Tove Jansson
"A faint blush below the horizon, as the first kiss from the Sun wakes the Earth from its slumber."

— Meeta Ahluwalia
"The sun will rise and set regardless. What we choose to do with the light while it's here is up to us. Journey wisely."
— Alexandra Elle
"The charm of golden sunrise does not depend on you, it reflects on you… only if you allow it. So does fleeting moments of joy." 
— Val Uchendu
"Sunrise paints the sky with pinks and the sunset with peaches. Cool to warm. So is the progression from childhood to old age."
— Vera Nazarian
"Get outside. Watch the sunrise. Watch the sunset. How does that make you feel? Does it make you feel big or tiny? Because there's something good about feeling both."
 — Amy Grant
–> I have a handful of super motivational quotes for sunrise right here….
POSITIVE SUNRISE QUOTES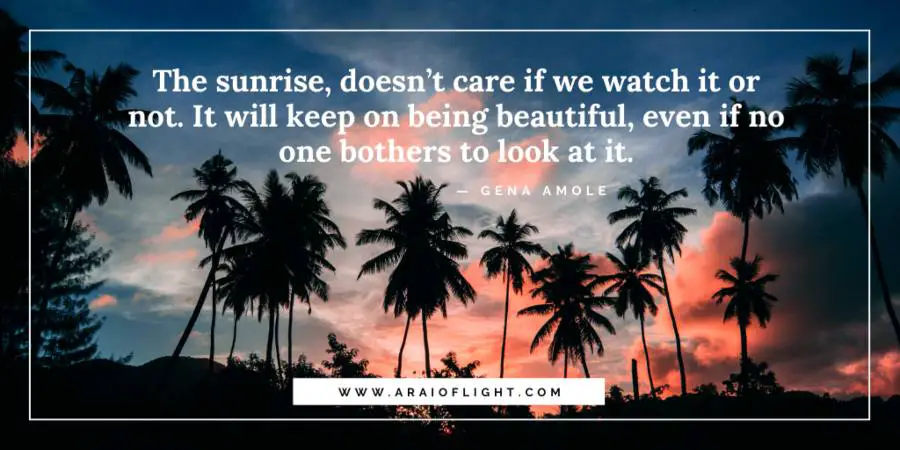 "Don't you feel you get value for your day if you've actually watched the sun rise?" 

 — AJ Vosse
"The darkness that follows a sunset is never so dark that it can change the inevitability of a sunrise."
— Craig Lounsbrough 
"The sun shines and warms and lights us and we have no curiosity to know why this is so; but we ask the reason of all evil, pain and hunger."
— Ralph Waldo Emerson
"Nocturnal with a love for night, I'd stay up to see sunlight…"
— Donna Hope
"True love is the tide that pulls out to sea, but always returns to kiss the shore at sunrise."
— Shannon Alder 
Saw the sun rise. A lovely apricot sky with flames in it and then solemn pink. Heavens, how beautiful… I feel so full of love today after having seen the sun rise."
— Katherine Mansfield
>> Related reading:
Where to find the most gorgeous beaches with pink sand
"The horizon changes but the sun does not."
— Joyce Rachelle
If you are different and alone, it doesn't mean you won't see a moonlight; there is a sunrise for everyone and every day.

— Sampada Mohite
"The stillness of the early morning scene enables me to take in and enjoy many things which pass me by during the bustle of the day. First, there are the scents, which seem even more generous with their offerings than they are in the evening."
— Rosemary Verey
"To stand by the beds at sunrise and see the flowers awake is a heavenly delight."
— Celia Thaxter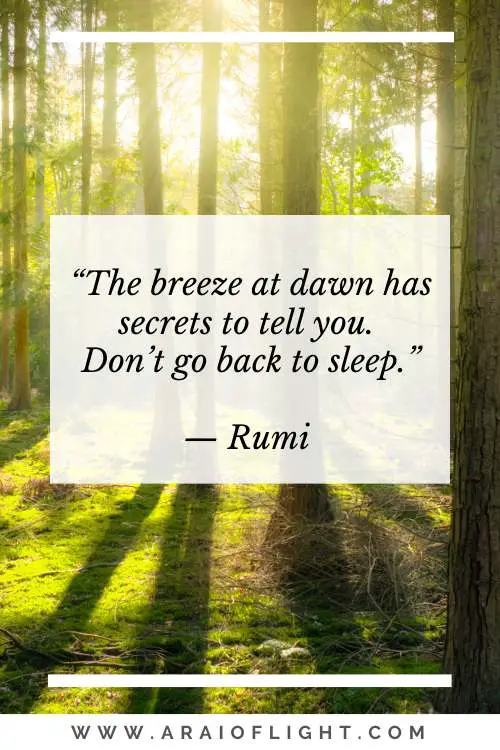 "A night can never defeat the sunrise." 
 — Sumit Sharma
"If I should capture the most beautiful sunrise, only then, will I stop capturing them."
— Danikelii
"He who kisses joy as it flies by will live in eternity's sunrise." 
 — William Blake
"A sunrise or sunset can be ablaze with brilliance and arouse all the passion, all the yearning, in the soul of the beholder." 
 — Mary Balogh
In the twilight of the morning, all life silently waits for the sunrise. Sun must rise for the darkness to sink!
— Mehmet Murat Ildan 
At the moment that everything goes dark, the sunset in front of us becomes the whole story. But if we find courage enough to wait until tomorrow morning, we will suddenly come to understand that in reality yesterday's sunset was only half of the story

— Craig Lounsbrough 
"Sad soul, take comfort, nor forget that sunrise never failed us yet." 
 — Celia Thaxter
"Read a nice poem or watch the sunrise, both are the same thing!"
 — Mehmet Murat Ildan
"Night never had the last word. The dawn is always invincible."
 — Hugh B. Brown
—> Continue reading for more beautiful sunrises quotes…
MOTIVATIONAL MORNING QUOTES ABOUT SUNRISE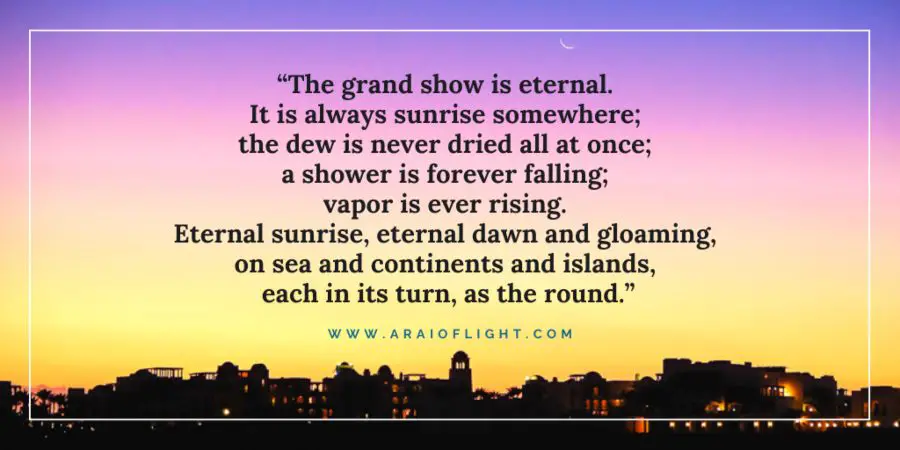 Rest but never quit. Even the sun has a sinking spell each evening. But it always rises the next morning. At sunrise, every soul is born again.


— Muhammad Ali
"

Thank you

is what each and everyone of us should say when we see either a sunrise or sunset. And when we do that, maybe, just maybe the world will start to become a better place."
 — Anthony T. Hincks
"For the mind disturbed, the still beauty of dawn is nature's finest balm." 
 — Edwin Way Teale
"If I missed the sunrise of this day and if I let the sunset slip by unnoticed,

I might ask

if what captured my attention this day was worth the loss of this day because I can't think of anything that's that important."
 — Craig Lounsbrough
"At every sunrise, I renounce the doubts of night and greet the new day of a most precious delusion."
 — Czeslaw Milosz
"Every sunrise is a new page of the book of your life, don't let it stay blank." 
— Jaume Puig Costa 
"You only get one sunrise and one sunset a day, and you only get so many days on the planet. A good photographer does the math and doesn't waste either."
 — Galen Rowell
"The sunrise is always a source of morale for human beings; in the days when the world experiences global disasters, sunrise becomes almost an angel" 
 — Mehmet Murat Ildan
"Every sunrise begins with new eyes." 
 — Richie Norton
"Next time a sunrise steals your breath or a meadow of flowers leaves you speechless, remain that way." 
 — Max Lucado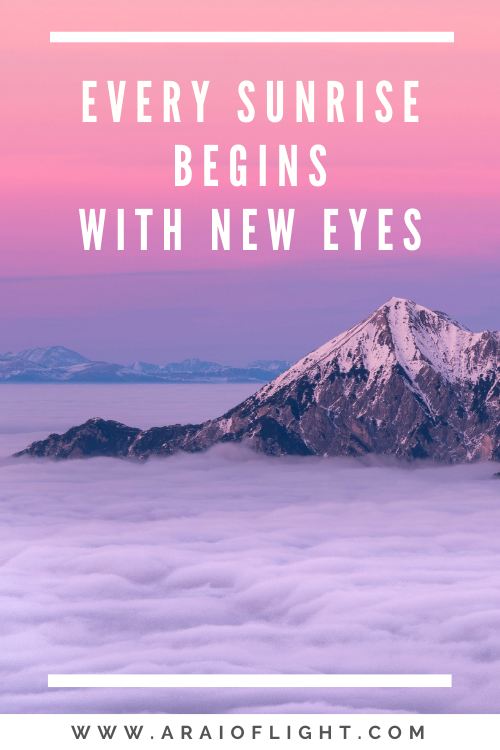 There was never a night or a problem that could defeat sunrise or hope


— Bernard Williams
"What I know for sure is that every sunrise is like a new page, a chance to right ourselves and receive each day in all its glory. Each day is a wonder.'"
 — Oprah Winfrey
"Sunrise is the reminder that we can start a new beginning from anywhere." 
 — Rupal Asodaria
"Whether sunrise or sunset, it heralds a new opportunity to dream…" 
 — Virginia Alison
"There's always a story. It's all stories, really. The sun coming up every day is a story." 
 — Terry Pratchett
Life is a great sunrise. I do not see why death should not be an even greater one.
— Vladimir Nabokov
"What better motivation are you looking for in the morning than the incredible motivation of the morning sunrise?" 
 — Mehmet Murat Ildan
"Let every sunrise adorn your mind with the power of hope. Let it paint your life with the colors of the morning sky."
 — Debasish Mridha
"I like that time is marked by each sunrise and sunset whether or not you actually see it."
 — Catherine Opie
"The morning steals upon the

night

, melting the darkness."
 — William Shakespeare 
"There is always a way and always hope in the next sunrise, and in the next second, and in the next minute."
 — Ziggy Marley
"Just as the sun rises, a fresh start begins. We all have a choice. Will you make the best of it?" 
— Jacqueline Cooper
"Listen to the wind blow, watch the sun rise."
 — Fleetwood Mac
"Let the morning rise with your

smile

!"
— Somya Kedia
My life isn't good or bad. It's an incredible series of emotional and mental extremes, with beautiful storms and stunning sunrises
"A faint blush below the horizon, as the first kiss from the sun wakes the Earth from its slumber."
— Meeta Ahluwalia
"Wrapped within another's arms further intensifies the divine beauty of a sunrise…"
— Virginia Alison
It is right precious to behold
The first long surf of climbing light
Flood all the thirsty east with gold
— James Russell Lowell 
"Lost – yesterday, somewhere between sunrise and sunset, two golden hours, each set with sixty diamond minutes."
— Horace Mann
"If you wish to see the sunrise, you must get up before the sun."
— Roland R Kemler
No sun outlasts its

sunset

, but will rise again and bring the dawn.
— Maya Angelou
---
That's about it for now. Over to you. What is your favourite quote about sun rise? Let me know in the comments below. Before you go, be sure to check out this list of short sunrise captions for even more motivation.
If you've enjoyed this list of positive inspiration, please don't forget to share/PIN this. Thanks guys 🙂
Keep shining, 

Rai (of light)