100+ Road Trip Quotes to Reminisce and Inspire the Hodophile in You!
Oh hey there fellow hodophile! What is it about a road trip or even just the idea of spontaneously jumping into your car and hitting the open road that has the ability to conjure up feelings of excitement, giddiness, freedom, and adventure within? Is it the sense of freedom and comfort you get from having your own vehicle? Is it the flexibility of stopping where and when you want when on a long drive? Is it the endless potential and adventure that awaits on the endless road? I'd say all of the above (and then some). Happiness is a road trip, am-I-right? As an ode to my favourite form of travel, what follows are the best road trip quotes and captions about the road, perfect for when you're looking for some inspiration or a way to accurately capture the experience in a sentence or two. 
*hodophile (noun): a lover of roads; one who loves travel.
I've been in a road-trip state of mind a lot, what with all that has been going on in the world recently. Is there any better way to travel, with nothing but the minimal essentials that you need, great company, your favourite travel playlist, a flexible schedule, an adventurous spirit, a couple fun games for the road, and a dash of spontaneity?
The thing about road trips is that you don't need to plan that far in advance. Just jump in your car or campervan, drive, and see where the road takes you. If you've ever taken a journey on the road, you'll agree when I say there's often a lot to see along the way. 
The unparalleled sense of freedom is incomparable and some of the best sights are the ones that you unexpectedly stumble across along the way. 
My advise is to explore the destination at your own pace and visit off the beaten path places and hidden gems along the way that you would otherwise miss.
>> MUST READ:
101 Fun and Thought-provoking Road Trip Questions for every car ride
I hope you enjoy this epic list of inspiring quotes about road tripping and long drives. Whether you're looking for the best road trip caption for Insta, on the road quotes with loved ones, inspirational quotes about road trips, or funny and thought-provoking sayings with road, I've got you covered.
Hopefully, these words about travel will inspire you to get out and enjoy the open road.
The Best Quotes with Road + Captions about Road Trips for You
I know you're going to find exactly what you're looking for in this massive collection of quotes with road below.
This post is the most comprehensive of its kind and to make things easier for you, I've split the list into categories. Click on the link below to go to the part that most interests you right now, or keep scrolling for even more road trip inspiration + long drive vibes.
---
Best Road Trip Quotes for Instagram
I know, sometimes it can be struggle to come up with a quirky, inspiring, mind-blowing quote every time you post. So here are a couple perfectly placed quotes about a road for your next post that contains a picture or a journey by road, guaranteed to work some magic on your Insta feed.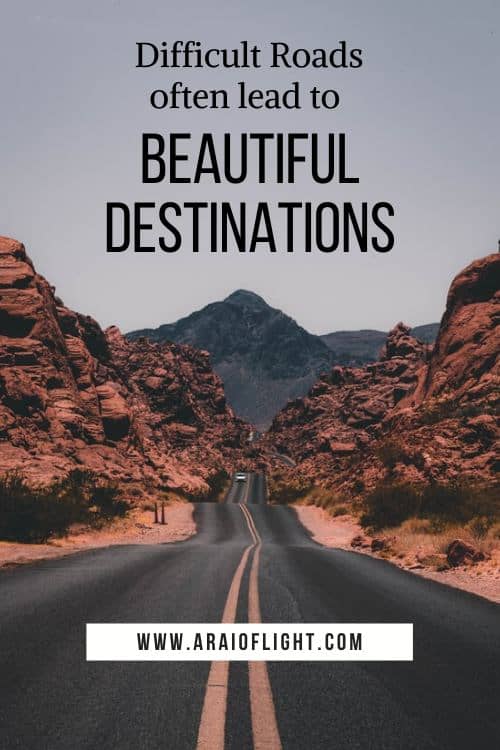 No road is long with good company — Turkish Proverb
Difficult roads often lead to beautiful destinations.
The freedom of the open road is seductive, serendipitous and absolutely liberating. — Aaron Lauritsen 
Some beautiful paths can't be discovered without getting lost. — Erol Ozan
Road trips aren't measured by mile markers, but by moments.
I'm really in the mood for a long drive with no real destination. 
It feels good to be lost in the right direction.
The road must eventually lead to the whole world.

— Jack Kerouac
I may not have gone where I intended to go, but I think I may have ended up where I intended to be — Douglas Adams
Making memories one road trip at a time.
Sometimes the best therapy is a long drive and good music.
My life is the road, man. I need to keep moving.
My favorite thing to do is to go where I've never been. — Diane Arbus
Life is meant for good friends and great adventures.
Travel is costly yes, but it pays dividends too. — Aaron Lauritsen
Afoot and light-hearted I take to the open road — Walt Whitman
There is nowhere to go but everywhere, so just keep on rolling under the stars. — Jack Kerouac
Roads are a record of those who have gone before.

― Rebecca Solnit
I haven't been everywhere, but it's on my list. — Susan Sontag
At the end of the day, your feet should be dirty, your hair messy and your eyes sparkling. — Shanti
It's your road and yours alone. Other may walk it with you but no one will walk it for you.
If you're not lost, you're not much of an explorer — John Perry Barlow
We were born to be free, to expand our horizons by going where we have never gone before, and not to hang out in the relative comfort and safety of the nest, the known. There is a place within us that is courageous beyond our human understanding; it yearns to explore beyond the boundaries of our daily life.
— Dennis Jones
---
Famous Quotes About Road Trips and Journeys
Find a list of the most famous road quotes. I'm willing to bet you've seen or heard these before. I mean, they are famous for a reason and a couple of my favourites.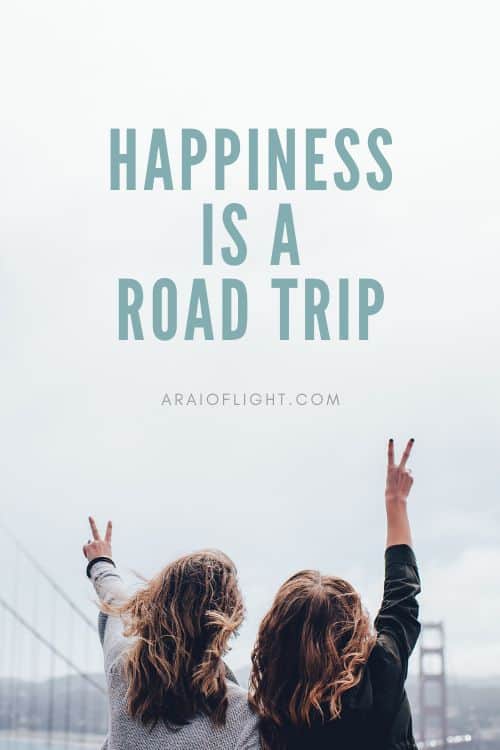 Because the greatest part of a road trip isn't arriving at your destination. It's all the wild stuff that happens along the way.

— Emma Chase
We had longer ways to go. But no matter, the road is life. — Jack Kerouac, On the Road
Roads were made for journeys, not destinations. — Confucius
If you don't know where you're going, any road will take you there. — George Harrison
Two roads diverged in a wood and I — I took the one less traveled by. — Robert Frost
A good traveler has no fixed plans, and is not intent on arriving. — Lao Tzu
Do not follow where the path may lead. Go instead where there is no path and leave a trail. — Ralph Waldo Emerson
Sometimes you find yourself in the middle of nowhere, and sometimes in the middle of nowhere, you find yourself
Stop worrying about the potholes in the road and enjoy the journey
The pleasure we derive from journeys is perhaps dependent more on the mindset with which we travel than on the destination we travel to. — Alain de Botton
Life begins at the end of your comfort zone

— Neale Donald Walsch
Twenty years from now, you will be more disappointed by the things you didn't do than by the ones you did do. — Mark Twain
Once a year, go somewhere you have never been before. — Dalai Lama
The world is a book and those who do not travel read only one page. — Saint Augustine
If we were meant to stay in one place, we'd have roots instead of feet. — Rachel Wolchin
Don't ask what the world needs. Ask what makes you come alive, and go do it. Because what the world needs is people who have come alive.
— Howard Thurman
We shall not cease from exploration and the end of all our exploring will be to arrive where we started and know the place for the first time. — T.S. Elliot
---
Family Road Trip Quotes with Loved Ones
A trip with the family is guaranteed to include chaos, excitement, and a whole lot of ups and downs. This collection of sayings encapsulates all of this and serves as a great reminder of the special moments shared by all.
>> Related reading:
The Best family travel quotes to inspire your next trip together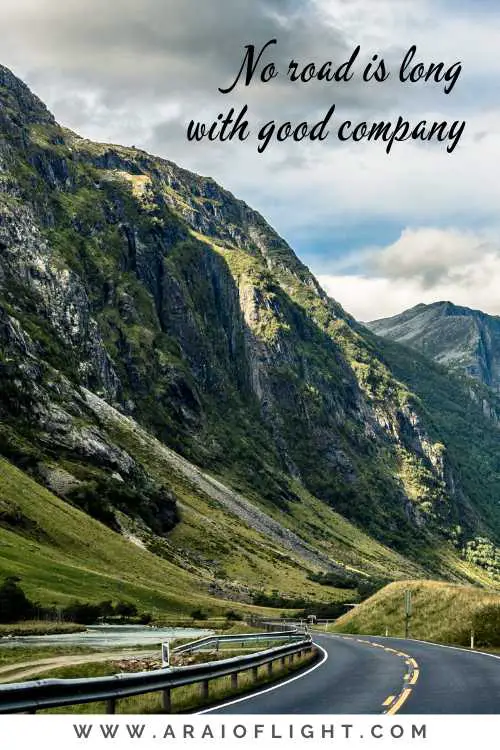 It doesn't matter where you're going, it's who you have beside you.
Good company in a journey makes the way seem shorter. — Izaak Walton
Some roads aren't meant to be travelled alone. ― Chinese Proverb
I want to go on a road trip. Just you and me. The highway, the radio, the blue sky, the back roads, and windows down. We'll talk about everything and nothing. We'll sing our hearts out, and we'll make memories we'll never forget. Just you and me.
What we find in a soul mate is not something wild to tame, but something wild to run with. — Robert Brault
Happiness is… planning a road trip to somewhere new, with someone you love.
A road trip is a way for the whole family to spend time together and annoy each other in interesting new places. — Tom Lichtenheld
You will never be completely at home again, because part of your heart always will be elsewhere. That is the price you pay for the richness of loving and knowing people in more than one place. — Miriam Adeney
---
Quotes Road Trips with Friends
Some of the best moments you'll ever have in life are those long car drives and accompanying adventures with friends. Even if that friend is furry and has more than two legs. The escape, the laughs, the journey together, and the life-long memories. A road trip is also a great way to bond with friends or a significant other. With that in mind, here are some quotes on road trips with friends.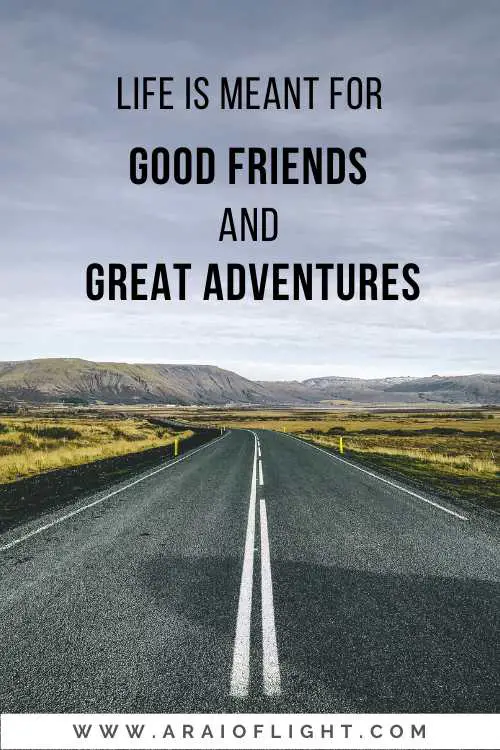 Life is meant for good friends and great adventures
It's in those quiet little towns, at the edge of the world, that you will find the salt of the earth people who make you feel right at home. — Aaron Lauritsen
People all around the world look different, they wear different kinds of clothes, prepare their food differently, and speak different languages, but their hearts beat for the same emotions — this is the one and only universal human connection.
— Sanjay Madan
People don't take trips, trips take people. — John Steinbeck
We all have that one friend who is either on a road-trip or planning a road-trip or thinking about a road-trip or talking to people who are on road-trip or posting quotes about road trip. — Crestless Wave
You can pack for every occasion, but a good friend will always be the best thing you could bring.
A journey is best measured in friends, rather than miles. — Tim Cahill
---
Inspirational Life Quotes about a Road
A little inspiration goes a long way. And sometimes that inspiration comes in the form of a handful of words. Whether you're looking for some encouragement to get out there and take your next trip or a timely reminder of a fun past road trip, take a look at these quotes about roads in life below.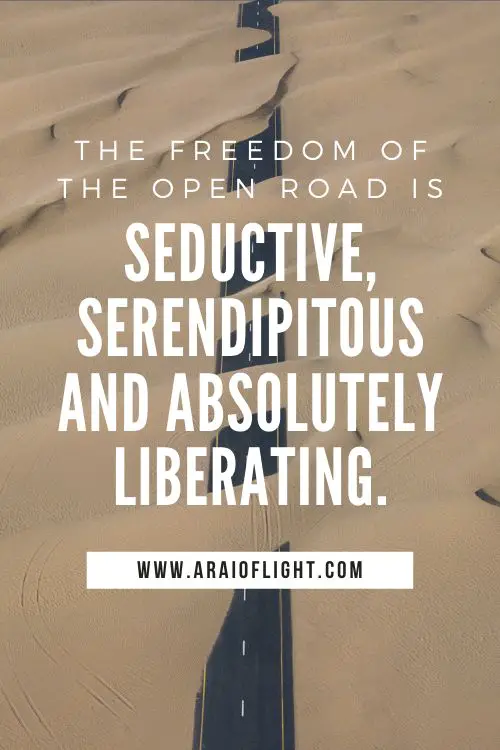 Every journey is simultaneously a beginning and an ending: I was leaving my old life behind and starting on a road trip to find a new me. — Debi Tolbert Duggar
Look on every exit as being an entrance somewhere else.

— Tom Stoppard
Only those who risk going too far can possibly find out how far they can go. — T.S. Eliot
If we wait until we are ready, we will be waiting for the rest of our life! — Lemony Snicket
If you make the mistake of looking back too much, you aren't focused enough on the road in front of you. — Brad Paisley
There are no mistakes. Only new paths to explore. — Gregory David Roberts
We live in a wonderful world that is full of beauty, charm, and adventure. There is no end to the adventures we can have if only we seek them with our eyes open. — Jawaharlal Nehru
Your time is limited, so don't waste it living someone else's life. — Steve Jobs
When all's said and done, all roads lead to the same end. So it's not so much which road you take, as how you take it. — Charles de Lint
Sometimes the most scenic roads in life are the detours you didn't mean to take. — Angela Blount
You don't choose the day you enter the world and you don't choose the day you leave. It's what you do in between that makes all the difference. — Anna Spetimus
The purpose of life is to live it, to taste experience to the utmost, to reach out eagerly and without fear for newer and richer experience. — Eleanor Roosevelt
Life is one big road with lots of signs. So when you riding through the ruts, don't complicate your mind. Flee from hate, mischief, and jealousy. Don't bury your thoughts, put your vision to reality. Wake Up and Live! — Bob Marley
One's destination is never a place, but rather a new way of seeing things. — Henry Miller
Happiness is not a state to arrive at, but a manner of traveling. — Margaret Lee Runbeck
I wonder why it is that when I plan a route too carefully, it goes to pieces, whereas if I blunder along in blissful ignorance aimed in a fancied direction I get through with no trouble. — John Steinbeck
Rising early makes the road short — African Proverb
A passenger on a road journey is in the hands of a driver; a reader embarking on a book is in the hands of a narrator — Romesh Gunesekera
Discovery consists not in seeking new landscapes, but in having new eyes.
— Marcel Proust
A journey of a thousand miles begins with a single step — Lao Tzu
A man practices the art of adventure when he breaks the chain of routine and renews his life through reading new books, traveling to new places, making new friends, taking up new hobbies and adopting new viewpoints. — Wilfred Peterson
If you don't like the road you're walking, start paving another one.
---
Short Road Quotes on Road
For when you're just want something that's short, simple, and packs a punch, these road trip captions about the road are exactly what you're need.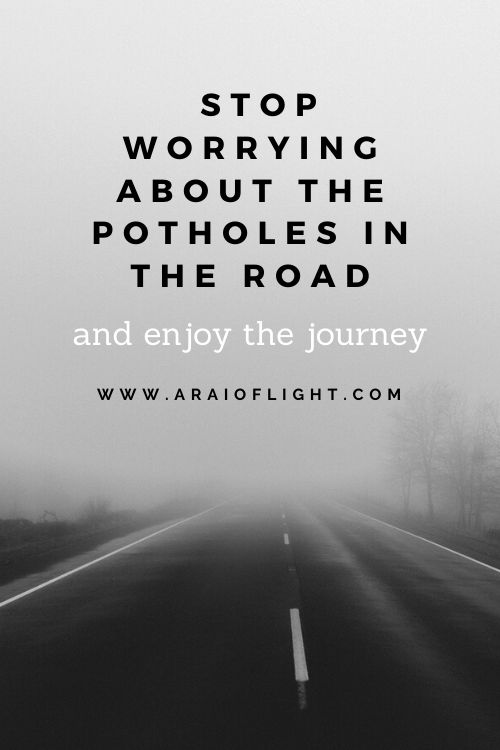 Life is too short to not go on that spontaneous road trip.
Take the long way home.
Road trips aren't measured by mile markers, but by moments.
Always take the scenic route.
No road is long with good company. — Turkish Proverb
Live your life by a compass, not a clock. — Stephen Covey
It feels good to be lost in the right direction.
Nothing adventured, nothing attained. — Peter McWilliams
Making memories one road trip at a time.
If you come to a fork in the road, take it — Yogi Berra
You may not find a path, but you will find a way. — Tom Wolfe
Take only memories, leave only footprints.
We travel not to escape life, but for life not to escape us. — short quote about traveling
Life is beautiful if you are on the road to somewhere.
— Orhan Pamuk
Live life with no excuses, travel with no regret. — Oscar Wilde
The wise man travels to discover himself. — James Russell Lowell
The world is too big to stay in one place, and life is too short to do just one thing.
Always take the scenic route
No road is safer than the one just robbed — Mexican Proverb
I'm not lost. I'm exploring. — Jana Stanfield
It's not the destination, it's the journey. — Ralph Waldo Emerson
Don't expect the unexpected. Let the unexpected expect you. ― Kiara Maharaj
---
Best Quotes About Road Trips from Books
Writers and words go hand in hand, much like open roads and long drives. From screenwriters and poets to authors of fictional stories and novelists, these quotes about a road will help encapsulate and perfectly describe that epic trip on the road.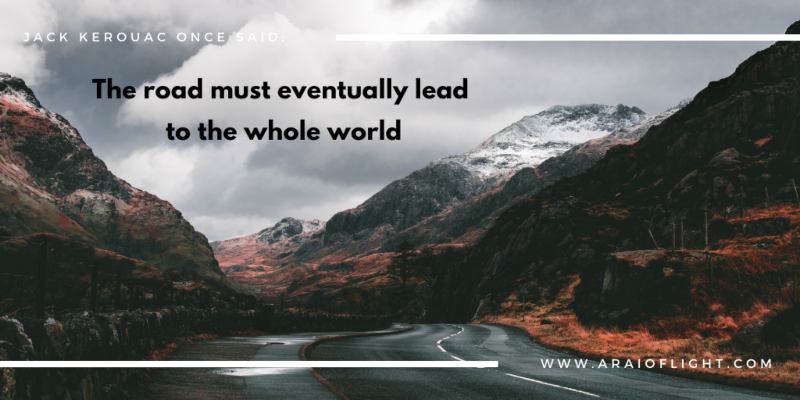 All he needed was a wheel in his hand and four on the road.


— Jack Kerouac, On the Road
I see my path, but I don't know where it leads. Not knowing where I'm going is what inspires me to travel it
— Rosalía de Castro
There is something about the momentum of travel that makes you want to just keep moving, to never stop
— Bill Bryson
I may not have gone where I intended to go, but I think I may have ended up where I intended to be
— Douglas Adams
The freedom of the open road is seductive, serendipitous and absolutely liberating.

— Aaron Lauritsen, 100 Days Drive: The Great North American Road Trip
And just like that, we're on our way to everywhere.
— Emery Lord, Open Road Summer
Sometimes, it's only in walking the path that we discover why we are walking at all.
— Richard Paul Evans, The Forgotten Road
I had not quite realized that the interruptions were the journey.
— Ted Simon, Jupiter's Travels
I travel not to go anywhere but to go. I travel for travel's sake. The great affair is to move.
— Robert Louis Stevenson, Travels with a Donkey in the Cevennes
Because he had no place he could stay in without getting tired of it and because there was nowhere to go but everywhere, keep rolling under the stars
— Jack Kerouac, On the Road: the Original Scroll
Still, round the corner, there may wait, a new road or a secret gate.

— J. R. R. Tolkien
The journey is part of the experience — an expression of the seriousness of one's intent. One doesn't take the a train to Mecca
— Anthony Bourdain, A Cook's Tour: Global Adventures in Extreme Cuisines
I can speak to my soul only when the two of us are off exploring deserts or cities or mountains or roads
— Paulo Coelho, Aleph
Afoot and light-hearted I take to the open road, Healthy, free, the world before me, The long brown path before me leading wherever I choose
— Walt Whitman, Song of the Open Road
A journey is a person in itself; no two are alike. And all plans, safeguards, policing, and coercion are fruitless. We find after years of struggle that we do not take a trip; a trip takes us.
— John Steinbeck, Travels with Charley: In Search of America
Our battered suitcases were piled on the sidewalk again; we had longer ways to go. But no matter, the road is life. — Jack Kerouac
The open road is a beckoning, a strangeness, a place where a man can lose himself.
— William Moon
We keep moving forward, opening new doors, and doing new things, because we're curious and curiosity keeps leading us down new paths.
— Walt Disney
The American tendency in travel; one goes not so much to see, but to tell of it afterward.
— John Steinbeck, Travels with Charley: In Search of America
---
Best Road Trip Quotes from Movies
I had a hard time deciding which quotes for road journeys from movies and television to include on this list because there are so many cool road tripping quotes. What follows are a handful of my favorite ones.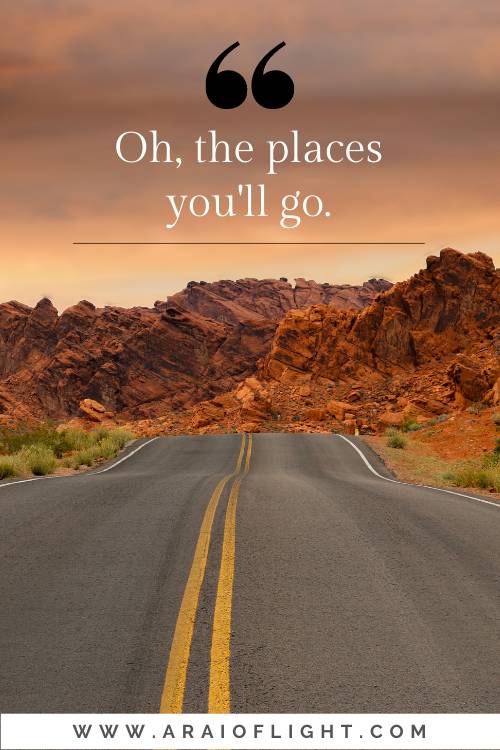 I climb behind the steering wheel… I drive off immediately without once looking back; it's a long journey but it leads to freedom. — Corinne Hofmann, The White Masai
It's a dangerous business, Frodo, going out your door. You step onto the road, and if you don't keep your feet, there's no knowing where you might be swept off to.

— J.R.R. Tolkien, The Lord of the Rings
Just grab a friend and take a ride, together upon the open road — The Goofy Movie
Adventure is out there — Up
Fifty years from now, when you're looking back at your life, don't you want to be able to say you had the guts to get in the car? — Transformers
We're almost there, but nowhere near it. All that matters is that we're going — Gilmore Girls
Well, we're not in the middle of nowhere, but we can see it from here — Thelma & Louise
I just go with the flow, I follow the yellow brick road. I don't know where it's going to lead me, but I follow it. — Grace Jones
Oh, the places you'll go. — Dr. Seuss
I guess the lesson is you can't go everywhere. You should still go everywhere you can. — Charles Finch
The entire road trip could be summed up as one giant attempt to keep from crashing the car during fits of rage and fits of hysteria. — Kari Martindale
---
Quotes with Road Trips from Song Lyrics
Is it even considered a good trip if it was not accompanied with an epic road trip playlist to match? Here are some on the road quotes from song lyrics and musicians. Maybe even include some of these to your playlist to enhance those long drives.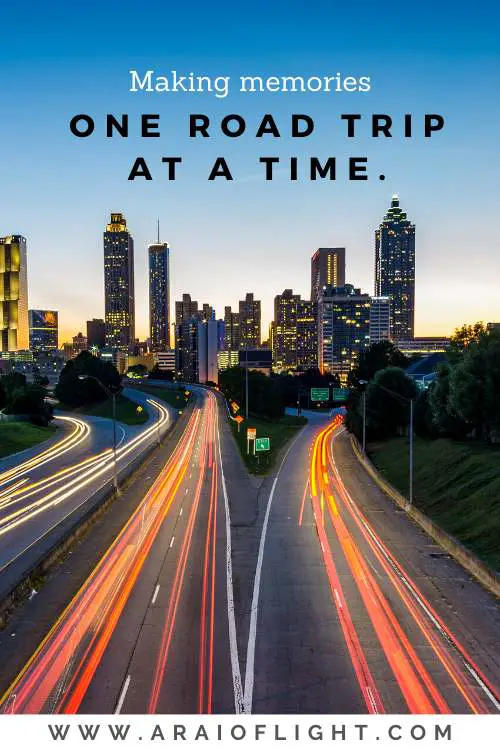 Happiness is a road trip with a good playlist.
If you're on a road trip, you need driving music. — Edgar Wright
So, remember when we were driving, driving in your car. Speed so fast felt like I was drunk. City lights lay out before us, and your arms felt nice wrapped around my shoulders, and I had a feeling that I belonged, and I had a feeling I could be someone. — Tracy Chapman, Fast Car
I don't know where I'm going from here but I promise it won't be boring — David Bowie
You make me wanna roll my windows down and cruise.
Get your motor runnin', Head out on the highway, Lookin' for adventure — Steppenwolf, Born to be Wild
I'm on the road constantly. I'm a nomad. I don't really have a home right now. I don't identify with one place in particular. — Daya
Road trippin' with my two favorite allies — fully loaded we got snacks and supplies. It's time to leave this town it's time to steal away. Let's go get lost anywhere in the U.S.A.
— Red Hot Chilli Peppers, Road Trippin'
I love being on the road. I love that lifestyle, traveling city to city, rocking out and moving on to the next place. — Caleb Johnson
No one you have been and no place you have gone ever leaves you. The new parts of you simply jump in the car and go along for the rest of the ride. The success of your journey and your destination all depends on who's driving. — Bruce Springsteen, Born to Run
On the road again, goin' places that I've never been, seein' things that I may never see again, and I can't wait to get on the road again
— Willie Nelson, On The Road Again
Life is a highway
I wanna ride it all night long
If you're going my way
I wanna drive it all night long
Through all these cities and all these towns
It's in my blood, and it's all around


I love you

 now like I loved you then
This is the road, and these are the hands
From Mozambique to those Memphis nights
The Khyber Pass to Vancouver's lights
Knock me down and back up again
You're in my blood; I'm not a lonely man 

— Rascal Flatts, Life is a Highway
I drove all night to get to you — Cyndi Lauper, I Drove All Night
---
Funny Road Trip Captions for Instagram
If none of these funny road trip quotes make you laugh, then… I maaaay just have a weird sense of humour. But hey, you can't blame a guy for trying to cheer up your day and remind you of all of those good times behind the wheel. 
In 1903 the Wright brothers invented airplanes, because in 1902 they took a road trip across the country with their family. — Bill Engvall
Kilometers are shorter than miles. Save gas, take your next trip in kilometers.

— George Carlin
The best part of a road trip isn't arriving at your destination … it's the fast food along the way.
I wish that road trips could pay my bills!
It doesn't matter how old you get, buying snacks for a road trip should always look like an unsupervised 9 year old was given $100.
Driving at night is about communicating with lights — Lukhman Pambra
Road trips required a couple of things: a well-balanced diet of caffeine, salt and sugar and an excellent selection of tunes—oh, and directions. — Jenn McKinlay
Never underestimate the therapeutic power of driving and listening to very loud music.  
That's why I love road trips, dude. It's like doing something without actually doing anything. — John Green
It's bad manners to keep a vacation waiting!
Have you ever noticed that anybody driving slower than you is an idiot, and anyone going faster than you is a maniac? — George Carlin
I get emotionally attached to the cars ahead of me on long road trips.
The funny thing about money is that you can't take it with you, so don't try to — Aaron Lauritsen
God made the world round so we would never be able to see too far down the road.
— Isak Dinesen
Part of us believes the new car is better because it lasts longer. But, in fact, that's the worst thing about the new car. It will stay around to disappoint you, whereas a trip to Europe is over. It evaporates. It has the good sense to go away, and you are left with nothing but a wonderful memory. — Daniel Gilbert
A tourist is a fellow who drives thousands of miles so he can be photographed standing in front of his car. — Emile Ganest
---
Long Drive Quotes about the Road
These road quotes encapsulate that feeling of being of being on a long drive and a reminder of the good times experienced behind the wheel.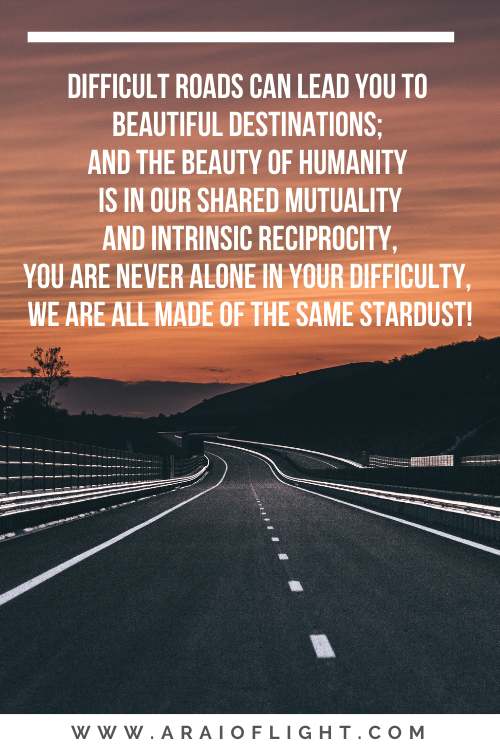 Look for chances to take the less-traveled roads. There are no wrong turns.

— Susan Magsamen
You know more of a road by having traveled it than by all the conjectures and descriptions in the world. — William Hazlitt
I climb behind the steering wheel… I drive off immediately without once looking back; it's a long journey but it leads to freedom.
— Corinne Hofmann
We must go beyond textbooks, go out into the bypaths and untrodden depths of the wilderness and travel and explore and tell the world the glories of our journey.
— John Hope Franklin
What it takes to realize everything is fine around you? A road trip to the mountains where your soul dwells in the echoes of the winds that carry fragments of clouds with them. What it takes to realize world is going back to chaos and infinite hurry? End of the aforementioned road trip…
— Crestless Wave
Travel isn't always pretty. It isn't always comfortable. Sometimes it hurts, it even breaks your heart. But that's okay. The journey changes you; it should change you. It leaves marks on your memory, on your consciousness, on your heart, and on your body. You take something with you. Hopefully, you leave something good behind.
— Anthony Bourdain
You can be writing every day. When you go on a road trip, the trip itself becomes part of the story. — Steve Rushin
The concept of time, as it's commonly understood by normal people with normal jobs and normal goddamn lives, doesn't exist on the road. The nights spread out like the dark, godforsaken highways that distinguish them, and the days run together like Thanksgiving dinner smothered in gravy. You never really know where you are or what time it is, and the outside world starts to fade away. It's cool.
— Tiffanie DeBartolo
What you've done becomes the judge of what you're going to do — especially in other people's minds. When you're traveling, you are what you are right there and then. People don't have your past to hold against you. No yesterdays on the road.
— William Least Heat Moon
---
>> Read next:
100 beautiful quotes about waterfalls to inspire
Quotes from the Road about Adventure
Find adventures along the way. Don't get too hung up about reaching the final destination. Enjoy the journey and see where it takes you. That's what these quotes from the road about finding adventure are about.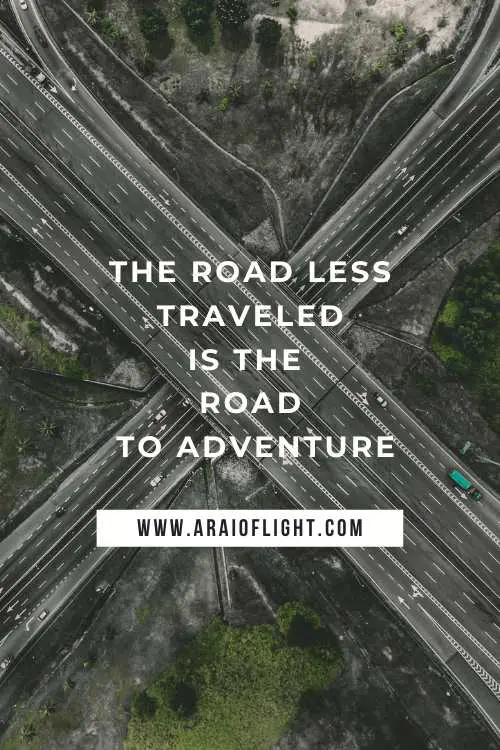 Jobs pockets, but adventures fill your soul.

— Jaime Lyn
An adventure is never an adventure when it happens. An adventure is simply physical and emotional discomfort recollected in tranquility — Tim Cahill
The road less traveled is the road to adventure
Real adventure is defined best as a journey from which you may not come back alive, and certainly not as the same person.

— Yvon Chouinard
It's a road trip! It's about adventure!
It's not like we have somewhere to go — John Green, An Abundance of Katherines
Adventure is out there — Up
Adventure, without it, why live? — Hortense Odlum
Attitude is the difference between an ordeal and an adventure. — Bob Bitchin
An adventure is only an inconvenience rightly considered. An inconvenience is an adventure wrongly considered. — Gilbert K. Chesterton
To awaken alone in a strange town is one of the pleasantest sensations in the world. You are surrounded by adventure. You have no idea of what is in store for you, but you will, if you are wise and know the art of travel, let yourself go on the stream of the unknown in which the gods may offer it
— Freya Stark
Please understand, I have been waiting to leave ever since I figured out that there were roads willing to take me anywhere I wanted to go.
We're not home-and-hearth people. We're the adventurers, the buccaneers, the blockade runners. Without challenge, we're only alive.
— Alexander Elio
---
Difficult Road Quotes and Missing the Journey
More often than not, road trips do not go as planned. You're going to get lost, tired, or hungry. However, more often than not, the ride is totally worth it and the good moments far outweigh the bad ones.
The road is there, it will always be there. You just have to decide when to take it. — Chris Humphrey
To give up a difficult path means to give up the glory and honour that will be achieved by overcoming these difficulties! ― Mehmet ildan
Once you have traveled, the voyage never ends but is played out over and over again in the quietest chambers. The mind can never break off from the journey. — Pat Conroy
My life is full of mistakes. They're like pebbles that make a good road.
One's destination is never a place, but rather a new way of seeing things. — Henry Miller
Nobody travels on the road to success without a puncture or two.
Hard roads require will of steel!
If you don't know where you are going, any road will get you there. — Lewis Carroll
All journeys have secret destinations of which the traveler is unaware — Martin Buber
The struggles we endure today will be the 'good old days' we laugh about tomorrow. — Aaron Lauritsen
Because he had no place he could stay in without getting tired of it and because there was nowhere to go but everywhere, keep rolling under the stars….

— Jack Kerouac
Wherever you get to is better than where you started. To stay on the road is a massive achievement. — Anthony Joshua 
Take care of your car in the garage, and the car will take care of you on the road. — Amit Kalantri
It is a rough road that leads to the heights of greatness.
The two impulses in travel are to get away from home, and the other is to pursue something — a landscape, people, an exotic place. Certainly finding a place that you like or discovering something unusual is a very sustaining thing in travel. — Paul Theroux
Road trips are the equivalent of human wings. Ask me to go on one, anywhere. We'll stop in every small town and learn the history and stories, feel the ground and capture the spirit. Then, we'll turn it into our own story that will live inside our history to carry with us always. Because stories are more important than things. — Victoria Erickson
The road is hard, and you have to get accustomed to it.
Life's trials will test you, and shape you, but don't let them change who you are — Aaron Lauritsen 
Travel sparks our imagination, feeds our curiosity, and reminds us how much we all have in common
— D Lloyd
The pleasure we derive from journeys is perhaps dependent more on the mindset with which we travel than on the destination we travel to.

— Alain de Botton
She wasn't where she had been. She wasn't where she was going, but she was on her way ― Jodi Hills
---
>> Read next. This list of:
Captivating conversation Starters and Fun Questions for Road Trips
>> Must read:
The Top 100 Vacation Songs to add to your Road Trip Playlist
See, I told you this was going to be a long list of sayings and quotes about the road. I hope you found exactly what you were looking for. I love travelling by road and hope that these quotes with road trips have inspired you to do the same.
What's your favourite road trip destination, games for the road, and/or road trip quote? As always, leave a comment and let me know what you think.
Keep on road trippin',

Rai