Where To Stay in Chicago FIRST TIME → Best Areas + Hotels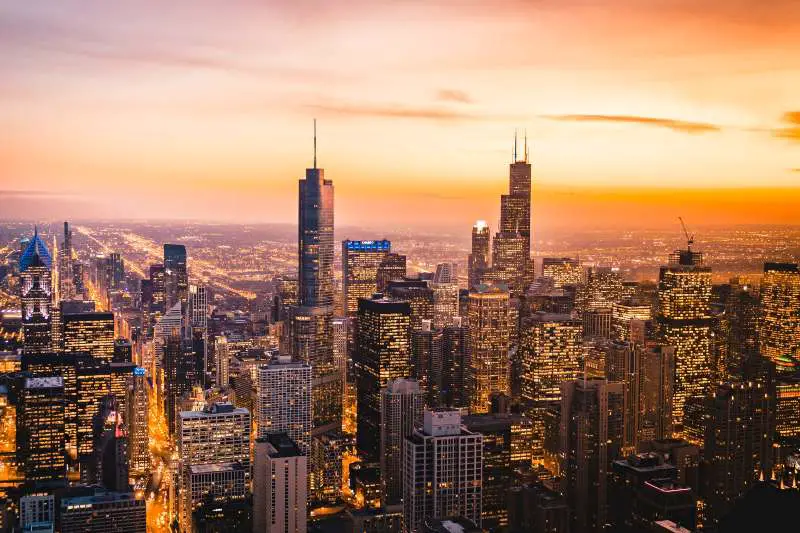 Since its founding in 1833, Chicago has flourished into one of the leading cities in the Midwest for business and leisure. Today, it is the third-largest city in the United States and home to more than 2.7 million people. The city, encompassing an area of over 230 sq miles, has a profusion of hotels and accommodation options, so choosing where to stay in Chicago can be difficult. Especially if it's your first time visit to Chicago.
Make the most of your time in this megacity. Continue reading as we breakdown the best area to stay in Chicago for first timers.

Whether you're looking for all time favorites, or cool and unique spots, I've got you covered with these best places to stay in Chicago Illinois. A guide to the best hotels in Chicago.
Chicago offers visitors an unparalleled wealth of attractions including landmarks, museums, and entertainment venues. Whether you're planning a family vacation or an exciting weekend getaway with friends, you'll find plenty of things to do in this sprawling city.
Here are just a few reasons why Chicago is a great destination for travelers.
While there are plenty of sights to see on land, the city is bordered by one of the Great Lakes, where you can also enjoy water activities.


Chicago is an amazing foodie city and has some of the best restaurants in America.


The city is home to world-renowned museums that showcase everything from art to natural history to architecture.


Millennium Park which features Cloud Gate (aka "The Bean"), Buckingham Fountain, and The Crown Fountain are a few of the best attractions that are free.


Chicago hosts annual festivals — The Taste of Chicago, Chicago Jazz Festival, Chicago Summer Dance, Chicago Blues Festival — where you can enjoy free entertainment. 
Where to stay in Chicago first time? As with any city, staying in the right neighborhood is important. The downtown area in Chicago is recommended because you will be close to attractions and within walking distance.  
Not only will it make your trip more enjoyable and stress-free, but it will allow you to fully immerse yourself in the city and its culture.
The Overall Best Places to Stay in Chicago
Just looking for a quick answer on the best places to stay in Chicago Illinois?

Here are my top picks on where to stay in Chicago:
>> Read next:
Tips on the Best Area to Stay in Chicago First Time
It is important to know how to choose the best neighbourhood in order to find the best accommodations in Chicago. Lodging in Chicago is plentiful. Here are some insider tips on choosing the right hotel for your first trip to Chicago.
Selecting a hotel for your stay in Chicago will largely depend on your budget. The closer you are to the Loop and Magnificent Mile, the more expensive the hotels will be (but you can find some good deals if you plan well enough ahead).
If you are on a budget, consider staying in other neighborhoods like the far north, or even in a suburb like Oak Park. You should also consider a location that is easily accessible by train with a 30-minute commute or less.


Be mindful of major city events like Lollapalooza and holiday weekends like July 4th and Memorial Day. Hotel rates will be extremely high during these periods.


Don't rent a car. The cost of parking in Chicago is very expensive and parking penalties start at $90 per citation. Parking for a full day is about $25 and even higher for a valet.


There are several ways to get around town — car sharing (Uber, Lyft, Taxi), Chicago Elevator Trains (or the 'L'), and city buses. More importantly, make sure you know how to get around Chicago safely.


Some neighborhoods are economically disadvantaged. But as with traveling to any city, always stay alert and be aware of your surroundings. Never put yourself in a precarious situation while exploring.
Okay, let's look at the best areas and the best neighborhoods to stay in Chicago!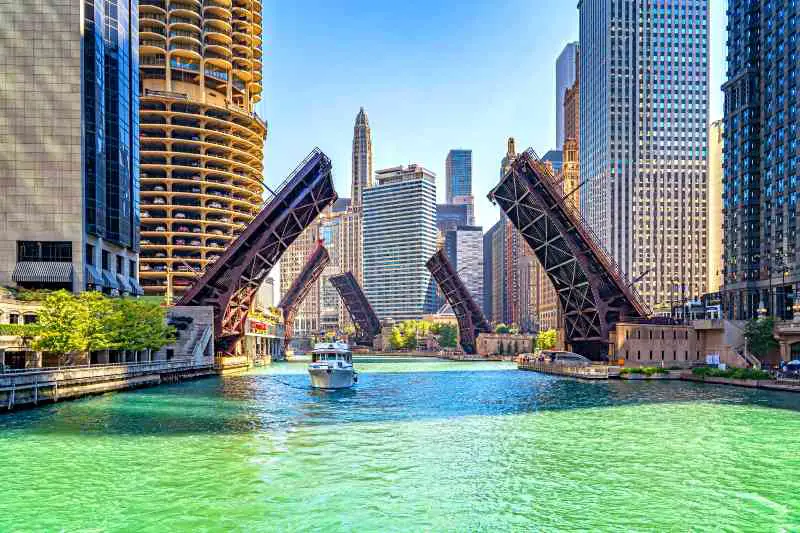 Where to stay in Chicago on your first visit? Here are the…
10 Best Neighborhoods & Places to Stay in Chicago
You will find a total of 77 neighborhoods in Chicago, sprawled along the southwestern shores of Lake Michigan in northeastern Illinois.

Arranged by a grid layout, each of these districts of Chicago have their own unique vibe. The Chicago River geographically divides the city into the North, South, and West Side, as well as the downtown central area referred to as "The Loop."
---
Let's explore the different districts of Chicago.
Continue reading to discover a guide to the most popular neighborhoods in Chicago. You will also find a list of the best and safest hotels in Chicago.
THE CHICAGO LOOP
🏆 Best Area for First Time Visitors to Chicago
🌆 Best Chicago Loop Hotels: Viceroy Chicago · Pendry Chicago  • Staypineapple
📚 Best Attractions –> Millennium Park · Skydeck Chicago · The Chicago Theatre · The Art Institute of Chicago
Where should I stay in Chicago as a first time visitor?
The Chicago Loop (or downtown) is surrounded by skyscrapers and the area is constantly bustling with people. It is known as the business district, has a unique cosmopolitan vibe, and is arguably the best area to stay on your first time visit to Chicago.
There are several advantages of staying in the Loop:
The public transportation system is excellent, and it's a great way to get around town.


Staying in the Loop makes it convenient for downtown attractions. You'll be within walking distance of Millennium Park, The Chicago Riverwalk, the 

Art Institute of Chicago

, Navy Pier, the Chicago Cultural Center, the Chicago theater district, the Magnificent Mile, Buckingham Fountain, Grant Park, and shopping on State Street.


Choosing one of these places to stay in downtown Chicago means that you'll have easy access to restaurants and bars. If you want some great pizza, we recommend Lou Malnati's or Pizano's (both have locations in the Loop). Some restaurants offer a unique experience like Nutella Cafe, Three Dots and a Dash, and Cindy's Rooftop. 
It is often considered to be the best part of Chicago to stay in, however staying in the Loop has some drawbacks too. The cost of hotels in Chicago is more expensive here. It's also very crowded, but that is to be expected of a large city.
---
SOUTH LOOP
🏆 Best Area for Museum Lovers
🌆 Best South Loop Hotels: Hyatt Regency McCormick Place • The Blackstone, Autograph Collection • The Hoxton
📚 Best Attractions –> Shedd Aquarium · Adler Planetarium · Field Museum of Natural History · Soldier Field
The South Loop is part of a larger community (the South Side) because it is so near to the Loop, it is commonly referred to as the South Loop. The area is primarily commercial but has a mix of residential buildings.
There are several advantages of staying in the South Loop:
It feels more like you are staying within a community.


You will be closer to nearby neighborhoods like Printer's Row, Chinatown, and Greektown.


It is a great area for being close to the Shedd Aquarium, Field Museum, Soldier Field, Adler Planetarium, and Northerly Island.


The South Loop has great nightlife options. You can enjoy an evening listening to classical music played by the Chicago Symphony Orchestra, or stop at Buddy Guy's Legend for blues, or Reggie's for up-and-coming bands. 
The downside to staying in the South Loop area is that it is still slightly expensive given the proximity to the Loop. During summer, the crowds at Buckingham Fountain increase, especially for the free light show that starts in the evening.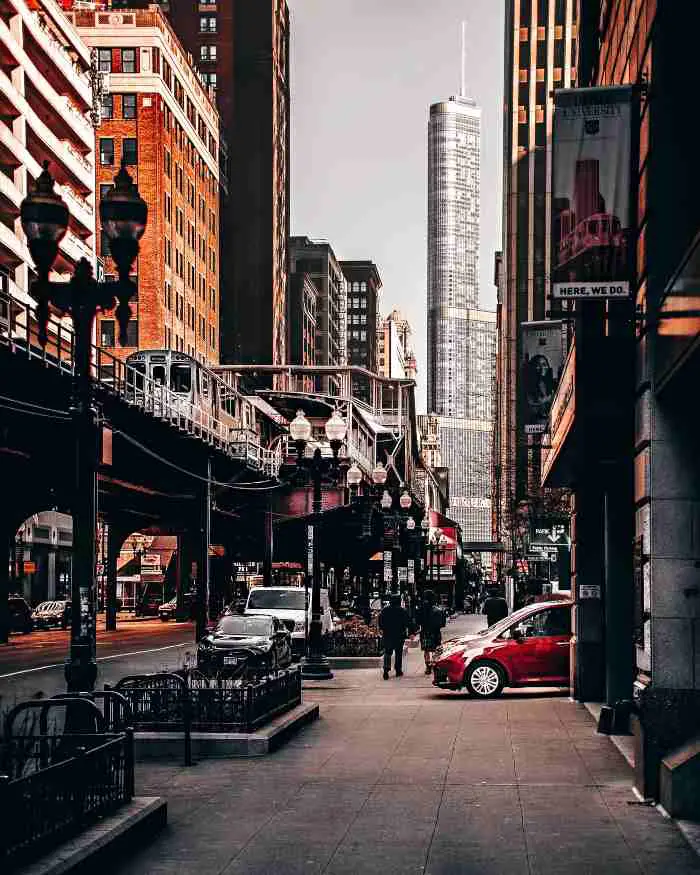 WEST LOOP
🏆 Best Area in Chicago for Foodies
🌆 Best West Loop Hotels: Nobu Hotel Chicago • Hampton Inn • The Publishing House Bed and Breakfast
📚 Best Attractions –> Willis Tower · Chicago French Market · Mary Bartelme Park · Randolph Street Market
The West Loop was once an eyesore that consisted of meat-packing plants. It has experienced significant development and growth in recent years, transforming it into a popular Chicago neighborhood for food, shopping, and nightlife.
The advantages of staying in the West Loop are plentiful:
The neighborhood is conveniently located near downtown, you can walk to Michigan Avenue in about 20 minutes. You are also close to major attractions like Willis Tower, and major train stations — Ogilvie and Union Station.


You have quick access to nightlife, award-winning restaurants, and a phenomenal culinary scene. We recommend Time-Out Market to explore a blend of tastes.


The West Loop has a nice balance of green spaces with urban living.


Love to shop? The neighborhood has great boutiques on Randolph St. There is also the Randolph Market and the French Market. 
The downside to staying in the West Loop area is the lack of hotel options. They are also slightly expensive due to the popularity of the area. If money is not a concern, the Hoxton Hotel is a great choice. Fulton Market is also noisy at night during the summer, and it gets crowded.
NEAR NORTH SIDE
🏆 Best Area for Tourist Attractions
🌆 Best Near North Side Hotels: Sofitel Chicago Magnificent Mile • The Royal Sonesta Chicago River North • Sable at Navy Pier Chicago
📚 Best Attractions –> Navy Pier · John Hancock Center · Water Tower Place · Oak Street Beach
The Near North Side, the northernmost of the three areas that make up central Chicago, is next up on this list of popular neighborhoods in Chicago.

Home to iconic skyscrapers and clusters of towering buildings such as 360 Chicago and the Wrigley Building, the Near North Side has some of the most picturesque views of the city and is a great place to stay in Chicago if you're looking to be close to the tourist attractions.

The area is very walkable with plenty of posh boutiques, department stores, restaurants, and bars.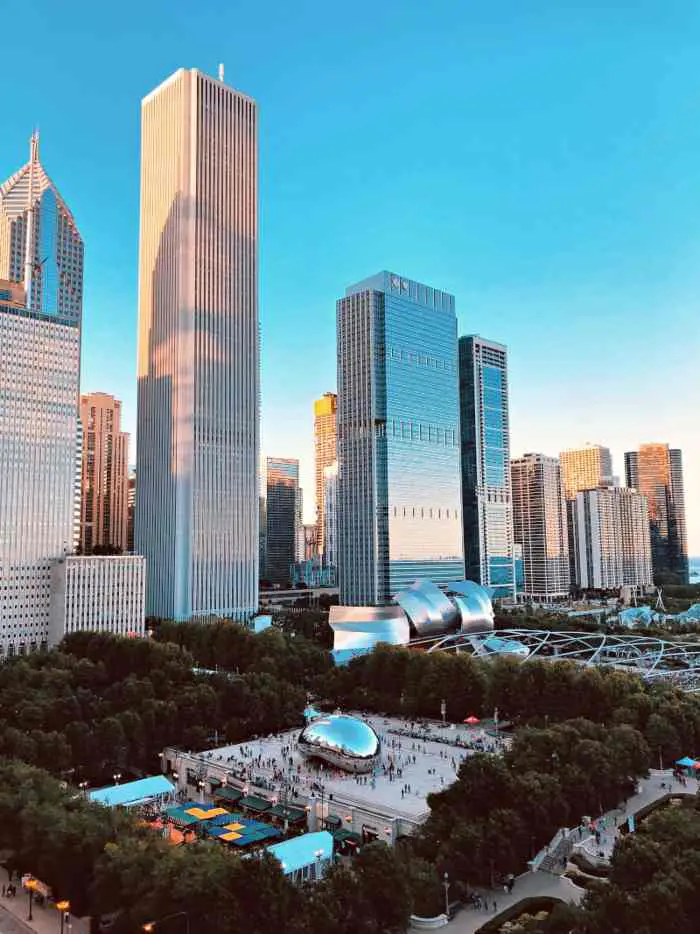 MAGNIFICENT MILE
🏆 Best Area to stay in Chicago For Shoppers
🌆 Best Magnificent Mile Hotels: The Peninsula Chicago • Omni Chicago Hotel • Four Seasons Hotel Chicago
📚 Best Attractions –> Millennium Park · Cloud Gate · Art Institute of Chicago · Field Museum · Wrigley Field
If you are looking to explore the heartbeat of Chicago, then Magnificent Mile, the one-mile stretch between the Chicago River and Oak Street is a must-visit.  The area is home to some of the most famous stores around the world like Nike, Apple, and Burberry.
You will not only find yourself surrounded by luxury shops, but world-class dining, historic landmarks, and entertainment.
There are several advantages of staying on the Magnificent Mile:
You will be close to exploring the best of Chicago, including Navy Pier, Millenium Park.


At the north end near Oak Street, you'll have access to luxurious shopping at Bulgari, Gucci, Louis Vuitton, and Bloomingdale's.


If you've never visited the World's Largest Starbucks, it's here on the Magnificent Mile.


You'll be near some of the city's most iconic landmarks, including the Willis Tower, the John Hancock Center, and the Art Institute of Chicago.
Because you are in an area with high-market value, finding a reasonable hotel is difficult, but you can find deals during non-peak periods in Chicago.
Hotel prices in this area are typically higher than in other parts of the city. Because it is such a popular destination, it is also hectic and noisy.  The Magnificent Mile also does not reflect as much diversity as other Chicago neighborhoods. 
---
RIVER NORTH
🏆 Best Area for Nightlife
🌆 Best River North Hotels: Hyatt Place Chicago River North • Aloft Chicago • Hotel Felix
📚 Best Attractions –> Merchandise Mart · Museum Of Contemporary Art Chicago · Lookingglass Theatre
With swanky neighboring areas like the Gold Coast and the Magnificent Mile, River North is also a great location to stay in Chicago while visiting.
It is situated on the north side of the city, just north of the Loop and slightly west of the Magnificent Mile. River North is known for its upscale shopping, dining, and nightlife scene. It is also home to several art galleries, museums, and theaters.
Staying in River North comes with numerous benefits:
This is a great neighborhood for experiencing Chicago's culture, including museums, galleries, and nightlife, and dining. Stop at 10 Pin in Marina City for a

night

of bowling and good eats.


Another favorite place for entertainment is Howl at the Moon (check with your hotel concierge to see if free admission passes are available).  Looking for a great breakfast? Stop at Yolk or hop over to Wildberry Pancakes on Michigan Ave.


The hotels in this area are better suited for family accommodations in Chicago with brands like

The Hyatt Place

,

Fairfield Inn

,

Best Western

,

Embassy Suites

, and

Residence Inn

.
On the downside, the popularity of River North has grown over the years and due to the nightlife and dining options, it has become more bustling and an area that can be noisy and overwhelming, particularly for those who prefer a quieter and more peaceful area.  
HYDE PARK
🏆 Best Area for College Students
🌆 Best Hyde Park Hotels: Sophy Hyde Park • Chicago Lakeshore Hotel • Congress Plaza Hotel
📚 Best Attractions –> Jackson Park · Museum of Science and Industry · Oriental Institute Museum · Frank Lloyd Wright's Robie House
Hyde Park is best known as the home of the University of Chicago.
This suburb in Chicago has an eclectic mix of culture and education. In addition, it is also a destination for museum lovers.

The neighborhood also offers a mix of cultural experiences from the Museum of Science and Industry, which is the largest of its kind in America, to Court Theater, to Robie House, which is a Frank Lloyd Wright home and UNESCO World Heritage Site that is open for tours. 
There are several advantages of staying in Hyde Park:
It is a great location where diversity lives and breathes throughout the neighborhood. You'll find a mixture of everything from southern food restaurants to Asian fare.


There are parks with large green spaces, so if you are traveling with a dog or with kids, they'll have plenty of room to play and explore the outdoors.


It's the best place in the city to see public art installations and a Japanese garden that features

waterfalls

, ponds, and cherry blossom trees.
Although Hyde Park is quaint and feels more residential than areas like Magnificent Mile, River North, or the Loop, you will have to travel a bit further to access some of the city's main attractions and entertainment.
Hotel options are limited to just 4 or 5 selections. Access to the city's 'L' station is limited and may require more walking than desired. However, you can use a city bus to get to the location stations or to the city center. 
Parking is a premium and can also be limited because the neighborhood requires paid vehicle stickers, but you can get a guest pass.
---
LINCOLN PARK
🏆 Best Area for Outdoor Lovers
🌆 Best Lincoln Park Hotels: Viceroy Chicago • Hotel Lincoln • Hotel Versey Days Inn by Wyndham Chicago
📚 Best Attractions –>  Chicago History Museum · Lincoln Park Conservatory · North Avenue Beach · Lincoln Park Zoo
Did you know that Lincoln Park was named after President Lincoln? And, it has since bloomed into a spectacular green space with a mixture of row homes and condominiums.

It is the perfect combination of urban amenities and green spaces spread across 1,200 acres along Lake Michigan shore on the North Side of Chicago and offers plenty of opportunities for outdoor recreation such as running, biking, and picnicking,
Lincoln Park is a great option if you are looking for a great Chicago stay in a community that gives a unique glimpse into life in the Windy City.

On weekends, you'll find it easy to blend in with residents who are out walking their pets, playing in the park, or sitting in coffee shops.  
The popular neighborhood has several amenities that appeal to visitors like free admission to Lincoln Park Zoo, Alfred Caldwell Lily Pond, and Oz Park.  


There's a heavy dose of retail therapy in Lincoln Park with its variety of quaint boutiques and designer shops selling unique clothing items, jewelry, gifts and more. Visit the Armitage and Halsted Districts located on Armitage Ave between Halsted and Racine.


With restaurants like Café Ba-Ba-Re-Ba and comedy clubs like The Second City, the Lincoln Park neighborhood is one of the best spots for nightlife, bars, clubs, and entertainment, which can be a major draw for visitors looking for a fun and lively atmosphere.


Another advantage of staying in Lincoln Park is its proximity to downtown Chicago, just a short drive or train ride away.
In peak tourism seasons, finding a stay in Lincoln Park is limited and expensive.
If you prefer a hotel, there are very few options so you may need to find an Airbnb. The area has a lot of appeal to tourists. When coupled with residential traffic, it is crowded, and parking is a nightmare. It's best to use public transportation like city trains or buses.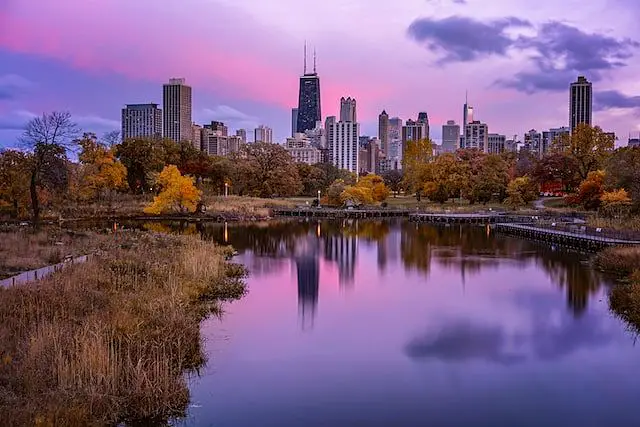 LAKEVIEW
🏆 Best Area to Stay in Chicago for Peace and Quiet
🌆 Best Lakeview Hotels: City Suites Hotel • Warwick Alberton • Hotel Zachary Chicago
📚 Best Attractions –> Wrigley Field · The Mercury Theater · Gallagher Way · Music Box Theatre
Lakeview offers a a good mix of urban appeal and natural beauty and makes for a good choice to stay for anyone visiting Chicago for the first time. As one of the safest neighborhoods in Chicago it is a great option for families as well as solo female travelers.

Lakeview offers various hotel and Airbnb rental options. You can choose from budget-friendly hostels to luxurious hotels depending on your requirements.

One of the main attractions in this district is Wrigley Field, home of the Chicago Cubs. If you're a baseball fan (or even if you aren't) you must watch a game at this iconic stadium while enjoying the lively atmosphere.

For those who enjoy outdoor activities, Lakeview has several parks where you can go for a stroll or have a picnic. The lakefront trail, which runs through this area, is perfect for biking or jogging while taking in pretty views of Lake Michigan alongside.
WICKER PARK
🏆 Best Chicago Area for Hipsters
🌆 Best Wicker Park Hotels: The Robey • Wicker Park Inn • Hyatt Place Chicago Wicker Park
📚 Best Attractions –> Wicker Park · The Den Theatre · The 606 · Flatiron Arts Building · Bloomingdale Trail
Located in the northwestern corner of the city, Wicker Park or Bucktown, is one of the trendiest areas in Chicago to stay. This hip and creative district is home to art galleries, cafes, boutique stores, performance venues, book shops, and an abundance of dining and entertainment venues.
FAQs About Where to Stay in Chicago First Time
Now that you have a much better idea of where to stay in Chicago, let's take a look at some frequently asked questions.
✓ When is the best time to visit Chicago
The city has a lot to offer, which means a good time is promised at any time of the year. However…
The best time to plan a first trip to Chicago is during the months of April and May and September and October. During these times the temperatures are comfortable, there are a variety of festivals taking place, and crowds are undemanding.
Avoid visiting Chicago during peak period – during national holidays, bank holiday weekends, and during school breaks – to take advantage of better prices and fewer crowds.
✓ How many days to stay in Chicago for first timers
The city is massive and you're not going to be able to see everything in one visit. So how many days do you need as a first time visitor to Chicago?
To get a good feel of what the city is about, I would say 3 to 4 days in Chicago is sufficient. It is enough time to see the top tourist attractions in Chicago. It would even give you a bit of time to get off the beaten path and feel like a local.
You could easily spend a week in the city discovering its many different neighborhoods, museums, local parks, and hidden gems.
✓ Is Chicago safe to visit? + Where to avoid
You'll be glad to hear that Chicago is, for the most part, safe for visitors. Most trips are trouble-free, especially if you follow the recommendations above to choose these safe places to stay in Chicago IL.
What is the safest part of Chicago to stay in?
The safest neighborhoods in Chicago include:

Lincoln Park, Lake view, Edison Park, Printers Row, Andersonville, Streeterville, Norwood Park, Forest Glen, Gold Coast, and Rogers Park.
What places should I avoid in Chicago?
The city's south side has the majority of Chicago's most dangerous neighbourhoods that are notorious for gang related and criminal activity. These are best avoided.

Which areas in Chicago are not safe:

The city's most dangerous areas are found in the south of the city. These include East and West Garfield Park, Engelwood, Washington Park, North Lawndale, and South Chicago and are best avoided whenever possible.
✓ How to get around in Chicago
Unlike many major US cities, Chicago has a good public transport system that you can take advantage of. Your transport options include the CTA Buses, The L, the Metra (underground train) and others.
The L train (short for elevated train), operated by the Chicago Transit Authority, is cheap and easy to use. 
Public transportation and walking are your two best options. This will get you almost everywhere and many of the city's attractions are a short ride or walk away from each other.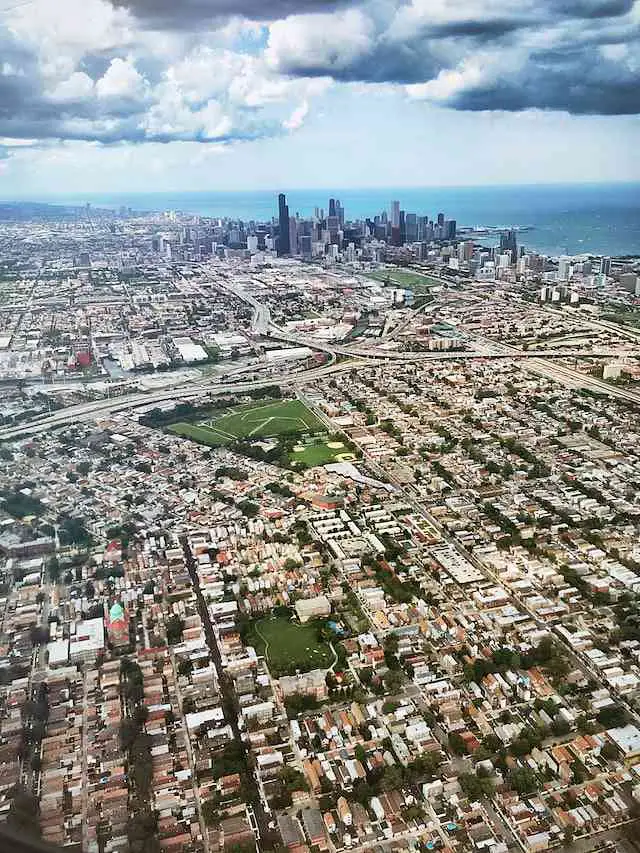 Overall, staying in Chicago can be an unforgettable experience that combines cultural diversity, architectural beauty, and a vibrant urban atmosphere.

From exploring world-class museums to savoring delicious cuisine, there's much to discover in the top neighborhoods of Chicago. However, be sure to consider your nightly budget for accommodation when selecting a hotel.
I hope you have a great first time in Chicago. Be sure to check out these important travel tips for Chicago that are totally helpful to know before you go.

If you have any questions or need help with planning your trip, just let me know and I will be happy to help out.