Traveling to Chicago? Travel Tips To Know When Planning a Trip to Chicago
Chicago travel guide: Read on to learn the most important things to know when planning on visiting Chicago for the first time in 2023. You will find useful travel tips for Chicago to make the most out of any visit, to blend in like a local, and for a hassle free, enjoyable visit. I have included a whole lot of info to know before traveling to Chicago IL, including the best time to visit, where to stay, areas to avoid, how to get around, and the best things to do in Chicago.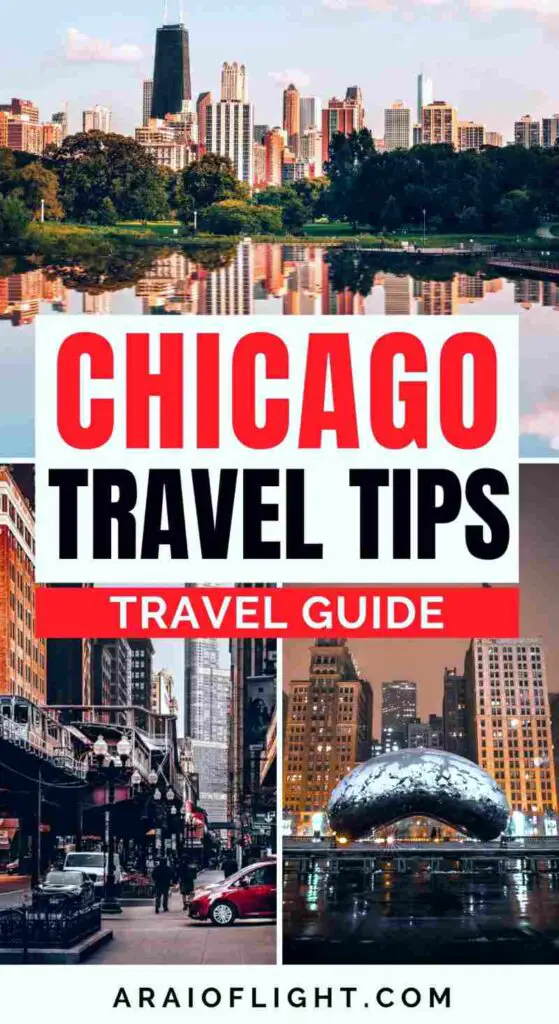 Why visit Chicago Illinois: Is it worth a trip (or two)
Chicago, found on the banks of beautiful Lake Michigan, is one of the best places to visit in USA. This Midwestern metropolis, the third largest in the country, is renowned for its striking architecture, iconic foods, dynamic music scene, interesting museums, and friendly locals.
Often voted the most fun city in the United States and one of the most beautiful cities in the world, Chicago is a giant tourist destination. The City of Big Shoulders is an ideal destination to vacation, whether as a city break or a weekend getaway.
More than 50 million tourists visit Chicago each year, and with good reason. This popular urban destinations in the US has something to offer every type of traveler and every travel style. Whether you're into beautiful buildings, vibrant entertainment, amazing food, art, nature, history, culture, sport, or technology, you'll find it in the Windy City. 
Continue reading to discover a list of essential Chicago travel tips and things to know before you go in 2023.
Did you know:
Chicago's nicknames include The Windy City, the White City, the Second City, the City That Works, and the City of Big Shoulders.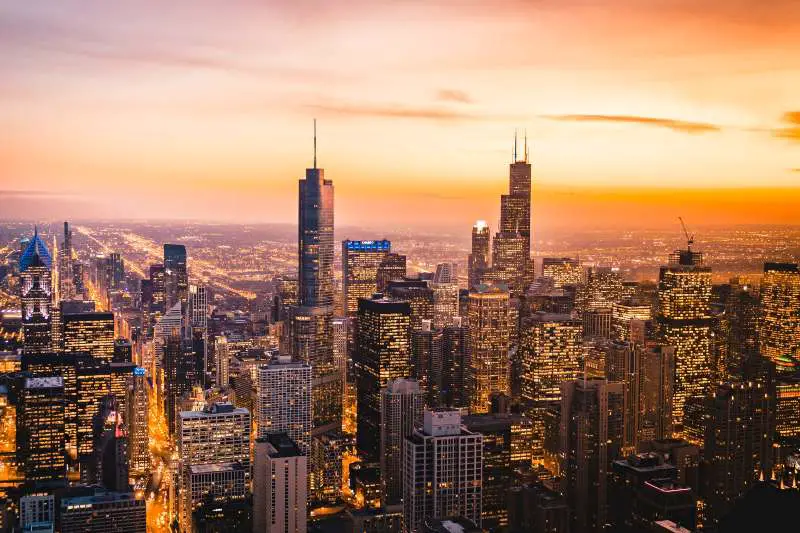 >> Read next:
Here you go…
Traveling to Chicago for the First Time: These are my top travel tips for visiting Chicago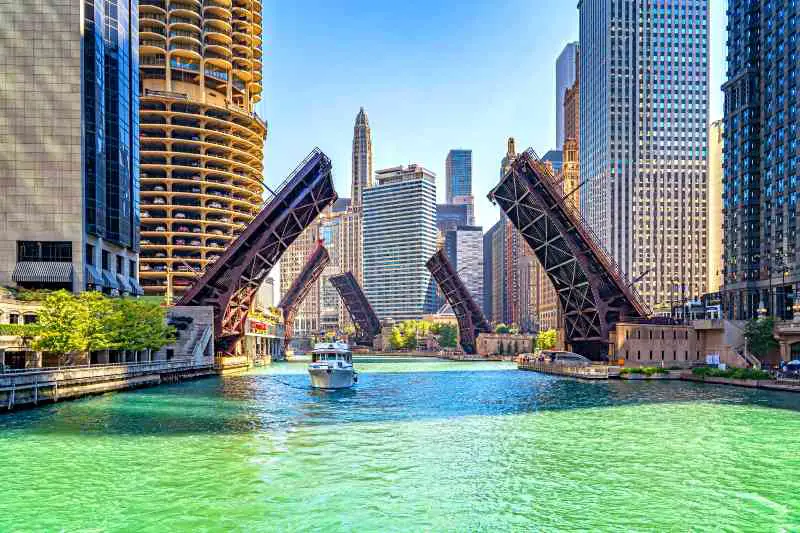 What are some things to know when planning a trip to Chicago 2023:
✓ Is Chicago open for tourists?
Yes, the city of Chicago is now open, following local and state guidance, and this is your perfect opportunity to experience all that this Midwestern metropolis has to offer.

You will be happy to know that that there are no capacity restrictions or limits in place and many establishments continue to follow safety measures. 
✓ When is the best time to visit Chicago
The city has a lot to offer, which means a good time is promised at any time of the year. However…
The best time to plan a trip to Chicago is during the months of April and May and September and October. During these times the temperatures are comfortable, there are a variety of festivals taking place, and crowds are undemanding.
The city does come alive in the summer months with festivals that include Lollapalooza, Venetian Night, Taste of Chicago, and the Air and Water Show.

Helpful Chicago travel tip: Avoid visiting during peak period to take advantage of better prices and fewer crowds. This means to avoid visiting Chicago, if at all possible, during national holidays, bank holiday weekends, and during school breaks. 
✓ What to wear in Chicago
You do need to take note that the weather in Chicago is unpredictable, with sunshine and humidity to chilly cloud cover in a matter of minutes. 

The best way to prepare for this is to wear layers that are easily removable and replaceable to maintain the perfect body temperature. This will also combine handy when visiting the Lakefront area which is always a couple of degrees cooler than other parts of the city. 

Casual and comfortable is the way to go.

You're also going to need comfortable shoes for all that walking you're going to be doing in the city.

If visiting Chicago during the winter months, it is essential to carry insulated down jackets, tights, scarves, and boots as protection from the icy conditions and wind chills.
✓ How many days in Chicago is enough
The city is massive and you're not going to be able to see everything in one visit. So how many days do you need as a first time visitor in Chicago?
To get a good feel of what the city is about, I would say 3 to 4 days is sufficient. It is enough time to see the top tourist attractions in Chicago. It would even give you a bit of time to get off the beaten path and feel like a local.
You could easily spend a week in the city discovering its many different neighborhoods, museums, local parks, and hidden gems.
Don't miss the Chicago River Architecture Cruise. It is one of the most popular tours in Chicago – and with good reason.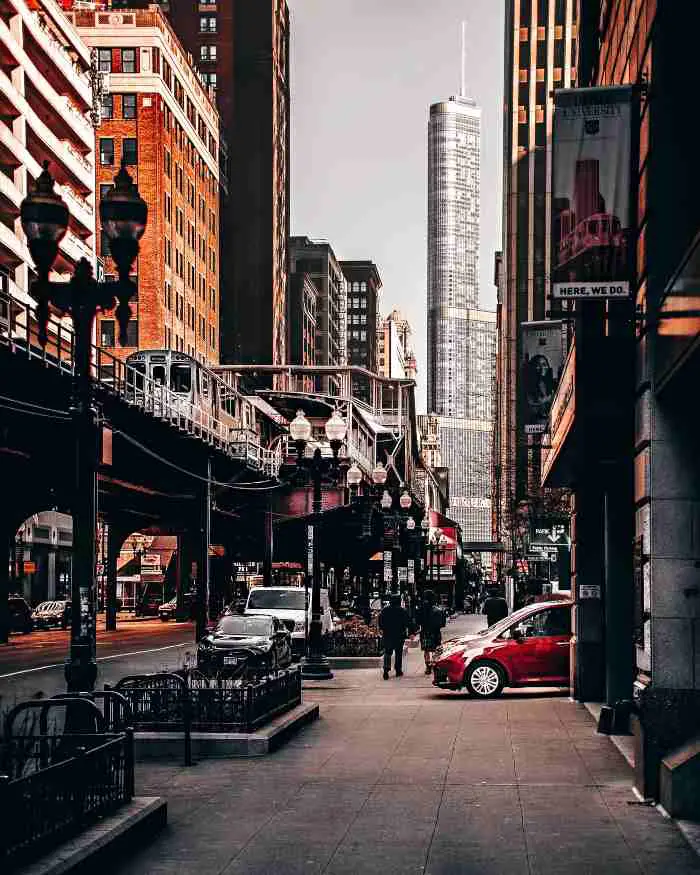 At the top of the list of the most important Chicago tips is knowing…
✓ Where to stay in Chicago
Chicago has accommodation options that suit every budget and every travel style, so there's bound to be the perfect option for you. 

There is certainly no shortage of places to stay in Chicago, but you should select one depending on your personal preferences and what you plan on doing in the city. 
Here's some advice on that: 
The Loop is best location to stay in Chicago, particularly for first-time travelers. 
It is located right in the heart of downtown Chicago, with many of the main sights within walking distance.

Being one of the three downtown neighborhoods, the Loop is the first stop for travelers coming to the Windy City. With the Chicago River to the North and Lake Michigan to the East, this is the place to observe the famed skyline of Chicago city. The attractions in this area include major theaters, different world-class public art, the Art Institute of Chicago, Grant Park, and its spectacular centerpiece, and the Buckingham Fountain.
My favorite option in The Loop neighborhood is Hyatt Place Chicago/Downtown.

It's perfectly located to easily explore the best of the city's landmark attractions. Highlights include comfortable and spacious rooms, a well-equipped gym, friendly staff, and a business centre.
For families: Lincoln Park is your best bet.

What started as a small Polish and German Community is now the most vibrant neighborhood in Chicago. Its green spaces, youthful atmosphere, and Lake Michigan views make this area a popular choice for families visiting Chicago. The attractions in this area include DePaul University, Lincoln Park Zoo, and St. Michael's Church. 
A great choice is Hotel Lincoln, found minutes away from the beach as well the Lincoln Park Zoo. Families will love the comfort, cleanliness, and value for money. Facilities include 5 on-site restaurants, wellness area, and free wifi.
The Magnificent Mile is the best option for luxury shopping and a buzzing nightlife.

Aptly named the city's shopping center, the Mag Mile is the place where you'll find all the high-end stores, luxury hotels, fancy restaurants and bars of Chicago. Other attractions in this area include John Hancock Center, Chicago Water Tower, and the Wrigley Building. 
The Chicago Marriott Downtown Magnificent Mile comes highly recommended. What I like is its excellent location, good staff service, a wonderful breakfast as well it its state-of-the-art fitness centre, on-site dining and free WiFi.
For travelers on a budget: Streeterville is for you.

This will cost you less than many of the other localities in the city, yet the location is great. It is situated right between the Magnificent Mile and Lake Michigan. The Navy Pier is the major attraction in this area.
The boutique hotel Warwick Allerton Chicago is perfectly located in the heart of downtown Chicago. The stylish and modern rooms are well complemented with historic architecture, on-site dining options and a 24-hour fitness centre.
✓ Is Chicago safe to visit? + Where to avoid
This urban metropolis is, for the most part, safe for visitors. Most trips to Chicago are trouble-free. 
The safest neighborhoods in Chicago include:

Lincoln Park, Edison Park, Lake view, Printers Row, Andersonville, Streeterville, Norwood Park, Forest Glen, Gold Coast, and Rogers Park.
However, on that note, some sketchy neighborhoods that are notorious for gang related and criminal activity are best avoided.

Which areas in Chicago are not safe:

The city's most dangerous areas are found in the south of the city. These include East and West Garfield Park, Engelwood, Washington Park, North Lawndale, and South Chicago and are best avoided whenever possible.
✓ How to get from the airport to the Chicago city center
The best option to get to and from Chicago O'Hare International and Midway International is by using the rapid trains on CTA.

These trains run 24 house a day, seven days a week.

The CTA Blue line will get you to downtown in under 45 minutes from O'Hare while the CTA Orange Line will get you into the city in under 25 minutes from Midway International. 
✓ How to get around in Chicago
Public transportation and walking are your two best options. This will get you almost everywhere and many of the city's attractions are a short ride or walk away from each other. 
Unlike many major US cities, Chicago has a good public transport system that you can take advantage of. Your transport options include the CTA Buses, The L, the Metra (underground train) and others.
The L train (short for elevated train), operated by the Chicago Transit Authority, is cheap and easy to use. 
If it's raining, the best way to get around in the Windy City is by using the Chicago Pedway, a network of underground tunnels and overhead bridges for pedestrian use. This is the best and cheapest way of getting around the city center. 
If the weather is good, you can use the city's bike-share program that lets you rent bikes for use within the city.
One of the best ways to explore the Chicago Riverwalk, Michigan Avenue, and West Loop Area is the Chicago Water Taxi which connects various neighborhoods within the city. This system goes through downtown and beyond to Goose Island and is a really cool way of seeing the city from a different perspective. 
Ventra Cards are the passes needed in order to board the CTA. You can find Ventra kiosks at the airports and I would recommend purchasing these cards here before boarding your first train. One-day, three-day, or seven-day passes are available, depending on how long you're planning on staying for. 
✓ Chicago City Passes are great
If you are traveling to Chicago for the first time and want to see as many of the city's important locations as possible, the city passes are a good option to consider.

The passes let you visit multiple locations in the city without having to get tickets for each place individually. 
The two most popular passes are:
The Chicago Explorer Pass lets you visit up to 6 attractions of your choice within two months of activation.


The Chicago: Go City All-Inclusive lets you visit as many attractions in the city as you want for the number of days purchased. You can get this pass for 1 to 5 days, and it will help you save 45% on venue tickets.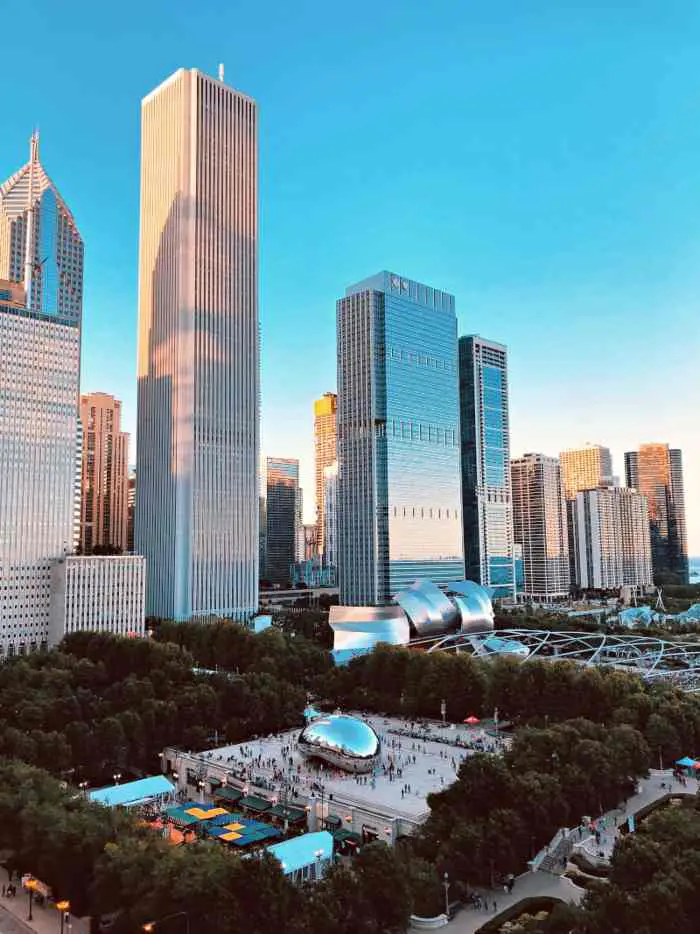 ✓ The best attraction and things to do in Chicago
Top attractions in Chicago include:
→ Don't miss the panoramic views from the 360 Chicago Observation Deck on the 94th floor of the John Hancock Building, featuring a tilting glass lookout 1000 ft. up.

→ Walk through Millenium Park and Cloud Gate.

→ Do visit at least one of Chicago's museums. The Art Institute of Chicago for its noted Impressionist and Post-Impressionist works, the Field Museum, and the Museum of Science and Industry are some of the best.

→ Take a fun stroll around Navy Pier. Maybe hop on the giant Centennial Wheel to view the cit from an entirely different perspective. 

→ The Magnificent Mile should not be missed. 

→ Watch the water show at Buckingham Fountain.

→ Another great viewpoint is the top of the Willis Tower Skydeck, where you'll be able to see up to 50 miles over four states and Lake Michigan.

→ Visit Wrigley Field and catch a game in an iconic American baseball city.
April to September is baseball season where you can catch the Chicago Cubs or White Sox.
October to April is hockey and basketball season for a chance to witness the Chicago Bulls, Chicago Wolves, or Chicago Blackhawks in action.

→ Take an architecture boat tour along the Chicago River, to get a good look at the city's famous architecture. 

→ If you can't get enough of the water, take a boat tour along Lake Michigan. 
It doesn't all have to be tough on your travel fund. Here are a couple of…
✓ Free things to do in Chicago
A trip to Chicago can become quite expensive, but not if you know of the places that are free to visit, and these are some of the nicest ones in the city too. 
The places in Chicago that you can visit free include:
→ Millennium Park, Grant Park, and Maggie Daley Park. 

→ The Chicago Cultural Center

→ The City Gallery at Historic Water Tower

→ The Museum of Contemporary Photography, the National Museum of Mexican Art, and the National Museum of Puerto Rican Arts & Culture. Many other Chicago museums offer free museum days. 

→ Lakefront trail, parks, and beaches. A walk or bike ride along Lakefront Trail comes highly recommended.

→ Chicago Riverwalk. 

→ Navy Pier. 

→ Lincoln Park Conservatory and Lincoln Park Zoo.

→ Garfield Park Conservatory is free, online reservations in advance are recommended. 
My favourite beach is Oak Street Beach. It gives you unmatched views of the Chicago cityscape. Montrose Beach, found further north, has beach activities and also a large area of sand that is popular with families.
✓ Book in advance before traveling Chicago
One of the most helpful travel tips for Chicago: If you are traveling to Chicago, especially in the busy season, it is important to book things in advance. 

Once you have planned the trip, book things like accommodation and attractions in advance. This will allow for better prices, more choice, and less time wasted waiting in queues. 

Tickets to the main attractions are also cheaper when you book in advance. 

Tickets purchased on the spot will cost more or worse case, not even be available in peak season. This is especially true in the case of popular performances and sports games. For such events, advance ticketing will help you to avoid any hassle and even score better seating at the event.

This applies to any popular destination.
✓ Eat like a local: Foods to try in Chicago
Do not, I repeat do NOT, leave the city without trying some of its iconic foods. 
These include:
Deep-dish pizza.
You can't talk about iconic Chicago cuisine without including deep-dish pizza. A must try food in Chicago.


Chicago style hot-dog.
Do NOT ask for ketchup.


Italian Beef Sandwich. Perhaps the most iconic sandwich in all of Chicago. Don't forget to get your sandwich dipped in the special juice. 


Chicago barbecue and steak.


The rainbow cone.


Pizza puffs.


Malört. Say

cheers

!
✓ Greet the locals
It is a friendly city and Chicagoans are generally happy to chat or give directions. "Hello" and "good morning" go a long way.
✓ Final thoughts when planning a Chicago trip 
Chicago is one of the most visited cities in the US, welcoming more than 50 million tourists each year. I am sure this Chicago travel guide has given you all the info you need for an upcoming trip.

If you want to visit this city, the first thing you need to decide is when to visit, depending on what your preferences are, choosing the right place to stay, and booking accommodation and attractions in advance. 

As Chicago has a well-established public transportation network, take advantage of this to save money while in the city. City passes are also a good way to save money and to avoid the hassle of individual bookings. Lastly, do take advantage of the free attractions in Chicago.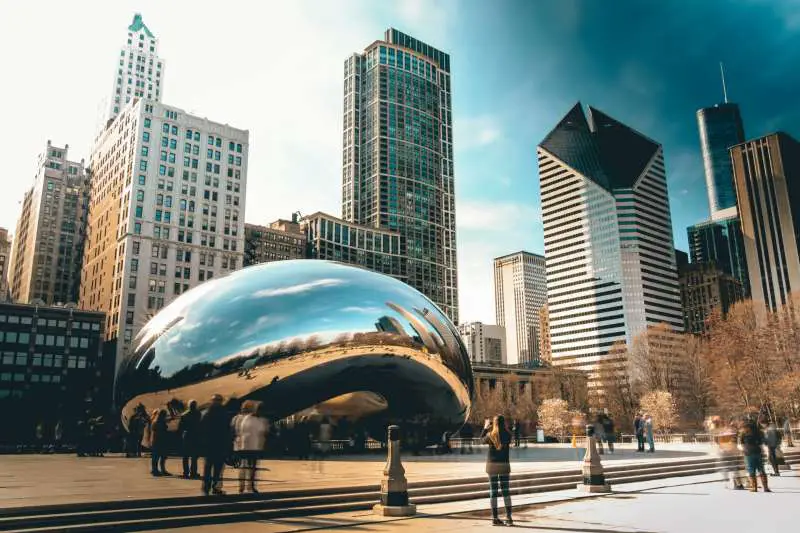 These Chicago travel tips and hacks will ensure you have a great time traveling to Chicago. 

If you have any other travel questions when planning a trip to Chicago, please let me know. 
>> Don't forget to check out these:
Have fun in Chi-town,

Rai