The Best Places To Visit in Spain for First Timers
Sun-filled days. World-famous art. Cosmopolitan cities. Whitewashed villages. Mediterranean beaches. Passionate people. Delicious cuisine. Spain fulfils every expectation of an amazing holiday and travel experience. But, how do you decide where to go during your first trip to Spain. That's what I'm here for. Check out this travel guide on the best places to visit in Spain for first timers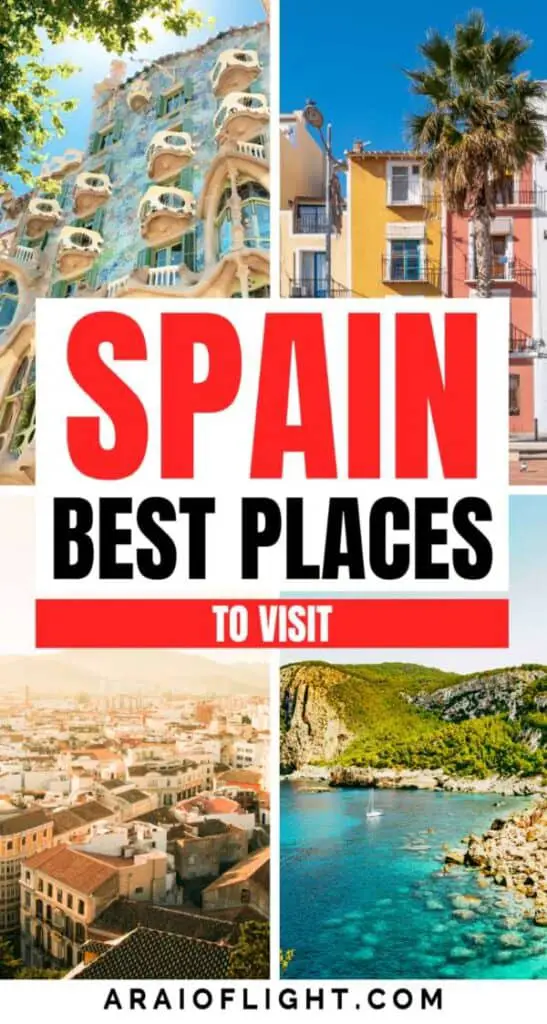 Spain is a popular and favourite destination for millions of tourists each year looking to experience its rich culture and enticing attractions.
The best time to visit Spain is during the spring and fall season. These include the months of April, May, June, September, and October. During this time you will experience pleasant weather and better prices without having to deal with the peak summer crowds of July and August. 
If it's your first time in Spain, I know you'll want to see as much of this country as possible. However, my advice is to not cram too much into a limited vacation time.
There's a good chance you'll love your first time in Spain so much, that you'll be planning a return trip on your flight back home. So take it easy and take some inspiration on where to go in this list of amazing places in Spain to see on your first trip.
>> Read next:
Ok, let's get into it…
First Time in Spain: The Best Places to Visit
What part of Spain is best for your first trip?
1 | Barcelona
One of the most visited cities, not only in Spain, but in the world, Barcelona is must visit destination for first timers in Spain.
World renowned for its unique architecture, art, delicious cuisine, vibrant nightlife, and sandy beaches, Barcelona also has a rich cultural heritage and exciting festivals that attract travellers from around the world. 
This cosmopolitan city found on the coast of northeastern Spain makes for a fantastic holiday destination as a perfect combination of city break and beach vacation.
Highlights of a visit include Park Güell, Casa Batlló, Las Rambla, Barceloneta Beach, Picasso Museum, Gothic Quarter, and Mercado de la Boqueria. The undisputed symbol of the city, the Basilica of the Sagrada Familia, is the most visited attraction in Spain and should not be missed. This unfinished church, Antoni Gaudi's most iconic work, has been under construction since 1882.
Plan to spend around 4 days in Barcelona to see the major attractions and get a good feel of the city without feeling too rushed. Ideally, you'd want to visit between the months of May to June when the weather is ideal for exploring and absent of the humidity that arises in the summer months.
>> Must read:
The best tropical vacations around the world
2 | Madrid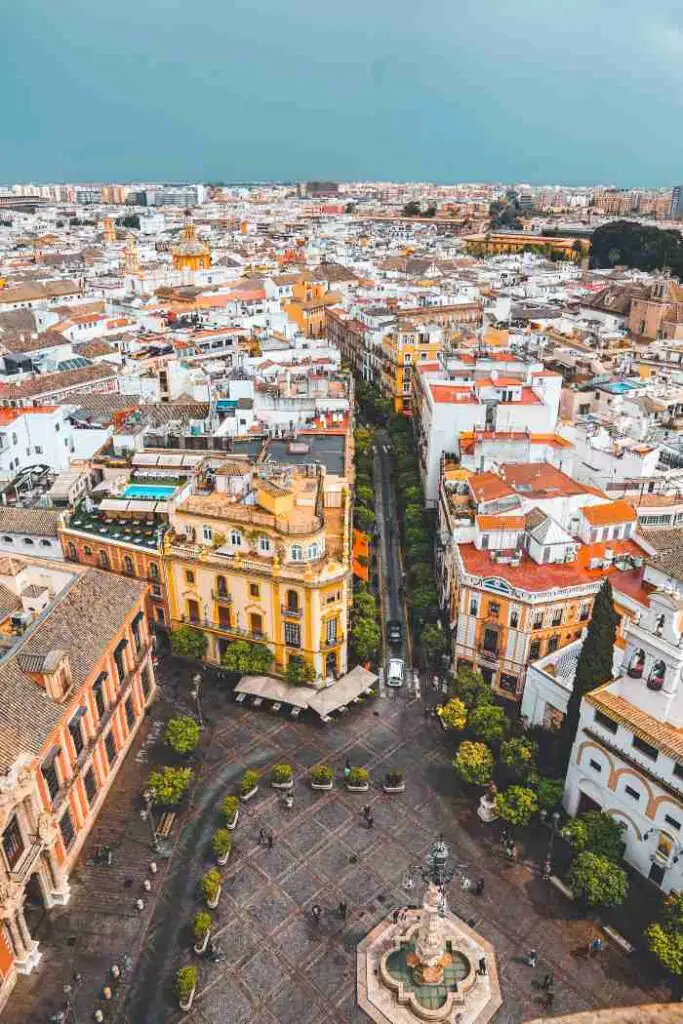 The capital and largest city of the country, Madrid is also the most well connected, making a visit to this sophisticated and cosmopolitan destination the ideal choice as one of the best places to visit in Spain for first timers.
This modern metropolitan city, located in the centre of the Iberian Peninsula, is one of the most exhilarating cities in Spain, filled with invaluable art, pretty neighbourhoods, good food, and a rich history.
A visit to this dynamic city encompasses a wide range of historical and cultural treasure troves. Don't miss a stop at the world-famous Prado Museum, Reina Sofía Museum, Museo Thyssen-Bornemisza, and the Royal Palace. Other highlights of Madrid include Retiro Park, Santiago Bernabeu Stadium, Las Ventas, and Gran Via.
You will be happy to know that Madrid is safe to visit even for the solo female traveller. It is also one of the greenest and sunniest cities in Europe, experiencing over 300 days of sunshine per year.
Two days is a good time to spot the city's best attractions, sample its cuisine, and possibly even get a little off the regular tourist trail. 
>> Related reading:
The most engaging questions about travelling
3 | Granada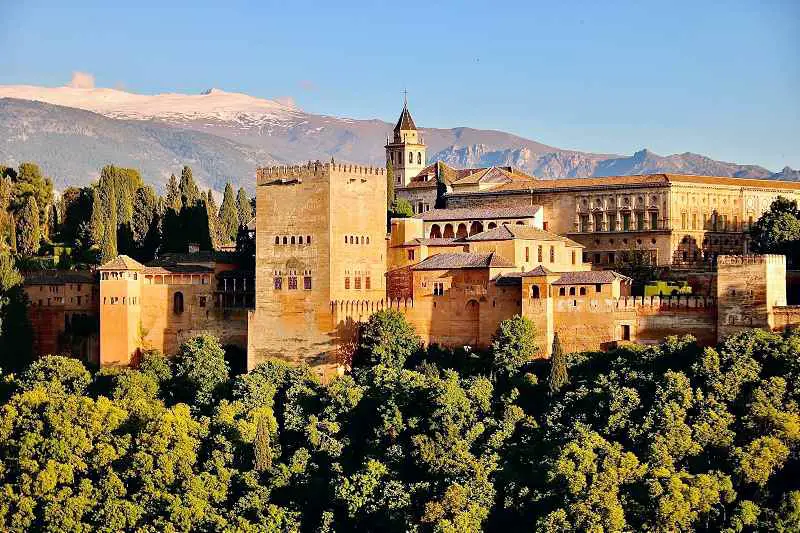 Strategically located in the foothills of the Sierra Nevada mountains in the charming southern Spainish Andalusia region, Granada is next up on this list of places to visit in Spain for first time travellers.
Reasons to visit the gorgeous city of Granada include its exquisite medieval architecture, abundance of attractions, beautiful natural landscapes, pleasant weather, lively flamenco scene, the old Arabic quarter of Albaicín, and its free tapas.
The Moorish hilltop fortress complex of Alhambra is a highlight of a visit to Granada. It is not only the most visited place in the city, but also one of the most famous attractions in all of Spain. Founded by the Nasrid Sultans it is the only surviving palatine city of the Islamic Golden Age and contains royal palaces, reflecting pools, passageways, fountains, and gardens.
While wandering around this dynamic city, take some time to appreciate the many noteworthy artistic and architectural monuments in many styles from Renaissance to Baroque and Neoclassical.
If all of this is not enough to convince you to stop by in Granada during your first trip to Spain, you should know that is is also one of the cheapest cities in the country. 
>> Read next:
The best places in Spain for families
4 | Mallorca (Majorca)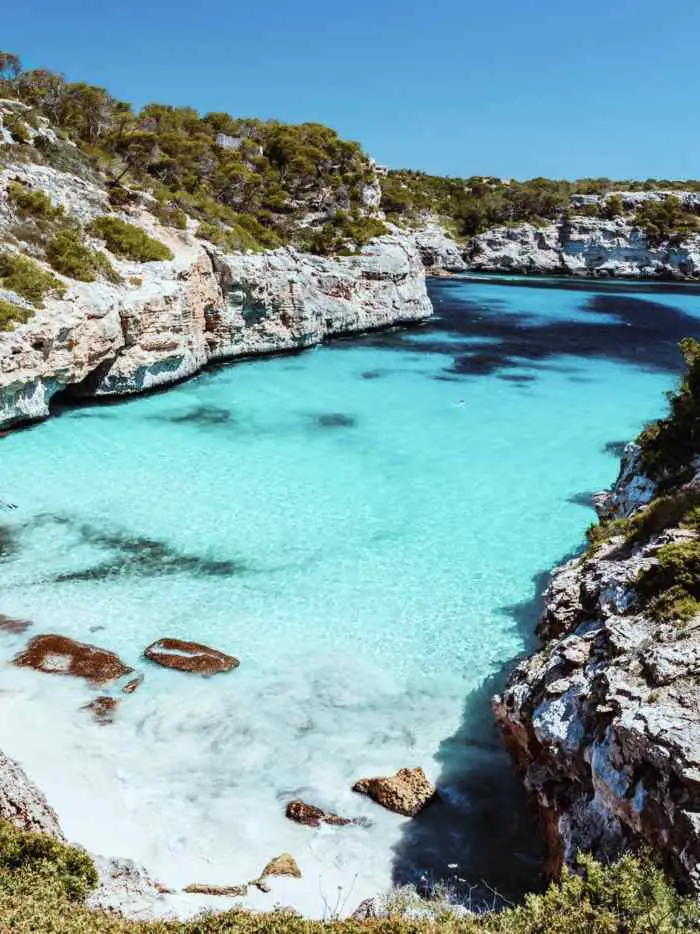 You cannot visit Spain for the first time without getting a taste of its island life. Well, you could, but I would not recommend that.

The islands of Spain are divided into two main groups — the Balearic Islands and the Canary Islands. The former are more accessible, better connected, and easy to get to. So, that's why I've included the popular island of Mallorca on this list.
The largest Balearic Island, Mallorca is a popular tourist holiday destination due to its abundance of beach resorts, and beautiful natural scenery that encompasses turquoise waters, amazing beaches, limestone mountains, and secluded coves. 
This Spanish island also has excellent travel connections to the mainland and the rest of Europe, making getting here quite the breeze. It offers a safe environment for families, friends, and solo travellers in Spain.
This sought-after destination in the Mediterranean enjoys long hot summers and this is the best time to visit. While on the island, don't miss Calò des Moro, Santa Maria Cathedral, Castell de Bellver, Drach Caves, Valldemossa, and Cala Llombards. No vacation in Spain is complete without a stop in Mallorca.
>> Check out this list of:
The best island vacations for families
5 | Seville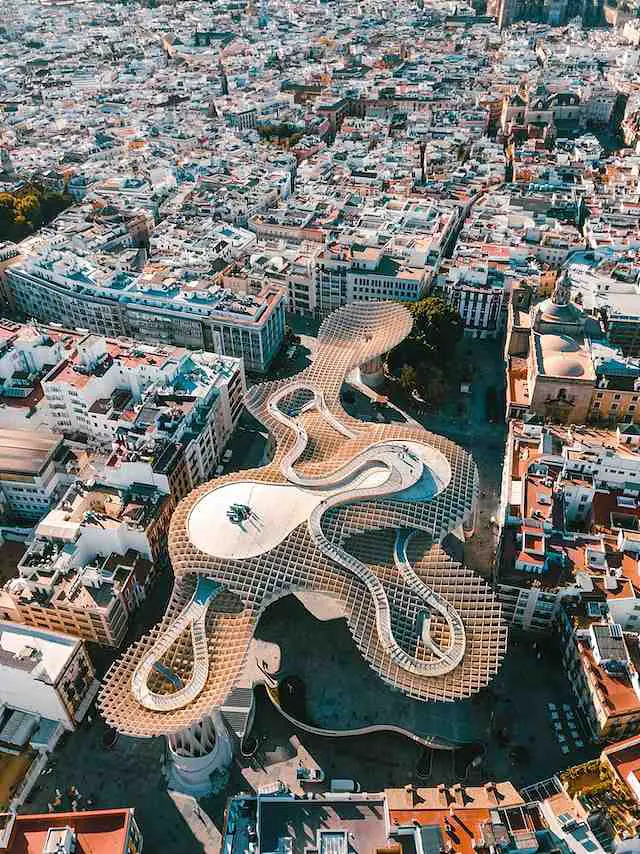 The city of flamenco, tapas, and sangria, not to mention its rich historical and architectural legacy, Seville is one of the most renowned cities in Andalucia. No list of places to visit in Spain on your first trip would be complete without including this city of passion where Moorish monuments perfectly intertwine with Gothic cathedrals.
Situated in the southwest of the Iberian Peninsula, Seville is a relatively small Spanish city and you should plan on spending at least three days to give you enough time to check out the landmarks of the city, maybe catch a flamenco show, and definitely indulge in some of the country's most iconic tapas. 
Major attractions of Seville include the Royal Alcázar, Plaza de Espana, Catedal de Sevilla, Parque de Maria Luisa, El Rinconcillo, Giralda Tower, Barrio Santa Cruz, and Torro del Oro.
It is worth noting that Seville is one of the hottest cities in Europe and the best time to visit is between March and May when the temperatures are mild and before the arrival of the summer crowds. 
>> Read next:
How to visit Aruba flamingo beach
6 | Basque Country
Located in the western Pyrenees along the coast of the Bay of Biscay on the northern Atlantic coast, the Basque Country is an autonomous community in northern Spain. 
This region that is home to awe-inspiring natural landscapes, world-class dining, and amazing museums comprises of three main cultural centres, each with its own unique identity. These are Bilbao, San Sebastián, and Vitoria-Gasteiz.
The riverside city of Bilbao offers something for everyone. This picturesque hub of architecture and design elegantly combines its industrial heritage, vintage district, and modern architecture. Landmarks include the Guggenheim Museum, Mercado de la Ribera, and the Museum of Fine Art of Bilbao.
San Sebastián is often described as one of the best places in the world to eat with its gourmet food stores, fresh food markets, pintxo bars, and Michelin-starred restaurants. Must try foods include Gilda pintxo, txuleta, fresh foie gras, idiazabal cheese, and salt cod. In-between all that eating, be sure to schedule some time to wander the Old Town and to check out the beaches.
Other highlights of a visit include the islet of Gaztelugatxe, the Erribera merkatua, Sainte-Marie Cathédrale, La Concha Beach, Lekeitio, and Mundaka.

To get a decent feel for the region and have sufficient time to explore the major cities as well as some smaller towns in the countryside, it is recommended to spend at least 5 days in Basque Country.
>> All this talk of delicious food and you have to check out these
exotic foods around the world
7 | Toledo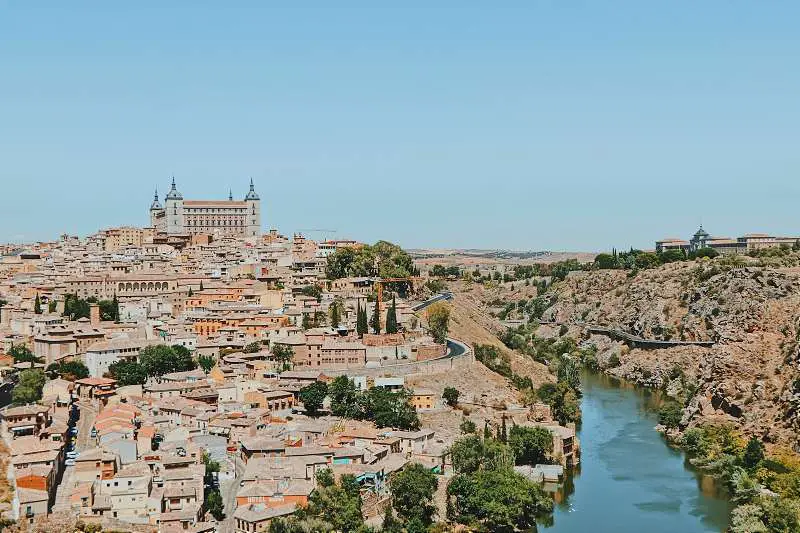 Located on the banks of the Tagus in central Iberia, the Imperial City of Toledo is one of the oldest and most unique cities and one of the best places to visit in Spain for first timers.
This ancient city in central Castilla-La Mancha region has a wealth of historical attractions and is home to one of the best-preserved old towns as well as the second largest church in the country.
The former Spanish capital, a World Heritage Site, is a city of superlatives. With three cultures, swords that are world-famous, and Marzipan that is a culinary art, Toledo is a feast for the travel lover.
Start your explorations in Toledo with a visit to the Toledo Primada Santa María Cathedral followed by a stop at Alcázar, Plaza de Zocodover, and Mezquita del Cristo de la Luz. Don't miss Puerta de Bisagra, El Greco Museum, and El Tránsito Synagogue and Museum.
It is pretty easy to get to Toledo from Madrid, with 30-minute trains departing every hour. A visit to the city can even be done as a day trip. Whatever you choose, make a visit to Toledo a top priority when travelling to Spain for the first time. 
8 | Ibiza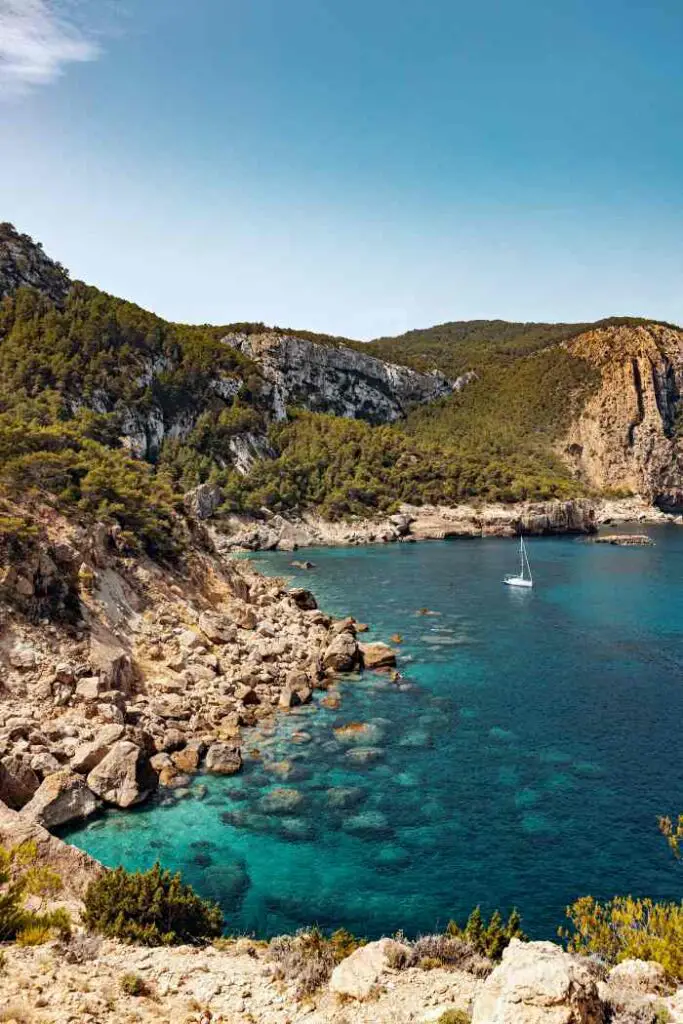 Beautiful beaches. Insane nightlife. Scenic landscapes. Fantastic sunsets. World-class restaurants. Yoga retreats. The island of Ibiza, another of the Balearic islands, has it all. 
Even though Ibiza is notorious for its nightlife and dance music club scene in the summer and the undisputed top party destination in Europe, there is much more to the White Isle than meets the eye.
Don't miss a visit to Dalt Vila, Es Vedrá, the rhythms in Benirrás, the hippie markets, the Old Town, a hike in Sa Talaia, and a day in Formentera to check out the pink beach of Playa de Ses Illetes. 
Naturally, no visit to Ibiza is complete without visiting its beaches and secluded coves. Top sights include Cala Comte, Parque natural de sea Salines, Cala Bassa, Cala Nova, Playa Cala Salada, Playa d'en Bossa, and Cala d'Hort.
You should plan to spend at least 5 days on the island to give you plenty of time to do all of this while leaving some room for leisure time. 
9 | Malaga
Malaga, with its two thousand-eight hundred years of history, is one of the oldest cities in the world. This fascinating city in Spain attracts visitors with its artistic culture, Roman remains, and Arab palaces.
Wander around and you'll also discover art galleries, museums, plazas, fountains, and gardens worth exploring. You will be pleased to know that the historic center is compact and car-free with many of the main tourist attractions within walking distance of each other. This makes it a great city for walking, in addition to its good public transport system. 
The cathedral of Malaga, with an interesting history of its own, is the focal point of the city and a must visit. Other essential things to see in Malaga include the Alcazaba, the Roman Theatre, Plaza de la Merced, the Picasso Museum, Gibraltar Castle, Malaga Park, and Plaza de la Constitución.
Malaga is also famous for its music, including a wide range of music bars, cafes, and nightclubs. If this is your thing, head to Plaza de Uncibay.
Make sure to take some leisure time to relax on the shore, explore the beautiful old town, visit Puerto Banus, and play some golf.
You will want to base your stay in Málaga Centro as this is the best location for sightseeing & first-timers to this part of Spain.
The Costa del Sol capital is also the perfect base from which to explore the surrounding region of Andalucia. The region's WhiteHillTowns (Pueblos Blancos), are charming and remain one of the places in Spain for first time visitors.
10 | Marbella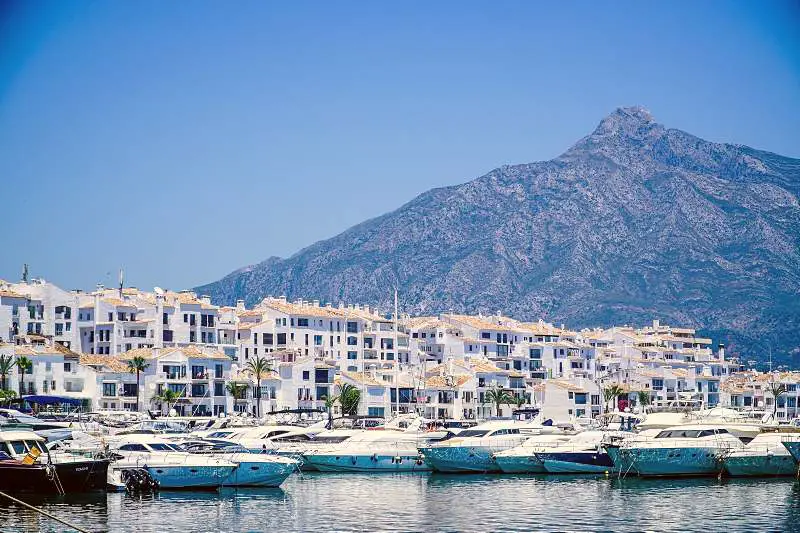 Lying along Spain's southern Costa del Sol, Marbella is a beautiful resort town fronted by the azure waters of the Mediterranean. It has a sophisticated vibe and is home to glamorous resorts, gleaming designer stores, and world-class restaurants. Thus, Marbella would be a great destination for upscale travellers wanting to experience some extravagance on their trip to Spain. One of the luxury indulgences one can enjoy in Marbella is staying in a large villa with a concierge service.
Although Marbella is a favourite destination for the rich and famous, the island caters to other types of travellers, too. If you are into culture and history, you'll have fun exploring the remnants of historic Andalusia on the cobblestone alleys of the Old Quarter. 
If you need a break from sightseeing, make your way to Marbella's picturesque beaches, such as Puerto Cabopino, where you'll find fine dunes surrounded by pine trees and rolling waves. The beach has amenities that allow you to relax in comfort all day, such as sun loungers, restrooms, bars, and restaurants.
---
This list of Spanish holiday destinations will give you a good starting point when deciding where to go in Spain on your first trip.
Any questions about where to go and what to do, do not hesitate to let me know.
Have a great time in Spain.
Adiós!
Rai