Paradise in Pink at these 15 Amazing Pink Sand Beaches in the World ❤️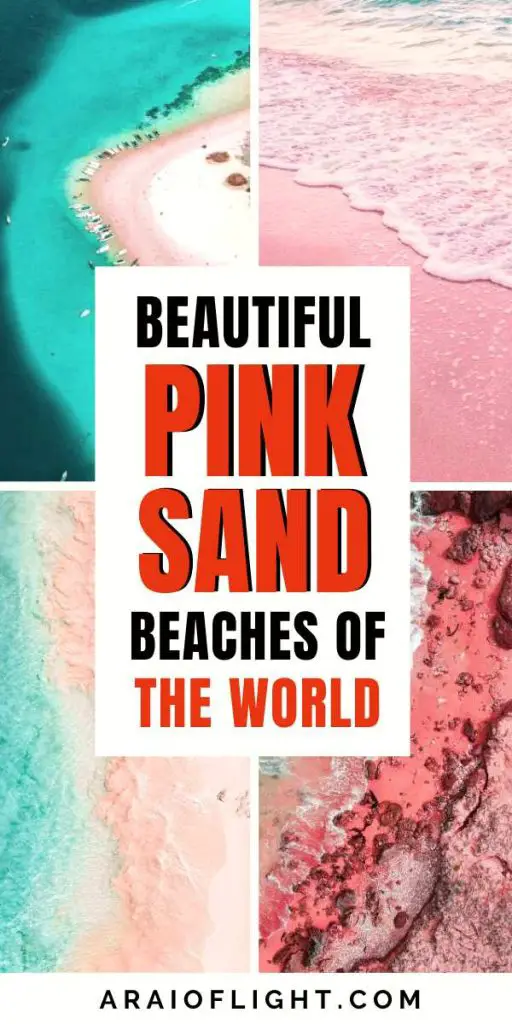 Paradise doesn't always fit the standard spectacular azure-blue waters, inviting lagoons, secluded alcoves, tropical palm trees, and powdery soft white sand beaches. Sometimes it delights in beaches with pink sand. With only a handful across the planet, this striking phenomenon is a rare sight in nature. I've hand-picked the world's most beautiful pink sand beaches to marvel at and to perhaps inspire a visit, so let's not waste any time and dive into them.
I know, you may be wondering…
Is pink beach real and is the sand really pink?
Although they may look like something out of a fantasy land, these beaches are real and a naturally occurring phenomenon. Often bordered by turquoise waves and clear waters, it makes for a surreal sight. The pink hues that range in color from rose to coral is created over time by the single-celled micro organisms with pink shells that wash ashore and mix with the white sand. The vibrancy in the color also results from the large amount of minuscule broken coral segments and seashells along the shore.
How many pink sand beaches are there in the world?
There are around 15 pink-sand beaches worldwide. With only a handful, the uniqueness and rarity of the experience makes it that much more memorable. The sand appears a pink color due to the combination of red coral and white sand. 
What country has pink sand beaches?
You will find this distinctive pink phenomenon in a small number of countries across the globe. These include the Bahamas, Bermuda, Indonesia, Greece, French Polynesia, USA, Italy, Barbados, Philippines, Barbuda, Spain, and Bonaire.
Why do some beaches have pink sand: What causes pink sand?
The unusual pink hues of the sand are derived from the organic combination of marine organisms called Foraminifera, corals, shells, calcium carbonate, and pure white beach sand.

The Foraminifera are single-celled crustaceans found in abundance in the ocean, living on the underside of coral-reefs, on the sea bed, and in caves. Of the thousands of species of forams, only a few grow bright red shells. Resembling tiny strawberries, they play an important role in the ecosystem.

When the foraminifera die their shells are ground into tiny particles due to the continuous motion of the ocean. The remains wash ashore, along with an immeasurable amount of coral pieces and shells, mixing with the sand on the beach. The result is pink sand ranging in hues from burgundy and rose to fuchsia and carnelian. 
>> Must read:
10 best (+ cheapest) tropical islands to visit around the world
Which Caribbean island has pink sand?
A handful of Caribbean islands are home to exotic beaches with pink sand. These include the Bahamas, Bermuda, Barbados, Barbuda, and Bonaire. Continue reading to discover them all.
Also remember to put it back.….

Although this unique sight both in terms of sight and feel is tempting, removing any sand from the beach dilutes the color and could mess with the ecosystem. In many places, it is also illegal to do so. If you really want a sample, look out for souvenir shops in the area that usually sell a bottle for just a couple dollars. 
Pro tip:  For the best photo opportunities, visit early in the morning. This is when the colors of the beach shine the brightest and the pink is really pronounced.  
>> Read next:
Time to get a closer look at the:
15 Beautiful Beaches with Pink Sand around the World | Paradise in Pink
A slice of paradise in pink…..
First up….
1 | Harbour Island Pink Sands Beach — Bahamas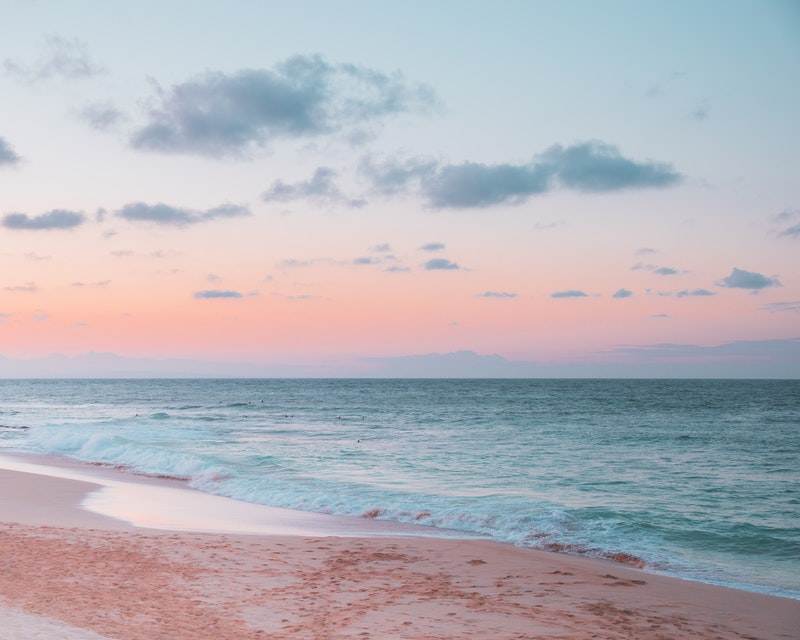 More than 700 islands and reefs make up the archipelago that is the Bahamas. Most of these remain uninhabited, only adding to its appeal. Harbour Island is one of these islands with miles of some of the best beaches in the Caribbean. This small and tranquil isle, lying east of Nassau, extends just over 3,4 miles long and 1,5 miles wide.

The best among these, and perhaps the most famous of all the pink sand beaches around the world, is Harbour Island Pink Sands Beach. Here you will find a coastline, consistently regarded as one of the best, comprising pristine pink sand that is fine, powdery and a delight to walk on. This pastel-pink sand is even more prominent during sunrise and sunset. 

Found on the east side of Harbour Island, the unique beach is complemented with turquoise blue waters that are ideal for swimming and snorkelling. The island also contains one of the world's best dive sites, Current Cut Dive. The tropical vibes, pristine landscape, and beautiful setting makes for a tranquil escape. 
Why does Harbor Island have pink sand:
The rose-colored tones of the Bahamas are formed due to the single-celled micro organisms, called foraminifera, that wash ashore and mix with the white sand. Of the numerous species of foraminifera, a handful grow red shells, resembling miniature strawberries. A particularly large population of these creatures grow offshore along some of the beaches of the Bahamas including Harbour Island. The vibrancy in the color also comes from the infinite number of tiny pink pieces of broken coral and seashells along the beach. 
How to get to Harbor Island:
Lynden Pindling International Airport (NAS), the largest airport in the Bahamas, lies near the capital city Nassau. It is a 30-minute flight from here to reach North Eleuthera Airport. Direct flights from Fort Lauderdale and Miami to North Eleuthera are also possible.

From here, it is a short taxi ride to the ferry dock followed by a quick boat ride to Harbour Island.
Other beaches that have pink sand in the Bahamas:
Other than Harbor Island, these include Pink Beach on Cat Island and Pink Beach on Eleuthera Island. 
Where to stay:
The oceanfront Pink Sands Resort features 3 miles of pink sand beach, a freshwater pool, and 25 cottages spread across a 20-acre sanctuary. Apart from the beauty and tranquility on offer, these luxurious cottages are also sought after for their panoramic ocean views.
You absolutely cannot miss seeing….
2 | Horseshoe Bay Beach — Bermuda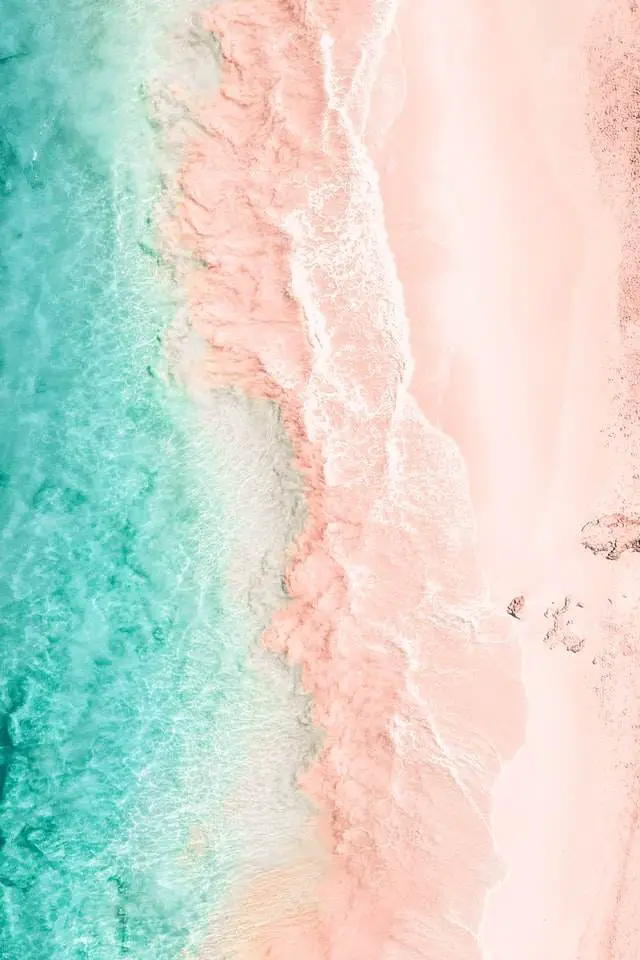 Next up we head to the most famous pink sand beach in Bermuda, Horseshoe Bay. Well regarded as one of the best beaches in the world, it is found on the south coast of the island in the Southampton neighborhood.

It gets its name from the shape of the coastline and unlike many of the other beaches on this list, Horseshoe Bay is a desired vacation destination visited by thousand of tourists each year. Visitors flock to enjoy the azure waters surrounded by limestone cliffs, secluded coves, coastal trails, and unspoiled reefs. In addition to swimming, sunbathing, and snorkeling, hiking, jogging, and volleyball are popular activities. 
This subtropical island has a coastline that extends for over 75 miles. Of this, only the beaches on the south shore have a pale pink salmon-colored tone, stretching for 21 miles. The glistening pink color is from the red microscopic Foraminifera that grow on the base of the Bermuda's coral reefs.
Other beaches with pink sand in Bermuda are Chaplin Bay Beach, Warwick Long Bay, Elbow Beach, and Stonehole Bay Beach. 
How to get to Horseshoe Bay Beach:
Direct flights connect Bermuda to various cities of the US, Canada, and the UK. On arrival in Bermuda's L.F. Wade International Airport (BDA), Horseshoe Bay is easy to reach by public transportation. Take local bus number 7 from Hamilton City or the Royal Naval Dockyard.There is also the option to arrive via private taxi, scooter, minibus, and electric car.
Where to stay:
For luxury accommodation, check out the Hamilton Princess & Beach Club. Located along Hamilton Harbour, this luxury waterfront hotel features an infinity pool, 4 on-site restaurants, a fitness centre, and Hamilton Harbour views.
Next up:
3 | Elafonissi Beach — Crete, Greece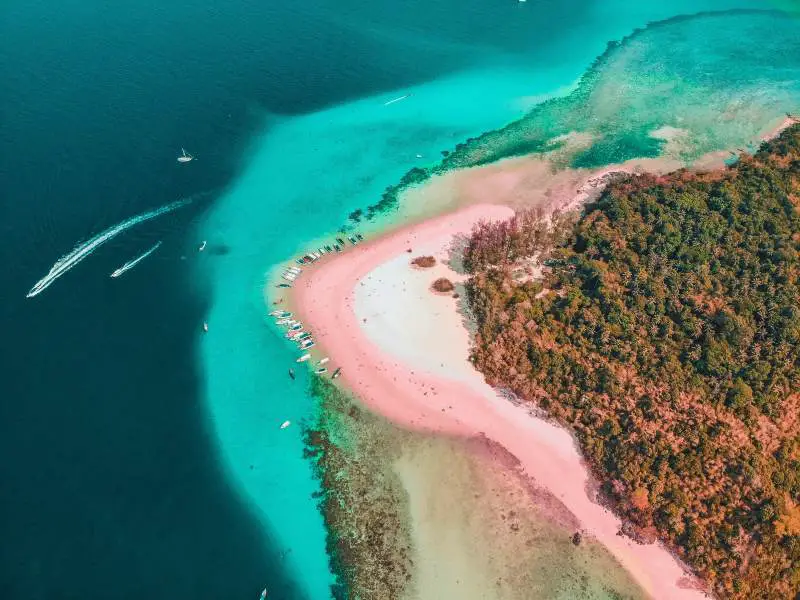 Perfect placed on the southwestern side of Crete in Greece, the peninsula of Elafonisi lies connected to the mainland under water. This protected nature reserve features beautiful beaches with fine pink sands, turquoise waters and one of the best beaches in all of Europe.

Spanning over 150 ha, Elafonisi is easily accessed from the mainland by walking across a sandbar. It is popular among families due to its warm, shallow waters. It also attracts nature lovers for its rare animals, plants, dunes, rock formations, and cedar forests.
Although the majority of the sand at Elafonissi is white, the rose-hued sand, stretching almost one mile long, gets its surreal color from thousands of broken seashells. In an area filled with scenic mountains, quaint villages, Minoan ruins, and inviting scenery, the pink beach stands apart and should not be missed.
Other beaches with pink sand that you will find in Greece is the Beach of Bálos and Pachia Ammos.
How to get to Elafonissi Beach:
Numerous daily direct flights from Athens International Airport Eleftherios Venizelos (ATH) will get you to either of the airports on Crete that include Heraklion (HER), Chania (CHQ), and Sitia (JSH).

The best and easiest option would then be to rent a car and drive here, with this part of the journey taking around 1.5 hours. There is also the option to arrive here via taxi. 
Where to stay:
Elafonisi Village lies a stone's throw away and allows one the opportunity to enjoy the beach and its surroundings before the daily crowds arrive and after they have left. The ten cozy rooms all feature air conditioning, a fridge, and room service.
Check out this guide on everything to know about:
Island hopping in Greece
Tropical state of mind at…
4 | Pantai Merah Pink Beach — Komodo Island, Indonesia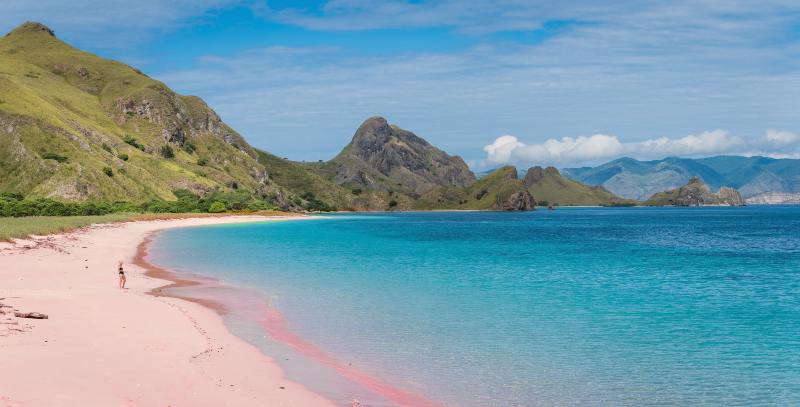 Indonesia is home to some of the world's most beautiful beaches. An island that's part of the Komodo National Park, Komodo Island in East Nusa Tenggara is home to one such pink beach known as Pantai Merah. 
The sand gets its colored appearance from the mixing of red coral with white sand. There is a long stretch of pink sand that you'll be hard-pressed to find elsewhere, and when you combine that with crystal clear waves and incredible coral life, it's an unforgettable experience. 
You can grab a snorkel and explore the shallow ledges, then grab lunch and head for a hike up the hill. From this vantage point enjoy unmatched views of green rolling hills, turquoise waters, and pink sands.

The best thing about Pantai Merah is the fact that it's a rather secluded beach and not really a tourist haven. This should give you a fair bit of privacy and make the entire experience a lot more intimate.

Pantai Merah, known locally as Red Beach, is just one of the features of Komodo Island. The island is also home to the Komodo dragon, the largest living lizard. 
Is there a pink beach in Bali?
No, not on the island of Bali itself.

However, you will find pink beaches on the nearby islands of Komodo and Lombok in East Nusa Tenggara.
Where is the beach pink in Indonesia?
There is not just one beach with pink sand, but a handful located across Indonesia. The most famous and well known is the pink beach of Komodo Island in East Nusa Tenggara.

Other unusual beaches with bright pink sand to visit in Indonesia include Tangsi Beach in Lombok Island, Namong Beach on Komodo, and Lambu Beach in Bima Island.
How to get to Komodo Island:
The best way to get to Komodo National Park is through Bali. Ngurah Rai International Airport (DPS), the main airport in Bali, is well connected to hubs around the world. 

Once in Bali, a local flight will get you to Labuan Bajo, the gateway to the Komodo islands. There are generally four daily flights with a duration of 1h 15 minutes.

From here proceed to Komodo by boat from the port of Labuan Bajo. The journey normally takes 1,5 hours with a speedboat and around 3 hours using a slow boat. 
Where to stay near Komodo Island:
The Plataran Komodo Beach Resort is the ultimate in luxury and local hospitality. Located along Waecicu Private Beach at Labuan Bajo on Flores Island, facilities include a pool, yoga deck, sauna and spa. Every room features floor to ceiling windows and a balcony while the on location private jetty is convenient to transport you to Komodo.
Let's head to America:
5 | Pfeiffer Beach — Big Sur, California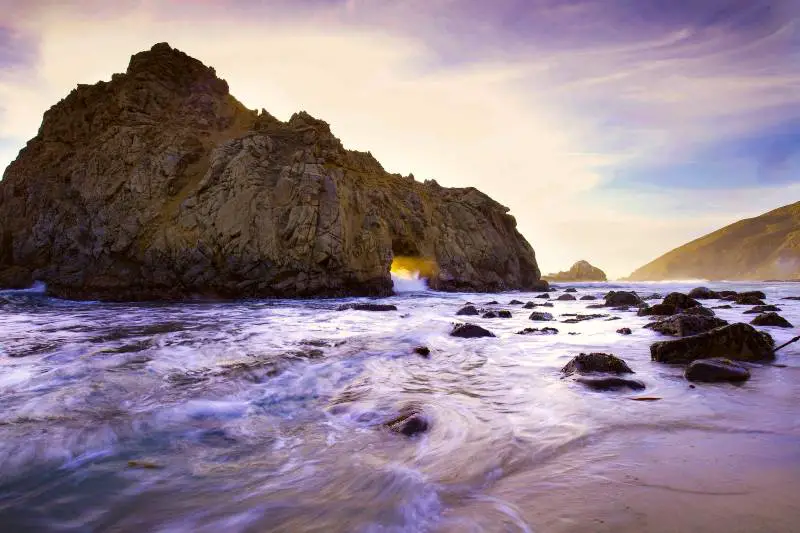 Are there any pink sand beaches in the US? 
Yes, Pfeiffer Beach in California. Located along one of the world's finest coastal stretches, the beach comprises incredible sand with a captivating rose tint. Set within the Los Padres National Forest, the colors are enhanced with purple hues and some rather spectacular views of the cliffs and boulders that surround the shoreline.
This rare and unique pink-purplish sand beach is the result of the manganese garnet and quartz rock formations that are found in the hills surrounding the area. The color is most visible immediately following the rain and much more pronounced in the sections where the azure-colored waves crash upon the shore, creating a striking contrast.
While here, be sure to make a stop at Keyhole Rock. This natural arch is a magnificent subject for photographers, especially if you're patient enough to wait for sunset. Unfortunately, swimming isn't really a good idea because of strong currents and fierce waves, but the place does offer other opportunities to be active. Find an abundance of sea caves to explore, rock formations to hike, boulders to climb, and an 80-foot waterfall to discover.

Although Pfeiffer Beach is hard to get to and very much off of the beaten path, it is completely worth the time and effort required to get there. While California may not be as exotic of a destination as the others on our list, Pfeiffer Beach is a must-visit. 
How to get to Pfeiffer Beach:
Located a few miles from the Big Sur area, Pfeiffer Beach is accessed from the west side of California Highway 1. From here the unsigned Sycamore Canyon Road winds its way down to the shore.
Where to stay:
Perfectly set on a cliff with unobstructed view of the Pacific Ocean, Ventana Alila Resort makes for a memorable Big Sur getaway. This luxury ranch-style boutique hotel features 2 cliff-top infinity pools, a fitness center, and a restaurant. The suites and tree-houses come with private decks, wood-burning fireplaces, and spa pools.
American bucket list:
List of the best vacation spots in the USA
Miles of beauty at:
6 | 17 Mile Beach — Barbuda Caribbean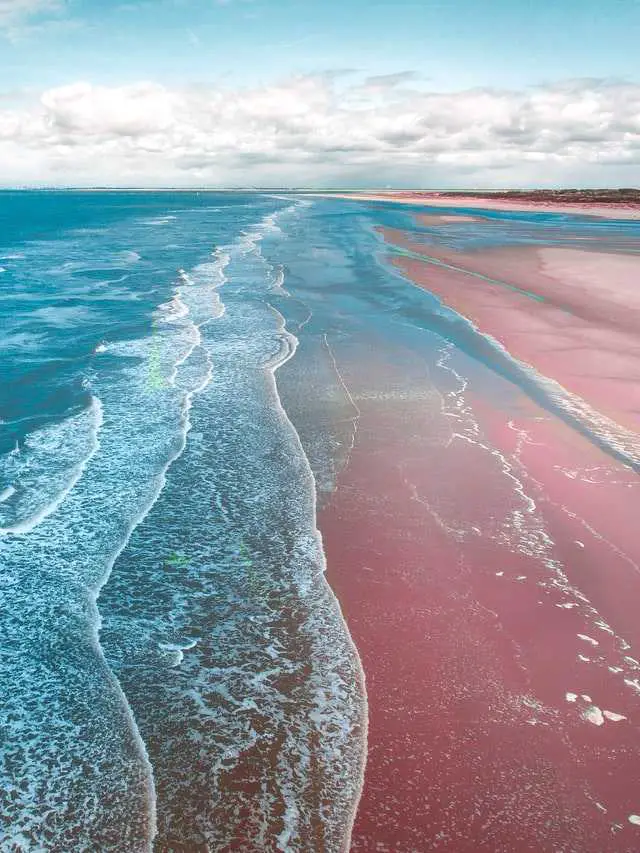 With a Valentine-rose tint, Barbuda's beaches have an incredibly romantic vibe. If you want to enjoy a peaceful, secluded spot with some privacy in the sun, the 17 Mile Beach is the one to head to.

One of the best things about Barbuda is that this small isle is seemingly yet to discovered by tourists. Its escape from mass tourism is helped due to its unique land ownership laws. Along with this, its remote location in the middle of the Leeward Islands means that privacy, intimacy, and tranquility are almost guaranteed whenever you go. There is only one village on the entire island. Barbuda is the perfect vacation spot for replacing skyscrapers and nightlife for a beautiful beach experience.
This haven offers an impressive 17 miles of pink sand shoreline. The secluded beach is unspoilt and offers a truly off the beaten path seaside experience.

It also hosts a very interesting marine life. If you're a fan of snorkeling or diving, grab some gear and enjoy the crystal clear waters and abundance of coral life resulting from the confluence of the Caribbean Sea and the Atlantic Ocean. Keep an eye out for sea turtles, sharks, and rays.
Other pursuits on offer include exploring caves, the frigate bird colony, the ruins of Highland House, and Art Cafe. 

Sadly, Barbuda was badly hit by Hurricane Irma in 2017.  The best way to experience the island is as part of a day trip from neighboring Antigua.
How to get to Barbuda:
All international flights arrive at the V.C. Bird International (ANU). From here there are two options to get to neighboring Barbuda. A helicopter or propeller plane to Codrington Airport. Or via a 90-minute Antigua Barbuda ferry service.
Where to stay:
My top pick would be Carlisle Bay Antigua. Its location on the southern coast surrounded by the foothills of the rain forest are hard to beat. Facilities at this family friendly resort include a spa, a yoga pavilion, tennis courts, a water sports centre, a library, and a kids club.
Escape to paradise at the …
7 | Pink Beaches of Tikehau — Tahiti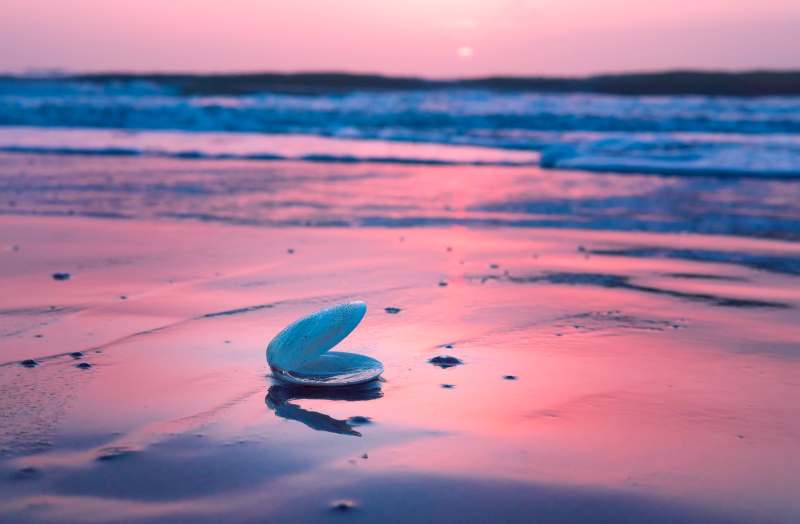 The island of Tikehau, found in the Tuamotu Archipelago, is as remote as one can get. This slice of paradise in French Polynesia is where you will find pristine lagoons, inviting azure waters, secluded alcoves, and powdery soft sandy beaches. 
The Tikehau atoll comprises a handful of rose white beaches that form a perfect ring around a natural emerald-colored lagoon. Just like the others on this list, the pink tones are from the presence of the microscopic creatures whose shells are ground into tiny particles and washed ashore to mix with the white sand of the beach.
The 18-mile wide, 100-foot-deep lagoon has a rich marine life featuring everything from reef sharks and eagle rays to dolphins and turtles. Spending as much time in and around the beautiful waters is almost compulsory with swimming, kayaking, fishing, snorkeling, and scuba diving being the activities of choice. Tuheiava Pass on the isle's west coast offers some of the best diving and should not be missed.

Tikehau translates to "peaceful landing," and calm and serenity are guaranteed from the moment you arrive. The tiny atoll lies over 200 miles northeast of Tahiti. Tourists are minimal and with just a couple hundred permanent residents, it makes for the ideal secluded getaway. Another must visit pink beach is Les Sables Roses on Rangiroa.
How to get to Tikehau:
Faa'a International Airport (PPT), on Tahiti, is French Polynesia's only international airport, served by numerous airlines around the world. From here, Air Tahiti has a number of non-stop connecting flights to Tikehau Airport, lasting fifty-five minutes, from the region's capital, Papeete. There are also regular flights from Rangiroa.
Where to stay:
You will feel worlds away at Le Tikehau by Pearl Resorts. The thatched-roof suites and overwater bungalows are surrounded by acres of unspoilt beach, expansive oceans views and wild coconut groves. Facilities at this 4-star boutique hotel include an infinity pool, a spa, a poolside bar, and a Polynesian fusion restaurant with ocean views to match.
>> Learn more:
Everything to know about Bora Bora in French Polynesia
8 | Spiaggia Rosa — Budelli Isola Sardinia, Italy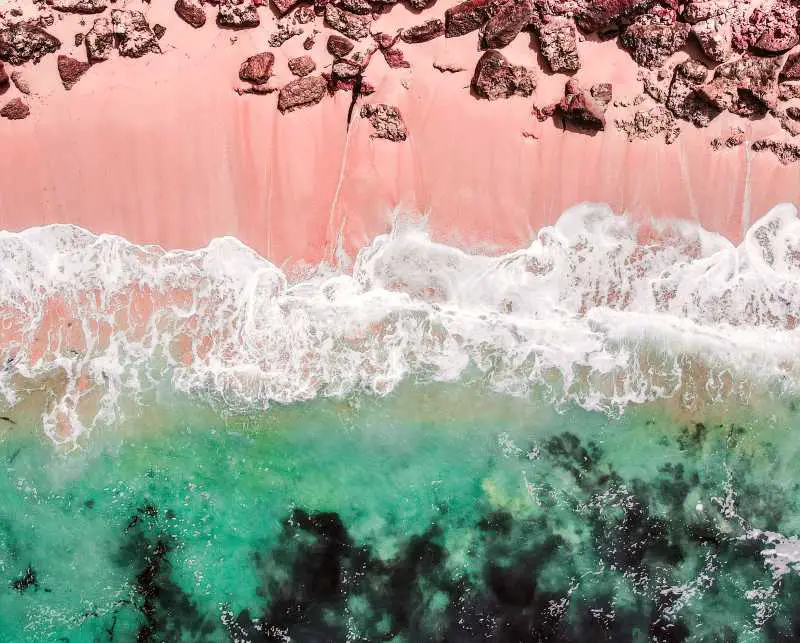 Budelli Island, found just off the northern coast of Sardinia, is well known for its pristine landscapes and environmental treasures. One of the most beautiful islands in the Mediterranean, it forms part of the La Maddalena geomarine National Park. This tiny uninhabited island is also home to a lovely beach with pink sand. 
Known locally as Spiaggia Rosa, the beach is naturally shielded by granite rocks and deep blue waters. As one of the world's best beaches, it is rich in coral and gets its pastel pink tones from the mixture of red coral, granite, and shells.
As enticing as it may sound, Spiaggia Rosa beach is permanently off limits to the public. This ruling, passed in 1994, was made to preserve the beach, its environment, and to prevent tourists from taking jars of this pink sand away with them. The beach can be seen while on a boat trip or from the adjacent Spiaggia del Cavaliere. While on the boat keep an eye out for dolphins that regularly frequent the region. 
Another unusual beach worth visiting in Sardinia is Porto Ferro. This one-mile stretch of shoreline has a unique orange color due to the mix of orange limestone and volcanic rocks found in the surrounding area.
How to get to Budelli:
Olbia Costa Smeralda Airport is best airport to fly into as it provides the most convenient access to Budelli Island. Another option is via the port at Olbia. It is worth noting that access to Budelli is controlled to preserve the environment. The best option would be to make prior arrangements with a tour agent in the coastal towns of Olbia or even Palau.
Where to stay:
Il Gabbiano is perfectly located on La Maddalena and boasts stunning views of the crystal clear waters and the surrounding islets. Popular for couples, all the rooms feature a balcony with this view. Highlights of a stay include time at the sun terrace, the private garden, and private dock.
Look at this…
9 | Crane Beach — Barbados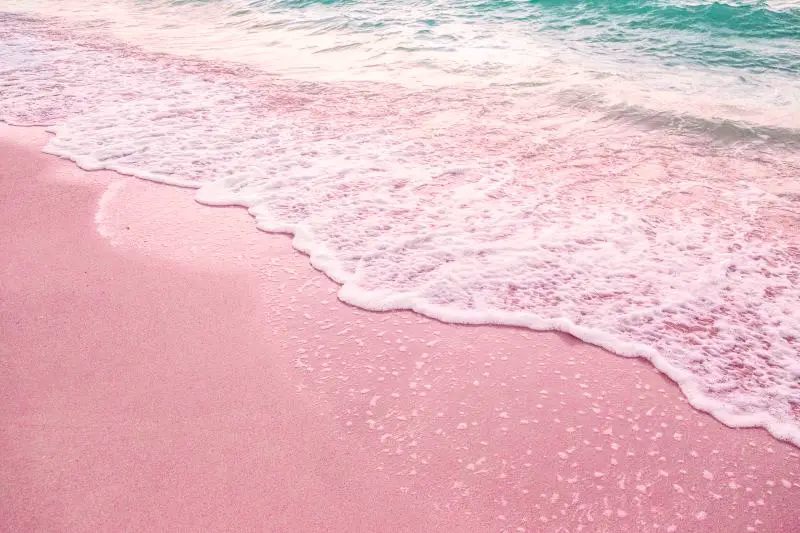 Let's head back to the Caribbean because you know there's no shortage of beautiful beaches in this part of the world. Next up is Crane Beach found on the island of Barbados.

Originally a harbor and commercial port in the 18th century, the beach gets its name from the cargo crane that was its most memorable feature.
Does Barbados have pink sand?
These days you can expect a powdery soft rose-toned beach, set against a pretty backdrop of turquoise waters and coconut trees. Offering the best swimming post on the island due to the coral reef that acts as a natural barrier, it's not difficult to see why Crane Beach is one of the best beaches in Barbados.
While many on this list of best pink sand beaches have calm waters, Crane Beach offers ideal waves to make this a sought-after boogie board destination.
How to get to Crane Beach:
Once in Barbados, you have the option of taking a bus or taxi to get to Crane Beach. Access is provided through the stairway or glass-front elevator at the Crane Resort. There's also an entrance at the far end of the beach through a rocky path.
Where to stay:
Guests of the luxurious Crane Resort, one of the oldest operating hotels in the Caribbean, have direct access to this pristine strip of sand. In addition, they also have free access to all amenities on offer that include beach umbrellas, loungers, and towels. Each classically-styled room features vaulted ceilings and a 4 poster king sized bed. You will also find a shopping complex, fitness centre, spa, and several inviting pools spread across the property.
10 | Tangsi Beach — Lombok Indonesia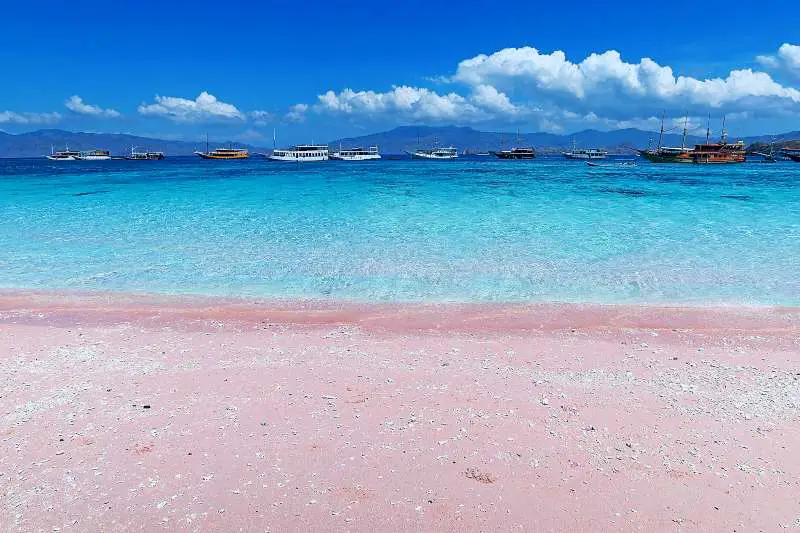 I know – Indonesia again? But you just can't talk about pink beaches and not mention Pantai Tangsi, which is a miraculous pink spectacle located on Lombok's southeastern tip.

Lombok is one of the best places to visit in Indonesia, thanks to the fact that it has a lot to offer. It however, doesn't come with the packed crowds you'll find in Bali, for example, and you get to enjoy sights like Tangsi Beach and magnificent views of Mount Rinjani.

Not too long ago Tangsi was just a simple fishing village. The beach itself comes with eye-popping pink sand, and shores that just beg you to grab a coconut and enjoy the moment. Unlike some of the other beaches on this list that come with a rosy tint, at Tangsi Beach you've got vibrant, vivid color. 

With calm waters, Tangsi Beach is a great destination to visit with kids as they will be able to swim without any worries. The calm waters hide a coral reef just offshore, making snorkelling another worthwhile venture. 

When visiting, do not miss the viewpoint that provides breathtaking panoramic views of the peninsula and its surrounds. Remember to go early in the morning when the colors of the beach shine the brightest.
Why is the beach pink in Indonesia?
The striking pink color is attributed to the microscopic creatures called Foraminifera. A substantial populace of these creatures grow offshore along a handful of beaches in Indonesia, producing a red pigment on the coral reefs. This combination of red coral fragments and white beach sand creates the pink-colored beach that is visible all along the shoreline.
How to get to Tsangi beach:
You either have the option of joining a snorkelling day trip or travelling by scooter/taxi from Kuta Lombok. 
Where to stay:
Accommodation facilities are minimal in this region. However, the Novotel Lombok Villas and the Katamaran Resort make for a great base from which to explore the rest of the island. 
The ocean vibes are strong here….
11 | Pink Sand Beach — Bonaire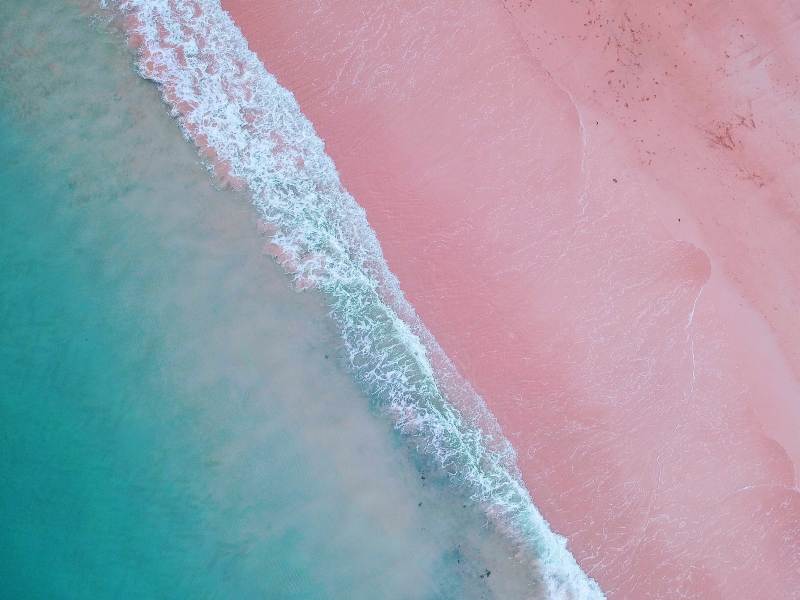 On the Dutch Caribbean Isle of Bonaire, you will find a narrow strip of beach with pink sand. The color of the sand, turning a glistening pink when wet, is as a result of hundreds and thousands of minuscule crushed foraminifera shells.
This secluded strand, aptly named Pink Beach, can be found on the west coast of the island, where the unique color is complemented by the clear water and calm conditions. The beach offers great views and provides a wonderful setting to just chill out with a good book under the palms.
Bonaire is considered to be one of the top places to snorkel in the world. The reefs are well-preserved in this world-class diving destination, making scuba diving and snorkeling the supreme activities of choice. The calm, clear waters hide a vibrant reef with a kaleidoscope of colors. Whatever you do, don't miss the opportunity to explore Bonaire National Marine Park, one of the best dive spots in the Caribbean.
Does Aruba have pink sand?
No. Aruba is home to a multitude of beautiful beaches, but none of these have any pink sand. You will also find a handful of pink flamingos on the island, specifically at Aruba Flamingo Beach, but again, no pink sand in sight. The closest pink sand beach can be found on the Dutch Caribbean's sister island of Bonaire.
How to get here:
Located around 50 miles off the coast of Venezuela, Bonaire is reached from many parts of the world, including Latin America, North America, the Caribbean, and Europe by air or by cruise. To get to Pink Beach, you will have to take a taxi or drive yourself there and back .
Where to stay:
Goood Resort will make you feel right at home with a wonderful welcome and continued hospitality. Located close to Kralendijk Capital City, the guest house features a sun terrace with swimming pool, a hot tub and hammock area.
>> Related reading. Your guide to:
The safest South American countries
12 | Playa de Ses Illetes — Formentera, Spain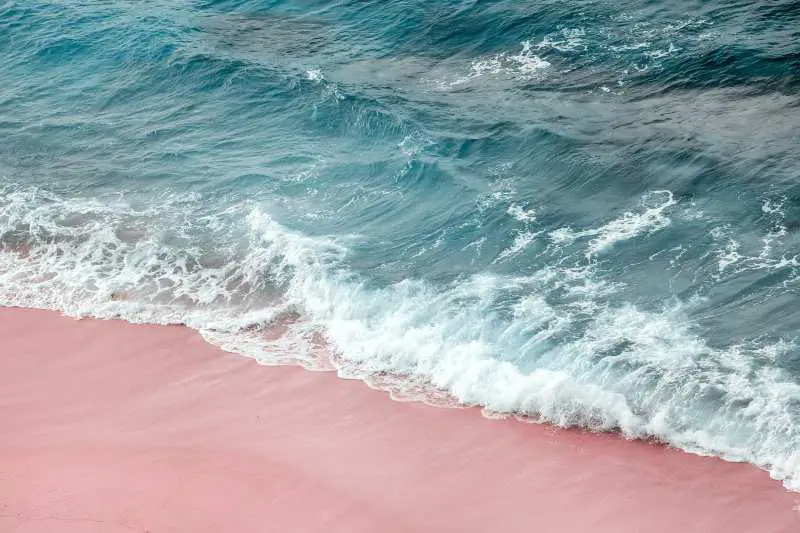 Another one of Europe's best beaches, Playa de Ses Illetes is found on the island of Formentera, one of the best Spanish islands to visit. This bohemian Balearic Island off the west coast of Spain, with its tranquil atmosphere, is the ideal place to relax.

Playa de Ses Illetes and the cluster of small islets just off the coast forms part of the Ses Salines de Eivissa Formentera Natural Park. Its location within a conservation area only adds to its tranquility, uniqueness, and appeal. 
The pale pink tones of the beach is surrounded by crystal clear waters, pine trees, and an abundant vegetation from the peninsula. This charm and beauty rivals those of the Caribbean and many on this list.

Visit in the summer and witness a buzz of water sport activities, award-winning restaurants, and boats and yachts on the horizon.
How to get to Playa de Ses Illetes:
Arrival at the beach is possible by car, scooter, ferry, or public bus L3.
Where to stay:
Hotel Club Sunway is ideally located in Es Pujols for visiting Formentera's many beaches. The food offered here is a highlight of any visit while the comfortable rooms feature balconies and amazing views. Set in extensive gardens it also has an outdoor swimming pool.
13 | Great Santa Cruz Island Beach Pink – Philippines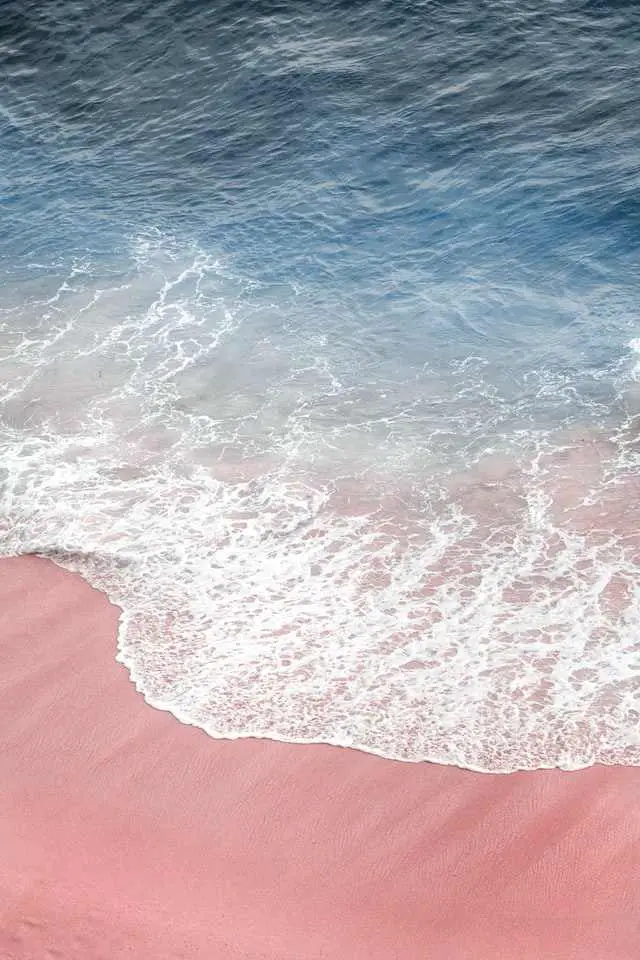 Pastel pink sands surround the tiny atoll of Great Santa Cruz in the southern Philippines. Located over two miles south of Zamboanga City, the island can only be reached by a 15-20 minute boat trip from Paseo Del Mar.

As a protected marine reserve, it offers visitors a serene environment. The number of people allowed to visit per day is limited, so any intended trips need to be booked at least a day in advance at the local tourist office. You also won't find any hotels or restaurants here.

Adventurous travelers flock here to partake in the many leisure activities on offer. These include scuba diving, snorkeling, boating, and exploring the mangrove-filled lagoons. Swimming isn't advised due to the rough water conditions. 
Why is this beach in the Philippines pink?
A highlight of any visit is the fantastic pink sand beach that has been drawing much attention to this hidden gem in the Philippines. It gets its hue from the red organ pipe coral that has been pulverised from the constant motion of the ocean. This then washes ashore to mix with the white sand to produce this distinctive pink color. 
How to get to Great Santa Cruz Island
Once in Zamboanga City, take a tricycle to Paseo Del Mar. A short boat ride from this port will get you to Great Santa Cruz Island in no time.
Where to stay:
Go Hotels Iligan, found a short distance from Tinago Fall, is a good option from which to explore the region. All rooms include a a flat-screen TV, desk, and a private bathroom.
Take a look at this beaut…
14 | Padar Island Pink Beach — Indonesia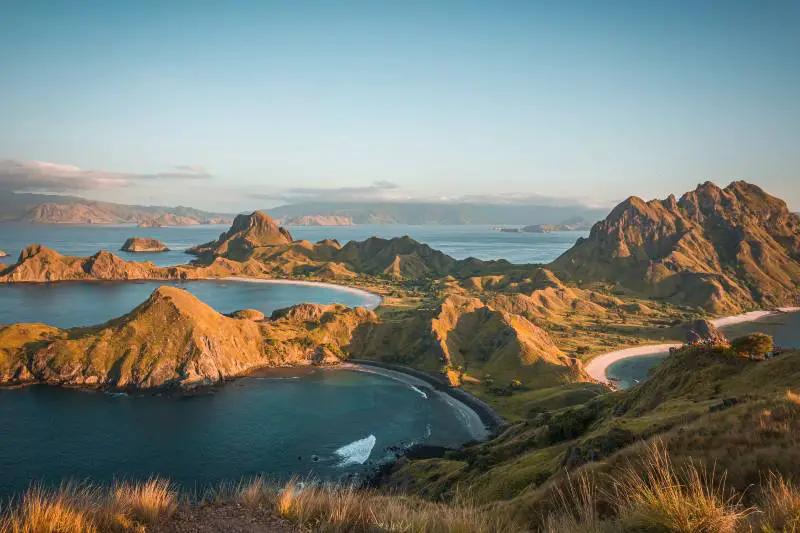 The perfect destination to visit if you're heading out to Komodo National Park, Padar Island's baby pink beach is a stunning destination. It's one of only a few in the world, and it combines pulverized red coral and white sand, which is a magnificent combo to enjoy.

What's even more interesting is that on Padar you'll also find a pearly white, and a charcoal black beach, which makes for an even more interesting view, and one you just have to experience.
Here you will find Indonesia's most colorful pink beach. This unique beach can be found in a secluded bay on the northern side of the island. It is also just a short boat ride away from one of the most spectacular panoramic viewpoints in Indonesia. So don't miss the chance of experiencing both.
The wildlife on Padar is incredible. Here you also get the opportunity to witness manta rays and different reptiles, as well as dolphins, kites, geckos, and green turtles. There is a lot of variety and a Padar Island cruise is one of the best ways to experience it all.
How to get to Padar Island:
Visiting Padar Island is done on a boat trip from Labuan Bajo on the island of Flores. The journey takes 1.5 hours on a speed boat and around 3 hours with a slow boat. 

To get to Labuan Bajo from Bali, you have the option of a 1-hour flight or an overnight ferry. 
Where to stay:
There are no accommodation option on the island itself. However, nearby Labuan Bajo makes for a great base from which to travel to the surrounding islands, including Padar Island. 

My recommendations would be the ultra luxurious Plataran Komodo Beach Resort and Spa or the private and exclusive boutique Bayview Gardens Hotel.
and finally…
15 | Kaihalulu Beach — Maui, Hawaii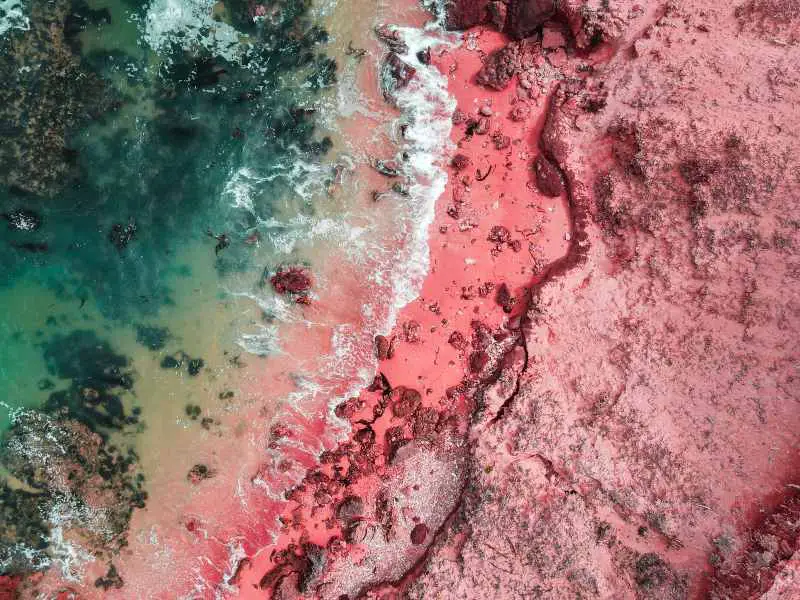 Does Hawaii have pink sand beaches?
Technically no. The closest you will get is the Red sand beach, known locally as Kaihalulu Beach, in Maui. This phenomenal beauty gets its distinct red color from the erosion of the red lava cinder cliffs that surround the shore.
As mentioned above, while not technically pink, the red sand of Kaihalulu beach in Maui is striking in its appearance as a colourful beach and well worth the effort required to visit, particularly at sunset. 
Regarded as one of the best beaches in Maui, its unique sand, resulting from the crushed red lava, is flanked by towering red cliffs on one side and bright blue waters on the other.
Red Sand beach can be found near Hana Bay and is not easy to reach. The strip is accessed by hiking down a steep trail just off the Hana Highway. This trail is also slippery and riddled with broken rocks. However, its remote location and difficulty in reaching the beach only adds to its wild beauty and appeal. These greetings in Hawaiian are a must read before your visit.
Where to stay in Maui:
There is certainly no shortage of good places to stay in Maui. Aston Maui Kaanapali Villas set across more than 10 acres of tropical gardens is a good choice. This 4-star laid back resort in Lahaina features 2 adult pools, a fitness centre, and a day spa.
>> In need of more travel inspo? Read next:
And there you have it, guys. Until the next time….
Sea la vie,

Rai