10 Adventurous Activities & Things To Do in Curaçao (By a Local)
If you're looking for an exciting and adventurous vacation, the Southern Caribbean island of Curaçao is the perfect place to go. With its beautiful beaches, vibrant culture, and endless activities, there is an abundance of unique, fun, cool, and adventurous things to do in Curaçao. 
From snorkeling with sea turtles to exploring hidden caves and climbing impressive mountains – this Dutch Caribbean island has everything an explorer's heart can dream of. However, the very best activities in Curaçao are hard to find and hidden away from the usual tourist's eye.

But, you're no usual tourist. You're an adventurer! Continue reading to find out as we explore a fun list of what to do in Curaçao.
I have lived on the island for almost a year and explored everything there is to do in Curaçao. To make your adventure trip to the Caribbean just as amazing, I have created this travel guide for you.
Find some helpful ideas on amazing adventurous Curaçao activities and things to do when visiting in this article.
Let's jump right in!
>> Read next: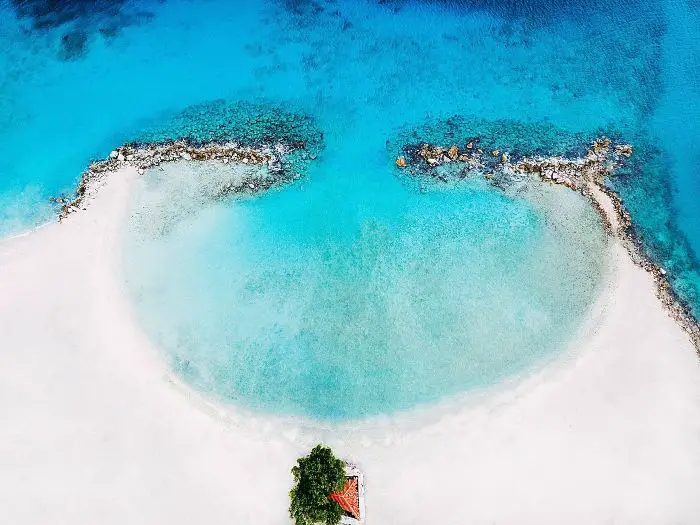 What to do in Curacao?
1 | SCUBA DIVE IN CURAÇAO
Scuba diving in Curaçao is an adventurous experience like no other. The crystal clear waters of this Dutch Caribbean island are home to stunning marine life and colorful coral reefs. If you know where to go, you might even find a sunken shipwreck.
With more than 65 different dive sites to explore, there's something for every diver to enjoy and is a must do in Curaçao. Curaçao is an ideal destination for scuba divers of all levels. Beginners and advanced divers will love the island. Many dive schools around the island offer certifications and courses for beginners for a relatively low price.
One of the biggest reasons why people love scuba diving in Curaçao is the water quality. The waters are crystal clear and visibility can be up to 50 meters. There is no better spot to take photographs and record videos underwater. 
Not only the water quality is amazing, but there is also an abundance of tropical fish and corals in the water to see. Sea turtles, seahorses, parrotfish, and trumpet fish are only a few examples of creatures you will see.
For the biggest adventurers among us, they even offer moonlight scuba diving sessions in Curaçao. I found the dark waters a bit too creepy to try that one out myself, but I have heard that it is simply magical. 
My favorite dive sites in Curaçao are tugboat beach (to see the shipwreck), Playa Porto Mari (for the famous double reef), and Playa Lagun (to swim with sea turtles). 
2 | HIKE MOUNT CHRISTOFFEL
Hiking Mount Christoffel is an unforgettable adventure and one of my favorite adventure activities in Curaçao. With a height of 375 meters (1230 feet), Mount Christoffel is the highest point in Curaçao and let me tell you one thing: the view is amazing! 
The hike takes about 3 hours round-trip and features breathtaking views of the Caribbean Sea and the lush rainforest. Make sure to start your hike as early in the day as possible (I suggest around 06:00 am), otherwise it gets too hot outside.
The trail begins far out in the west of the island, at the entrance of the Christoffel National Park. The hike will take you on a winding path up the mountain. Along the way, you might see iguanas, parrots, lizards, and other sweet animals.
The last few minutes of the hike are a bit of a climb, so you need really good shoes. On the top, it can get super windy, but the view is worth the steep climb.
Make sure to bring enough water and some snacks before climbing the mountain, and protect yourself from the harsh rays of the sun.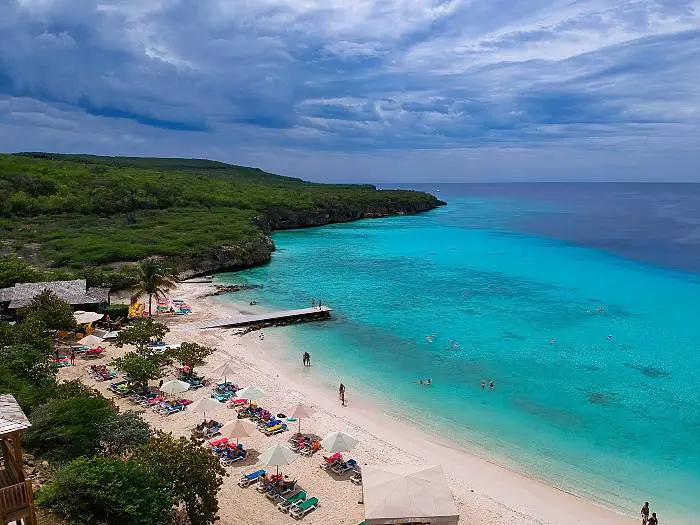 3 | EXPLORE THE CHRISTOFFEL NATIONAL PARK
The Christoffel National Park is a great place to explore, even if you are not interested in hiking up the mountain. 
The park is known for its rugged terrain, with rocky hills and narrow valleys. There are many different hiking trails in the Christoffel National Park. 
You can explore the park on foot, by bike, or on horseback. Of course, you can also take guided tours to learn more about the park's natural history.
The two bigger driving trails in the Christoffel National Park are an amazing way to explore everything the area has to offer. You will pass by hidden gems, interesting viewpoints, and even discover hidden caves. In some of these caves, you can still see the drawings of the indigenous people of Curaçao. I found these so interesting to explore.
Another popular attraction in the park is the Savonet Museum. It is located in a restored plantation house and you can learn about the island's colonial past.

The museum shows exhibits on the history of the indigenous people. The entrance is free if you buy a ticket to the National Park, so it is a great opportunity to combine these Curaçao activities when looking for non touristy things to do in Curaçao.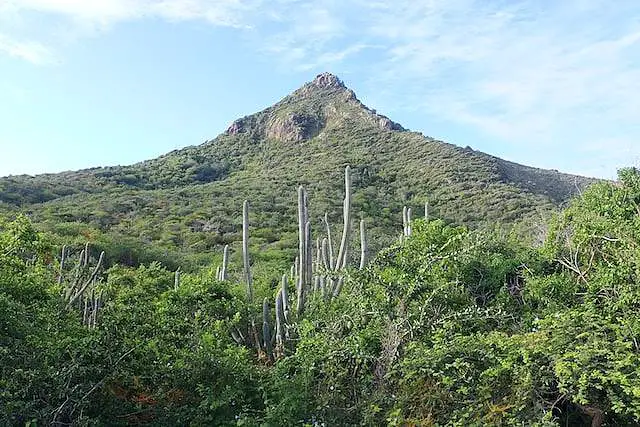 4 | HIKE IN SHETE NATIONAL PARK
Shete Boka National Park is a protected area located on the northwestern coast of the island.
The park covers an area of approximately 10 square kilometers and is known for its rugged coastline, impressive rocky cliffs, and huge crashing waves. 
The name "Shete Boka" means "seven inlets" in the local language, Papiamentu. It is named after the seven inlets (bokas) that are found along the coastline. 
Some of these bokas have amazing features, such as blowholes, natural bridges, and secluded beaches. In many of these caves sea turtles are known to be nesting, so they are strictly protected. 
When looking for unique things to do in Curaçao, you can hike two different trails that wind through the rugged landscape to enjoy some stunning views of the coastline and the impressive waves. 
Boka Pistol Trail is one of the most famous spots in the park. You can see a blowhole that shoots water high into the air with a loud "pistol" sound. Another popular attraction in the park is Boka Tabla. 
The visitor's center will provide you with a map and some ice-cold drinks. There you can also park your car and head out to uncover some of the best Curacao attractions. 
5 | KITESURF IN SINT JOORIS BAAI
Kitesurfing is another amazing adventure activity in Curaçao. Sint Joris Baai is one of the most popular spots for kitesurfing in Curaçao, in the southern Caribbean. 
The bay is located on the northeastern coast of the island and is known for its consistent trade winds, which make it an ideal location for kitesurfing. The bay is also home to several kitesurfing schools where beginners can buy a couple of lessons and rent some gear. 
Other popular spots on the island for kitesurfing are St. Marie Bay and the Spanish Waters.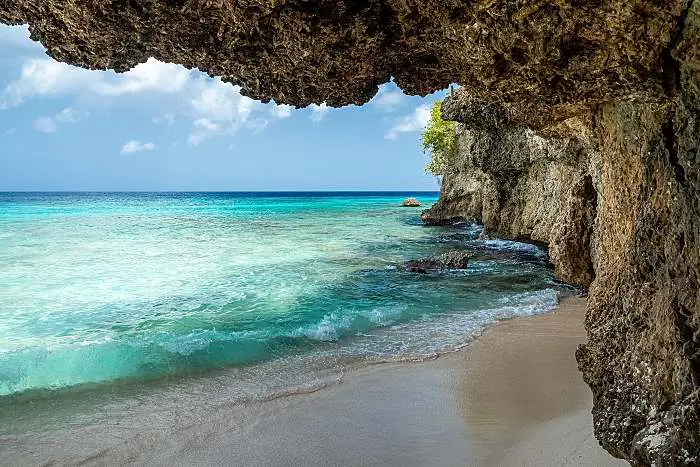 6 | TAKE A SUNSET HIKE UP THE TAFELBERG
If you happen to be on the island on a Sunday, make sure to join the weekly sunset hike on the Tafelberg. 
The Tafelberg is an impressive mountain in the Santa Barbara Plantation of Curaçao. Standing 240 meters high, it offers an amazing view of the Spanish waters. The 3.5-hour-long hike takes you up the mountain just in time for the sunset. The hike is designed for people of all fitness levels, but it is definitely challenging. 
Your local guide will make sure that you reach the top and tell you all about the flora and fauna of the park on your way. Make sure to bring enough water and good shoes. 
They also offer rock climbing expeditions on the Tafelberg, which is another great adventurous thing to do in Curaçao.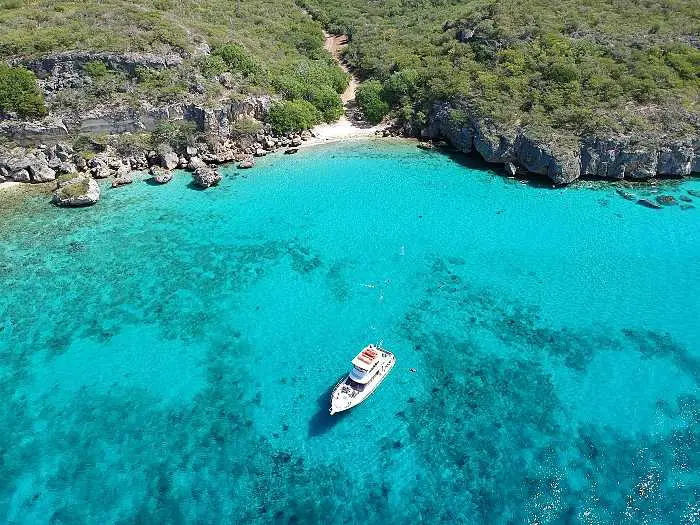 7 | SNORKEL THE CURAÇAO WATERS
Snorkeling in Curacao is an unforgettable experience and something that every adventurous traveler will love. With its crystal-clear water and colorful coral reefs, it's the ideal spot for discovering the underwater world, especially if scuba diving is not for you. 
You can go snorkeling on your own or join a guided tour to get the most out of your experience. On many of Curacao's snorkeling beaches, you will see colorful fish, sea turtles, sea horses, and other marine life swimming around you.

Depending on what part of Curaçao you decide to explore, you may even get to see a shipwreck. 
The most popular spots for snorkeling in Curaçao include Playa Porto Mari, Playa Lagun, and Playa Grandi. Of course, Tugboat Beach and The Blue Room Cave are also extremely popular. If you take a day trip to Klein Curaçao, make sure to bring your snorkel as well. 
Curaçao offers many great spots for snorkeling, for beginners as well as advanced snorkelers. Make sure to bring reef-friendly sunscreen and some water shoes to discover these unique beaches. 
8 | EXPLORE THE CAVES OF CURAÇAO
Hato Caves is a unique and interesting spot in Curaçao for adventure lovers. The Hato Caves consist of several limestone caves that have been formed by thousands of years of erosion. They are located right next to HATO Airport, so they are easy to find. 
The main attraction in Hato Caves is the Grand Room. The Grand Room is a large chamber with an impressive ceiling height of up to 12 meters. Your tour guide will be able to show you stalactites, stalagmites, underground rivers, lakes, waterfalls, and other fascinating formations. Sadly, you can't really take pictures inside the caves, except on one designated picture spot. 
In addition to exploring its many stone formations, you get to see bats within Hato Caves. As our tour guide explained, the former slaves have been known to hide from their masters in the HATO Caves. This gives an interesting insight into Curaçao history as well. 
The tour takes about an hour and you have to go down there with a guide. In your entrance ticket included is also admission to the Indian Hiking Trail. This is an informative trail with many different flora and fauna and is located right next to HATO Caves. The HATO Caves are an amazing adventurous thing to do in Curacao.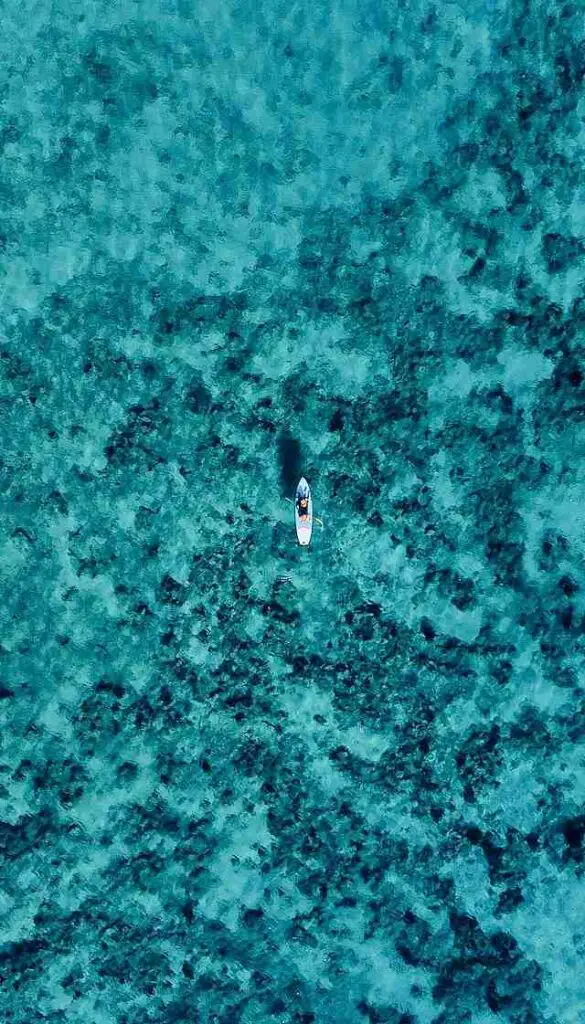 9 | GO CLIFF JUMPING
Cliff jumping is an incredibly exciting and thrilling adventure in Curaçao that has become more popular with tourists lately. It's the perfect way to get a rush of adrenaline while also experiencing the breathtaking beauty of the island.
The best place for cliff jumping in Curaçao can be found at Grote Knip Beach. Grote Knip Beach is located in the western part of the island. Here, thrill-seekers can dive off a 15-meter-high cliff into crystal-clear waters below. Cas Abao Beach is also quite famous for cliff jumping. 
Another popular spot for cliff jumping is Playa Forti, right behind Playa Forti restaurant. From there you can jump up to 20 meters down into the beautiful blue ocean. Cliff jumping is one of the most fun things to do in Curaçao – and totally free.
When participating in cliff jumping activities in Curaçao, it's essential that you take caution. Jumping from heights bigger than 15 meters can cause serious injuries – and the ambulances in Curaçao are not the quickest.
10 | RENT AN ATV FOR A DAY OUTDOORS
Renting an ATV in Curaçao is a great way to explore the island and its many attractions off the beaten tracks. ATVs offer the perfect combination of speed and agility. Especially far out in the west, this can come in handy for exploring.
Several rental companies offer ATVs for rent on the island. Prices are ranging from around $50 – $100 per day depending on how long you plan on renting. 
Of course, you can also book a guided ATV tour. These tours can take up to half a day or more, depending on how long you'd like to explore. An experienced guide will be leading the way. They usually know the best places to explore off the beaten tracks. 
When taking an ATV tour in Curaçao, it is important to remember that safety should always be your top priority. Make sure to carry water and other supplies in case you get lost or need assistance. If you get in an accident, make sure to not move the vehicles and call the police immediately.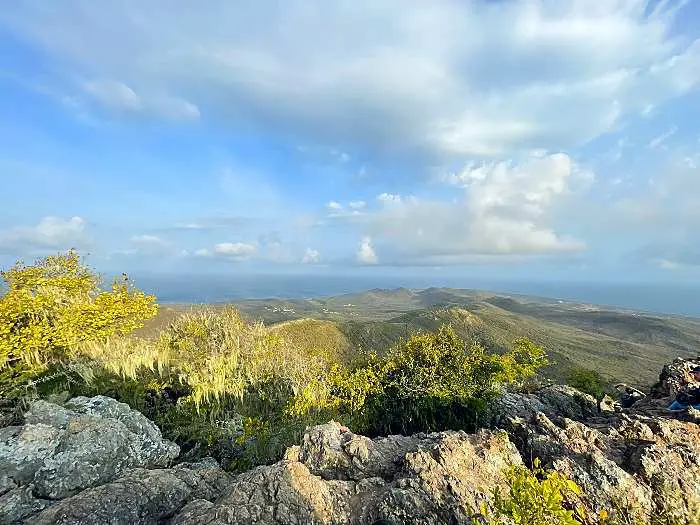 Conclusion: Best Unique and Adventurous Things To Do in Curaçao
Whether you love climbing mountains or diving into the deep blue Caribbean Sea, Curaçao has many amazing things to do for adventure travelers.
The island has an extremely diverse terrain, which brings plenty of possibilities. Cliff jumping, scuba diving, and rock climbing are among adventurers' favorite adventurous things to do in Curaçao. Renting an ATV and exploring the island off the beaten tracks is also always a good idea.

Make sure to keep all safety tips and local regulations in mind, then your Curaçao adventure will surely be amazing!
You'll be glad to hear that all of this adventure won't be too hard on the pocket as Curaçao is frequently ranked as one of the most affordable islands in the Caribbean and around the world.

Hope you have an amazing adventure in Curaçao!