31 Fun + Unique Things To Do in Aruba in 2024
If you're looking for a perfect Caribbean getaway and are planning a trip to Aruba soon, be sure to check out this list of cool, unique, and fun things to do in Aruba. Prepare for a whole lot of fun in the sun in the land of gorgeous beaches, clear turquoise waters, and idyllic tropical vibes!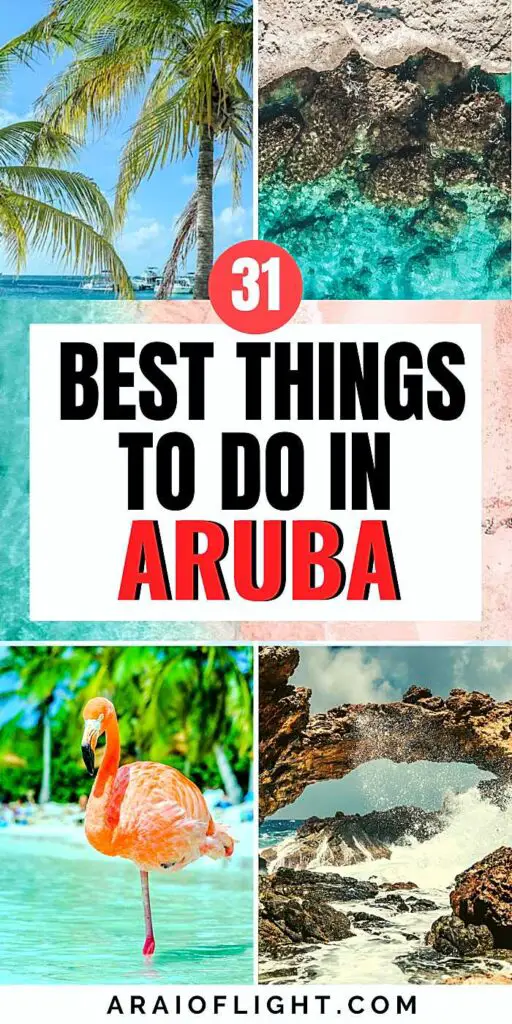 Aruba is a beautiful island located in the southern Caribbean Sea, just off the coast of Venezuela. It is a constituent country of the Kingdom of the Netherlands. Aruba has an interesting mix of Latin American, Caribbean, and European cultures. The country's heritage is heavily influenced by its Dutch colonial past.
Known for its stunning white-sand beaches, crystal-clear waters, and warm tropical climate, Aruba is a popular vacation destination for tourists from all over the world. This picturesque island is also home to a diverse range of flora and fauna, including rare and endangered species, making it a unique and fascinating place to explore. 
Aruba's "One Happy Island" slogan is truly felt around the country. The locals are welcoming, and the tourists are always having a good time.

It's easy to be happy and have an enjoyable vacation on the tiny island nation of Aruba. One thing to sort out before you arrive in this popular destination — what to do in Aruba?

Continue reading to find out as we explore a list of what to do in Aruba for fun!
>> Read next:
Fun Things To Do in Aruba:
Must Do Activities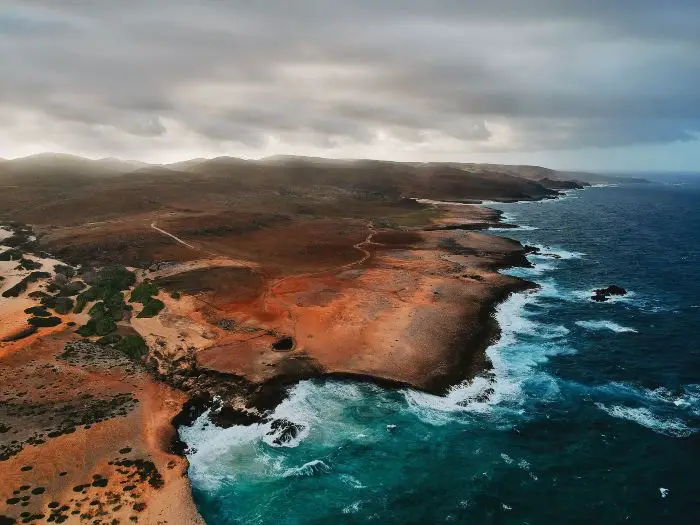 Are there a lot of things to do in Aruba?
The island may be small, but it sure packs a punch with an abundance of amazing, unusual, and unique things to do in Aruba that are sure to make your trip unforgettable and beyond ordinary.

Whether you're an adventurous thrill-seeker looking to explore, a couple on honeymoon, a family on a much-needed break, or a laid-back beach lover, Aruba has something special for everyone. Discover everything from hidden natural wonders and incredible dive sights to intriguing cultural experiences and historical sights.

Use this list to find the very best of Aruba adventure ⬇️⬇️
Ok, so what are the best things to do in Aruba for adults? First up…
1. Chill Out on Eagle Beach
Eagle Beach is one of the most beautiful beaches in Aruba, and it's consistently ranked as one of the top beaches in the world. The soft white sand and turquoise waters make it the perfect place to relax and soak up the sun. The beach is also home to several restaurants and bars, so you can grab a drink or a bite to eat while enjoying the view.
There's much more to this idyllic paradise than just lounging on the beach. Be sure to…
2. Snap a Photo with the Divi Trees
The iconic divi-divi trees are the most photographed trees on the island. Located at the end of Eagle Beach, these trees act as a natural compass, always pointing southwest due to the trade winds that blow across the beach. If you arrived early enough, you can even use the trees to shade yourself from the hot Aruba sun. 
3. Explore Arikok National Park
Arikok National Park covers about 20% of the island and is home to a variety of wildlife, including iguanas, rabbits, and birds. Adventure in Aruba comes in many forms. The park offers hiking trails that lead to stunning views and natural landmarks and exploring this landscape is certainly one of the best things to do in Aruba off the beaten path. You can also learn about the island's history and culture at the park's visitor center.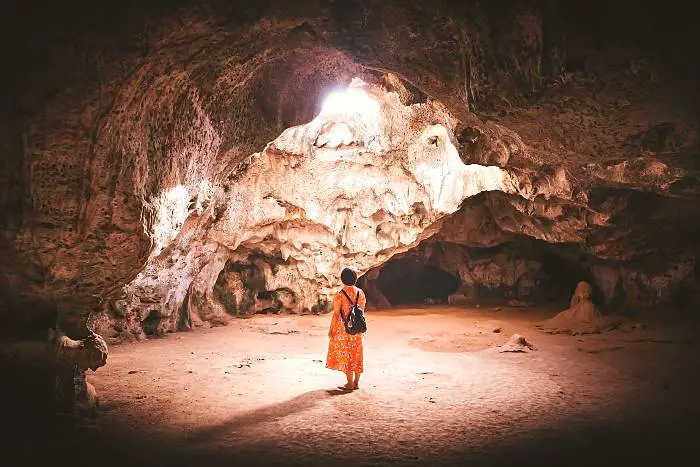 4. See Bats in Quadirikiri Cave
For a unique thing to do in Aruba you can't go wrong with Quadirikiri Cave. This limestone cave is famous for its two dome-shaped chambers, which are naturally illuminated by sunlight coming through holes in the ceiling.

While the cave is home to hundreds of harmless bats, that's not all you will see. Quadirikiri Cave is full of amazing stalactites, stalagmites, and ancient rock petroglyphs. 
5. Venture out on a UTV
Aruba's rugged terrain is perfect for off-road vehicles. UTVs, ATVs, and other 4-wheelers can be rented and driven all over the island for some amazing Aruba activities. If you don't trust yourself to zip off on your own, there are tours that make it easy to drive the vehicles and stop at all the important sites. 
6. Take a Dip in the Natural Pool
Located on the east side of the island, the natural pool known by locals as Conchi is a unique place to go swimming or snorkeling. The "pool" is created by a group of rocks along the shoreline and trying out this pool is one of the most fun things to do in Aruba for couples. When waves come crashing in, the pool is filled with water from the ocean. This Aruba must do activity is a highlight of any visit.
7. Make Furry Friends at Philip's Animal Garden
Next up on this list of unique things to do in Aruba for kids is getting to know some of the locals.

Philip Merryweather spent years adopting abused and abandoned animals, and now runs a world-class shelter and rehabilitation center. Here you can feed a variety of adorable farm animals such as donkeys, camels, goats, rabbits, and pigs. You can also see some exotic species of birds, monkeys, and reptiles. 
8. Walk Around the Capital City of Oranjestad
Oranjestad is the capital and largest city in Aruba. Free things to do in Aruba include simply taking a leisurely stroll through the capital. It's a great place to get a feel for the island's distinctive blend of European and Caribbean culture. You can spend a full day checking out the colorful buildings, shops, and restaurants in this city. 
9. Learn at the Historical Museum of Aruba
Museo Historico Arubano (MHA) is housed within the oldest buildings of Aruba, the Fort Zoutman and the Willem III Tower. The fort was originally built in 1798 to protect the island against pirates and other enemies.

Now, it's an opportunity for visitors to learn about the centuries-old heritage of Aruba. 
10. Take a Stroll through Wilhelmina Park
While Aruba may be known for its beaches, this grassy area can be just as enjoyable and is worth adding to your Aruba bucket list. Located in Oranjestad, this beautiful seaside park is a delightful spot for a picnic or a relaxing sunset. The park features multiple monuments, including one dedicated to Anne Frank and another dedicated to Queen Wilhelmina.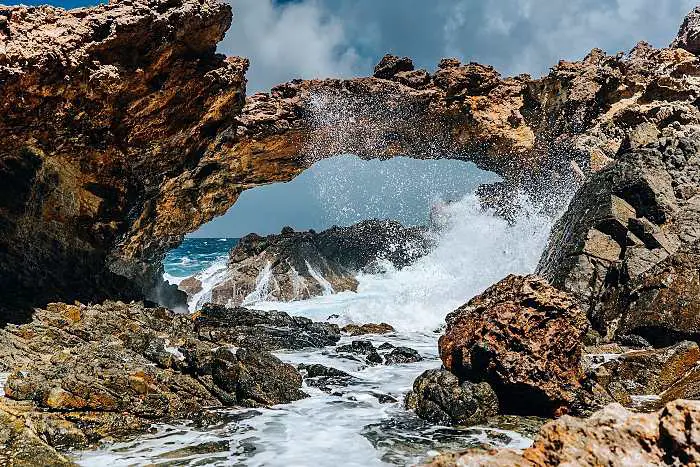 11. Soak in the Calm Waters of Baby Beach
Take the bus or drive down to the less-frequented southern tip of the island to arrive at Baby Beach. Its warm, calm, and shallow waters are fit for a baby's bath, get it? Baby Beach is ideal for snorkeling or escaping the crowds of Eagle and Palm Beach.
12. Take a Tour of the Aruba Aloe Factory
Believe it or not, Aruba Aloe is the oldest aloe company in the world. You may have even used their products for various skin or haircare needs. Take a tour to see the acres of aloe plant fields, learn about the production process, and sample the products of the company that has been operating since 1890. 
Top of the list of things you must do in Aruba…
13. Go Snorkeling or Scuba Diving
Surrounded by coral reefs and underwater gardens of the Caribbean Sea, Aruba has excellent scuba diving opportunities and its crystal-clear waters are perfect for snorkeling. Some of the best places to snorkel in Aruba include Arashi Reef, Boca Catalina, and the Antilla Shipwreck.

You can explore the island's vibrant coral reefs and see a variety of marine life, including colorful fish, sea turtles, and even shipwrecks. There are several companies on the island that offer snorkeling and scuba diving tours, so you can choose the one that best suits your needs and budget. There's no shortage of off the beaten path Aruba adventures.
14. Celebrate a Famous Festival
Aruba has become well-known for its annual festivals that typically consist of parades, loud music, and lots of smiles. If you're looking for really fun things to do in Aruba for adults, plan your visit so that it coincides with one of these lively events that take place throughout the year and usually span several days.

Some of the country's most popular festivals include Aruba Summer Music Festival, Bon Bini Festival, Dande Festival, and Carnival.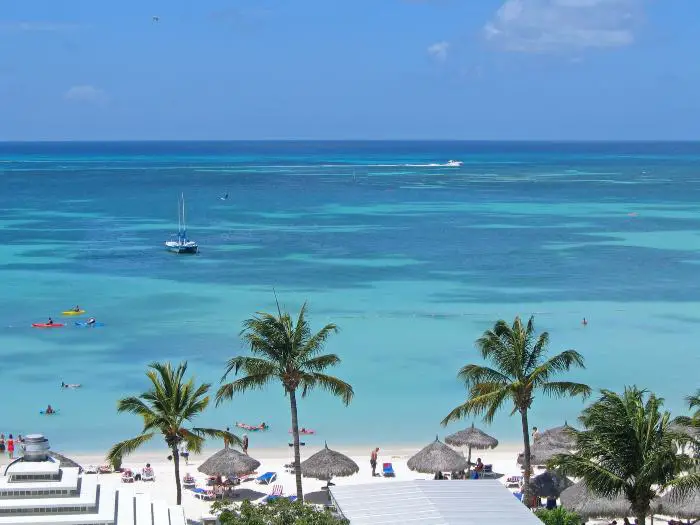 15. Hang with the Locals in San Nicolas
The city of San Nicolas, aka 'Sunrise City', is far removed from the main tourist hubs in Aruba. This is the place to go if you are looking for a dose of true Aruban culture. As you walk the streets of Aruba's second-largest city, you will find larger-than-life murals, historic institutions, and bands playing traditional island music.  
16. Play Golf
Thanks to Aruba's dry, sunny climate, the chances of rain ruining your golf outing are slim. There are only two courses on the island, so be sure to book a tee time in advance. The more renowned course is the PGA-approved Tierra Del Sol, developed by Robert Trent Jones Jr. who has become famous for designing golf courses all over the world. 
17. Sail into the Sunset
Aruba's sunsets are truly breathtaking, and one of the best ways to experience them is by taking a sunset sail. You can board a catamaran or sailboat and watch the sun set over the ocean while sipping on a cocktail. Some sunset sail tours even include a dinner and live entertainment as a perfect way to enjoy the night.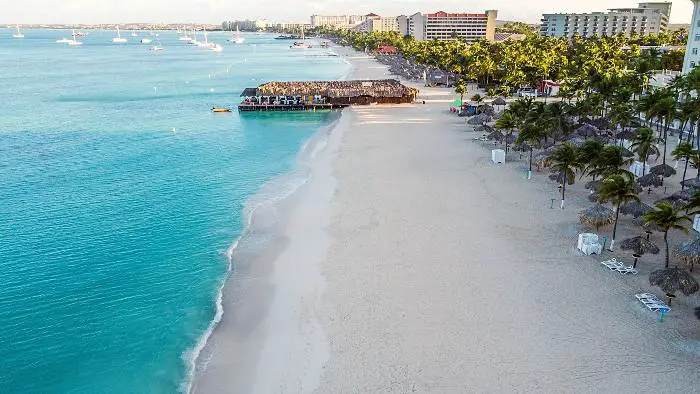 18. Party in Palm Beach
There is no shortage of entertainment in the Palm Beach area. This two-mile strip of white sandy beach is packed with high-rise resorts, bars, clubs, and restaurants. Some of the hot spots here include Smokey Joe's Island Grill, Salt and Pepper Tapas Bar & Restaurant, and Lola Taqueria. 
19. Birdwatching at Bubali Bird Sanctuary
Bubali Bird Sanctuary is a paradise for seasoned birdwatchers and casual wildlife observers. For a true bird's eye view, visitors can head to the top of the observation tower. You can also hike through the lush vegetation as you try to spot one of the 80 species of migratory birds in the resting and breeding area. 
20. Check out the Old Dutch Windmill
This authentic Aruba bucket list landmark was originally built in The Netherlands in 1804, but shipped to the island in 1960. Paying a visit to this huge windmill will make you feel like you really are in Holland, far away from the tropical waters of the Caribbean. If you get hungry, there are restaurants located on the windmill.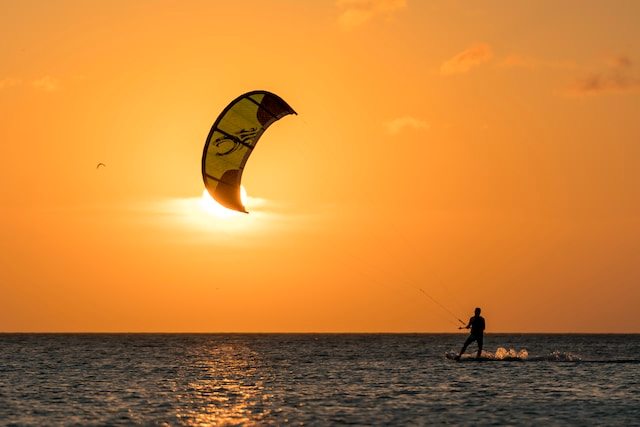 21. Enjoy the Colors of the Butterfly Farm
The Butterfly Farm is a unique attraction in Aruba that allows visitors to interact with hundreds of different species of butterflies in a beautiful rainforest garden setting. You can learn about the life cycle of butterflies and see them up close as they fly around the garden. It's a great activity in Aruba for families with kids, and it's also a popular spot for photographers.
>> Speaking of kids, check out where to find the
best tropical vacations for families
22. Visit the Alto Vista Chapel
One of the most historic structures on the island is the Alto Vista Chapel. Originally built in 1750, it was Aruba's first Catholic Church. As the name Alto (High) Vista (View) suggests, the chapel stands on a cliff in front of a stunning backdrop of the Caribbean Sea.
23. Feed Flamingos at Flamingo Beach
Flamingo Beach allows visitors to get up close and personal with the exotic pink birds. The only obstacle is that Flamingo Beach is on a private island that is not open to the general public. The only way to gain access is by staying at the Renaissance Hotel or buying a day pass for $125 (which includes lunch and a drink). Full details here!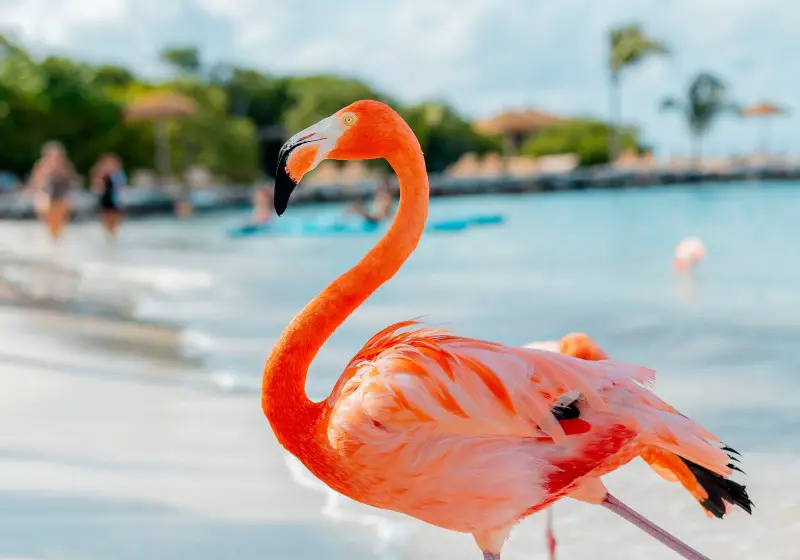 24. Try Your Hand at Water Sports
The shimmering blue Caribbean around Aruba is ideal for water sports of all kinds. The strong breezes at Hadicurari Beach make it a popular destination for kitesurfing and windsurfing. On Palm Beach, you can find an even wider variety of must do Aruba activities including wakeboarding, parasailing, water skiing, and banana boat rides. 
25. Experience the Bushiribana Ruins
These ruins look like a crumbled castle, but are actually the remains of a historic gold mine that was built in 1899. Visitors can climb inside the ruins and get a glimpse of Aruba's gold rush era, which produced over 3 million pounds of the precious metal.

In fact, Aruba's name roughly translates to "there was gold." Explore the Bushiribana Ruins as one of the best non touristy things to do in Aruba for free.
26. Relax on Arashi Beach
Arashi Beach is located just north of the main tourist districts and is a convenient place to escape the crowds. This picturesque beach has the turquoise water and white sand you would hope to experience in the Caribbean. It's also a known spot for sea turtle nesting. 
27. Tour the Aruba Ostrich Farm
You may have seen a farm full of cows or chickens, but what about an ostrich farm? There are over 80 animals on this farm and guided tours are available every half hour throughout the day. This is a unique opportunity to learn more about and even feed the world's largest bird. 
If you're wondering what to see in Aruba?
28. See What's Left of the Natural Bridge
The natural bridge is a great example of the forces of nature along Aruba's rugged coastline.

Years of erosion have caused the coral limestone bridge to collapse, but witnessing the landscape of this environment is worth the visit and one of the most unique things to do in Aruba for fun. Take a hike in this area to experience where the prickly flora of the desert meets the crashing waves of the coast. 
29. Go for a Horseback Ride
Another special way to explore the natural beauty of Aruba is on top of a horse. Riders can take in the views of the ocean, the hills, and the desert, and even swim with their horses in the ocean. The island offers options for all levels of riders from beginner to advanced. 
30. Explore the Depths with a Submarine Tour
This premier must do Aruba attraction is truly unforgettable. This tour allows you to take a ride in a real submarine and explore the ocean at depths of over 140 feet. The windows of the vessel allow you to see coral reefs, colorful fish, and other sea life from an extremely unique perspective.
31. Eat Delicious Seafood
No list of fun things to do in Aruba is complete without including some tasty local food.

Seafood is a well-known staple of Aruban cuisine. For an authentic and affordable Aruban dining experience, find the food truck on Eagle Beach. These guys serve fresh seafood every day, which you can enjoy right on the beach for an easy, delicious picnic. 
>> Related reading:
The most exotically strange foods eaten around the world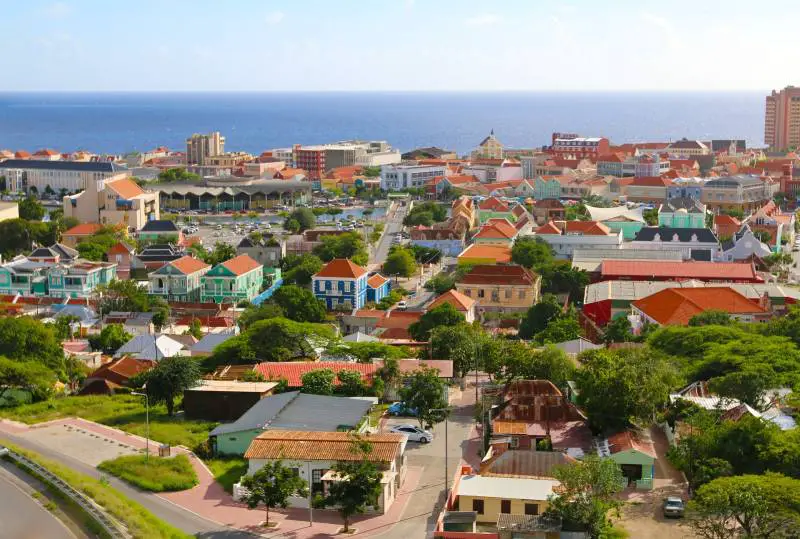 Visiting Aruba Vacation Guide: FAQs
Read on to find the answers to some of the most common questions that people ask before visiting Aruba. 
What is the best month to go to Aruba?
The tropical climate in Abuba does not see much variance in temperature throughout the year. The average high temperature of 89 degrees and the average low of 78 degrees stays fairly consistent each month.

Since Aruba conveniently sits outside of the Caribbean hurricane belt, the island does not receive nearly as much rainfall as other islands in the region and avoids the damage from tropical storms.

An argument could be made that April to August is the best time to visit Aruba. This time of year is outside the winter peak season when tourism brings bigger crowds and higher prices. You will also miss Aruba's "rainy season" of October through December. 
Is Aruba expensive to visit?
Since Aruba receives most of its visitors from the United States, most of its prices are on par with what you would find in the states. High prices can be avoided by venturing outside of the main tourist hubs of Eagle Beach and Palm Beach. 
One thing that's nice about Aruba is it offers a wide range of accommodation options that fit every budget. There are plenty of luxury and all-inclusive resorts for those with larger budgets, or boutique hotels and vacation rentals for those looking to be more budget conscious.
>> Looking for something more affordable?
Check out these cheapest Caribbean islands to visit
Visiting Aruba requirements
If visiting from the United States, you will need a passport to enter Aruba since it is not a US territory. Tourists can stay visa-free for up to 90 days.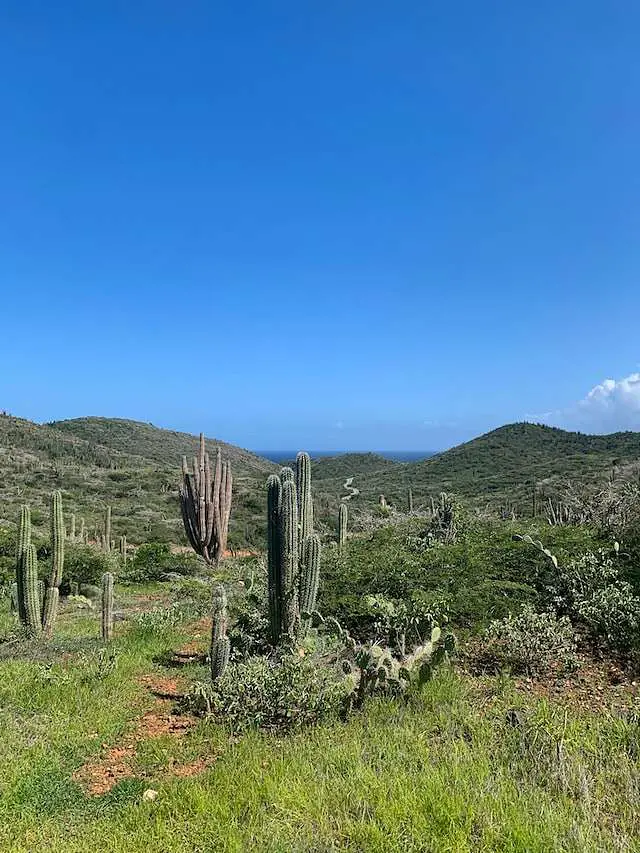 What is Aruba best known for?
Aruba has become known around the world as a vacation destination for its white sandy beaches, turquoise waters, and perfect weather. Locals will remind you that Aruba is also known for its mouth-watering seafood, colorful Dutch architecture, and lively cultural festivals.

The motto of Aruba is "One Happy Island" due to its reputation of having some of the friendliest people in the Caribbean. 
Is 7 days enough in Aruba?
With a land area of just 69 square miles, Aruba is a relatively small country. One week is more than enough time to explore the entire island and have a nice vacation. However, as you can see from the many must do Aruba activities listed above, you could spend more time if you want to experience just about everything that the island has to offer.  
Is Aruba safe?
In general, Aruba is a very safe place to visit. Aruba's crime rates are lower than in the United States and a majority of the Caribbean. Women can travel safely alone throughout most of the island.

Of course, it's always a good idea to remain alert when traveling. Use common sense when it comes to protecting your valuables. 
Do people still vacation in Aruba?
Yes, this small island nation is the fifth most visited country per capita in the world, receiving more than two million visitors each year.

With more than half of all visitors returning to the island following their first trip, Aruba also has one of the highest rates of repeat visitors in the Caribbean region.
>> Read next:
The best things to do in Curacao
Conclusion: Best Aruba Activities
In conclusion, Aruba is a fun and safe destination with some of the best weather in the world. The island may be small, but there is no shortage of attractions and activities in Aruba off the beaten path to keep you busy. 
If you would rather be less active, you can do that too. Beaches in Aruba are large and plentiful, perfect for those who enjoy lounging and sunbathing. 
Aruba is just a short and safe flight away from the US, so it's very accessible.
Come to Aruba and see for yourself why it's known as One Happy Island!
If you have any questions or need help with planning your holidays to Aruba, don't hesitate to let me know. Also, be sure to check out this list of beautiful tropical islands for even more inspiration around the world.
Ayo,

Rai