6 Cool + Fun Places To Go in California With Friends
Looking for some inspiration on cool places to visit in California with friends? I've got you, my fellow explorers! These fun places to go in California will ensure the absolute best time on that trip with friends.

California's diverse geographical wonders, cultural offerings, vibrant cities, exemplary weather, and unmatched entertainment have made it a popular choice for a trip with friends.

Whether you're a group that love to hike in the state's many scenic parks, foodies who want to explore its culinary scene, party goers looking to have a good time, or beach bums that just want to spend time on its sunny and southern shorelines, California has something on offer for you and your best mates.

The land of milk and honey = whooooooop…
>> Read next:
Ok, let's take a look at some of these fun places in California….
What is the coolest place in California? If you're planning to visit the Golden State with your friends, here are some of the best destinations.
1 | San Francisco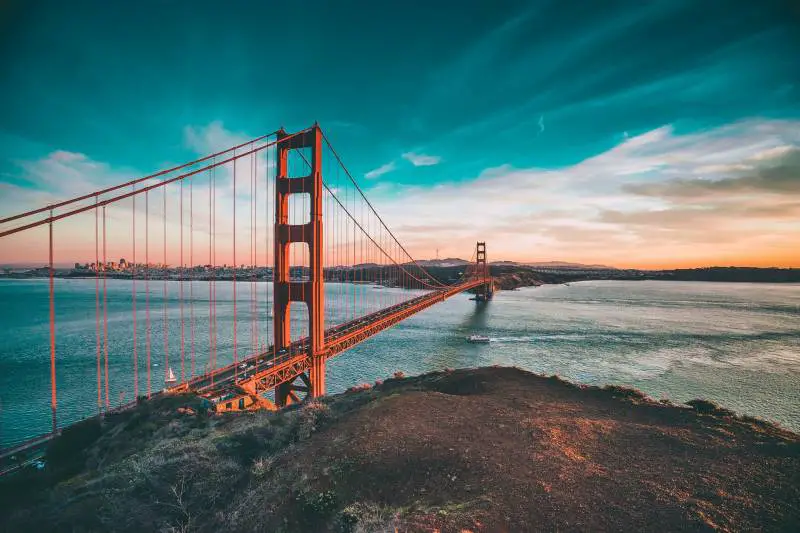 San Francisco is brimming with life wherever you go and is first up on this list of cool places to visit in California.
Featuring a muddled collage of colourful neighbourhoods and picturesque coastal views, it draws free-spirited indie-type of travelers who have an eye for art and culture, and a passion for adventure.
There's no shortage of fun activities to enjoy in San Francisco with friends. With plenty of places to see in San Francisco, the city is also an ideal base for a California road trip. Many scenic routes will start from here and take you to stunning places. Check out these fun road trip questions to ask friends.
However, before you head out for a road trip, spend a day or two exploring the city's jaw-dropping sights, cozy cafes, world-class cuisines, strange foods, and vibrant nightlife. Check out the beaches and lounge alongside sea lions on the bay while admiring the city's breath-taking views from the Twin Peaks. Enjoy a leisurely stroll along the marina before you call it a day. 
For the quintessential experience, enjoy a ride on a cable car or go for a boat tour under the Golden Gate. Never leave the city without visiting the Fisherman's Wharf. Despite being touristy, it offers spectacular views of the infamous Alcatraz Island.
San Francisco is one of the most fun cities in California with friends and should not be missed.
2 | Palm Springs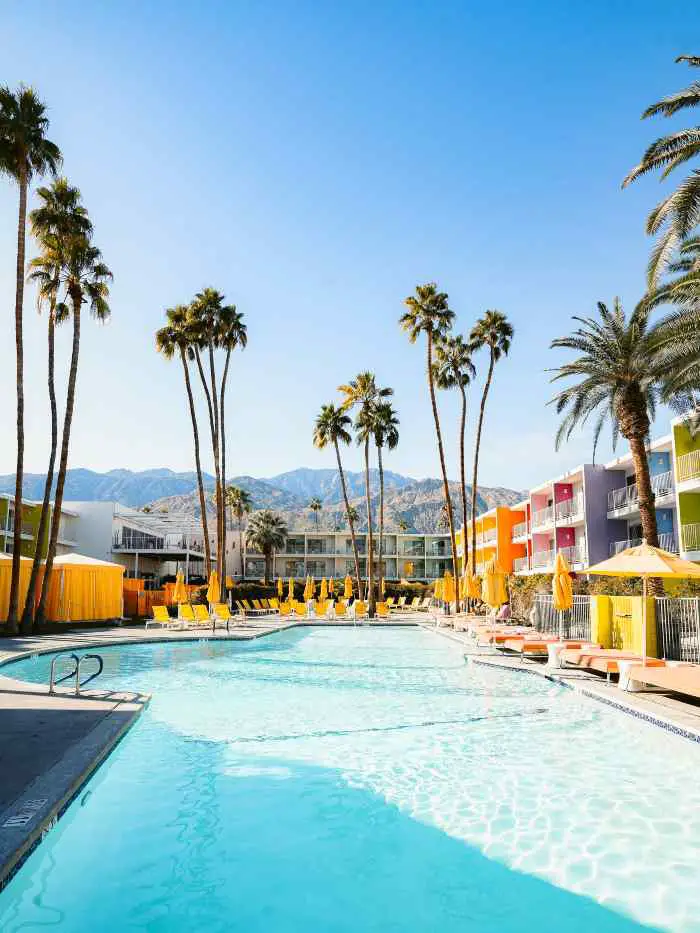 Lying along the western area of the Coachella Valley, Palm Springs is a desert oasis that is also a haven for travelers looking to relax by the pool of a luxury resort by day and then hit up its lively nightlife scene after dark.
Surrounded by an incredible desert scenery – it truly is a sight to behold! However, for a true Palm Springs experience, take things easy by simply relaxing at a poolside bar.
Palm Springs is also a hub of modern architecture, with a handful of former celebrity homes converted into vacation homes. Its luxury spas and world-class restaurants attracts visitors of all kinds. What's more, its stunning sunsets rival those seen on the coast.
Outdoor enthusiasts will also find an abundance of activities to enjoy in Palm Springs. Cool places in California such as the Living Desert Zoo and Gardens and the Coachella Valley Preserve are blessed with a rich flora and fauna that is worth exploring.
If you and your friends plan on exploring the great outdoors – whether through mountain biking, hiking, or riding an ATV – expect a whole lot of fun and be sure to pack plenty of water.
Don't miss a stop at Joshua Tree National Park, found just 38 miles away from Palm Springs. A top contender for cool places to go with friends, Joshua Tree Park is a fantastic place for scenic road trips and for hiking with friends in California.
3 | Pfeiffer Beach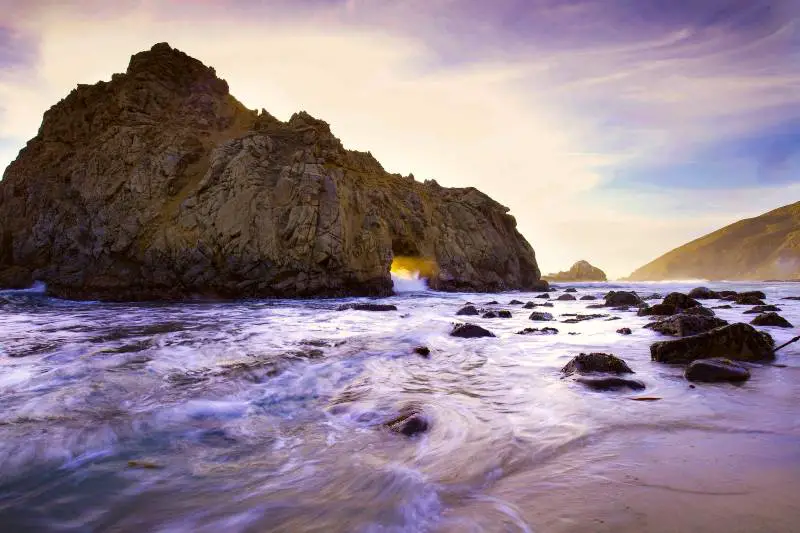 Pfeiffer Beach is the epitome of Big Sur. Wild. Iconic. Beautiful. And certainly one of the coolest places to go in California with friends. 
Set within the Los Padres National Forest, Pfeiffer Beach is one of the most popular beaches on the Central Coast. And with good reason. It is along the world's finest coastal stretch, sheltered by rock formations that look undeniably Big Sur, with beach sand that has a unique purple tint.
This rare and unique purplish sand beach comes from the manganese garnet and quartz rock formations found in the surrounding area. The color is most visible immediately following the rain and much more pronounced in the tidal pools. Check out these other amazing pink beaches to discover.
The area is famous for its Keyhole Rock. This natural arch is a magnificent subject for photographers, especially if you're patient enough to wait for sunset. 
Swimming is allowed, but unfortunately it isn't really a good idea because of strong currents, fierce waves, and lack of lifeguards. Pfeiffer is a day-use beach only.
You will find other opportunities to be active. Discover a number of rock formations to climb, sea caves to explore, and even an 80-foot waterfall.

You will find Pfeiffer Beach off CA Highway 1 on Sycamore Canyon Road in Big Sur. The area does get windy and cold, so be sure to prepare for this and dress accordingly. Although Pfeiffer Beach is hard to get to and very much off of the beaten path, it is completely worth the time and effort required to get there.

Prepare for some real good times with friends in this part of CA.
4 | Los Angeles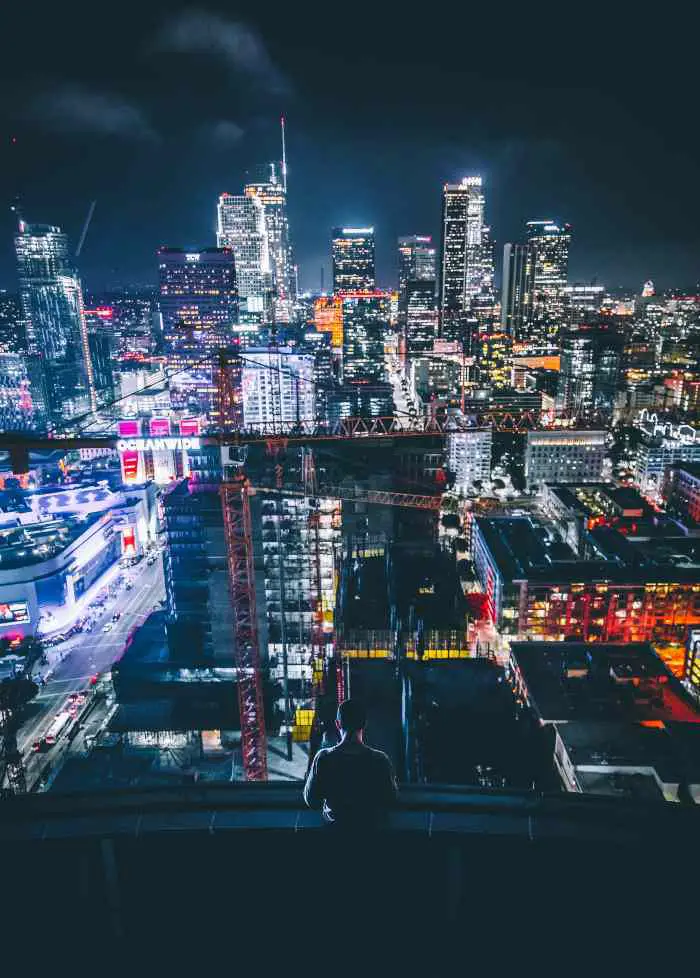 The City of Angels is next up on this travel list of cool places in California.
Los Angeles is famous for being the home of the country's film and television industry. If you love pop culture, then LA should be at the top of your bucket list.
This fun city in California is home to some of the world's most iconic landmarks.
Whether you're a Hollywood fan or not, take time to tour the Universal Studios Hollywood, Warner Brothers Studio, Paramount Pictures, and the Hollywood Sign. Walk along the famous Hollywood Walk of Fame, Rodeo Drive, Sunset Boulevard, and Universal City Walk. Santa Monica Pier, the Chinese Theatre, and Venice Beach are among some of the most fun places to go in California.
Naturally, there's more to LA than Hollywood. This sprawling metropolis has some of the most diverse neighbourhoods, offering plenty of engaging and fun sights for friends to indulge in.
Take some time to visit lesser-known attractions, the likes of the Grand Central Market, Griffith Park, and the Los Angeles County Museum of Art. The Getty Centre is an architectural masterpiece and one of over 200 museums scattered throughout the city, reflecting the diversity of LA and its status as a center of culture.
Away from the downtown area, you'll find the glamorous beaches of Malibu and Santa Monica. Make the most of the perfect Mediterranean climate in this cool city by going surfing, swimming, or simply lazing on the beach.
The City of Angels is also home to some of the country's most acclaimed restaurants, along with excellent bars and clubs to experience the city's infamous nightlife. You may even get the chance to party with a Hollywood star, or two.
5 | Yosemite National Park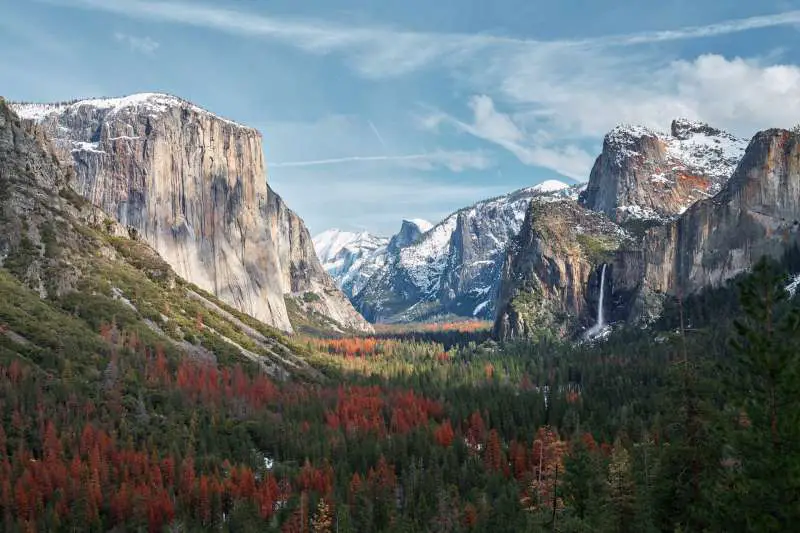 Yosemite National Park, found in the Sierra Nevada mountains, features one of California's most stunning natural landscapes.
This natural wonder has almost 1,200 square miles of sheer beauty – from majestic waterfalls and ancient sequoia trees to striking granite monoliths and unique rock formations.
Highlights of a visit include the granite cliffs of El Capitan and Half Dome, Tunnel View, and Glacier Point. Even inexperienced hikers will have fun exploring Yosemite Park. There are guided tours and climbing lessons available for beginners.
Like other cool places in California, the crowd is the biggest challenge you will face when visiting Yosemite. There are about four million people who visit the park each year. To avoid the crowd, it is highly recommended to visit as early as possible.
Almost 95% of Yosemite is designated Wilderness, with over 800 miles of trails. California's most iconic park is simply an incredible backpacking destination for teens, friends, and families. The best backpacking routes include Upper Yosemite Falls Trail, Little Yosemite Valley and Hike Half Dome, Sunrise Lakes to Clouds Rest, Cathedral Lakes, Lakes Basin, and the High Sierra Camps Loop.
Yosemite also offers a decent amount of dining options. You will find many of the park's restaurants, hotels, and lodges within the Yosemite Valley. This is also where most of the park's top attractions, such as El Capitan, Half Dome, and Glacier Point, are located.
Plan on spending at least two to four days in Yosemite. This will give you sufficient time to see the main highlights and attractions as well as time to enjoy some hiking trails.
You'll find most tourist activities centred within an eight square mile. So, despite the park's enormous size, you are guaranteed to enjoy your stay with friends in one of the best places in California.
6 | Lake Tahoe
Visitors are drawn to Lake Tahoe for its steep granite cliffs, towering mountaintops, and crystal-clear waters. Its beautiful views and close connection to nature has earned the lake a reputation as one of the country's most beautiful vacation spots.
As one of the most fun places to go in California, Lake Tahoe is extremely popular and attracts almost 15 million tourists each year. Its affordability as a cheap place to vacation only adds to its appeal.
Regardless of the time of the year of your visit, Lake Tahoe has something on offer to make your holiday in California with friends unforgettable.
Visit in the summer, and have trouble deciding between biking, fishing, horseback riding, hiking, boating, water sports, or a swim in the lake. Why not do it all?
Arrive during winter and indulge in skiing, winter sports, and other fun activities. Even if all you want to do is relax, Lake Tahoe is perfect for you.
You will find plenty of outdoor activities to enjoy, not only in Lake Tahoe, but also in the surrounding areas. The region boasts several miles of scenic hiking trails, picturesque vistas, and some of the most sought-after skiing spots.
Activities like mountain gondola rides and scenic cruises along the stunning lake is a perfect choice when visiting with friends.
Aside from the fun adventurous activities, Lake Tahoe also offers excellent shopping and dining opportunities along its north shore.
For a truly memorable trip, consider glamping in Lake Tahoe. You will find plenty of Californian glamping sites all over the area, with many of them overlooking the most sublime views in nature.
There's just so much on offer, with an abundance of some of the best things to do for free in Northern California, that there's no getting bored when visiting Lake Tahoe with friends.
OVER TO YOU GUYS.

What are some fun places to visit in California? Which destination are you just dying to explore in California with friends? Let me know in the comments ↓↓
>> Must read:
California dreamin',

Rai