The BEST Kebab in Istanbul: 15 Restaurants That Will Not Disappoint
Are you looking to find the best kebab in Istanbul? Look no further! 
As someone who has had the pleasure of living in Istanbul for nearly four years, I have embarked on a mouthwatering journey to explore the diverse and delectable world of kebabs. Having savored more than 15 different types of kebabs, I now proudly can help guide fellow food enthusiasts and wandering travelers on their quest to find the best kebab in Istanbul.
When it comes to kebabs Istanbul is a true paradise.

From the bustling streets of Sultanahmet to the vibrant neighborhoods of Beyoğlu and Kadıköy, the city is teeming with hidden culinary gems and exotic foods waiting to be discovered. As an explorer of local cuisine, I have immersed myself in the fragrant aromas, succulent flavors, and rich traditions of Turkish kebabs, ensuring an authentic and unforgettable experience for my taste buds.
My quest to try all the different types of kebabs in Istanbul has taken me on an adventure through time-honored restaurants, cozy lokantası, and even unassuming street-side vendors.

So, whether you find yourself in the historical heart of Sultanahmet, where traditional flavors abound, or in the hip and trendy neighborhoods where modern twists on classic recipes thrive, I am here to impart my knowledge and experience. 
Prepare your taste buds for a tantalizing adventure through a world of sizzling grills, tender meats, and tantalizing spices. Together, let us uncover the hidden treasures that will leave you yearning for more, forever altering your perception of the divine kebab in Turkey.
Istanbul best kebab awaits!
>> Related reading:
What is a Kebab?
A kebab is a type of dish that originated in this part of the world and has since gained popularity worldwide.
It typically consists of skewered and grilled or roasted meat, although vegetarian and vegan versions are also common. The meat is often marinated in a mixture of spices, herbs, and oil to enhance its flavor.
The kebab's meat can vary and may include lamb, beef, chicken, or fish, depending on regional preferences and dietary restrictions.
In addition to meat, kebabs often include a variety of vegetables such as onions, bell peppers, tomatoes, and mushrooms, threaded onto the skewers alongside the meat. These ingredients are cooked over an open flame, on a grill, or in an oven until they are tender and slightly charred.
Once cooked, the kebab skewers are usually removed, and the meat and vegetables are served together, either wrapped in flatbread, pita bread or as part of a plated meal. Kebabs are often accompanied by various sauces, such as cacık, hummus, or tahini, to add flavor and moisture.
It's worth noting that the term "kebab" can also refer to specific types of dishes in different countries. For example, in Turkey, "doner kebab" refers to thinly sliced, marinated meat stacked on a vertical rotisserie and then shaved off and served in a bread wrap or on a plate.

The specific variations and preparations of kebabs can vary across different cultures and regions.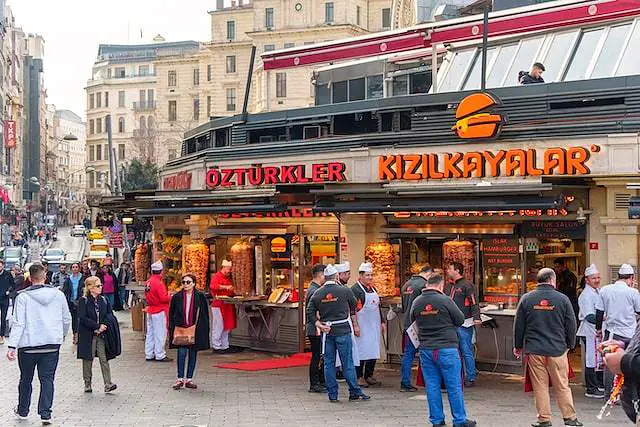 What is an Ocakbaşı?
Ocakbaşı is a term used in Turkish cuisine to refer to a specific style of restaurant or dining experience. "Ocakbaşı" translates to "fireside" or "grill head" in English, which is indicative of the central feature of these establishments: an open grill or hearth.
In an ocakbaşı restaurant, the focal point is typically a large charcoal or wood-fired grill situated in the center of the dining area. The grill is often visible to the customers, creating an interactive and immersive dining experience.
The chefs, known as "ocakbaşı ustası," skillfully cook and prepare various kebabs, meats, and other dishes right in front of the guests.
The menu at an ocakbaşı restaurant usually revolves around grilled meats, including lamb, beef, chicken, and fish. These meats are often marinated with spices and herbs, then cooked on the grill to perfection. 
The emphasis is on showcasing the smoky flavors and creating delicious, tender, and juicy meat dishes. Additionally, ocakbaşı restaurants may also offer a variety of mezes (appetizers), salads, bread, and traditional Turkish side dishes to complement the grilled meats.
Ocakbaşı dining is not just about the food; it also encompasses a convivial and social atmosphere. The restaurants often feature communal seating arrangements, encouraging a sense of community and shared enjoyment.

It is common for groups of friends or families to gather around the grill, enjoy the aromatic grilled dishes, engage in lively conversations, and savor the overall experience.
Overall, an ocakbaşı provides a unique combination of delicious grilled food, a lively ambiance, and a focus on the artistry of grilling. It is a cherished part of Turkish culinary culture and offers a memorable dining experience for locals and visitors alike.
15 Amazing Istanbul Kebab Restaurants
Çiya Kebap
Çiya Kebab is in the heart of Kadikoy on the Asian side of Istanbul. You might be familiar with this restaurant from the Netflix show "Chef's Table." 
This restaurant is special in that it was started by Musa Daðdeviren, who wanted to save the history of Turkish food. Many small towns were losing young people and no one who was left was learning the old ways of cooking. He couldn't let that be the case. 
Here you can find a variety of dishes from around the country. They are made in the original way they were prepared. There is a different menu each day. 
If you're adventurous and like to try new things, this is a great kebab restaurant in Istanbul to check out.

The mezes are delicious and the main courses are out of this world. We tried a few things that sounded good, and ended up loving everything we ate! 
İskender İskenderoğlu Kebab Restaurant
If you want to try Iskender, this is the place to go. 
It is the only thing on the menu as far as main dishes go that is. They do just Iskender and they do it well. 
You know it is authentic because they come and pour this butter sauce over the top of your dish. 
While it is not the most healthy dish, ok not at all, it is worth trying. You will be blown away by the flavors that dance around in your mouth. 
Don't forget to end the evening with a nice cup of tea and maybe a dessert if you have any extra space in your stomach.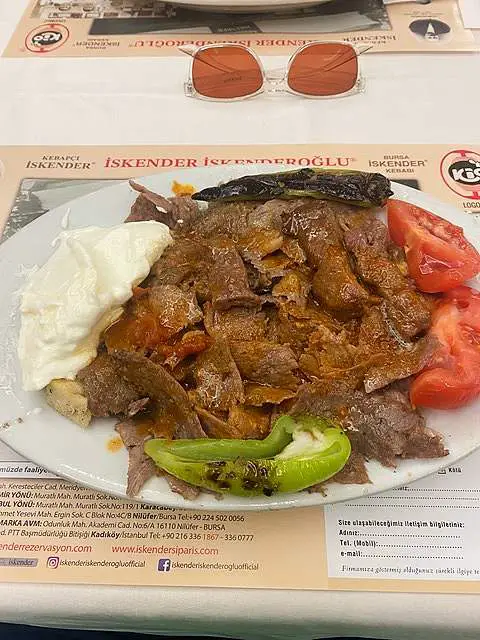 Tatar Salim
One of the things I love about Tatar Salim is the salad that comes out before the main meal. This salad has pomegranate seeds, parsley, and lots of greens and is drizzled with pomegranate molasses.

Heavenly.
They only do a couple of things here. Döner durum or pilav üstü döner. If you're hungry, the pilav üstü is quite delicious and is a healthy portion of food. 
They have great lentil soup as well if you are interested in a starter. 
While I am generally a huge fan of açık ayran (made fresh there), I find that here it is a bit sour for me. If you're into sour, almost bubbly ayran, you'll love it! 
Beyti
Beyti is a bit of a hike if you're on the Asian side, but if you're on the European side or even out close to the old airport, this is a great place in Istanbul to check out. 
It is more luxurious than many of the other options and thus more expensive but worth it. 
They are known for the Beyti kebab Istanbul, which was invented here in this restaurant by Beyti Güler. They are also known for the traditional Ottoman style throughout the restaurant. 
They have 11 different dining rooms and a large terrace. Enjoy!
Şeyhmuz Kebap Salonu
Especially after talking about Beyti, you may be quick to dismiss this hole-in-the-wall, but you shouldn't dismiss it because of its simple exterior!
Şeyhmuz is near the Grand Bazaar in the Sultanahmet district. Here the dishes come from Mardin, in Eastern Turkey and it has been around since 1975. 
They have pide, kebabs, and güveç (a stewed meat and vegetable dish). While fish isn't on the menu here, catfish güveç is one of my favorites. I eat it every time I go to Iznik.
Hamdi
While you're over visiting the Spice Bazaar (Mısır Çarşı) you can try out Hamdi. This restaurant was started as a street vendor by Hamdi Arpaci in the 1960s. 
It is now a 5-floor restaurant where people enjoy all kinds of kebabs in Istanbul. They boast 17 different types on the menu. 
They also have great mezes like haydari, ezme, hummus, and more. Don't miss their tasty desserts either. They have quite the collection of baklava, sobiyet, katmer, and kunefe. 
Öz Kilis Kebap & Lahmacun
Not only is Öz Kilis known for its kebab in Istanbul, but it is also known for its lahmacun. 
Depending on when you go, you'll likely have to wait in line as it is quite a small place. Also, heads up, they only take cash, so make sure you have some on you. 
They have Hatay tava, Adana kebab, Oruk kebab (definitely should try this one!), pistachio kebab, and more. Most people who go here, however, rave about the lahmacun. 
Note that if you are driving, it will be hard to find a parking spot. It is best to just hop on the tram and head toward the Fatih Mosque. 
Siirt Şeref Büryan Kebap Salonu
This hole-in-the-wall restaurant was established in 1892 and specializes in the büryan kebab Istanbul. 
The lamb for this kebab is cooked in a deep hole in the ground over coals. This makes the meat incredibly tender and gives it a crunchy exterior as the fat is touched by the heat. 
They also have a special rice with chicken, almonds, and currants then wrapped in a thin dough. It is a very Middle Eastern style of rice that should definitely be tried. 
Adana Ocakbaşı
Şişli is home to some incredible restaurants and cafes and Adana Ocakbaşı is no exception. 
Here you will find some great shish kebabs in Istanbul and a wide variety of types of meat including heart, kidney and ram in addition to the traditional chicken and beef. 
The Adana kebab here is also highly rated. You can accompany it by a nice cacık sauce (yogurt with cucumbers, herbs and a touch of salt) for a perfect pairing. 
Then you can finish it off with a fruit plate and tea.
Şehzade Cağ Kebap
Şehzade is known for their homemade yogurt which compliments all the appetizers they pair it with. It is located in Sirkeci over by the Sirkeci Marmaray stop. 
This restaurant, unlike others on the list, is not fancy. It is a restaurant you might pass by if you didn't know what you were looking for. Don't pass it by if you are close, however!
The cağ kebab is special because instead of being roasted vertically like döner, this is lamb roasted horizontally. It is a trademark of Erzurum. 
You can also call ahead and make a reservation since it is typically packed.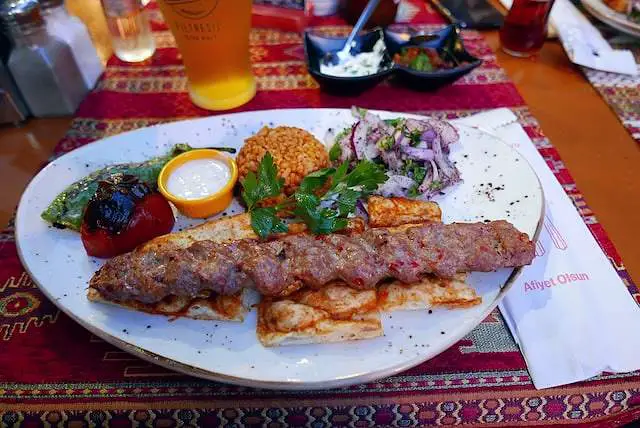 Kaşıbeyaz Bosphorus
This is a luxury restaurant boasting Gaziantep food and Istanbul kebabs. There are a lot of other options also such as pistachio kebab, onion kebab, and one of my favorites, Ali Nazik. 
Here you will also find complimentary a traditional Turkish goat cheese called Tulum cheese served with bread. Yuuummm. 
If you want to have a bit of variety, you can grab a mixed kebab, like many places, and get a little bit of a bunch of options.
Kaşıbeyaz Bosphorus also boasts some incredible views as it sits right on the Bosphorus. While you will be paying a pretty penny for your meal, it will be worth it. 
Adana Yüzevler 
Adana Yüzevler is a small chain that represents the flavors of Adana, Turkey. 
Something different here is the variety of salads. They have tablaci salad, harman or the Yüzevler salad. You won't be disappointed in the quality of the food here. 
You can start with soup or some lahmacun and enjoy a beer with your kebab if that is your thing. 
They also have valet, which is especially nice when you're driving in Istanbul. 
Zübeyir Ocakbaşı
If you're looking for some great mezes and raki to go with your meal, this is the restaurant for you!
This restaurant is located in Taksim Square and probably needs a reservation in advance. It is often full around the grill, which is of course the best place to sit. 
They have a large collection of raki, delicious mezes, and a handful of desserts. Without being pretentious, Zübeyir stands out among the rest.
Develi Kebap
Develi has many different locations, so if you don't see one close to you on the map, search and find one close by. It was started in 1912 by Arif Develi and he also created the pistachio kebab. 
Their menu is quite extensive with a wide range of kebab options like eggplant kebab, a lamb kebab a top of mashed tomatoes, Ali Nazik, and roasted lamb. 
They also have a wide selection of appetizers, both hot and cold. They have some that you can't find everywhere like hummus with sundried beef on top and it's served hot. They also have stuffed eggplant instead of the more common stuffed grape leaves. 
There is a bit of something for everyone here. 
As İskender Kebap
This is an unassuming restaurant located in Altıntepe, a neighborhood in Maltepe. 
They have a large collection of best kebabs from Istanbul available including, pilav üstü döner (shaved doner meat on top of rice), Adana kebab, Iskender kebab, and Beyti kebab (grilled meat wrapped in a tortilla type of bread then covered in tomato sauce and yogurt).
They also have a pretty large selection of mezes including haydari (a thick garlicky yogurt dish with herbs), eggplant salad, acılı ezmesi (a spicy dish with mashed peppers, tomatoes, onions, and spices), and hummus. 
They also have some incredibly tasty chicken. I got the chicken wings and was blown away by the flavor and the juiciness of the meat. It came with plenty of sides. I could barely finish my one dish, especially with all the extra meze they brought to the table.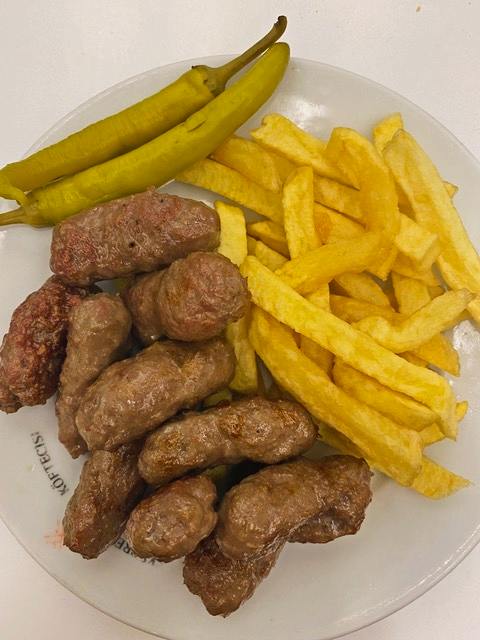 Final thoughts about Istanbul's best kebab restaurants
When it comes to finding the best kebab in Istanbul, it's all about exploring and trying different places. While everyone has their own personal favorite, it's impossible to deny the deliciousness and authenticity of Istanbul's kebab scene. 
Whether you're a seasoned traveler or a first-time visitor, be sure to add tasting the city's famous dish to your list of must-dos. With so many options to choose from, there's no doubt that you'll find the perfect Turkish kebab that will leave you craving for more with every bite!
Kimberly McCauley is the founder of The Art of Living in Turkey. She moved to Turkey in 2019 and has been exploring this beautiful country ever since. She loves to help people like yourself discover new places to see, learn all the things about Turkey and find the courage to go on an adventure.