Revealed: The 10 [BEST] Countries in Africa To Visit in 2023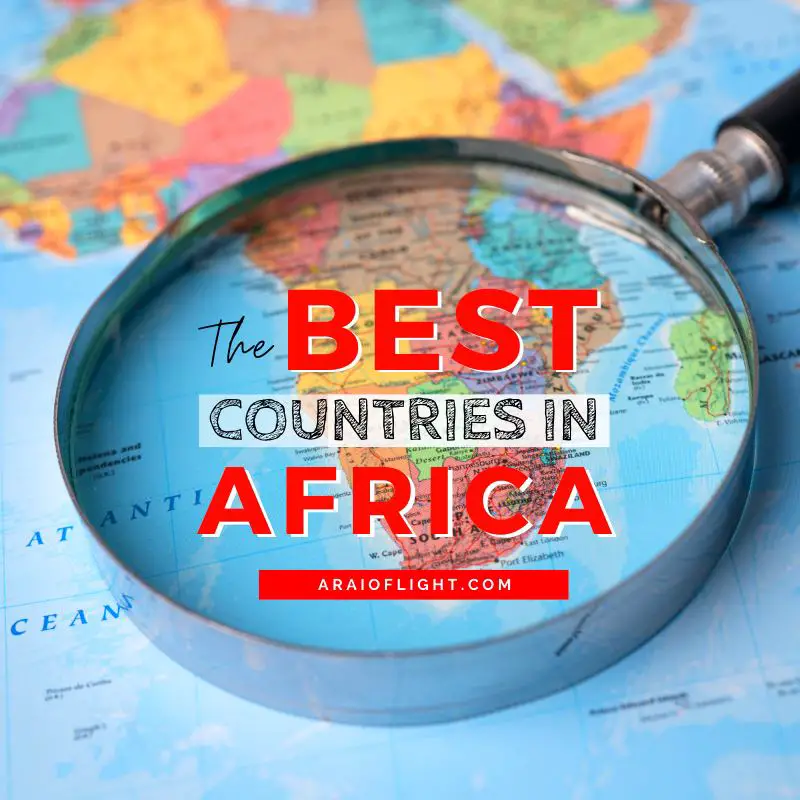 Africa may not always be on the average traveller's bucket list. However, if you've been following this travel blog for a while now and know anything about me, you know that I'm Africa's biggest fan. This vast continent – with its beautiful landscapes, welcoming people, abundant wildlife, rich history, and unique culture – fascinates me. You too? 👌 You're certainly no average traveller! Read on to find a whole lot of inspiration on the best countries in Africa to visit.
Planning a trip to Africa soon? What are you waiting for. Your decision will be rewarded with incredible experiences and memories to last a lifetime. Just think of the sights, sounds, and tastes that await you on your journey in the motherland.
The only problem — where to go in Africa? I know, it's a tough decision. How do you even decide, particularly if you're on limited time. That's what I'm here for! To help you with this, here's my list of the best countries to visit in Africa as well as what makes these places so special.
Here's the very best of Africa…
>> If you're as fascinated with Africa as much as I am…
be sure to check out some of these other posts:
Ok, here you go…. 
THE BEST AFRICAN COUNTRIES TO VISIT IN 2023
The majority of people use economic and logistical factors to decide on which country to visit, in addition to cultural and linguistic ties, attractions, and what's trending.
What is the best country in Africa to visit?
1 | SOUTH AFRICA ✔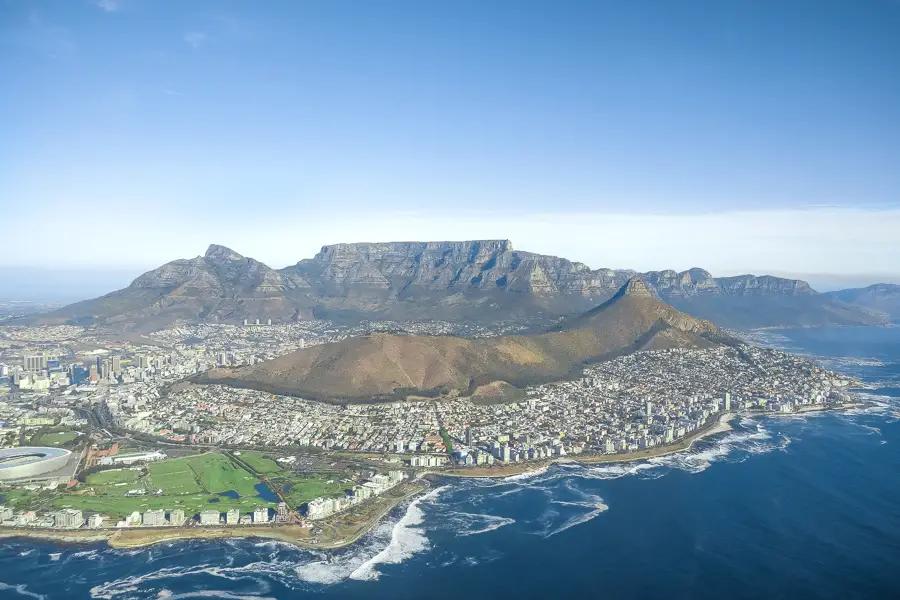 Found on the southernmost tip of the continent, South Africa is often referred to as a world in one country. Rugged landscapes, wild countryside, African bushveld, and lush winelands come standard.
Reasons to visit South Africa include the country's incredible beauty, opportunities for adventure, abundance of wildlife and game reserves, affordability, interesting history, cultural traditions, rainbow nation, and constant sunshine.
This African country is often described as a rainbow nation and a trip to South Africa should be on the bucket list of every intrepid traveller. Discover this melting pot of diverse people, languages, traditions, and cultures.
Marked by several distinct ecosystems and raw beauty, South Africa has some of the very best landscapes in the world. Landmarks and places to visit in South Africa include Table Mountain, God's Window, Blyde River Canyon Nature Reserve, the Cradle of humankind, the Drakensberg Mountains, Boulders Beach, and Robben Island.
Home to the Kruger National Park, a highlight of a visit is the chance to go on a game drive and witness the wildlife in their natural habitat while the iconic stretch of coastline along the Garden Route to the Wild coast provides plenty of opportunity to get into nature.
Whether you're visiting the popular cities of Cape Town and Johannesburg, going on a safari, or planning a road trip along the coast, South Africa offers something for every kind of traveller.
South Africa welcomes thousands of visitors each year and is becoming increasingly accessible as more airline companies offer cheaper, direct flights. It remains one of the best countries in Africa to visit.
>> Before your visit be sure to check out these
Important travel tips for South Africa
---
2 | EGYPT ✔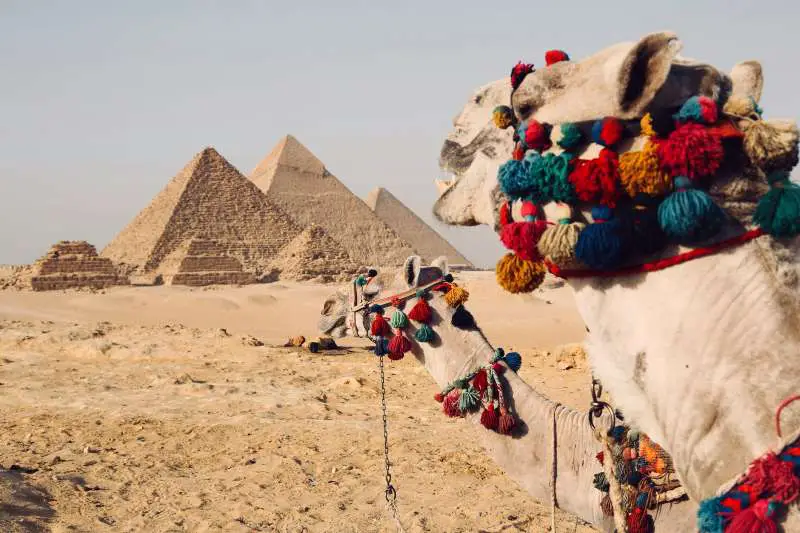 No list of the best African countries is complete without Egypt. A personal favorite of mine on this list, Egypt is a delight for the intrepid explorer, the cultural enthusiast, the history buff, the budding Egyptologist, the water-sport lover, and all round Egyptomaniac (is this even a word?).
While visiting, prepare to be enticed by world-famous ancient treasures, architectural wonders, fascinating millennia-old landmarks, natural therapies, golden sand beaches, and rich coral reefs.
Iconic sights include the Pyramids of Giza, the hieroglyph-lined temples of Luxor, Abu Simbel, Philae, the Grand Egyptian Museum, Sakkara, Dahshur, Aswan, and 
Don't miss a cruise along the Nile River, a trip into the Sahara Desert, and a morning at Siwa Oasis. Follow this up with some delicious Egyptian cuisine.
There's just so much on offer that allow for adventure, culture, and relation in one trip. The best time to visit Egypt is from September to April, when temperatures are mild for maximum comfort and enjoyment.
Much like many of the other countries on this list, Egypt is any affordable destination and can certainly be done on a budget. Despite what you may have heard, it is safe to visit too. 
One of the oldest tourist destinations in the world, Egypt is worthy of your African countries bucket list.
>> Before your visit be sure to check out these
essential travel tips for Egypt
---
3 | TANZANIA ✔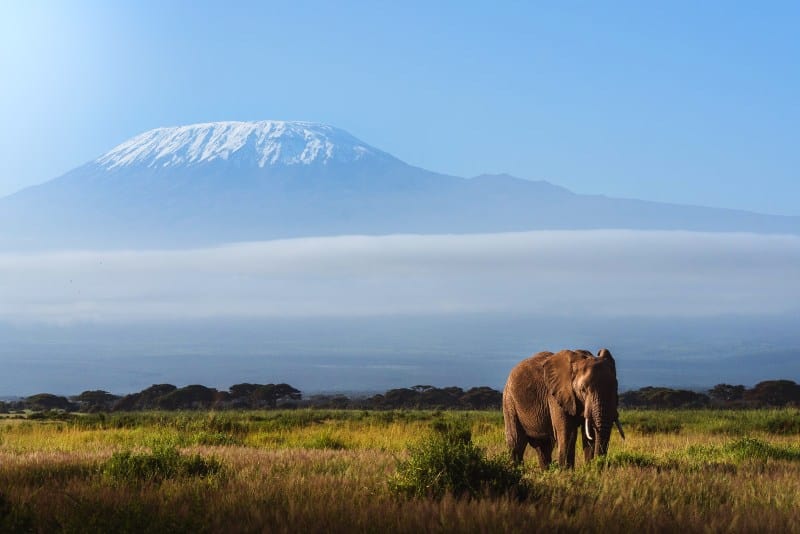 Tanzania is one of those countries in Africa that suit just about every kind of traveller. From fantastic game reserves teeming with incredible wildlife to glorious beaches and luxurious accommodation options, Tanzania will make your holiday unforgettable.
Tanzania has the largest concentration of wildlife in Africa. It's full of amazing wildlife experiences, but one of the most incredible wildlife encounters to experience in this part of the world is the Great Migration. Witness over a million wildebeest crossing the Serengeti plains in search of fresh grasses while braving predators along the way.
For the more adventurous traveller, climbing Mount Kilimanjaro should be at the top of your bucket list. Rising 5,895 metres it is the highest mountain in Africa and an adventure of a lifetime 
While Tanzania is more famous for its wildlife, the country is also home to some of Africa's most beautiful beaches, specifically on the island of Zanzibar. Also called the "Spice Island," Zanzibar is not only famous for its beaches but also its thriving spice industry.
Hot air ballooning is a popular activity around the world. However, the experience of floating above Tanzania's national parks is something else, especially if you share the experience with the most special people in your life.
>> These essential tips for flying
are important to know before your next flight
---
4 | MOZAMBIQUE ✔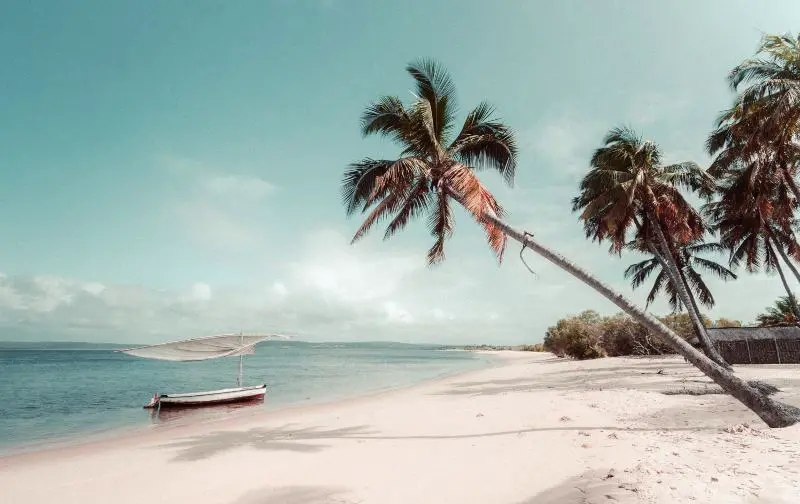 Wild. Unspoiled. Exotic. Mozambique — not as well known as some of these other African countries, is made for the intrepid traveler. 
Miles and miles of undisturbed coastline along the warm Indian Ocean meet pristine waters that are home to world-class coral reefs, undiscovered scuba diving sites and two archipelagos of islands. These waters are perfect for swimming, diving, snorkeling, and sunset sailing. There's even the exciting opportunity of swimming with dolphins, turtles, whale sharks, and rays.
The best way to explore the Bazaruto and Quirimbas archipelagos is by dhow, adding to the naturally alluring setting. You may be surprised to hear that Mozambique is home to some of the best beaches in the world. Don't miss Praia do Tofo, Pemba, Vilanculos, and Barra, among other hidden gems.
The best time to travel is between September and November. Other highlights of a visit to one of the best African countries to visit include Gorongosa National Park, Bazaruto National Park, Vamizi Island, and Fort Sao Sebastian.
This Southern African country is slowly emerging on the international travel radar. The warm tropical climate along with fresh seafood, secluded beaches, colonial-era ruins, marine marks, friendly people, and exotic tropical islands sets Mozambique as a top contender for the best country in Africa to visit.
---
5 | TUNISIA ✔
Tunisia is historical and exotic, culturally rich, and a beach-lovers paradise, all wrapped in one. The northernmost country in Africa is best known for its impressive coastline, ancient ruins, sprawling sand dunes, and coastal holiday resorts. It provides a luxurious vacation at an affordable price. Enjoy the emerging eco-tourism culture amid an authentic blend of Arab and Berber traditions.
Is Tunisia worth visiting?
Tunisia is one of the most visited countries in Africa and has been an alluring travel destination for many years.
As the site of the ancient Phoenician civilization, it provides the opportunity to witness the influences of past civilizations that settled in this part of the world over thousands of years.
Don't miss this chance to explore the wide range of historical attractions from the ancient city of Carthage to the Amphitheater of El Jem. At one point, Carthage was the largest metropolis in the world, the center of the Phoenician trade network, and the home of Hannibal.
Other tourist places to visit include the Roman ruins at Dougga, the National Bardo Museum, the historical city of Bizerte, Sidi Bou Said, Djerba's Houmt Souk's fort, Cap Bon, and El Jem.
As one of the best countries to visit in Africa, Tunisia is world-renowned for its long, golden sandy beaches and its beach vacation resorts that line the Mediterranean. My personal favorite is the former fishing village of Hammamet. It is however not the only coastal town worth discovering among the likes of Mahida, La Marsa, Djerba, Monastir, Sousse, and Nabeul.
If you're wondering if it's safe, you'll be happy to know that the overall risk remains low and Tunisia is a safe country to visit. It is one of the few countries in Africa that rank high on the Human Development Index. The country also has one of Africa's highest per capita income.
>> Make your voyage that much more memorable with these
creative travel words and questions about travelling
---
6 | THE SEYCHELLES ✔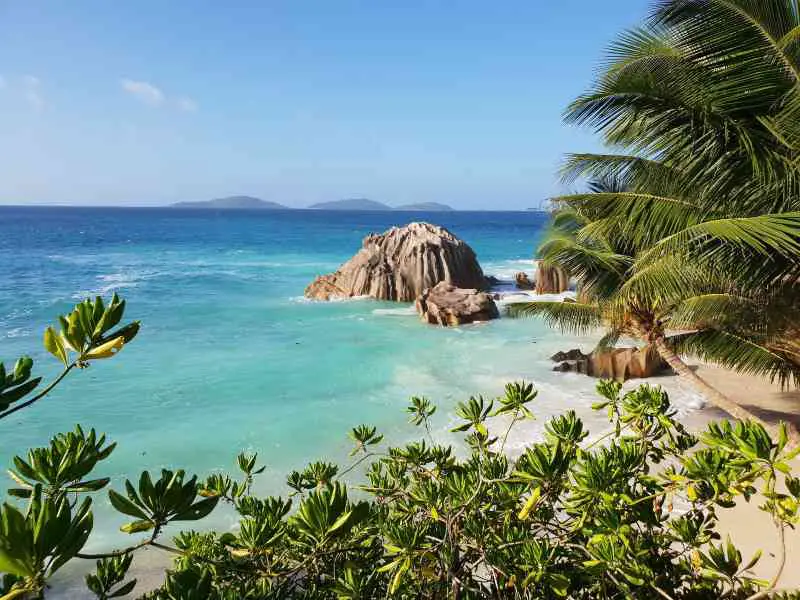 A unique kind of utopia, the Seychelles are an archipelago of 115 tropical islands filled with pristine beaches, colourful marine life, natural ecosystem, unmatched diving, a laidback vibe, and all-round idyllic paradise setting.
Set in the Indian Ocean off the east coast of the mainland, this tropical country is no doubt one of the best countries to travel in Africa.
While visiting, be sure to explore the drop dead gorgeous Anse Source d'Argent beach. Nothing wrong with spending your entire vacation time simply chilling out at the beach, especially when the beaches look as good as they do in Seychelles. The soft sand, granite boulders, surrounding warm waters, and coral reefs will leave you feeling mesmerized.
Other beautiful beaches found across this island country include Anse Lazio, Beau Vallon, La Digue, Anse Georgette, Petite Anse, Anse Louis, and Anse Cocos Beach. If you're keen on being active, a handful of these beaches also offer water sports such as scuba diving, jet skiing, water skiing, kayaking, and snorkelling.
There's more to the Seychelles than just an impressive coastline. Explore its unique mix of Creole, French, and English influences in the capital. Go hiking across its mountain trails, scuba dive at L'ilot, encounter giant tortoises on Curieuse Island, and rock climb to get the best vantage points.
Nestled just below the equator, the islands experience warm weather all year round. The best time to visit Seychelles is between April and May or October and November. These months represent the transition times between the two hot and humid trade winds that hit the island each year. 
The best place to stay in Seychelles is on Mahe, the country's largest island. It has the best hotels, awesome beaches, and an abundance of things to do.
>> Related reading:
The best island vacations for families
---
7 | NAMIBIA ✔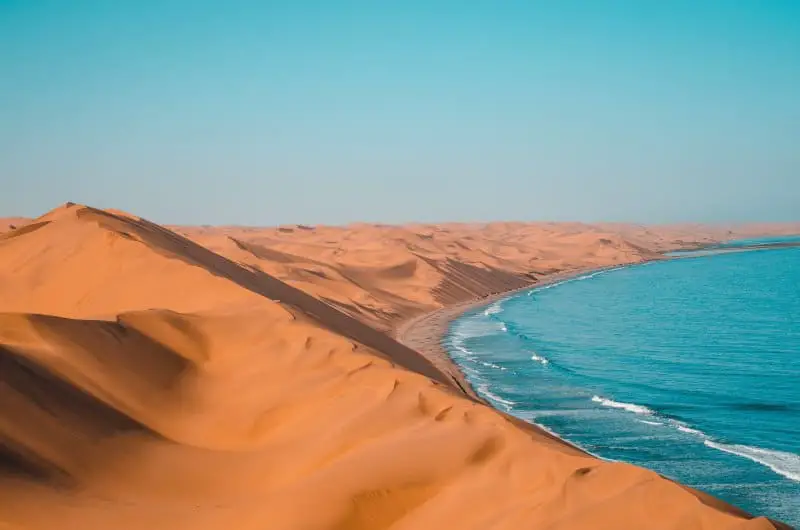 Namibia is a true wilderness and certainly one of the best countries in Africa to visit. As one of the least densely populated nations on Earth, it's a land of endless dunes, limitless horizons, ancient culture, and fascinating wildlife. 
Damaraland, an inland region of rugged mountains, scenic rivers, and gravel plains, is where you should go to explore Namibia's unadulterated scenic beauty. During the day, you can explore the grand and breathtaking lands, while at night, you can go stargazing in Damaraland as the sky sparkles with countless dazzling stars.
Etosha National Park is the best place to go when it comes to game viewing. It's located in Namibia's far north, though easily accessible by car. Dominated by a huge salt pan, Etosha is a big game country offering an enticing mix of wildlife animals, from zebras to elephants and giraffes.
The Skeleton Coast is also worth visiting, a secluded place famous for its 500 km long coast littered with shipwrecks and whale bones. There's also a huge seal colony in the area, offering scavenging opportunities for jackals and brown hyenas.
>> Related reading:
What is the largest country in Africa?
---
8 | KENYA ✔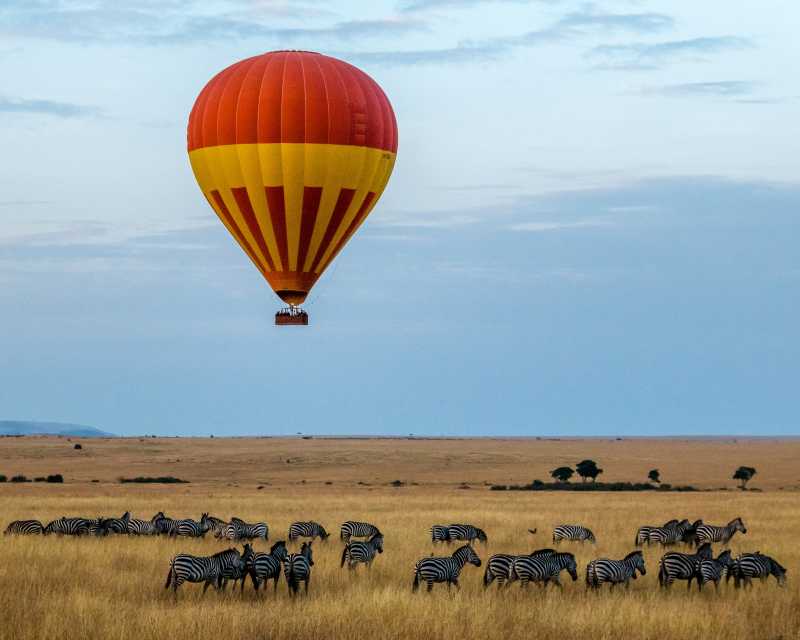 There are infinite reasons to visit Kenya on your holiday to Africa. If your family loves fun and adventure, Kenya is a perfect destination, offering an endless array of activities that promise unadulterated fun. Here, in one of the best countries to visit in Africa, you can revel in bird watching, wildlife safaris, hiking, mountain climbing, and much more!
Home to numerous game reserves and national parks of incredible geological and biodiversity, Kenya is home to one of the world's most popular game reserves, the Masai Mara, where you can witness the remarkable migration of millions of wild animals during the Great Migration.
After embarking on game drives to see the Big Five, visit Masai villages or go hot air ballooning across the vast savannah. 
The national parks are a must-visit during your family holiday in Kenya. The Amboseli National Park, about 160 miles from Nairobi, offers an amazing safari experiences and cultural encounters with local Masai people. It's a place teeming with wild animals, from elephants and zebras to flamingos and giraffes.

You could also spend several days discovering the incredible birdlife paradise of Meru National Park and the lagoons and reefs of the Malindi Marine National Park & Reserve.
>> Related reading:
The best African proverbs about life and love
---
9 | BOTSWANA ✔
Botswana is another excellent destination for a wildlife safari in Africa. Its incredible natural landscapes and the country's focus on conservation make for a truly exceptional safari experience and one of the best countries of Africa. From the desert to the delta, you'll encounter abundant flora and fauna in Botswana while meeting the friendly locals that make this landlocked country even more fascinating to visit. 
Botswana offers numerous game drives suitable to travellers of all kinds. The country is a wildlife paradise and going on a guided game drive is one of the most exciting things to do in Botswana.
If you prefer to explore from the water, you should experience an aquatic safari around the Okavango Delta, where you will ride a traditional canoe made from hollowed-out tree trunks. Brace yourself for an incredible wildlife encounter, from tiny frogs to herons and even hippos!
Botswana is also a great place to spot the famous "Big Five", consisting of the elephant, lion, leopard, buffalo, and rhino. There's a higher chance you'll see all of these animals in Botswana, especially along the Moremi and Okavango Delta.
Sadly, the rhinos are under great threat, although there are innovative conservation programmes to help these magnificent creatures survive. 
---
10 | ZAMBIA ✔
Zambia, a landlocked country in southern Africa, is often referred to as "the real Africa," thanks to its well-preserved and pristine wilderness areas, vast national parks, and unique reserves. 
Then there's also the magnificence of the Victoria Falls and thrilling wildlife encounters, not to mention spectacular birdwatching experiences. With all the incredible things you can experience in Zambia, it's not surprising why it's one of the popular countries to travel to in Africa.
Going for a canoe safari in The Lower Zambezi is a highlight of a visit to Zambia. The Lower Zambezi is a beautiful reserve stretching into the shimmering waters of the wild Zambezi River. There's plenty of big game here, and the lodges are more flexible with their schedules, putting together activities to suit your taste and travel style. Consider booking a luxury Zambia tour for a unique way of discovering Zambia's vast landscape.
---
Other Best Countries Africa:
Morocco
Rwanda
Madagascar
Mauritius
Ethiopia
Sao Tome and Principe
Ghana
Cape Verde
Uganda
Malawi
Zimbabwe
Lesotho
eSwatini
---
I am almost certain that you will never a regret a trip to Africa. So what are YOU waiting for? Book that trip of a lifetime right now. What countries would you love to visit in Africa?

If you need any info or help in planning your African adventure, do not hesitate to reach out to me. I would be more than happy to help you out 🙂
IN YOUR OPINION WHAT IS THE BEST COUNTRY IN AFRICA?
Happy travels in Africa,

Rai