20 Reasons Why You Should Travel To South Africa. Right now.
Hey traveller! Looking for reasons to visit South Africa in 2023?

How many do you need — I've got 20 good ones for you ⬇⬇

Read on to discover them all…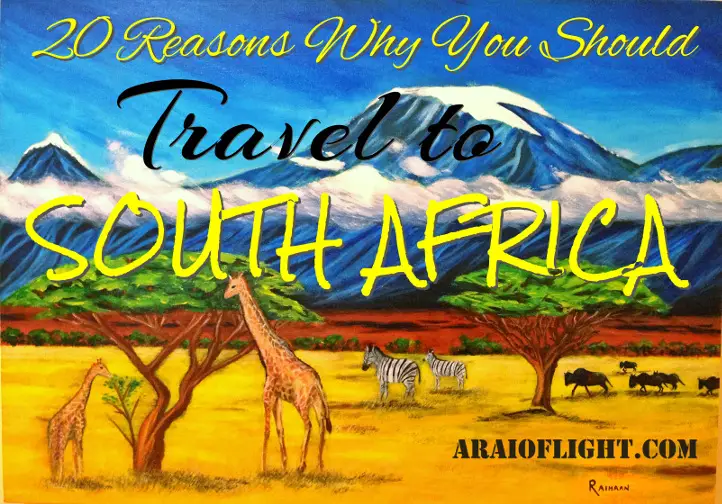 The most memorable destinations are those that ignite something within.
An emotion. A feeling that you carry with you for a very long time…
Nostalgia, awe, inspiration, wonderment, passion, even displeasure, and bewilderment.
South Africa is one such destination.
At least for me…
Each time I return home from an adventure away, I view the country with a new pair of eyes and it ignites a distinctive emotion within.
>> Further reading:
South Africa is a special place.
Mszansi, as it's so often referred to, is a unique mix of beautiful landscapes, diverse culture, inimitable history, incredible wildlife and so much more.
The world is certainly full of adventure for those that seek it out. And Africa is as real and raw as it gets.
The wonderful aspect of travelling in Africa is the diverse range of options from which to choose. Whether you prefer a stint in the wild or a relaxing break on the beach. Hiking in unique landscapes, floating on a boat or a guiltless shopping holiday, Africa is sure to be a delight.
Better yet, why not have it all.
At the same time!
Is this even possible?
With South Africa it optimistically is.
What do tourists love about South Africa?

Situated at the tip of Africa, it is blessed to have an envious climate, breathtaking beauty, an extraordinary fusion of modern development, vibrant culture, both indoor and outdoor attractions and wildlife that you will be hard-pressed to find anywhere else on this planet.
It is this combination that has made it a once in a lifetime journey for millions of travellers.
You often hear provocations for not travelling here.
However, there are many, many more motivations to place it on your travel map.
Right this moment.
>> Speaking of safety, check out this:
list of the safest countries in Africa to visit.
Here are my:
Top 20 Reasons to Visit South Africa
Let's get straight into it…
01 | INCREDIBLE BEAUTY: PLACES IN SOUTH AFRICA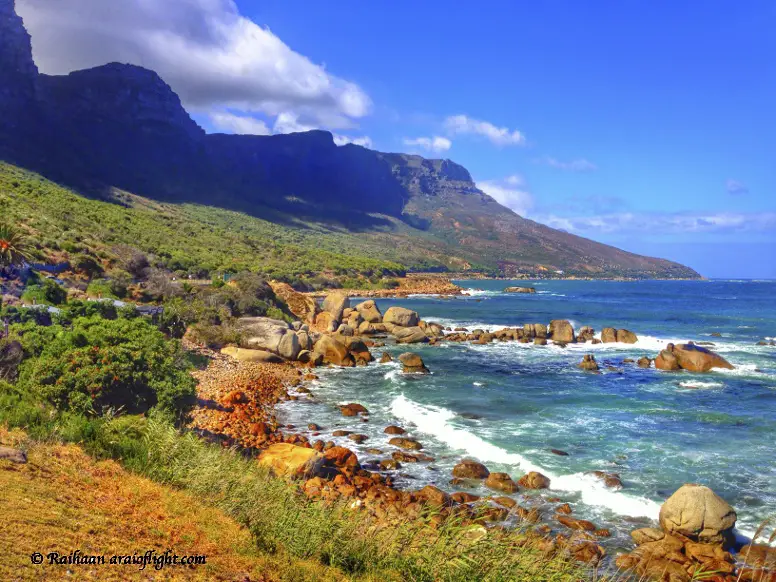 What is so great about South Africa?
Often referred to as a "world in one country," South Africa has some of the very best landscapes in the world. The land area amounts to 1 219 090 sq km, and there are beautiful elements everywhere.
Spectacular landscapes. Monumental Mountains. Wild untouched Country side. Wild African bushveld. Winelands. Forests. Deserts. Oceans. God's Window.
From the incredible views at Cape Point to the veiled gems of the St Lucia wetlands to the rugged impressiveness of the Karoo and the astonishing backdrops over the Valley of a Thousand Hills, there is a large diversity of scenery among these places in South Africa that will satisfy all preferences.
Some of my favourite South Africa places to visit include:
Exploring the Scenic Panorama Route including the Blyde River Canyon
The Blyde River Canyon, which forms part of the Drakensberg escarpment, is one of the largest and greenest canyons in the world. God's Window, Three Rondavels, the Pinnacle and Bourke's Luck Potholes are just some of the highlights to be found on this route.
From God's Window, there is the captivating panoramic view of the surrounding lowveld, hundreds of meters below.
Hole in the Wall
Known locally as "izi Khaleni", which means "place of thunder," because of the sound heard at high tide, The Hole in the Wall at Coffee Bay is a distinctive structure with an enormous disconnected cliff that has a giant opening at its center.
Driving Chapman's Peak Drive.
Before even checking into your accommodation in Cape Town, head for an excursion along this 9 kilometer drive. It's that good! The area along the Cape peninsula is unmatched anywhere in the world with equally incomparable views of the surrounding beauty.
Going on a safari/game-drive in one of the many Wildparks and nature reserves and being completely surrounded in the African bushveld.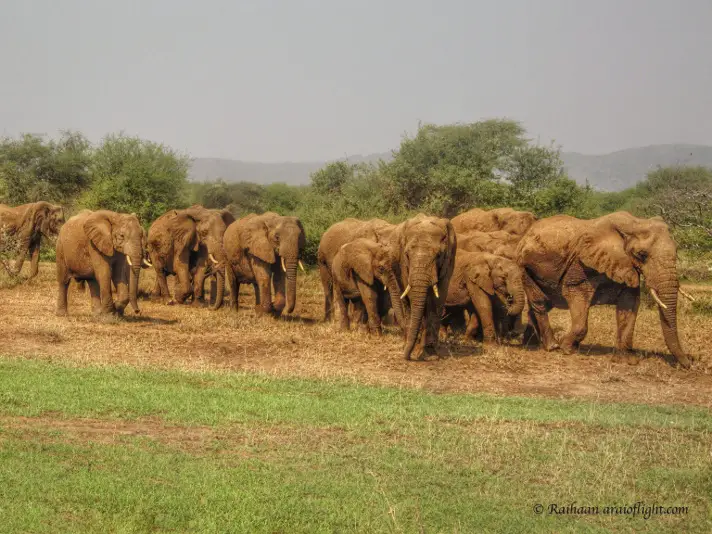 Driving along the Garden Route
One of the most beautiful drives, the Garden Route is a popular picturesque route that stretches from Mossel Bay in the Western Cape to the Storms River in the Eastern Cape. This area is dotted with deep forests, dramatic gorges, headlands and alluring beaches, many found in the Tsitsikamma National Park and Nature's Valley. Apart from the beauty, there are an endless amount of attractions to be found along this expanse, including world-class hiking, kayaking, mountain and road biking.
Another scenic drive is Clarens Drive, which was recently voted one of the most beautiful roads in the world.
Cradle of humankind – Sterkfontein caves
Declared a World Heritage Site by Unesco in 1999, these caves are about 55 kms northwest of Johannesburg and are world famous for some of the oldest fossil finds. Ever.
Located in the Eastern part of South Africa, the Drakensberg Mountain range is completely different yet equally appealing depending on the time of the year visited. During Winter, the mountains are capped in white snow while in Summer, it is transformed into an emerald green delight.
Don't miss out on the opportunity to see the Drakensberg's Tugela Falls, the second highest waterfall in the world with a total drop of 948m in 5 free-leaping falls.
The wildflowers of the West Coast
Should you happen to visit South Africa in the spring months of August and September, the flowering season along South Africa's West Coast is a sure highlight. Masses of flowers in every shade and hue bring the normally plain arid region of Namaqualand to life in a rainbow of colour.
Climbing up to Cape Point, the extreme southwestern tip of the African continent situated within the Cape of Good Hope, provides jaw-dropping views including the opportunity to see where the Atlantic and Indian Ocean meet.
02 | ADVENTURE IN SOUTH AFRICA
(Watch out New Zealand!) 😉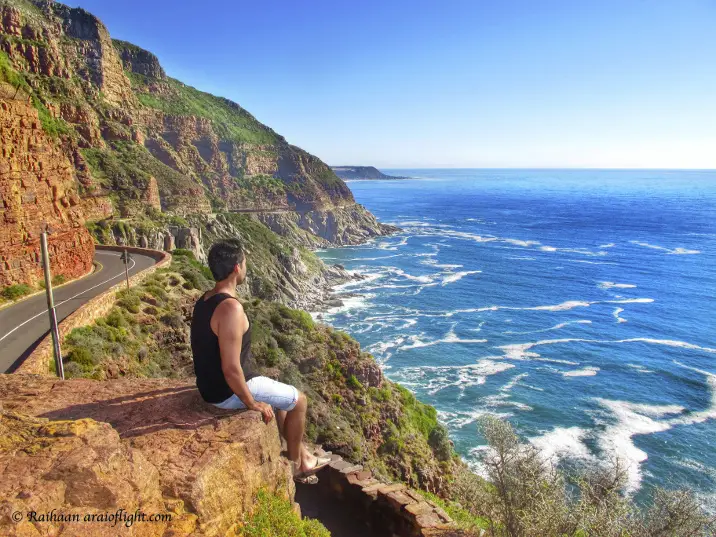 One of the best reasons to visit South Africa is because of the opportunities for adventure: The options are infinite.
You are certainly guaranteed to tick off a number of experiences from your epic quest bucket list.
Whether you're interested in endless hiking, shark cage diving, hot air ballooning, bungee jumping, cave explorations, white water rafting, ostrich riding, paragliding, blokarting, cycling or even helicopter rides and flips.
Some of these are not cheap so start saving!
Some of my favourites:
Experience great white sharks. Imagine being given the chance to encounter one of nature's most feared predators in the wild. Shark cage diving in South Africa has grown greatly in popularity with Cape Town known as the "shark capital of the world."
Try the world's highest commercial bungee jump off Bloukrans River Bridge found along the Garden Route in the Western Cape.
Hike up Table Mountain along one of the many paths scattered throughout, ranging from childsplay to devilish, and then descend by abseil from a height of 1,000 meters above sea level for a real thrill.
Cable car? No thanks!
Hike up Lion's Head at full moon. Yet another fun hike is this one up Cape Town's iconic mountain peak, which remains a favourite of many travelers and locals. This hike is awesome at any time but is made even more special during the glow of the full moon.
Golf = adventure? No, but the tee for the Extreme 19th hole at Legend Golf & Safari Resort is positioned on Hanglip Mountain and only accessible by helicopter. I'd take up golf just for that!
The J'Bay Winter Fest is a popular event dedicated to extreme sports like boarding, skating, surfing, and cycling.
The sheltered ocean waters off the iSimangaliso Wetlands Park offer great scuba diving.
You may even get to swim alongside a whale shark.
03 | HAVEN FOR WILDLIFE IN SOUTH AFRICA
Growing up, all I would ever talk about was my insatiable desire to become a game ranger.
Animals roaming freely in the wild are probably one of the first things that come to mind when people think of Africa.
"Do you have elephants roaming the streets, back in your city?" They'd ask on my travels.
"What? That's crazy!" Laughter. "But I do own a giraffe" I'd respond in all seriousness.
(He's pictured below, on the left –> Isn't he adorable?)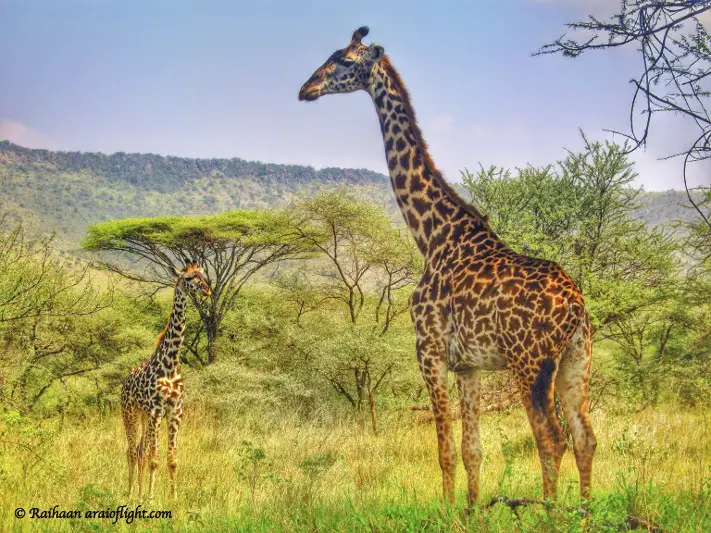 Another reason to go to South Africa is the wild life and safari options. This country has a myriad of superb game parks and private reserves. These parks cater for all budgets, from camping in camp sites to a luxurious stay in 5 star lodges.
Kruger National Park, one of the top 10 attractions of SA, is the largest game reserve in South Africa. Located in the northeast, it covers nearly 20,000 km² and boasts an incredible array of species. It is one of the most established game reserves in the world and provides the opportunity to truly engage yourself in the wild bushveld.
Be sure to witness the Big Five wild animals in their natural habitats. The catchphrase, coined by hunters, refers to the five most difficult animals to hunt on foot. These are the lion, leopard, African elephant, black rhinoceros and buffalo.
Penguins
Where else in the world can you go to the beach and be surprised by a colony of penguins.
Two of the best spots to view these adorable creatures in play are Boulders Beach near Simonstown and Stoney Point in Bettys Bay.
In addition to these, there are also a few island destination spots where visitors can see them. Most of these are possible through daily organized boat trips:

— Robben Island
— St Croix Island
— Dyer Island – near Gansbaai's shore
— Dassen Island – neighboring Yzerfontein's shore
There is also the option to visit SANCCOB– a sea bird rehabilitation center where you might also be able to lend a hand.
Whale watching
South Africa is famous as the best land-based whale-watching destination in the world.
There is also the opportunity to get closer to the action by boat. The Western Cape is a prime spot for seeing whales that have migrated from the waters of the Antarctica to warmer waters of the Cape Coast with the best time for whale watching being from June to November.
Once a year, Hermanus hosts a whale festival that has become popular over the years attracting thousands of international visitors.
If you're into hiking, a route known as the Whale Trail offers a five-day experience in the De Hoop Nature Reserve. Whales are often spotted along the route, making this trail a unique experience. The thing is the trail is booked out two years in advance, so not the ideal case for you spontaneous travelers like me.
Ostrich farms
These big birds in the little Karoo are wildly wonderful. At the ostrich farms you might be given the opportunity to feed them and maybe even ride them!
Small Five
You know all about the Big Five, but have you heard about the Small Five? I've only recently heard this term and at first I thought it was a joke.
But, it's really a thing.
These are the ant lion, leopard tortoise, elephant shrew, buffalo weaver, and rhino beetle. Memorize this fact and repeat it (often) on your visit to SA. You are sure to gain a couple perks as a result 😉
With all of these options, what more could you ask for, wildlife lover?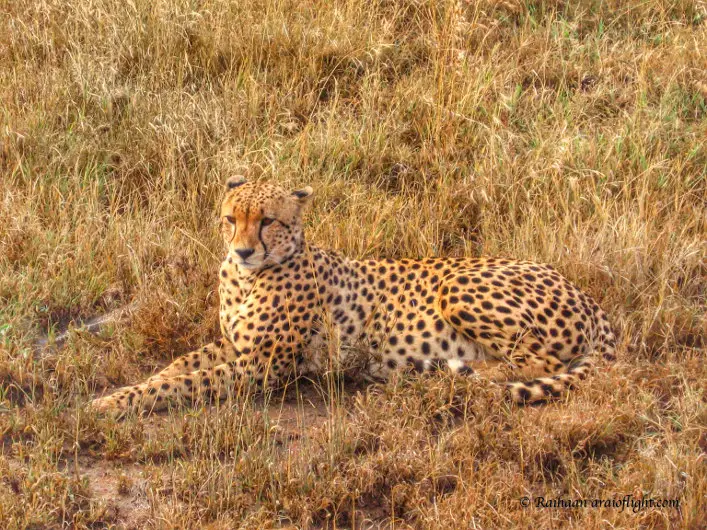 04 | AFFORDABILITY + VALUE FOR MONEY IN SOUTH AFRICA
While fellow South African travellers cringe every-time the exchange rate with major currencies is mentioned, this is a major advantage to foreign visitors.
The South African Rand is weak compared to the Dollar, Pound, Euro and other currencies giving you more buying power.

And an especially compelling reason to visit South Africa.
International visitors are often pleasantly surprised at the relatively low cost of food and transport. I sometimes share this sentiment too, even more so on my returns from Europe, until I compare the cost of connecting to the internet or the never-ending increase in the price of petrol.
South Africa offers all travellers value-for-money. With such a strong currency conversion you get to experience the best that this country has to offer without having to constantly look at your budget, without having to compromise and without having to spend as much as you would have in another more expensive part of the world
The banking infrastructure is good, allowing for convenient banking and the use of your Master and Visa card virtually everywhere.
Those looking to splurge on the ultimate luxurious vacation will not be disappointed.

South Africa affords you the option to travel on a budget. However if you'd like to treat yourself with some luxurious alternatives, this country also gives you that option.
For many the biggest cost in visiting is probably the airfare, but recently with so many direct competitive airlines to choose from, this is becoming less of a concern. Of course, there is a huge scope for improvement in this regard and I'd like to see the cost and availability improve greatly still.
Once in South Africa, you will be spoilt for choice with the wide array of accommodation types. This range goes all the way from mobile camping to B&Bs to 5 star luxury lodges and hotels. Whatever your taste and budget, you are sure to find something to match.
05 | Two Words: CAPE TOWN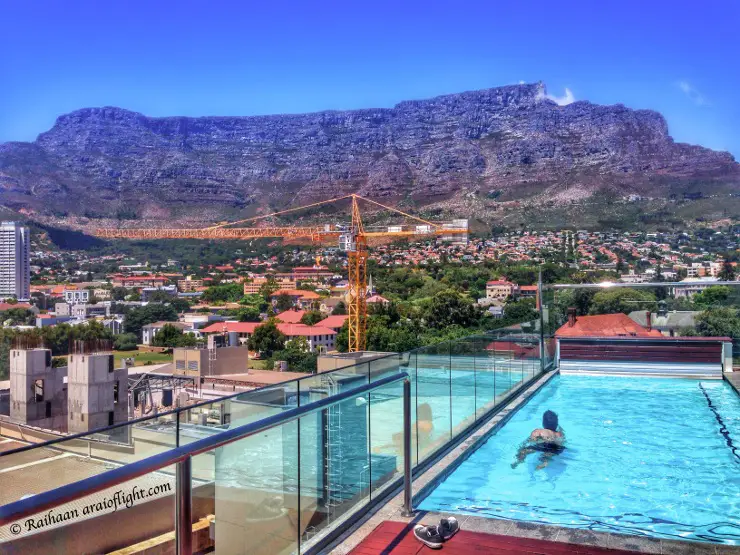 South Africa's charmed city.
A huge part of this city's charm and appeal lies in its location. Situated between the gorgeous vast blue of the Atlantic Ocean and anchored by the iconic Table Mountain, one of the new seven wonders of the world.
It is also one of the most beautiful African cities and one of my favourites in the world.
But, I may be biased. So be sure to check it out for yourself.
The Mother city, as it's often affectionately referred to, is an assortment of natural splendor, African culture and contemporary influence. You could easily spend a week or two absorbing the energy and good vibes of this city.
Some of the highlights of a visit to Cape Town include:
Chapman's Peak Drive, hiking up Table Mountain and Lion's Head, Cape Point, Robben Island, Kirstenbosch National Botanical Gardens, the V&A Waterfront, the small seaside towns of Simon's Town and Fish Hoek, Camps Bay, a walk along some of the lovely coast lines and beaches nearby.
Every part of this city thrills; the big surf spots of Muizenberg, the penguin colony at Boulders Beach, the historic District Six Museum, a guided tour of the Townships, the day and night markets, the beaches of Camps Bay and Clifton and the nightlife on Long street amongst others.
06 | BEACHES OF SOUTH AFRICA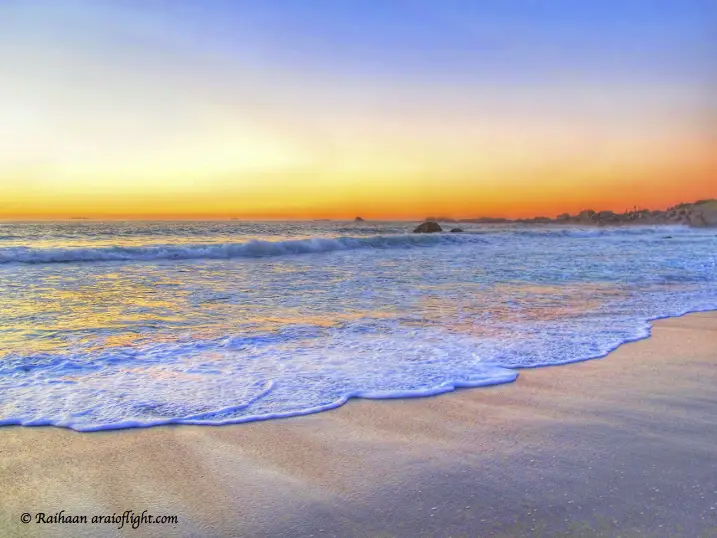 The ocean has always fascinated me. Something about its magnitude, mystery and raw beauty has a way of captivating my every waking attention.
Look at any map and at the tip of Africa you will notice a country with an enviable coastline that stretches for more than 2500 kms, punctuated with long sandy stretches, rocky cliffs, and coves.
Over 41 of South Africa's beaches have been awarded Blue Flag status, so you will certainly be spoilt for choice.

Whether it's the picturesque beaches of Cape Town, the warm water beaches of KwaZulu Natal, the untamed Wild Coast beaches, or the wide sandy beaches along the Garden Route, the South African coastline is nothing short of spectacular.
07 | SOUTH AFRICA: FULL OF HISTORY WITH A RICH PAST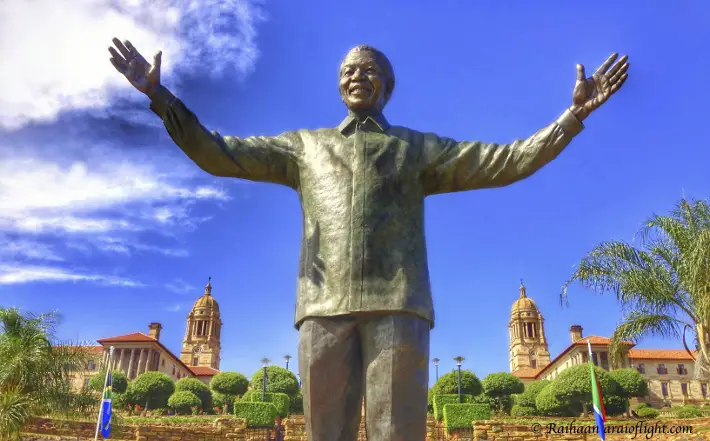 How rich? You ask.
Well, that depends on how far back you want to go.
As a traveller, I feel it's important to have at least a brief historical awareness of the country one's visiting in order to know where its people come from and where they are headed.
It all starts at the 'Cradle of Humankind.' As the name suggests, one of the earliest ancestors of the human race, a 2.3-million year-old fossilized remains of "Australopithecus Africanus" named Mrs Ples was found here.
Since then, South Africa has been considered one of the most important paleo-anthropological areas including the discoveries of some of the earliest rock art ever found.
Our journey continues…
All the way from the first known human inhabitants- the San and Khoi people, to the colonial era, the occupation by the Dutch and British, the great trek of the Voortrekkers, the discovery of diamonds, the tragic Mfecane, Anglo-Boer and Zulu wars and the period of Apartheid to our present day's free democracy.
The most recognized part of the country's modern history is the rise and fall of Apartheid. While the freedoms of a democratic composition are available for all South Africans to enjoy nowadays, it is our history that has shaped the people we are today.
Various museums around Cape Town, Johannesburg, and Pretoria can easily educate tourists about apartheid.
Apartheid Museum
Opened in 2001, this museum in Johannesburg, serves to provide insight and an understanding of this era in history.

Acknowledged as the leading museum in the world dealing with 20th century South Africa, the museum also shows the world how South Africa is coming to terms with its oppressive past and working towards a future.
Liliesleaf Farm in Johannesburg is another museum worth visiting and a world famous Heritage Site.
There is also the Cape of Good Hope. This landmark served as a beacon that every European explorer wanted to round in order to get India and the rest of the East. One of my favourite lessons from history class and more significantly, one of the spots that helped shaped world history. Be sure to check it out, not only for its beauty, but to walk in the footsteps of once-great explorers.
Speaking of landmarks, check out this
list of the best and most famous African landmarks.
What number is Table Mountain?
South Africa gave the world its ultimate modern day icon
The father of modern day South Africa, Nelson Mandela is a symbol of struggle, freedom, forgiveness, and triumph of the human spirit.

Visitors want to follow in Mandela's life journey, from his birth in Mvezo to his time in Soweto to the notorious Robben Island, where he spent 18 years of his incarceration.

To follow in the footsteps of Tata Mandela, I highly recommend a visit to the Nelson Mandela Museum located in the Eastern Cape province for an interactive timeline, map, heritage trail, corresponding photographs, and an all-round informative cultural experience.

The Mandela House in Vilakazi Street in Soweto is another good option. This humble spot is where Mandela lived between 1946 and 1962 and now contains photographs, memorabilia, and paintings depicting his life.
Robben Island
Once in Cape Town, be sure to catch a ferry to Robben Island. This now UNESCO World Heritage Site, was once used for the imprisonment and isolation of political prisoners. On a tour led by former inmates, here you catch a glimpse of life behind bars and the arduous conditions these detainees faced.
My most striking memory of this place is seeing the ridiculously tiny cell where Mandela was held captive and the hollowness of it all. This will almost certainly move you too.
08 | A COUNTRY COMPLETE WITH CULTURE AND DIVERSITY
Culture
Throughout your travels in South Africa, you will come across areas that are a melting pot of different races, cultures, religions, and diverse lifestyles. You will then understand why this country at the bottom of Africa is often affectionately referred to as "The Rainbow Nation."
Just outside of Johannesburg is an amazing cultural find. The Cradle of Humankind, one of eight UNESCO World Heritage sites in South Africa, where some of the oldest (ever) human fossils have been discovered, dating back two million years, and furthering the belief that Africa is the birthplace of humanity.
There are no language barriers in South Africa as almost everyone speaks English, but did you know that this country has a total of eleven official languages.
You can also learn the history of the people, their customs, and their cultures through their art and other creative endeavors. The local art is steeped in tradition and often tells many stories. I'd like to think that each piece has meaning and molded through daily life, a belief and a journey.
Diversity
As the second largest continent in the world, Africa is an area of diverse lands and cultures. This theme is continued within South Africa itself. Not only does the country have an incredible biodiversity, but there is also diversity in experiences.

Go almost anywhere and get the opportunity to experience the ultimate assortment of atmosphere, nature, wildlife, culture, heritage and adventure.
You'll certainly be spoilt for choice.
09 | NO LANGUAGE BARRIERS IN SOUTH AFRICA
Yes, a country with eleven official languages!

One of which is English. This language is spoken by nearly everybody.
This makes all forms of connection, from interacting with the locals to ordering food to asking for directions, that much easier allowing for a more authentic experience.
To learn some words in every languages around the world, check: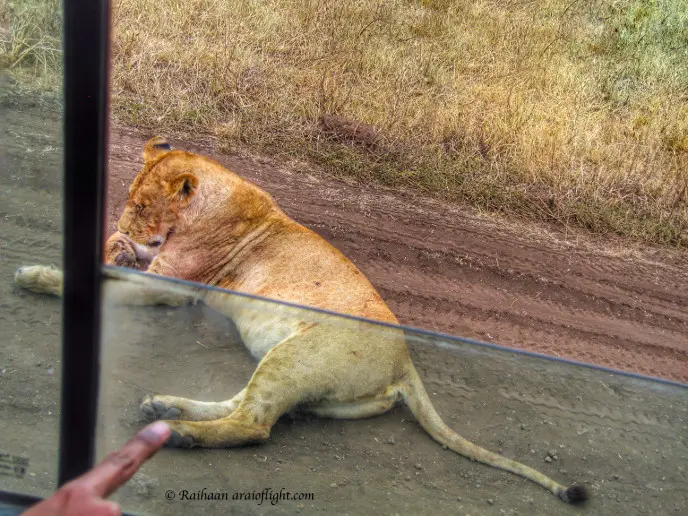 10 | ACCESSIBILITY + GATEWAY TO TRAVEL
(through the rest of Africa)
Not too long ago, if you wanted to travel to South Africa you would have to fly 25 to 30 hours connecting in one or two other cities along the way.
Fortunately for you, o' modern day traveller, these days South Africa is becoming increasingly accessible as more and more airline companies are offering cheaper, direct flights.
South Africa also has airports, which are rated as being the best in Africa.
Whether you intend to see the implausible islands of Madagascar, Mauritius, Reunion and Zanzibar, the vastness of Namibia and Botswana, the power of the Victoria falls or many other parts of Africa, there is a good chance of going through South Africa, with Johannesburg being a major hub of the region.
Speaking of airports, before your next flight do make sure to check out these:
13 flying tips on how to stay safe and healthy on a plane
11 | VISA FREE POLICY OF SOUTH AFRICA
No visa is required for a large number of countries including the UK, USA, the Schengen countries, Southern Africa, South America, Japan among others – you simply need a passport.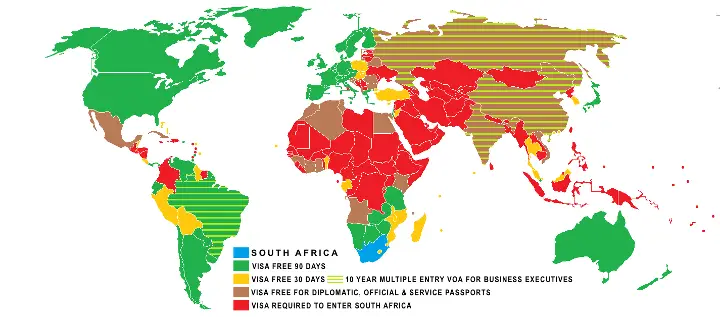 12 | THE PEOPLE. THEIR CULTURE. THEIR TRADITIONS
Interacting with the locals is one of my favourite aspects of travel and undoubtedly this will be one of your highlights on your journey to Africa. South Africa is an exciting fusion of many cultures forming one nation, where each culture is different. Distinctive languages. Diverse food. Varied traditions.
Former Archbishop, Desmond Tutu best described South Africa when he called it "The Rainbow Nation."
A lively combination that's been formed right through time by large numbers of people that have come to explore and decided to settle.
Making new friends
You might be pleasantly surprised with how easy it is to strike a conversation with the locals.
Visitors often comment that South Africans smile a lot. Our hospitality and friendliness is always noticed, especially during the hosting of big events such as the FIFA World Cup where thousands of visitors got to experience this first hand.
13 | NIGHTLIFE IN SOUTH AFRICA
From an all-night jol (party) to a night of fine dining, theatre or live music to a braai with good company the options are endless. So let your hair down. Have a night (or two or three) out on the town and see why South Africans love to have a good time.
14 | SHOPPING IN SOUTH AFRICA
The combination of greater buying power for most tourists and the availability of goods from one-of-a-kind collectables to luxury international brands make South Africa a shopper's delight.
Drive through any major city and you're bound to come across a mall or two or three. Walk through any major city and you're bound to come across a melting pot of craft stalls and farmer's markets selling everything from African art to home ornamentation and souvenirs to all kinds of local delicacies.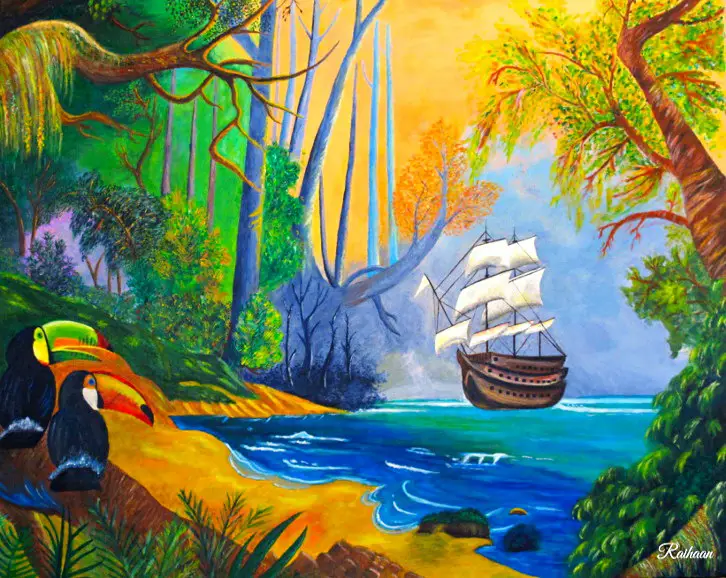 ↑ My latest painting. For more of my works of art, click here.
15 | YOU ARE ALMOST ALWAYS GUARANTEED GREAT WEATHER
Welcome to the home of the braai. Wherever. Whenever.
With summer temperatures averaging between 20 and 35 degrees Celsius, Mzansi falls in the top ten countries worldwide for the number of sunny days per year and this only adds to its appeal and the many reasons to travel to South Africa.
With a subtropical location, the weather is hot, humid, hazy summers coupled with afternoon thunderstorms and cooler, dry mild winters that are typically sunny. Many areas experience over 300 sun-filled days per year. Its clear blue sky and temperate climate will ensure that you can enjoy all the activities that much more.
This is another compelling reason for those living in the Northern Hemisphere and wish to get away from the cold winter for the warm sunshine of the South.
If your main reason is game viewing, then the winter months of May to August are the best months when the vegetation is sparse and the animals are more mobile for the better part of the day. However, the best time to view the migrant bird species is over the summer months.
All this great sunshine means locals are inclined towards an outdoor lifestyle.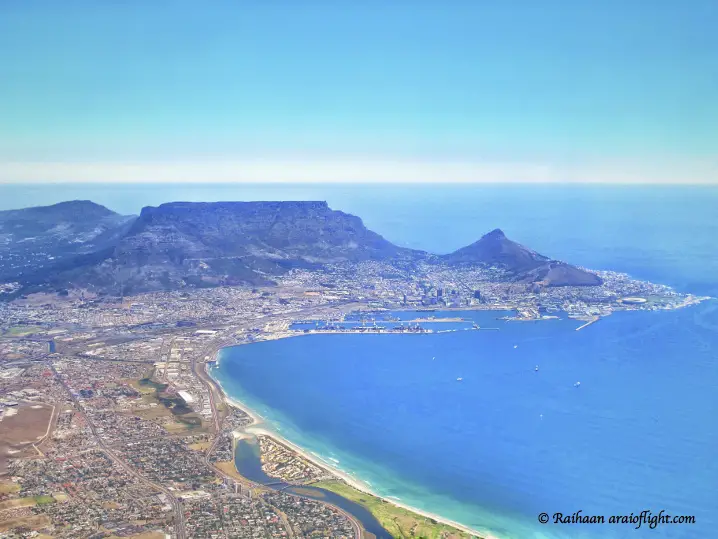 16 | SEE THE STARS IN SOUTH AFRICA
It's a cloudless night. Dark. Cold. Astonishingly cold.
The thermometer has past a couple degrees below freezing.
But the stars are out. In all their glory.

And it's all completely worth it.
Some of my most favourite travel memories involve stargazing.
From falling asleep to the sight of a million stars on a beach in Montenegro to the spectacle of shooting stars from Sarajevo's highest mountain.
Sadly, according to the World Travel Market (WTM) Global Trends Report, 50% of the world's population can no longer see the stars because of pollution.
Fortunately a significant part of South Africa still holds one of the best places in the world to see stars.
Some of these best places to go stargazing include:
— Sutherland
A land so flat you could see a dog running for four days, Sutherland is home to the Southern hemisphere's largest telescope. Be prepared for wonderful views of the Milky Way in this small Karoo town.
— Anysberg Nature Reserve
A five hour drive from Cape Town, this nature reserve offers perfect conditions to view the night sky including a telescope and guides.
— Pafuri
Situated in the northernmost part of the Kruger National Park, Pafuri is where South Africa, Zimbabwe and Mozambique meet.
— Cederberg
Known for its rock climbing routes, this area is close enough to Cape Town for a night of captivating skies.
17 | GOOD FOOD + FRUIT + WINE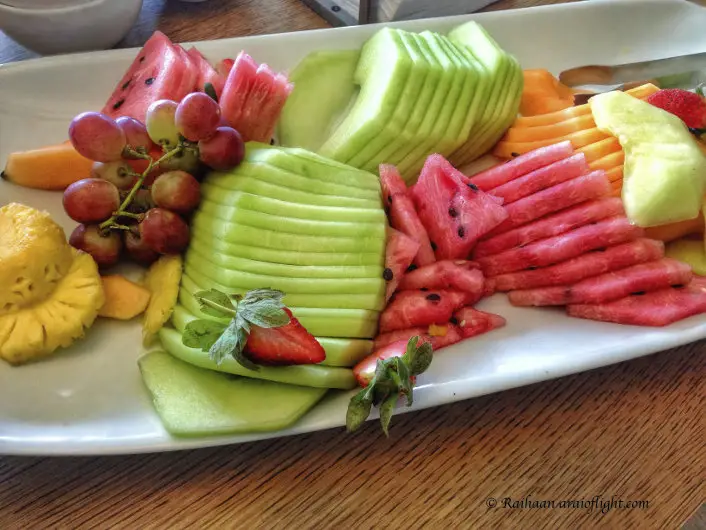 South Africa is world renowned for its wine. Dating back to the mid-1600s, the country has developed its viticulture to compare with the best in the world, winning international awards year-after-year.
Our refinement of wine is established and there are several wine routes and vineyards scattered throughout the country, with the majority being located on the outskirts of Cape Town in amazing settings.
Some of the better-known wine routes include Delaire Graff Estate, the Waterford Estate, Beaumont Wines Constantia Uitsig, Steenberg, Vergelegen, and Stellenbosch.
Local cuisine has a lot of external influences from colonialism times. You won't find South African inspired restaurants darting up all around the globe in large numbers, but the food culture has awakened in recent years and there is a fresh, growing emphasis on locally grown, organic foods.
You are almost guaranteed delectable fruits and vegetables, locally caught seafood and an assortment of food prepared in a variety of styles.
You might also like to try one of the traditional cuisines of the diverse communities around the country.
If you're feeling brave, how about tasting some mopane worms
and these other weird foods?!
18 | AWARD-WINNING DESTINATIONS
South Africa and Cape Town continue to win major travel awards from the likes of World Travel Awards, Travel & Leisure, and National Geographic Adventure.
Now the country's largest city and the largest city in the world not located by a river, Johannesburg has joined in having been named Rough Guides' top city of 2015.
Known for being the economic hub of the continent, its dramatic summer thunderstorms, the largest man made forest in the world; Johannesburg is about to be filled with fascinating, modern museums, galleries and neighbourhoods.
19 | DID I MENTION HOW BEAUTIFUL SOUTH AFRICA IS?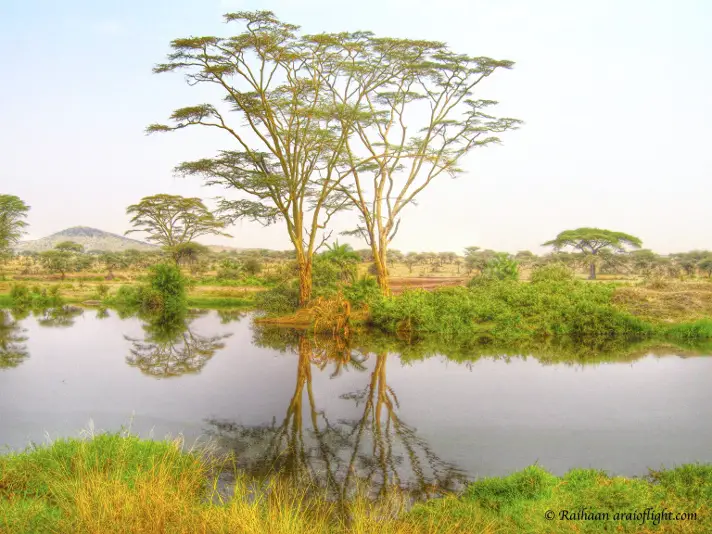 One last reason to visit South Africa…
20 | THE ENERGY (IN REBIRTH)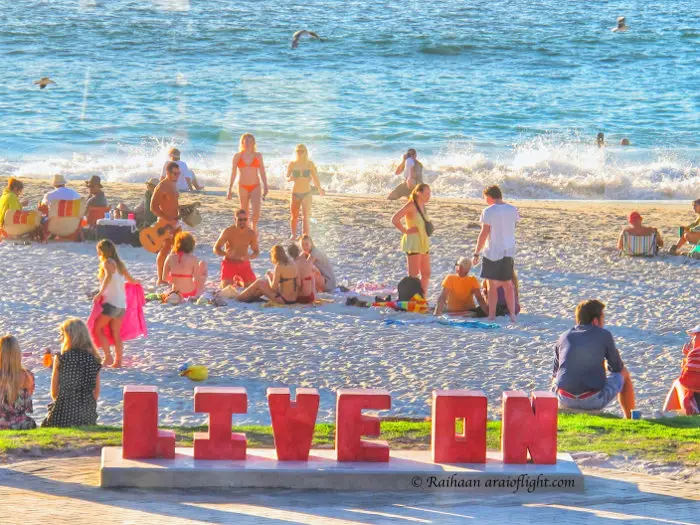 This one's hard to put in writing or explain to someone who hasn't experienced it, but there's an energy to the place. An atmosphere of vibrancy, growth, enthusiasm, and life.
Of rebirth
Since the fall of apartheid, South Africa has changed into a dynamic state with one of the world's most progressive and liberal constitutions.
It is a challenging and stimulating time. For the travel lover it is a wonderful opportunity to notice the country's rebirth first hand.
Of course it's not perfect. Of course there are going to be problems.
But …
It only means you become compassionate, stronger, bolder.
You're not afraid of the dark.
And heroes are made in the most unlikely of places.
With all of the reasons above, what more could you ask for?
Why not visit beautiful South Africa and see for yourself… Have I convinced you to visit yet?
MUST READ:
35 Essential South Africa Travel Tips to know before you go!
READ NEXT:
The best places to visit in South Africa for first timers
You now know exactly why people visit South Africa. If you've enjoyed your time in South Africa or I've just convinced you to visit South Africa at some point, please spread the word and share this post using the options below.
All photos are my own. Want to use any of them? You're welcome to. But contact me for a full size, watermark-free image and I will gladly send it your way 😉
If you have any questions, feel free to ask away in the comments below.
I can also be found on instagram, facebook and twitter. Let's connect!
Never stop exploring the world,
✈ Rai
Found value in this? Don't forget to PIN and bookmark this for future travels.