RANKED: The Safest Countries in Africa 2024 (+ Where To Avoid!)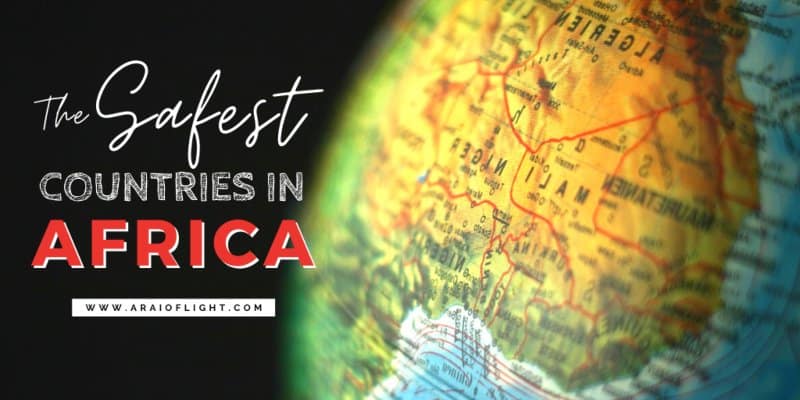 The beautiful continent of Africa, known for its warm people, breathtaking landscapes, unique cultures, rich diversity, captivating history, and ancient stories, is an incredible travel destination. Whether you're a safari enthusiast, an adventure traveler, an insatiable historian, a fervent xenophile, or an intrepid explorer, there is something on offer for everyone in Africa. That being said, the Mother Continent is unfortunately notorious for its safety levels. So it's expected that you're doing some research on the safest countries in Africa in preparation for an upcoming trip. Today, you get to find out exactly that. I have not only included the safest African country 2024, but also a handful of additional options. You will also discover some essential safety tips as a traveler in Africa and vital information on which African countries to avoid!
All of this ↓↓ Let's get into it my fellow explorers….
Is Africa safe?
This vast continent, spread across an area of 30,37 million km², is divided into 54 African countries, with many of those countries being relatively safe to visit or live. A handful of safe African countries have a level 1 travel advisory, which is the best safety level.

Africa — home of the Great Pyramids of Giza, Kilimanjaro, the Sahara, the Nile River, Table Mountain, Victoria Falls, the Serengeti, and many more amazing African landmarks — attracts around 62 million tourist each year looking to experience its magic.

The second largest continent is certainly a land of contrasts.

One day you could find yourself in the centre of a bustling city surrounded by skyscrapers and the next you could be witnessing wildlife spectacles on an endless open savannah. One day you could be at the top of the highest free standing mountain in the world and the next you could be fascinated by the underwater world of a tropical island. One day you could be mesmerised by the largest desert and the next you could be sailing down the longest river in the world.
Is traveling in Africa safe?
Despite its natural beauty and vibrant culture, Africa is also infamous for its political instability, guerrilla warfare, violent crime, famine, and disease. While this may be true for some parts of the continent, much of Africa is perfectly safe to visit and where most visits are trouble-free. 

Much like any other part of the world, there are safe and unsafe places in Africa. Travelers must take precautions while planning a trip to these African countries to ensure the right choices are made. 

Even regions widely avoided as a travel destination many years ago are turning the tide in recent years. With basic safety precautions and an avoidance of certain areas and activities, a good time is almost guaranteed.

Here are the safest countries in Africa in 2024, worth exploring for their thrilling adventures and unmatched beauty.
>> Read next:
What are the safest places in Africa? Continue reading to find out…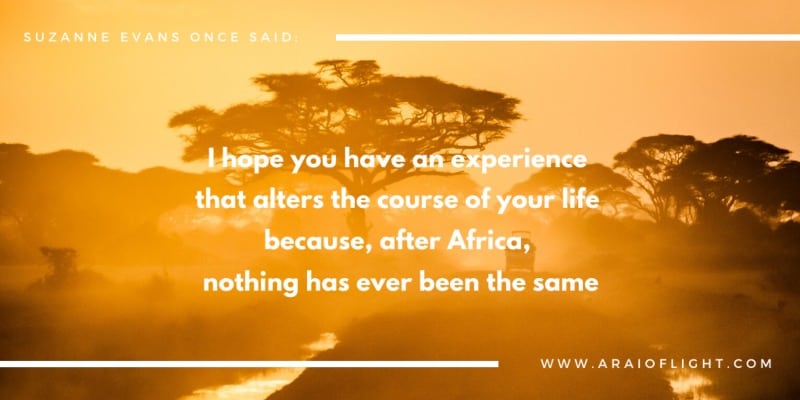 Before we get into this list of safe places in Africa, here are some important tips for keeping safe in Africa …
 Safety tips for travelers in Africa
Avoid blatant displays of wealth, cash, and valuables when in public so as not to draw unwanted attention your way. Criminals are always on the lookout for potential opportunities, so the less you come across on their radar the better.


Speaking of which, the most common type of crime is in the form of petty theft, so it is important to trust your instinct and to maintain common sense at all times.


Avoid walking alone in quiet dark areas. Traveling in groups is always the safer option.


Other places to be more wary include busy areas such as public transportation, markets, and tourist hotspots as well as deserted beaches.


Know your end destination before you head out, especially at night.


As far as possible, make use of ATMs that are located inside a bank, shopping malls, or in well-lit public areas.


Even though safari camps and lodges are guarded, wild animals may venture within the boundaries of the camp. Children should never be left unattended in these areas and avoid walking around after dark.


It always makes life easier to know

a few words in the language of the African country

you're visiting. This helps to understand your surroundings and to make communication easier in times of need.


Be aware of your surroundings when in public spaces so that you're never placed in a position where you're vulnerable. Don't place yourself in a position that would make you an easy target.


Speaking of being an easy target, dress and act appropriately, resembling the locals as much as you can, so as not to stand out as a foreigner.


Avoid going to informal settlements unless you're visiting with someone who is knowledgable about the area.


It is important to remember to keep the doors and windows to your room locked.


Speaking of doors, the doors of cars should always be locked. This is non-negotiable. In addition, windows should also be rolled up when driving through busy areas.


Missing road signs, roaming livestock, and poorly maintained roads make driving more difficult. Outside of the main

capital cities in Africa

, four-wheel drives are recommended. Avoid stopping unnecessarily on deserted roads to avoid carjackings. Monitor fuel levels to ensure that the tank levels never drop below the halfway point.


If you use a taxi or transport service to get around, ensure that it is part of a reputable company. Also, avoid using a taxi that has been called for you by a random acquaintance and be sure to ask for identification from the driver.


Always keep your belongings securely and in sight when walking out and about.


This one is directed towards solo female travelers — do not leave food or drinks unattended or with

strangers

and be cautious of accepting anything that has the potential to be laced with drugs from random people.


I know this is a tough one, but keep the use of gadgets to a minimum when in crowded spaces.


An important Africa safety tip is to keep abreast of the news and educate yourself on the current affairs of the country or region you're traveling in. This will help in avoiding any unrest, instability, and political demonstrations.


It is practical to register with your consulate before traveling abroad. 
Travel lover? Know how to stay safe on a plane with these
essential tips when flying
---
Ok, here you go…. 
The Safest African Countries in 2024 for the Adventure Traveler
What is the safest country in Africa?
1 | MAURITIUS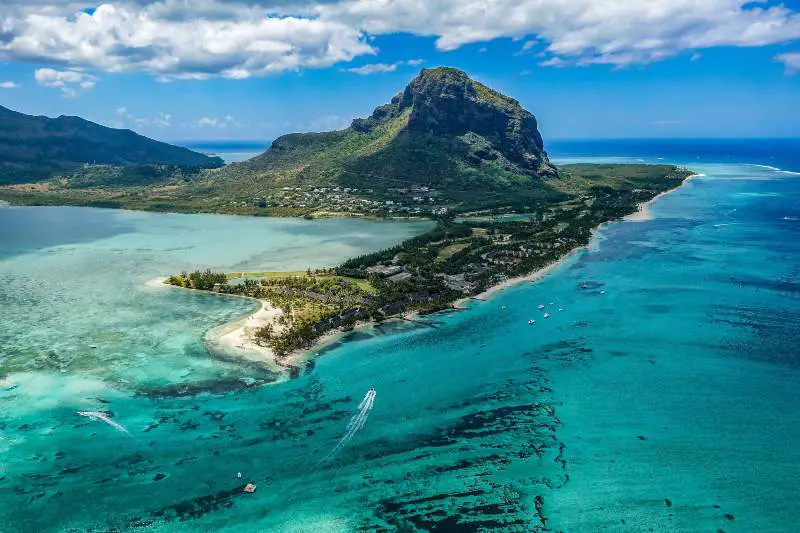 Mauritius tops this list as the safest African country in 2024 and 2023 with an overall score of 1.546 on the most recent Global Peace Index. This number also places this African nation as the 23rd safest country in the world.
Known as the 'Pearl of the Indian Ocean', this island nation located off the eastern coast of Africa scores well on indicators such as organised conflict, terrorist activity, and conflicts fought. The country does not fare as well on the security of the civil police force as well as perceived criminality in society. 

Mauritius — known for its pristine beaches, extensive coral reefs and lagoons, tropical climate, and cultural diversity — is also known for offering a safe environment to both residents and visitors. It is very safe to visit with a low crime rate that is mostly petty theft and non-violent.

This volcanic island getaway is a year round destination and should be on every beach lovers bucket list. 

Reasons to visit Mauritius include its beautiful beaches, luxurious resorts, world class diving, perfect climate, multiculturalism, good food, and an abundance of activities for every kind of traveller. 

Whether you're into water-sports, mountain trekking, birdwatching, scuba-diving, quad biking, or cultural explorations there's something here for you. 
Highlights of a visit to the safest country on Africa include:
the vibrant capital of Port Louis. Stroll through the city to get a real taste of Mauritian culture, its many colonial buildings, and its ever popular street food.


the rainforests, hiking trails, waterfalls, and wildlife of Black River Gorges National Park.


the tropical oasis of Île aux Cerfs Island and Flic en Flac Beach.


the landmark summit of Le Morne Brabant surrounding a lush peninsula and turquoise lagoon.


the Sir Seewoosagur Ramgoolam botanical garden that includes over 60 acres of exotic plants


the Chamarel Waterfall and seven coloured earth park.
>> Is this stunning tropical island affordable too? Check out the:
best islands to visit when on a budget
---
2 | BOTSWANA
Botswana takes the second spot on this list of Africa safest countries 2024. The country is also the safest place in Africa to go on a safari. It scored an average of 1.762 on the 2023 Global Peace Index, placing the nation 42nd overall in the world. 
Botswana scores well in the categories of deaths from conflict, political terror, and displaced people. It doesn't fare as well in the areas of homicides and perceived criminality in society. Most visits go without any ill occurrence, but travelers do need to note that most crimes here are in the form of petty theft, pickpocketing, and bag snatching.

This landlocked country in Southern Africa is renowned for its huge diamond deposits and expansive pristine areas of wilderness offering some of the best wildlife viewings on the planet.

Just under 40% of its total land area is dedicated to national parks and wildlife reserve areas. Don't miss the opportunity to visit the best among them that include the Chobe River ecosystem, the Okavango Delta, the Kalahari Desert, and the Kgalagadi Transfrontier Park.

Botswana is one of the most stable countries in Africa. Adventurers and solo travelers enjoy the safe environment provided by Africa's oldest continuous democracy.
Botswana also holds the tops spot for the safest safari in Africa.
The following are Botswana's highlights that travelers should not miss:
The incredible water world and one of the world's premier wilderness areas that is the Okavango Delta. This vast inland river delta in northern Botswana, known for its sprawling grassy plains, floods seasonally, becoming a lush wilderness.


Chobe National Park, Botswana's first national park, with its large herds of elephants and Cape buffalo is a must-see wildlife destination.


The arid region of the Kgalagadi Transfrontier conservation area characterized by its red dunes, dry rivers, and migrating antelope.


The Central Kalahari Desert showcasing its San Bushman culture.


The natural features that make up the Nxai Pan and Makgadikgadi Salt Pans. 
>> You may be wondering, is Africa wealthy? Here is a list of:
rich African countries (by GDP and natural resources)
---
3 | GHANA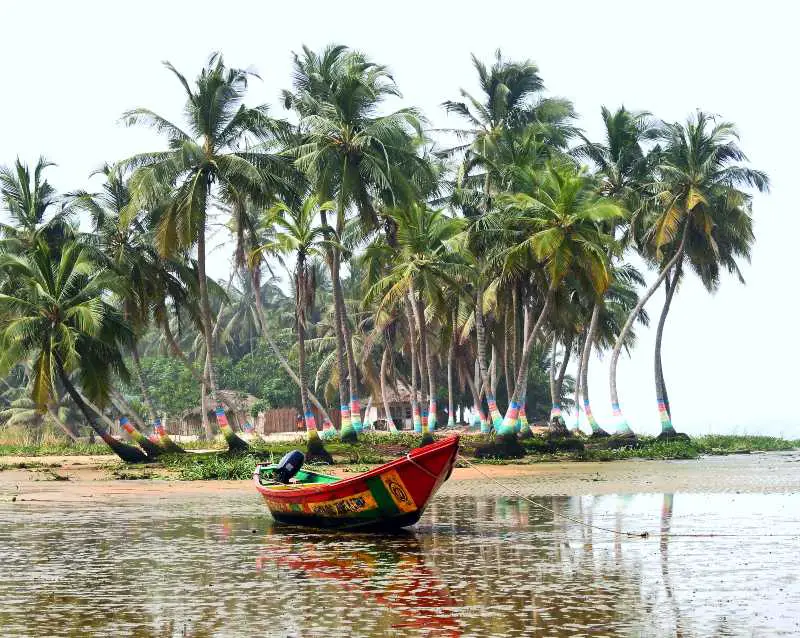 The Republic of Ghana is third on this list, having held the position as the safest country in Africa in previous years. With a score of 1.799 on the Global Peace Index it is considered one of the safest countries on the African continent in 2024 and 2023.
Situated on the coast of the Gulf of Guinea in western Africa, the nation scores well on neighbouring country relations, UN peacekeeping funding, and minimal deaths from conflict. Areas of improvement include the existence of violent demonstrations and a high perceived criminality rate in society.

As one of Africa's fastest growing economies, Ghana is a relatively stable country and stands out in a region where peace and stability are not common. In addition, Ghana is also relatively safe and most visits go without any trouble.

However, crime, ranging from petty to violent, does occur and it is important to remain vigilant.

The Gold Coast, well known for its rich gold and cocoa deposits, is also renowned for its long history, cultural heritage, natural landscapes, and diverse animal life. In addition to its cultural tourism, other reasons to visit Ghana include its tropical beaches, welcoming people, good food, and great African music. 
The top tourist destinations in Ghana and highlights of a visit include:
The Volta region for its natural beauty, biodiversity, waterfalls, and caves.


Mole National Park, Ghana's largest wildlife refuge, that is home to an abundant game population that includes elephants, rare birds, and leopards. 


The colonial forts, Cape Coast Castle and Elmina Castle, that are now  museums of the trans-Atlantic slave trade.


The museums, markets, and beaches of bustling Accra. Don't miss Kwame Nkrumah Memorial Park and Black Star Square commemorating the nation's independence.


Kejetia Market and Ashanti cultural centre of Kumasi.


Explore the tropical paradise, go bird watching, and take the canopy walkway at Kakum National Park.
>> Speaking of the rhythm of the continent, here are the:
best songs about Africa to inspire a visit and get you groovin'
---
4 | RWANDA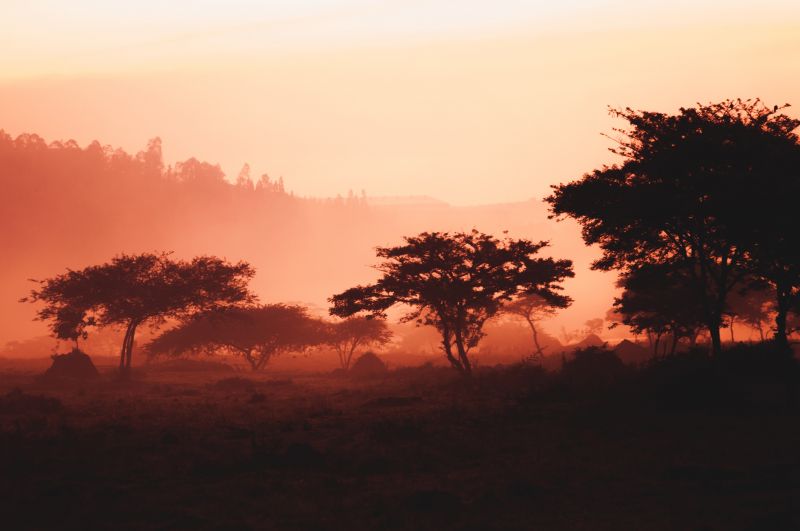 Rwanda is certainly a top contender for the safest country in Africa 2024 position. The African nation, known for its relaxed pace and natural landscapes, has an overall score of 2.051 on the 2023 Global Peace Index. It scores well on UN peacekeeping funding and weapons exports, but not so well on its neighbouring country relations and its jailed population.
Tourists are warmly welcomed in the Republic of Rwanda by the locals who themselves are warm, friendly, and hospitable. 

As one of Africa's safest countries for solo travellers, you will find that crime levels remain relatively low in Rwanda with a high confidence in the local police force. However, pickpockets are active in crowded spaces and petty theft does occur.

Reasons to visit this landlocked country located in the Great Rift Valley at the convergence of the African Great Lakes Region and East Africa include its natural beauty, vibrant culture and interesting history.

Often referred to as the Land of a Thousand Hills, Rwanda is filled with volcanic and misty Virungu mountains and is world renowned for its diverse landscapes. 
Some of the best places to visit in Rwanda:
Volcanoes National park, home to a population of mountain gorillas, should be on every adventure traveller's bucket list.


Kigali Genocide Memorial, commemorating the 1994 Rwandan genocide and serving as a reminder of this significant event in history.


Nyungwe Forest National Park, one of the oldest rainforests in Africa. It is rich in biodiversity and home to over 100 animal, bird, and plant species.


One of the African Great Lakes, Lake Kivu offers panoramic mountain views and an abundance of activities that include boating, fishing, and swimming.


Kimironko Market of Kigali, the busiest market in the country and where you will find everything from food to clothes to fabric, toys, and everything in between. 
Don't stop traveling.
Discover the main advantages of traveling
---
5 | NAMIBIA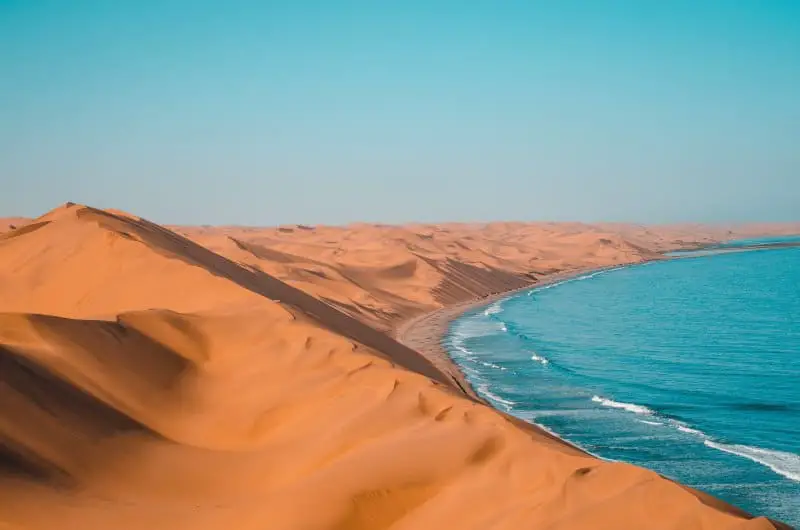 Namibia is also included on the list of safe countries in Africa 2024 with an overall score of 1.859 on the Global Peace Index.
This southern African nation scores well on neighbouring country relations, political terror, conflicts fought, and death from conflicts. However, it does suffer from a number of issues and does not fare as well on homicides and the perceived level of criminality in society. 

For the most part, the Republic of Namibia is a safe country in Africa to visit. This country found on the south-west coast of the continent is peaceful ad welcoming.

The high poverty and unemployment rate does lead to some opportunistic crime. Care and caution should be taken in the capital, Windhoek to avoid incidents of pickpocketing, bag snatching, and vehicle theft. 

In addition to being one of the safest countries in Africa, Namibia is also one of the driest and most sparsely populated countries in the world. Famous the world over for having the highest sand dunes in the world at Sossusvlei, it is also known for its sublime landscapes, amazing wildlife viewing opportunities, and a whole lot of adventure activities. 
Some of the most visited places in Namibia:
Etosha National park, located in northwestern Namibia, is a must see for its diverse landscapes, its abundance of wildlife, and a salt pan that is so large it can be seen from space.


Witness the immense scale and grandeur of the largest canyon in Africa, the Fish River Canyon. Featuring a gigantic ravine that stretches for more than 150 kilometres, it is one of the most visited attractions in the country.


Skeleton Coast, home to the largest ship graveyard in the world along with the bones of whales and seals makes for a dramatic sight.

Sossusvlei is another popular tourist spot, known for its large, red sand dunes, some of which are the tallest in the world.


Damaraland is visited for it unparalleled landscapes of the Brandberg Mountains, ancient rock art, and the sparse desert plains.
>> Read next:
What is the largest country in Africa?
---
6 | ZAMBIA
Zambia is ranked as one of Africa's safest countries in 2024 with an overall score of 1.898 on the Global Peace Index. It scores well in the categories of militarisation, displaced people, and conflicts fought. Areas of improvement lie in perceived criminality in society and violent demonstrations.
The Republic of Zambia is generally safe to visit. Crime levels are on a similar level to that in a European nation. The political situation is also relatively stable.

Remain vigilant, particularly after dark when in city centres and around tourist areas.
This landlocked country in south-central Africa is another great safari destination in Africa. It boasts vast, unspoilt and wild landscapes without the crowds which can be an issue in many other destinations. It is also home to the landmark Victoria Falls sight. 
No visit to Zambia is complete without visiting:
Kafue National park is renowned with wildlife

lovers

and is home to a large variety of species that include elephants, lions, leopards, and pangolins


The awe-inspiring Victoria Falls, one of the 7 natural wonders of the world. Rising over 100 meters and almost 1,800 meters wide, this natural splendour is the world's largest body of falling water and is a sight to behold.


Other parks that are worth seeing include South Luangwa National Park, Lower Zambezi National Park, Mosi-oa-Tunya National Park, and Nsumbu National Park.


Siavonga, the main town along the Zambian side of Lake Kariba is rich in birdlife and is popular for boating and fishing. 
>> The Victoria Falls are a top tourist attraction. Check out this list of the:
most beautiful landmarks in Africa to see
---
7 | MALAWI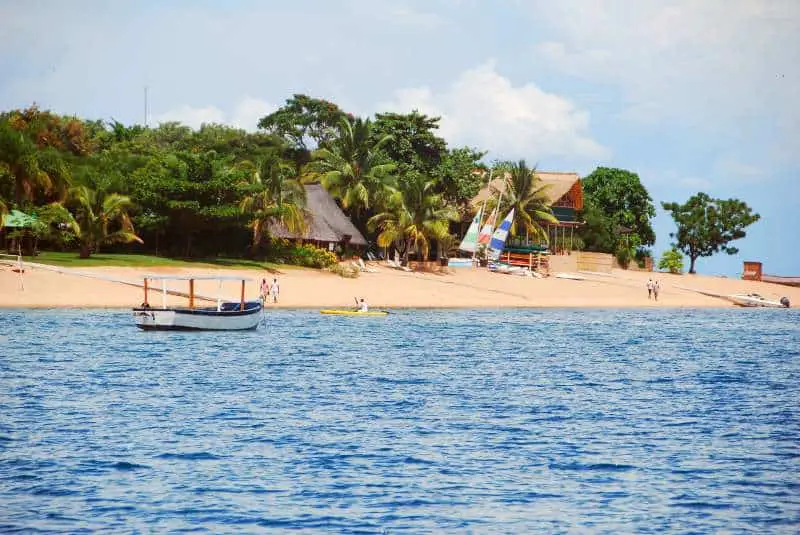 Coming in at number 6 of Africa safest countries in 2024 is Malawi. Its overall score is 1.97 on the Global Peace Index, placing it as the 74th most peaceful country in the world. Malawi scored well in categories such as UN peacekeeping funding, weapons imports and exports, and conflicts fought. Areas of concern remain its perceived criminality in society and violent demonstrations.
Malawi, known as the "warm heart of Africa," is relatively safe to visit. The locals are peaceful, friendly, and warm, making the traveller feel at home. Most visits to Malawi are trouble-free, but precautions should be taken against possible muggings and burglaries. There is also the concern of health risks posed by disease. 

In addition to its friendly people, other reasons to visit Malawi include its beautiful scenery, peaceful atmosphere, and comfortable weather. 

A particular highlight is a trip to Lake Malawi. This UNESCO World Heritage site is known for its remarkable biodiversity and is home to the world's largest number of fish species of any lake.
Malawi holds a number of worthy tourist attractions:
Liwonde National Park, a national treasure and the best of Malawi's game parks. Located east of the Shire River, this national park has a rich birdlife and an abundance of large animals.


Climb to the highest point in Malawi at Mount Mulanje. Lying 65 km east of Blantyre, this "island in the sky" rises to just under 10,000 ft. with forested slopes that are ideal for hiking.


Offering a true African experience, Kumbali Cultural Village is found just outside of Lilongwe and showcases Malawian culture, arts, crafts, and cuisine.


Lake Malawi National Park, that includes the sandy beaches and granite islands of the Cape Maclear peninsula.


The small yet bustling Nkhata Bay fishing village with its sheltered bays and clear waters.
>> Read next:
Where to find most beautiful African sunsets. All the details here
---
8 | TANZANIA
No list of safe countries in Africa to visit in 2024 is complete without including the United Republic of Tanzania. According to the most recent 2023 Global Peace Index, Tanzania has an overall score of 2.058, ranking 91st in the world. The country scores high in the category of military expenditure and the import and export of weapons. It doesn't fare as well on terrorist activity and neighboring country relations.
Most travels to Tanzania are trouble-free. However, it remains important to be cautious to avoid petty theft and threats of violence. Ensure that all valuables are safely secured. Tanzanians are proud of their country and are happy to have you as a guest in the country. The Zanzibar archipelago is also very safe, even for solo female travellers.

Tanzania is a popular tourism destination due to its grand beauty, tropical African islands, incredible savannahs, abundant wildlife, archaeological sites, and towering mountains.

This East African country bordering the Indian Ocean is famous for being the home to the highest mountain in Africa, Kilimanjaro.

It is also one of the best countries in Africa to experience a wildlife safari. You'll be spoilt for choice with renowned tourism destinations such as the Serengeti, the Ngorongoro Conservation Area, Tarangire National Park, and Lake Manyara, 
The reasons why travelers visit this beautiful country:
Mount Kilimanjaro, rising to an elevation of 5 895m, is Africa's highest mountain and the tallest free standing

mountain

in the world. Kilimanjaro is popular with both novice hikers as well as professional adventurers as it is considered to be the easiest of the seven summits.


The World Heritage Serengeti National Park encompassing an area of over 14,000 km2 (5,700 sq mi) is teeming with wildlife. This wildlife refuge, meaning "endless plains", is certainly one of the world's most celebrated wilderness areas.



Beach lover

? Palm-fringed beaches, turquoise waters, and exotic cultures beckon you to the Zanzibar archipelago that is located in the Indian Ocean a short distance off the coast of the mainland.


Ngorongoro Conservation Area spans vast areas of highland plains, savannah and forests of northern Tanzania. With more than 25,000 large animals the Ngorongoro crater is home to the highest density of big game in Africa and is the world's largest unbroken volcanic caldera.

Lake Manyara National Park and Tarangire National Park, featuring large numbers of game and bird species.
>> Read next:
how long does it take to climb Kilimanjaro
---
9 | MOROCCO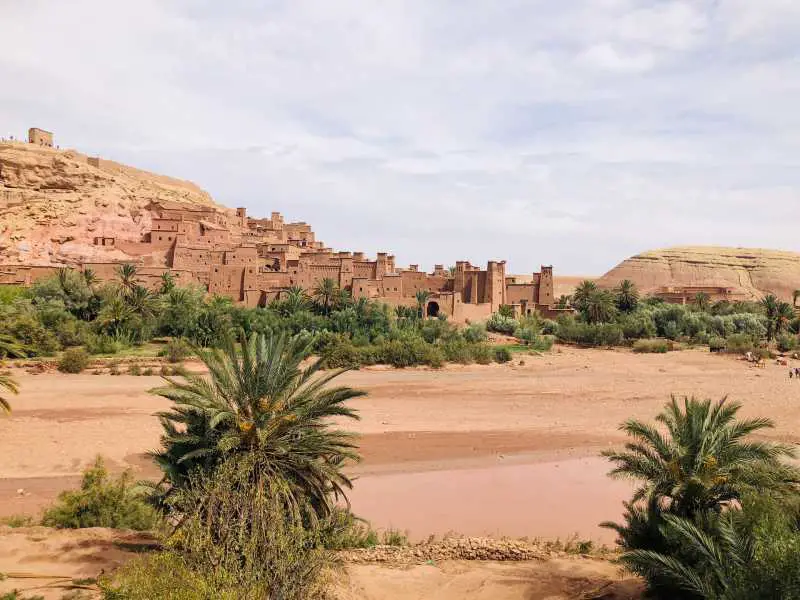 Morocco rounds up this list of safest African countries in 2024 with an overall score of 2.02 on the Global Peace Index. This mountainous country of western North Africa does well in internal conflicts fought and weapons export. Areas of improvement are external conflicts fought and neighboring country relations. 
Despite the naysayers, Morocco is a safe place to visit.

You do need to keep an eye out on scams and pickpockets. It is also important to understanding its laws and cultural customs. Culture shock may be a normal part of the experience. There is also rarely any violent crime and foreigners are seldom targets of these attacks. 

Moroccans are warm and highly hospitable people. Its rugged landscape is intertwined with a rich culture of Arab, African, Berber, and European influences. In addition to a warm welcome and amazing scenery, the food is a real explosion of flavors. 
Here are some highlights of a trip to Morocco:
Marrakesh, the most visited place in the country, is a wonderful blend of palaces, gardens, and mosques. The heart of the city is the vibrant marketplace of Jamaa el-fna. The city is also the gateway into the High Atlas region.


The town of Chefchaouen in the Rif mountains of northern Morocco, known for its blue-washed buildings and unique charm.


The historic ksar of Aït Benhaddou situated along the former caravan route between Marrakesh and the Sahara.


Spanning across an area of 28 kilometres, the fire-orange sand dunes of Erg Chebbi is a sight to behold and one of the top places to view the

rising sun

.


Escape to the Moroccan coast on a trip to Essaouira. This port city along the Atlantic coast is a hub for water activities, artisan gems, and laidback vibe.
---
Listed above are the African safest countries, considered to be generally secure for adventure-seekers.

Petty crimes are common in major African cities, but with common sense and vigilance (like with any kind of travel in general) tourists can be safe in this part of the world. 

Too much fear? Maybe switch off your tv
Other countries that do not make this list of safest African countries, but can be visited trouble-free with several admonitions include:
Kenya
Uganda
Ethiopia
Lesotho
Equatorial Guinea
The Gambia
Tunisia
>> However to remain safe, you must follow up to date travel advice, avoid certain areas and regions within each country, and steer clear of particular behaviours. 
>> Obsessed with Africa as much as I am?
Your ultimate list of quotes about Africa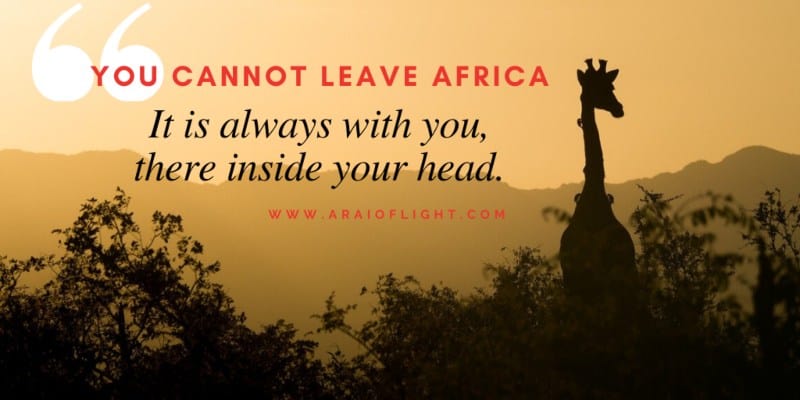 You may be wondering…
Is Africa Dangerous?
While some parts of the continent are considered unsafe, with widespread crime and violence, much of Africa is perfectly safe to visit. 
Speaking of danger, before finishing, let's take a look at countries in Africa where travelers are advised to avoid either due to civil unrest, crime, political instability, or health risks. 
These African countries are currently deemed as too dangerous to travel to
and should be avoided:
Central African Republic
Democratic Republic of the Congo
Somalia
Sudan
South Sudan
Libya
Mali
Burkina Faso
How many countries have you been to?
Here's why it doesn't matter and why you should STOP counting
There you go. A guide on the most peaceful countries in Africa and where to avoid.

This list is by no means exhaustive. If you have any other concerns or questions about traveling, just let me know and I'll be happy to help you out and ease your concerns before traveling abroad.
What countries would YOU love to visit on this interesting continent?
Safe travels in Africa,

Rai