The Best African Islands to Visit: Discover the Continent's Hidden Treasures
Travelling to Africa is a bucket list goal for people all over the world. It's an incredible continent full of natural beauty, diverse cultures, vibrant cities, and an interesting history. And one of the best ways to experience a truly unique side of this enchanting land is through the islands of Africa. Continue reading to discover a handful of the best African islands to visit.
From Madagascar in the Indian Ocean to Sao Tome and Principe in the Gulf of Guinea, the islands off Africa are incredibly diverse and utterly breathtaking.
Whether you're looking for a beach vacation or an adventure filled with wildlife and culture, there's an island in Africa for you. In Madagascar alone, visitors can explore unique landscapes like spiny forests, volcanic lakes, and stunning coral reefs. 
Let's explore these spectacular Africa island gems.
The Top 7 Islands of Africa
How many islands are there in Africa?
There are hundreds of islands associated with the continent of Africa. Many belong to different African countries, others are African island countries. 
Still others are associated by proximity, such as the island of Reunion. It's located between the African islands of Mauritius and Madagascar, but is actually a region of France.
There are 6 island nations that belong to Africa. Every one of them is worth a visit. Read on to find out which one you'd like to start with.
Is Africa an island? No. But, check out this list for some…
First up…

Let's start with the largest island of Africa:
➤ 1 | Madagascar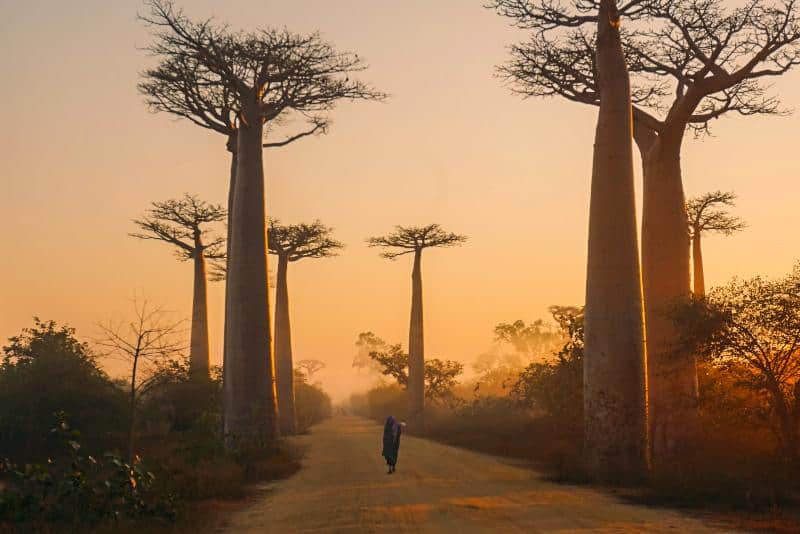 • Language: Malagasy, French
• Known for: lemurs, megadiversity, fine chocolate
Madagascar, Africa's largest island, sits about 1,194 km off the nearest point of the coast of Mozambique. This massive island in the Indian Ocean, separated from the African continent by the Mozambique Channel, is known for its unique biodiversity, stunning landscapes, and vibrant culture.
The population of Madagascar, the Malagasy, is primarily made up of 18 ethnic groups. The largest group is the Merina people, who live in the central highlands. 
The Malagasy people have a rich culture that's influenced by their African and Asian ancestry, especially Indonesian. Traditional practices, including ancestor worship and ceremonies, are still common in many parts of the country.
Malagasy cuisine is a highlight for many visitors here, with its strong African, Asian, and European influences. Rice is a staple, and is typically served with various stews or curries made with meat or fish. 
Other popular dishes include zebu (a type of cattle) meat, spiny lobster, and street food like samosas and fritters. Don't be afraid of the street food! Once you've tried it, you might not want to eat anything else.
Madagascar, the fourth largest island in the world, is home to a variety of absolutely unique wildlife. The island is most well-known for its over 111 species of lemurs. These primates, only found in this country, can be spotted in many places in the wild. 
Take a hike through Ranomafana National Park, or the many other parks and reserves on the island. Don't forget to look up! 
Other iconic native animals include the fossa, a type of carnivore that looks a bit like a large cat, chameleons, and a wide variety of bird species. Many people travel to Madagascar just for its incredible biodiversity and to see its wildlife up close.
A favourite way to experience the best of Madagascar is to enjoy a few of its many outdoor activities. These include hiking through national parks and nature reserves, strolling down the iconic Baobab Alley, visiting pristine beaches, and snorkelling or scuba diving in the crystal-clear waters surrounding the island. 
The small African island of Nosy Be, on the northwest coast of Madagascar, has some of the most breathtaking beaches. A favourite is Andilana, on the northern tip of Nosy Be. Whether you're there to dive, snorkel, or lie in the sun like a vegetable, you'll never find a more idyllic place for it.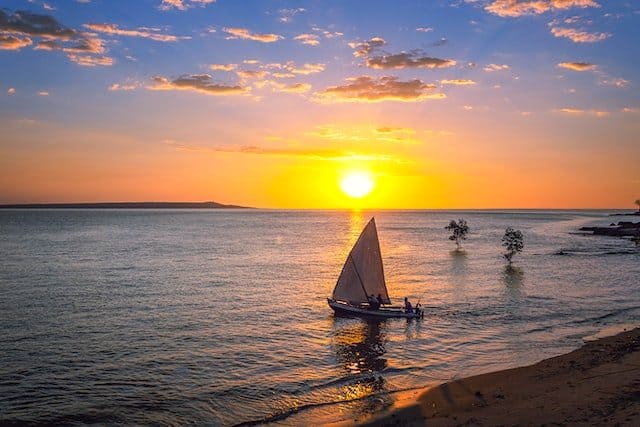 Adventurers can also explore the caves and underground rivers in the limestone formations in the western part of the country. These stunning landscapes are fascinating to see, and even more so to hike through. Tsingy de Bemaraha National Park is an otherworldly example of these limestone structures.
In addition, you can experience Madagascar's rich history by visiting the ancient ruins and colonial-era architecture. Explore cities like Antananarivo and the former pirate stronghold of Nosy Boraha. 
Yes, Madagascar was a perfect safe hideout for pirates. For a time in the 1700s there were few laws on the island. With the sheltered harbour and many East Indies trade routes making their way through the waters, many set up shop here.
There's actually a pretty little pirate cemetery on the tiny island of Ile Saint-Marie, off Madagascar's west coast. 
Madagascar really is a treasure trove of cultural and natural wonders. Its rich history, amazing biodiversity earn it a place on any bucket list. Not forgetting those lemurs!
>> Speaking of size,
What is the largest country in Africa?
---
➤ 2 | São Tomé and Príncipe
    • Language: Portuguese
    • Known for: unspoiled nature and jungle adventure
South down the West African coast is the twin island country of São Tomé and Príncipe. It is Africa's second smallest country, both in area and population. These lush, green edens sit on the equator, floating off the coast of Gabon in the Gulf of Guinea. 
This Central Africa island nation is actually comprised of two archipelagos, meaning that each of the two main islands, São Tomé and Príncipe, has its own group of small rocky islets that include Rôlas, Caroço, Tinhosas, and Pedras. The vast majority of people live on São Tomé, with only about 5% calling Príncipe home.
On São Tomé and Príncipe you'll meet the Farros, people who descended from immigrant Europeans, mainly Portuguese, and enslaved West Africans. You'll find this dynamic fusion of cultures throughout the nation's music, customs, and cooking.
People travel to these islands of Africa for an authentic, road-less-travelled experience. Rainforest covers the majority of the landscape, and it's not hard to feel like an explorer discovering new worlds when trekking through them.
Plant and birdlife is plentiful in the forests, and you're bound to see things you've never laid eyes on before. A few of the islands' birds have no close relatives, such as the São Tomé grosbeak and the Dohrn's thrush-babbler.
If you're hoping to come across unique mammals in these islands near Africa, though, you're bound to be disappointed. Mammals are few, mostly bats and one endemic shrew. 
However, humpback whales do swim in the waters, and the island shores are an important marine-turtle nesting site. In fact, 5 of the 7 endangered species of turtle choose these beaches for their breeding sites.
When you visit São Tomé, you won't want to miss the pristine Obô National Park, with its dramatic landscapes of waterfalls, forest-covered volcanoes, and the enthralling volcanic rock that is Pico Cão Grande. Whether you're up for a multi-day trek, or just a 4 or 5 hour hike, you'll want to get lost and never found in these thick jungles.
You might also choose canoeing through mangrove-lined rivers, snorkelling out in the turquoise bay, or whiling away your afternoons with a leisurely lunch of local seafood and tropical fruits.

Does it get any better that this?
>> Read next:
Top African proverbs and quotes about Africa
---
➤ 3 | Cape Verde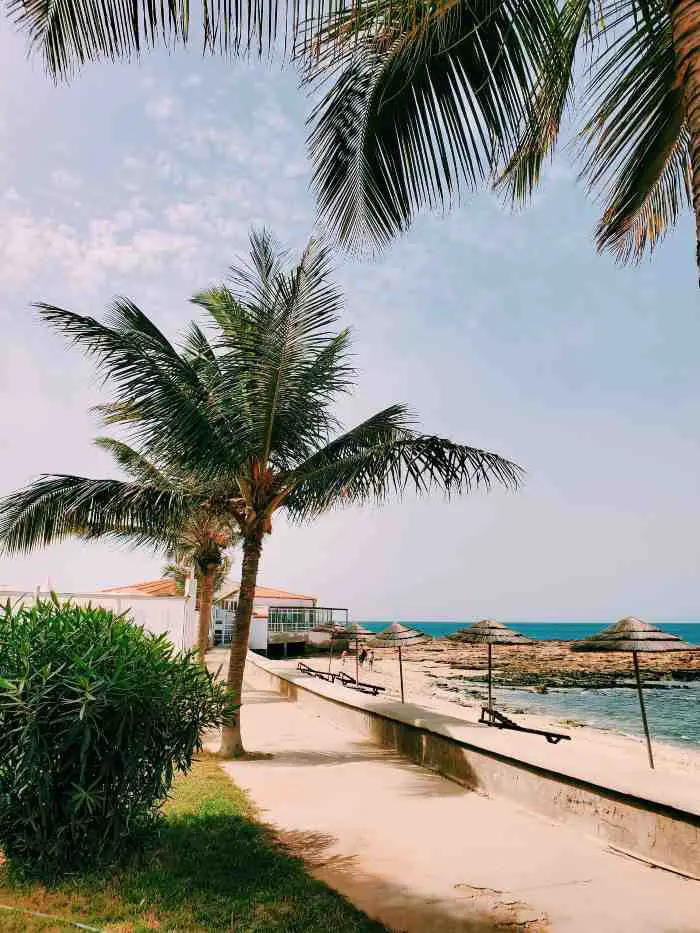 • Language: Portuguese and Cape Verdean Creole
• Known for: the balmy climate, delicious food, and passionate musicians
The island nation of Cape Verde is an archipelago of ten volcanic islands. It sits in the Atlantic Ocean, off the coast of Senegal in West Africa. These islands off the coast of Africa have a unique culture and history, with both African and European influences.
Cape Verdeans are known for their warm hospitality and love of music. African music plays an important role in the country's culture, and this island country has its own sound.
Traditional genres like accordion-based Funana and Morna are popular. Morna combines instruments like guitar and accordion with dance and poetry. It's often compared with the blues of the southern United States.
Cape Verde also has a rich culinary culture, with dishes like cachupa (corn and fish stew) and percebes (goose-necked barnacles) playing starring roles.
The islands off West Africa have a long history with the Portuguese, the islands' first inhabitants. Over time, they came to be inhabited by the West Africans as well. You'll find signs of each of these in the islands' culture, language, architecture, and cuisine. 
The archipelago is also known for its incredible natural surroundings, and each island has its own. In fact, a selection of especially spectacular sights have been dubbed The Seven Natural Wonders of Cape Verde.
These include mountains, beaches, dunes, and landscapes scattered across the islands, each more stunning the next.
Of all the Cape Verdeans, the island of Sal draws the most beach and ocean lovers. If you love to explore the underwater wildlife, you'll find amazing snorkelling and diving. You might even see the national animal of Cape Verde, the endangered manatee. 
If you want to fly with the wind, Sal has some of the best wind and kite surfing for you. But if you're looking for less of a tourist experience and more of a real Cape Verde one, head to Brave or Maio.
>> Related reading:
Your guide to the best islands in Spain
The best Italian islands
How to island hop the Greek islands
---
➤ 4 | Seychelles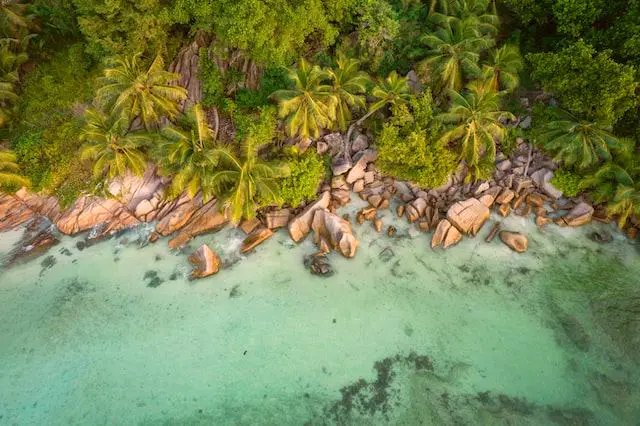 • Language: English, French, Seychellois
• Known for: stunning beaches, rock climbing adventures, giant tortoises
The smallest African nation of Seychelles is another archipelago, this one consisting of 115 islands. To find them you'll need to journey to the Indian Ocean off the coast of eastern Africa, 1,600 km from the coast of Kenya.
There are 3 main islands in the Seychelles. Mahé is the largest, most developed, and home to the capital city of Victoria. It's also where you'll find the international airport, and so is considered the gateway to these islands off of Africa.
Though it's the hub for island hopping, Mahé is a fantastic destination on its own. The snorkelling is astounding in the National Marine Parks, Port Launay in particular. 
And if you'd like a closer look at the corals and marine life, the diving is unbelievable. Beau Vallon, on the north Mahé, is highly recommended.
Praslin, 45 km northwest of Mahé, is another main island of the Seychelles. While historically a pirate hangout, these days people go for the beaches, the forests, and the coco de mer. 
The coco de mer, an endemic nut, is actually the largest seed in the world, much like a very large coconut. It can weigh up to 25 kg, and the few shops allowed to sell them need a licence to do so. But they can be sold only for decoration, not as food. It is known especially for its resemblance to the female form.
You'll want to check out the UNESCO World Heritage Site Vallée de Mai while you're on Praslin. It's the large pristine forest of coco de mer palm trees, the unique birdlife, and endemic plants that you don't want to miss.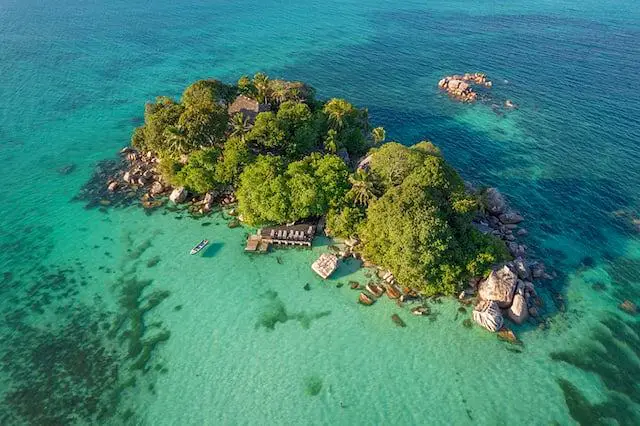 In fact, the national bird, the Seychelles Black Parrot, lives only on Praslin, and its highest numbers are found in the Vallée de Mai. In spite of its status as the national bird, the Black Parrot is one of the rarest endemic birds in the country. Have your camera ready in case you spot one!
The third main island of the Seychelles is La Digue. As the smallest of the main islands, La Digue is quieter and more exclusive. Its primary attraction is the exquisite beach L'Anse Source D'Argent, considered by some to be the world's most beautiful beach.
Between the sapphire blue water, the powder soft sand, and the gorgeous pink granite boulders, you'll wonder if it's even real! You can enjoy snorkelling in the balmy waters, soak up the sun, and eat your fill at the nearby restaurants and fruit stands.
The remaining islands near Africa are largely uninhabited, apart from a few exclusive luxury resorts and a dive shop or two.
---
➤ 5 | Mauritius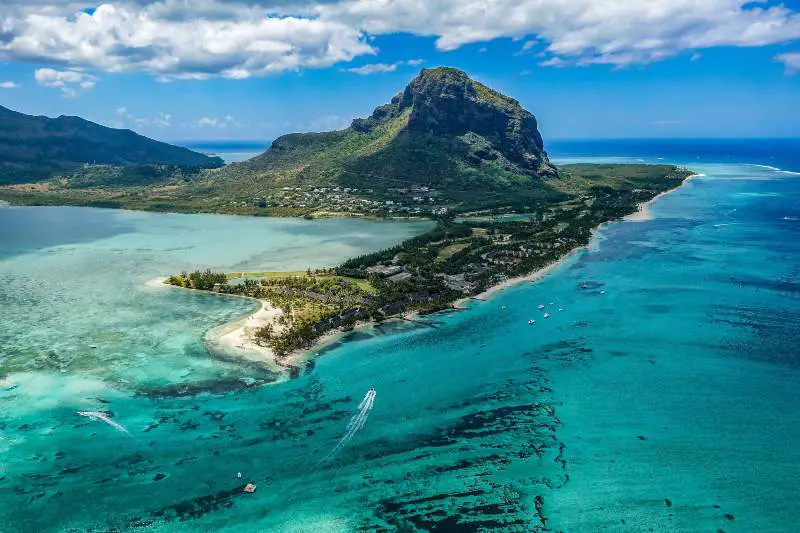 • Language: French and English are spoken, though there is no official language
• Known for: the Seven-Coloured Earth, luxurious resorts, and bon renversé
These east African islands are found in the Indian Ocean, south of Seychelles and about 1,133 km east of Madagascar. Mauritius is often compared to the Maldives due to its stunning beauty, sandy beaches, and clear blue water. 
In fact, none other than Mark Twain is quoted as saying,
Mauritius was made first and then heaven; and heaven was copied after Mauritius."  
Mauritius is a small, diverse nation that reflects a rich and interesting mosaic of African, Indian, Chinese, and European influences. While French and English are the main languages spoken, Creole, Hindi, Tamil, and Chinese can be heard as well.
The culture here is characterised by a love of Sega music and of dancing. You'll also find a fusion of Indian, French, Chinese, and Creole cuisine. A delicacy of this island in Africa is bon renversé, a combination of basmati rice topped with chicken chop suey and an egg sunny-side-up. 
Religion, mainly Hinduism, Christianity, and Islam, is a big part of the culture, too. 
People travel to Mauritius for a variety of reasons, including its breathtaking scenery, ideal climate, and the unique cuisine. The country is also known for its luxurious resorts and world-class spas, making it a popular destination for those looking for a pampering getaways
Mauritius is renowned for its rich history. That history is reflected in the island's architecture, museums, and cultural landmarks from Africa. The capital city of Port Louis is a bustling cosmopolitan hub and an exciting blend of cultures.
Visitors have a wide range of outdoor activities to choose from. Island favourites like golf, snorkelling and diving are popular. Kiteboarding, windsurfing, kayaking, and all manner of other water sports are offered, too.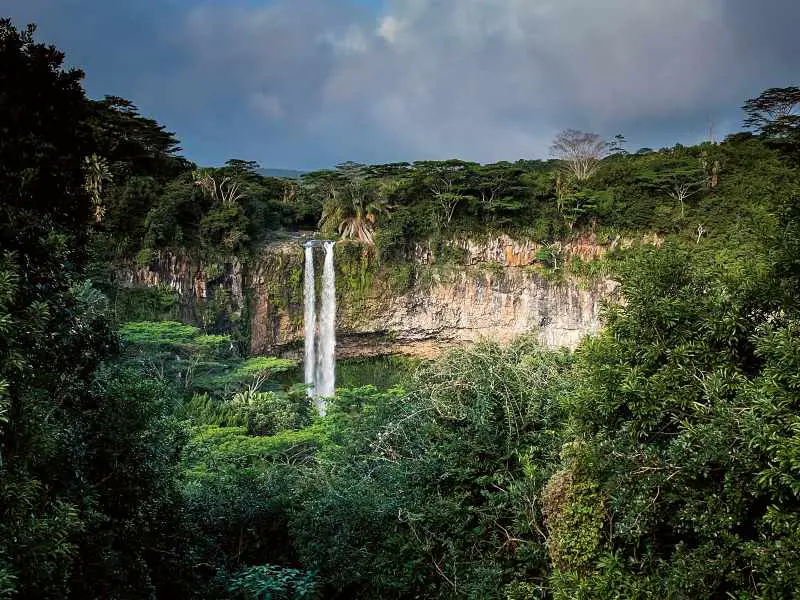 If you love the beach, but aren't up for getting wet, beach volleyball, frisbee, and soccer are great alternatives. The hiking is also excellent on Mauritius. Popular spots are the Black River Gorges National Park, Le Morne Brabant, and the Tamarind Falls. 
At one time, in the early 1600s perhaps, you may have been lucky enough to spot a dodo bird on a hike. These pigeon-like birds were endemic to these islands of west Africa, but the last one was spotted in 1662. 
Another spectacular attraction on this east African island nation is what is known as the Seven Coloured Earth. This is a geological phenomenon found in the Charamel region. It's a small area of sand dunes that feature a striking range of layered colours, including shades of red, brown, purple, green, blue, and yellow.
The colours are a result of volcanic activity and mineral deposits in the area. Visitors can explore by walking along marked paths that wind through the dunes. Stay as long as you can and observe the shifting of the colours as the angle of the sun changes.
More than just a stunning curiosity, the Seven Coloured Earth is also an important cultural and spiritual site for Mauritians. The area is believed to have healing properties, and visitors can take part in traditional rituals and ceremonies that are meant to cleanse and purify the body and mind.
You also won't want to miss a tour of a tea plantation while you're here. The lush green fields and the amazing aroma will have you wanting to curl up among the plants and just breathe it all in.
>> Related reading:
How to say I love you in African languages
---
➤ 6 | Comoros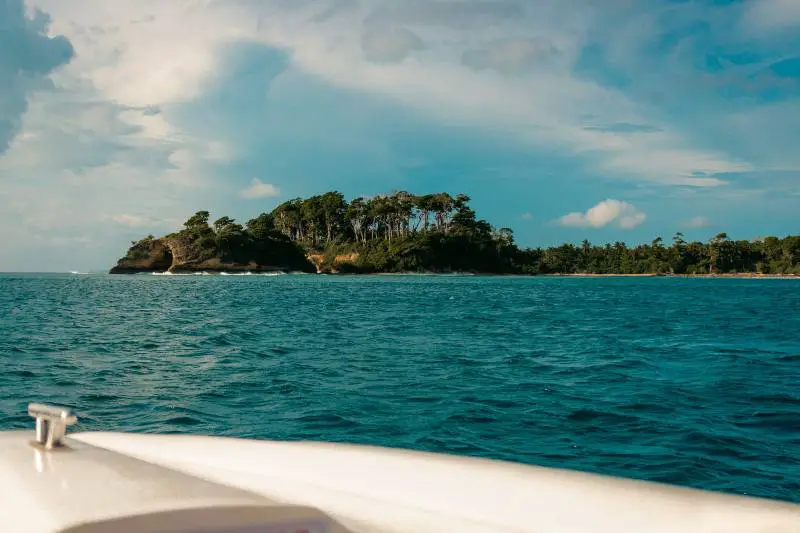 • Language: French, Arabic, and Cormorian, a Swahili dialect with Arabic influences
• Known for: incredible natural beauty, the fragrant plant life such as ylang-ylang
The African island nation of Comoros consists of only 4 islands, all located in between the northern areas of Madagascar and Mozambique. Three of the Comoros islands gained independence from France in 1975, and have since withstood some 20 coups and attempted coups. One, Mahoré, remains a French dependency.
The Comoros of today is a poor country, without a large tourism industry to bolster its economy. However, these islands in Africa are a beautiful destination, home to pretty beaches, beautiful cities, and lovely people.
The main island of the three is Grande Comore, where you'll find the capital city of Moroni. Apart from the beaches, people visit for the Ancienne Mosquée du Vendredi, the Old Friday Mosque, and to hike the dozens of small mountains.
Trekking up the Karthala volcanic crater is another popular activity on Grande Comore, as is swimming with dolphins and manta rays. 
Anjouan is an island off-the-beaten-path, but is actually no less developed than Grande Comore. It's definitely worth a visit, especially to explore its small villages, and see the traditional dress still worn by the people there.
The women wear wraps of chiromani, a colourful cotton fabric, along with a shawl called the lesso. They also protect their skin from the sun with a white paste called m'sindanu, made of ground sandalwood. 
Men are much more subdued, with just white embroidered skull caps to add something special to their outfits. Remember – women and men will not appreciate having their picture taken without being asked first.
Moheli is Comoros' smallest island, but it's where the ylang-ylang grows, and it has the most wildlife. Not only does it have endemic Livingston bats, it's also home to imbricated and green turtles. In addition, its waters get seasonal visits from humpback whales from the Antarctic.
You have a chance to contribute to Moheli's local economy when you stay in bungalows around the island. Proceeds are in turn invested in things like health centres and scholarships. 
---
➤ 7 | Zanzibar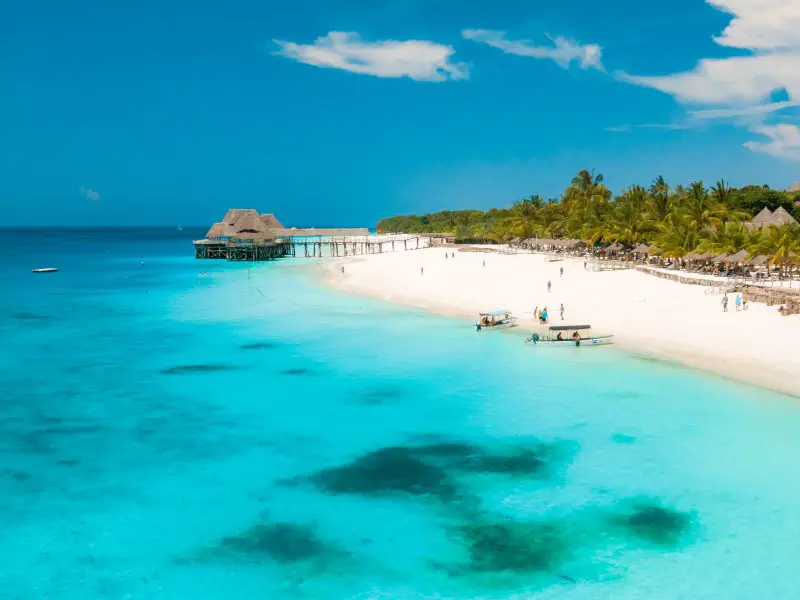 • Language: English, Swahili, Arabic
• Known for: spices, idyllic beaches, diving, and snorkelling  
No, Zanzibar is not an African island nation – it's actually a part of the east African country of Tanzania. However, no discussion of African islands can be complete without mentioning this African paradise island.
Zanzibar is a collection of over 50 islands off the coast of Africa. They are located about 35 km, or 22 miles, off Tanzania's coast. The largest island is actually called Unguja, but is commonly referred to as Zanzibar. It's here that visitors flock, to explore the marine life in the clear blue water, soak up the sun on the unbelievable beaches, or to rest up from an epic Tanzanian safari or Kilimanjaro climb.
But there is much more to Zanzibar than mind-numbingly blissful relaxation. Historic Stone Town, the old section of Zanzibar City, is a UNESCO World Heritage Site. It was chosen for its rich culture and history – some of which are the atrocious and sobering reminders of slavery. 
I encourage you to visit the East Africa Slave Trade Exhibition to lean about this grim period in history.
Not all of the history is so dark. Stone Town is full of beautiful ancient architecture – flavours of the European, Indian, Arabic, and Persian influences the islands have seen over the years, all on a local Swahili foundation. Pay particular attention to the ornate and unique doors that you'll see on structures all over Stone Town. 
Make a quick stop, too, at the Hamamni Persian Baths for a glimpse at the first public baths of Zanzibar. From there you can stroll through more of Stone Town's sights, take a tour through the Jozani Natural Forest Reserve, or explore the spice plantations on the island. With any luck, you'll spot one of the local red colobus monkeys on your journey!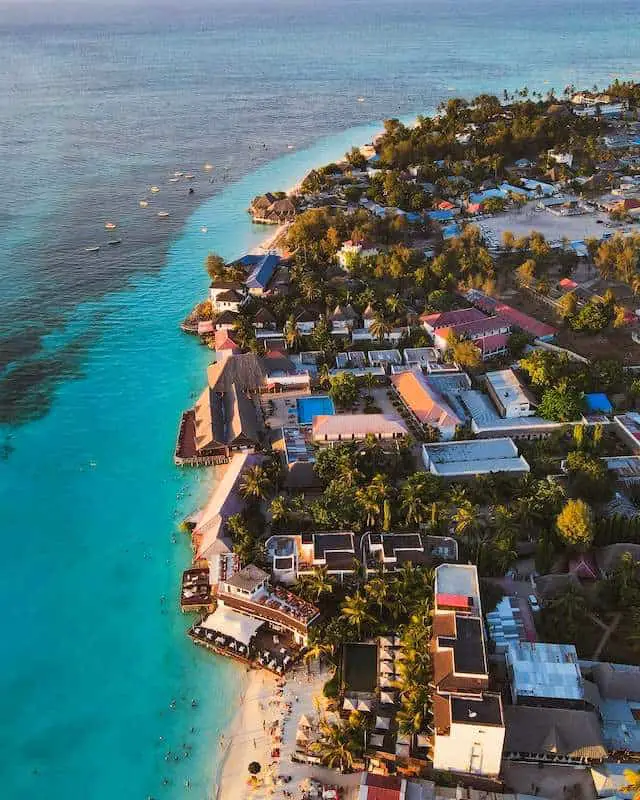 ➤ Final words about these African Islands
These islands in Africa are just a few of the remarkable islands that belong to this mysterious continent. Begin exploring these to experience the unique cultures, shaped by their own history and geography, and the rich traditions that have been passed down through the generations.
From the vibrant rhythms of the tropical music of Mauritius, to the colourful textiles of the Comorians, the islands of Africa are a feast for the senses. The landscapes are breathtaking, the activities are pure enjoyment, and the people are lovely.

These African islands will show you an Africa like you've never imagined. Start planning a trip of your own, now!