A wonderful day in Bhaktapur Nepal. What places to visit and how to go
Lovingly referred to as the "City of Devotees," Bhaktapur भक्तपुर is an ancient city in Nepal celebrated for its culture, beautiful temples, sky-high pagoda structures, notable art, and colourful festivals. Read on to find out everything you need to know about visiting Bhaktapur, the cultural capital and former royal seat of sovereignty of the Kingdom of Nepal. I detail how to get here from Kathmandu, the entrance fee, places to visit in Bhaktapur, what to see, and where to explore in the immediate vicinity.
Reading time: 7 minutes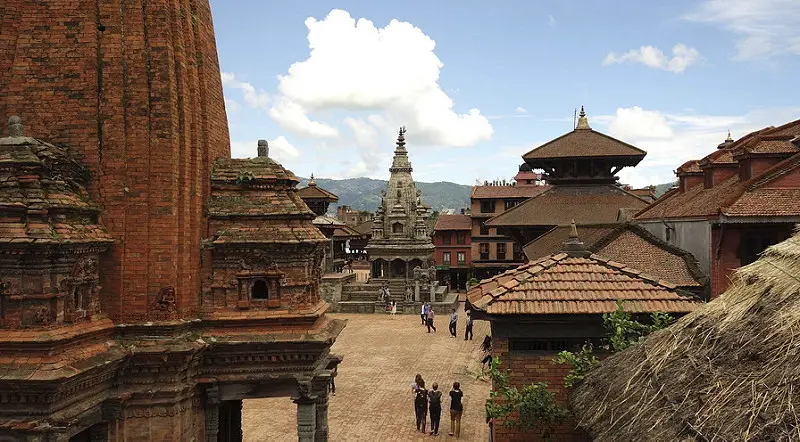 >> Read next:
Bhaktapur
Ancient Royal Capital of Nepal
For several hundred years, Bhaktapur was one of three rival royal cities, along with Kathmandu and Patan, each independently ruled by their respective Malla kings.
Listed as a World Heritage Site by UNESCO, Bhaktapur, to this date, still houses a number of noteworthy landmarks and is the living representation of how the entire Kathmandu Valley would have looked like during the medieval periods.
This walled antediluvian city is renowned for its interesting architecture, traditional dances, the indigenous lifestyle of the local people, fine clay pottery, and large royal courtyards. It is also worth exploring the Newar customs, festivals, and culture dating back to the 12th century.
Founded in the 12th century by King Anand Dev Malla, Bhaktapur was declared the capital of the Kingdom and it remained the seat of sovereignty until the first half of the 15th century.
Did you know:
Many of Nepal's greatest monuments were built during the Malla period.
Today Nepal's cultural gem, Bhaktapur is the best preserved of the three ancient kingdom cities containing more temples per square meter than Kathmandu or Patan and remains the third largest city in the country.
It is located in the Kathmandu valley, 13 km east of the modern day capital, Kathmandu, but you may feel like you've stepped back in time, given the ambiance and tradition of the place and its people.
Described as an open-air museum and spread over an area of just 6.9 square km2, it certainly packs a punch as a must-see cultural destination for its temples, historical artefacts, Newari art, traditional woodcarving, pottery, weaving, sculptures, and architecture.
Except for motorbikes, all motorized vehicles are banned in the city centre. Here you can lose yourself following the delights of your eyes and stomach.
Walking the narrow, cobble streets the old town center in this "City of Culture" you will find elaborate Buddhist and Hindu symbols and monuments with sophisticated carvings alongside dashes of traditional pottery, wood carving, weaving, and traditional wood houses.
Let's talk…
Daily Life in Bhaktapur
What makes Bhaktapur most captivating, however, is its people and inhabitants.
Their pride in their legacy and smiles on their faces can be seen in their simple, but culturally rich daily life.
– We pass children playing in the ancient streets alongside goats searching for food.

– We observe artisans carving wood and making puppets along the streets as women in traditional attire gather to fetch water.

– We notice old men in colourful topi hats play cards and checkers as young men in shop fronts sell a wide variety of foodstuffs, modern clothing, real artefacts, jewellery and art work.

– We caught glimpses of women, young and old, weaving cloth on traditional handlooms as cows made their way along the streets.

Time for some logistics…
Kathmandu to Bhaktapur — How to get here
Bhaktapur, the third of the "Royal Cities," lies on the old trade route to Tibet, located 20 km (12 miles) east of Kathmandu.
I would say the journey from Kathmandu to Bhaktapur takes about an hour, give or take, depending on the traffic conditions.

Your options for getting to Bhaktapur:
Taxi
Any taxi would be more than willing to take you. The cost is approximately 1200 Nepali rupees one way. Be sure to agree to a price before departure. You can ask the driver to wait for you outside, for an additional cost or get another taxi for the return journey. I would recommend the latter and is the option I personally used.


Local Bus
It is possible to go to Bhaktapur and Nagarkot by local bus. The start of this journey is at the Old Bus park or Bagbazzar. The bus is scheduled to leave every 10 minutes with arrival at the entrance of Bhaktapur Durbar Square.


Express Bus
There is an express bus from Ratna Park in Kathmandu to Bhaktapur that leaves approximately every half hour throughout the day. This bus passes relatively close to the airport.
Once in Bhaktapur, the best way to experience the city, its people and to get a feel for the overall ambiance is on foot.
Taxis, rickshaws, tuk-tuks and other motorised vehicles are not allowed inside the city. However, locals are permitted to use motorbikes.
Bhaktapur Entrance Fee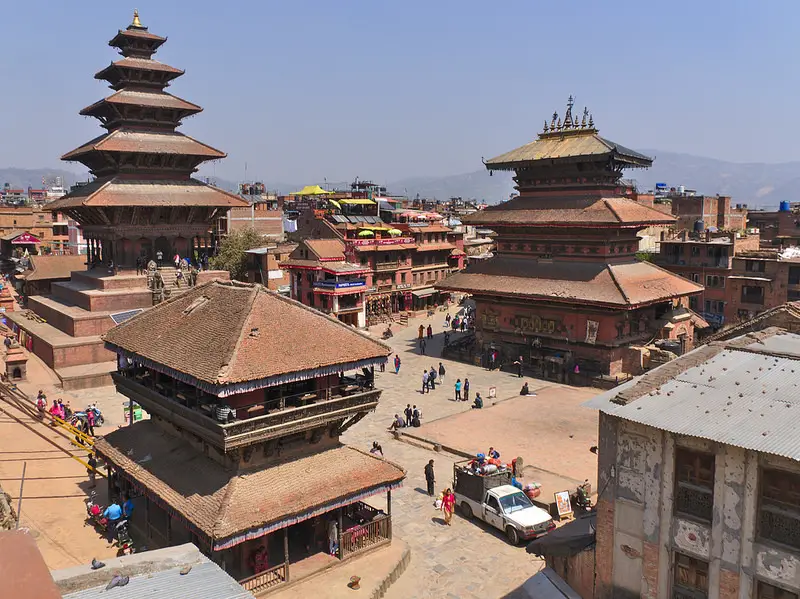 To enter Bhaktapur, visitors from SAARC member countries (India, Bangladesh, Bhutan, Maldives, Nepal, Pakistan and Sri Lanka) and China pay NPR500.
The entrance fee for foreigners is 1500 NPR, which may seem high, but bear in mind that part of this fee is used to fund repairs following the earthquake in 2015.
If you are planning on visiting for several days, I would recommend asking the counter to add a note which would possibly allow access to the city with the same ticket throughout.
Points of interest — Places to visit in Bhaktapur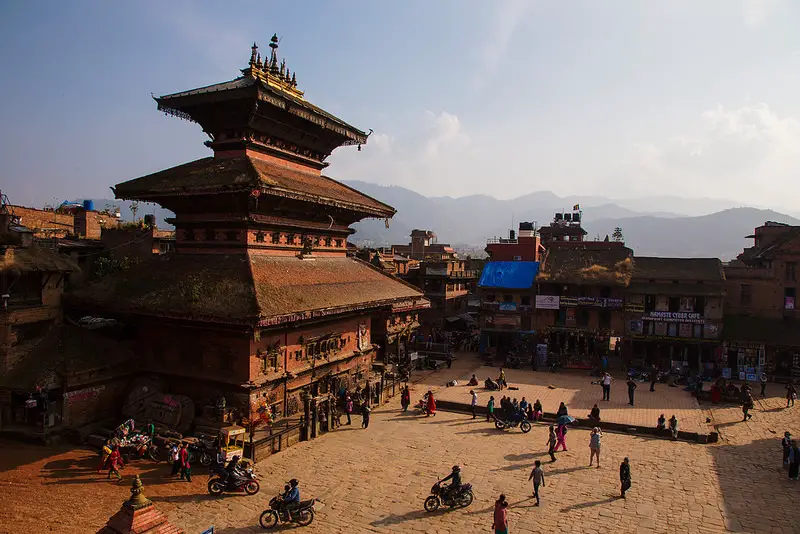 My favourite part of the day visit to Bhaktapur was simply walking around; soaking up in the ambiance of the place and watching the locals go about their daily life.
Nearly two years after the devastating earthquake of 2015, the Bhaktapur Durbar Square and many other parts of the city still suffer the reminders of the earthquake.

Buildings supported by poles and scaffolding, damaged statues and temples, and workers clearing the debris of ruined structures are among the many reminders seen throughout.
Nevertheless, there are a number of noteworthy landmarks scattered throughout the city. Here are the most significant places to visit in Bhaktapur:
Bhaktapur Durbar Square
In the centre of the city lies the main square and one of the seven UNESCO World Heritage Sites in the Khatmandu Valley. The seat of royalty before 1769, the building now houses the National Art Gallery. This ancient center is best known for its extensive collection of Tantric cloth paintings, rich gathering of paubha scroll canvases and amazing works of art in stone. Don't miss the collection of pagoda and shikhara-style temples; an incomparable example of craftsmanship going back to 1756. This square also served as the chosen location for the main historic scenes of Bertolucci's "Little Buddha."
The Palace of 55 Windows
Just as the name states, the Palace of 55 windows is the former royal residence with an overhang of the famous 55 windows. Worked in the seventeenth century by King Bhupatindra Malla, the ornately cut windows and entryways is an artful culmination of woodcarving and not to be missed.
Taumadhi Square
There are a number of different monuments in Taumadi Square each portraying the creative tradition of Newari craftmenship ­­—Nyataponla Temple, Bhairavnath Temple, Teel Mahadeva Narayan Temple, among others. Of these, Nyataponla Temple is the most impressive, towering five storeys above the square. A sanctuary dedicated to Lakshmi, dating back to 1702, it is the tallest pagoda temple in all of Nepal.
Make your way up the stone-carved stairway of the temple flanked by pairs of wrestlers, elephants, griffins and lion statues along the way for a wonderful view of the city and surrounding mountains.
Taleju Bhaktapur Temple
Built in 1553, this temple is one of the most sacred in Bhaktapur. It lies inside the Royal Palace grounds, accessed via Mul Chowk. Only Hindus can enter the temple, but you can peer in and admire its mystery from the outside.
Taleju bell
Another piece of art in the square is a large bell, which was erected by King Jaya Ranjit Malla, Bhaktapur's last Malla King, in 1737 and today it is rung twice a day as a sign of tribute to goddess Taleju and to signal morning and evening prayers at Taleju Temple.
Dattatreya Square
This square is the oldest part of the city, and home to many of Bhaktapur's temples and museums. It is a popular spot for woodcarving. Dattatreya Square has the eye-catching pagoda-styled Dattatreya Temple as its main attraction. Originally developed in 1427 by King Yaksha Malla, the three-storied sanctuary is believed to have been built with the trunk of a single tree. It is now guarded by a couple of large, but relatively friendly goats.
The Peacock Window
One of the finest carved windows in the Kathmandu Valley makes The Peacock Window one of Nepal's signature sights. It was carved by Araniko in the 1400s, who to this day remains the most important and famous architect of Nepal. Despite the earthquake of 2015, this famous feature looks to be in good condition and is often referred to as the Mona Lisa of Nepal.
Pottery Square
Bhaktapur is famous for its clay pots that get exported all over Nepal. These pots are moulded and fired in the shop-lined alleys adjacent to Pottery Square and this public square is where rows of clay pots are left to dry in the sun. Witness the city's potters go about their day work making differently moulded and interesting stoneware here.
Siddha Pokhari
A prevalent pond located a few meters upfront of Bhaktapur Durbar Square. It measures 171 meters long, 73 meters wide, and about 3 meters deep. Also known locally as Indra Daha, this ancient pond can get crowded being popular among the youth and Nepalis in general. This is also the location of the festival of Ashwin Krishna Dwitiya each year.
Other
Other eminent landmarks in Bhaktapur include, the octagonal Chyasin Mandap, Shiva Temple, Vatsala Temple, Siddhi Laxmi Temple, Bhandarkhal Complex, Chatu Brahma Mahavihar, Indrayani Temple, Balakhu Ganesh Temple, Char Dham, and Tripura-sundari Temple.
>> Read next:
Visiting temples in Ayutthaya
What to eat in Bhaktapur in Nepal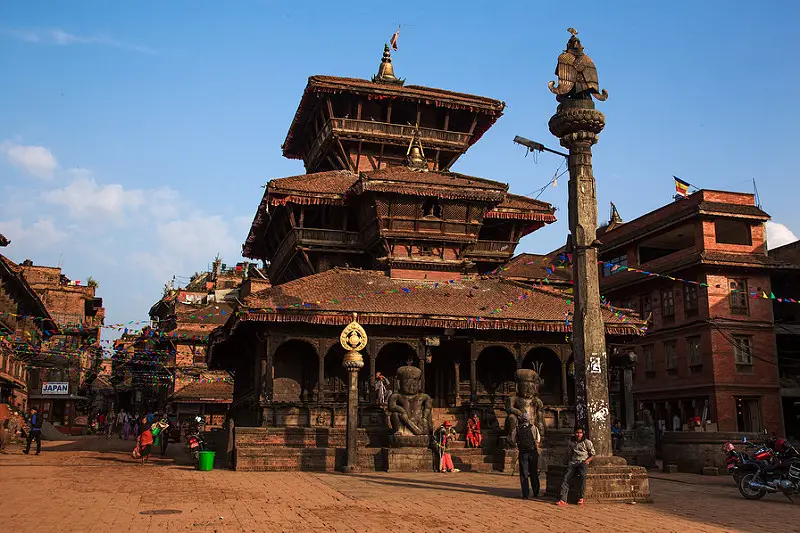 I was advised by friends in Kathmandu not to leave Bhaktapur without trying some of their famous yogurt with local honey, Juju-dhau, literally translates as the "King of all yogurt." And I pass this recommendation on to you because it's worth it. Made from fresh buffalo or cow milk, it is then set to thicken in clay pots.
Another item we tried and really love was the homemade ice cream lollies found in shops around the city.
Fruit and vegetables are readily sold along the streets. I brought a couple mangoes and these were pretty good.
Small local restaurants found on the main road into the city and within the city itself, will provide your fix of local food. The specialty being Dhal Bhat Takari, which consist of lentils, rice, and vegetable curry. Samay Baji and momos are also to be found.
>> Must read:
What is traditional Nepali cuisine + 12 must-try dishes
>> Related reading:
35 strange foods consumed around the world
Bhaktapur weather — Best time to visit
The months of September – November, essentially the Autumn season, provides the best conditions for a visit to Bhaktapur. During this time expect clear skies with crisp and cool temperatures that make for a pleasant time in the city. This is also peak season in Nepal so expect added crowds.
March and April follow as the next best season to make a trip to Bhaktapur. The cold of Winter is receding, temperatures are rising and the flowers are in bloom.
Sleep — Where to stay in Bhaktapur
Spending a night or two in Bhaktapur can be a good alternative to staying in Kathmandu because of its unobtrusive streets and unique atmosphere.

Walk the streets at night following the candle lights of the temples can be a wonderful experience.

In addition, it is located close to the Kathmandu international airport and on the road connecting Kathmandu and Kodari on the Chinese border, which makes it particularly suited for spending the first night in Nepal.
>> Here are my favourite recommended places:
Postal code of Bhaktapur in Nepal
The zip postal code for Bhaktapur is 44800
Where to go after Bhaktapur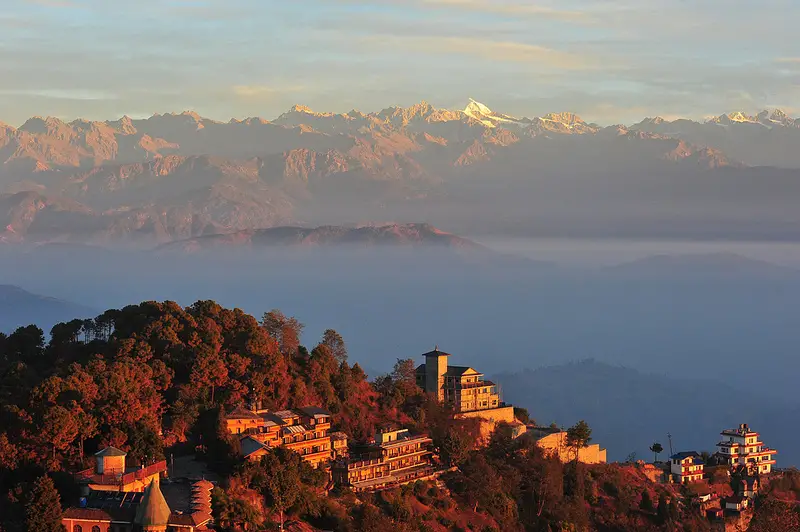 If you have time to visit other places close to Bhaktapur, these are my recommendations:
Nagarkot 
Nestled on a hill at an altitude of 2,195 m to the north east of Bhaktapur at a distance of 18 km, Nagarkot is famous for its panoramic mountain views. Strategically situated, it is one of the most scenic spots in this district and is renowned for its breathtaking panoramic views of the Himalayan mountain range when the sky is clear. Watching the sun rise from behind the grandiose peaks is the major attraction for both domestic and international tourists. A popular weekend getaway among people in Kathmandu it also offers an excellent view of the Indrawati river valley to the east.
Changu Narayan
Yet another UNESCO World Heritage Site Monument and the oldest existing pagoda temple in Nepal dating as far back as 464 AD, Changu Narayan Temple lies 4 km just to the north of Bhaktapur and 22 km east of Kathmandu. A beautiful construction of woodcarving and ancient sculpture dedicated to Narayan, this Newari village is situated high in the hill at an altitude of about 1700m. It is a scenic spot and a popular destination for hiking from Nagarkot.
To reach this temple, go to the North Gate of Bhaktapur and take the local bus to Changu Narayan Village. This bus rides usually lasts 30 minutes. To return to Bhaktapur, take the bus or walk to the opposite side of the main entrance and continue walk down the hill reaching your destination in one and a half hour passing rice fields and rural villages along the way.
Suryavinayak Temple
A Hindu temple situated at the walking distance of about 2 km to the south of Bhaktapur city, Suryavinayak is dedicated to the Hindu god Ganesh. Locally referred to as the temple of the rising sun, it is placed in such a way so as to catch the first rays of the rising sun. This historical and cultural monument is a good picnic spot situated in a forest and can only be reached on foot.
Dhulikhel
A popular hill station near Bhaktapur, Dhulikhel is a popular spot for picturesque sunrise and sunset views over the Himalayan panorama. The views from here are pretty similar to those of Nagarkot and many travelers visit Dhulikhel as their stop point on the way to Namobuddha. Dhulikhel is also the central point of long trade relations between Nepal and Tibet.
Madhyapur Thimi
A traditional Newari city lying about 5 km west of Bhaktapur, Thimi is well known for its pottery work, for its vegetable cultivation and for its handicrafts of colourful masks of various deities, demons and animals. Here, people still continue with their traditional lifestyle and like Bhaktapur, Thimi is rich in age-old temples and historical monuments, the likes of Siddhikali, Balkumari, and Dachhin Barahi.
>> Read next:
How to be a responsible tourist
---
That's it for now. I hope you enjoy Bhaktapur as much as I did on my most recent visit earlier this year. Any questions or comments, please do not hesitate to get in touch.

Read this post to find out the best time to visit Bhaktapur and the rest of Nepal
Written in collaboration with the Nepal Tourism Board and PATA during my attendance at HTM Nepal 2019.
Namaste,

Rai