🥇13 Best Treks in Nepal To Help You Choose the Right One → Nepal Trekking Guide
Trekking in Nepal comes in all shapes and sizes. Be it a short trek in Nepal for total beginners, a long high altitude trek, or even a month long Himalayan adventure for extreme hikers, you will be thoroughly inspired, rewarded, enthralled and pushed to your limits, both mentally and physically. 
With more than 1,300 mountains over 6,000 metres in height, including the highest mountain in the world, Mount Everest, Nepal is one of the best countries in the world for hikers, trekkers, and adventure lovers around the world.

But with so many options, how do you even decide where to go and which Nepal treks to attempt? Well, wonder no more, 'coz we've got you covered.

Continue reading to discover the overall best treks in Nepal.

Along with this, find some some basic information about each Nepal trek to help you decide which is the prefect one for you. You will also find lots of helpful tips on how to plan your epic quest.
Get your trekking boots out, because this post is filled with a whole lot of Nepal trekking inspiration and unbelievable mountain views, that are (literally) breathtaking!
Planning a trip soon? Find EVERYTHING you need to know about:
The best time to visit Nepal HERE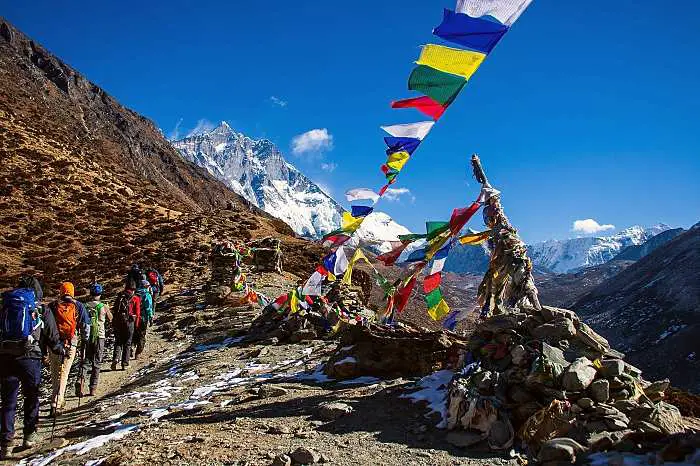 The country of Nepal humbly boasts a considerate amount of infinite beauty with the world's highest mountains in the form of snow-capped peaks. You will also encounter an abundance gushing rivers, lush forests, and wild landscapes leading up to them.
On my first visit to Nepal I was told, once is not enough and on my departure I left having fully understood why and already planning a return. There's a good chance that you will feel the same way.

Scroll down to find your complete trekking Nepal guidebook.
>> Hungry? Your guide to…
Nepali cuisine + 12 traditional dishes you must try
Introduction to hiking and trekking in Nepal
Nepal, being the ultimate destination of adventure offers a plethora of trekking trails and hiking options for the intrepid traveler. These range from a couple days in the rural countryside to a couple months (think Everest Base Camp).
Hiking in Nepal is a dream for many, myself included.

You too?

To help with your deliberation on which trek in Nepal is the perfect one for you, I have compiled a list of the best Nepal treks — with specific information such as the duration of the trek, the maximum elevation, trek difficulty, permits required, and others.
The best time to go hiking in Nepal
The seasons in Nepal can be classified into four distinct periods.
High season for trekking in Nepal is during the months of October to March. In particular, the months of October and November. During this time the skies are clear and the mountains are clearly visible, and along with this comes increased prices and crowded accommodation options. As this is the peak period for hiking in Nepal, you will be sharing the crowded trails with many other hikers.
To avoid the crowds, I would recommend that you plan a trip to Nepal in the shoulder season when the temperatures are mild, the air is brusque, and the flora is in blossom.
In the meantime, winter (December to February) can be too cold and snow-filled, making it risky or impossible to cross some high passes.
The summer monsoon season (June to August) also sees less tourists visiting and is also not a recommended time to hike in Nepal. Excessive rainfall and any subsequent landslides, which could lead to damaged trails and paths, could pose a danger to trekkers.

If you visit in the summer, it is recommended to avoid the regions that receive a lot of rain and to rather opt for a Nepal trek in those areas that are located within the rain shadow such as Upper Mustang, Kailash, and Dolpa.
Fitness Level Required
Well, you certainly don't have to be of ninja warrior fitness level to trek in Nepal. However, I will say that the more fit you are, the more enjoyable the hike in Nepal will be, since you won't be troubled with a lack of stamina nor with being out of breath.

Much like Kilimanjaro, most of the treks on this list are doable as a first time high altitude trekker, while for other treks, previous high altitude trekking experience is advised.

All you need is careful itinerary planning, taking any risk of altitude sickness into account. For most of these treks, the average walking distance is 15 km per day and 6 – 7 hours spent daily on the trail. Anyone that is moderately fit and is comfortable with extended periods of walking, sometimes up to 8 hours, should be able to complete these treks.

You also need to be mentally prepared for a trek in Nepal.
Additional Tips For Trekking In Nepal
You can buy the permits in Kathmandu from the Nepal Tourism Board, in Pokhara from the Nepal Tourism Board (for Annapurna only), or the trekking tour operator that you intend to use will arrange this on your behalf in Nepal.


Not all Nepal trekking permits need to be obtained in Kathmandu or Pokhara though. Depending on the route, you can have the flexibility of getting permits right on the trail. All permits are single entry and some are valid for a certain duration.


The entry permit is valid for one conservation area and should be carried during the entire trip for validation should conservation area personnel request to view it.


Domestic flights to and from the airports in Nepal are very much subject to weather conditions and as a result, are occasionally cancelled or rescheduled at short notice. Therefore, it's wise to plan a couple of contingency days so you won't miss your international flight and to follow all protocols to have a safe flight.


As this is Nepal, allow a day or two for logistical arrangements, arranging documentation, flight delays, cancellations, and road delays, amongst others.


For most treks in Nepal, you have the choice of adjusting the duration to suit your needs.


Most of the treks can be extended on top of a regular itinerary by taking side trips along the way.


If you time your trek during one of the local festivals of the region you can get an in-depth cultural experience to go along with the Nepal hiking experience.


Traveling on public transportation in Nepal during festival season could be a real hassle since they are always packed full. This is especially so in autumn during Dashian, the biggest Nepali festival.


You don't need to go with prearranged tour if you don't want to. You can show up in Kathmandu or Pokhara and make all arrangements for the trek once there and start trekking Nepal the following day.


Most of the treks of Nepal are teahouse lodge based with decent standard food and accommodation facilities. A tea-house is a combination of a guesthouse with an accompanying dining room. The rooms are fairly basic with twin beds.


Most tea-houses have electricity for charging mobile phones and cameras, although there may be a small charge for this.


For some Nepal treks, being accompanied by a trekking guide is a must, while others can be done independently.


There is usually one porter for every two travellers who will carry your trekking gear on the trail. You don't need to carry a lot and the maximum weight is usually 10 kgs per person.


Maps in scale are available to help plan your adventure.


It is discouraged to purchase bottled water while on the trail as this has become an environmental hazard. All tea houses have boiled water for trekkers and you can also bring water purification tablets along.
>> Read next:
The best places to visit in Bhaktapur
Keep reading to find a list of Nepal's best treks ↓↓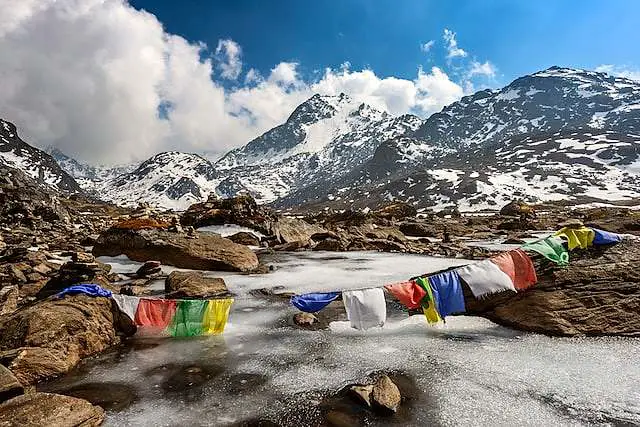 So without further ado, let's get into it…
NEPAL TREKKING GUIDE:
WHAT ARE THE BEST TREKS IN NEPAL
Where to go hiking in Nepal?

Below you will find a variety of the best Nepal treks that would take around 2 weeks to complete. Which is the perfect one for you?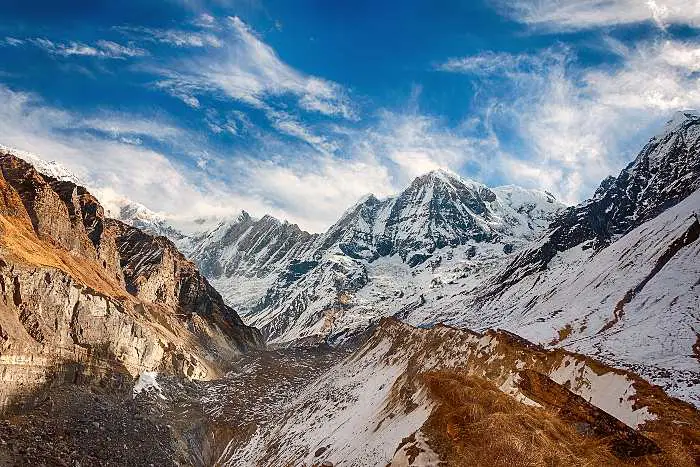 What is the best trek in Nepal?
1 | Annapurna Circuit Trek | 12 to 18 Days
Annapurna Circuit Trek Facts
| | |
| --- | --- |
| Max Elevation | 5,416 m |
| Trek Difficulty | Moderate |
| Duration of the trek | 12 to 18 days |
| Best Season | Spring and Autumn |
| Permits | Annapurna conservation area entry permit |
| Accommodation | Teahouses |
For trekkers worldwide, the famous Annapurna circuit trek needs no introduction. This is undoubtedly one of the most popular high altitude treks in the world. The mountain landscapes on this best Nepal trek would definitely satisfy your search for Himalayan beauty, with some parts of the trail falling under the rain shadow of the Annapurna range.

Roads have been rapidly expanded within recent years at both ends of the circuit, making the trek doable in 12 days or even less. With no guide requirement, the Annapurna circuit trek is increasingly popular among cyclists too. 

As a safety precaution for high altitude sickness, it is advisable to do this popular trek in an anticlockwise direction, unless you are some hardcore trekker who want to go against the crowd.

If you have a few extra days to spare, Tilicho Lake is a great side trip to consider. Mesokanto La Pass in the west of Tilicho can take you straight down to Jomsom.

However, very few trekkers choose that trail due the nature of the pass being quite long. The alternative and safer option is to return to the main trail from Tilicho lake and to cross Thorong La Pass. For trekking the Himalayas in Nepal you can't go wrong with the breathtaking Annapurna region.
2 | Manaslu Circuit Trek | 12 to 16 Days
Manaslu Circuit Trek Facts
| | |
| --- | --- |
| Max Elevation | 5,156 m |
| Trek Difficulty | Moderate |
| Duration of the trek | 12 to 16 days |
| Best Season | Spring and Autumn |
| Permits | Restricted area permit, Annapurna and Manaslu conservation area permits |
| Accommodation | Teahouses |
With its growing popularity within recent years, Manaslu circuit trek is now branded as the new Annapurna circuit. As one of the best Nepal trekking routes, it offers the perfect combination of spectacular nature and unique local culture.

Located east of Annapurna and west of Langtang, Manaslu circuit would take you from Maccha Khola, climb up Larkey Pass at 5160 m and down to Dharapani. There are two acclimatization days during a standard 14 day trekking itinerary when you can explore Manaslu Base Camp and hike to Tibet border.
The trail is relatively new and well maintained with an average walk time of 6 hours per day. The trek is ranked moderate in terms of difficulty with slow elevation gain over each trekking day.

You must have a guide and a special permit which will be arranged through your Nepal trekking agency.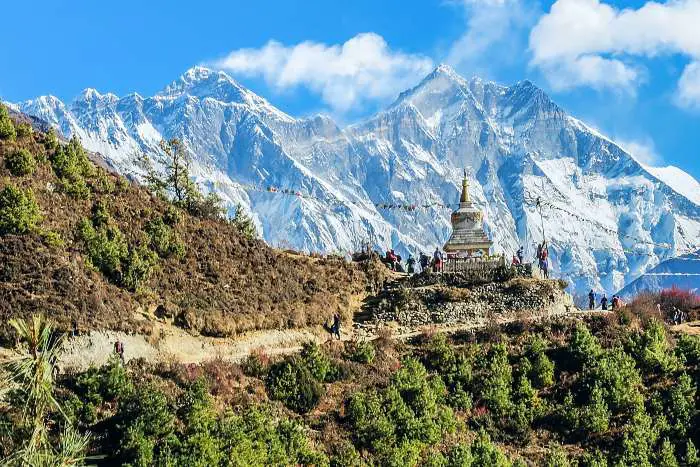 3 | Everest Base Camp Trek | 12 Days
Everest Base Camp Trek Facts
| | |
| --- | --- |
| Max Elevation | 5,545 m |
| Trek Difficulty | Moderate |
| Duration of the trek | 12 Days |
| Best Season | Spring and Autumn |
| Permits | Sagarmatha national park entry permit and rural municipality entry permit |
| Accommodation | Teahouses |
Epic views of the world's highest mountain, an interesting Sherpa culture, and a thrilling airport landing are some of the obvious reasons why any adventurer would have Everest base camp trek on their bucket list. 
Considered by many to be one of the best treks in Nepal, it offers the opportunity to stand in the shadow of the highest mountain in the world. Due to its popularity, the trail gets busy throughout the year, especially during spring and autumn, when crowds of trekkers flock to Namche.
During this time, flights might take off from Ramechap instead of Kathmandu, which is a 5 hour drive from the capital city. You must book tickets in advance as seats fill out quite quickly.
Although having a guide is not mandatory for this trek it is still recommended to have one or go in a group if you are considering any side trips. Altitude sickness should be taken seriously due to the nature of the fast elevation gain on this popular trek to Nepal.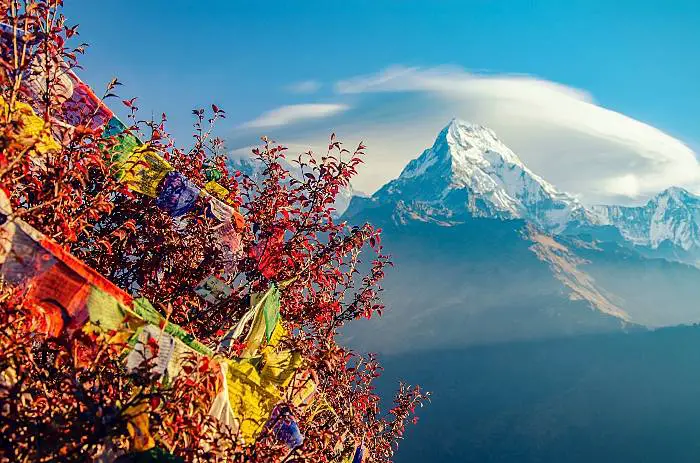 4 | Ghorepani Poon Hill Nepal Trek | 4 days
Poon Hill Trek Facts
| | |
| --- | --- |
| Max Elevation | Poon Hill 3,210 m |
| Trek Difficulty | Easy |
| Duration of the trek | 4 – 5 days |
| Best Season | All year round but best is September to November and January to May |
| Permits | TIMS, ACAP Annapurna Conservation Area entry Permit |
| Accommodation | Teahouse/Guesthouse/Homestay |
The most popular and hence the most visited of all the best Nepal treks on this list. And with good reason — the Ghorepani Poonhill trek is the ideal trail for someone looking for an introduction into trekking in Nepal that doesn't take up a lot of time and provides expansive mountain views.

It provides the perfect introduction to hiking in Nepal, showing you just enough to make you want to come back for more.
This Nepal hike is relatively uncomplicated with sufficient time to rest and with no worries about altitude sickness. Anyone with a moderate level of physical fitness can complete this easy trek in Nepal.
Now I'll be the first to admit that this trek might be a little too touristy and too busy for my liking, but the trek takes you through the beautiful Annapurna region of lush valleys, waterfalls, terraced fields, rhododendrons forests while also giving you a glimpse into the Gurung and Magar culture.
The start of the trailhead is at the village of Nayapul, around a two-hour drive from Pokhara. So if you find yourself in Kathmandu this would involve a drive or flight getting to Pokhara.
The highest elevation reached on this trek is at Poon Hill at 3,210 m with the highlight being the wonderful sunrise and accompanying panoramic views of the Annapurna Himalayan range and various other peaks that stand over 7,000 meters. The trek offers magnificent views of Annapurna II, Annapurna South, Hiunchuli, Nilgiri, and Machhapuchhre. These views combined with the accessibility makes this one of the best short Nepal treks to take.
Day 1: a moderate trek from Nayapul to Tikhedhunga.
Day 2: continue along to Ghorepani at 2880m entering the Rhododendron forests.
Day 3: an early morning walk to reach the Poon Hill peak at 3,210m for a sunrise you'll never forget. Continue along to Tadapani.
Day 4: trek through the forest trail to the Gurung village of Ghandruk, followed by, you guessed it – a trek back to Nayapul. Finally this is completed by a drive by bus or car to Pokhara.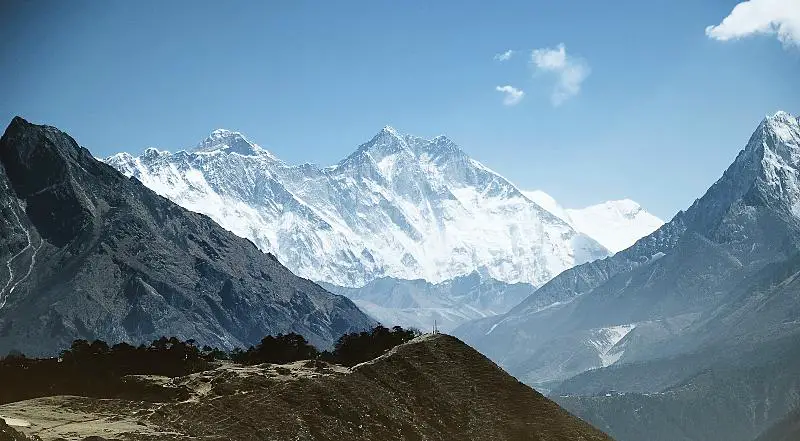 5 | Kanchenjunga Circuit Trek | 18 to 22 Days
Kanchenjunga Circuit Trek Facts
| | |
| --- | --- |
| Max Elevation | 5,310 m |
| Trek Difficulty | Moderate |
| Duration of the trek | 18 to 22 Days |
| Best Season | Spring and autumn |
| Permits | Restricted area permit and Kanchenjunga conservation area permit |
| Accommodation | Teahouses |
This long trek in eastern Nepal will take you to two base camps of Kanchenjunga - the world's 3rd highest mountain: north and south base camps, which are connected by the Sele Pass at 4,400 m.

Kanchenjunga circuit trek still remains somewhat undiscovered, so you won't have to worry about any issue with crowds. You can do it in any direction, but a clockwise route is usually preferred.

This direction will take you to north base camp first before going down to Ghunsa, crossing the pass to explore the south base camp before descending. Elevation ranges from 800 m to 5,300 m with an average 6 hour walk per day, so altitude sickness is not a high risk.

Kanchenjunga circuit trek is one of the longest teahouse treks in Nepal, where you need to take domestic flights between Kathmandu and Bhadrapur to get to the starting point. There is also an option of a local bus, but this is quite a grueling journey. You must have a guide for this trek.
6 | Makalu Base Camp Trek | 14 to 18 Days
Makalu Base Camp Nepal Trek Facts
| | |
| --- | --- |
| Max Elevation | 5,237 m |
| Trek Difficulty | Moderate |
| Duration of the trek | 14 to 18 Days |
| Best Season | Spring and Autumn |
| Permits | Makalu Barun national park entry permit |
| Accommodation | Seasonal teahouses |
Makalu base camp trek cannot be compared to other best treks in Nepal, particularly in terms of popularity. However, this is truly a hidden gem. The region is sandwiched between Everest and Kanchenjunga with a same way in and same way out trail, taking you to the base camp of the world's 5th highest mountain.

It is recommended to attempt this trek in Nepal during in-season, as local tea houses might be closed during the off season. The lodges here offer only basic facilities and may not be as comfortable as the other popular Nepal trekking regions, so don't keep your expectations too high.

But the perks include having a much quieter trail to yourself and unmatched views of mountains. You don't need a guide for Makalu base camp trek with the average walking per day being 6 hrs.

Makalu can be connected to Everest region through Sherpani Col Pass at an elevation of 6,200 m. While there's no restriction for solo trekkers, bear in mind that this pass is technical and requires certain trekking experience. Besides, another inconvenience is that there are no teahouses after crossing the pass until you get to Chukung in Everest, so you would have to camp for a few days.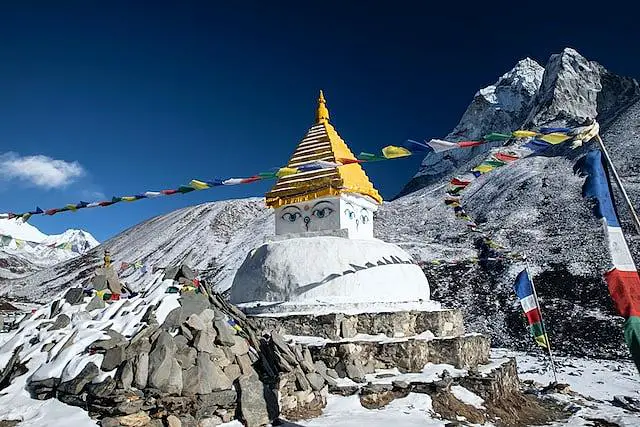 7 | Nar Phu Valley Trek | 13 to 17 Days
Nar Phu Valley Trek Facts
| | |
| --- | --- |
| Max Elevation | 5,387 m |
| Trek Difficulty | Moderate |
| Duration of the trek | 13 to 17 days |
| Best Season | Spring and Autumn |
| Permits | Restricted area permit and Annapurna conservation area entry permit |
| Accommodation | Teahouses |
Nar and Phu are the names of two authentic Tibetan influenced villages. Nar Phu valley is found in the shadow of Annapurna range, and the Nar Phu Valley Trek in Nepal is a great alternative to the regular and popular Annapurna circuit trek.
This is a circuit trek starting from Koto village as the exit point from Annapurna circuit and enters Manang by crossing Kang La Pass. You also have the option of continuing towards Thorong La Pass from Manang or hiking down to Beshi Sahar.
In terms of altitude sickness risk, the slow gain of elevation from 1,500 m to 5,300 m over the course of 10 trekking days with 2 rest days in Nar and Phu makes it quite reassuring. Having a guide is a must for this trek.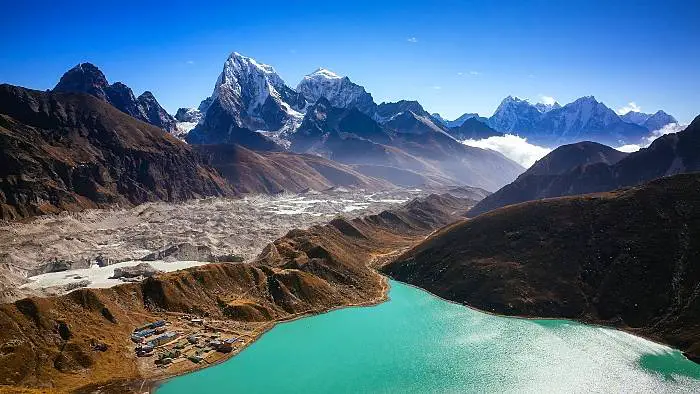 8 | Everest Three Passes Trek | 14 to 16 Days
Everest Three Passes Trek Facts
| | |
| --- | --- |
| Max Elevation | 5,545 m |
| Trek Difficulty | Challenging |
| Duration of the trek | 13 to 17 days |
| Best Season | Spring and Autumn |
| Permits | Sagarmatha national park entry permit and rural municipality entry permit |
| Accommodation | Teahouses |
No list of Nepal best treks is complete without the Everest Three Passes Trek. It covers almost everything you need to see in the Everest region, from snow capped mountain views to high passes, local villages, and monasteries.
From Namche, the trail for Everest three passes trek takes a circular route. As the name suggests, the trek involves 3 passes, which are Renjo La, Cho La, and Khongma La. It also takes you to the famous Everest base camp.
One of the best highlights of this trek is Gokyo Ri, which offers a view of 4 eight thousand meter high mountains. Once you walk off from Namche, the trail is relatively quieter compared to the main one leading to base camp.
This incredible Nepal trekking route can be done in both a clockwise and anti clockwise direction.

While trekking solo is allowed, do not attempt it during winter season. Snow poses a potential hazard and makes it dangerous to cross the passes. A wiser choice would be to go with a guide or trek in a group instead.
9 | Langtang Valley Trek | 7 Days
Langtang Valley Trek Facts
Max Elevation
Kyanjin Ri 4,773m
Tserko Ri 4,984 m
Trek Difficulty
Moderate
Duration of the trek
+- 7 - 8 days
Best Season
October to November and March to May
Permits
TIMS + Langtang National Park Permit
Accommodation
Teahouse
The Langtang Valley is located just under 20 kms north of Kathmandu making this Nepalese trek easily accessible, but it does require an 8-hour drive to get to its trailhead, Syabrubesi.

Known as the valley of glaciers, the Langtang valley provides gorgeous sunsets amid unbelievable snowcapped mountain peak views, glaciers, gorges, and lakes. It is considered one of the best treks in Nepal.
The trek makes its way alongside the Langtang Khola River on the ancient trade route to Tibet. Passing through constantly changing terrain — from rhododendron forest and deep to glaciers, waterfalls, and interesting local settlements, your days will be an endless adventure with the highest elevation being that of Kyanjin Ri (4,773 m) or Tserko Ri (4,984 m). They offer magnificent panoramic views of Langtang Lirung (7,244m) and the other distant peaks that seem to envelope you.
As the beautiful Langtang valley is located within the Langtang National Park, expect an affluence in biodiversity with over 150 species of birds and animals and over 1000 species of plants, pines, oaks, and maples.

Traditional monasteries and gompas add to the mystery and allure. En route, you have plenty of opportunities to interact with the Tamang and Sherpa inhabitants of this region.
The earthquake of 2015 left much devastation to the Langtang region with many villages destroyed forcing locals to leave the area. But, the area is in the process of being rebuilt and a visit to this region assists in helping the locals.
You also have the option to add a visit to Gosaikunda Lake onto your Langtang Valley Trek. Gosaikunda is a holy lake that attracts thousands of Hindu and Buddhist devotees, in particular during the full moon of August. This addition would add an extra 3 days to your trek.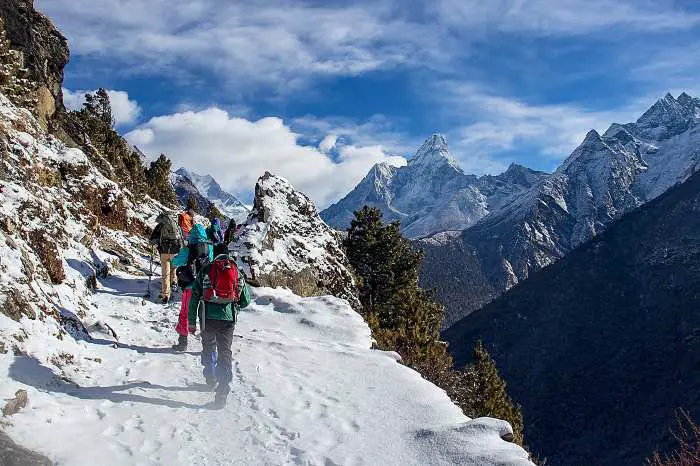 10 | Dhaulagiri Circuit Trek | 16 to 18 Days
Dhaulagiri Circuit Trek Facts
| | |
| --- | --- |
| Max Elevation | 5,320 m |
| Trek Difficulty | Challenging |
| Duration of the trek | 13 to 17 days |
| Best Season | Autumn |
| Permits | Annapurna conservation area entry permit |
| Accommodation | Tented camping |
If you are an extreme hiker seeking challenging trails, look no further. Dhaulagiri circuit trek is one of the most difficult treks in Nepal. While you are allowed to trek independently, it is almost impossible due to the lack of lodging facilities and the camping logistics needed to be able to survive the trek.
If you intend on attempting this Nepalese trek solo, you will need to carry all of your camping gear and food to last at least one week, with a backup supply for an extra 2 - 3 days.
Dhaulagiri circuit trek is generally walked in a clockwise direction, starting from Beni and ending in Marpha. No matter how experienced of a trekker you are, trekking in high altitude terrain is no joke. So make sure you acclimatize enough, especially for a tough trek like this, where you need to climb high passes one after another.
The best time to trek is in autumn, which is October and November in Nepal. You should choose a reputable agency with an experienced and skilful guide. Depending on the trail conditions at the time of trekking in Nepal, rope fixing may be required. 
A great addition to Dhaulagiri circuit trek is to climb Dhampus peak, where you'll get amazing views. There were trekkers who did Annapurna circuit first, followed by this trek anti clockwise too. All you need to do is to make sure that you have ample time for acclimatization. Dhaulagiri circuit trek is all about high altitude adventure in Nepal best treks.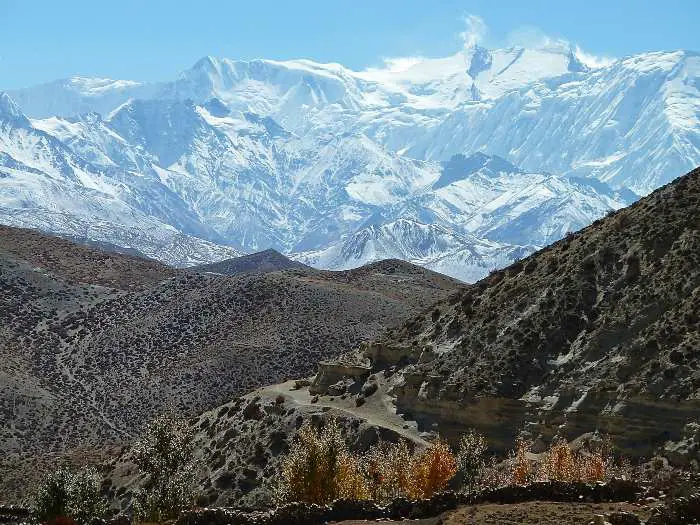 11 | Upper Mustang Nepal Trek | 14 Days
Upper Mustang Trek Facts
| | |
| --- | --- |
| Max Elevation | 4,453 m |
| Trek Difficulty | Easy |
| Duration of the trek | 14 days |
| Best Season | Spring, Autumn. and Monsoon |
| Permits | Restricted area permit and Annapurna conservation area entry permit |
| Accommodation | Teahouses |
Next up on this list of best Nepal treks is the formidable Upper Mustang. Also known as mini Tibet, where the last forbidden kingdom of Lho Manthang exists, Upper Mustang speaks for the diversity of landscapes and cultures of Nepal.
Situated perfectly in the rain shadow of Annapurna and Dhaulagiri range, this whole region has a dry and windy climate with a desert-like terrain.
Cultural insights, thousand-year-old monasteries and caves, and fascinating festivals are what attracts visitors here.
The Upper Mustang Nepal trail goes in and out the same way, but there are options to pass through villages on the way down. With road constructions going on extensively within recent years, you can absolutely visit Upper Mustang on a jeep tour and can even drive all the way to the Tibetan border.
Tiji Festival, which is based on the Tibetan calendar, is the biggest local festival in Upper Mustang. The three day long festival is considered to be a once in a lifetime experience and a must when you're in the region.
Upper Mustang is one of the few restricted areas in Nepal where foreign trekkers require a special permit to enter and a guide is mandatory for this beautiful Nepal trek.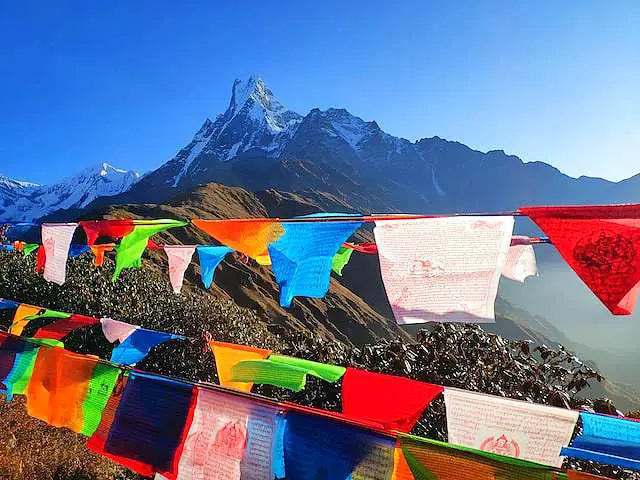 12 | Mardi Himal Trek | 6 days
Mardi Himal Trek Facts
| | |
| --- | --- |
| Max Elevation | Mardi Himal Base Camp 4,500m |
| Trek Difficulty | Moderate |
| Duration of the trek | 5 – 7 days from Pokhara |
| Best Season | January to June and September to January |
| Permits | TIMS + Annapurna Conservation Area entry Permit |
| Accommodation | Teahouses |
A relatively new route, the Mardi Himal trek in the Annapurna region remains a hidden gem, but is gaining popularity as more people find out about hiking in Nepal.

This Nepalese trek without the crowds leads you to the base camp of Mardi Himal at the elevation of 4,500 meters above sea level offering striking views of the hillside terraces and breathtaking panoramic views of the Annapurna range with Mount Machapuchhre standing impressively right above the base camp.

The paths are well maintained and on average, you'll be trekking for about 5 to 6 hours each day without having to worry about altitude sickness.

The mountain scenery is combined with authentic local culture as you make your way through the settlements of the indigenous Gurung and Magar people.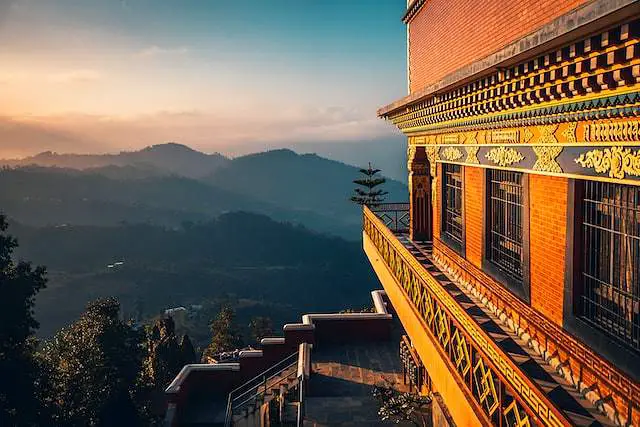 Last of these Nepal best treks....
13 | Tsum Valley Trek | 14 Days
Tsum Valley Trek Facts
| | |
| --- | --- |
| Max Elevation | 4,400 m |
| Trek Difficulty | Moderate |
| Duration of the trek | 14 days |
| Best Season | Spring and autumn |
| Permits | Restricted area permit and Manaslu conservation area permit |
| Accommodation | Teahouses and Monastery |
First opened to foreign visitors in early 2002, Tsum valley trek is relatively less walked and pretty much remains a hidden gem for trekkers, especially those focusing on more of a cultural experience.
The local villages on the trail still cling to their traditional, authentic way of life. Instead of a typical mountain lodge, here you have the option of staying in interesting, ancient monasteries.

Ganesh Himal, a holy adobe to both Hindus and Buddhists, is a major mountain range where you can have a great view during this trek to Nepal.

Tsum valley is a great addition to consider when you are doing Manaslu circuit trek. You just need a separate special permit and 7 extra days. If you are doing Tsum Valley only, the trail will be exactly the same way in and the same way out from Soti Khola.

Tsum valley can also be accessed from Langtang & Ganesh Himal side with a week long camping logistics.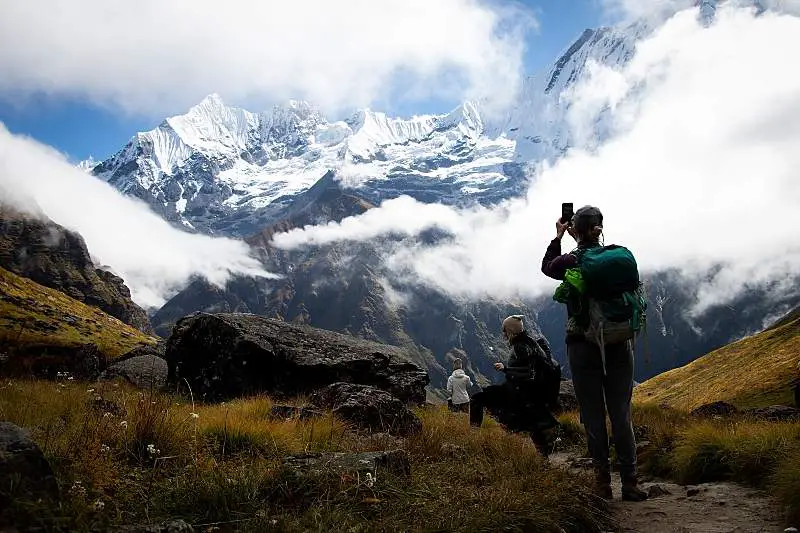 ---
Quite some choice, isn't it?

You now have a whole lot of information about the variety of trekking trails in Nepal and hopefully enough inspiration to go hiking in this beautiful country.
Which of these best treks in Nepal will you be attempting?

Be sure to check when is the best time to visit Nepal for hiking.
If you have any other travel questions, I'll be happy to answer, so let me know.

The benefits of exploring are infinite. As always, sustainable travel is advised. Take a look at this post on responsible tourism examples for tips on how to do so.
>> And for all of those amazing mountain pics, you're going to need
the perfect quotes about mountains and hiking.
Happy trekking in Nepal!
Rai