31 Essential Things You Need to Know [BEFORE] Visiting Alaska
A trip to Alaska might just be the unforgettable holiday of a lifetime, and the decision is quite simple. You must visit! However, you should not dive wholly and head-first unprepared, as there are some crucial things you need to know before visiting Alaska. Although planning a trip may seem intimidating, it shouldn't be. So, here's my Alaska travel guide on the top things to know. You will also find some essential Alaska travel tips to make your experience that much more enjoyable and trouble-free.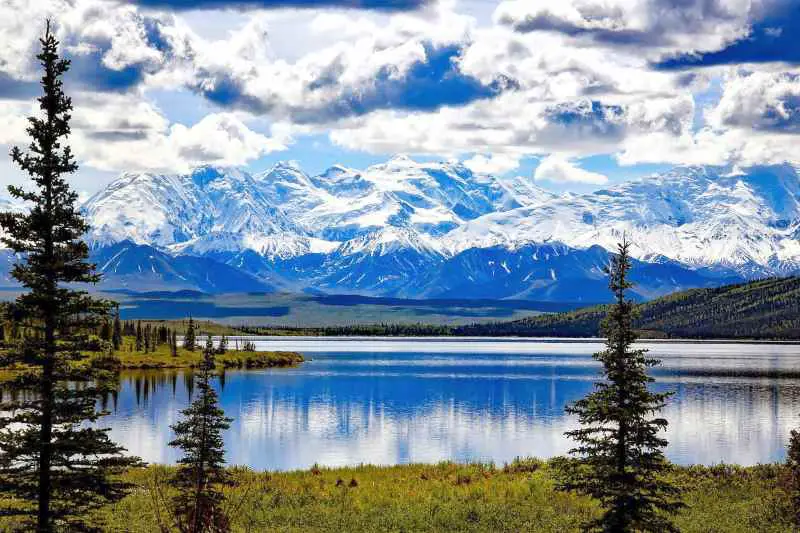 America's Last Frontier — filled with unbelievable landscapes, wildlife, worthy experiences, unmatched adventure, and natural beauty — is a unique and incredible travel destination and without doubt one of the best places to visit in the US.

The wide open spaces, towering mountains, wild animals, precious glaciers, midnight sun, and northern lights spectacle will capture your heart. Traveling in Alaska is special and should definitely be on your bucket list.
Thinking of traveling to Alaska? If you are fortunate to be planning a trip to Alaska in 2023 or even just contemplating a visit, continue reading as I share my top travel tips, suggestions, and things to know before you go.

Some of these things are basic while others are insider tips that only the locals know about.
I am certain that this Alaska travel blog post will help in making your Alaska vacation a trip of a lifetime!
>> Read next:
Traveling to Alaska: Things You Should Know When Planning a Trip
Doing some research before your first trip to Alaska in 2023 — including knowing what to expect, what to avoid, essential items to pack, and the best way to see the Great Land — is key to a successful experience.
Continue reading to find (almost) everything to know before going to Alaska as well as some essential Alaska travel tips.

This post is the most comprehensive of its kind so be sure to read all the way through and save this post so that you can easily find it during your journey in Alaska.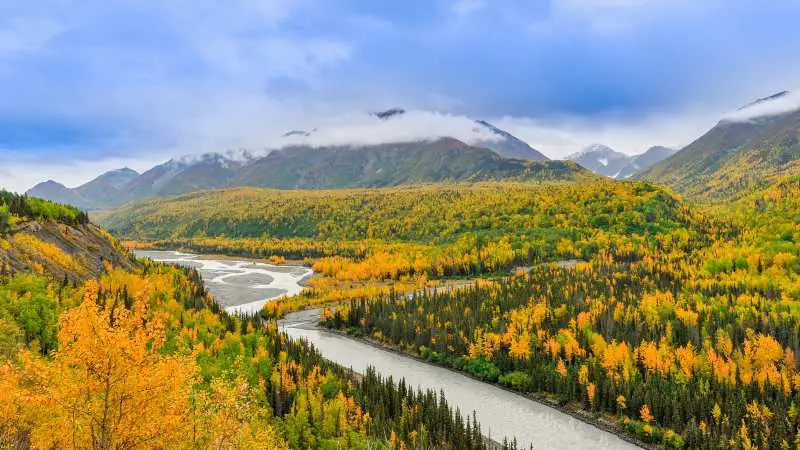 Let's get into it. First up…
1| Alaska is huge!
But, you already knew that, right?

Just how huge though? Well, the vast landscape found within the state encompasses an area of exactly 663,268 square miles (1,717,856 km2), making Alaska the largest state in the United States. By far.

If Alaska were a country, it would rank number 33 on the list of the largest countries in the world.

What does this mean for you?

It means that it takes a while to get from one place to another, whether traveling by plane, train, or car. It takes a while to get around. Having your expectations in check means much less frustration and anxiety. The positive spin is that the scenery is breathtaking and watching the surrounding landscape makes every Alaskan journey that much more enjoyable.

To give you an example, the drive from Anchorage to Denali takes around 4 hours while the train from Anchorage to Fairbanks lasts 12 hours.
Pro Alaska travel tips: It is advisable to set aside a day for each day of travel. You should not try to see all of the state in one week. This is impossible. The best option would be to focus on and explore a small area or single region.
2| The Northern Lights are not visible year-round
Usually, all Alaska tours include the opportunity to enjoy the sight of the Aurora Borealis, but that can be a bit misleading.

Many visitors to Alaska expect to see the Northern Lights wherever and whenever they go, but in reality, this natural phenomenon is most visible during the months of August to April.

While there is a chance to see this natural light display at other times of the year too, you should bear this in mind before getting disappointed.

Similarly, you can only see the midnight sun in summer. Plan accordingly!

Often, you may not be able to see the aurora with your naked eye, but it may be visible on camera. The camera lens is ale to pick up more colors that the human eye and is able to detect the different hues of the lights.
Travel tip for Alaska: if you are adamant on seeing the Northern Lights, it might be best to do careful research and plan a visit to Alaska during what is known as Aurora Season — August 21 to April 21. It is said that during this period, when the sky is clear and dark enough, the aurora is visible on an average of four out of five nights in Fairbanks.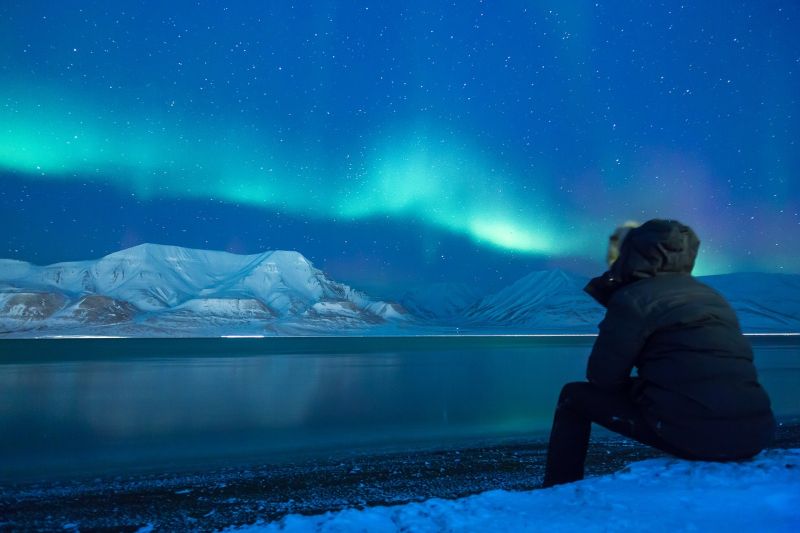 3| Traveling in Alaska is expensive
Due to Alaska's remote location and the fact that most goods need to be shipped into the state as well as the constant flood of tourists all year round and the many attractions that bring them here, things can get pricey.

Traveling to Alaska and getting here is expensive, because of its isolated location. Additionally, the activities and attractions you'd like to partake in once you're in Alaska is will be costly, due to its higher cost of living.

You should be prepared to spend a bit more than what you're accustomed to paying in the lower 48 (a term Alaskan natives use to refer to the continental US). It is especially important if you are traveling on a budget!

There are plenty of options to avoid unplanned expenses; if not, be prepared to pay more than you anticipated, especially for food, gasoline, and grocery items.
Pro Alaska tip for traveling: Expect to pay around $200-$300 per person per day in Alaska, depending on your travel style, and the choice in excursions and activities. If you're spending a week in Alaska, set aside at least $1,500 for the trip.
Oh, and if you're on a strict budget, try to bring everything you will need along with you to minimize your purchases once you're here.
That being said, it is possible to….
4| Stretch your travel budget in Alaska
Here are some Alaska tips to keep the costs down:

— Visit Alaska in the shoulder season of spring and fall as summer and winter are peak travel seasons.

— Have flexible travel dates. This allows for a wide choice in transport, accommodation, and activity options and the option of choosing the best priced.

— Look at alternative accommodation options such as hostels, campgrounds, and cabins. Do some research and plan in advance and you may even score an amazing vacation rental or airbnb at a good price.

— Don't disregard the free or low-cost options when it comes to excursions on offer. Just because something is free doesn't mean it's not worth it.

Traveling in Alaska offers something for everyone.
On a related note, be sure to…
5| Book accommodation options and tours in advance
Especially if traveling during peak Alaska tourist season.

The earlier you book, the more variety of options you have as well as the better the price.

You also don't want to be in a position where everything is sold out, including the activities and tours that you really want to do. If you're not sure about a particular excursion in Alaska, it's ok to wait.

However, if you really have your heart set on having a particular experience, I'd say book in advance to guarantee your spot and avoid any disappointment.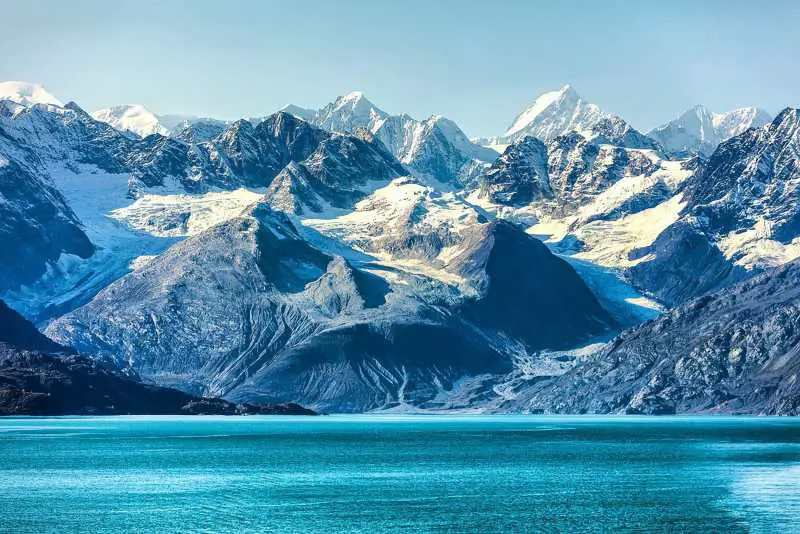 6| The best way to see Alaska? Land or sea?
If you're planning a trip to Alaska, I know you may be wondering whether the best way to visit Alaska is by land or by cruise.

In an ideal world, I'd say choose a combination of both options.

However, if you're limited by time and budget constraints, the best option depends on your personal interests and travel style.

If you enjoy just chilling on a boat while everything is taken care of on your behalf and are a fan of the ocean and the animals that live in it, then a cruise is the option for you. An Alaska cruise is an extremely popular way of experiencing the region as it allows you to see a lot in a short amount of time. A cruise also allows you to see sights that are difficult, costly, or time-consuming to visit independently.

However, you miss out on a whole lot if you don't go inland.

If you are more inclined towards a more independent way of travelling and are a fan of mountains and land animals, go with the land option. This option gives you the opportunity of visiting some of the top sights in Alaska that include Denali National Park and Preserve, Anchorage, the Dalton Highway, the Kenai Peninsula, and Wrangell-St. Elias National Park.

Which option will you choose to explore Alaska?
Insider travel Alaska tip: The Alaska Railroad, from Seward to Fairbanks, is an amazing way to see the Great Land and the passing landscape of the region that includes mountains, glaciers, arctic plains, tundra. The dome panels allow for uninterrupted views and the windows can be opened for a full immersive experience.
Speaking of Wrangell-St. Elias National Park, did you know that…
7| Alaska is home to the largest national park in the US
In fact, the three largest parks in the United States are found in Alaska. The largest of them all is Wrangell-St. Elias National Park & Preserve found in southeastern Alaska and encompassing an area of over 13.2 million acres.

On top of that, Alaska also has 7 of the 10 largest national parks in the United States of America.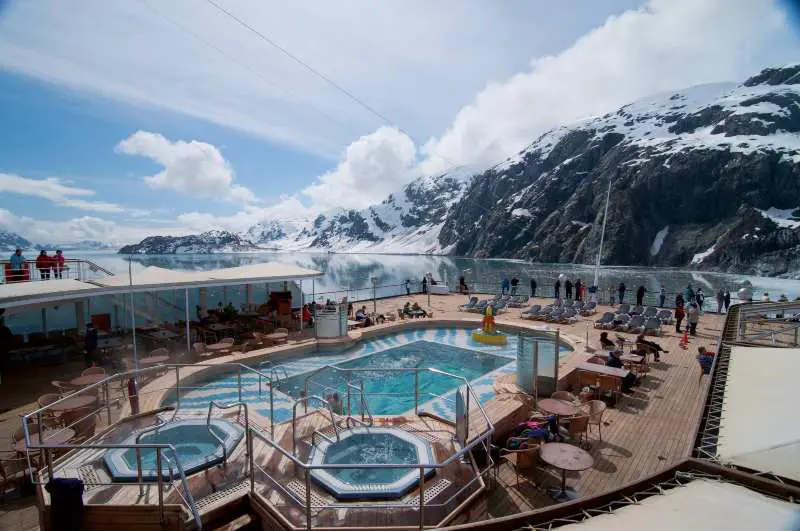 You really need to know that…
8| There are four distinct seasons in Alaska
It is possible to travel to Alaska year-round, with each season having its own unique experience.

It is not constantly cold or full of snow in Alaska. This is one of the biggest misconceptions about Alaska.

Summer in Alaska is the most popular season to visit to take full advantage of the great weather, outdoor experiences, and midnight sun while winter brings about the possibility of seeing the Northern Lights as well as trying your hand at a number of exciting winter-only activities.

If you're planning a visit to Alaska between the months of May to October, expect temperatures in the range of 50-80 degrees. The interior region can even reach up to 100 in the summer.

The shoulder season includes the months of May and September. Many smaller towns, including popular Alaskan tourist towns, close down for winter. This is something to bear in mind if you are traveling in Alaska at the end of fall or early spring. Some places and towns will be closed.
Travel tip for Alaska planning: Deciding on the best time to visit Alaska will depend on the intention of your trip, the experiences you'd like to have, and what you aim to get out of the trip.
Speaking of which…
9| Be ready for the rain in Alaska
Yes, the weather in Alaska is unpredictable.

Icy exterior and cold weather are common knowledge before you visit Alaska, but no one ever talks about the rain.

However, there is a good chance it will start pouring in the middle of your trip, and you will be caught off guard. Even if the weather forecast shows clear and fine conditions for your upcoming trip to Alaska.

Peak rain season occurs through the months of June, July, and August.
Top Alaskan tip: Be sure to always pack and carry rain gear when traveling in Alaska. The rain in Alaska is sporadic and completely unpredictable, so it might be best if you prepare a raincoat, a waterproof jacket, and an umbrella in the first place.
On a related note…
10| Pack layers and protection to prepare for the unpredictable weather
Temperatures can change dramatically and it is possible to experience all four seasons in a single day in Alaska.

To avoid the unpleasantness and discomfort from the changing weather conditions, be sure to pack and dress in layers, that are preferably waterproof, to stay warm and dry.

A waterproof jacket is a must. Additionally, In winter, you'll need heavy snow boots and extra pairs of wool socks.
Travel planning tip for Alaska: By dressing in layers, you will be braced for almost anything. Remember function over fashion, always!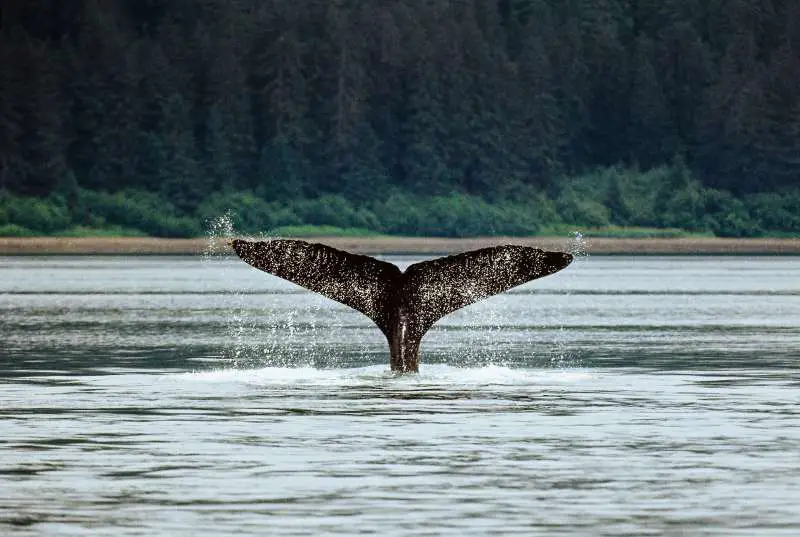 11| The wildlife in Alaska is incredible
The wildlife experiences that await you in Alaska are some of the best you will ever have the privilege of experiencing.

Some of the Alaskan animals to be on the lookout for (or actively seek) include moose, grizzly bears, caribou, Dall sheep and gray wolves. You will also find an abundance of rodents, birds, bears, bison, whales, artic fox, and other wildlife.

A visit to Denali National Park & Preserve stands out as the best choice for seeing Alaska's big five.

To appease your expectations, you should know that wild animals aren't everywhere and you may even go days without seeing any animals, depending on your luck (or lack thereof).

Booking a wildlife tour, despite being pricey at times, is often your best bet for seeing some of the best wildlife that the state has to offer.

The main locations to take a wildlife boat tour are Alaska's southcentral and Inside Passage cities. Whale watching season lasts from May to September.

When visiting the villages and towns of Alaska, it helps to speak to the locals and enquire about the best spots and times to view the local wildlife.
Alaskan travel tip: If you're an animal lover, then you absolutely must plan a trip to Denali. It is a haven for wildlife. Remember that for your safety and the protection of the animals, do not approach wildlife, but rather admire them from a distance.
And be sure to bring a pair of binoculars along for the ride.
Speaking of which, you should know that…
12| Not all of Denali is reachable
If you are touring Alaska, Denali and its national park are most likely on your list of places to visit in Alaska.

However, you should know that you cannot drive up to every corner of the park. Actually, there is only one road in Denali and you can only drive to a certain point in Denali National Park & Preserve in a private vehicle.

The closest you can get to the national park is the 15-mile marker on Denali Park Road. From there, be ready to walk or take an official park bus. Not to worry, the bus system is simple and convenient.
13| Alaska and its landscape is as diverse as its size
As mentioned, there is something for every kind of traveler in Alaska and you will discover every kind of landscape. These range from towering mountain peaks, temperate rain forests, and desert regions to miles of coastline, high arctic plains, tundra and taiga.

Alaska is also home to 17 of the 20 highest mountain peaks in America.

And glaciers… Oh, the glaciers are a sight to see!

Glaciers form an enormous part of the Alaskan landscape. Of the approximately 664 named glaciers in Alaska, the best ones to see include Hubbard Glacier, Mendenhall Glacier, Dawes Glacier, Aialik Glacier, and Dawes Glacier, just to name a handful.

The best way to witness these glaciers up-close is along a hike, in a kayak, or during a helicopter tour. You could even be adventurous and take a dog-sled ride atop one.
Pro travel tips for Alaska: Consider a half or full-day small-boat cruise from Whittier or Kenai Fjords National Park through Prince William Sound to get amazing views of the beautiful glaciers in Alaska.
14| The summer months are peak wildflower season
If visiting Alaska during the summer months, prepare for a kaleidoscope of color as the wildflowers bloom throughout the state in fields and on coastal hills.

The season starts around the month of June and continues all through the summer.
15| Alaskan food is more than just seafood
The are no shortage of great options when looking for an authentic seafood meal in Alaska.

However, you should be aware that your options are not limited to just king crab and salmon. Try your hand at reindeer sausage, muktuk, caribou and snow goose burgers, berry cobbler, baked Alaska, and all kinds of jerky.

It is also worth noting that many of the restaurants in Alaska close as early as 8 pm.

Alaskans love their coffee, so if you feel the same, you're not going to have a hard time getting your daily caffeine fix from locally-owned spots. The state is also known for having some of the best beers in the world.
Pro travel tip for Alaska: Don't leave without trying Akutaq or eskimo ice-cream, an Alaskan delicacy. This dessert made by Alaskan Athabaskans and other natives is produced using animals fats, tallow, and meat that is mixed with berries, Indian potato or wild carrot root. Talk about a weird food combination.
While on this topic…
16| Restaurant food in Alaska can be expensive
Yeah, I know, I've already mentioned the higher cost of things in Alaska, But, this is worth mentioning again.

Most of the food consumed in Alaska needs to be imported due to it being isolated from the rest of the country and meals in restaurants will be more expensive that what you normally pay.

Keep this in mind to help with expectations.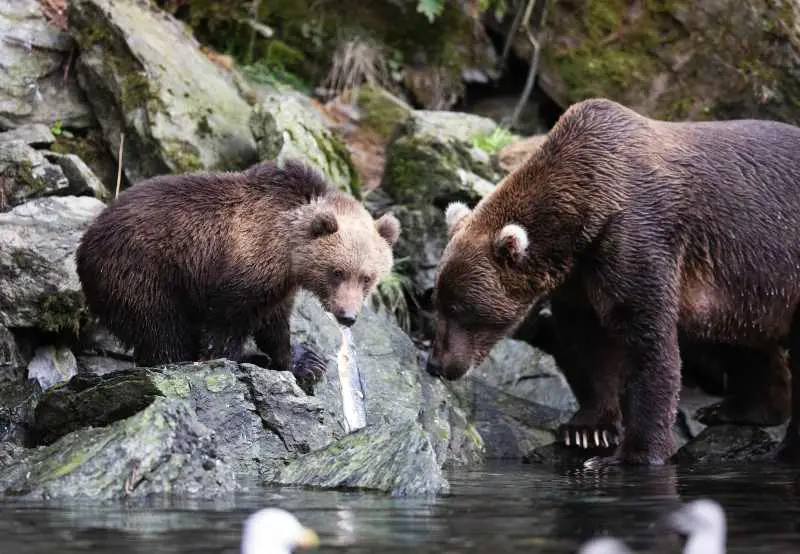 If you want to try your hand at catching your own meal…
17| Salmon fishing season takes place in the summer
The salmon found in the waters of Alaska are among the best in the world and many visit Alaska for this reason alone.

Peak salmon fishing season occurs from May to September.
18| No late night buzz
Generally, people go to Alaska to relax and intake the natural beauty of it, not to party or entertain themselves, but even if you wanted to, it would be hard to do that.

It is not to say that Alaska is entirely void of fun places to spend the night in, but keep in mind that most businesses, especially restaurants, close as early as 8 pm! 
19| SUVs are the recommended option for road trips
If time is not of the essence for you, and you have plenty of time to enjoy Alaska, you might want to indulge in a road trip.

The Alaska Highway and other popular roads are well maintained throughout the year. 

However, keep in mind that due to its icy surroundings, the roads are slippery, and the overall mountainous state of pavement can be tricky and dangerous.

As a result, the option of an SUV might be your safest choice for navigating through the rough terrain. The SUV needs to be a 4-wheel drive and equipped with a good set of tires. It doesn't hurt to keep a first aid kit and some change of clothes in the car for ease of access.
Alaska travel advise: It's worth bearing in mind that most of Alaska (at least 80% of the state) is inaccessible by car. These are many places that are simply impossible to reach by car. Even the capital, Juneau, can only be reached by boat or plane. Keep this in mind when planning a road trip.
Also, watch out for the cops on the main highways to avoid any speeding tickets.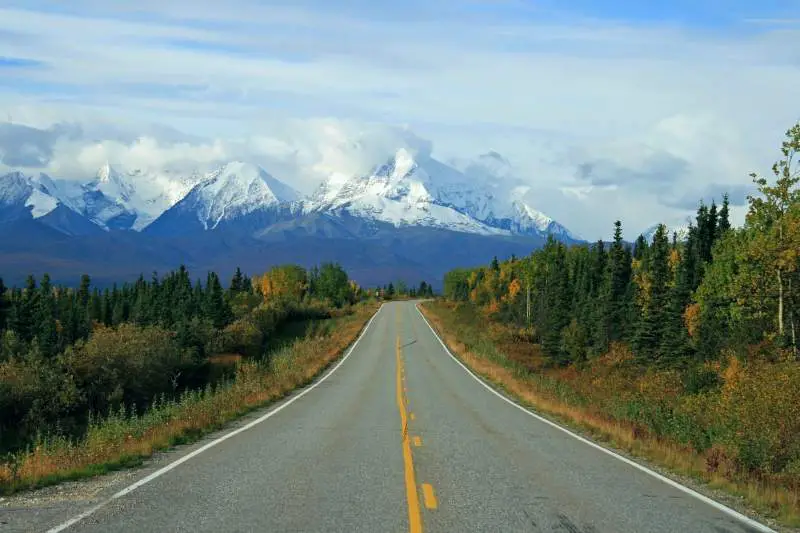 Speaking of road tripping, you should know that…
20| Gas stations are not very common
Another important thing you need to know about Alaska is that gas stations are not that common in many parts of the state.

Many towns in Alaska only have one gas station and these are often not open for 24 hours.

So be sure to plan accordingly and always fill up that tank when coming across a gas station. You never know how long it will be before encountering your next one.
21| Carry bear spray while visiting Alaska
As insensitive as it sounds, it is better to be safe than sorry!

Most of the time, tours to Alaska are depicted as the perfect way for a run-in with the wildlife, but keep in mind that said wildlife could be dangerous. Especially the black and brown bears.

While others suggest loud talking to scare away the bears, the Alaska Department of Fish and Game advises carrying a bear spray in case you need to protect yourself. You could also carry a bell or whistle to alert any bears of your presence.
Alaskan pro tip: The best time to go bear watching in Alaska is between June and September.
Bears you should be on the lookout for include brown bears, grizzly bears, black bears, and even polar bears.

For a guaranteed bear sighting, consider a trip to the Alaska Wildlife Conservation Center. You won't be disappointed.
22| You can get sunburnt on a trip to Alaska
Which means: sunscreen is crucial!

You might find it strange to bring something that you would normally take on a beach holiday to icy Alaska.

You may even associate Alaska with ice, cold, and dark days. However, the sun here is extreme and unrelenting, exaggerated due to the reflection from the snow and ice.

Actually, it can get so sunny that if you are not using any protection for your skin, it is even possible to burn quite heavily. So definitely take care of it by taking protective measures and pack some sunscreen.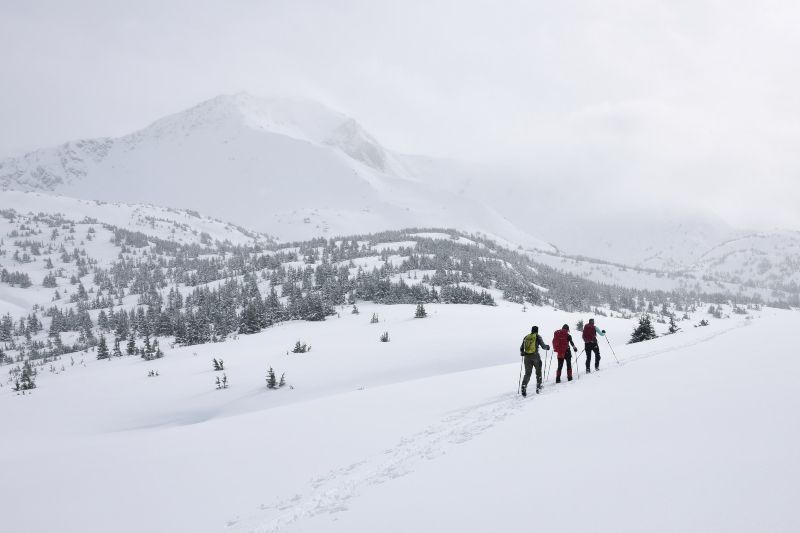 23| You will need sleep masks and ear plugs
Now that we mentioned the sun, you should know that Alaska gets more of it than any other place.

And, in northernmost parts of the country, it does not set for over two and a half months. Yes, it sounds completely mind-boggling, but there is an easy explanation for why it happens.

So, for now, just know that you will desperately need a sleep mask and ear plugs for a good night's sleep in Alaska! 
24| Bug spray is also a must in Alaska
The mosquitoes in Alaska are relentless and super annoying. Having some bug spray on hand will make your trip that much more pleasant.

This is one of the most helpful things to know before visiting Alaska.
25| Alaska is extremely dog-friendly
Another thing you should know about Alaska before visiting is that the locals love their dogs and take them almost everywhere they go.
26| Homelessness in Alaska
The state has some of the highest rates of homelessness and alcoholism in the country so there's a good chance you're going to see plenty of homeless people on the streets of Alaska.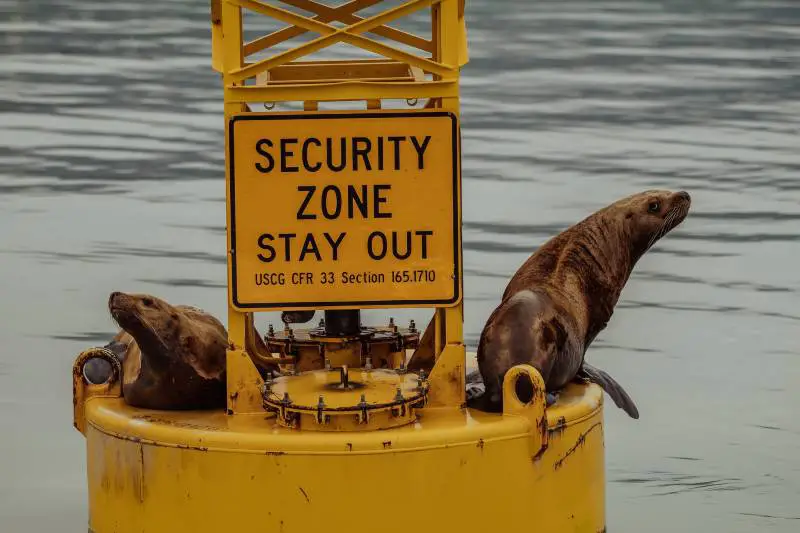 27| Local Alaskan slang to know
I've already made mention of the Alaskan slang, "lower 48" that is used by locals to refer to the continental US.

Another one to remember is, "the South." When someone in Alaska mentions "the South," they are referring to all the other states of the USA, except Hawaii.
28| Prepare for unreliable reception
This might not come as a surprise to you, but you should know that the reception can get really bad in certain areas of Alaska due to the mountains, remote locations, and strong winds.

Therefore, I suggest you mention this fact to your loved ones so as not to frighten them when you go off-line. In addition to the limited cell phone service, wi-fi may also be unreliable.

However, the majority of tourist paths, major cities, and main highways do have coverage. You may lose cell service once outside the cities, but main small towns have good coverage.
Tip for traveling to Alaska: Before you arrive, be sure to download some maps that do not require the internet for offline use.
29| Alaska isn't as intimidating as may seem
Yes, the land is wild and unforgiving, but for the most part, a trip to The Last Frontier is not going to be as intense or as scary as you imagine.

As long as you respect Mother Nature, prepare well, and follow this helpful guide on things you should know when planning your first trip to Alaska, you will be ok.
Speaking of which, here is an important Alaskan tip:
30| Respect the land of Alaska and its people
There are 229 federally recognized tribes in the state, and it is important to respect the people, their cultures, traditions, and way of life.

It is their home you are visiting, after all. Maybe do some reading on the history of the region and that of the Alaska natives before your visit. You could even plan a visit to Alaska Native Heritage Center in Anchorage to view the collections and partake in the educational programs.
31| Traveling to Alaska is a trip of a lifetime
Yeah, I know, Alaska is far away, expensive, and any visit requires a lot of time to do the place any justice. 

However, the sights you will see and the experiences you will have in Alaska will leave you with stories and memories of an epic journey to last a lifetime.

Start planning that trip to Alaska now!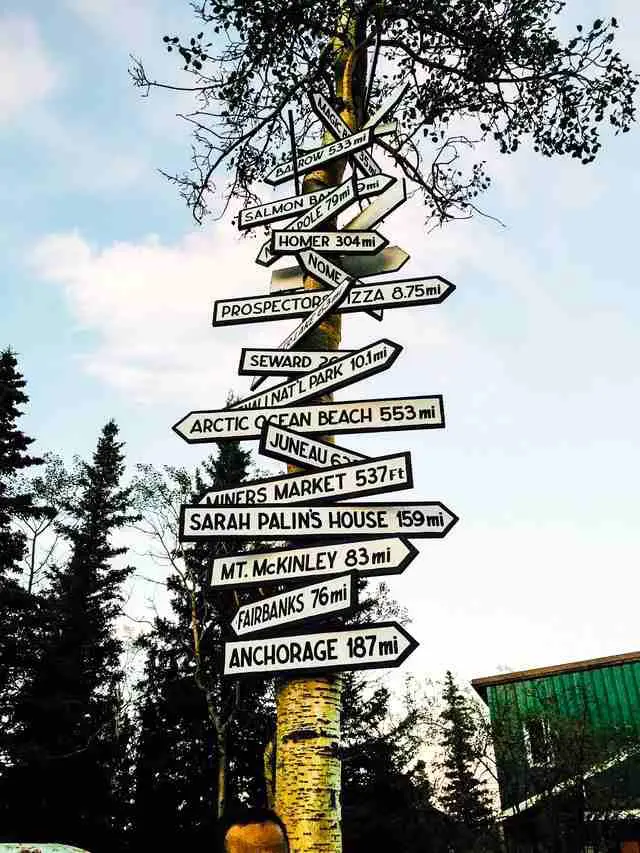 There you go — 30+ crucial things to know about Alaska before you go. The Last Frontier is filled with incredible wonders and should not be missed. I hope these Alaska travel tips will help make your journey to Alaska a trip of a lifetime.
I hope you found answers to your tons of questions about traveling to Alaska. Be prepared for all of them, and you're bound to have a great time! Just be attentive and try not to get too reckless.
If you have any other questions, be sure to let me know.

Have you visited Alaska or planning a trip soon? Let me know in the comments below.
Best of luck on your adventure in Alaska,

Rai