The Best Time to Visit Nepal in 2024 | Everything You NEED to Consider
Oh Nepal! The beauty of this country and its people capture the imaginations and invites the intrepid adventurer the world over. If you're planning a visit (you should be) and wondering when is the best time to visit Nepal, continue reading ↓
I elaborate on everything you need to consider when deciding on the best time to go to Nepal FOR YOU.
The major aspects that affect your decision when planning a trip to Nepal and the best time to go include:
when does the country experience the best weather for both sightseeing and trekking in Nepal.

when is the monsoon season and what to avoid

how to avoid the haze for epic mountain views and best photos

when is peak tourist season and the best way to avoid the crowds
Oh, one more thing
… despite being a small country, Nepal has an array of elevations and climates, ranging from the subtropical jungle in the south to the world's highest peaks in the north.
Which means that it is not accurate to make a generic statement about the weather in Nepal during a particular season, as the regional differences can make conditions vary drastically between different regions within the same season.
It is useful to understand the seasonal variations so that you can choose to visit at the optimum time for the activities you intend to do.
The reason for your visit to this beautiful country will play a large role in choosing when to go.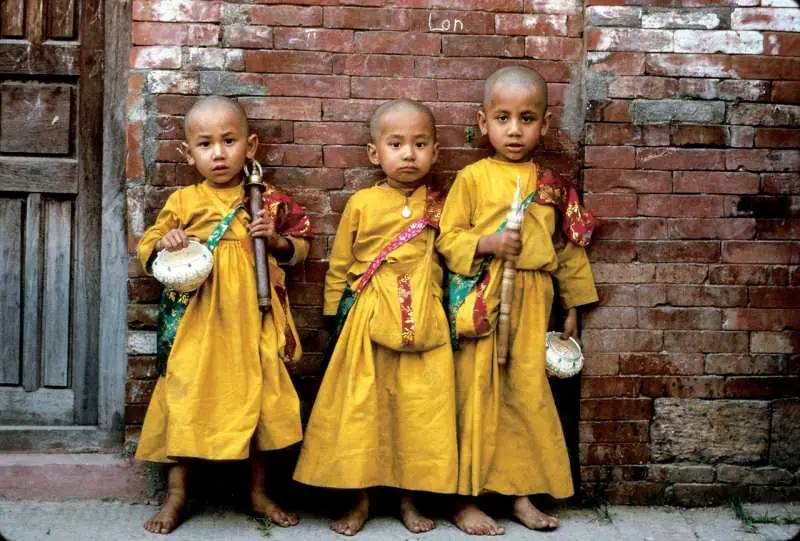 What is your main reason for travelling to Nepal?
Let's get into it, shall we…
THE BEST TIME TO VISIT NEPAL
Low season in Nepal: June – Early September
High season in Nepal: October – November
Shoulder season in Nepal: March – May
Monsoon season in Nepal: Mid June – Mid September
Does Nepal have seasons?
Nepal has four distinct climatic seasons:
Let's discuss each season in detail
… and see if we can find the best time to travel to Nepal for you.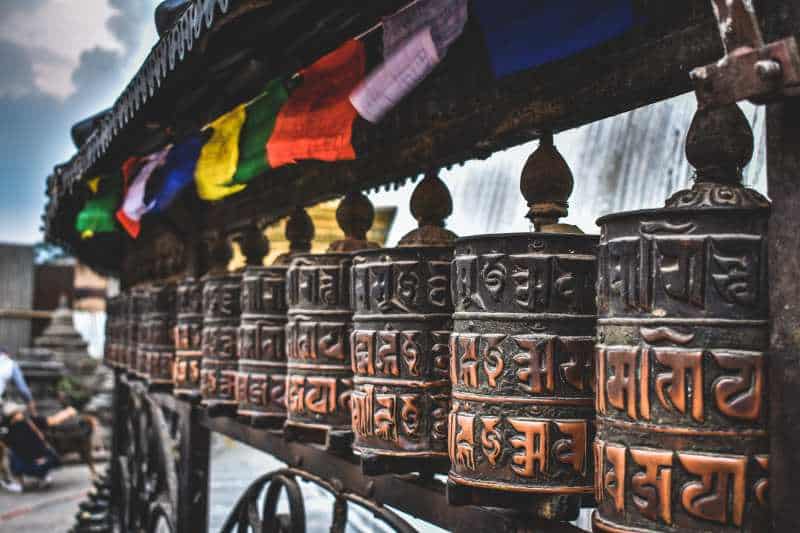 our first season is…
Autumn | Late-September to November
Late September, October and November, which also happens to be autumn (fall), is the best time to visit Nepal in terms of weather.
The temperature begins to fall to a comfortable level, the monsoon dissipates and the sky generally remains clear with crisp air, providing incredible views all around.
This is particularly welcomed when hiking or trekking in the Nepalese Himalayas.
So much so that
… this period is the most popular trekking season in Nepal.
Thousands of people hit the trails of Nepal during this time, including the Everest and Annapurna regions.
This is a particular disadvantage of travelling in this season as the crowds can become a nuisance and take away from the experience of being one with nature.

Accommodation gets booked up and prices peak in these months.
If you want to avoid the crowds and experience solitary, my advice would be to choose an off the beaten path trek such as Langtang, Helambu, or the Manaslu Circuit.
Is September a good time to visit Nepal?
Nestled between the end of the monsoon and the peak season starting in October, mid-September is an excellent period to visit if you want to avoid the peak tourist season whilst enjoying great weather at the same time.
And November? Good time to go to Nepal?
The weather in late November is typically stable with little cloud and precipitation. Humidity levels are low and the views are wonderful. The numbers of visitors and trekkers starts to reduce from mid-November and is certainly fewer than during the peak in October peak.
The perception that winter is too cold and the thought of too much snow keeps the numbers low.
Advantages of visiting Nepal in autumn:
best mountain visibility

great stable weather conditions 

perfect time for trekking in Nepal

ideal for photography

festivals of Dashain and Tihar
Disadvantages of going to Nepal in autumn:
most popular season so will be crowded

trekking trails are crowded

higher costs as this is peak season meaning higher demand

need to plan months in advance to secure decent accommodation, tours and overall availability.

September may still have some rain as the monsoon season recedes
When in Nepal you cannot leave without going to Bhaktapur.
Check out everything you need to know about visiting visiting Bhaktapur here.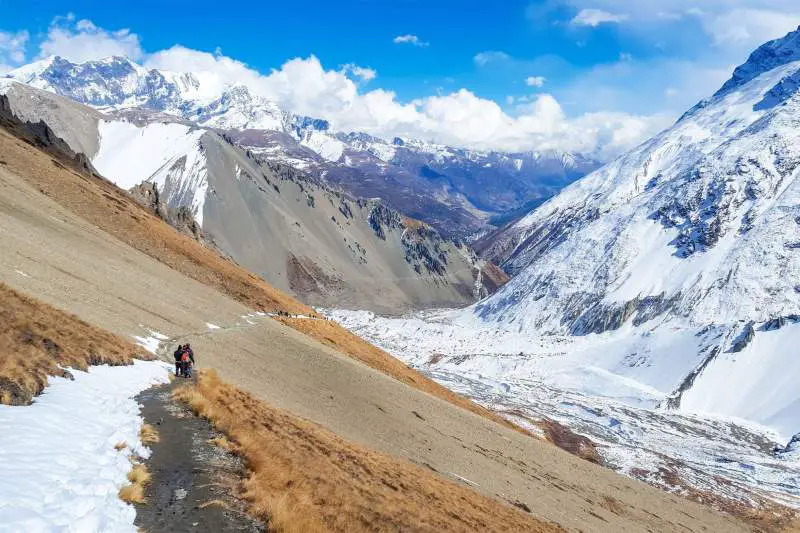 Up next:
Winter | December to late February
Is winter the best time to visit Nepal? December, January, and February are the winter months with January and February being the coldest two months of the year in Nepal.
Does it snow in Nepal?
Winter in Nepal brings cold and dry weather conditions. Often pleasant days, but caution needs to be taken when in the mountains, particularly at night.
Many hotels, teahouses and lodges are closed for this period while others offer blankets and fireplaces as a respite from the cold. Occasional snowfalls is to be expected at higher elevations.
Expect crystal clear skies and unobstructed views of the >8000 metre Himalayan peaks.
However, trekking in the high mountain areas can be risky and is not recommended to the novice hiker. Many of the higher passes and valleys are sometimes closed or unreachable due to snowfall. It is best to focus on Himalayan treks that are in the lower Himalayan foothills and middle hills <3000 metres high.
The pleasant aspect about the months of December – February is fewer visitors.
Fewer tourists around mean quieter Nepal trekking trails and quieter cities. You will often have incredible views all to yourself.
The winter season is a good time to trek around the many short treks in Nepal that surround the Kathmandu valley, the shorter treks near Pokhara, and treks in the lower Solo area south of Everest.
It is also good for wildlife viewing in the jungles of Chitwan and Bardia in the south of Nepal as these lowlands experience moderate temperatures.
The advantage of travelling in Nepal in the winter months are:
crystal clear skies

dry weather with no rain

less crowds and fewer tourists

not having to book much in advance

lower costs of accommodation, food, tours, treks, etc
The disadvantages of travelling in the winter season are:
less than ideal weather conditions

cold at higher elevations

nights can be uncomfortable

many lodges are shut for the winter

expensive international flight prices particularly in December
>> Related reading:
Is Nepal on this list of countries with the best flags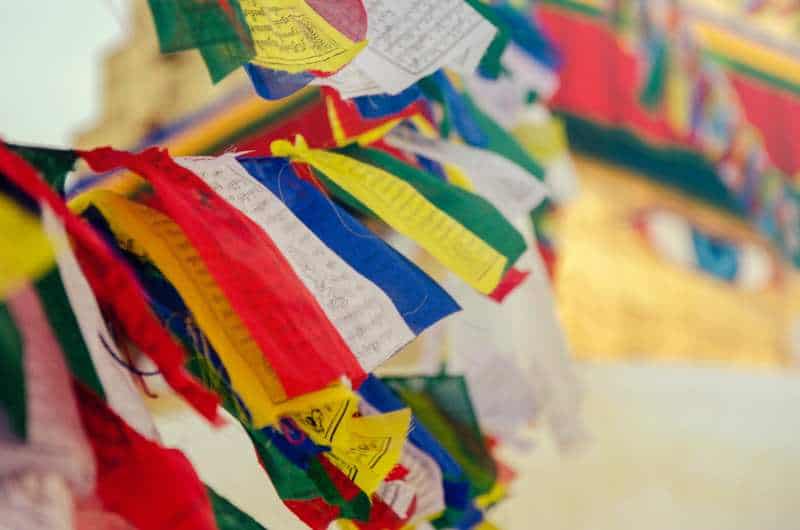 Could your favourite season be…
Spring | March to May
March marks the beginning of spring. Is spring the best time to visit Nepal?
The months of late spring, March until early May, are another good time to travel in Nepal when the weather starts to warm up and the plants and forests come alive with new growth.
Rhododendron season brings about a change in the colour and look of the surrounding landscape.
Did you know: Rhododendron is the national flower of Nepal.
This period is the second most popular time to go trekking in Himalayan region of Nepal, as temperatures and weather tends to be more stable, which is optimal for classic treks in Nepal's Himalayan regions. This is a wonderful time to trek as days are longer, despite cool temperatures at night.
The spring season is a good time to trek to high viewpoints of Nepal the likes of Kala Pattar and Gokyo Ri in the Everest region. It is also an ideal time to cross high passes like Kongma La on the Three passes Trek and Thorung La on the Annapurna Circuit Trek.
To avoid the crowds choose to visit in early or late spring, avoiding the middle peak period.
The month of March is also when the festival of Holi takes place across many cities and smaller towns in Nepal. The Nepalese new year and its festivities happen in April.
The downside of visiting Nepal in Spring is that sometimes the mountain views can be obstructed with haze and low cloud. Additionally, the number of visitors to Nepal start to pick up meaning a busy trekking season and a busier trek.
Advantages of visiting Nepal in Spring:
stable days

warm weather

longer days with more

sunlight

rhododendrons are in bloom 

good time for wildlife viewing

festivities of Nepalese New Year and Holi
Disadvantages of travelling in Spring:
prices start to rise

haze can obscure the mountains from lower elevations
>> Read next:
Test your knowledge of the world in this geography quiz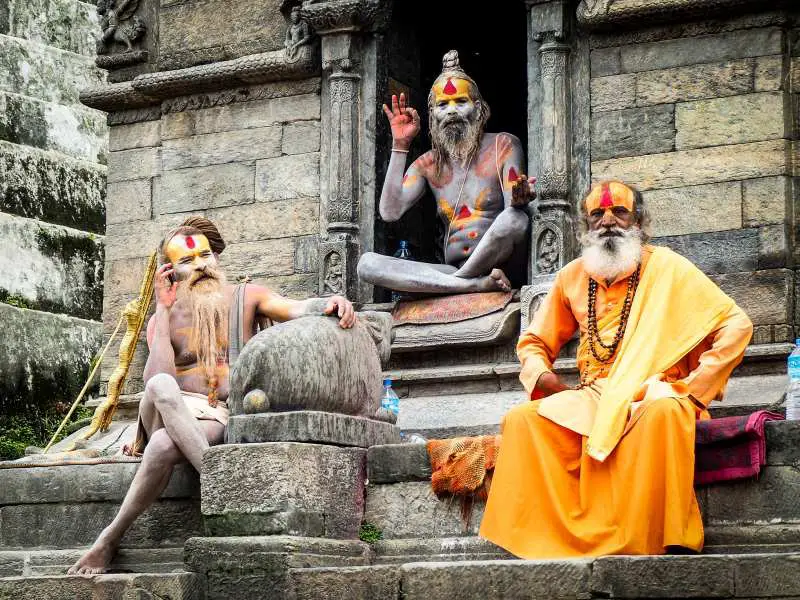 Last one…
Summer | Monsoon season | June to Mid-September
Which month is the rainy season in Nepal?
Summer and the subsequent heat arrives in late May or early June.
The humidity levels increase and so does the arrival of the monsoon rains. The foothills are lush and wildflowers are in full bloom.
Days are hot and rain is common.
This is an important consideration when planning on trekking in Nepal as the rain would add to the trek difficulty. Not only that, but also the clouds obstruct the epic mountain views.
Note that monsoon season in Nepal is somewhat different to the typical monsoon associated with Asia.
Rain usually occurs overnight leaving clear skies in the morning revealing spectacular mountain views until the clouds begin to gather once again through the day.
If you choose to trek at high altitudes — the air is clearer and temperatures are more comfortable.
However, the heavy rains bring frequent landslides and very muddy trails. Leeches are common along the mid-elevation trekking routes and mountain views are still a rare occurrence.
Transport logistics become more difficult during the monsoon season where roads are occasionally closed. Flights in and out of the Himalayan regions are often canceled or delayed.
❗During this period: Flexibility in your itinerary is recommended
If you're a budget-friendly traveller….
This is a great season for you. Large discounts and a drop in prices overall is common during the low season.
Where to go in summer in Nepal
If the summer months are your only option to visit Nepal for a trek, focus on those regions that are in the rain-shadow of the Himalaya at this time of the year, meaning they don't suffer from monsoon rains like the rest of Nepal. These areas include Manang, Upper Mustang, Dolpo, Limi Valley, and Nar Phu.
Many interesting festivals take place in the summer season:
The Yarthung Horse festival also takes place in June in Manang.

Dancing with Shamans during the August Full Moon

The Rice planting festival of Ropain in June

The cycling challenge of Kora in July, with thousands of mountain bikers in Kathmandu
City sightseeing is still possible at this time of the year making quick getaways to Pokhara, Kathmandu and the surrounding regions (including many short treks) a welcome possibility.
That said, summer is not the best time to visit Nepal. However….
The advantage of travelling in the summer months are:
long days of

sunlight

less crowds and fewer tourists

not having to book much in advance

lower costs of accommodation, food, tours, treks, etc

the fields are alive with

gushing water

fresh produce of fruit and vegetables are abundant
The disadvantages of travelling in the summer season are:
less than ideal weather

obstructed cloudy mountains views

not great for epic mountain views

not great for photography

leeches come out to play along the mid-elevation trekking routes

roads and paths may be blocked by landslides

larger possibility of light delays and cancellations from cloudy weather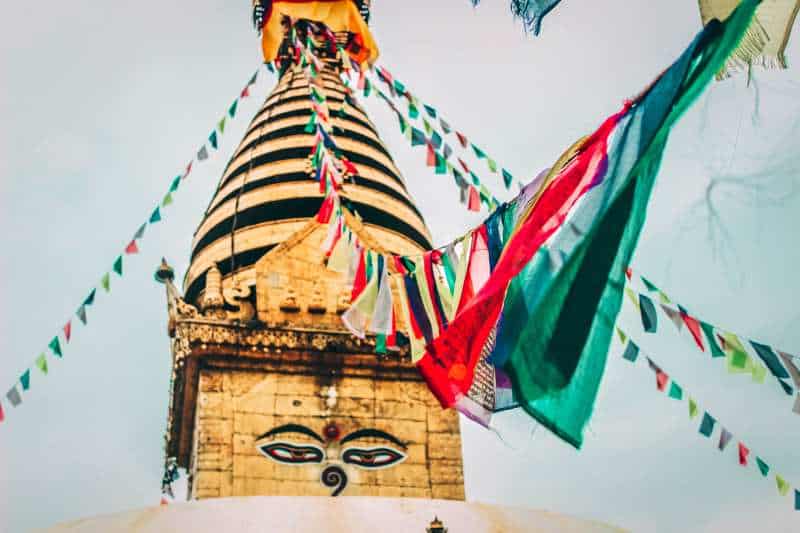 Let's take a look at some numbers…
Weather and max temperature in the major regions of Nepal
| | | | | |
| --- | --- | --- | --- | --- |
| Month | Kathmandu | Pokhara | Namche Bazaar Everest | Chitwan National Park |
| JAN | 17°C | 18°C | 6°C | 22°C |
| FEB | 19°C | 20°C | 6°C | 24°C |
| MAR | 24°C | 26°C | 10°C | 30°C |
| APR | 27°C | 29°C | 13°C | 35°C |
| MAY | 28°C | 29°C | 15°C | 35°C |
| JUN | 28°C | 29°C | 16°C | 33°C |
| JUL | 27°C | 28°C | 16°C | 32°C |
| AUG | 27°C | 28°C | 16°C | 32°C |
| SEP | 26°C | 27°C | 15°C | 31°C |
| OCT | 25°C | 26°C | 13°C | 30°C |
| NOV | 22°C | 22°C | 9°C | 27°C |
| DEC | 18°C | 19°C | 7°C | 23°C |
Precipitation in the major regions of Nepal per month
| | | | | |
| --- | --- | --- | --- | --- |
| Month | Kathmandu | Pokhara | Namche Bazaar Everest | Chitwan National Park |
| JAN | 16mm | 27mm | 14mm | 21mm |
| FEB | 20mm | 19mm | 21mm | 13mm |
| MAR | 34mm | 49mm | 31mm | 16mm |
| APR | 56mm | 96mm | 37mm | 30mm |
| MAY | 118mm | 254mm | 56mm | 87mm |
| JUN | 257mm | 527mm | 175mm | 329mm |
| JUL | 390mm | 738mm | 295mm | 467mm |
| AUG | 349mm | 694mm | 273mm | 467mm |
| SEP | 222mm | 378mm | 167mm | 287mm |
| OCT | 68mm | 120mm | 63mm | 85mm |
| NOV | 8mm | 5mm | 7mm | 7mm |
| DEC | 12mm | 4mm | 7mm | 3mm |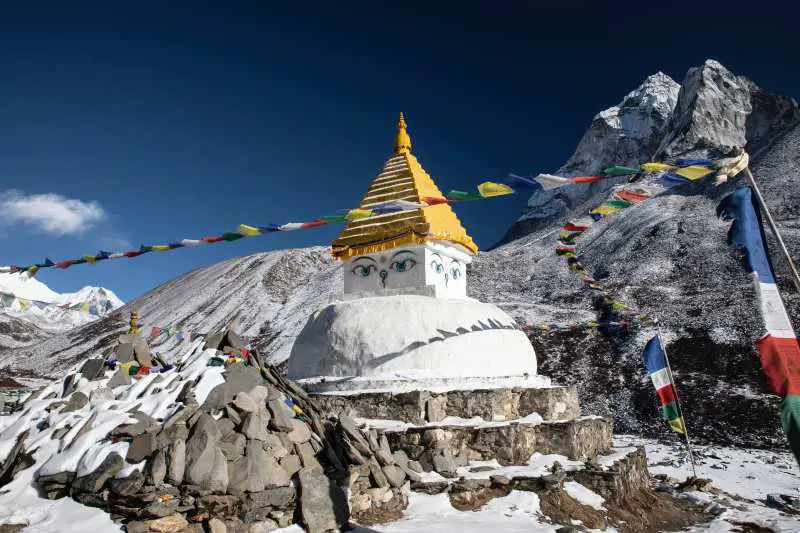 What are you travelling to Nepal for?
The reason for your visit to this beautiful country will play a large role in choosing the best time and when to go to Nepal.
A few more considerations…
The best time to visit Nepal for photography
Late September to early December. The air is crisp and clean. Skies are clear with no expectation of rain and spectacular views of the mountains.
In addition to clear, crisp views the fresh-looking landscape after the rains makes for a beautiful sight.
The best time to go to Nepal for wildlife viewing
Chitwan National Park and Bardia National Park are two of the most famous national parks in Nepal.
A good time to visit the Terai region and go wildlife spotting is during the dry season of October – April.
The dry conditions see animals congregate around limited water sources and the reduced vegetation makes the animals like the one-horned rhino, and Bengal tigers easier to spot.
Temperatures start to cool to a comfortable 25°C in the Terai region with virtually non-existent rainfall. The cooler temperatures are ideal for walking in the park, while encouraging animals to wander around rather than hiding away from the summer sun.
The absolute best time for spotting wildlife in Chitwan Park is from late-January, when the locals cut the tall elephant grass making it much easier to spot animals from a distance.
September to November and February to April are great for bird watching as migrations occur during these months.
During the monsoon season, jeep safaris become almost impossible as the roads through Chitwan become impassable.
Best time to travel to Nepal for festivals and cultural integration
Visiting Nepal during its traditional festivals is a good opportunity to discover the essence of Nepalese culture. The months of October and November see the largest festivals taking place.
It is difficult to predict the exact dates of these festivals as it changes every year depending on certain conditions.
The 15-day celebration of Dashain takes place across Nepal in late September or early October. Temple offerings and animal sacrifices are common as people celebrate the triumph of good over evil through music, food, and dance. Spending time with family and friends is an important part of the celebrations.
The festival of Light, Tihar is marked in October/November. Houses are beautifully decorated with oil lamps and candles. Cows, crows, and dogs are thanked for their loyalty to humans with flower garlands and food.
The Mani Rimdu festival in Tenboche Namche in the Everest region takes place in November.
Later during October or November the festival of lights, Diwali, is also celebrated in Nepal.
The best time to visit Nepal for adventure activities
For paragliding, a popular activity in Pokhara, the best time would be September – November and February – March. Since Paragliding is highly dependent on weather conditions, these months provide the best possibility and conditions, although is is also possible to paraglide outside this period too.
Rafting is wonderful in Nepal and you want to arrive after the monsoon rains for the best heart-pumping experience. This would most likely be the months of September and October.
The best time to visit Kathmandu
Nepal's capital city can be visited throughout the drier months of September until May.
The ideal time to travel is from September to November. The number of festivals taking place in this time gives the city an intriguing atmosphere with the weather clear, bright and sunny.
This is also peak season, meaning more tourists also trying to see the city's attractions.
The best time to go to Everest Base Camp
The autumn months of October and November are again the best and most popular months to attempt a trek to Everest Base camp. The ideal weather conditions with minimal rainfall and clear mountain views during this period play an important role in this decision. April comes in as a close second place for when considering when to go.
A large percentage of mountaineers choose to make their attempt to summit the world's highest peak, Everest during March and April. During this period Everest Base Camp is particularly busy.
The effect of the summer monsoon season in the Everest region is massive with heavy rainfall effectively closing down the area. Trails can become extremely difficult, with slippery conditions and the outbreaks of leaches. A large proportion of accommodation close for these months.
Trekking in and around Everest is not recommended during this period.
When is the best time to visit Lumbini
For the most part, Lumbini can be visited at any time of the year. However, the Summer months of June to August sees high temperatures.
April and May is the best time to visit Lumbini. In addition to comfortably warm weather, the festivities of the birth of Buddha happens during this time, attracting thousands of pilgrims in celebration.
What's the best time to go to Pokhara
Nepal's second city, Pokhara sees a lot of rain in the monsoon season making the months of June to August an unfavourable time to visit.
For the best conditions, visit in the autumn months of September to November. Expect pleasant days with clear skies and temperate days.
This is also peak tourist season in Pokhara, so do be prepared for the higher prices and larger crowds.
---
If you've found this helpful, be sure to save + share it 🙂
Any other questions? I'll be happy to assist.
There you have it. A whooooooole lot of info to help your decision on the best time to visit Nepal.
I am sure that no matter when you go, you are bound to have a wonderful time. Remember to always travel responsibly.
Dhanyawaad,
Rai