13 Fun Things To Do in Oahu → Bucket List Experiences in Hawaii
If you're looking for a perfect Hawaiian holiday and are planning a trip to Oahu soon, be sure to check out this list of cool, amazing, and fun things to do in Oahu Hawaii. Prepare for a whole lot of fun in the sun in the land of picturesque beaches, delicious cuisine, and vibrant culture!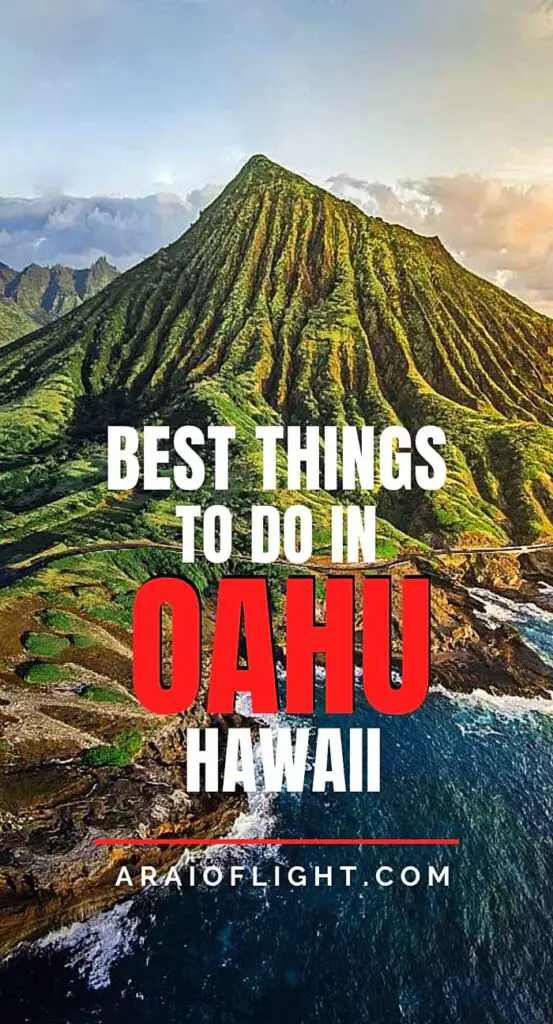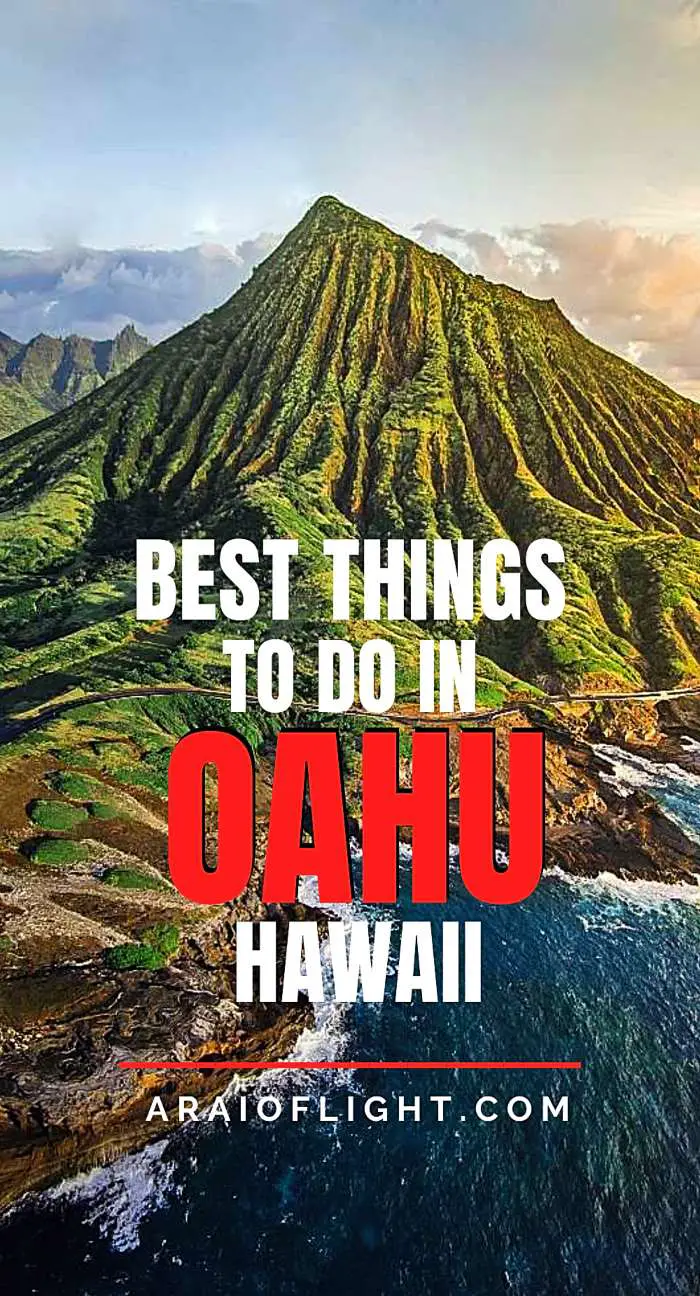 Oahu is the third largest Hawaiian island, but it is the most popular island by far! There is good reason for this as this U.S. island in the Central Pacific boasts epic adventures and some of the most iconic beaches in the world. The only problem is that there is so much to see and do that it can be difficult to know which things should be on your bucket list Oahu must-do!
But don't worry! We've got you. After spending nearly a year and half exploring everything Oahu has to offer, we are cutting through the noise to show you the must-do 13 best things in Oahu to make sure you don't miss out on the best that this island has to offer.

A handful of the best things to do in Oahu Hawaii include beaches, snorkeling, water sports, hiking, spotting wildlife, and trying local foods.

Use this list to find the very best activities to add to your Oahu bucket list adventure ⬇️⬇️
>> Read next: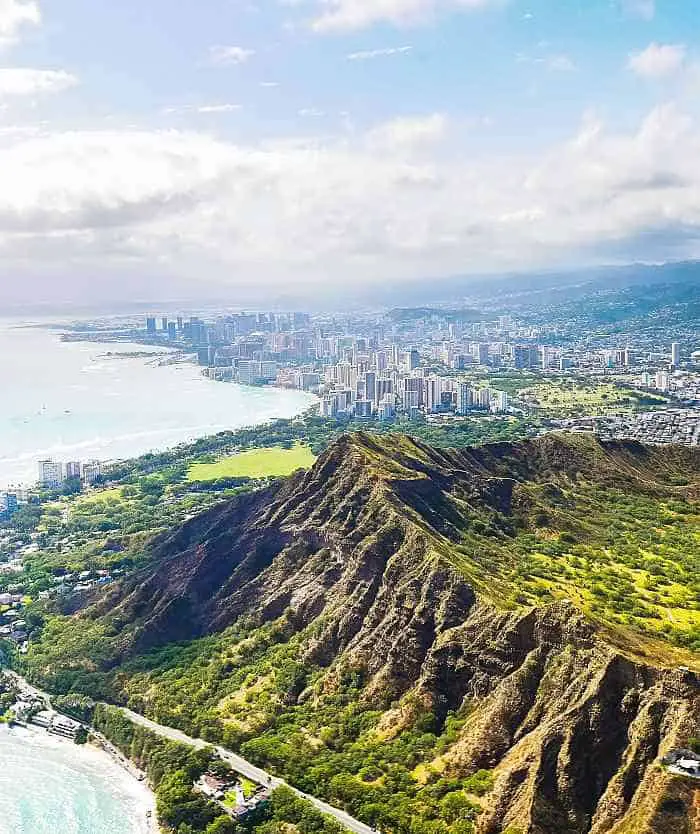 What type of activities are best to do on Oahu?
Where to start? There are so many activities in Oahu to choose from!

Whether you're looking for outdoor adventures like hiking and snorkeling, cultural experiences like luaus and hula shows, or something a bit more relaxing like going to the spa or beach, the island of Oahu has you covered.

Continue reading to find out as we explore a list of what to do in Oahu!
How to get around in Oahu?
But first, let's talk about getting around the island. While public transportation is an option in Oahu, you may want to consider renting a car to get the most out of your stay.

With a car, you will have the freedom and flexibility to explore some of the highlights that are further away from Waikiki Beach and Honolulu.

Uber and Lyft are both available in the more densely populated areas like Honolulu but prove unreliable when you get out to the more rural locations.
How many days in Oahu is enough?
The average length of stay for visitors to Oahu is 6.74 days. Which is about the perfect amount of time to be able to hit all of the major highlights and still indulge in some downtime to rest and relax.

You can get away with a 3-4 day Oahu visit if you want to go go go. This can work if you plan on hopping over to another island to relax.

Now, with that out of the way let's take a look at some essential Oahu experiences that no visitor should miss out on when visiting.
THINGS TO DO IN OAHU BUCKET LIST
After visiting many times and even living on the island for more than a year and a half we have compiled our list of fun things you must do in Oahu on your first visit to this incredible island.
Ok, so what are the best things to do in Oahu for first timers? First up…
1. Waimea Bay Beach
This is no doubt a must-do in Oahu. Located in Haleiwa on the North Shore of the island, Waimea Beach is the perfect place to swim, body surf, snorkel, and soak in some sun, particularly during . This popular black sand beach in Hawaii is arguably the best beach on the island for its crystal-clear waters, white sand, and breathtaking views.

Waimea is one of the few beaches that offers something for everyone, whether you are looking for Oahu activities for the family or going solo. Thrill seekers will love the rush of jumping off "Jump Rock" located at the end of the bay or from watching some of the world's best surfers riding 30-foot waves in the winter.

Also, depending on the time of year you are visiting you can bring a boogie board along and slide down the steep sandy hills into the freshwater inlet that feeds into the bay. So fun!
2. Snorkel at Hanauma Bay or Sharks Cove
No Oahu bucket list is complete without some snorkeling. The clear protected waters of Shark's Cove and Hanauma Bay are abundant with reef fish, eel, and even the occasional sea turtle or monk seal.

Not to mention that both locations offer vibrant coral formations that are sure to leave you in awe. Be sure to bring an underwater camera so that you can capture the beauty.

One thing to note is that you must plan and arrive early if you want to visit Hanauma Bay. They have strict regulations and a limited amount of visitors allowed per day. There are no limitations at Shark's Cove.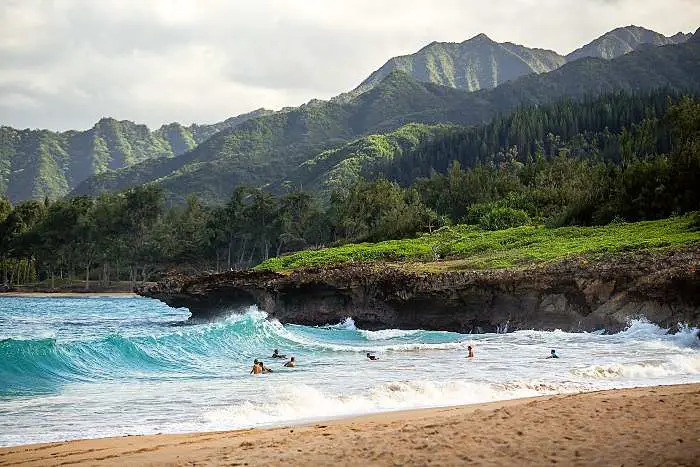 3. Eat. Eat. Eat.
If you visit Oahu and don't plan on getting into the foodie scene then you're doing it wrong. Oahu has some of the best Hawaiian-fusion food that you will ever have. From fresh poke bowls to savory tacos, there is something to satisfy all exotic food cravings!

Not sure where to start? Head over to L&L Hawaiian Barbecue for a delicious plate lunch. Or if you're looking for something more upscale, try Hy's Steakhouse in Honolulu.

Got a sweet tooth in Honolulu make sure to indulge in a hot malasada (Portuguese donut) at Leonard's Bakery. Plain or Haupia filled are the best!

If you find yourself on the North Shore then be sure to stop at Ted's Bakery for the best garlic shrimp on the planet. Or, if you are in the mood for a burger and fries then Seven Brothers is your place.

The food truck scene is also on fire on the North Shore. Surf-n-Salsa in Haleiwa and Papi's Tacos in Kahuku never disappoint.
4. Hike Crouching Lion
Located on the North Shore this short but steep hike will elevate you to one of the best viewpoints on the island. The 360-degree view of the coastline and mountains is simply stunning.

Be sure to bring a camera and some snacks as you will want to take it all in once you make it to the top. Also, watch the weather, and don't forget your hiking boots as this trail can get slippery!
5. Spot Turtles at Laniakea
Oahu is part of the rich Hawaiian archipelago which is home to 5 of the 7 species of sea turtles in the entire world! The best place to spot these majestic creatures is Laniakea Beach.

This beach is known for its resident population of Hawaiian Green Sea Turtles which come up on the shore daily to bask in the sun. Here you can take a moment and appreciate these gentle giants as they enjoy their natural habitat.

However, always respect wildlife by giving them the proper space and never touching or disturbing them.
6. Polynesian Cultural Center
One of the best displays of Hawaiian and Polynesian culture in the world is at the Polynesian Cultural Center in Laie. With exhibits, demonstrations, and interactive activities on Oahu, this is the perfect place to learn more about the islands' ancient traditions and lifestyles.

Whatever you do make sure not to miss the evening show, Ha Breath of Life. If you want the full PCC experience take part in the traditional Hawaiian luau.

No matter what you choose to do at the Polynesian Cultural Center it will be an experience in Hawaii to remember.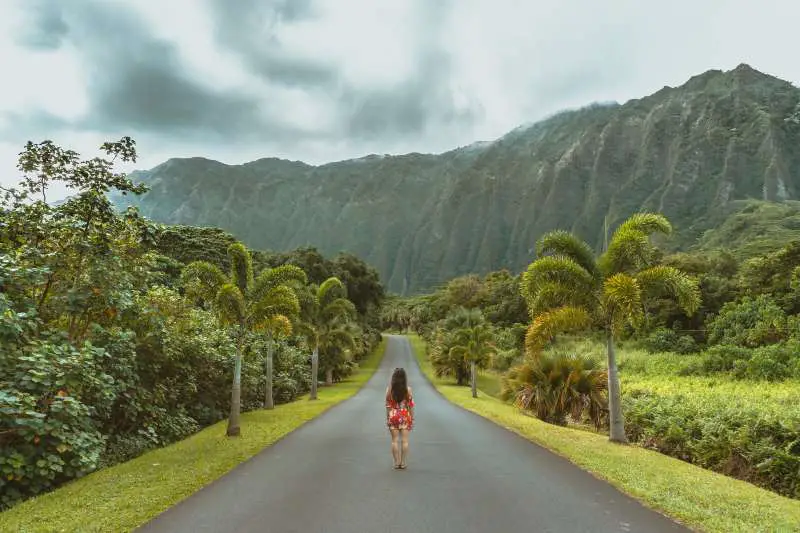 7. Halona Blowhole Lookout
Oahu is known for its incredible scenery, and the Halona Blowhole Lookout is often overlooked. Here you can gaze out over a stunning volcanic landscape as waves crash against an exposed lava shelf and water shoots high into the air from the blowhole below.

It's truly an awe-inspiring sight to see! The lookout point also offers gorgeous views of the nearby beaches and islands, so make sure to snap a few photos.
8. Get Shave Ice at Matsumoto's
No this is not a typo. 'Shave' ice is a classic Hawaiian treat that is best experienced firsthand. Unlike traditional snow cones, shave ice is made with ultra-fine shaved ice which provides a smooth and even creamy texture.

You will find Shave ice all over Oahu, but the best place to experience this Hawaiian phenomenon is at Matsumoto's in Haleiwa. Here you can choose from a large variety of flavors, mix-ins, and toppings to create your perfect tailored concoction.
9. Watch Monk Seals
The most endangered seal or sea lion species in the United States is the Hawaiian Monk seal. These unique creatures, native only to Hawaii, can often be seen lounging in the sun or playing in the water on Oahu's beaches.

The best places on Oahu to see these interesting creatures is at Makaha Beach, Ka'ena Point, and Hanauma Bay. While here, take a moment to appreciate these rare seals in their natural habitat.
10. Makapu'u Lighthouse Trail
If you're looking to stretch your legs on a moderate hike with breathtaking views, look no further than the Makapu'u lighthouse trail.

This 2.5-mile trail winds along the rugged coastline and then up to the top of a cliff where you can spot the iconic Makapu'u Lighthouse.

This trail is paved to the top making it one of the great family activities on Oahu. It offers stunning views of the ocean and Koko Head along the way.

It's also a great viewpoint during whale season since you can spot the majestic creatures from the top.
11. Lanikai Pillbox Hike
The most iconic hike on Oahu next to Diamond Head Viewpoint is the Lanikai Pillbox.

This 2-mile round trip hike winds its way up through the green hills and rocky landscape to eventually arrive at a series of World War II pillboxes perched atop Maunawili Ridge.

From here you have a breathtaking view of both Kailua and Lanikai beaches. The clear aqua-blue waters are the prettiest on the island. This is a great hike for both beginners and experienced hikers alike, so make sure to add it to your must-do Oahu list!
Top of the list of things to do in Oahu is to…
12. Experience a Hawaiian Luau
You can't leave Oahu without experiencing a traditional Hawaiian luau. This festive feast is one of the most popular Oahu activities and it's easy to see why. With delicious food, hula, fire dancers, live music, and fun interactive games, it's always a hit.

Head to Waikiki Beach or the Polynesian Cultural Center for amazing Luau experiences. If you are after a more intimate luau check out Toa Luau at Waimea Gardens.
13. Tour Pearl Harbor U.S.S. Arizona
Last but certainly not least, no trip to Oahu is complete without a visit to Pearl Harbor and the U.S.S. Arizona Memorial.

This memorial is dedicated to those who lost their lives during the attack on December 7th, 1941. It stands as a reminder of the sacrifice of those who served the U.S.

The memorial also offers a very well-done audio tour for those who want to learn more about this tragic event in American history.
Other noteworthy Oahu bucket list options:
– Visit the Ho'omaluhia Botanical Garden, one of the best free Oahu activities.
– One of the best attractions on Oahu is the Dole Pineapple Plantation.
– Hike to the top of Diamond Head State Monument
– Take Surfing Lessons
– Visit the Byodo-In Temple
– Hike to Manoa Falls
– Take a Kahuku Farm Tour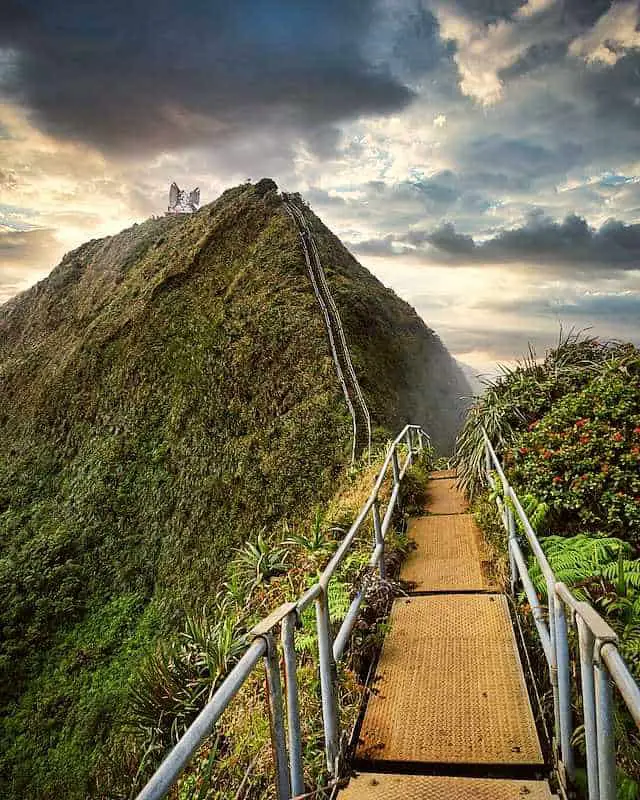 Must Do Things in Oahu: FAQ
Now that we've covered the best things to do in Oahu must do, let's go over some of the most frequently asked questions about traveling here.
When is the best time to visit Oahu?
The best time to visit Oahu considering the weather and crowds are April, May, September, and early October. This is during the off-season or shoulder months.

The temperatures are mild and it's usually sunny with some rain showers here and there.

Also, with fewer people visiting during the offseason, it often leads to cheaper fares and a richer experience. Before your flight to Hawaii, be sure to check out these essential tips when flying.
What should I pack for my trip to Oahu?
Make sure to bring a good pair of sandals, sunglasses, sunscreen, light clothing, swimwear, a hat and a beach towel. To make the most of your experience, also think about bringing binoculars for whale watching, a rain jacket, and a reusable water bottle.
Is there public transportation on Oahu?
Yes! TheBus is the most popular form of public transportation in Honolulu and it's a great way to get around. There are also Uber and Lyft ride sharing services available.

However, to get the most out of your trip we suggest renting a car in Oahu. The freedom and flexibility of having your own set of wheels will help to maximize your time on Oahu.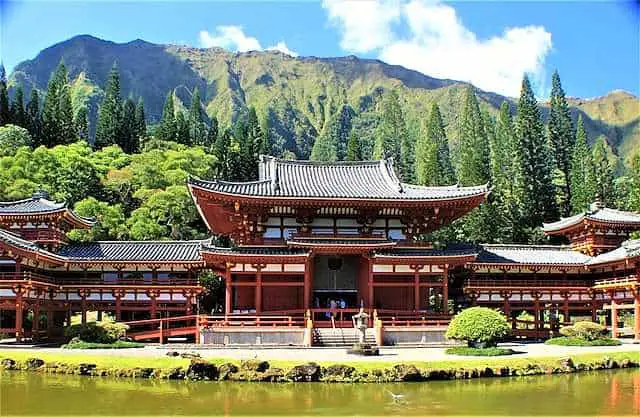 Where can I find the best food on Oahu?
Everywhere. Oahu has a wide variety of delicious eateries to choose from, with something for every taste.

From local favorites like plate lunch and poke bowls to high-end restaurants featuring Hawaiian fusion cuisine, you won't be disappointed with Oahu's culinary offerings!

Also, the food trucks located throughout the island, especially on the North Shore are not to be overlooked.

Some of our favorites are Surf-n-Salsa in Haleiwa and Papi's Tacos at the Kahuku food trucks.
Are there any free activities in Oahu?
Yes! You will find an abundance of free things to do in Oahu Hawaii.

Thank goodness since Hawaii is not the cheapest destination to visit.

Some of the best things to do on Oahu are free! From hiking and snorkeling to watching the sunset at Waikiki Beach, there are plenty of affordable and enjoyable activities on Oahu.
Is 7 days in Oahu too long?
No way! Seven days is the perfect amount of time. There is so much to do on Oahu. You'll be able to fit in everything on this list plus more and still be able to have a little downtime.

You may enjoy your time in Oahu so much that you may consider relocating to Hawaii.
Which area in Oahu is the best to stay in?
It depends on what kind of experience you're after. If you want to be close to all the action, and nightlife, stay in Waikiki. If you prefer a quieter beach town atmosphere, head over to the North Shore.

No matter where you choose to stay though, you will be able to access anywhere on the island within an hour and a half drive.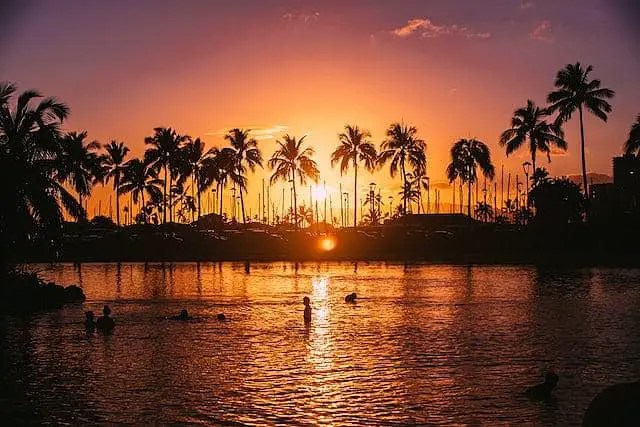 In a Nutshell — Must do things to do in Oahu
Oahu is an incredible island full of adventure and beauty!

With tons of Oahu activities ranging from outdoor adventures to cultural experiences, it's the perfect place for a laid-back or exciting tropical vacation in Hawaii.

From the stunning beaches of the North Shore to Pearl Harbor and the U.S.S. Arizona Memorial, a visit here will leave you with unforgettable memories!

Whether you're looking for relaxation or excitement during your vacation in Oahu, make sure to include these 13 must-do things on your itinerary!
Come to Oahu and see for yourself why it's known as a paradise island!
If you have any questions or need help with planning your holidays to Oahu, don't hesitate to let me know. Also, be sure to check out this list of islands for holidays for even more inspiration around the world.
Mahalo,

Rai