The Ultimate Oahu Itinerary (2023): 7-10 Days In Oahu Hawaii
This 7-day Oahu itinerary includes the best highlights on this popular Hawaiian island, the best beaches, hikes, cultural activities. You will also find additional tips to help make the most of your first visit to Oahu.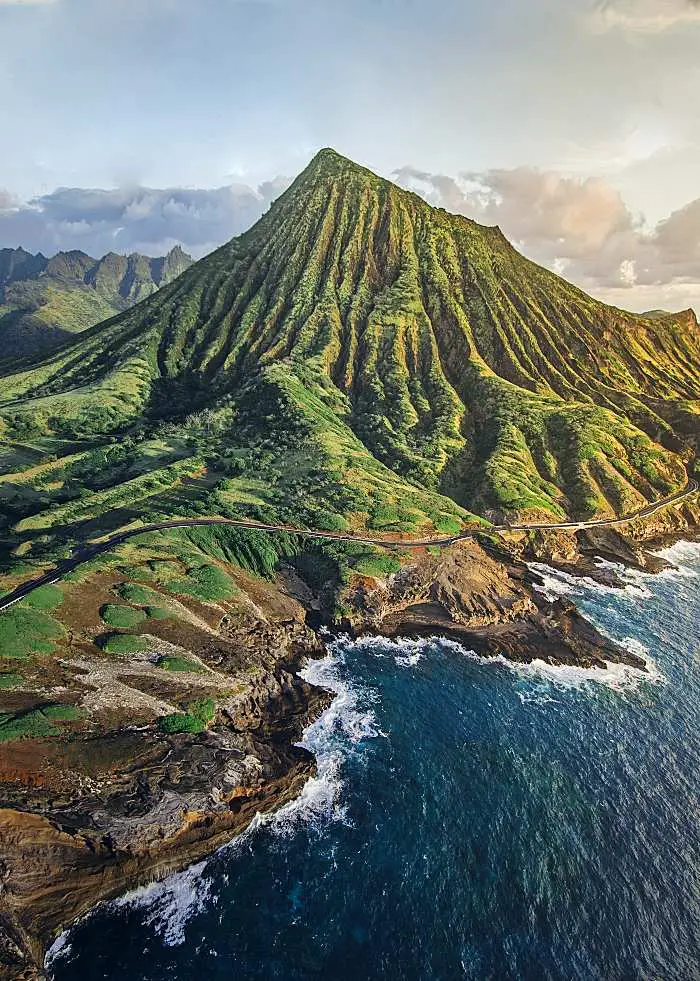 Oahu is one of the most popular Hawaiian Islands to travel to in the US. There are many things to do and see on the island for everyone, from beaches, hikes, to historical and cultural sites.
Also affectionately referred to as the "Gathering Place," Oahu is the most visited Hawaiian Island. And with good reason. This hotspot is the perfect slice of paradise.

Oahu is best known for its state capital of Honolulu, historic Pearl Harbor, the surfing along North Shore, and world-renowned Waikiki Beach.
If you are travelling to Oahu for the first time, continue reading to find the perfect 10 days in Oahu itinerary to help you plan your ideal Hawaiian vacation. You may just be spending a week (7 days) in Oahu. No matter the case, use this template as a starting point to build the perfect itinerary for Oahu for you.
Your perfect Itinerary for Oahu:
How to spend 7 – 10 days on the island
You may be asking yourself, is Oahu worth visiting? Are there many things to do? The answer is yes!

While you do not have to do anything in this exact order, these are the top things many tourists like to do while visiting Hawaii.
How many days in Oahu? Is 10 days enough in Oahu? Is it too much time?

If you're visiting Oahu and Hawaii for the first time, I would recommend spending at least one week to 10 days to explore the island. Doing so, with at least 7 days here, will give you sufficient time to check out the highlights, do a few day trips, enjoy the beaches, get a good feel for the location, and even have some much-needed time to relax and unwind.
>> Read next:
Day 1 – Explore Waikiki
When staying in Oahu, you will most likely stay in Honolulu, specifically in Waikiki. This bucket list travel destination is the main area with all the tourist shopping areas, hotels, and the famous Waikiki Beach.
Walking along the main strip is the best thing to do on your first day because then you will have your barrings and check out restaurants or the shops in the area. You can also hang out on the beach after your long flight to Oahu.
Diamond Head is close to Waikiki, as it is roughly a 12-minute drive. It is a tourist location that many people like to visit. If it rains while you are up there, the metal stairs are very slippery.
The Honolulu Zoo is an excellent location for young children to learn about animals and see them. It is at the South end of Waikiki Beach, so walking from your hotel will be easy.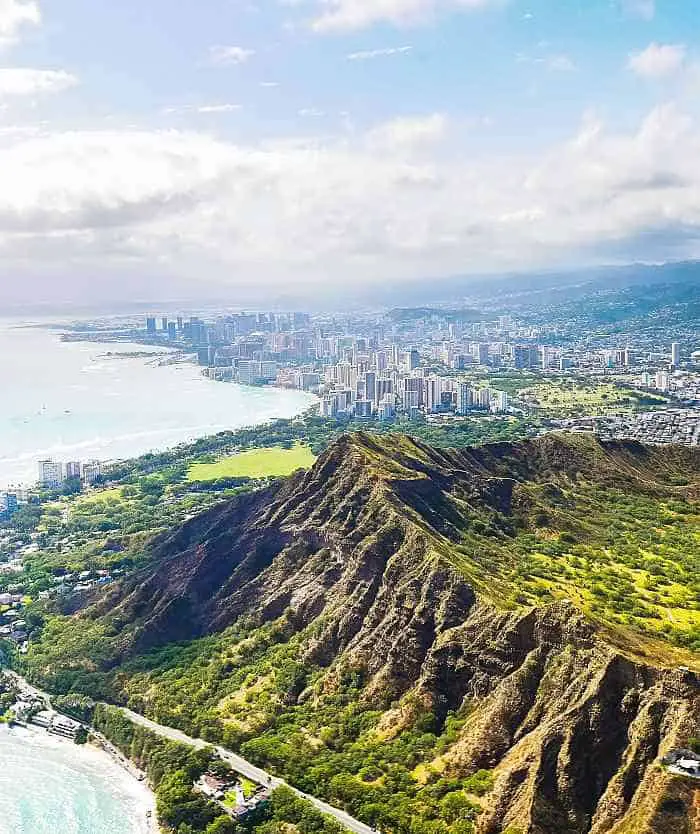 Day 2 – Explore The Island
Once you have recovered from your travel day, hit the road, explore the island, and stop at any small towns or food trucks you see. You can also stop off at the many beaches along the way, especially if you drive towards the North Shore.
Some of the best beaches are on the North Shore of Oahu, so if you are looking for beautiful beaches, I recommend checking out the beaches on the North Shore. You may even be able to catch people surfing on the beaches.
The hike to Waimea Falls is easy to do on an unplanned stop on the island. It takes 30 minutes to walk to, and it is paved the entire way. There are other things to see or buy from the snacks and bar shops.
The lifeguards will determine swimming conditions at the bottom of the waterfall and make their call at 9:00 AM.
Day 3 – Dole Plantation & Pearl Harbor Memorial Site
The Dole Plantation is something that you should experience at least once on Oahu, especially if you have children.
The Dole Plantation was one of the first pineapple farms to start in Hawaii. It is a fantastic spot to learn about how pineapples are grown and harvested and about some of the history of the plantation.
Their biggest attraction is the Pineapple Express Train, a 20-minute train tour that will take you through the plantations. Inside the building, there are pineapple theme nicknacks and souvenirs to buy or in their food area, their famous pineapple Dole Whip.
There is also a pineapple-shaped maze where you can go and find all the stencils. Or feed some koi at the koi pond. There are also local small business stalls inside and outside the building and food trucks in front to the side of the building.
You must make a stop at the Pearl Harbor Memorial Site on returning to Honolulu. There is a separate Pearl Harbor Tour, but you must book that in advance.
The Pearl Harbor Memorial Site is free to enter; however, there is a parking fee. It is a memorial site to commemorate those lives lost during the World War II surprise attack on Pearl Harbor on December 7th, 1941.
No bags, backpacks, or purses are allowed inside the memorial site and no visit is complete without a stop here.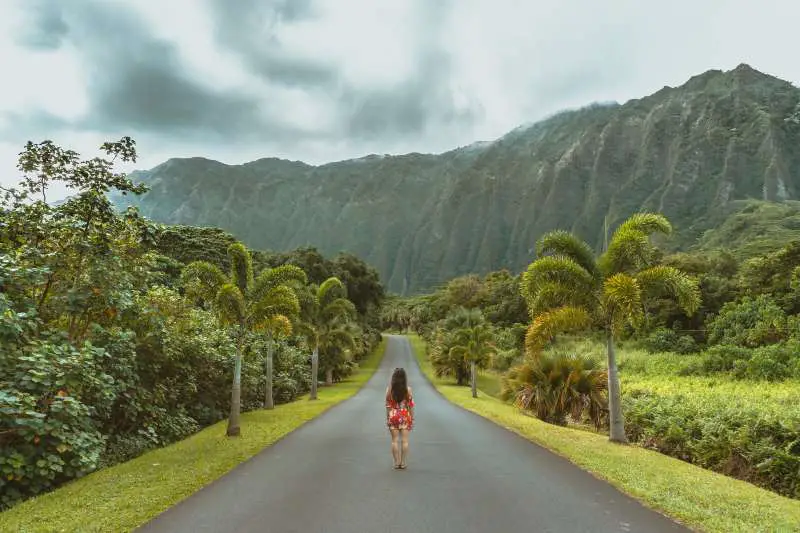 Day 4 – Kualoa Ranch & Ho'omaluhia Botanical Garden
Kualoa Ranch is one of the most highly-rated tour locations on the island. If you have watched Jurassic Park, you may recognize the background when you visit Kualoa Ranch, as the movies were filmed on the ranch.
You may also notice the ranch in the background of other movies and television shows such as Lost, Hawaii Five-0, Godzilla (2000), and more.
They have many tours, such as UTV, ziplining, e-bike, Jurassic Park adventure tours, and more.
Ho'omaluhia Botanical Garden is a popular Instagram photo-op spot. Not only is the entrance to the park a picturesque location but inside the gardens too.
The tranquil 400-acre tropical paradise features geographical regions representing other countries such as the Philippines, Malaysia, India, Sri Lanka, Hawaii, Polynesia, Africa, and Tropical America. The beautiful gardens are home to many bird species.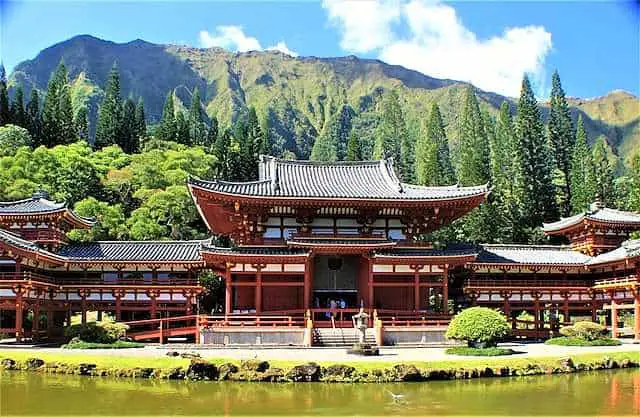 Day 5 – Lanikai
One of the best sunrise hikes on Oahu is located in Lanikai. Lanikai is a small upscale neighbourhood in Kailua. The Lanikai Pillbox Hike is an easy hike to do. There are two old military bunkers, "pillboxes," along the hike that you can explore.
After the sunrise hike, the famous Lanikai Beach is also a couple of blocks away. It is a stunning soft sand beach where you can swim or snorkel in one of the calmer waters on the island.
Parking may be hard to come by as it is in a residential neighbourhood. Watch out for street signs because officers will give tickets to those illegally parked.
Day 6 – Hanauma Bay
Hanauma Bay is one of the most popular snorkelling spots on the island. You must make a reservation at least two days before, and they will sell out quickly. Parking is also first come, first serve, and you must pay in cash upon arriving.
The park is closed on Mondays and Tuesdays to give time for the marine life to have a break from human interactions. You must also watch a mandatory video at the location before entering Hanauma Bay.
However, despite all that, Hanauma Bay is a nature preserve cove where you can swim, snorkel, and see many tropical fish, coral reefs, and other marine animals.
It is perfect for all levels of snorkellers who have or have not snorkelled before. You can rent snorkel equipment from Hanauma Bay, but renting it from elsewhere on the island or bringing your own equipment from home will save you some money.
Day 7 – Ka'ena Point Hike
One of my favourite hikes from my Oahu trip was the Ka'ena Point hike with my family. It is an easy hike with moderate areas, depending on which entrance you come from, the South or North entrance.
It is a beautiful hike. No matter which entrance you are on, the ocean will crash against the shore and the mountain at your side. They both lead to the protected bird sanctuary at the end.
Depending on the time of year to hike Ka'ena Point, you may be able to see other mammals, such as dolphins or whales.
Day 8 – Surfing Lessons & Shopping
The highlight of my trip was learning how to surf in Waikiki. It is a lot of fun and worth the money. Many surf shops along the main strip of Waikiki will have surfing lessons for all ages.
If you are an experienced surfer, the North Shore is known to have the best waves for experienced surfers.
Shopping at Ala Moana is an excellent mall if you are looking to get some shopping done or hide from the rain if it is raining outside.
Foodland is similar to Wholefoods, but they have a wide selection of Poke (pronounced po-kay), which is raw fish (tuna or salmon) mixed with other ingredients and sauces. It is a popular dish in Hawaii served as an appetizer or a lunch/dinner meal. Other locations around the island sell Poke, so you will have no issues finding Poke.
Don Quijote (no relation to the book) is a Japanese convenience store where you can buy groceries and take-out hot and ready food. There are also other souvenirs that you can buy. It is open 24 hours, so you can grab a midnight snack if you are hungry.
Day 9 – Koko Crater Hike & Attend A Luau
The Koko Crater hike is a moderate to challenging hike to do on the island. It is a steep hike up old abandoned railway tracks along the side of the crater. There are no flat resting stops, no shade, and it is all inclined.
If you are a beginner hiker, take your time. Do not be scared to climb on your hands and feet sometimes when coming back down the crater.
However, once you reach the top, seeing the beautiful view of Hanauma Bay, the surrounding landscapes, and the ocean is well worth it.
In the evening, a traditional party in Hawaii is a Luau. A Luau features food, entertainment, and other activities. It is a fun traditional thing to do in Hawaii that you should experience with family or friends.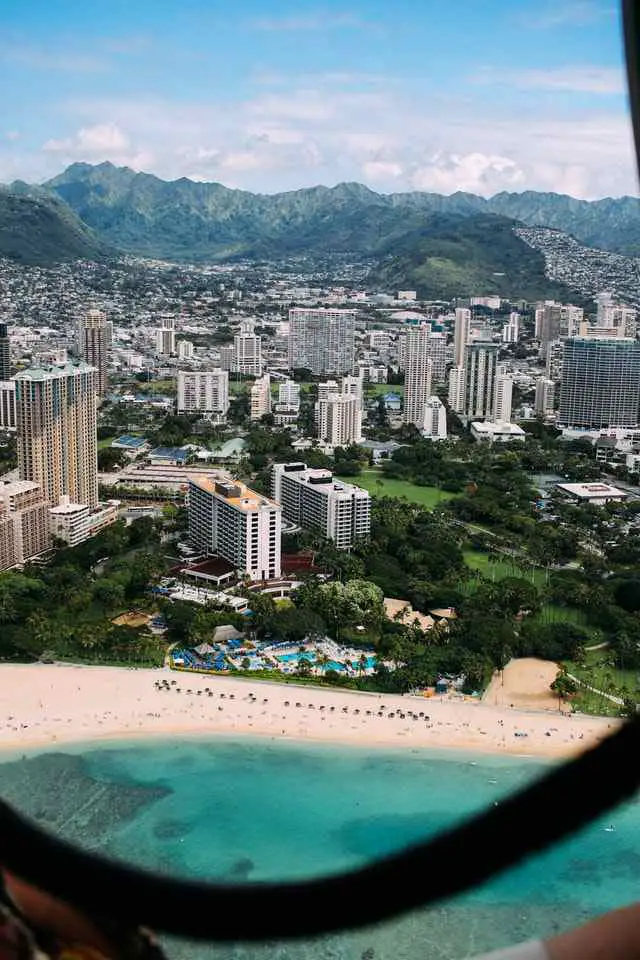 Day 10 – Do Anything You Want Again
Your last day should be deciding what you want to do again, whether it is hanging out at a beach you enjoyed, surfing, or any other activity you did earlier in your trip.

Make your last day in Hawaii memorable.
Tips For First-Time Travellers To Oahu
Suppose this is your first time going to Oahu. In that case, there are some tips you need to know when planning to see certain tourist attractions or general travel information.
Arrive as early as possible:
Most places do not include reserved parking when reserving locations. We were okay with finding parking when we visited because we arrived at least 30 minutes before opening.
For locations like Hanauma Bay, for example, parking is first come, first serve, regardless of your entrance fee time. Diamond Head has tickets for entrance and parking included, but they also go fast.
Reserve for the earliest timeslots:
Not everyone is an early bird, but when in Oahu, the best time is to reserve the earliest timeslot available. For example, we booked a 7:00 AM surfing lesson slot, which was perfect because barely anyone was in the water with us.
Plan tourist attractions ahead of time:
Some locations sometimes do not have the option to book same-day tours. It is best to book them one to two days in advance before you plan on visiting.
Renting a car:
Renting a car while in Oahu is the best option because it will allow you to explore the island on your schedule. While you can use local buses but the buses may take hours to reach your destination or even to pick you up.
Reef-safe sunscreen:
The State of Hawaii prefers people to use reef-safe sunscreen when doing water activities.
Traffic:
Mostly in the city there is traffic. Remember that if you plan on visiting somewhere outside of Honolulu, you provide additional traffic time on your route.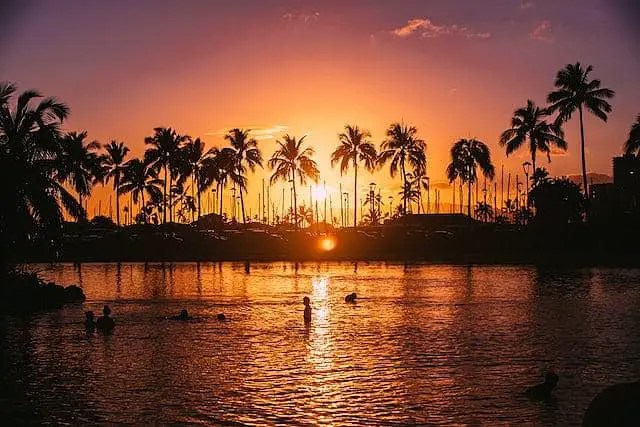 Finishing up…
Breaking down 7 – 10 days in Oahu itinerary is easy, once you know where to go and what to do. You will find such an abundance of things to do and see with family and friends. Whether you visit historical sites, hang out by the beach all day, or surf the entire trip, you will have a fantastic time on the beautiful island of Oahu.
If you have any questions or need help with planning your holidays to Oahu, don't hesitate to let me know. Also, be sure to check out this list of tropical islands for holidays for even more inspiration around the world. If you're considering the Caribbean. be sure to check out these cheapest Caribbean islands to visit.
Mahalo,

Rai