My Ode to Fellow Travellers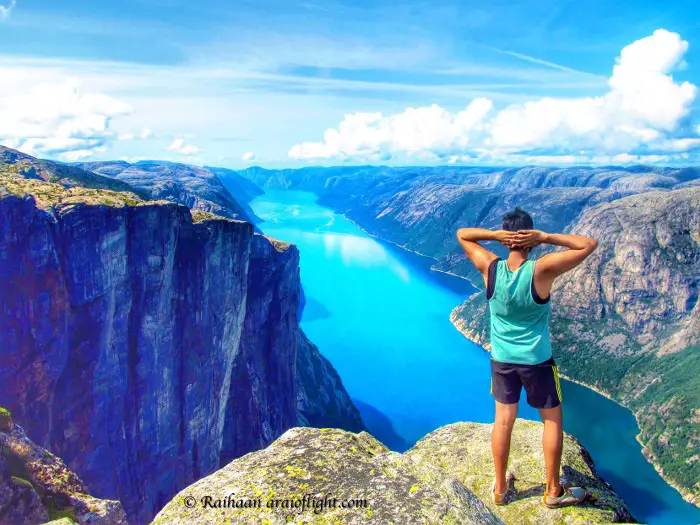 I look back on my life
There was a deep restlessness within me.
A primal fear that I would fall prey to a life less than what I was called for.
Less than what I was meant for.
A life of routine and mediocrity.
I fantasized about adventure
Exploration. About travelling and discovery.
About weaving my way in-between worlds different than my own.
Being fiercely alive and creatively free.
Some people travel for a week or two for a quick break from the mundane and stressful life back home.
An escape from reality.
Tourists, I believe they are called.
Others take to the road extensively by choice.
Real travellers
Renouncing materialism, traditional jobs and university degrees in exchange for a glimmer of adventure.
That is exactly what I did. Leaving behind my highly paying corporate management position in a large financial company, and with it my possessions and my old life.
Leaving everything behind.
True travellers
We sacrifice external comforts in exchange for the space to explore a creative interior- to dream, to create, to move, to read, to write, to paint, to photograph, to work on passionate projects and other nobel pursuits.
And then to dream some more.
We hit the open road as a means of life.
Of rebellion.
And of liberation.
When asked why we do what we do,
Fellow travellers and I often respond with a single word –>
FREEDOM
PASSION
LOVE
>> Read next:
50 Beautiful Travel Words from other languages
True travellers:
✈ We follow our heart
✈ We free ourselves from labels
✈ We choose to follow our own path
✈ We love getting lost in the right direction
✈ We willingly relinquish control
✈ We trade a role for reality
✈ We embrace the unfamiliar
✈ We pursue that which brings us most alive
✈ We despise routine, monotony and the mundane
✈ We are endlessly creating ourselves in the world through which we travel
✈ We prefer not to have the rest of our lives planned out
✈ We are forced to trust our instinct
✈ We are filled with awe at the vast beauty of the world
✈ We trust openly
✈ We sacrifice the comforts of home for the excitement of the unknown
✈ We live a life that is driven by authenticity and purpose as opposed to the opinions and expectations of others
✈ We own only what we carry instead of accumulating junk
✈ We are ok with a loss of control
✈ We choose to deal with our fears and insecurities as they surface instead of covering it up
✈ We get a thrill from real-life discovery
✈ We are reliant on the kindness and generosity of strangers
✈ We live for experiences not possessions
✈ We refuse to wait until retirement to start living
✈ We choose to follow our own path even when society demands we conform to the repeated and recycled life of education-job-marriage-debt-retirement-die
✈ We consciously choose never to settle
✈ We live with eyes wide open instead of taking the safe route and sleep-walking through life
✈ We search for better questions, not answers
✈ We break the rules
✈ We choose a life of meaning over a materialism
✈ We may have a slight travel addiction
✈ We are the dreamers
✈ We are connected to that beautiful feeling of teetering in the unknown
✈ We go on real-life adventures
✈ We live for freedom
✈ We, sometimes, choose never to come back
… (My) ode to fellow travellers
Whether you are currently traveling long-term or not is of secondary concern. If most of these resonate with you on a soul level, you have the mindset of a real traveler and this one's for you.
Please help spread the word with other travellers using the social media share options below.
Do you consider yourself a traveller in the true sense of the word? What else would you add to this list?

I'd love to hear from you. Let me know in the comments below
Stay bold, keep exploring,

– – – ✈ Rai
Looking for more travel inspiration? I'd love for you to stick around and check out some of these: