My Stay at DoubleTree by Hilton Cape Town Upper Eastside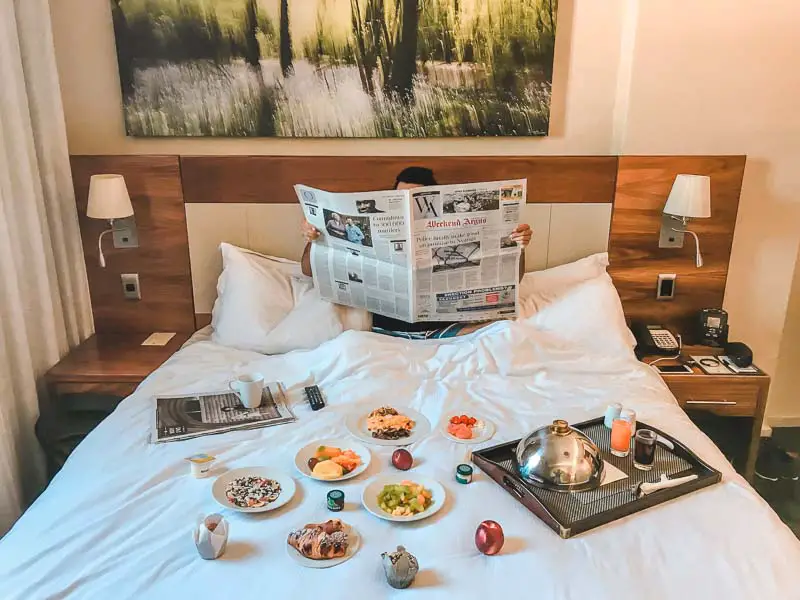 On my most recent visit to the Mother City, Cape Town in South Africa, I had the pleasure of staying at the upscale DoubleTree by Hilton Cape Town Upper Eastside. If you're wondering where to stay in Cape Town, read on to find out about my stay here and what to expect on your next visit to this hotel.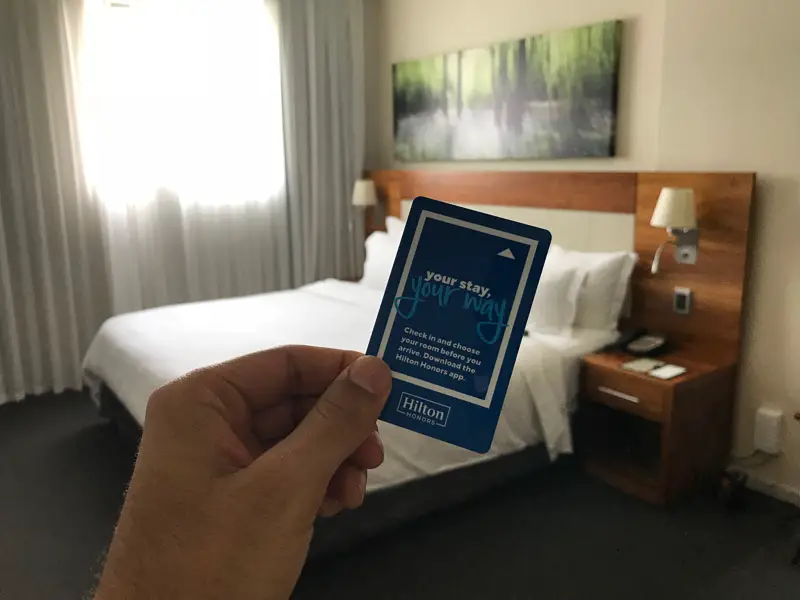 >> Related reading: 

DoubleTree by Hilton Cape Town Upper Eastside
Location 
Situated away from centre in a semi industrial area called Woodstock, I found the DoubleTree by Hilton Cape Town Upper Eastside to be a good base from which to explore the city.
Set in a modern building as part of multi functional space, which also has offices, apartments and shops in it, the hotel is well located in the downtown area and the central business district with the old biscuit mill just down the road.
Bear in mind that I did have a car throughout my stay and I appreciate that some people might not enjoy this location away from the main tourist and central area. But Uber is readily available and so is the complimentary hotel shuttle to the V&A waterfront which is just 6 kilometres away.
Cape Town International Airport is 15 minutes away and a 25-minute drive without traffic will get you to Table Mountain.
Address: 31 Brickfield Road, Woodstock in Cape Town

Check-in
One floor up from the parking level brings you to the lobby and reception area. The check in was fast and efficient by the friendly staff of the front desk. I was asked if I'd like to join the Hilton Honors loyalty program and this too was a quick process.
I found out on check out that the arrival is usually paired with a delicious warm chocolate chip cookie as a welcome and there is an unlimited supply of these throughout your stay.
Unfortunately (or fortunately depending on which way you look at it) the staff forgot to mention this to me on arrival, so I had no idea until leaving.

Interior and décor

The entire space is well designed with a neat and modern contemporary look and feel starting the moment you step into the lobby and continued into the living and room space.
The glass staircase, beautiful lighting, and lavishly upholstered chairs in the reception area are particularly impressive and set the tone for the rest of the space.

Rooms

The polished room with a custom-designed bed made for a luxurious stay at DoubleTree by Hilton Cape Town Upper Eastside. I found the room to be comfortable, spotless, fresh and modern with a wonderful view of the mountain.
A particular favourite was the ultra comfortable Egyptian cotton bedding.
The room encompasses a connecting bathroom with the washbasin and bath in sight. Behind closed doors are a separately spaced toilet and a large walk-in shower containing an adjustable massage shower-head.
The room also features the following:
– A high definition 40-inch LCD television
– Iron + board
– Extra blanket
– Unstocked mini fridge
– Hairdryer
– Laptop-sized safe
– tea and coffee making facilities. No filter coffee in the rooms except in the loft suites
– Complimentary bottles of water for Hilton Honors members
– Radio (for all those catchy songs about Africa)
– central air-conditioning with individual thermostat control
– Work desk with universal plug point. No usb charging port however which was a little inconvenience.
– Laundry facilities are available on request
Other types of rooms available are the deluxe suite, giving you additional space or the loft suite featuring a separate living area, dining table and small kitchen.

Room Amenities
A nice selection of Crabtree and Evelyn amenities are left in the bathroom. This is high quality and feels good on the skin.
– Soap
– Shampoo
– Body lotion
– Shower cap
– Facial tissues

Cape Town Views
With the DoubleTree by Hilton Cape Town Upper Eastside situated on the backdrop of the slopes of Devil's Peak, expect wonderful views of the mountain and lions head from the room.
But, if at all possible, book or request a room with a view as not all rooms are mountain facing.
>> Related reading: Table Mountain is a famous landmark, not only in SA, but in Africa. Check out the other famous African Landmarks here

Breakfast
The breakfast buffet is a great start to the day.
A wide, fresh variety available, I especially enjoyed the selection of fresh fruits and raw juices. There is a selection of croissants, muffins and other pastries to satisfy your morning sweet cravings.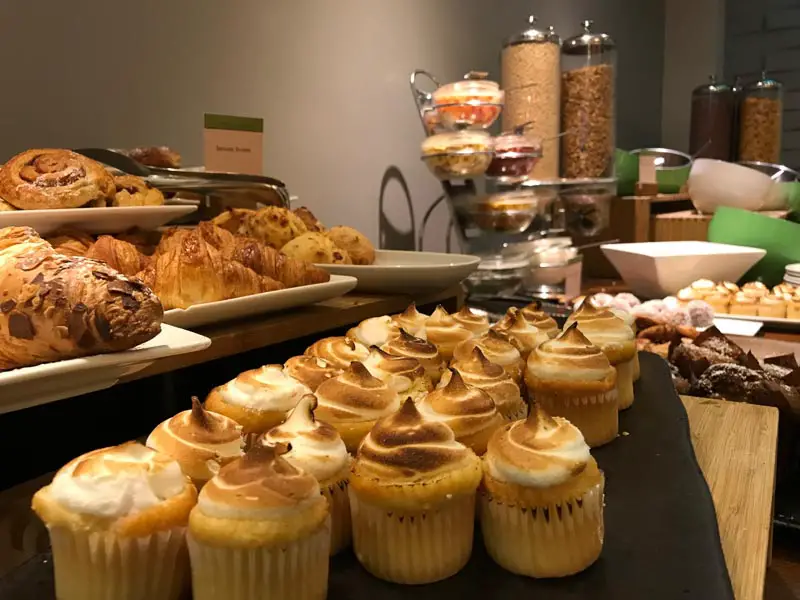 The kitchen also caters for hallal requirements, with a separate station for the making of omelettes and other dishes. I found this particularly helpful.

Room service
Room service is available at the DoubleTree by Hilton Cape Town Upper Eastside.
I made use of the in room dining on my first night and this was probably one of my favourite parts of the stay. With food so good I could have done this all day, everyday.
Starters was a tapas mix of salt, chili and pepper calamari well accompanied with an onzu dip and wasabi mayo.
There is a variety of salads, wraps, paninis, pastas and meat dishes on option.
For mains, I opted for the garlic and chilli prawns. This comes warm served alongside chilli garlic butter and garlic crostinis.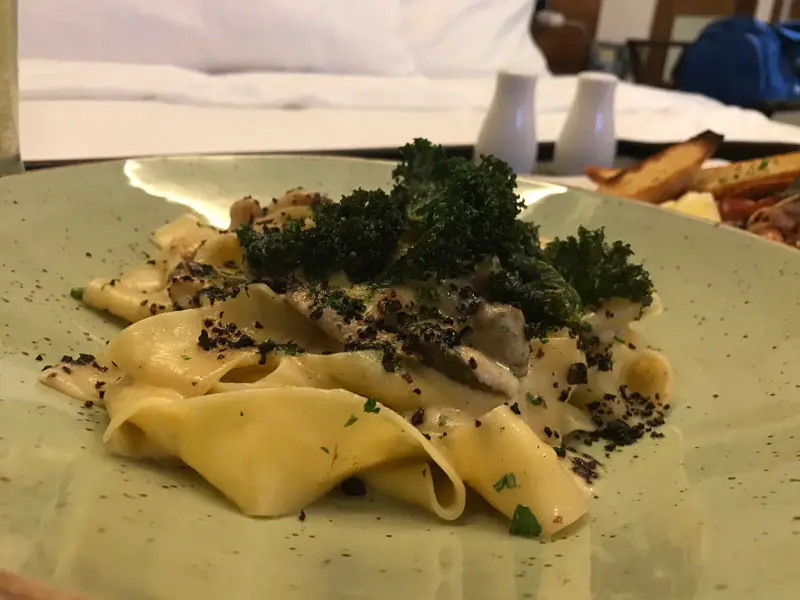 I also thoroughly enjoyed the wild mushroom pappardelle pasta. Mixed together perfectly with mushroom soil, Parmesan cream, herbs and crisped kale this dish comes highly recommended.
To end the meal, dessert was a delightful milk tart panna cotta with spiced pumpkin koeksisters. Too much goodness on one plate.
>> Related reading: Where to find the best gelato in Rome

Parking
Having had a car during my stay, I made use of the private secured parking on site. This is a paid service costing ZAR60 per day.

Wi-Fi
Staying connected while at the DoubleTree by Hilton Cape Town Upper Eastside was a breeze using the complimentary Wi-Fi internet access. I was really surprised and impressed by the excellent speeds. One of the best I've experienced in the city. You log in with room number and surname initially and it remembers your details throughout. The connection stops immediately upon checkout, not a minute later.

Hotel facilities
There is no pool at the hotel, but does feature a small fitness centre with running equipment, weights, water, apples, and towels inside.
A shuttle service to the Victoria & Alfred Waterfront is complimentary and a concierge is on hand at the reception area on request. The Liberty's restaurant offers an a la carte menu and all-day dining incorporating a bar, lounge, and an outside Piazza dining area.
For those visiting on business, a business centre, fax/photocopying facilities, and meeting or banquet facilities are available for an additional charge.
Staff
Huge compliments to the DoubleTree by Hilton Cape Town Upper Eastside staff.
Throughout my time here, the staff were nothing short of professional, friendly, welcoming and courteous. From the front desk staff to the housekeeping, restaurant staff and front office manager, all were eager to make the stay a pleasant one.
And a wonderful stay it was. I will be back.
Rai